10 easy and super delicious punch recipes for a party! The best recipes and easiest way to serve a fun, unique cocktail at a gathering! They're perfect for a crowd and there's one for every holiday!
The first time I tried a really good cocktail punch was in Charleston in a very old bar, lit by candlelight. It was made with peach tea and rum, lightly sweetened, similar to this. The recipe was passed down from the 1800s, which in the history of punch, is fairly new. If you can believe, it's been around since the 1600s! I was instantly hooked and came back to create my own modern versions.
Although it's not fully known, there is speculation that the word punch came from the Hindi word for five. Traditionally it consists of 5 ingredients: Citrus, spirit, sugar, water, and spice. If you're interested in reading more about it, Difford's Guide has a great article that goes into detail about the facts and the first ever recorded.
So, gather your ingredients and get mixing!
10 Easy Punch Recipes for A Party!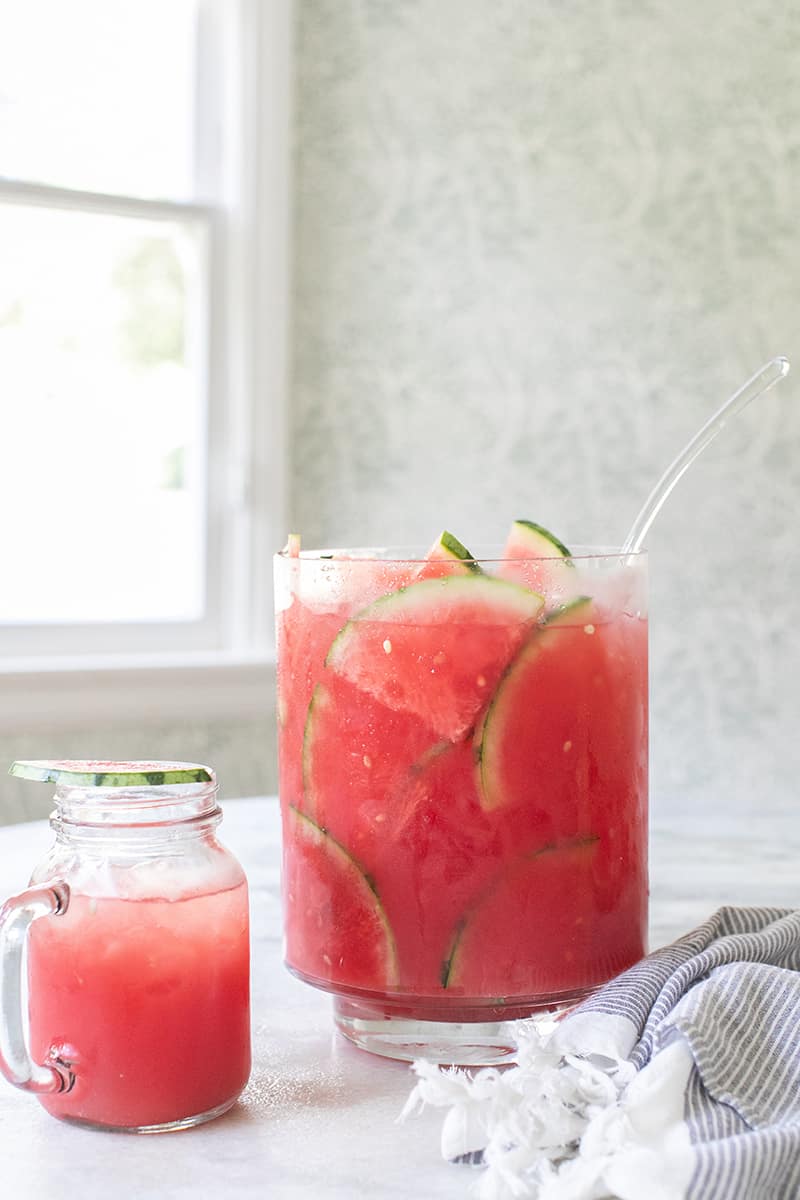 Watermelon Cocktail Punch
This watermelon cocktail is perfect for a summer cookout! Made with simple ingredients and tequila, it's sure to cool you down!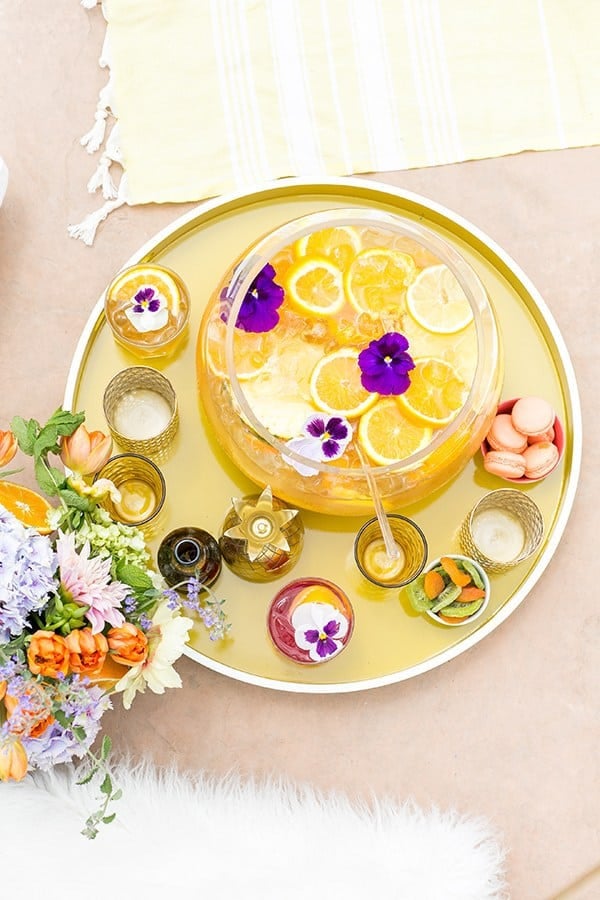 Pineapple Orange Party Punch
If you're looking for an easy party punch, try this pineapple orange cocktail that is spiked with alcoholic ginger beer and spiced rum! It only has 5 simple ingredients plus fresh fruit to garnish.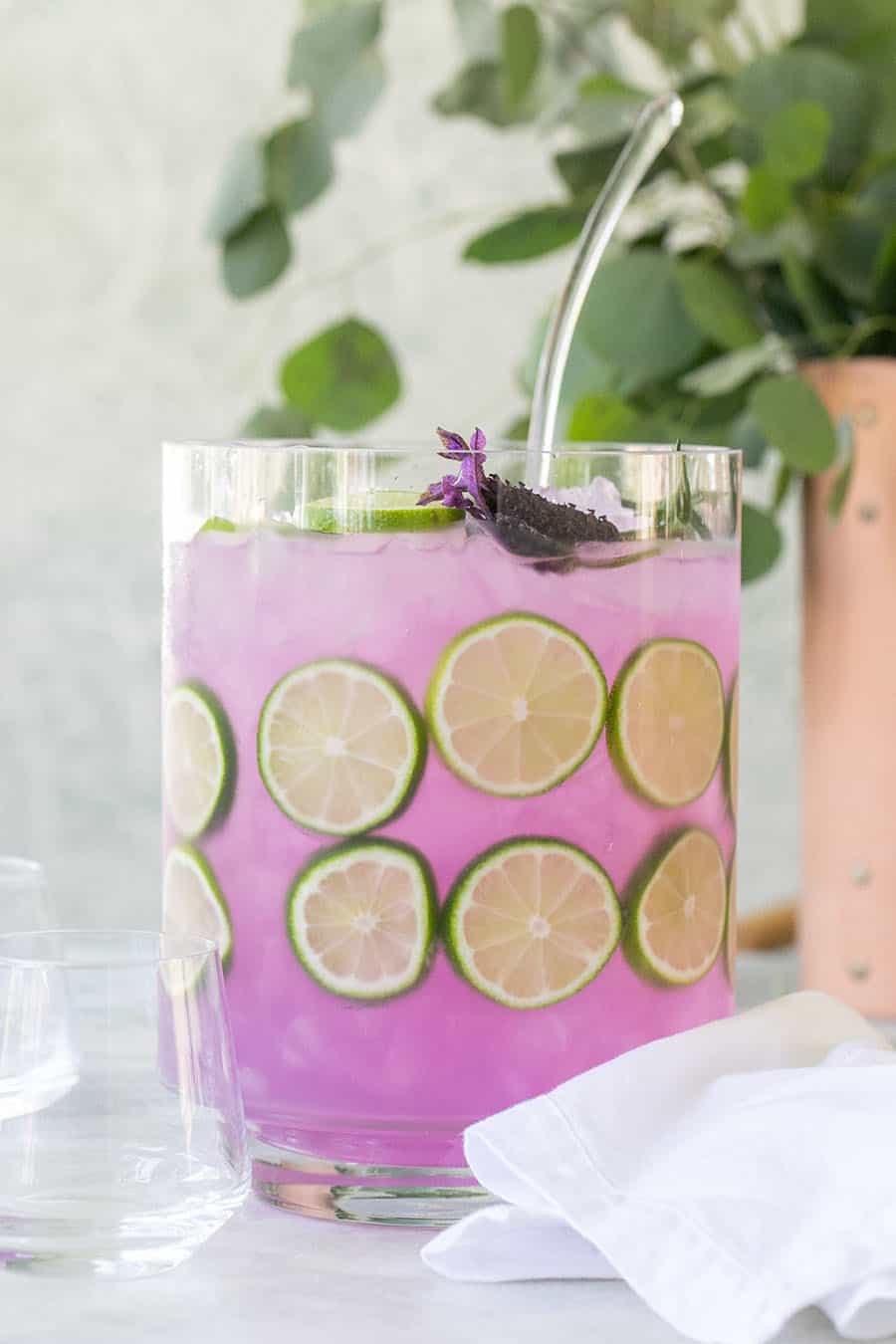 Lavender Gin and Tonic Punch
Our lavender gin and tonic punch is light and refreshing! It's naturally flavored and the beautiful purple color is from butterfly pea tea. Absolutely perfect for spring and summer.
Easy Cranberry Vodka Punch
If you need a quick and delicious vodka party punch, try this easy cranberry vodka recipe! Uses only 5 ingredients and it's perfect for the holidays!
Another great punch for Christmas is our candy cane punch. It doesn't have alcohol but you could easily add it!
Spiced Apple Sparkler Punch
Nothing sparkles more than this spiced apple sparkler holiday punch! It's spiked with apple vodka, sparkling white Champagne, and two varieties of apple cider!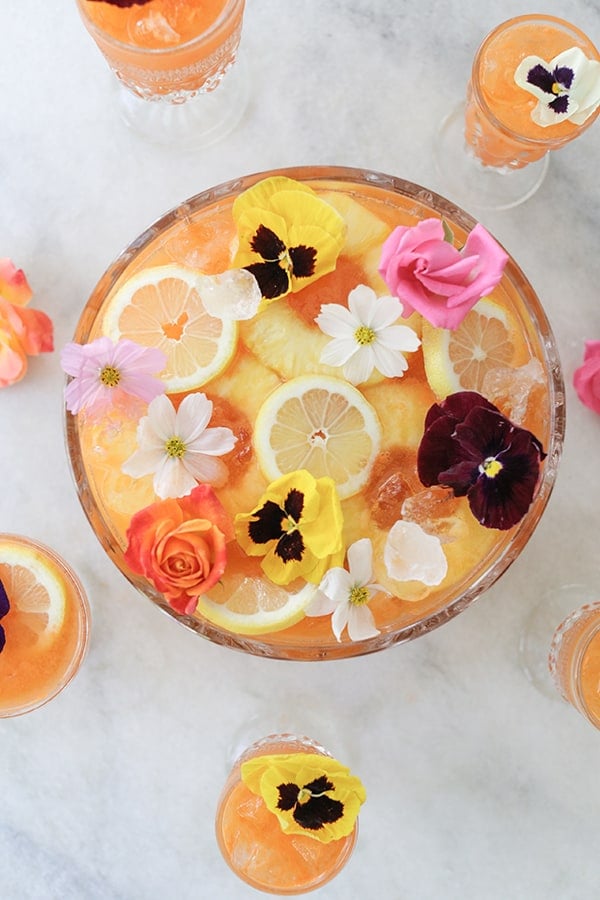 Pineapple and Carrot
This pineapple gin combo really packs a punch! Not only does the carrot and pineapple work so well together, flavor-wise, but they also add a lovely bright color to this spring cocktail!
Blackberry Margarita Party Punch
This blackberry margarita punch is the perfect blend of sour and sweet and serving it over ice dilutes the cocktail making a perfectly refreshing drink!
Spiked Jolly Rancher Punch
What's Halloween without a Jolly Rancher drink?! My spiked jolly rancher is perfect for a crowd and full of candy flavors without being too sweet!
Green Tea and Irish Whiskey Punch
This refreshing green tea and Irish whiskey is perfect for St Patrick's Day! It's a lovely mix of honey, lemon, and green tea. Light and delicious, you can serve it hot or cold.
Spiked Apple Cider Punch
This easy spiked apple cider recipe is the perfect alcoholic cocktail for when you are entertaining a crowd. Spiked with white wine and bourbon. Perfect for Halloween and Thanksgiving!
How to Embellish Your Punch
Ice Rings
Ice rings are a great way to keep the cocktail cold. They're simple to make too using a bundt pan, sliced fruit, berries and spices. Check out our guide to making ice rings here!
Ice Cubes
Colorful ice cubes are also great for keeping it cold. Freeze filtered water with sliced fruit, like strawberries! Use 1″ to 2″ ice cube trays to freeze ice and add them in right before serving.
Also, learn how to make pink ice cubes and blue ice cubes!
Edible Flowers
Toss some edible flowers in to garnish and add more color and texture! Check out our guide to edible flowers here or make your own edible flower garden!
The Best Punch Bowls
The best way to serve punch is in a large glass bowl or a drink dispenser. Here are a few of our favorites!
Britta Optic 10-Piece Bowl Set
Olivia & Oliver® Madison Bowl with Ladle
Cauldron Serving Bowl for Halloween
Pumpkin Bowl for Fall
Serving Party Punch
Serve in a large bowl with a ladle for scooping into glasses.
Keep it in the refrigerator until ready to serve, then add in an ice ring or large ice cubes.
If the recipe has bubbles, add them in right before serving to keep some of the fizz.
Make extra and leave it in a container in the refrigerator to easily fill the bowl during the party.
Always taste test. Add more ingredients if you like!
Add garnishes and make it pretty!
How do you drink punch?
Drink it from small decorative glasses. The best way to serve is with a ladle and then sip from a small glass.
We hope you're inspired to make your own! Use these recipes as a guide to creating your own perfect punch recipe! Cheers!
FOLLOW US on FACEBOOK, INSTAGRAM, and PINTEREST to see more delicious recipes, cocktails, desserts and parties!