Learn how to create a potted edible flower garden to use in recipes and as garnishes! Sharing the DIY and an edible flower chart as well as answering all of your edible flower questions!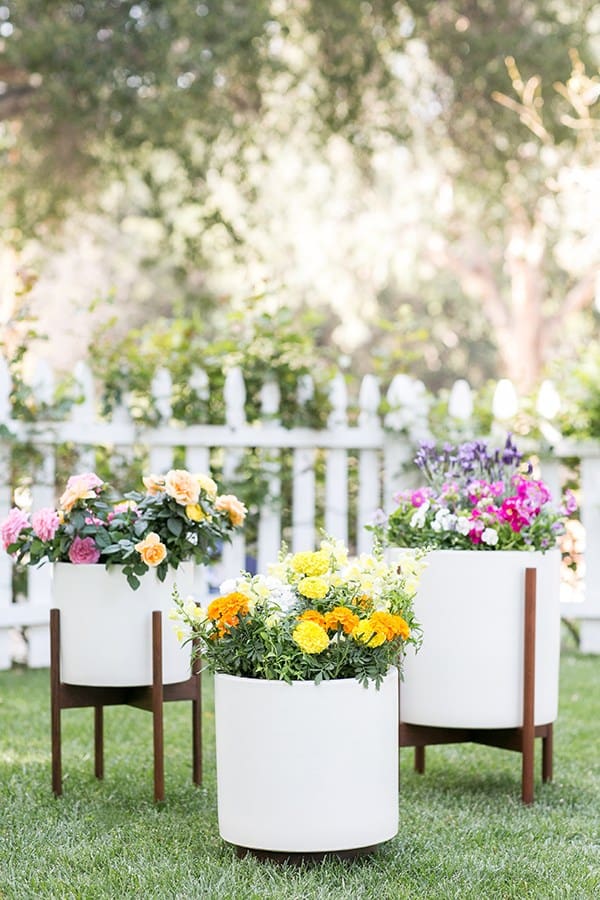 As you know, we love effortless, charming entertaining ideas here at Sugar and Charm!
One of the easiest ways to add a little charm to a dessert, salad, cocktail… even ice cubes is by using flowers. They add a pop of color and look gorgeous garnished on food and of course, you can even eat them!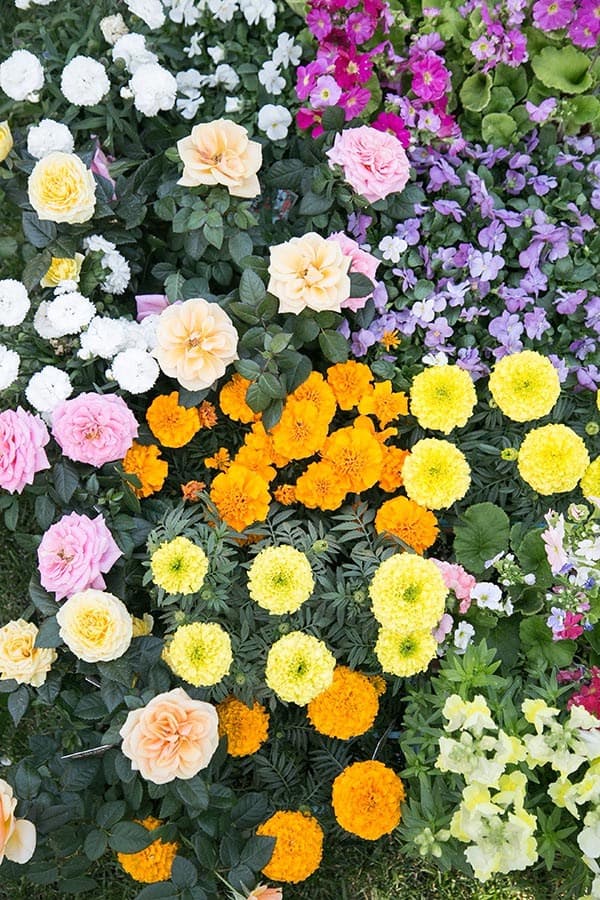 Most people don't have edible flowers on hand and many grocery stores don't carry them. So instead of running all over town trying to find edible flowers when we throw a party, we've decided to make our own edible floral garden in beautiful pots!
Not only does it look stunning on our patio, but now I have access to the most beautiful edible flowers to use at any time!! It's actually quite simple to do too!
How to Make an Edible Potted Floral Garden
Flowers
1. Purchase your flowers – There are several edible flowers you can buy, so use the chart below as a reference. Some are seasonal, so you can re-plant your floral garden with fresh flowers that will thrive during colder months too, like pansies!
Edible Flower List
This list and chart is to give you some ideas of what flowers are edible and what you can plant in your edible flower garden.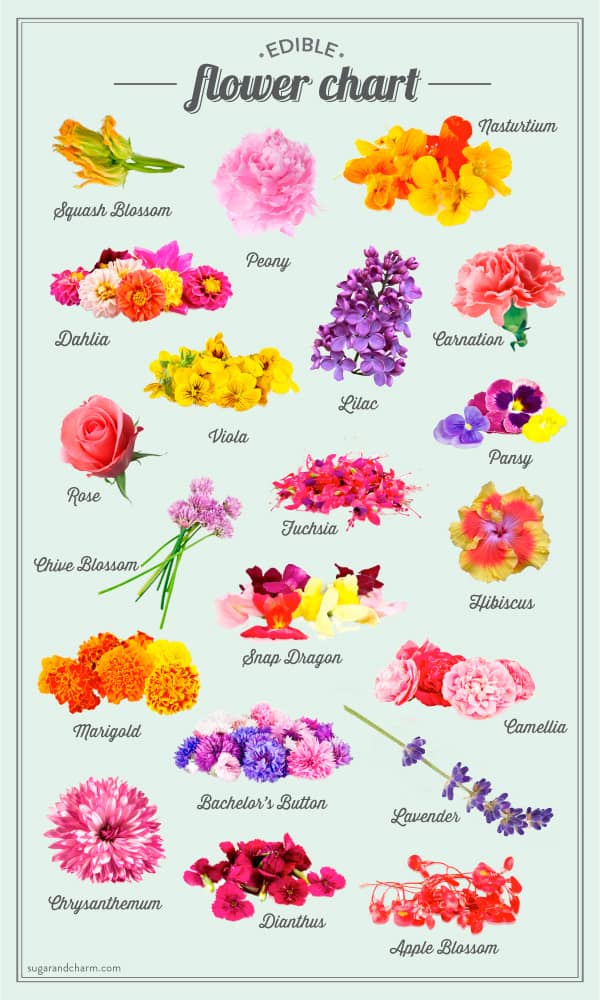 What kind of flowers can you eat?
Here is a list of flowers you can eat!
Marigold
Chive Blossoms
Dianthus
Camellia
Apple Blossom
Bachelors Button
Lilac
Roses
Peony
Lavender
Pansy
Nasturtium
Viola
Dahlia
Daisy
Calendula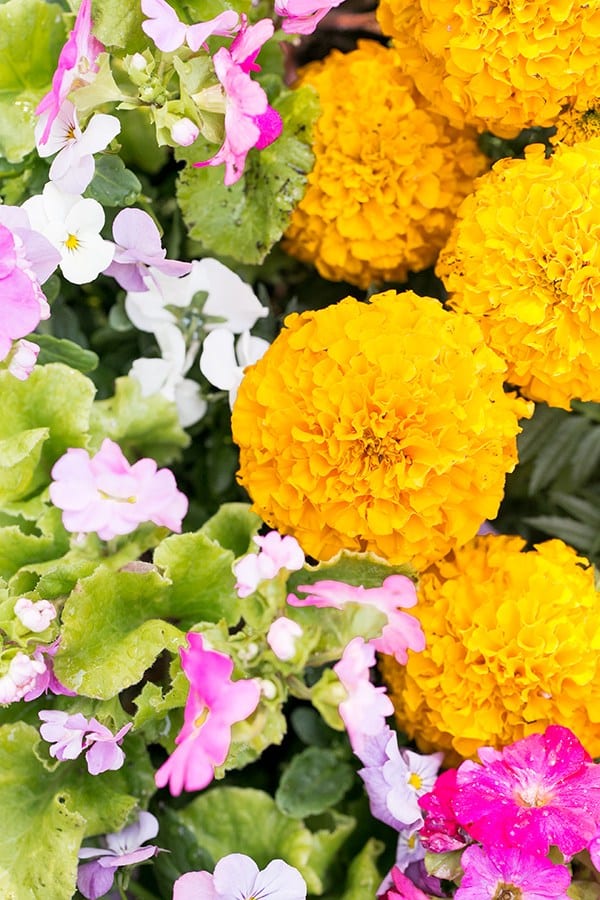 For this garden, we used lavender, carnations, snapdragons, roses, violas, and primrose. All of them can be planted together, except for the roses.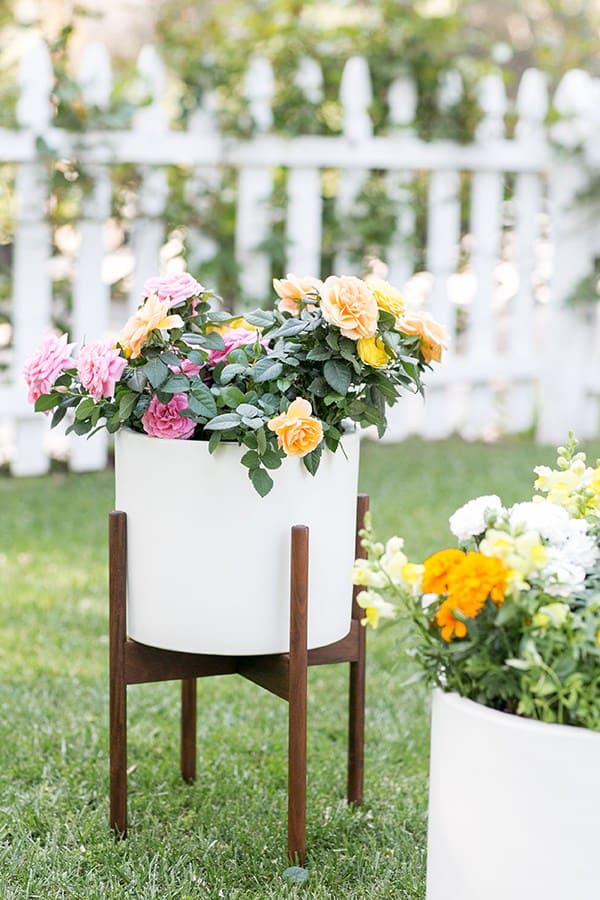 Pots
2. Find some good pots to plant your garden in. We used a mix of white, modern pots and they look stunning on the patio, filled with flowers!
Drainage
3. If your pot doesn't have drainage, add a nice layer of rocks (think 3 rocks high) to the bottom before you add the potting mix.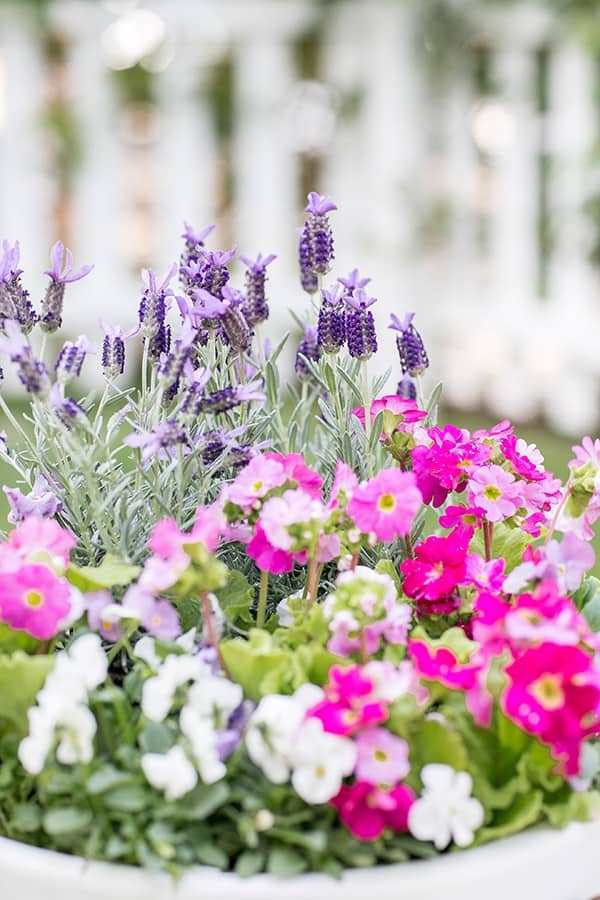 Organic Soil
4. Use an organic soil to plant the flowers since you will be using these for recipes and to garnish food.
Watering and Feeding your Flowers
5. Next, water your flowers! To give them a little boost, add organic flower food to the soil which instantly feeds the leaves and roots for spectacular flowers!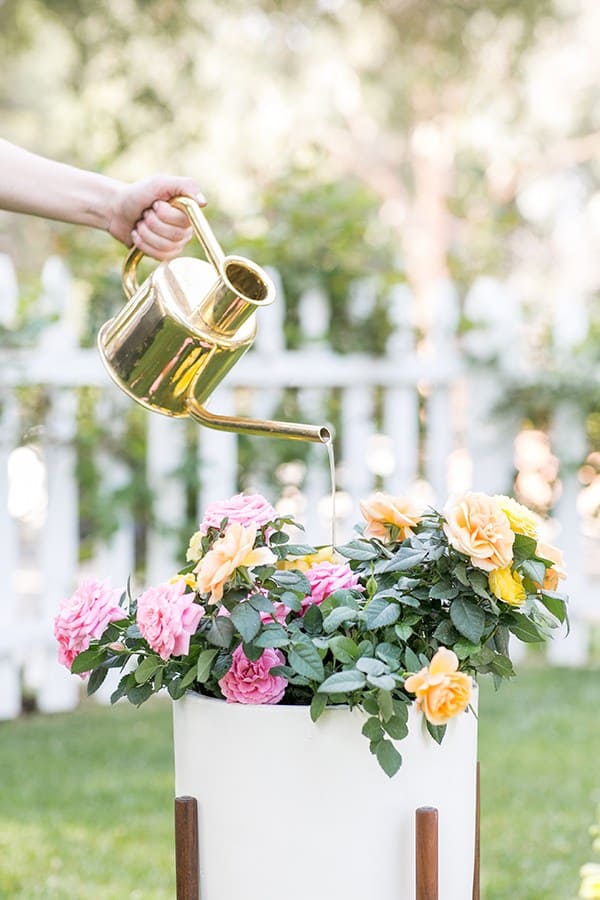 Flowers and herbs all potted and ready to be used for cooking and entertaining! Hopefully, this inspires you to make a garden of your own! It's so easy!!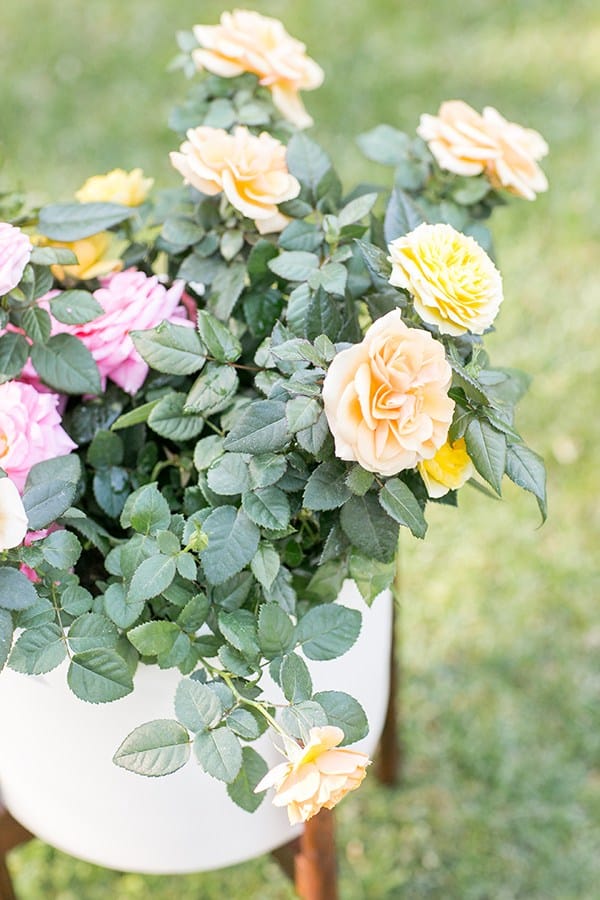 Frequently Asked Questions…
Are edible flowers good for you?
Depending on the flower, most of them do contain vitamin c and antioxidants. For example, hibiscus is a flower used around the world in tea and is thought to lower blood pressure. Read this article to learn more, 11 Edible Flowers with Potential Health Benefits.
What purple flowers are edible?
Pansies, Lavender, Lilacs, Violet, and Dandelions all grow in a beautiful purple shade.
Where can you buy edible flowers?
Your local nursery will sell flowers that you can plant. Your selection will depend on the season it is and your location. Buy organic flowers if possible.
Can edible flowers be frozen?
We don't recommend freezing them. They can be frozen, but once they thaw they will wilt, change color and look pretty sad. Instead, you can try pressing and drying them!
Dried flowers look stunning on desserts as well.
How do you store edible flowers?
Once you harvest your blooms, plan on using them within 1-3 days. You can keep them in the refrigerator by placing a wet paper towel in a bowl and then setting them on the towel to keep them moist.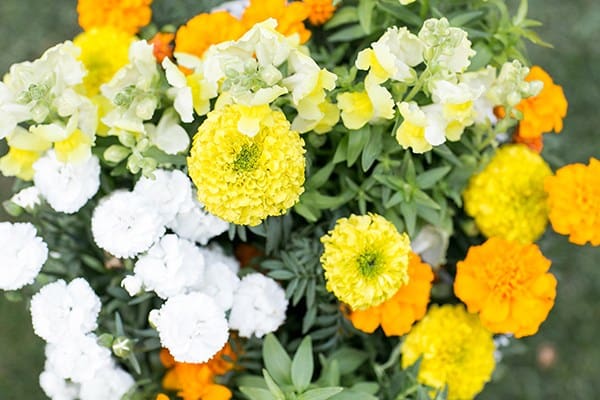 Recipes that use edible flowers!
Lemon Bars – this is our favorite recipe for lemon bars. Top them with edible flowers for added charm!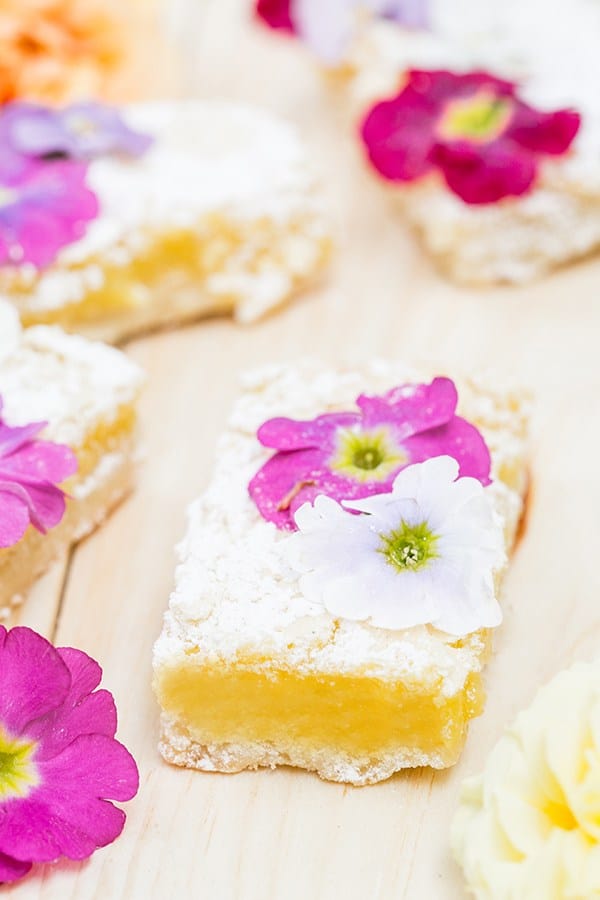 We hope you're inspired to make your own garden! They truly make desserts, cocktails, and salads so beautiful! Let us know what you think in the comments below and tag @sugarandcharm on social so we can see your photos!!