Autumn has arrived and we're ready for all the fall decor! We've created a beautiful fall porch and we're sharing tips for styling and giving you all the festive fall porch ideas! It's all about the pumpkins, fall flowers, and more! All the details to get your porch looking like a fall festival!
Also, check out our colorful fall porch and a charming front porch we decorated for fall.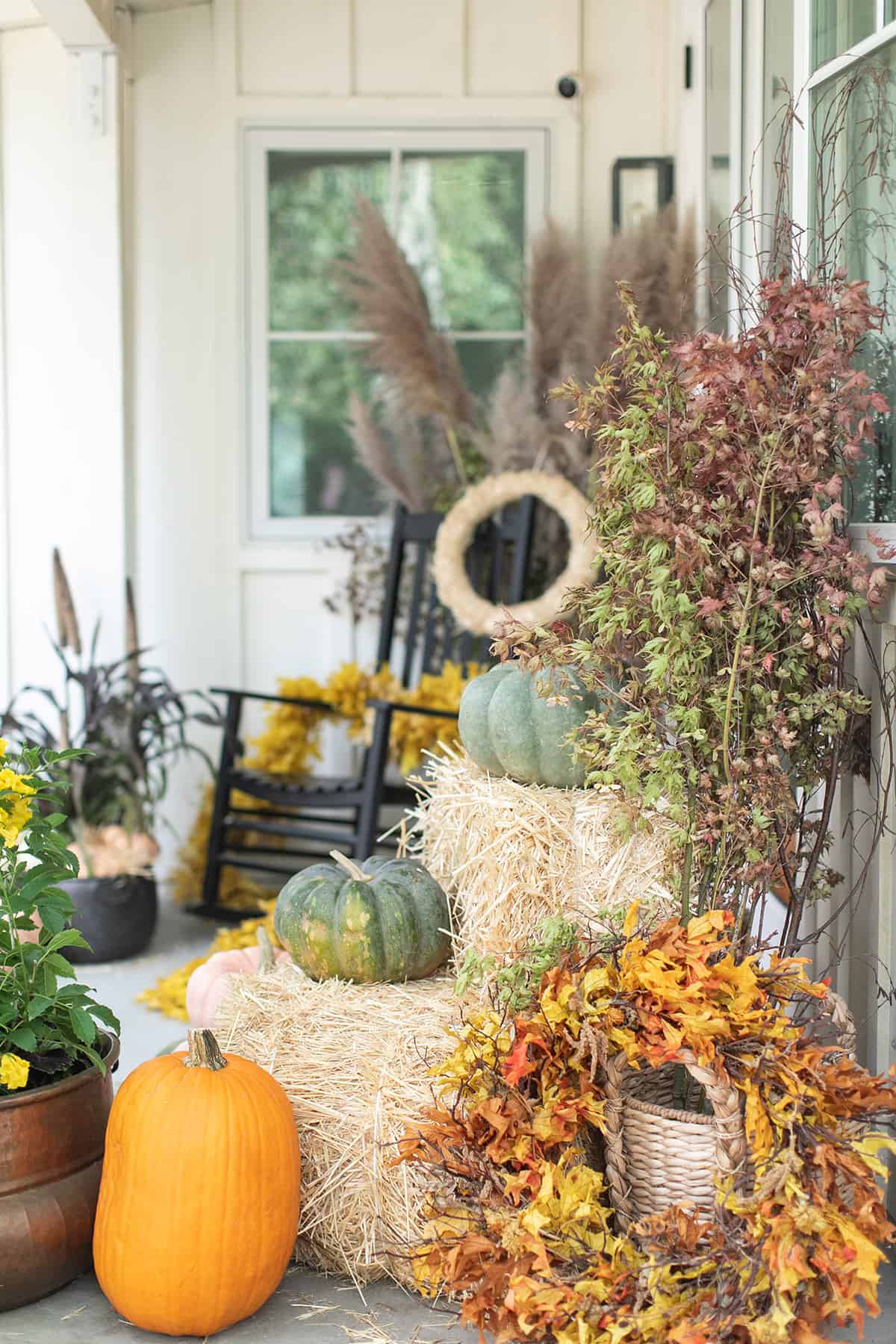 Fall is the perfect time to create a beautiful porch that is welcoming and festive. A place you can display pumpkins and colorful wreaths that bring you joy. We wait all year to turn our porch into a mini fall festival! Read below to get all the details on creating your own festive space for fall.
Make yourself a nice fall cocktail to sip and start decorating!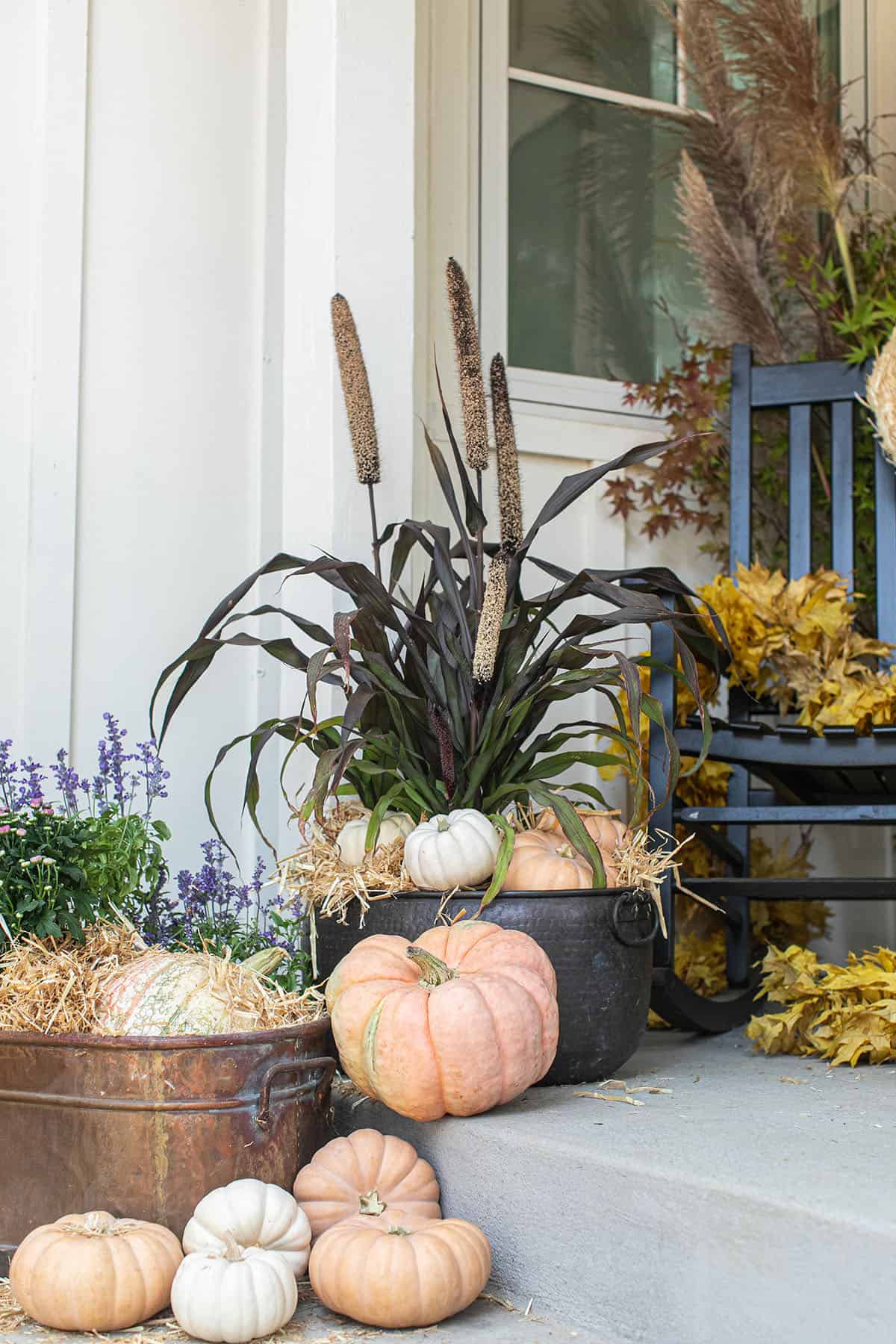 Every year Erin from White Fig Designs helps us create a beautiful fall porch. This year we incorporated copper and colorful plants. It has a more rustic, moody vibe to it that we love and will transition beautifully into Halloween.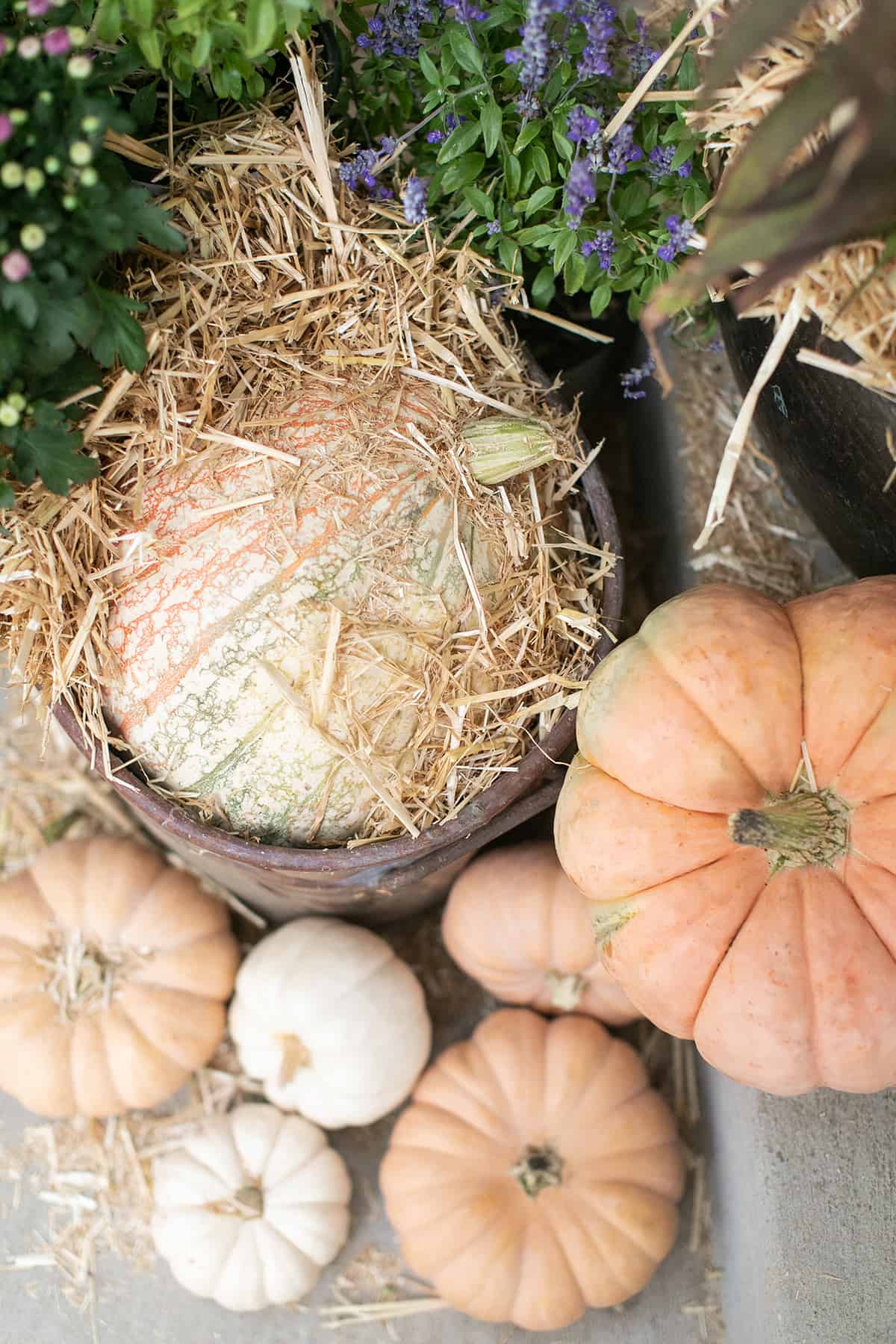 Ideas for How to Style a Fall Front Porch
Pumpkins
It goes without saying that pumpkins are a must for a fall porch. Incorporate different varieties of pumpkins. Pumpkins come in so many textures, colors, and styles and they're all beautiful. We love really bumpy green ones and the giant fairytale pumpkins. The more unique the better!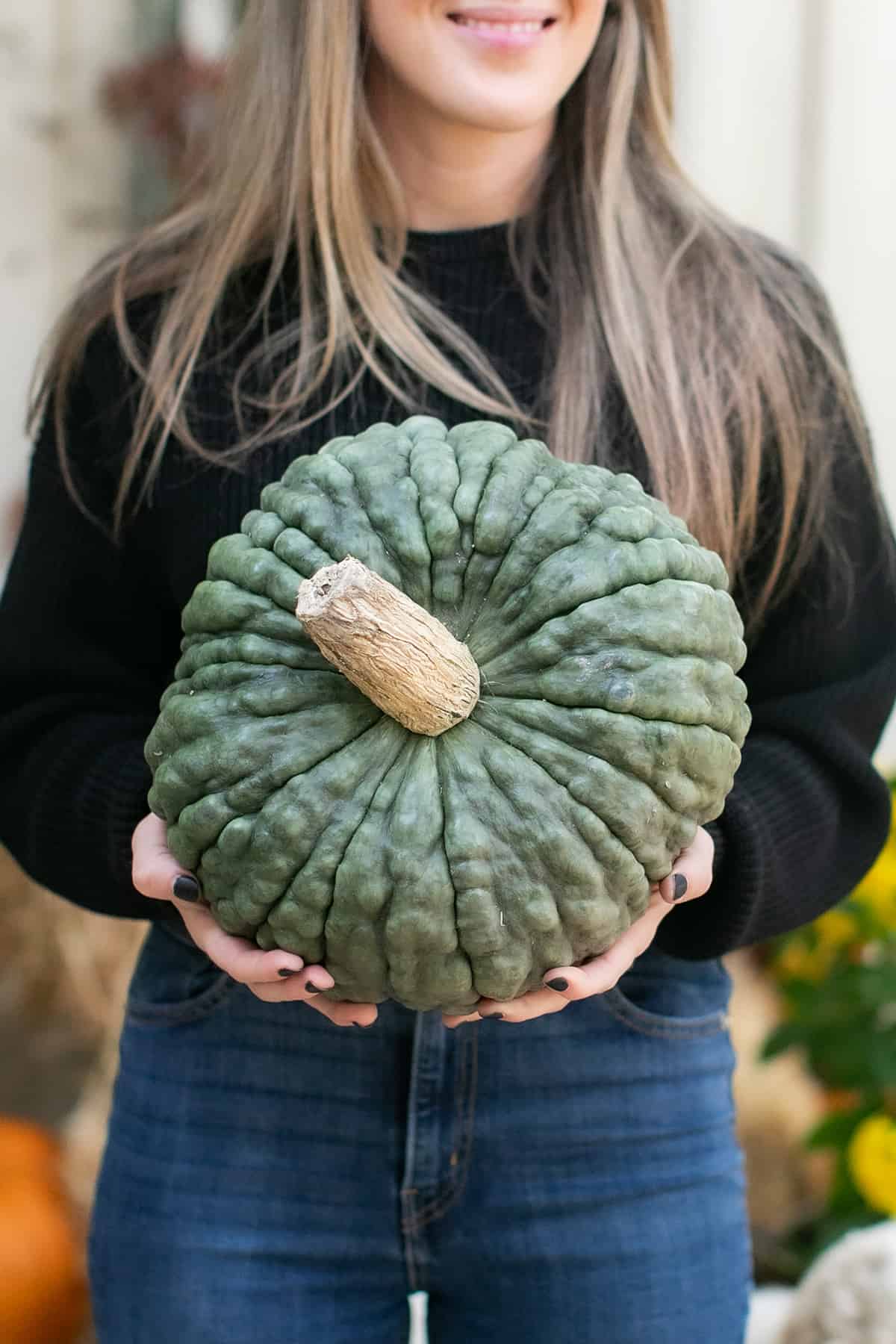 Hay Bales
Use hay bales to add height to the porch. They can also be used to fill in holes and as a filler around plants.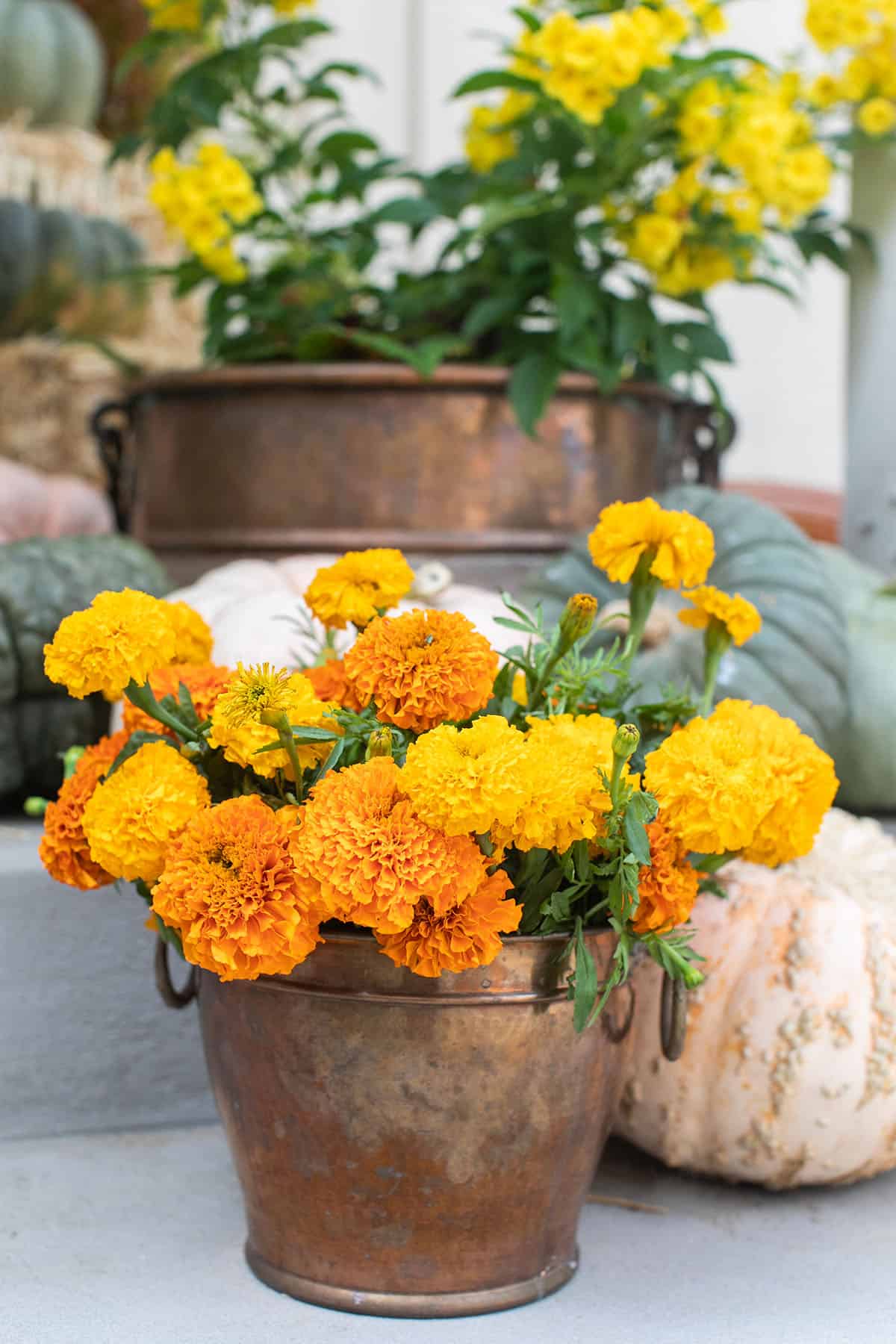 Fall Flowers
Flowers are the easiest way to add more color and create a beautiful porch. Mums are traditionally used and they come in different colors like yellow, orange, white, and purple. However, there are many other plants and flowers you can use too:
Lavender
Japanese Maple
Pampas Grass – Use this to create height on the porch.
Sage
Marigold
Yellow Bells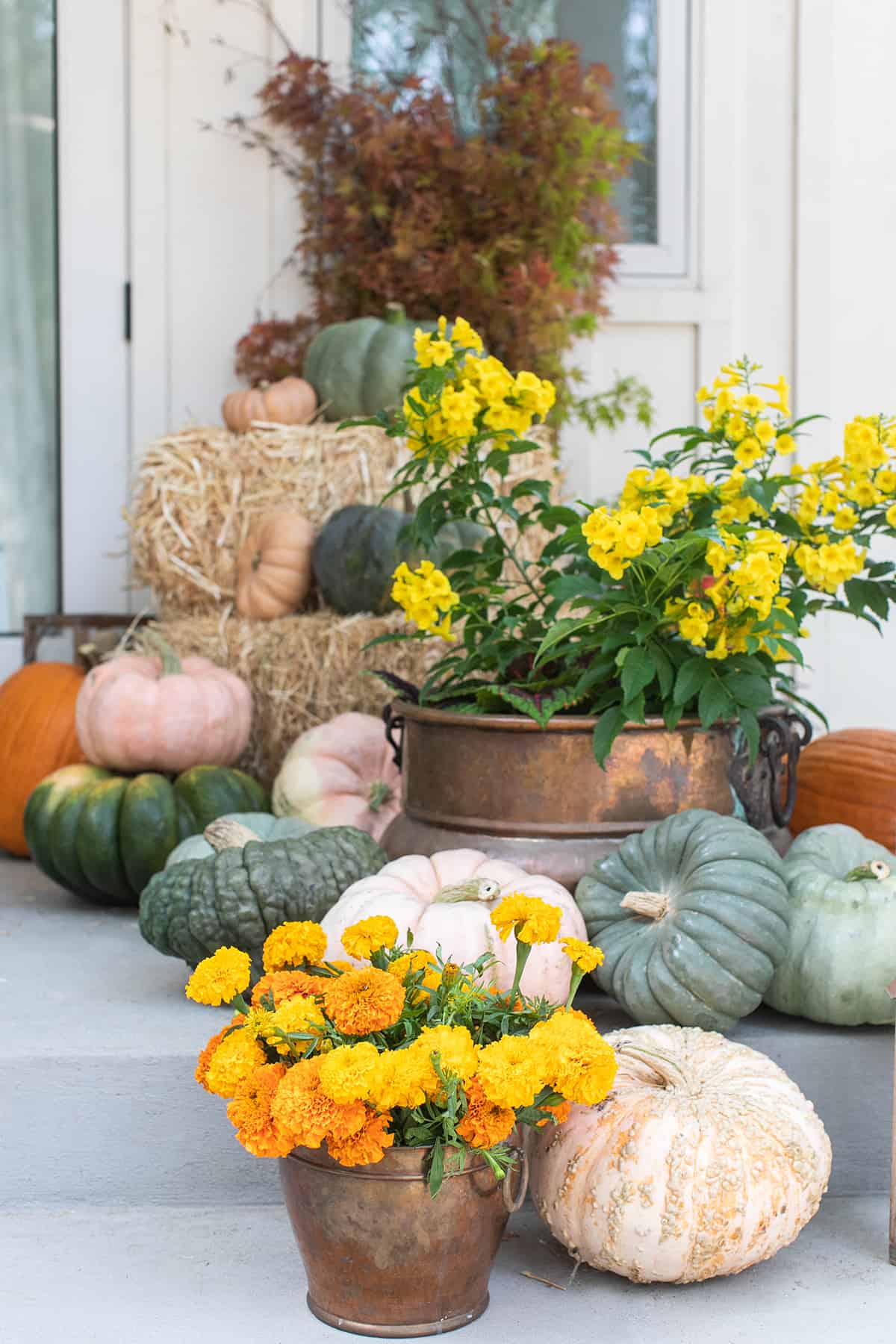 Fresh flowers in a copper vase are perfect for fall too. To keep them fresh, water them every other day and trim the bottoms each week.
Dried flowers work really well too. Create a beautiful dried, fall flower arrangement to keep on the porch.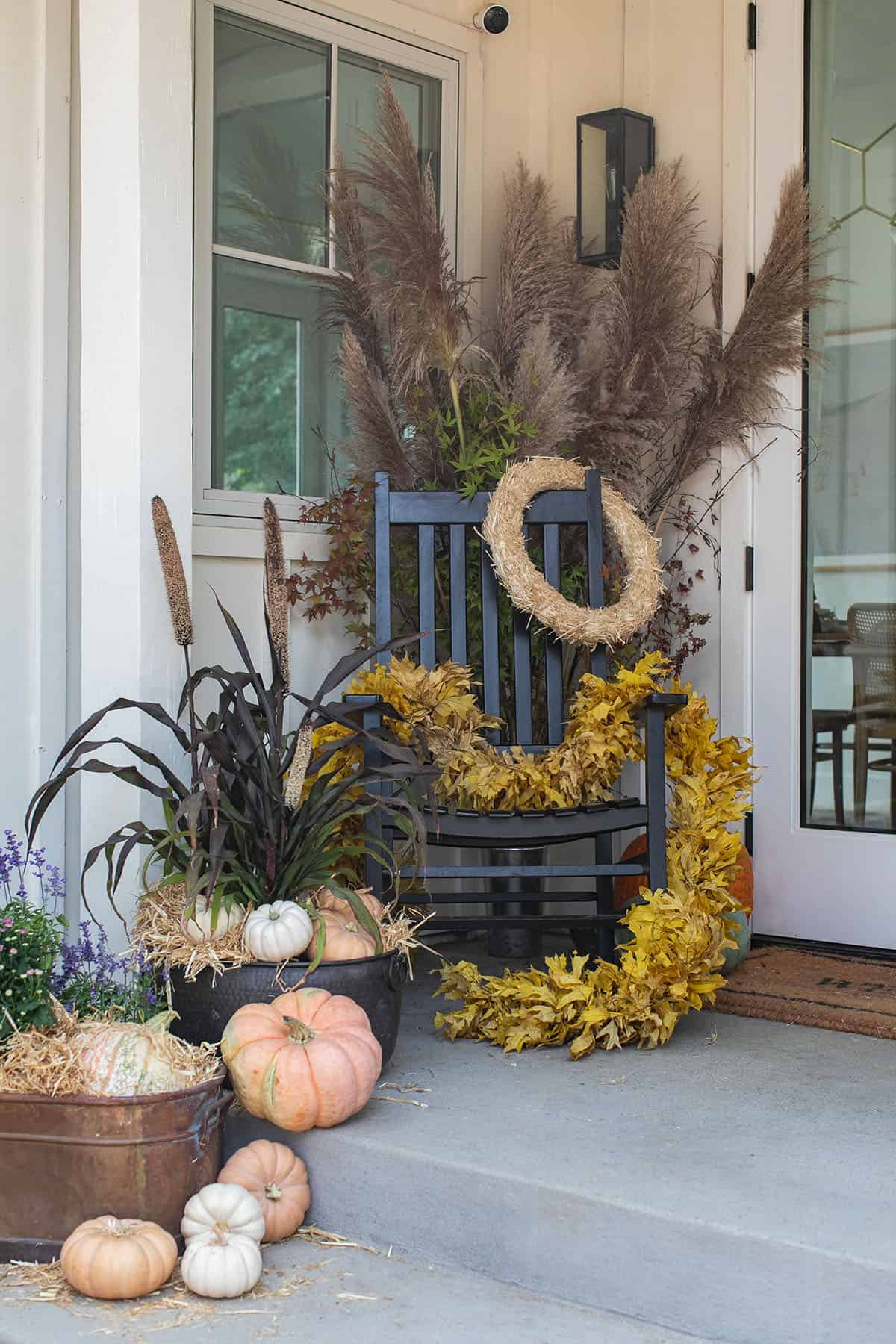 Dried garland is great to drape over doors and hay bales. They add texture and coloring to the fall porch.
To create height, use clear fishing wire to attach pompous grass and taller plants to the house. Also, large buckets filled with water can hold taller plants too.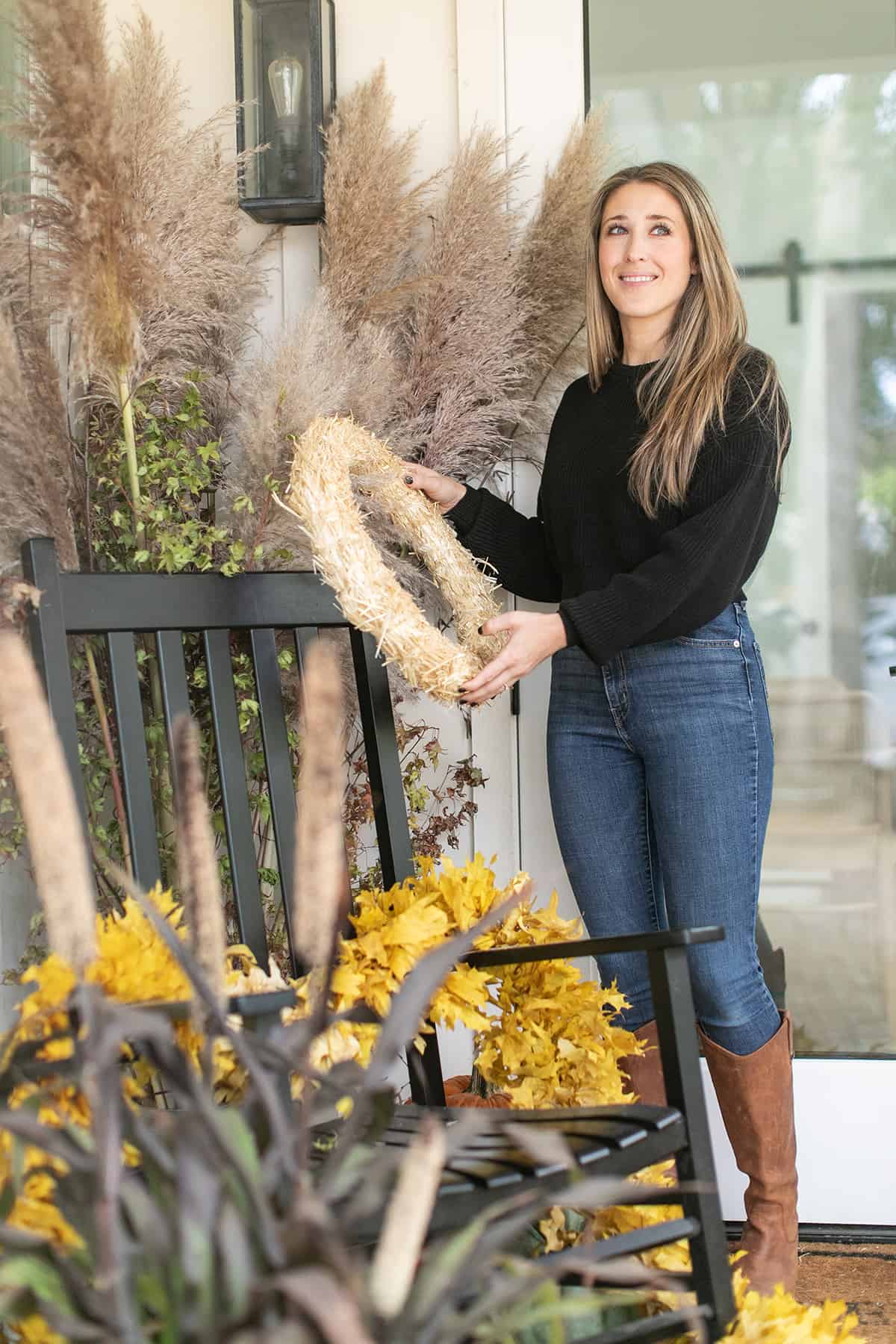 Fall Wreaths
Wreaths add more texture and work great for fall decor. Traditionally wreaths are hung on doors, however, they look beautiful resting against a chair or a large pumpkin.
We love all of Grandin Road Wreaths
Copper Pots
Use large copper or galvanized pots to hold flowers and pumpkins. If the pots are really large, add hay to the bottom to boost the plants up. We also like to add hay around the top to fill in any holes.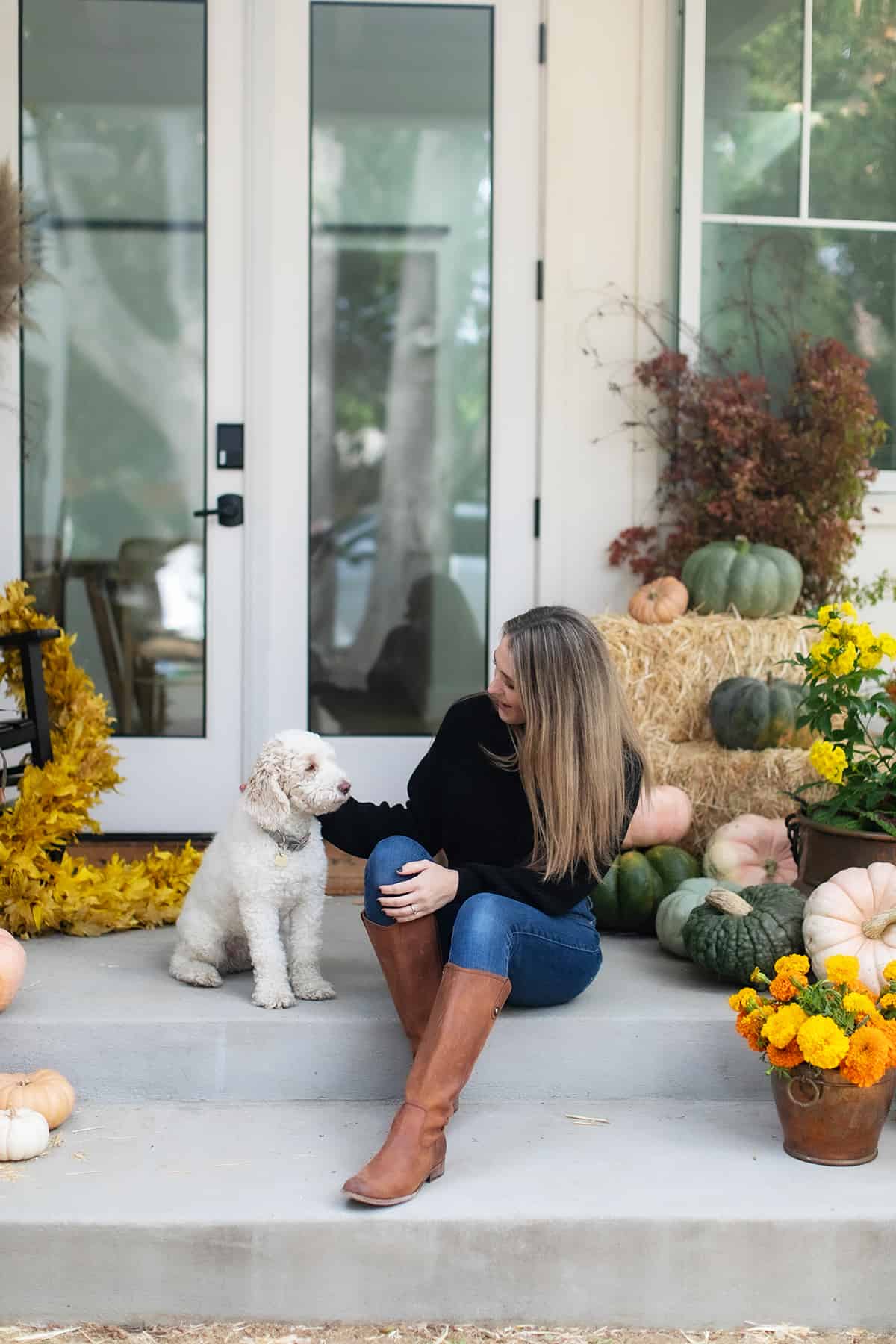 Lanterns
Lanterns are beautiful and can be used for lighting and decor. One way to decorate them is to fill them with pumpkins and hay or twinkle lights. We also love the flameless candles that turn on with a timer. They look so real!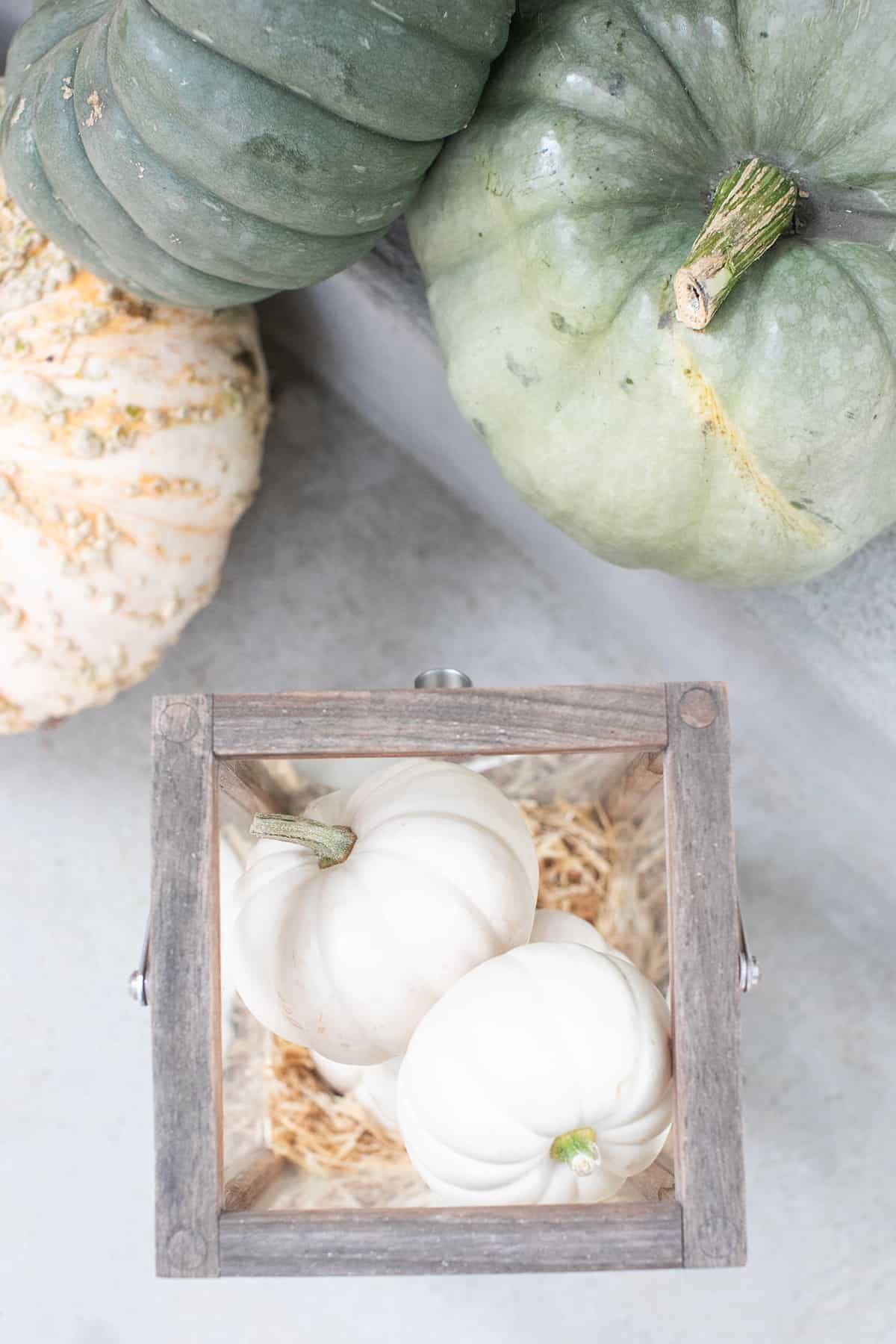 Tips for Styling a Fall Porch
Make sure to water the plants and flowers every other day.
Keep the area clean by sweeping and removing rotten or eaten pumpkins.
As the season goes on the porch will start to dwindle, however with proper care, you should be able to keep it somewhat festive until Thanksgiving.
Use dried flowers if you're unable to water fresh flowers.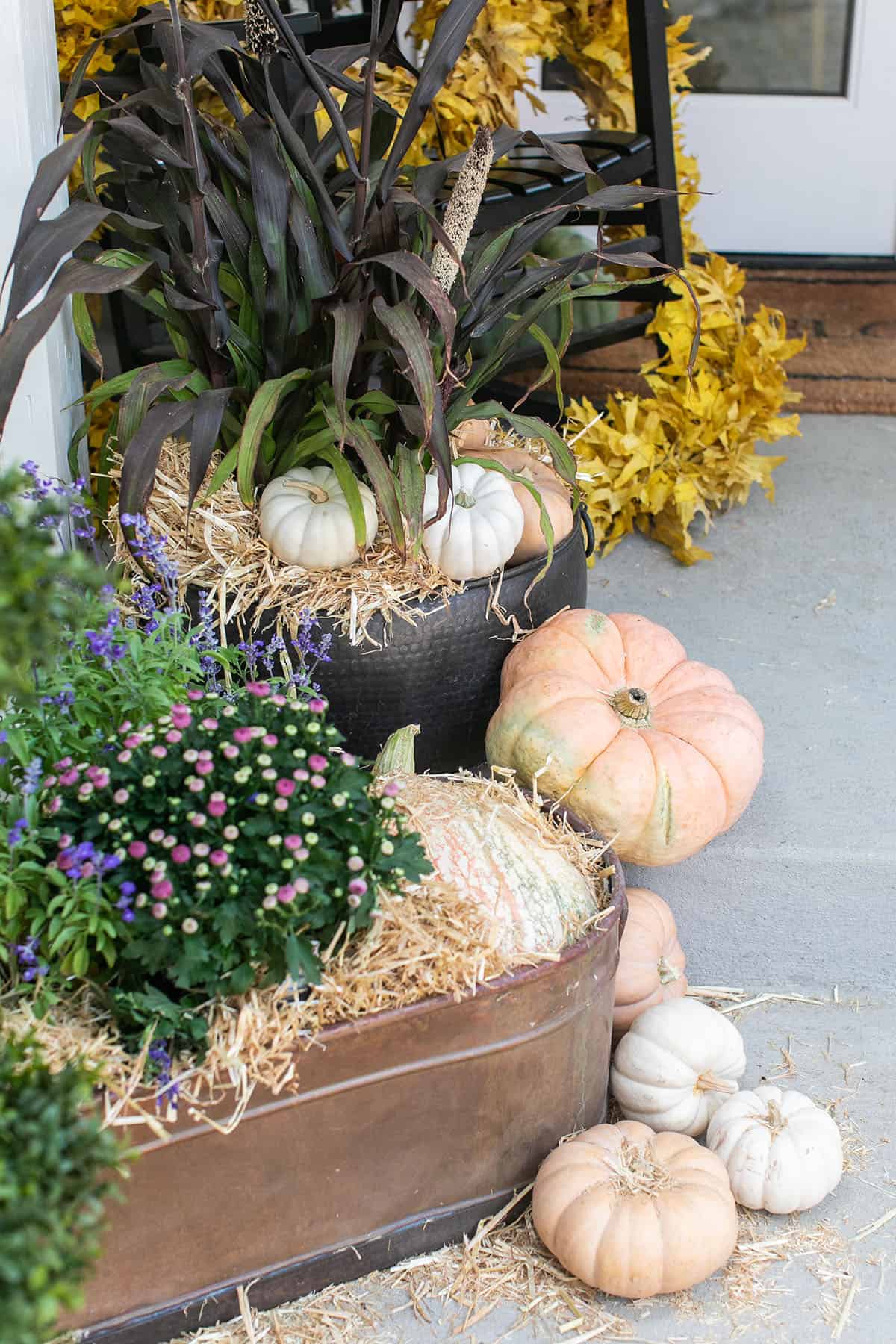 More Fall Ideas You'll Love
How to Make Fall Glass Tarriums
When October comes, you can add some festive Halloween decor items to your porch to make it spooky!
We hope you're inspired to create your own beautiful fall porch!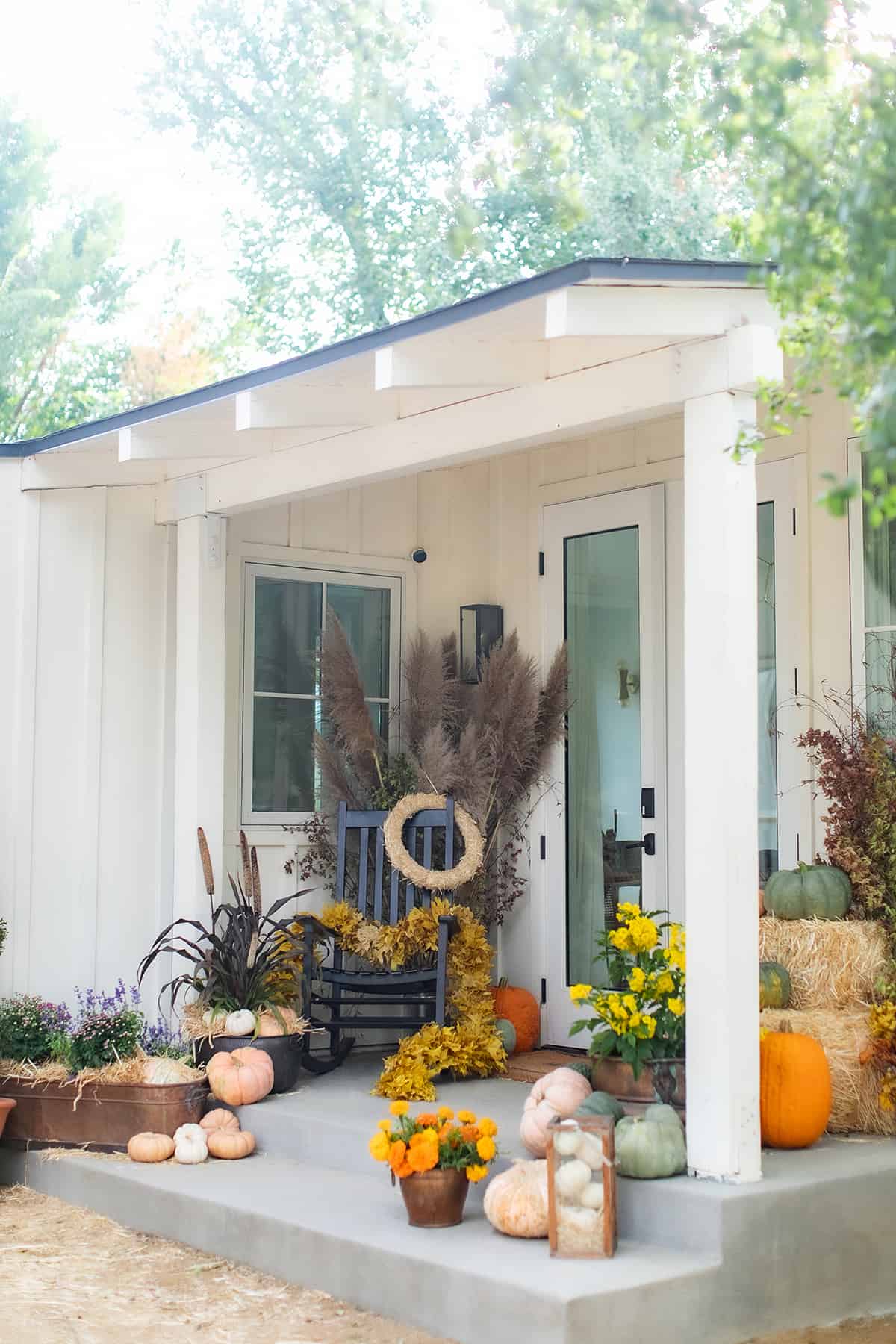 You can also FOLLOW US on FACEBOOK, INSTAGRAM, and PINTEREST to see more delicious recipes, cocktails, desserts, and parties!