One thing I do each season is restyle my bar cart. Switching out spirits, candles, and decor to go with the season. For winter it's all about dark spirits, evergreen, and holiday-scented candles.
Come February, I brighten it up with colorful blooms, light spirits, and floral, sophisticated candles. It's all about keeping it fresh and colorful to welcome spring.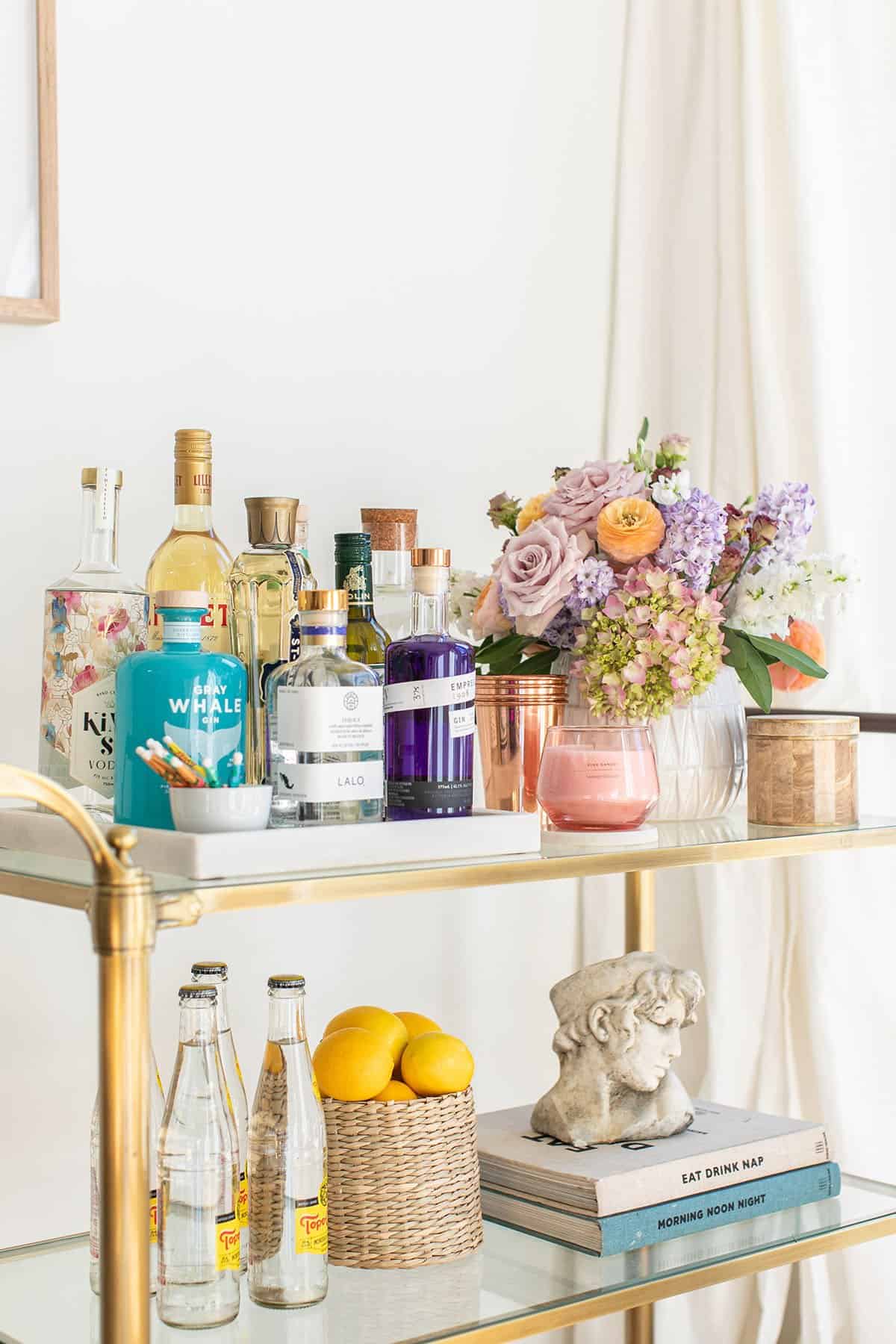 So if you're having guests over, here are some tips for creating a beautifully styled bar for spring!
Spirits
When styling a bar cart for the season, it's important to showcase seasonal spirits. In the winter the bar cart would be filled with darker spirits like bourbon, dark rum, and a winter gin. However, as the season changes to spring and summer, it's all about the lighter spirits and cocktails. Here's what you need to spruce up the cart and get it ready for spring: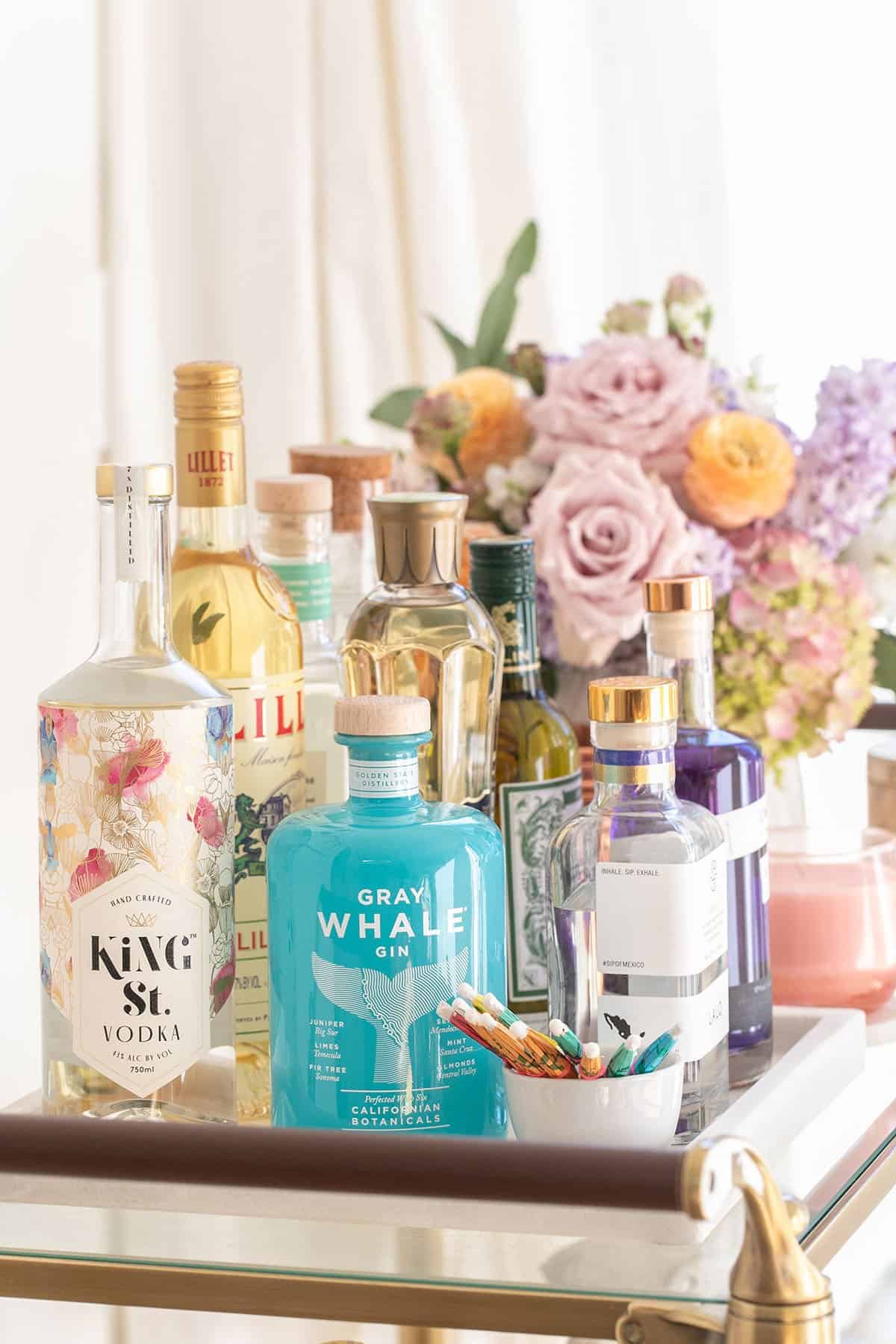 Floral Vodka – For light summer cocktails.
Elderflower – Add floral notes to any spritz.
Purple Gin – For fun colorful cocktails.
Tequila Blanco – All the margaritas!
Botanical Gin – Gin and jam cocktails.
Vermouth – For the best dirty martinis.
I'm very big on labels and the look at the bottles, just like I am with my candles! I cherish good design as it acts as decor for your home.
Use these lighter spirits when hosting and making cocktails during the spring. I store dark spirits away for the season. It's nice to be able to quickly grab what I need and showcase a brighter and lighter bar.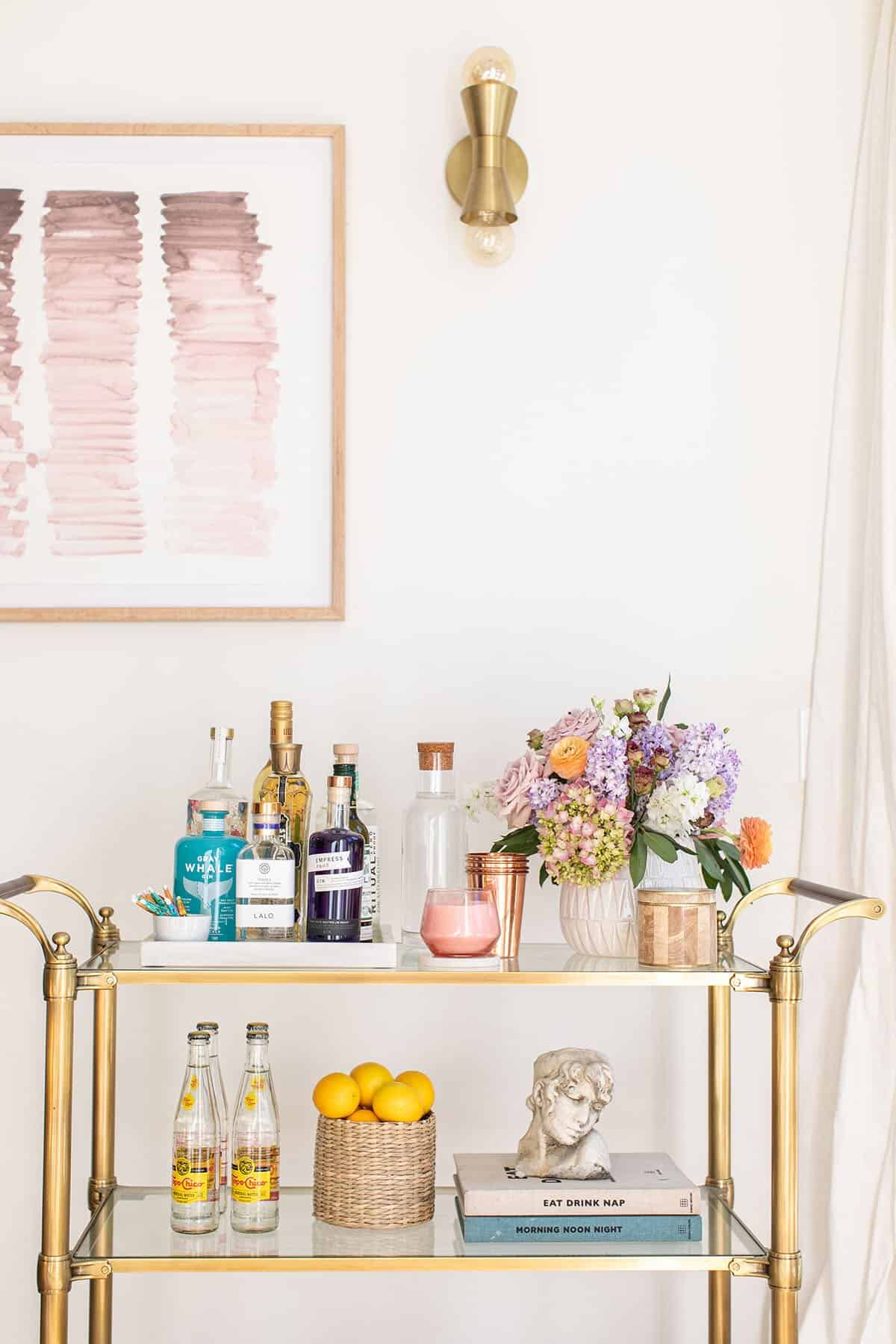 Another item you can add to the bar cart to prepare for guests are:
Sparkling Water Fun Paper Straws Cocktail Umbrellas Festive Glassware and Champagne Flutes Bucket of Ice – If you're making cocktails right away.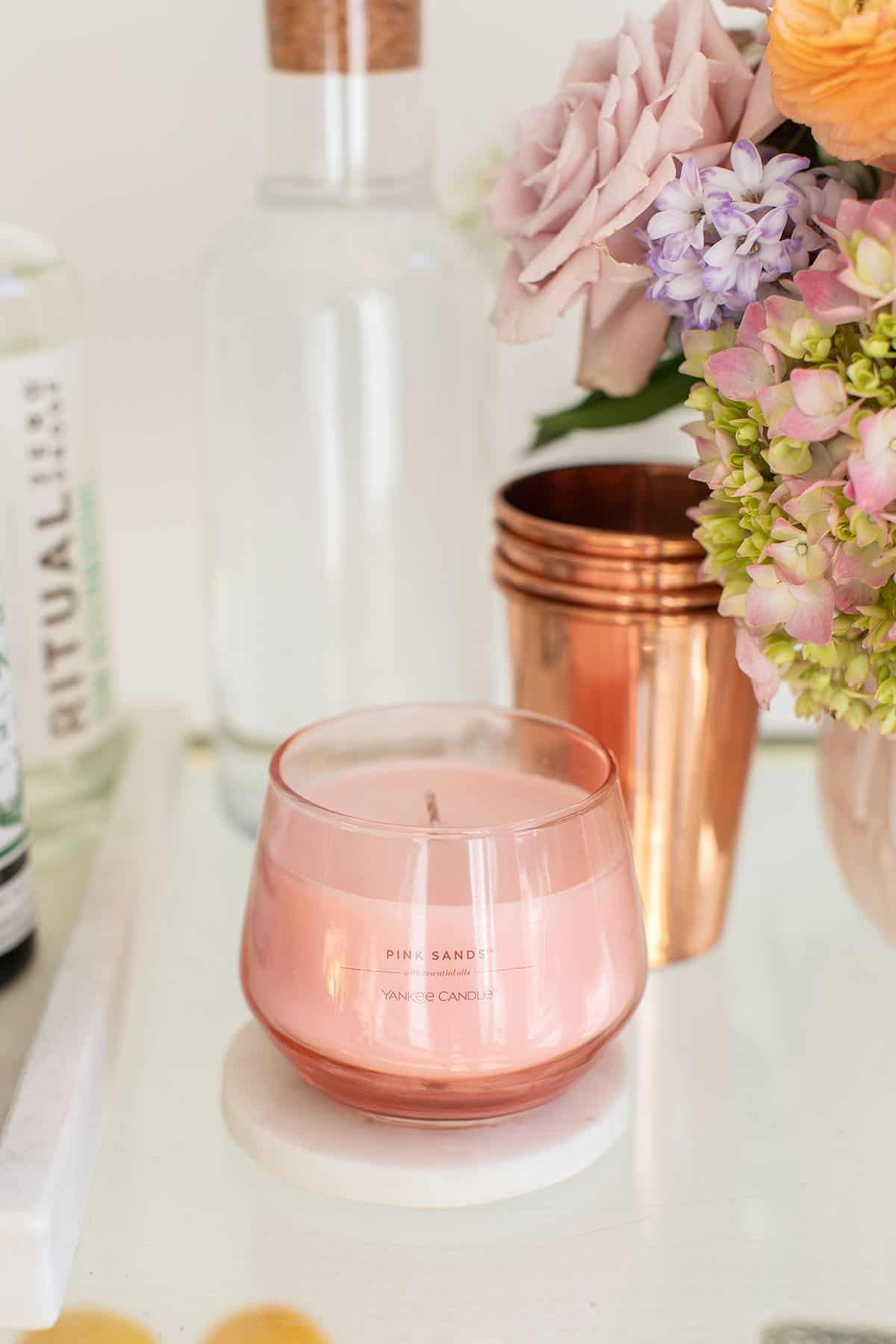 Candles
I always have a candle on my bar cart. I fell in love with the new Yankee Candle Studio Collection for spring! They have the most gorgeous, colored glass vessels that are perfect for decor. They're also made with premium soy wax blend and essential oils! They fit seamlessly into my home and add a beautiful pop of color.
These candles have a modern shape to them and I love the way they look on my bar cart.
The Studio Collection is available in many of our favorite Yankee Candle fragrances like Pink Sands, Wild Orchid, and Sage & Citrus. They all smell incredible and fresh.
I really enjoy fresh cut roses as it smells like an English garden and is so perfect for the cottage. It gives a floral fragrance throughout the cottage, which I love no matter what season it is!
The candles also look beautiful as decor anywhere in the house. I keep one on my dining table too. I love the ambiance of a lit candle when we're eating dinner.
They're perfect when hosting as well. I always have one lit when I have guests over. I love my house to smell amazing at all times!
You can also repurpose Yankee Candle jars too!
Bar Cart Decor
Here are some more items you can add to your bar cart to make it festive for spring.
Design and Cocktail Books
Add textures like rattan and wicker.
Use marble trays to place spirits and candles on.
Switch out flowers weekly.
Keep matches near to light candles.
We hope you're inspired to give your bar cart a little spring update! Also, check out the entire new Yankee Candle Studio Collection to add them to your home decor!
You can also FOLLOW US on FACEBOOK, INSTAGRAM, and PINTEREST to see more delicious recipes, cocktails, desserts, and parties!