This is our favorite dirty martini recipe! It's easy to make and uses simple ingredients. A classic cocktail, perfect to sip and serve year-round. We're sharing everything you need to know about how to make a dirty martini as well as the history of this classic drink! For a unique twist, try our dirty martini with tequila.
If you love to entertain, you may be continually on the prowl for new recipes. However, there's more to dinner than food and dessert. Liven up your next party (or Sunday evening) with a dirty martini using our foolproof recipe. In the meantime, we're also going to unwrap this drink's dirty secrets!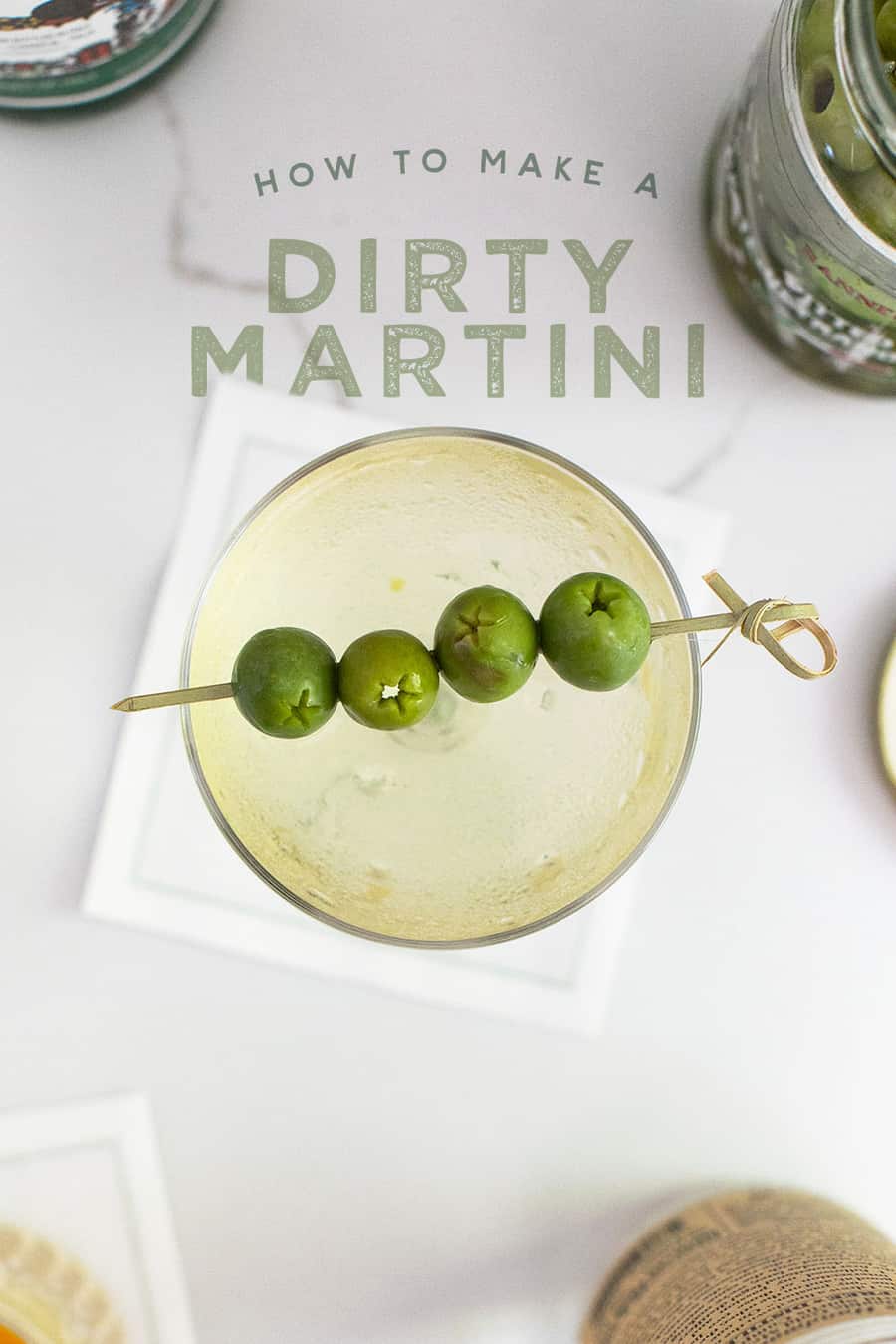 History of the Dirty Martini
There are many theories about this. Here are two of the stories that may hold the secret of the dirty martini's humble beginnings.
The story goes that a New York bartender created the martini variant in 1901 by muddling the olive and eventually adding olive brine.
Or…perhaps it was famous 19th-century bartender Jerry Thomas who first mixed in a little olive brine to spice up his signature drink. 
Regardless, this classic martini is perfect for those who want a drink that's not sweet and more on the savory side.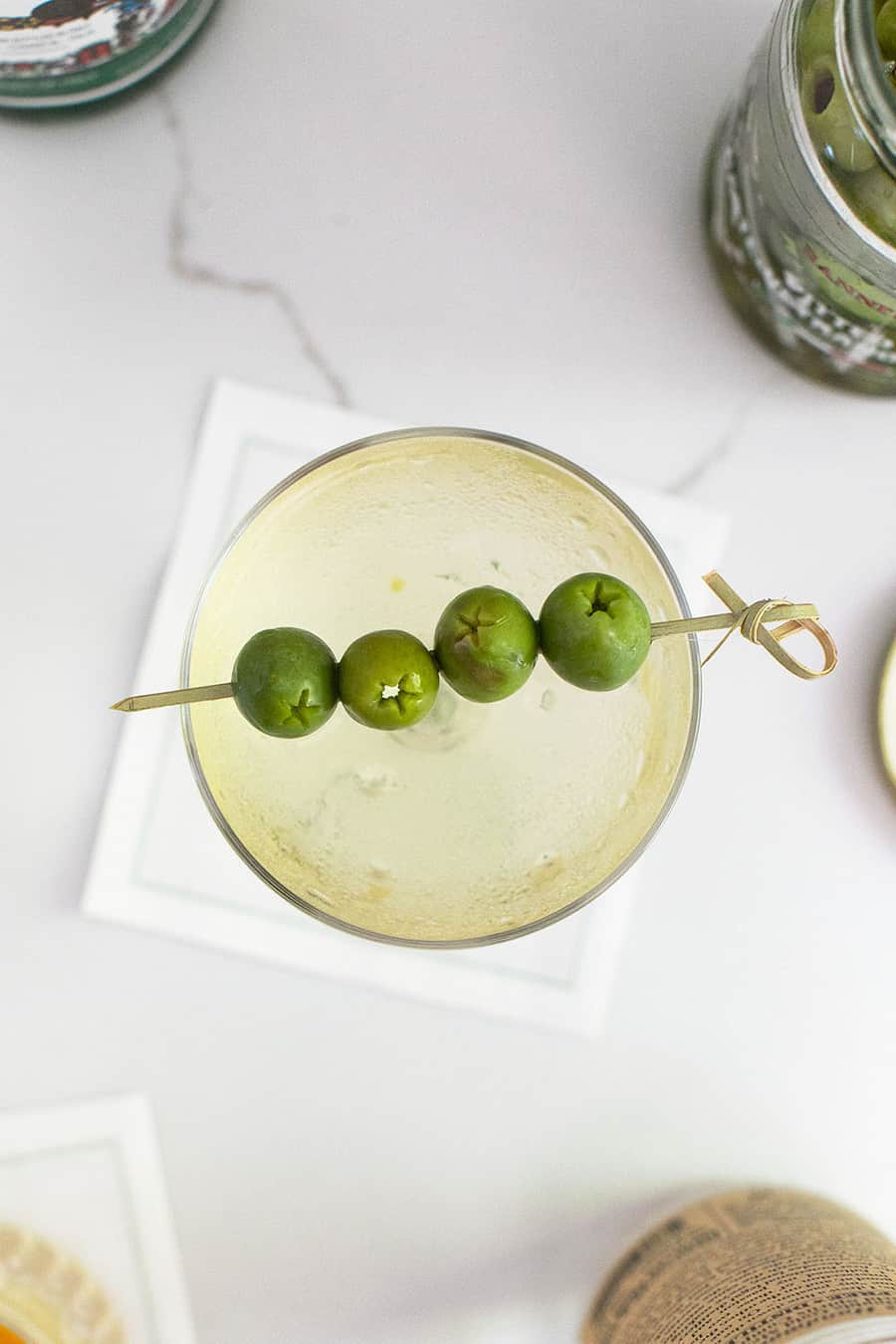 What Is the Dirty in a Dirty Martini?
Dirty martinis have a kick of olive brine in the mix. Olive juice adds acidity and salt for a more powerful flavor that drinks sippers worldwide savor. It also changes the color of a clean, clear martini, making it "dirtier." Traditional martinis come with an olive garnish, but many bartenders add two or more to a dirty martini.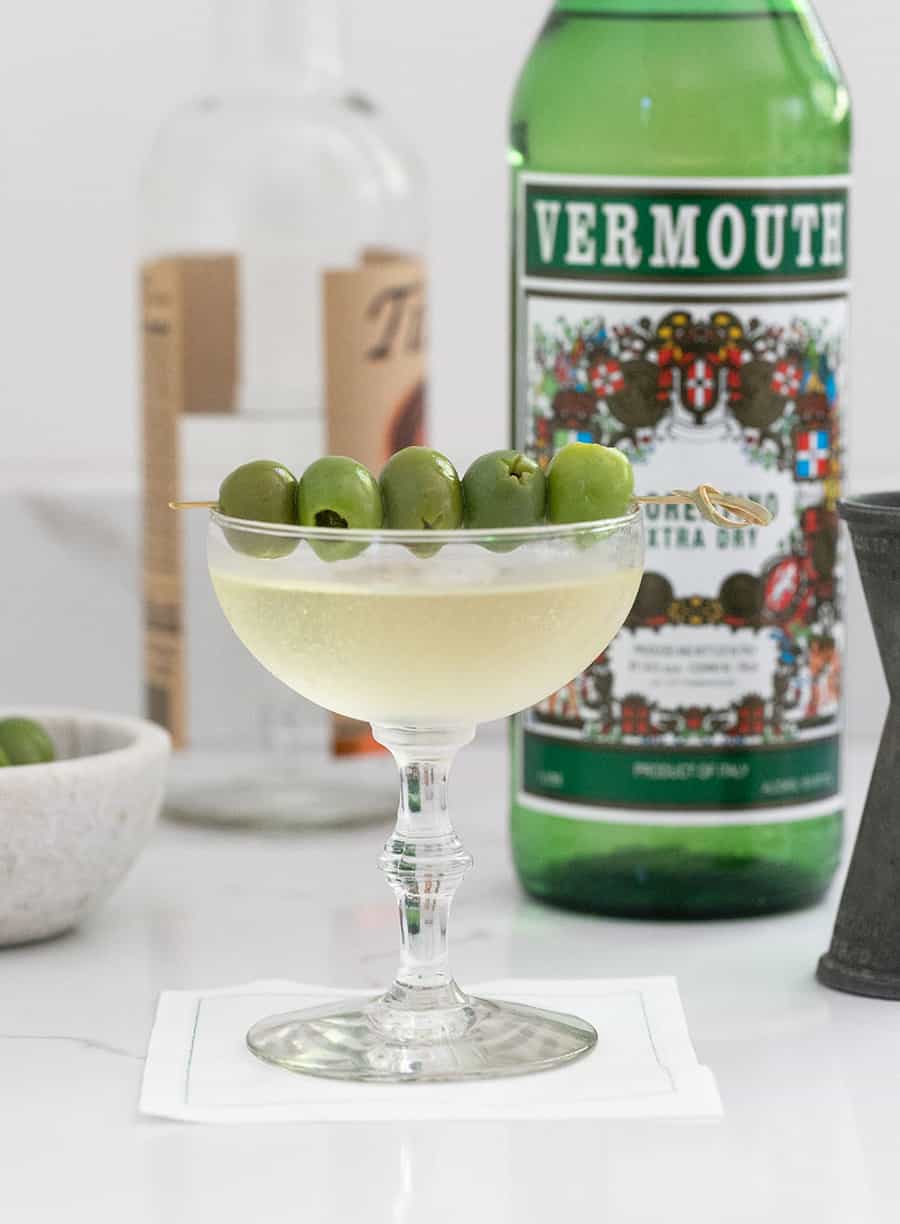 How to Make a Dirty Martini
We'll cover everything you need to know to make this simple drink, answer frequently asked questions, and share our expert tips. You can scroll to the bottom of the post for the recipe card and measurements.
You'll need either a cocktail shaker or mixing glass, a martini glass, a cocktail jigger, and cocktail picks.  
Ingredient Notes
Olive Brine – The best olive brine comes in the jar of the olives you're using. You want to use a green olive brine. You can also buy olive brine which we recommend if you're making a few cocktails.
Vodka or Gin – Both a dirty vodka martini and a dirty gin martini will make the perfect martini.
Vermouth – Vermouth is an aromatized fortified wine that is flavored with various botanicals. We use dry vermouth for this recipe.
Olives – Green, pitted martini olives are perfect for making a classic dirty martini. You can also use blue cheese olives which give the drink extra flavor. We are a fan of both!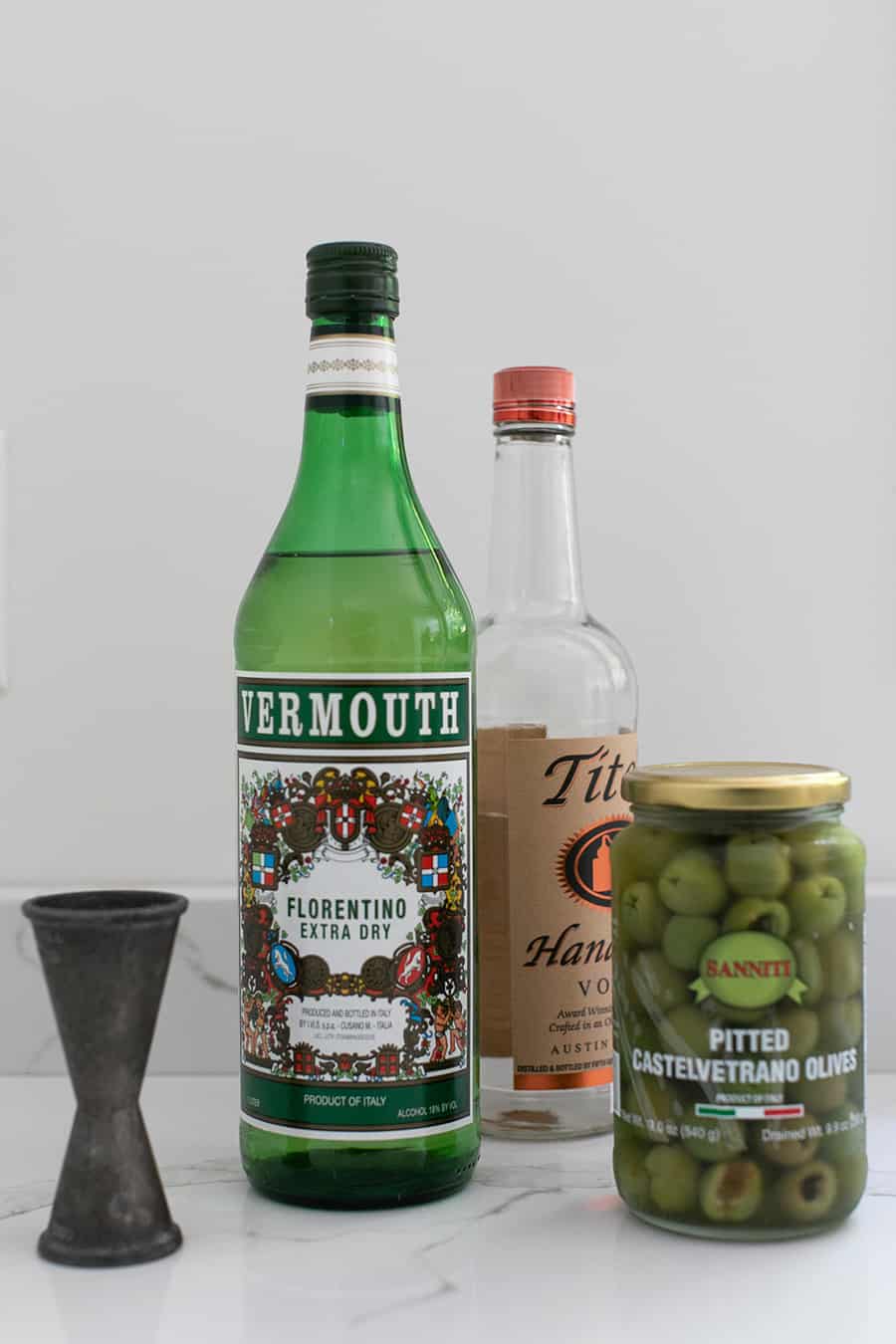 Directions
Add the ingredients into a tall cocktail glass for stirring OR in a cocktail shaker for shaking.
We go into the difference between shaking and stirring below. It's fully your preference and we actually prefer shaking!
Stir or shake with ice so the ingredients become very cold.
That is the key, to get them cold and let the water subtly dilute the cocktail.
Strain into a coupe or martini glass and serve with 3-5 olives! Personally, the more olives the better.
Expert Tips For Making The Best Dirty Martini
A chilled martini glass is the best way to serve this drink.
Always add extra olives on the cocktail pick. Go for 4 or 5 olives if you can fit them.
Use good vodka when making martinis. This is a must as vodka is the main ingredient in the drink. You want one that is smooth and will create the perfect balance.
Serve it with a lemon twist for extra color and fragrance.
Shake or Stir
Mixologists typically stir martinis. Stirring gently and smoothly blends the ingredients. However, shaking a dirty martini can help circulate the olive brine and create a well-balanced drink.
It's really a matter of customer preference. We like to shake our martinis with ice. And if you're anything like James Bond, you'll want your martini shaken, not stirred too.
The main thing is getting the martini very cold, it makes it more enjoyable to sip. Serving it in a chilled cocktail glass is also key to making the best martini.
Olive Brine
Most people will use olive brine in the jar of olives. However, if you make a lot of dirty martinis you might want to buy or make your olive brine. Here are a few options:
Another quick tip for making extra dirty martinis is to muddle a few olives in the glass, then shake. It's SO good and creates even more of an olive taste. Again, personal preference but I like my dirty martinis extra dirty!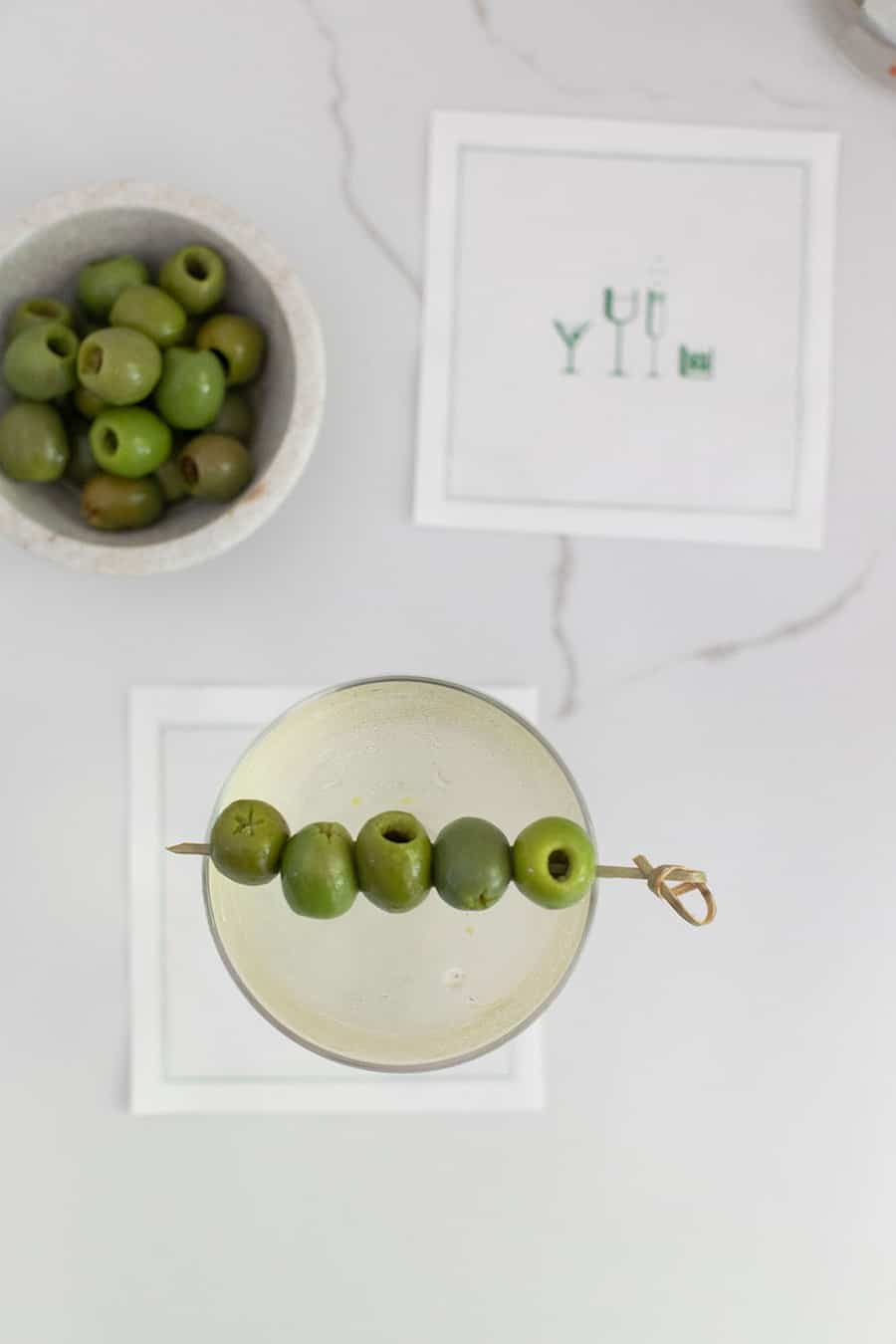 Types of Olives
When making a dirty martini it's important that you use green olives. This type of olive is harvested before they are fully ripe. They are soaked in lye before being brined in oil, giving them a distinct flavor. Here are a few different types of green olives you can use in your cocktail:
Martini Olives – This is the classic green olive you see with standard pimento in the middle. The pimentos help to neutralize the bitter flavor of the olive.
Pitted Castelvetrano Olives – These olives are imported from Castelvetrano Sicily. They're very popular in Italy. They have a unique buttery flavor, mild brine, and beautiful green color.
Blue Cheese Olives – The flavor of blue cheese with olives compliments each other perfectly.
Vermouth Marinated Green Pitted Olives – A hearty olive, unstuffed, grown in California with a flavorful brine.
Do You Put Vermouth in a Dirty Martini?
Martinis, including dirty martinis, typically contain vermouth. However, like many mixology recipes, there are many variations. Why should it be simple, after all?
The secret, if you go out for drinks, is in how you order. The bartender follows directions provided by the customer. Here are the different ways you can order a dirty martini:
Dry: This means you prefer little vermouth.
Extra dry martinis: This variation involves swirling vermouth around a chilled glass and pouring off the excess, so just the slightest flavor comes through.
Extra dirty: Extra dirty martinis have equal parts of olive juice and gin or vodka.
Not very dirty: You also can order a martini with extra olives and no brine.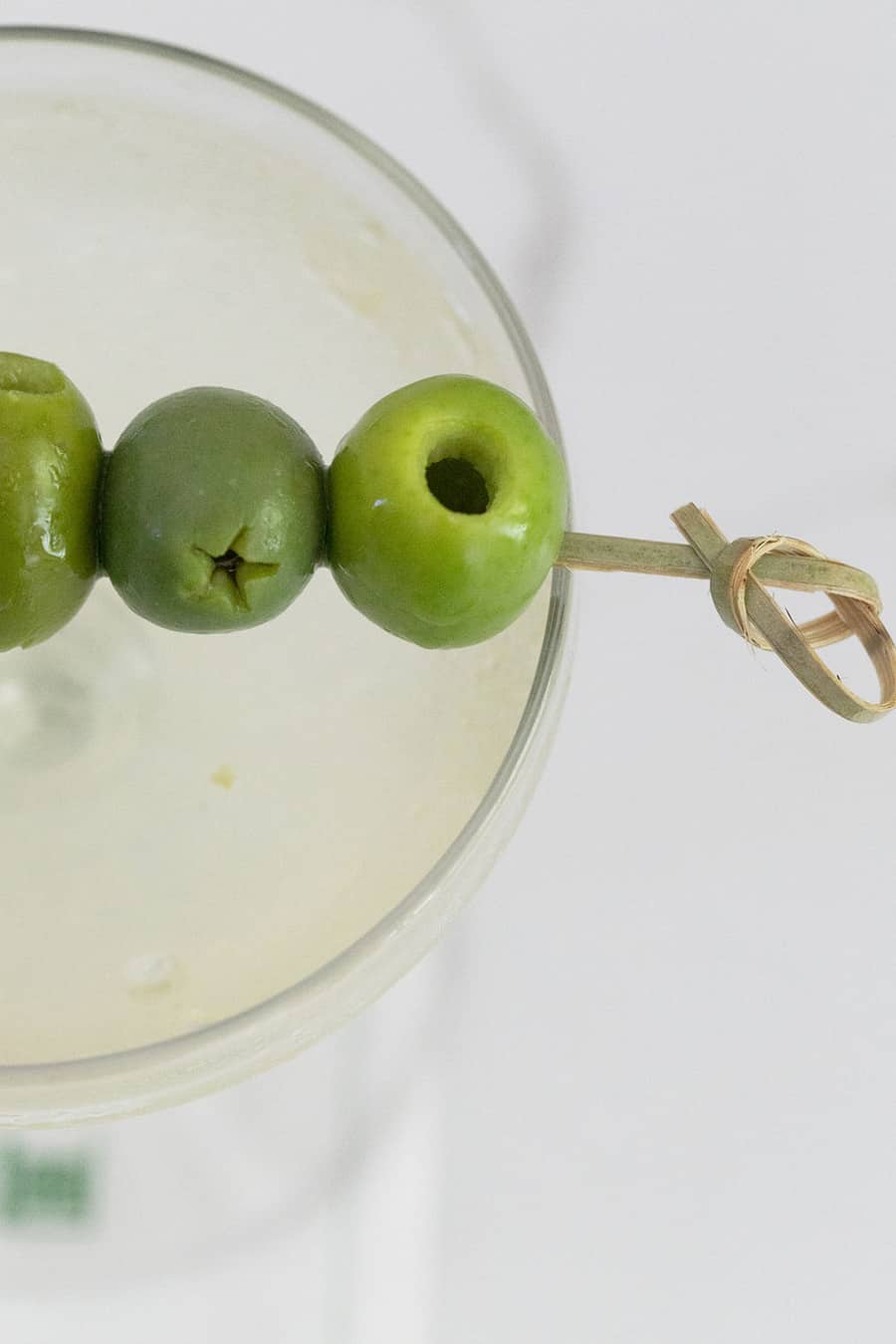 Our Favorite Martini Glasses
When it comes to festive glassware, there is nothing better than a fancy martini glass! Here are some of our favorite martini glasses:
Estelle Green Colored Glass Martini Glass
What Is the Best Vodka for a Dirty Martini?
The key to making a great dirty martini is to use high-end vodka (or gin if you prefer). You may already have a favorite vodka, but here are two to consider for your homemade dirty martinis:
Grey Goose: Made from wheat and natural ingredients in France, this vodka uses naturally filtered water that runs through Grande Champagne limestone. It has a fresh, crisp taste that you can taste even in mixed drinks.
Ketel One: Prepared in small batches since the 1600s, this vodka has fruity and a smooth taste. Ten generations of the Nolet family have tested every batch. It elevates dirty martinis and other mixed drinks with its consistent production process.
Titos is also a good, affordable choice for Vodka.
Reyka Vodka – Reyka is a premium vodka that is hand-crafted in Iceland. It's very good quality for a great price. We recommend this vodka often. It was also awarded Gold at the International Spirits Challenge.
Frankly Vodka – Organic vodka that uses no refined sugars, no gluten, no GMOs, no synthetic pesticides, and no artificial colors.
Ocean Vodka – Another great organic vodka, sustainably produced in Hawaii.
King St. Vodka – A female lead vodka brand is made with alkaline water and gluten-free corn, it's distilled seven times for purity.
Check out our best vodka cocktails too!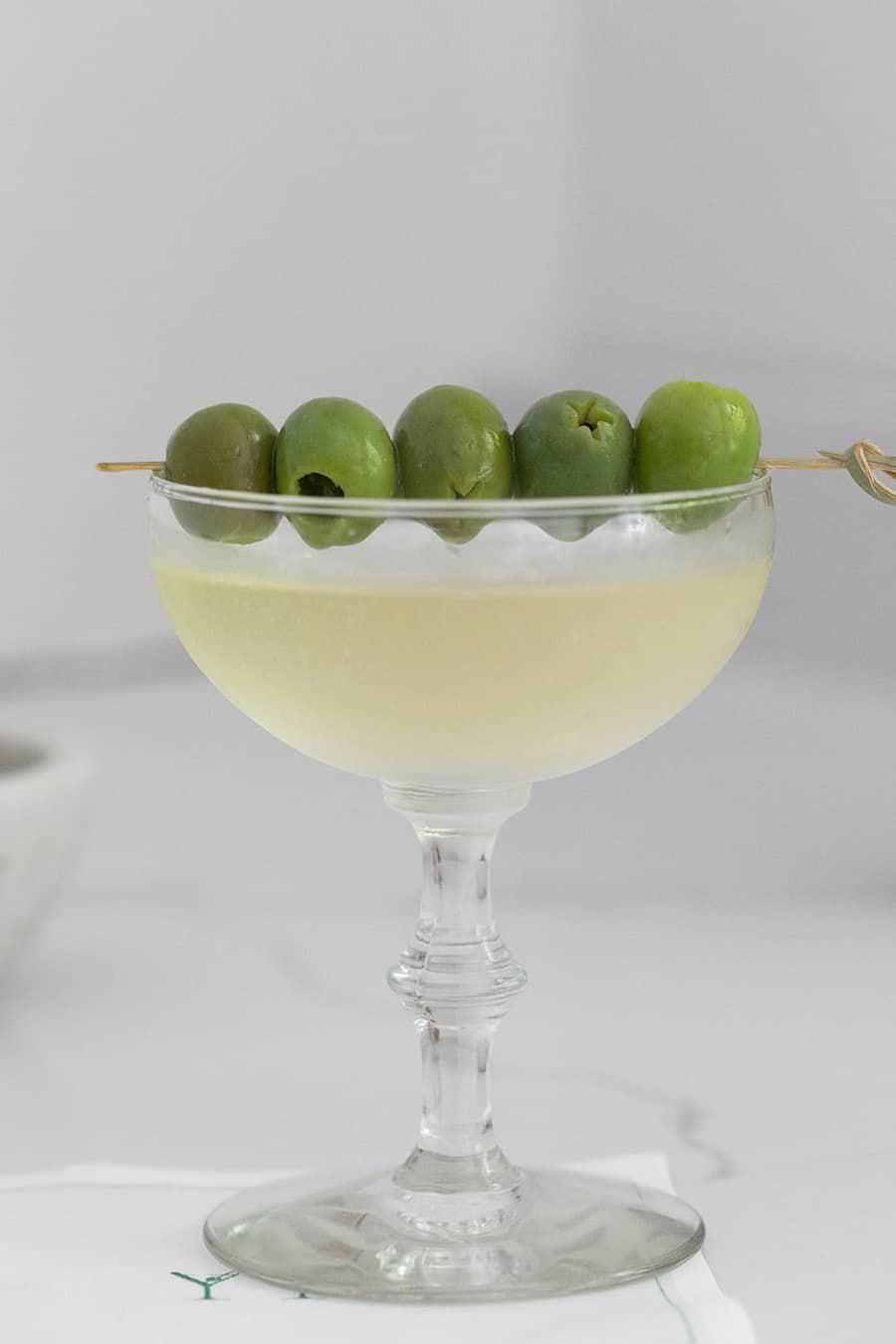 Frequently Asked Questions
What Does a Martini Taste Like? 
When served cold and in a chilled glass, a martini has a clean, crisp taste that celebrates the spirits used to produce it, rather than muddling them with too many ingredients. 
Is Martini Made With Gin or Vodka? 
Traditionally, martinis are made with gin. However, many people prefer vodka, which has a less herbaceous taste than gin. Truly, this is up to you and your preference! 
What is the dirty in a martini?
A dirty martini is made with either vodka or gin, green olive brine, and vermouth. It's served with green olives in a classic martini glass.
Do all dirty martinis have vermouth?
Most dirty martinis have a splash of vermouth. The vermouth adds even more flavor to the drink, giving it a crisp tart flavor. When you add a little vermouth, you're giving the drink layers of flavors with just one extra ingredient. You can certainly make this drink without the addition of vermouth if you prefer.
More Martini Recipes You'll Love
For all of you martini drinkers, you must try these delicious recipes!
Let us know your thoughts!
Now that you know how to make a perfect dirty martini recipe, we'd love to know your thoughts! Leave a comment and review below.
You can also FOLLOW US on FACEBOOK, INSTAGRAM, and PINTEREST to see more delicious recipes, cocktails, desserts and parties!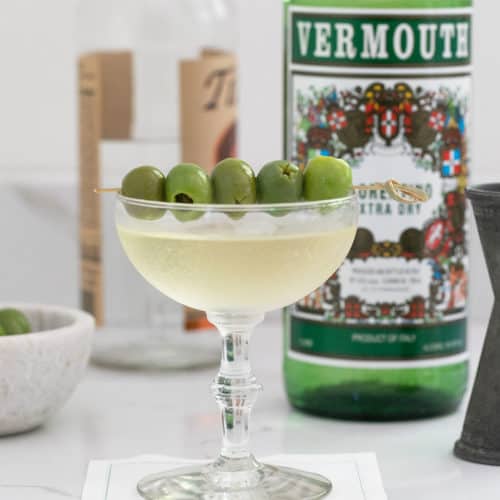 Extra Dirty Martini Recipe
An easy, refreshing, and classic dirty martini recipe!
Print
Pin
Rate
Ingredients
2

ounces

vodka

,

or gin

1/4

ounce

vermouth

1 1/2

ounce

olive brine
Instructions
Add the ingredients into a cocktail shaker or glass.

Stir or shake for 20 seconds.

Strain the cocktail into a martini glass or a coupe.

Garnish with plenty of olives!
Notes
Use gin or vodka in this recipe. 
Add more olive brine if needed or want an extra dirty martini. 
Muddle 2 olives in the glass for even more olive flavor. 
Shake OR stir the cocktail to get the ingredients very cold.
Nutrition
Calories:
137
kcal
|
Carbohydrates:
1
g
|
Protein:
1
g
|
Sodium:
1
mg