A refreshing Christmas martini recipe made with 5 simple ingredients! This recipe is easy to make and tastes like Christmas in a glass. The flavors of tangerine, cranberry, and cinnamon go perfectly together. We topped it with sugared berries and orange zest for the ultimate presentation. 
This is a memorable holiday cocktail that your guests will enjoy! There's nothing thing better than this Christmas Martini: sweet, tart, delightful, and beautifully festive! When the Christmas season is upon us, this is your cocktail to make. Just imagine, sitting by a roaring fire, sipping a Christmas martini. It's the perfect holiday cocktail.
Read below as we're teaching you exactly how to make the best delicious Christmas cocktail for the holiday season! 
Also, check out our favorite gingerbread martini, classic peppermint martini, the Christmas cocktails and the best vodka cocktails too!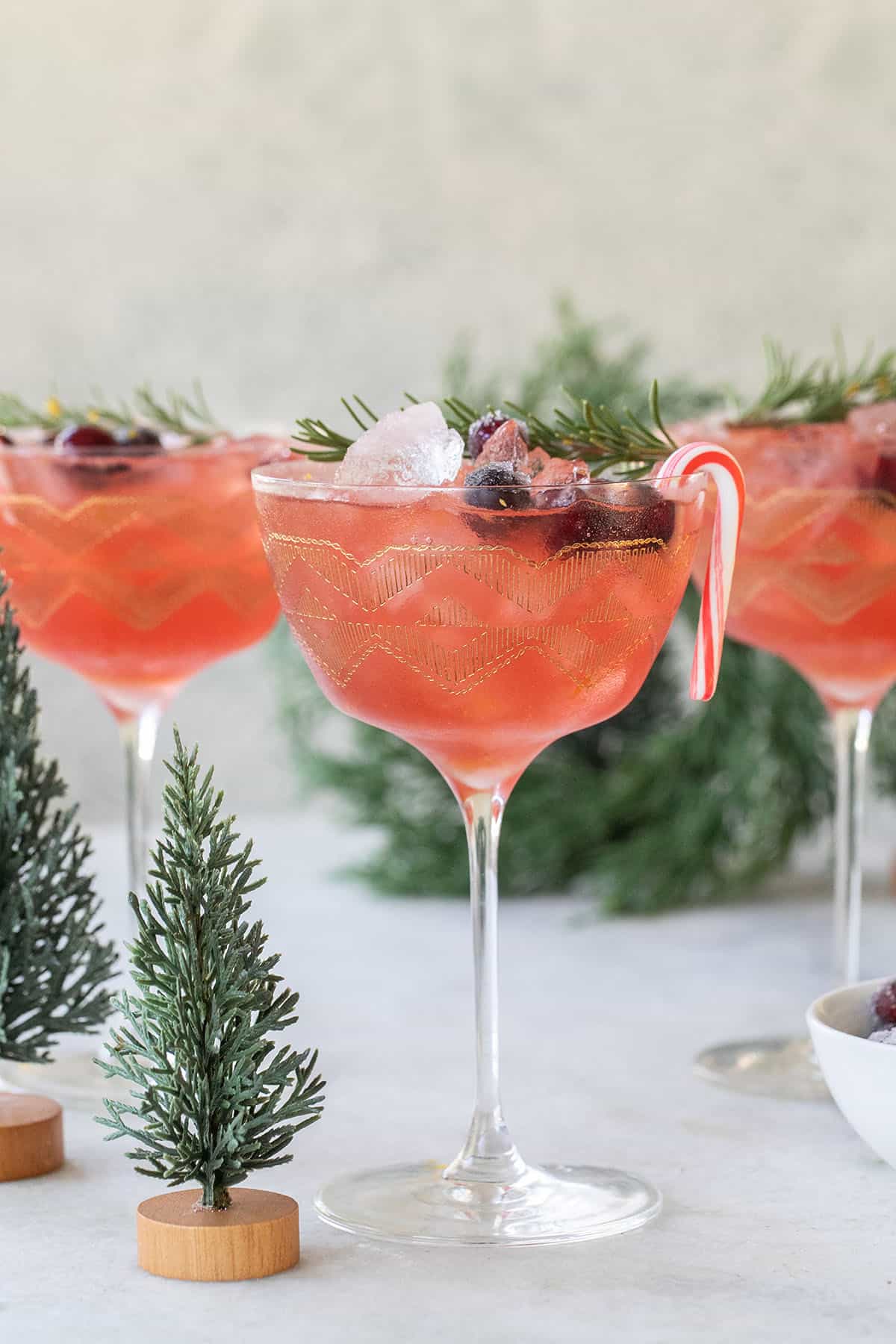 This is the perfect cocktail for a festive Christmas brunch or holiday party. It's easy to make and you can shake them up ahead of time too. It would pair perfectly with a Christmas dessert table or if you're just relaxing and watching a Christmas movie.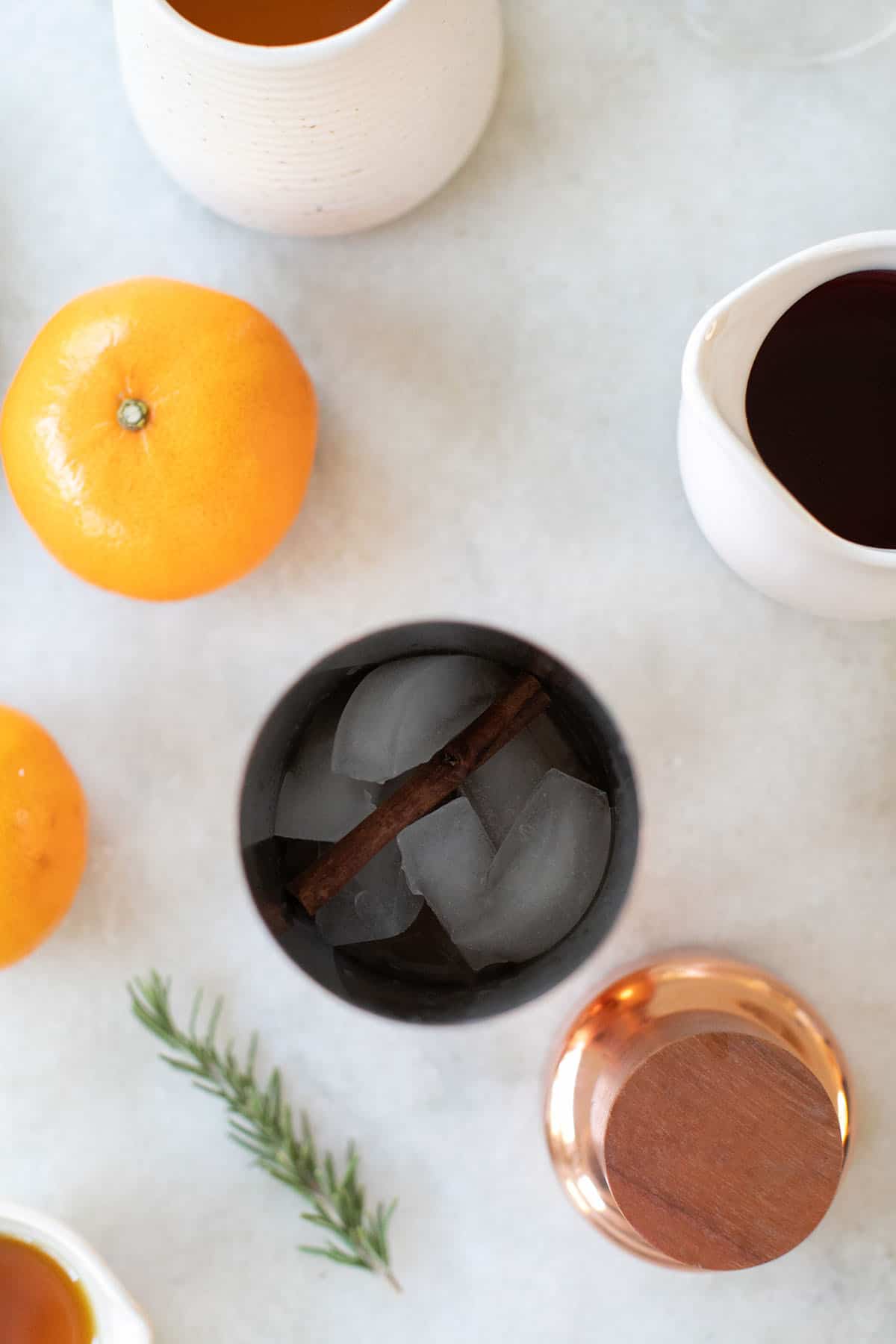 Christmas Martini: Everything You Need To Know
What's in a Christmas Martini?
These are the ingredients you'll need:
Vodka – Vodka is a mild spirit that goes well with mixers. We use good quality, regular vodka when making this martini. If you want a hint of vanilla, use vanilla vodka.
Cranberry Juice – Sweetened Cranberry juice like Ocean Spray.
Orange Liqueur – Orange liqueur is a sweetened distilled spirit that is flavored with oranges. You can use Triple Sec, Cointreau, or Grand Marnier.
Tangerine Juice – This juice is less sour, as well as sweeter and stronger, than orange juice. However, you can use orange juice as well.
Cinnamon Stick – Cinnamon is a spice that brings all the holiday flavor. We use a cinnamon stick in the cocktail when it's shaken to give it spice.
How to Make This Christmas Martini Recipe
Making a martini is easy! You'll need a cocktail shaker, cocktail jigger, and a martini glass.
Shake – In a cocktail shaker, combine all ingredients (including the cinnamon stick) and shake with ice for 30 seconds, then strain.
Strain – Strain the cocktail into a martini glass, with or without ice.
Garnish – Add a festive garnish over the top! Sugared berries, orange zest, a mini candy cane, or a cinnamon stick all work well with this drink.
Best Orange Liqueurs For Christmas Martinis
Orange liqueur Cointreau has a hint of orange perfume flavor that makes it delicious. It has a more robust and balanced flavor than Triple Sec and is of higher quality. You can also use Grand Marnier to make this holiday classic.
Tips for Making this Christmas Martini Recipe
Make the drink even more festive by garnishing it with fresh cranberries and a rosemary sprig.
At your local grocery store, 100% cranberry juice is readily available. What are its benefits? Brighter color and the ability to sweeten to taste. 
Make sure to shake for at least 30 seconds to blend the flavors and allow the cinnamon to infuse the drink. 
Garnish with sugared berries and orange zest for the best flavor. 
The ice in this martini recipe is optional. Most martini recipes do not have ice, however, we really loved the way the ice looks in this and it chilled it nicely making it very refreshing. 
Double the recipe and shake two cocktails at once.
If you like a sweeter cocktail, add a dash of simple syrup. Better yet, try our cranberry simple syrup
You can also use gin instead of vodka to make this drink.
Best Vodka for a Martini
We recommend using good-quality vodka to make any martini. Check your local liquor store for some fun vodka brands. Here are some good choices:
Grey Goose
Reyka
King Street
Belvedere
Haku
St. George
Belvedere vodka works beautifully in a Vodka Martini, but this particular expression is more a connoisseur's favorite. Diamond Dankowskie Rye is grown on a single estate in the village of Smogóry in west Poland. It is a rare baker's grade rye that is low in starch. The flavor is rich and full-bodied, with a salty savory finish, and a hint of pepper and caramel sweetness, balanced by a touch of spice.
This premium vodka brand is the first of its kind in the world; French cognac Grey Goose was created by François Thibault, son of a winegrower and master blender of cognac. Wheat vodka is versatile, creamy, and works well in a range of cocktails.
Ketel One Vodka is distilled in small batches by 10th generation distillers with over 300 years of expertise and is made from 100% GMO-free European wheat. This is one of the smoothest and cleanest vodkas, with notes of citrus and honey. Its long, lively finish works well in a Vodka Martini.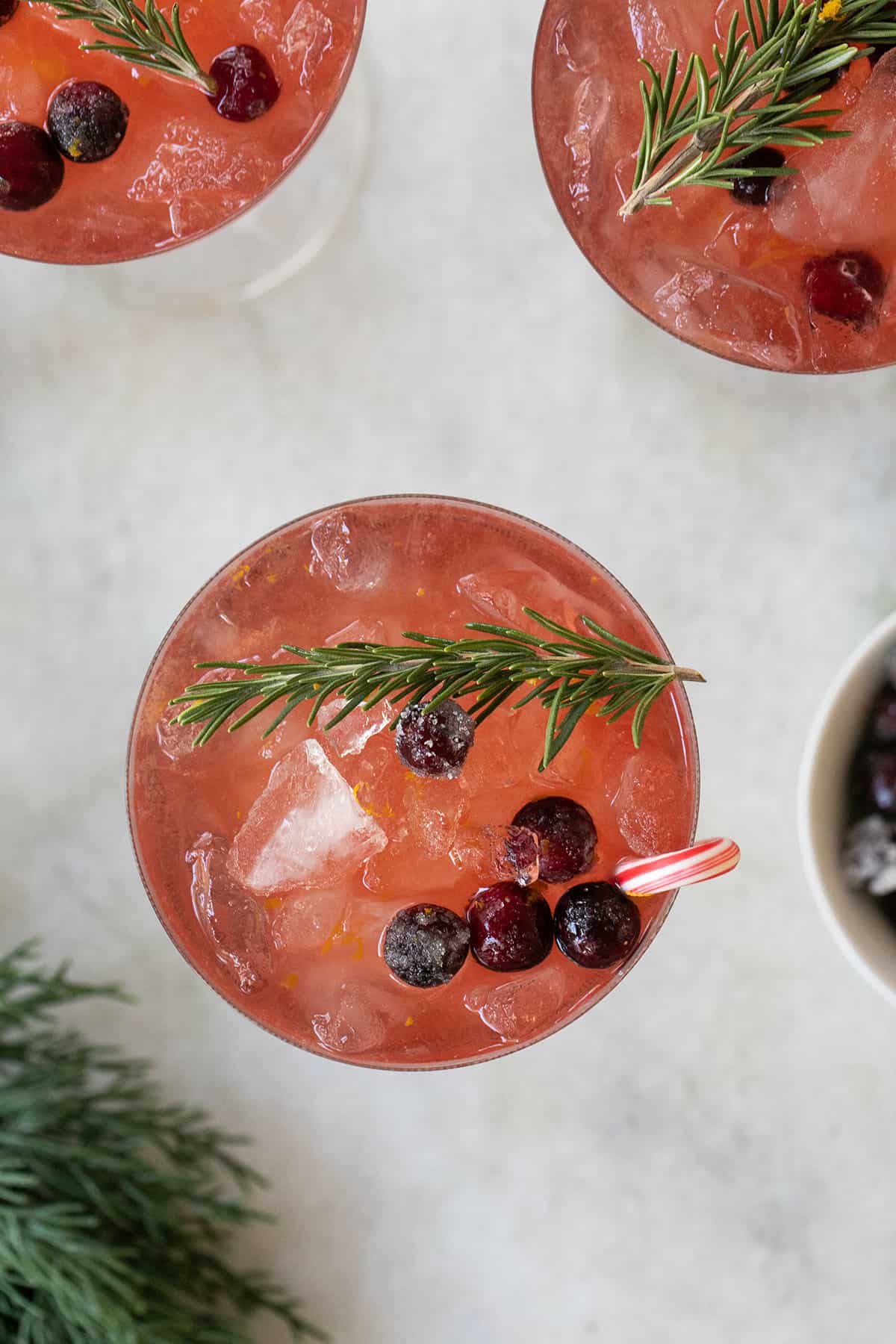 A Christmas Martini Mocktail
Turn this drink into a mocktail by replacing the vodka with a non-alcoholic spirit like Amass or Ritual Zero Proof. It's always a good idea to have a non-alcoholic spirit on hand for any guests who don't want alcohol in their drink.
Christmas Martini Cocktail Garnishes
A beautiful presentation is key to making a holiday martini. Here are some ideas for making festive drinks:
When to Serve a Christmas Martini
Winter and fall are great seasons to serve the Christmas Martini! It's great for:
Thanksgiving
Holiday Parties
Christmas Day or Eve
Winter Gatherings
Our Favorite Martini Glasses
When it comes to festive holiday glassware, there is nothing better than a fancy martini glass! Here are some of our favorite Christmas martini glasses:
Estelle Green Colored Glass Martini Glass 
When to Serve This Christmas Martini Recipe
This cocktail is perfect for winter and the holiday season. Here are some special occasions you can serve a Christmas martini:
Holiday Parties
Christmas Day or Eve
Winter Gatherings
An Evening Watching Christmas Movies
After Dinner Drink
What to Serve with a Delicious Christmas Drink
It's all about holiday festivities and this martini is great served with these recipes:
Frequently Asked Questions
What is the most popular drink for Christmas?
The most popular drink at Christmas time is eggnog, hot toddy, and mulled wine. These are classic Christmas cocktails that people have been enjoying for hundreds of years. 
Can I make this Christmas martini with gin?
Yes, this is a great cocktail to make with gin as it's also a clear spirit with beautiful botanical flavors. It will go perfectly with cranberry juice and tangerine juice. Hendrick's Gin would be the best option for this drink.
More Festive Cocktails and Christmas Drinks
We are all about holiday cocktails and these are some of the best! Here is a list of our favorite holiday drinks to make during the Christmas season:
More Cranberry Cocktail Recipes
If you love cranberry, here are some of our favorite drink recipes that are made with cranberry juice!
Also check out more great cocktail recipes our favorite brunch recipes, the best vodka mixers, mixed drinks, gin cocktails, and cheap drinks to make at home!
Let us know if you make this amazing Christmas martini drink by leaving a comment and review below! We'd love to know your thoughts! Happy holidays!
You can also FOLLOW US on FACEBOOK, INSTAGRAM, and PINTEREST to see more delicious recipes, cocktails, desserts, and parties!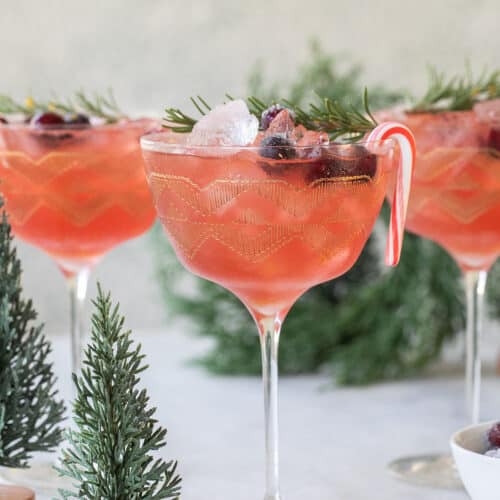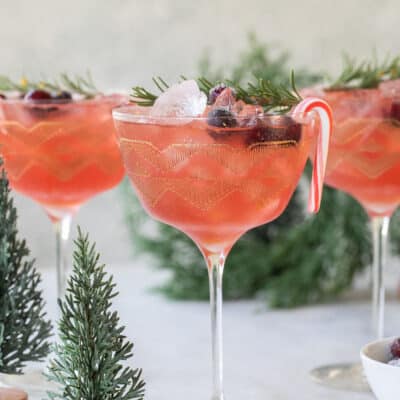 Christmas Martini
A refreshing Christmas martini recipe made with 5 simple ingredients! This recipe is easy to make and taste like Christmas in a glass. The flavors of orange, cranberry and cinnamon go perfectly together. We topped it with sugared berried and orange zest for the ultimate presentation.
Print
Pin
Rate
Ingredients
1 1/2

ounce

vodka

2

ounces

cranberry juice

1/2

ounce

orange liqueur

1

ounce

tangerine juice

1

cinnamon stick
Instructions
Add all of the ingredients into a cocktail shaker with ice.

Shake for 30 seconds and then strain into a martini glass.

Ice is optional in this cocktail, however we prefer the way it looks and the cold refreshing taste.
Notes
Always taste test the cocktail and add more juice or more vodka if you prefer. 
Nutrition
Calories:
189
kcal
|
Carbohydrates:
17
g
|
Protein:
1
g
|
Fat:
1
g
|
Saturated Fat:
1
g
|
Polyunsaturated Fat:
1
g
|
Monounsaturated Fat:
1
g
|
Sodium:
3
mg
|
Potassium:
114
mg
|
Fiber:
2
g
|
Sugar:
14
g
|
Vitamin A:
108
IU
|
Vitamin C:
14
mg
|
Calcium:
45
mg
|
Iron:
1
mg