We've been making these Christmas cookies for years and they are the most festive, fun, and flavorful cookies for the holidays! We're sharing all of the best Christmas cookie recipes and answering popular questions like, which Christmas cookies are the most popular? Recipes for all different kinds of cookies and everything you need to know for making batches of cookies that last all holiday season!
These are great recipes for a holiday cookie swap. And while you're baking, make sure you make one of our Christmas cocktails! You can also check out 10 ways to decorate Christmas cookies!
Without crumbly, sweet, and delicious Christmas cookies, the holiday season wouldn't be complete. When Christmas cookie season is upon us, we're ready for a cozy night of baking! You might have perfected the exquisite ritual of baking them and frosting them, but have you ever thought about their backstory?
Find out everything you need to know about Christmas cookies so you can indulge your family in expertly-prepared, delicious biscuits that stay fresh. You'll have a story or two to tell around the dinner table as well!
Check out all of our cookie recipes too!
What Are Christmas Cookies?
Traditional Christmas cookies are one of our nation's favorite sweet treats to indulge in when celebrating the holiday season. They're usually simple sugar cookies — sometimes spiced or laced with nuts and fruit — that you cut into festive shapes, decorate, and share among loved ones.
These tasty treats are also left out for Santa Claus on Christmas Eve. Every year, children marvel to see the glass empty, and the plate cleared in the morning, leaving crumbs and lots of presents.
Festive cookies go back further than you might expect, all the way back to Europe in the middle ages. Explorers were importing molasses, exotic spices, and never-before-seen ingredients from the east for the first time. 
These delectable flavors made their way into winter solstice rituals, which evolved into Christmas rituals. Legend has it that the dutch brought Christmas cookies over to America in the 17th century, although the Germans and the Italians lay claims to the tradition, too.
What Is the Most Popular Christmas Cookie in America?
According to data gathered by the General Mills recipe website, the most popular Christmas cookie in America is the Peanut Butter Blossom.
Second place goes to Sugar Cookie M&M's Bars, and the classic sugar cookie cutout takes the third spot. Our nation consistently adores oatmeal cookies, Italian cookies, and gingerbread cookies, as well as fruitcake cookies and macadamia cookies.
The most popular shapes for cookie cutters are cute little Christmas trees, gingerbread men, classic rounds, sandwich-style cookies, adorable reindeer, portly snowmen, and super-sweet candy canes.
We're sharing recipes for our favorite Christmas cookies that you can make with your family this year. We're also answering all of your Christmas cookie questions below!
Christmas Cookie Recipe Supplies
Here are a few tools you'll need to make the best Christmas Cookies:
Silpat or Parchment Paper
The Best Christmas Cookie Recipes
Now let the fun begin! We can't wait to see what you whip up this holiday season. Remember, you can always make extra to freeze! They make wonderful gifts too. The Best Peanut Butter Blossoms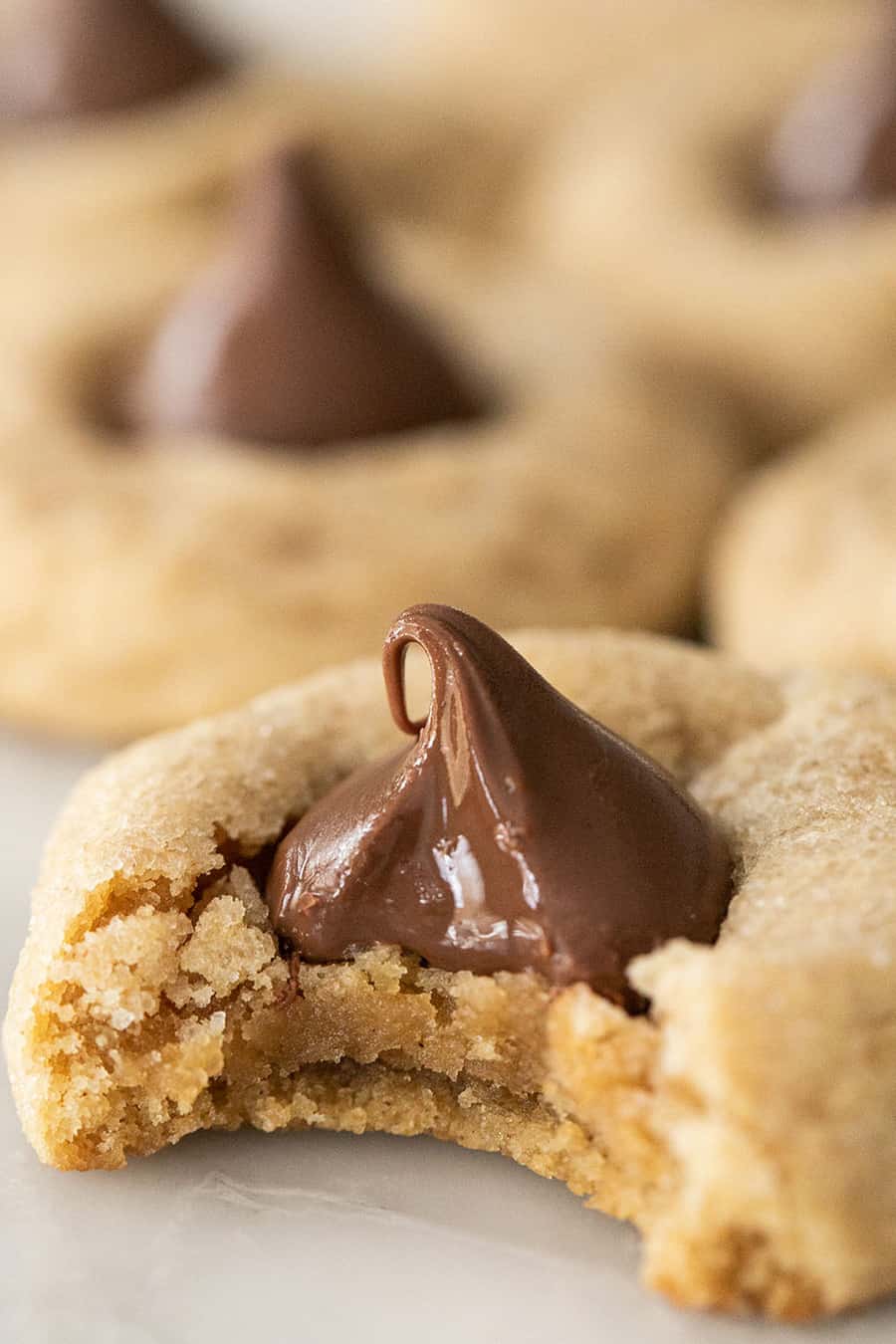 These peanut butter blossoms are soft and chewy and combine a nutty winter flavor with a smooth chocolatey center. These are perfect for holidays or for an indulgent snack! We make this Christmas cookies recipe every year.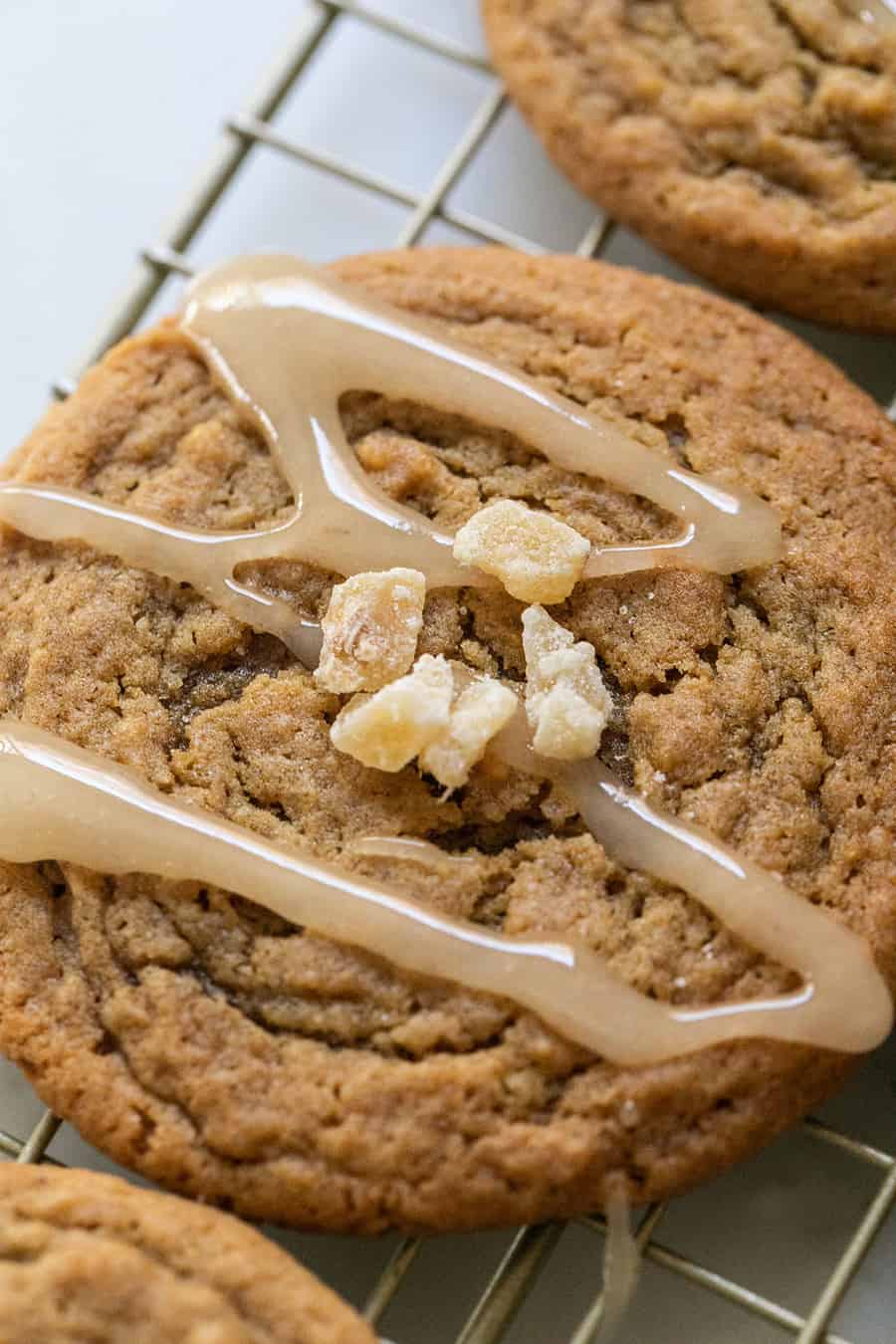 A classic Christmas cookie, these chewy ginger cookeis are some of the best! Made with molasses, ginger syrup, and spices topped with honey and ginger chips! You will love these soft molasses cookies.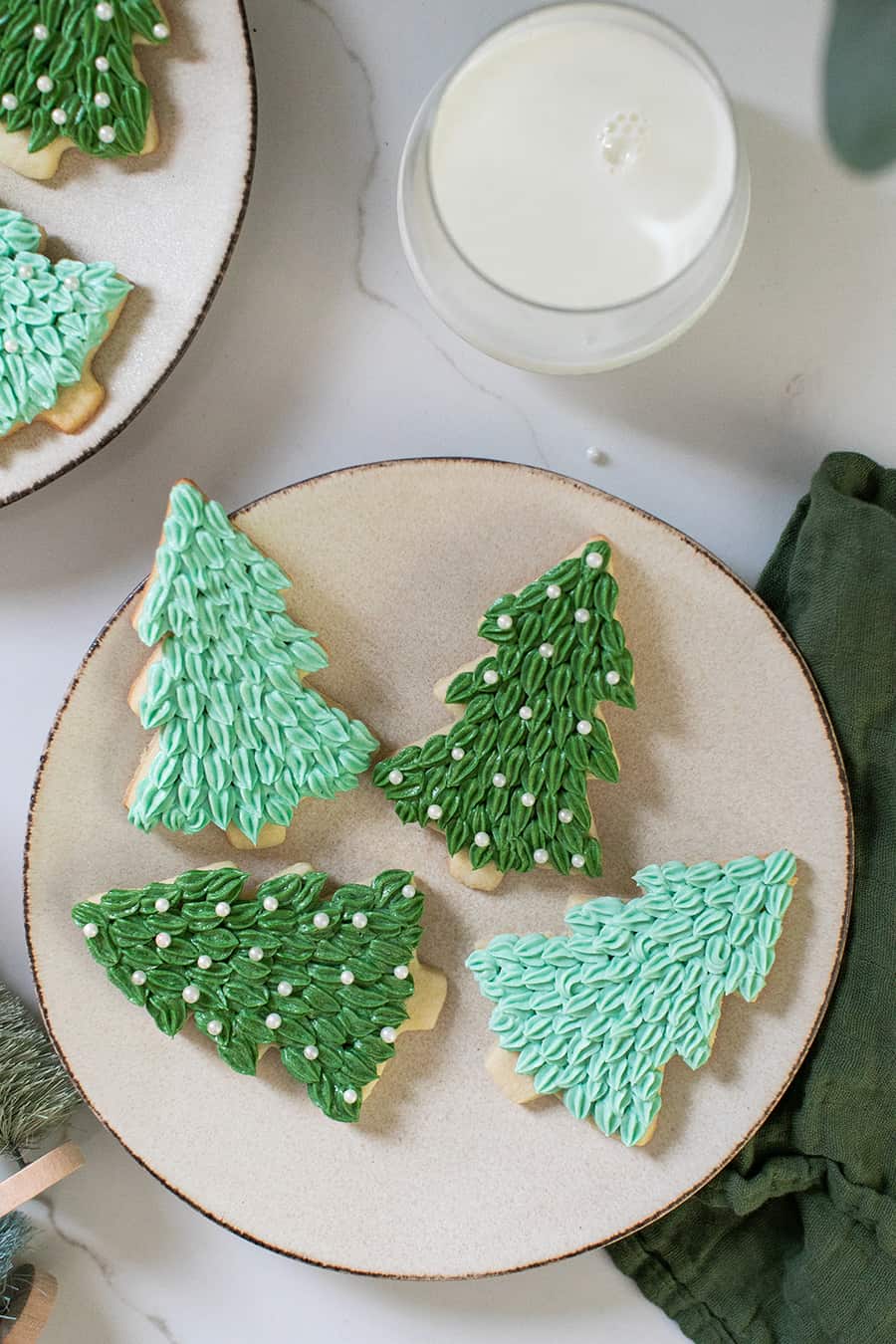 Buttery Christmas sugar cookies with creamy buttercream frosting. These are classic sugar cookies and perfect for Christmas! Kids love to decorate this classic cookie too. Set out sprinkles and piping bags full of frosting and let them create beautiful cookies!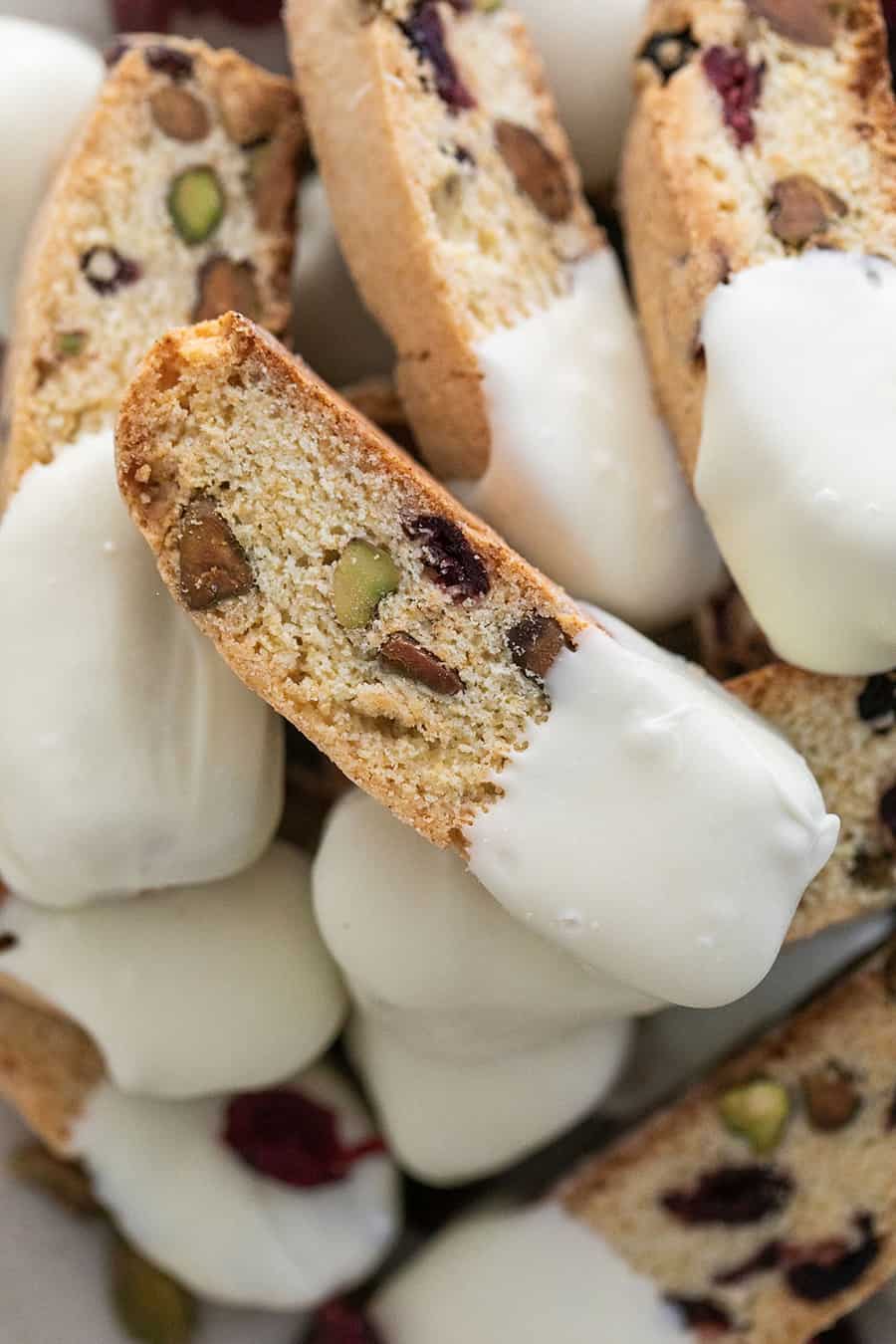 This biscotti recipe is truly the best! It uses sweetened dried cranberries, and pistachios and each cookie is dipped in melted white chocolate. They're perfect for the holidays, go well with coffee and espresso and they're easy to make. You can also add white chocolate chips for more sweetness to these cookies.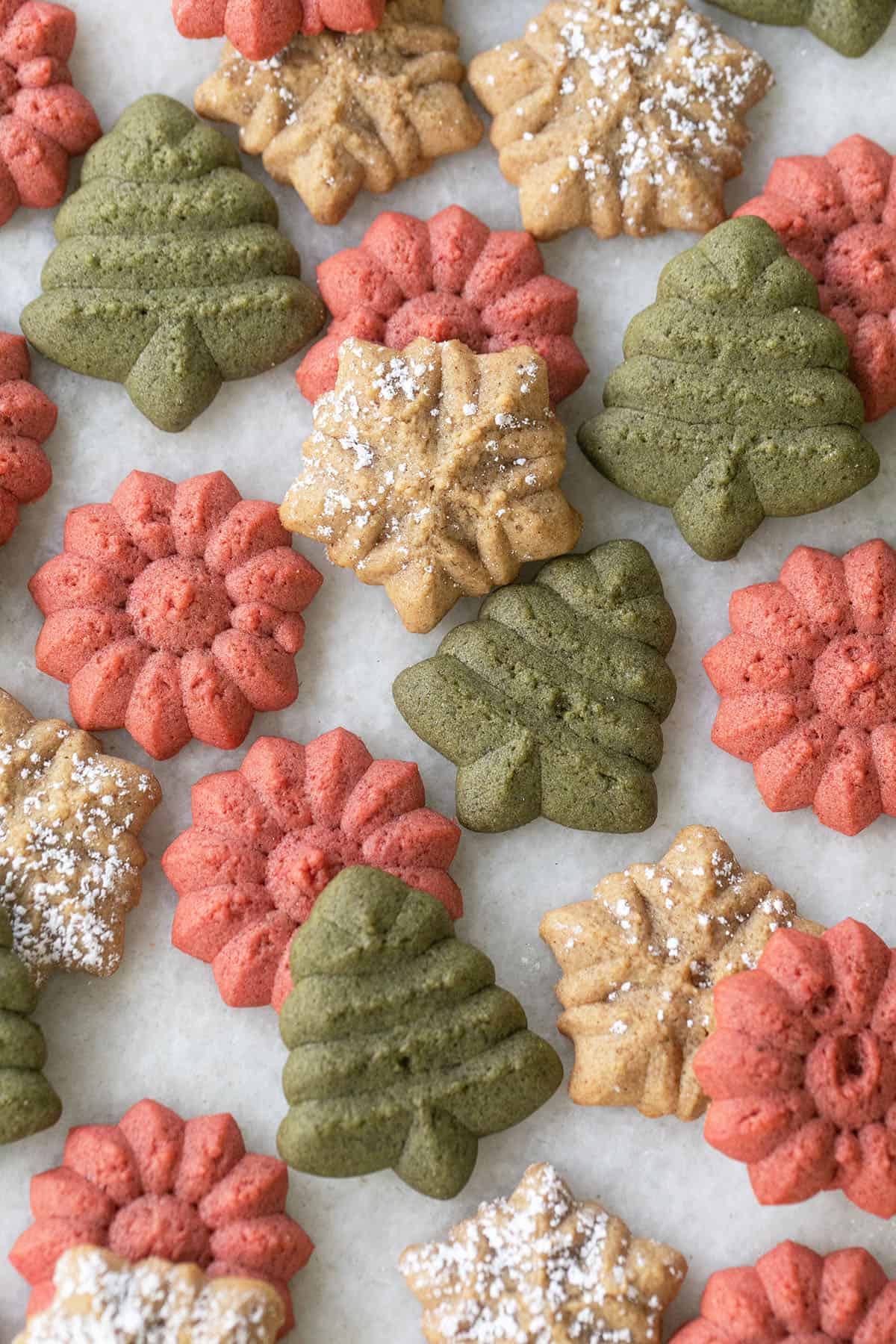 A classic buttery, spritz cookie made with gingerbread flavor and spice. They're super festive and full of flavor! They're also adorable and the shapes make them incredibly charming. If there is one fun and unique Christmad cookies recipe to make, it's these! You're friends and family will love them.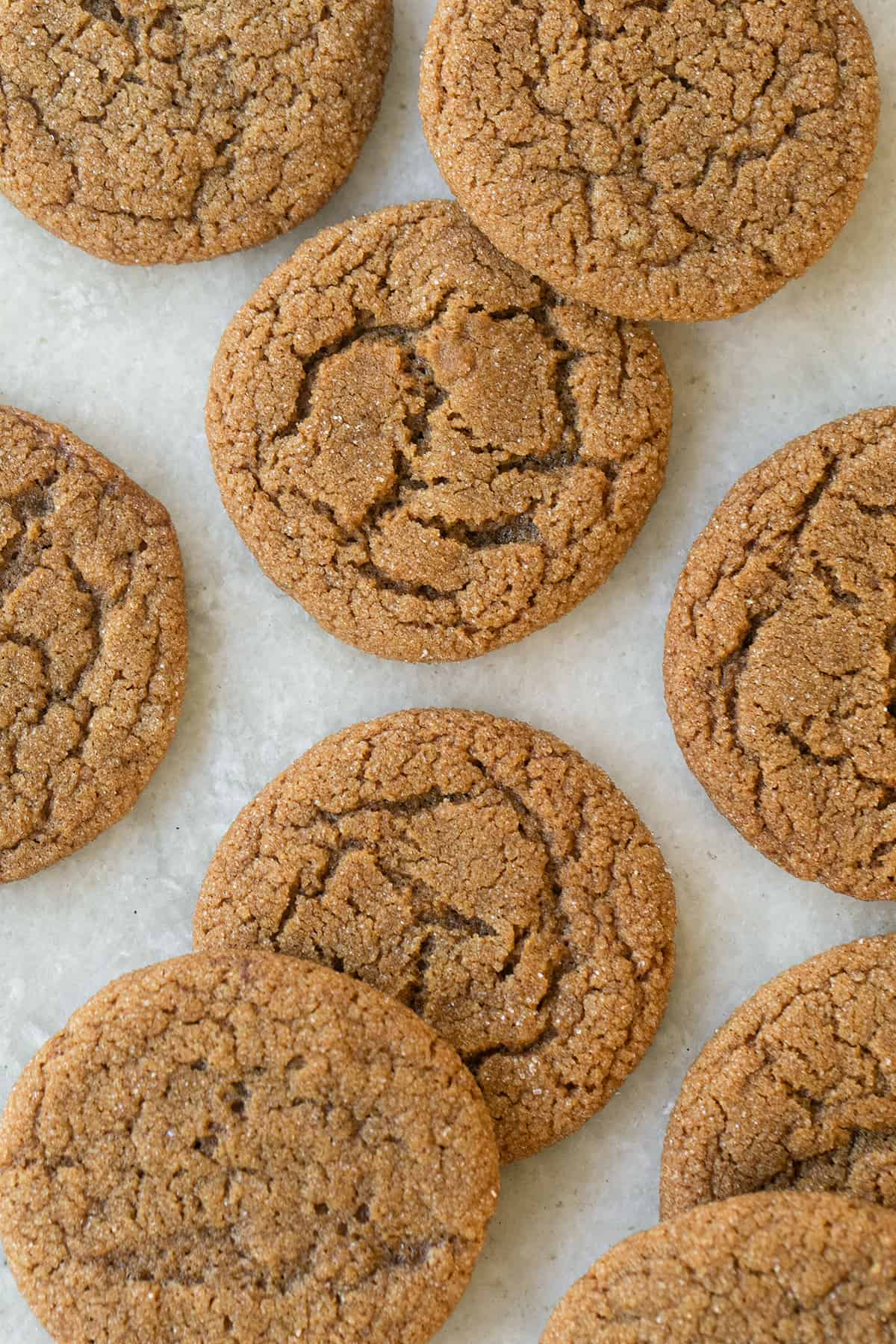 Gingersnaps are a classic holiday cookie. They're made with spices and molasses and have a crispy edge with a buttery snap and a delicious chewy center. They have the perfect balance of ginger flavor.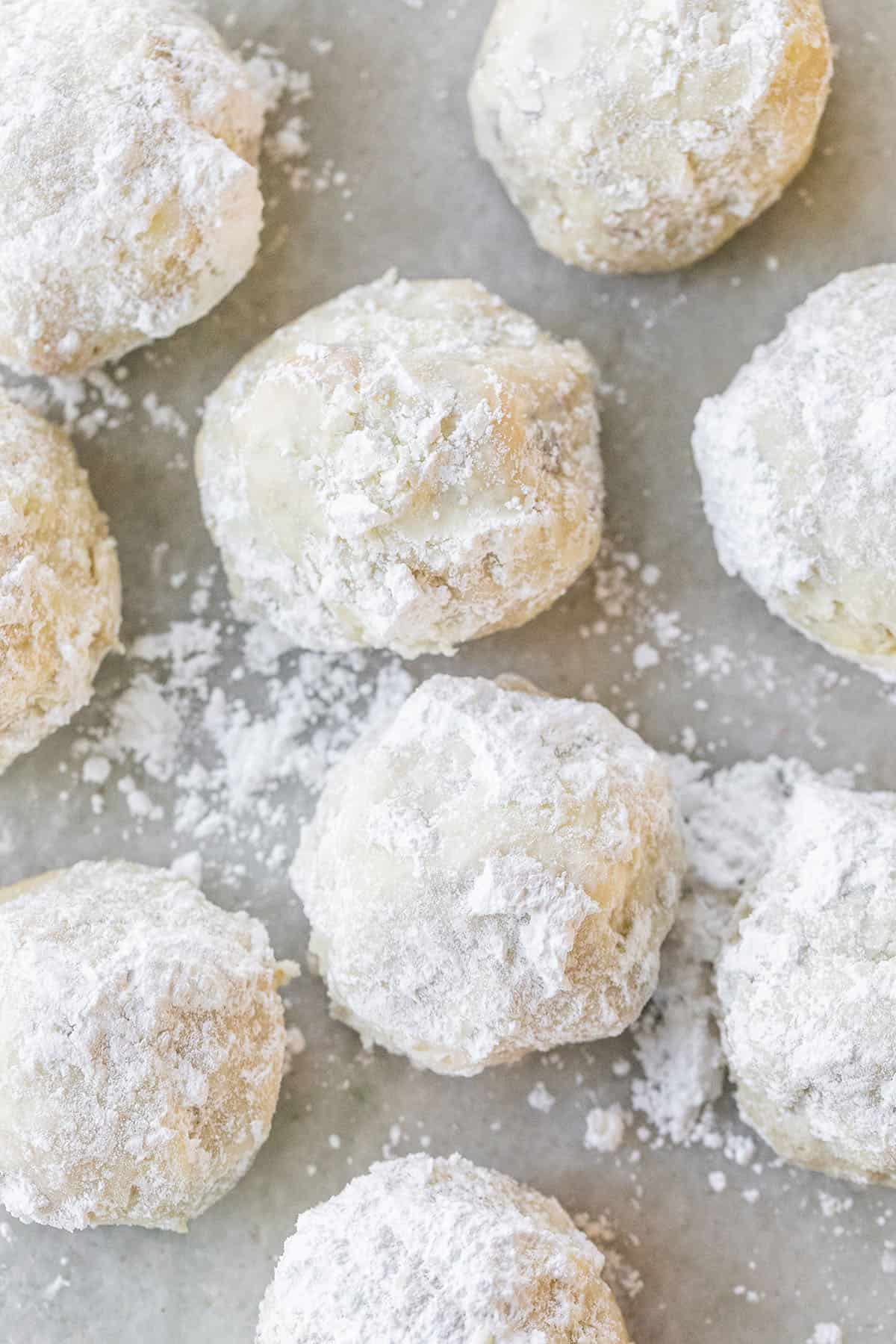 Classic snowball cookies covered in powdered sugar. These easy cookies are soft, buttery, and perfect for Christmas. They're a traidtional Mexican dessert too and they're the best holiday cookies.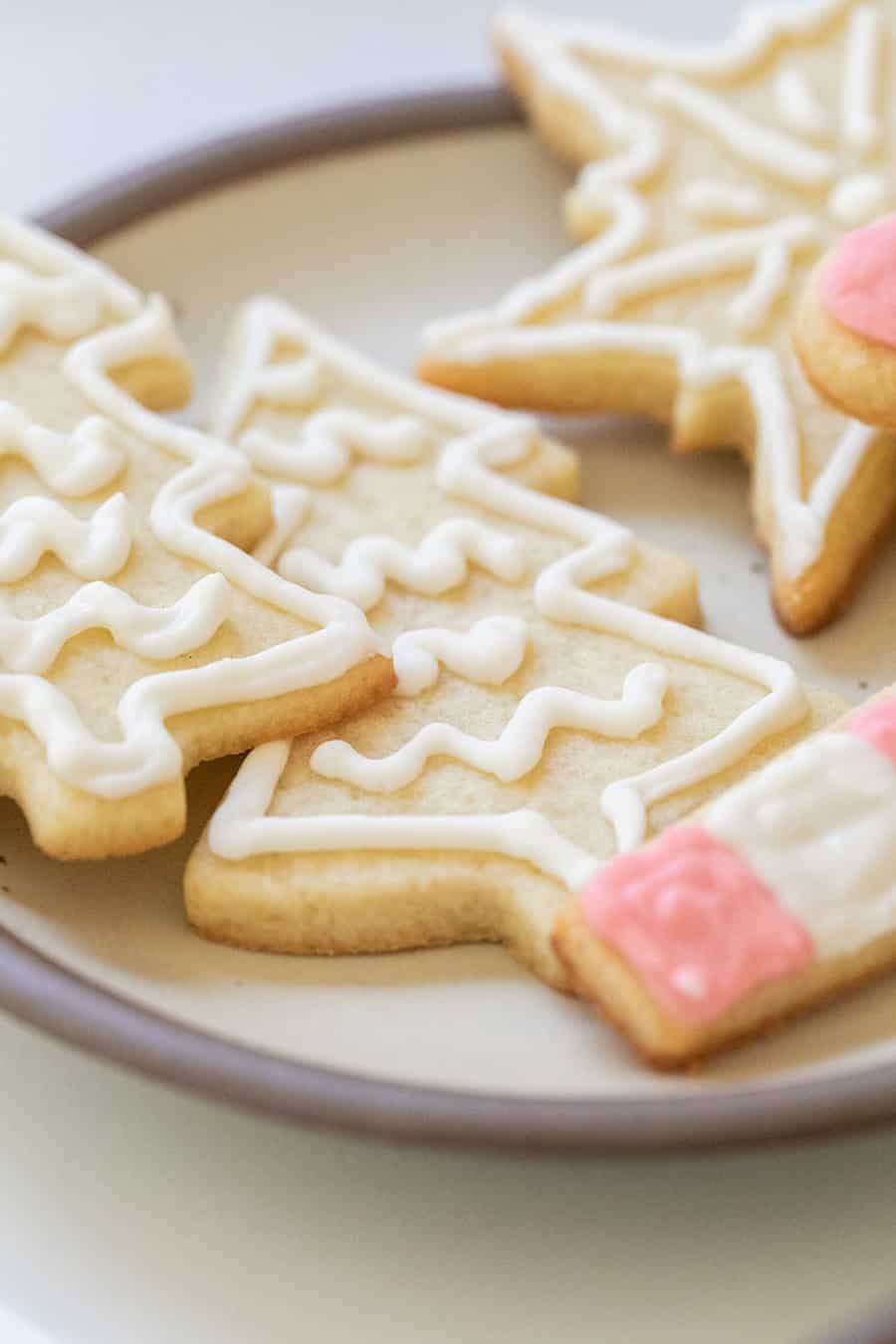 A buttery, sugar-free cookies recipe that's perfect for holiday cutout cookies. This recipe is made with Truvia Sweet Complete sweetener and decorated with cream cheese frosting.
Pair these with our guilt-free hot chocolate for an extra special treat.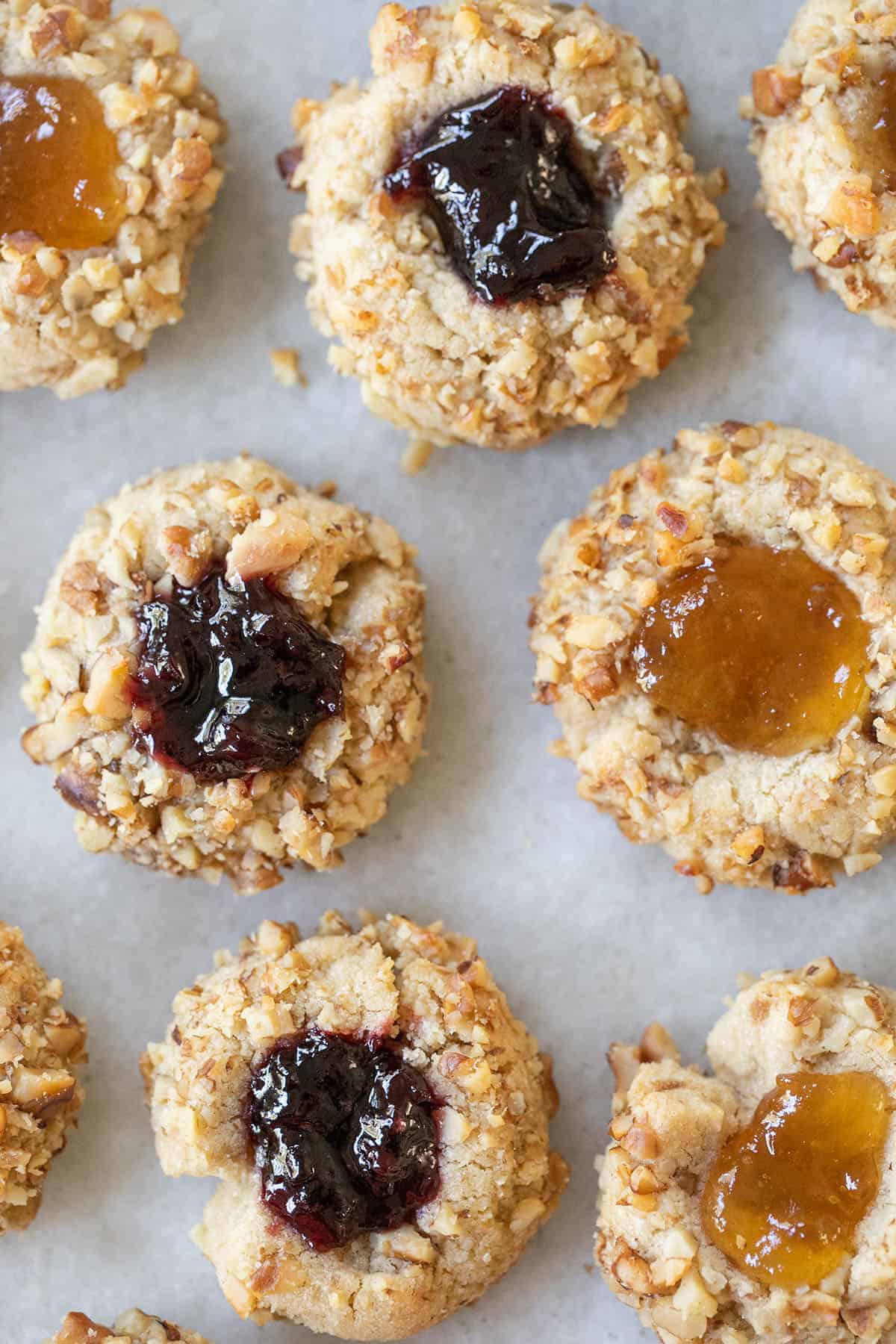 These jam thumbprint cookies are truly one of our favorite Christmas cookies! They're buttery shortbread cookies, rolled in crushed walnuts and filled with jam! Festive and delicious for the holidays.
This is the best, chewy snickerdoodle recipe! It makes the perfect snickerdoodle cookie with all the classic ingredients. Easy to make and full of cinnamon and sugar flavor! You can also turn them into ice cream sandwiches!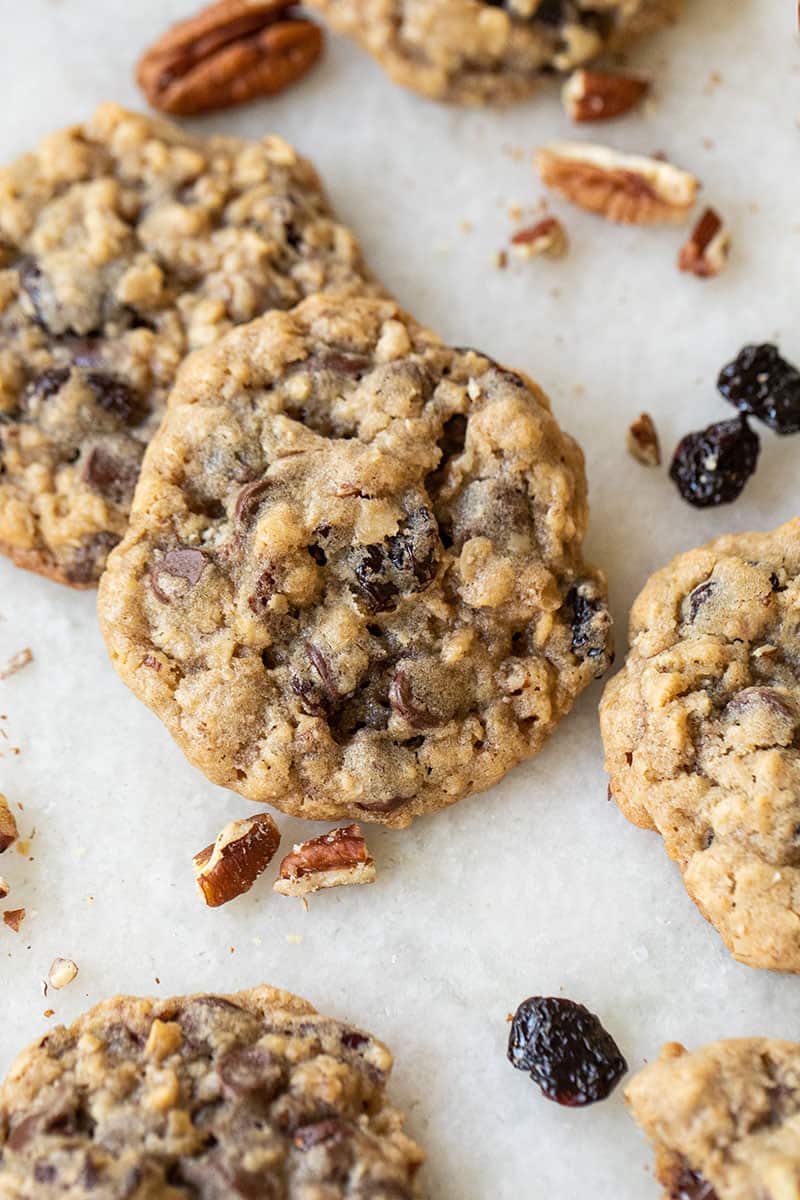 These chocolate cherry chunk cookies have been a family favorite for years! These cookies have buttery crisp edges and are filled with holdiay flavors like dried chewy cherries, oats, and pecans and chocolate chunks. They can be enjoyed right out of the freezer. This is one of the cookies we make them every single year.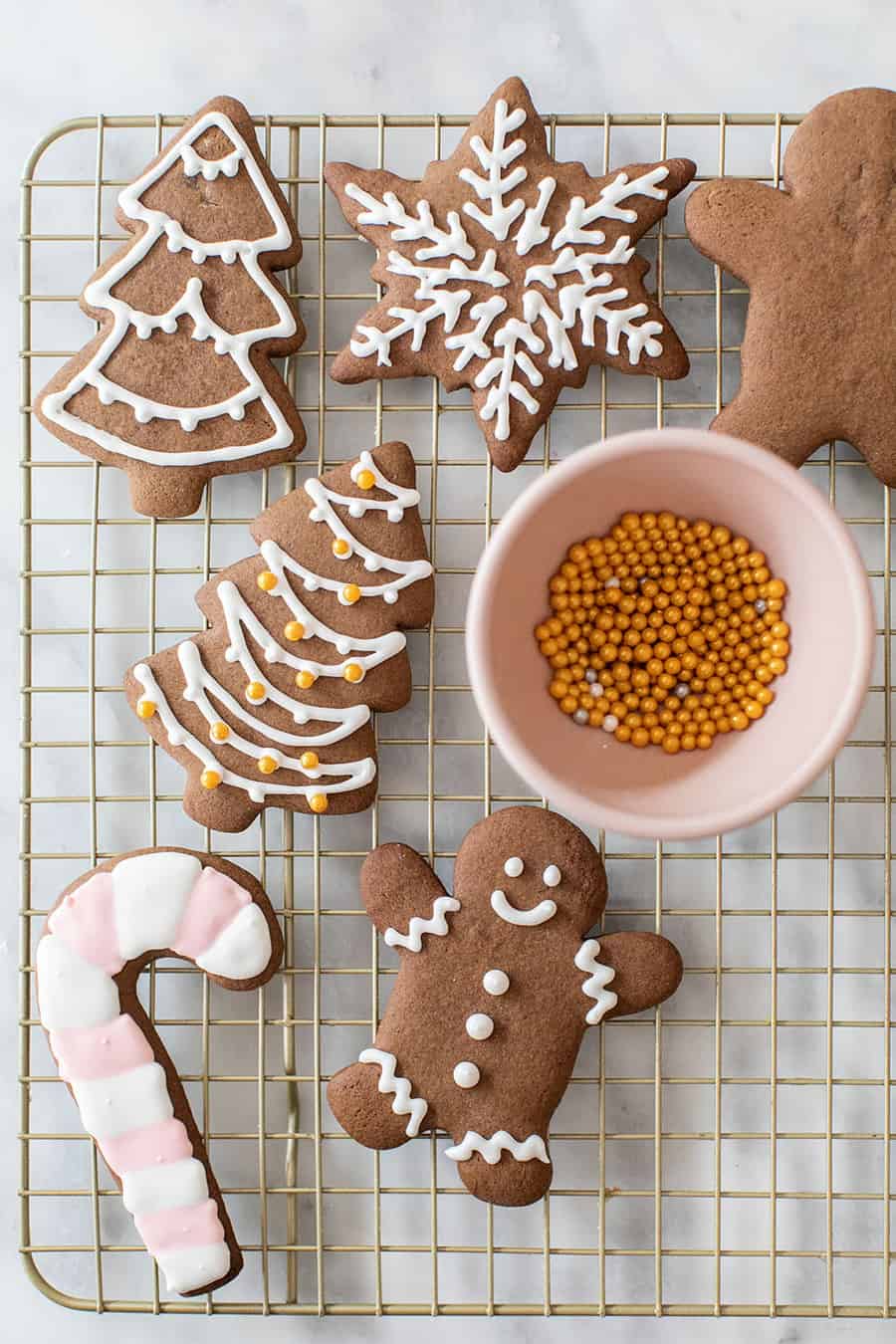 This is the perfect gingerbread man cookies recipe and the only recipe you'll ever need for gingerbread! This Christmas cookie recipe is the one we use year after year. They make perfect cut-out cookies and are fun to decorate.
Chocolate crinkle cookies are one of the most delightful, fudgy treats! They have the perfect crinkle on top when baked and stay super chocolatey inside!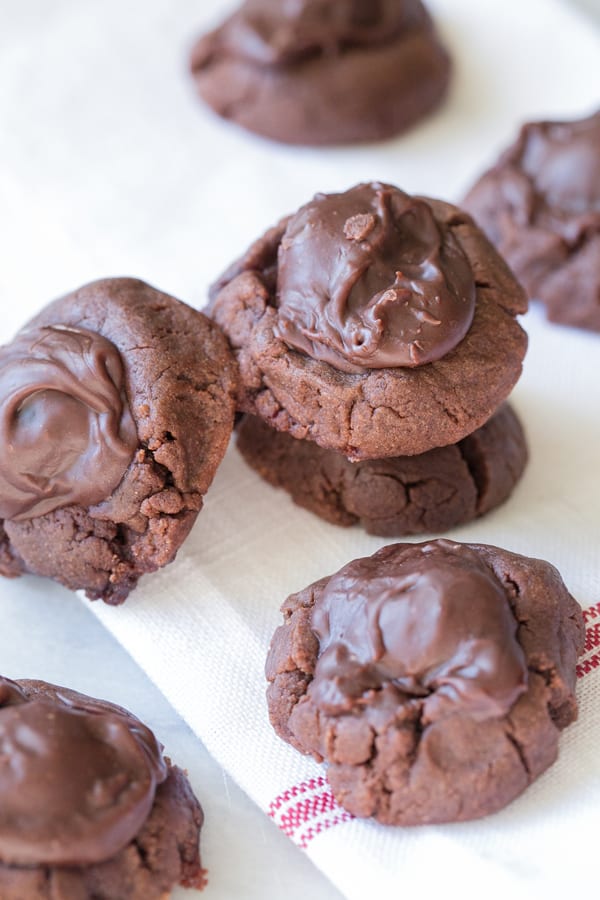 These chocolate cherry cookies are made with a soft chocolate cookie, baked with a maraschino cherry inside, and topped with delicious chocolate fudge. They are absolutely delicious!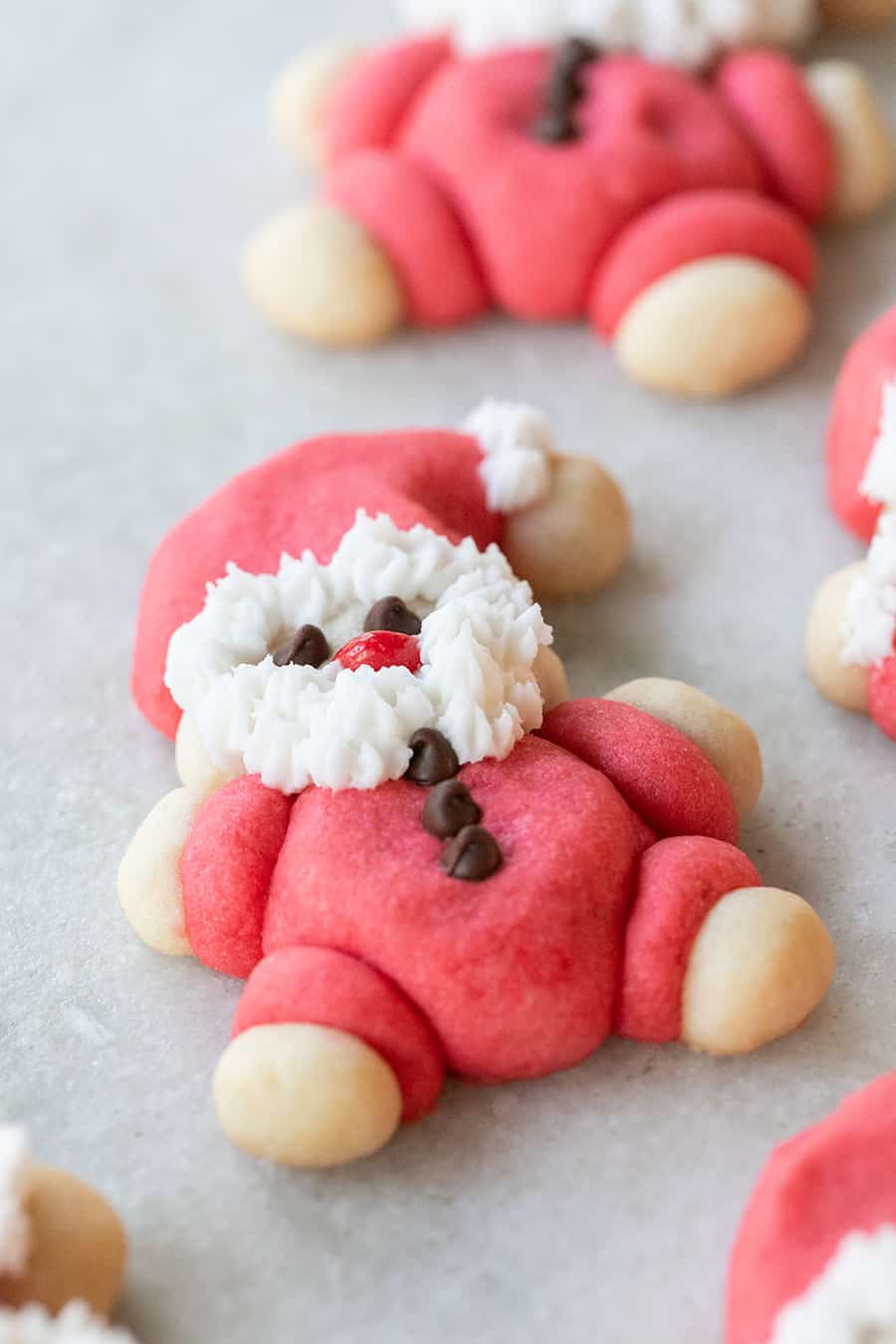 Our very favorite Christmas cookies!! These Santa cookies are so adorable, so tasty, and great to make with your kids! With their buttery flavor, chocolate eyes, and frosted beards, they'll stand out at any Festive party. Hands down the yummiest Christmas cookies to come down your chimney!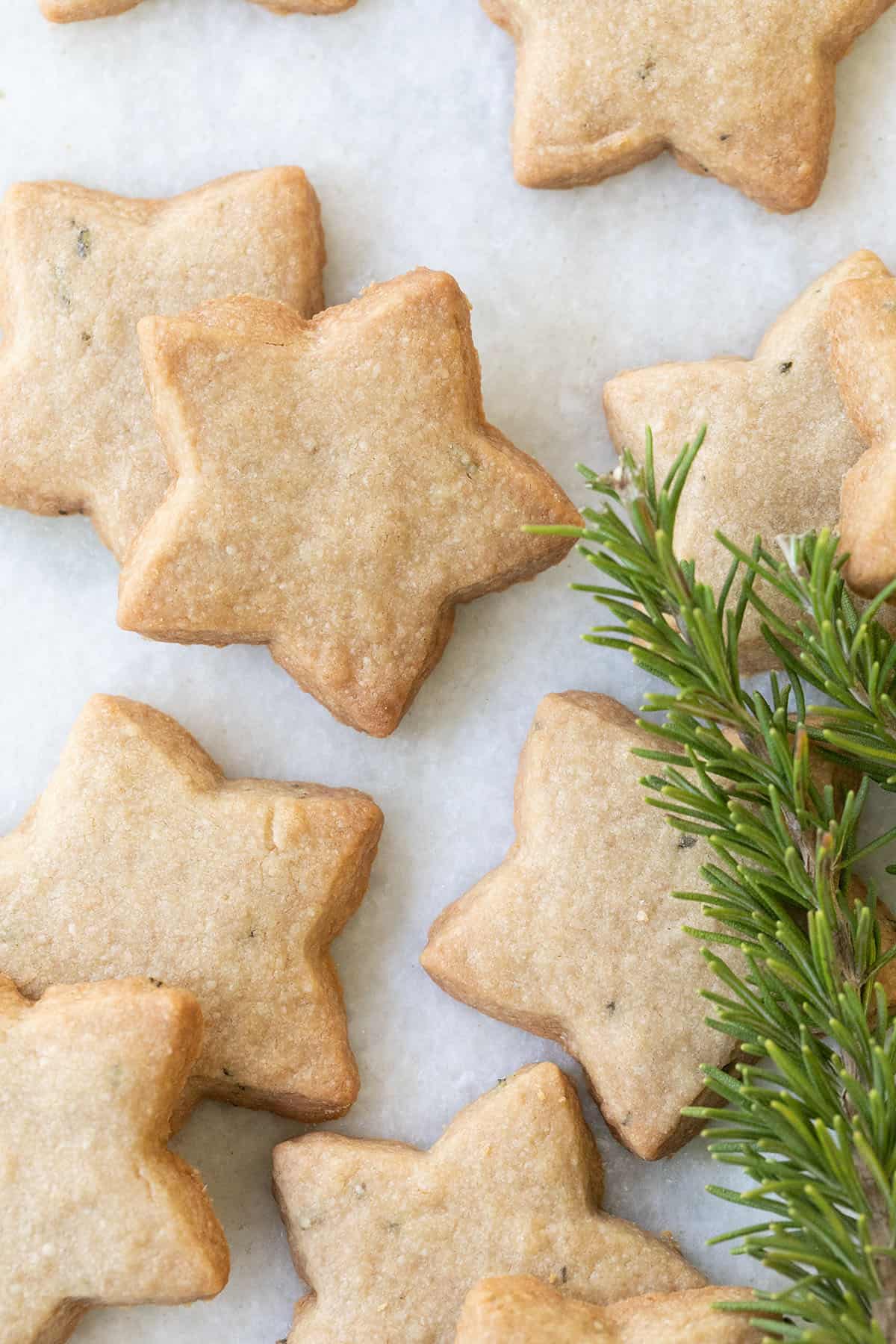 These are the best rosemary shortbread cookies made with brown sugar! Make them any shape you like for the holidays. These cookies have so much buttery flavor, the perfect crisp edge and make wonderful cookies for the holidays!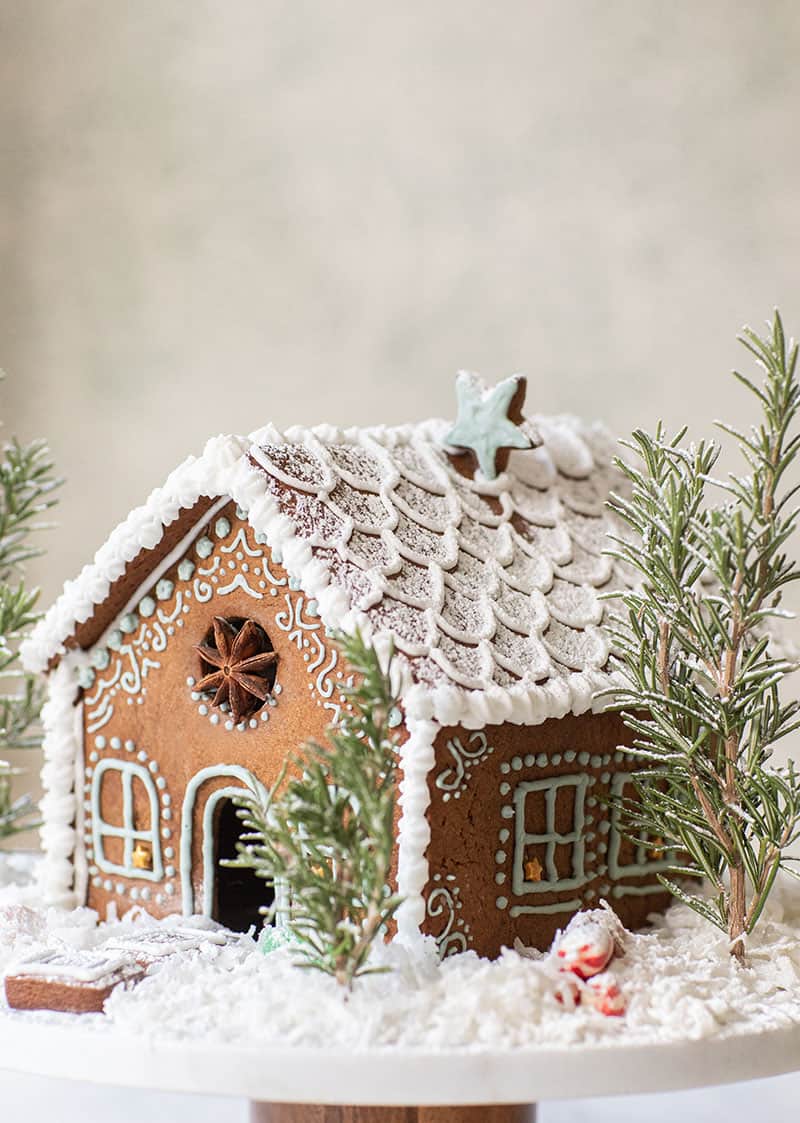 The holidays will soon be upon us, and that means one thing: It's time to master the art of the gingerbread house! This step-by-step guide will help you build a gingerbread house like a pro!
You can also make mini gingerbread houses to go on hot chocolate mugs or as gifts.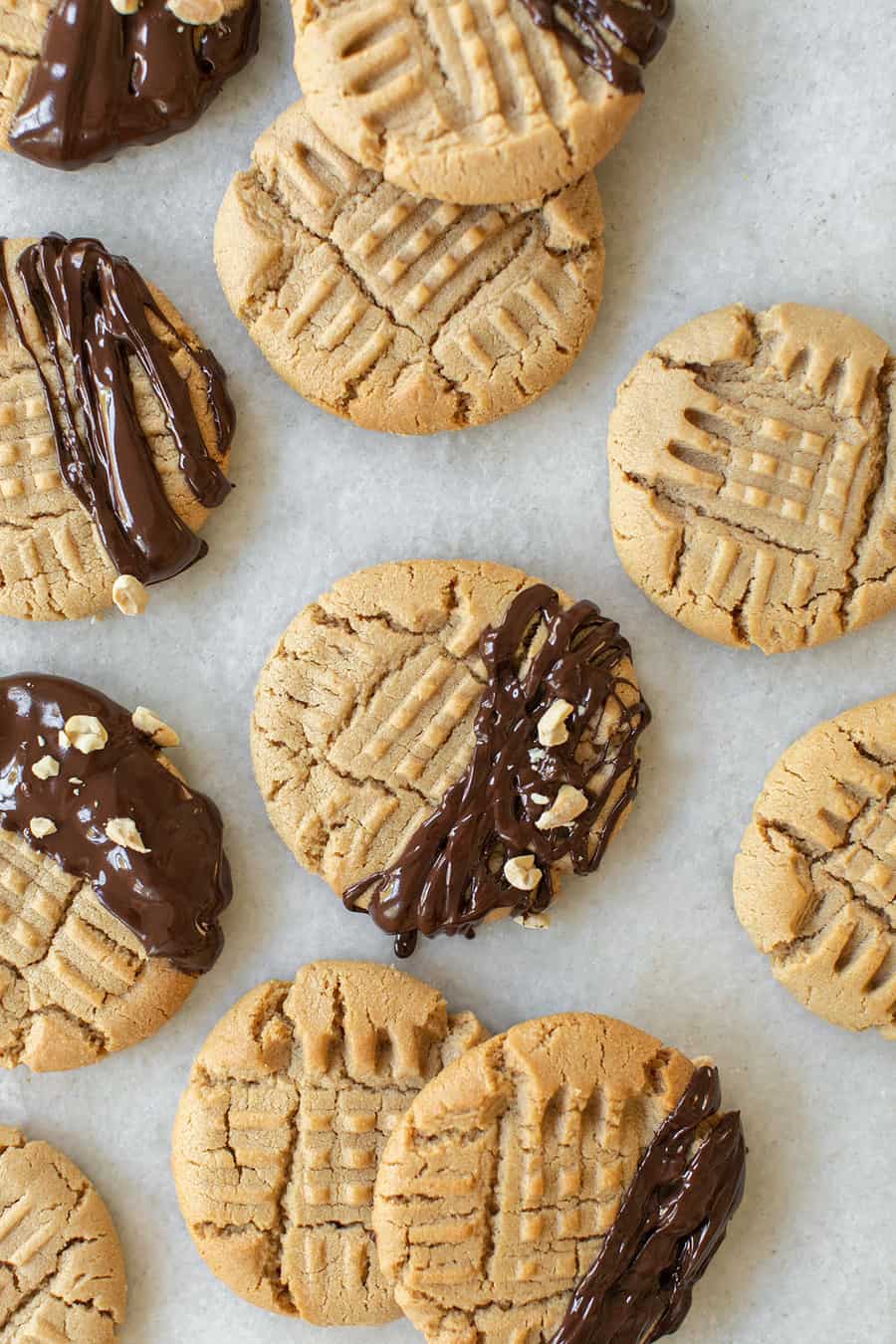 These are classic peanut butter cookies with a chewy texture. They are perfect for serving around Christmas time and can be dipped in melted chocolate or white chocolate and add festive sprinkles to them for an extra festive look.
More Holiday Christmas Cookie Recipes
Oatmeal Chocolate Chip Cookies
Butteries Chocolate Chip Cookies
Frequently Asked Questions
When Should I Start Making Christmas Cookies?
When you start baking Christmas cookies entirely depends on the demands of your household and your priorities. Some people must have their cookies baked fresh. If that's you, just make sure you've got your ingredients prepared in advance and chosen a recipe that you're comfortable making at the last minute.
If you've got a bigger family and there's just too much to do on the day, or you prefer to get fully organized in advance, you can freeze your cookies. There's also a way to make your dough in advance and bake cookies fresh on the day. Read on to find out more.
What Do You Put in Christmas Cookies?
Christmas cookies really do come in all shapes and sizes, with different states preferring different brands and many individual families following their own traditional recipes. That said, there are still some common items that pop up on the ingredients lists of most festive fancies:
Sugar
Butter
Vanilla Extract
Eggs
Flour
Ginger
Ground Spices: Cinnamon, Allspice, Nutmeg
Cocoa powder
Citrus zest like orange zest, lemon zest and lime zest
Royal icing for decorating
Sanding sugar for dusting
How Long Will Christmas Cookies Stay Fresh?
The Culinary Institute of America suggests that baked cookies keep best when you wrap them individually, as exposing them to the air is likely to dry them out.
You can stretch your batches further by making up a large chunk of dough and storing a portion of it, unbaked, in the refrigerator until you're ready to bake fresh cookies. The mixture lasts for a surprising two weeks, so you can make dough far in advance and bake it fresh on the day.
What Christmas Cookies Freeze Well?
You can freeze cookies and cookie dough as well — provided you creamed the dough. Baked cookies are still yummy for up to three months after freezing them, and cookie dough can last for as long as four months in the freezer. Some of the best cookies for freezing include:
Shortbread cookies
Springerle
Crinkle cookies
Cinnamon cookies
Pfeffernüsse
Classic sugar cookies
Fattigmann
Thumbprint cookies
Gingerbread cookies
Pepparkakor
Chocolate chip cookies
Fruitcake cookies
Pinwheel cookies
How Many Cookies Should You Give as a Gift?
Christmas is a time of generosity and togetherness, and you should reflect this when sharing your cookies with friends and family.
It's traditional to give at least two to three cookies to each person in the household, but better yet, give them more. Let them know if the batch can be frozen so that they can feast on your baked goods in their own time.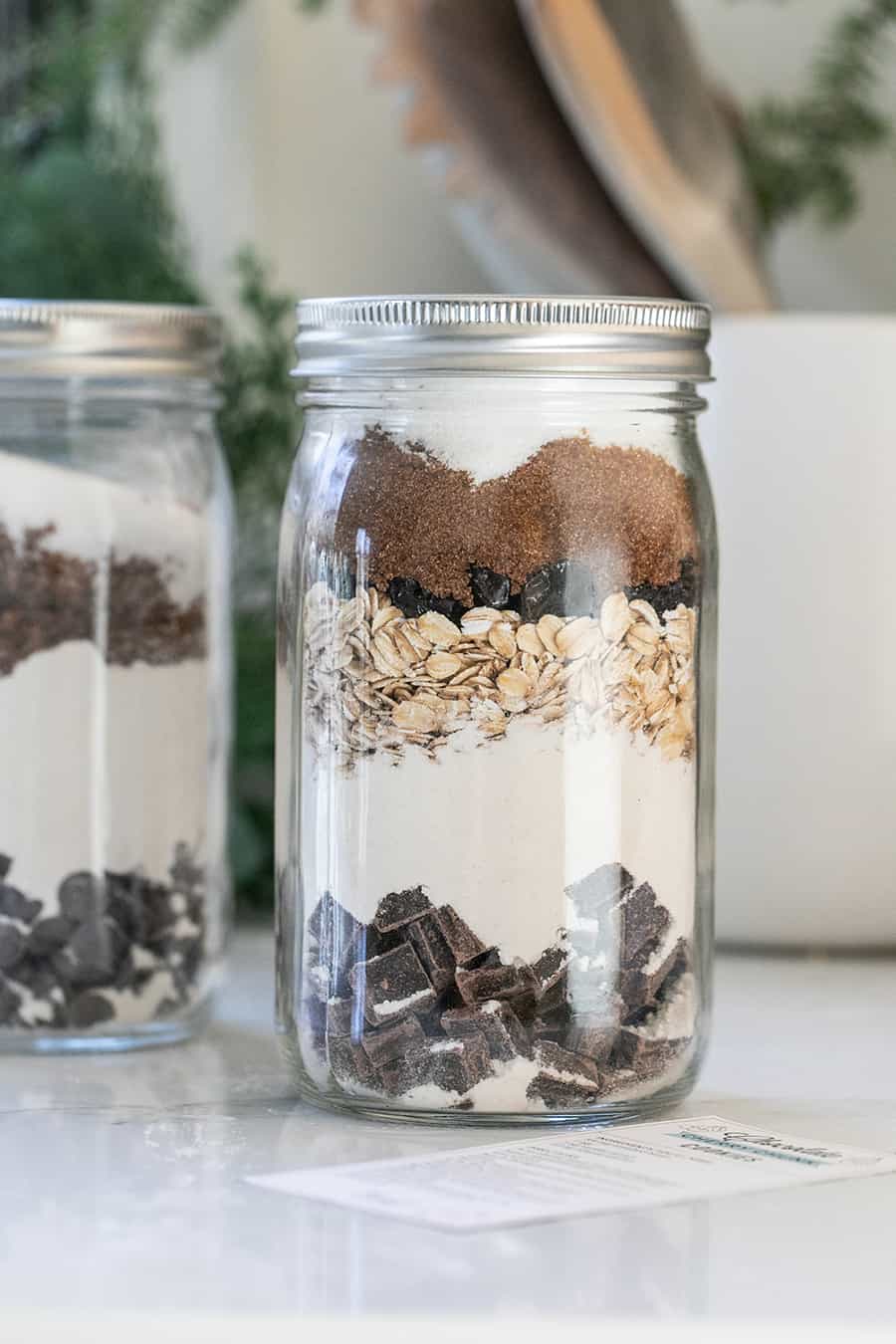 How Do You Pack Cookies in a Cookie Tin?
Proper storage can ensure your Christmas cookies stay fresher for longer. You don't need to spend lots of money on packaging (although you can if that's your thing!) There are plenty of DIY cookie wrapping ideas you can check out to hone your presentation skills. Once you're ready, follow these steps to pack your cookies:
Choose a metal tin or airtight container for optimum freshness.
Line the container with parchment or waxed paper.
Place cookies in carefully, one at a time so you can separate each one with parchment or waxes paper.
Avoid putting crunchy cookies, and soft cookies in the same container as the crisp ones will soften a little.
Seal the packaging and decorate as creatively and fancifully as you can!
You can also make dehydrated orange slices and add them to the cookie tin too. They look so festive and smell wonderful.
How Do You Keep Cookies Fresh for Christmas?
There are several ways you can get around keeping your Christmas cookies fresh. You can bake them up to three months in advance and freeze them, leaving you loads of time to get prepared.
Another option is to make the dough in advance. Either make it four months in advance and freeze it or make it a couple of weeks ahead and store it in the refrigerator until you're ready to bake them fresh.
Cookies in a Jar
Another great cookie gift idea is giving cookies in a jar. Basically, you measure out all of the dry ingredients and pack them in a large glass jar. Then print out a tag for the recipe and let the guests add in the wet ingredients. This way they can have freshly baked cookies and only do half the work!
We have turned two of our most popular cookie recipes into cookie jars with printable tags. They make wonderful gifts!
Tips for Making These Delicious Christmas Cookie Recipes
Use quality ingredients like organic butter and eggs, pure vanilla, etc.
Use room temperature ingredients unless noted otherwise.
Always check the chill time as some cookies need to be chilled before they're baked.
Use good quality ingredients when baking. Whole, organic ingredients will give you the best results.
If you want to make gluten-free cookies, use a Gluten-Free 1-to-1 Baking Flour.
When To Serve Christmas Cookies
Christmas cookies are meant to be served during the Christmas season. Here are some holiday celebrations that these cookies are perfect for:
Christmas Dinner Party
Kids Christmas Party
You can also spread some holiday cheer and give these cookies as gifts to neighbors, teachers, friends, and coworkers.
What to Serve with Christmas Cookies
Christmas cookies go best with these drinks:
Milk and Chocolate Milk
Also, try any of our Christmas cocktails to pair with these holiday cookies.
Christmas Cookies
Festive cookies are a delightful way to share joy and fulfillment with your loved ones, and they don't have to be stressful or complicated to make. We hope you've been inspired to bake some delicious cookies this season!
If you make any of our Christmas cookie recipes, please leave a comment below! We'd love to know which ones you enjoyed the most.
You can also FOLLOW US on FACEBOOK, INSTAGRAM, and PINTEREST to see more delicious recipes, cocktails, desserts, and parties!
Christmas Cookie Recipes – Holiday Cookie Platter
List of the best Christmas cookies and a quick Christmas cookie platter.
Print
Pin
Rate
Ingredients
5

snickerdoodle cookies

5

 peanut butter blossoms

5

chewy ginger cookies

5

sugar cookies

5

gingersnap cookies

10

spritz cookies

5

gingerbread cookies

5

roly-poly Santa cookies
Instructions
Place each cookie on the platter.

Have about 3 to 4 cookies per guest.

Add holiday candy around the platter to garnish.