I usually make these cookies around the holidays, but as the years go on I'm learning that they're actually a terrific year-round chocolate cookie! By far they are my most requested cookie to make because of their fudgy-chocolately-cherry deliciousness : ) Zan is obsessed. One of his friends/co-workers, TJ, surprised us with a jar of real maraschino cherries… not the artificial, red-dyed ones sold at the grocery store, but the REAL ones. These are made in Italy and are the original maraschino cherries. Honestly, there is no comparison to the bright red ones. They're rich in taste and texture and aren't filled with artificial flavors or dyes. They have the perfect crunch sound to them when you take a bite and yummy cherry juice spills out. When he gave us the cherries, he told me that they would take these cookies to another level of goodness…. he was right! Real maraschino cherries are the secret ingredient to making these cookies stand out from the rest. Read more for the recipe…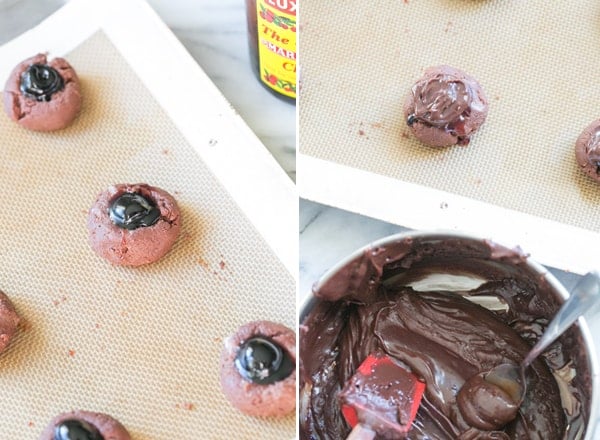 Chocolate-Cherry Cookies 
1 1/2 cup flour
1/2 cup unsweetened cocoa powder
1/2 cup butter, softened
1 cup sugar
1/4 teaspoon baking powder
1/4 teaspoon baking soda
1/4 teaspoon salt
1 egg
1 teaspoon vanilla bean paste
1 jar of
Luxardo
maraschino cherries, undrained
Chocolate Coating
1/2 cup sweetened-condensed milk
1 1/4 cup semisweet chocolate pieces
4 tablespoons of the reserved cherry juice
Directions:
Preheat oven to 350 degrees. Combine flour and cocoa powder in a bowl and set aside. Beat butter with an electric mixer on medium speed for 30 seconds. Beat in sugar and baking soda, baking powder and 1/2 teaspoon salt. Beat in egg and vanilla and gradually add in the flour.
Shape dough into 1-inch balls and place 2 inches apart. Press down in the center of each ball with your thumb and add a cherry in the middle.
For the frosting, add the sweetened condensed milk and chocolate chips into a saucepan. When the chocolate is melted, add the cherry juice. Stir constantly so the milk and chocolate won't burn.
Spoon 1 teaspoon of the chocolate sauce on top of the cherry and spread to cover the cherry only. Bake for 7-9 minutes.