I've tried so many homemade chocolate chip cookies in my life and always wind up a little disappointed with the end result. That is until I worked tirelessly to perfect the best chocolate chip cookie recipe ever!! Okay, maybe not in all of history, but these homemade cookies are gooey, delicious and everyone who tried them said they were the best, so I'm sticking with it! There are 3 key components to making these chocolate chip cookies; super fine ground rolled oats, refrigerating the dough overnight (is a MUST) and not over-baking them! There's something about the rolled oats that add a perfect moistness to the cookies. You can't tell that the oats are even in the dough! You have to use a food processor to turn the oats into a powder. I also experimented with the dough and the best result was refrigerating it overnight. It made a world of difference over the frozen dough or even just using it right away. There is nothing better than when you refrigerate it. Also, add a little sea salt over the top after you bake them! Try this chocolate chip cookie recipe out and let me know your thoughts!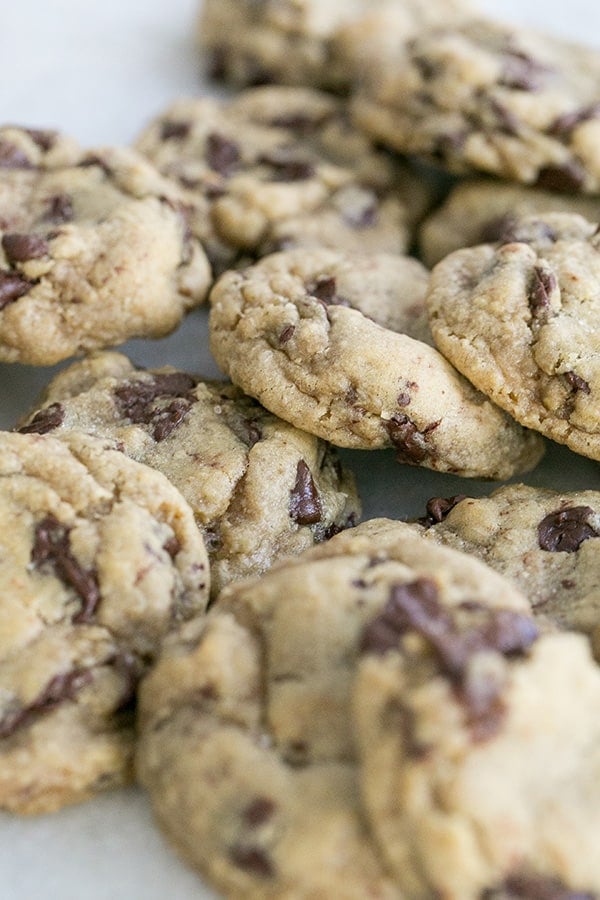 Make sure you add course sea salt on the top after the cookies bake. It's SO good!!
Ingredients
1

cup

butter

softened

1

cup

granulated sugar

1

cup

brown sugar

1½

teaspoons

vanilla

1/2

teaspoon

salt

1

teaspoon

baking powder

1

teaspoon

baking soda

2

large

eggs

2

cups

all-purpose flour

2½

cups

rolled oats

ground into a fine powder

2½

cups

semisweet chocolate chips

1

pinch

sea salt to garnish
Instructions
Preheat the oven to 350 degrees.

Measure 2½ cups oats then add them to a food processor and grind the rolled oats into a fine powder. Set aside.

In an electric mixer, cream together butter, white and brown sugar until smooth and fluffy.

Add in eggs and vanilla and continue to mix.

In a separate bowl, mix flour, salt, baking soda, baking powder, and ground oats.

Slowly add the flour mixture to the butter mixture and mix until combined.

Stir in the chocolate chips.

Refrigerate the cookie dough overnight.

Using a cookie scooper, make golf sized balls and place on a lined cookie sheet.

Bake for 8 -10 minutes. Do not overbake! Take them out more doughy and let them sit. If you over bake you won't get the same gooey, soft cookie.