Celebrate the crisp fall evenings with a cozy fall harvest party. We're sharing harvest-theme ideas, food, drinks and games to host a beautiful fall party.
A fall harvest party is a way to get your family and friends together to enjoy the season. We love to make it special with beautiful flowers and a signature fall cocktail, but the overall feel of a harvest party should be laid back and relaxing.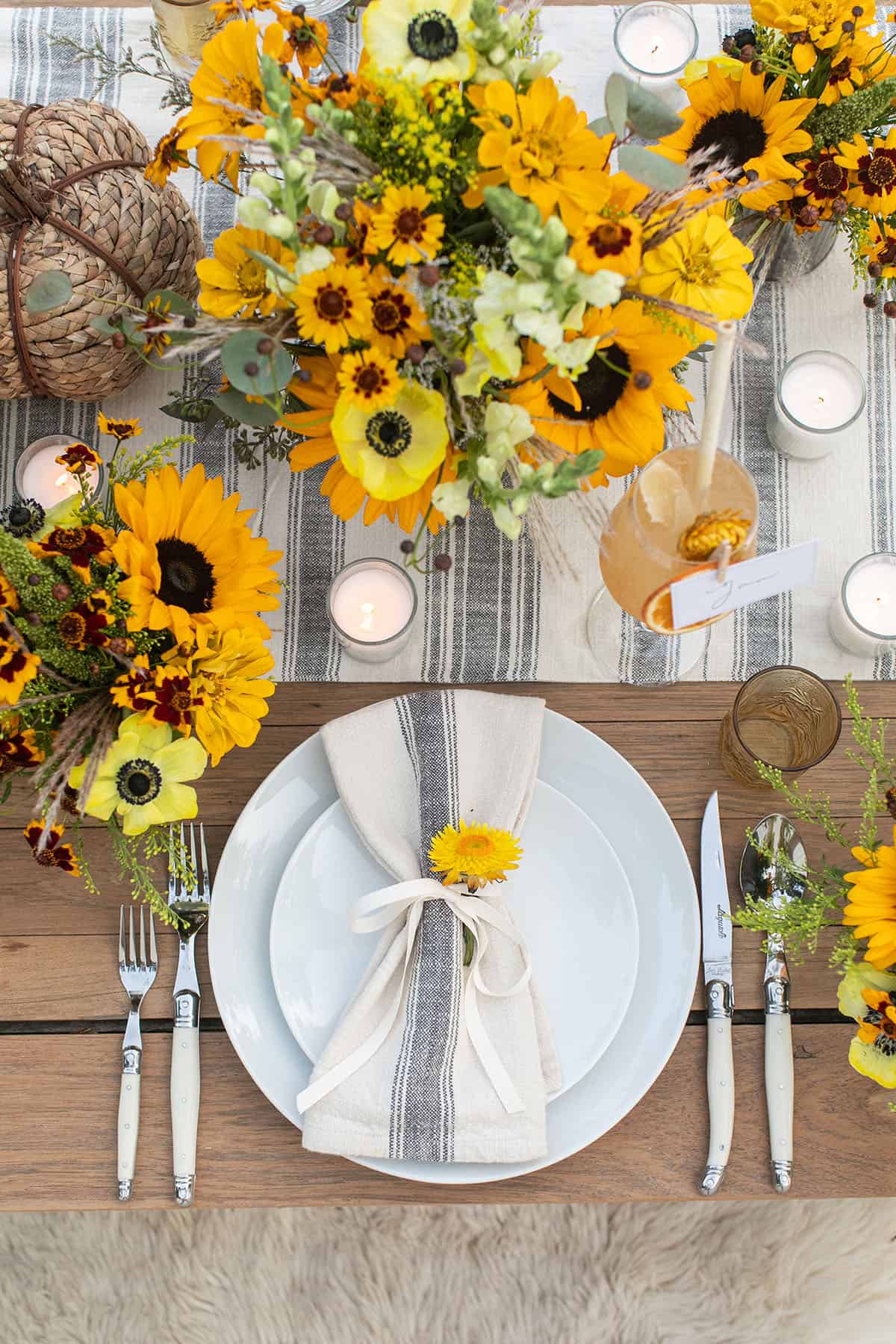 How to Throw a Fall Harvest Party
Before you can begin planning a fall harvest party, you need to decide how many people you'll be inviting. For us, we enjoy just a few close friends and family members, keeping it small and cozy is not only easier but more intimate.
Once you decide on how many people, you're able to pick a theme and start from there. To give you some fall harvest ideas we decided to do a sunflower theme. Once we knew sunflowers would be the focus, we used this table runner to with blue stripes to bring it all together.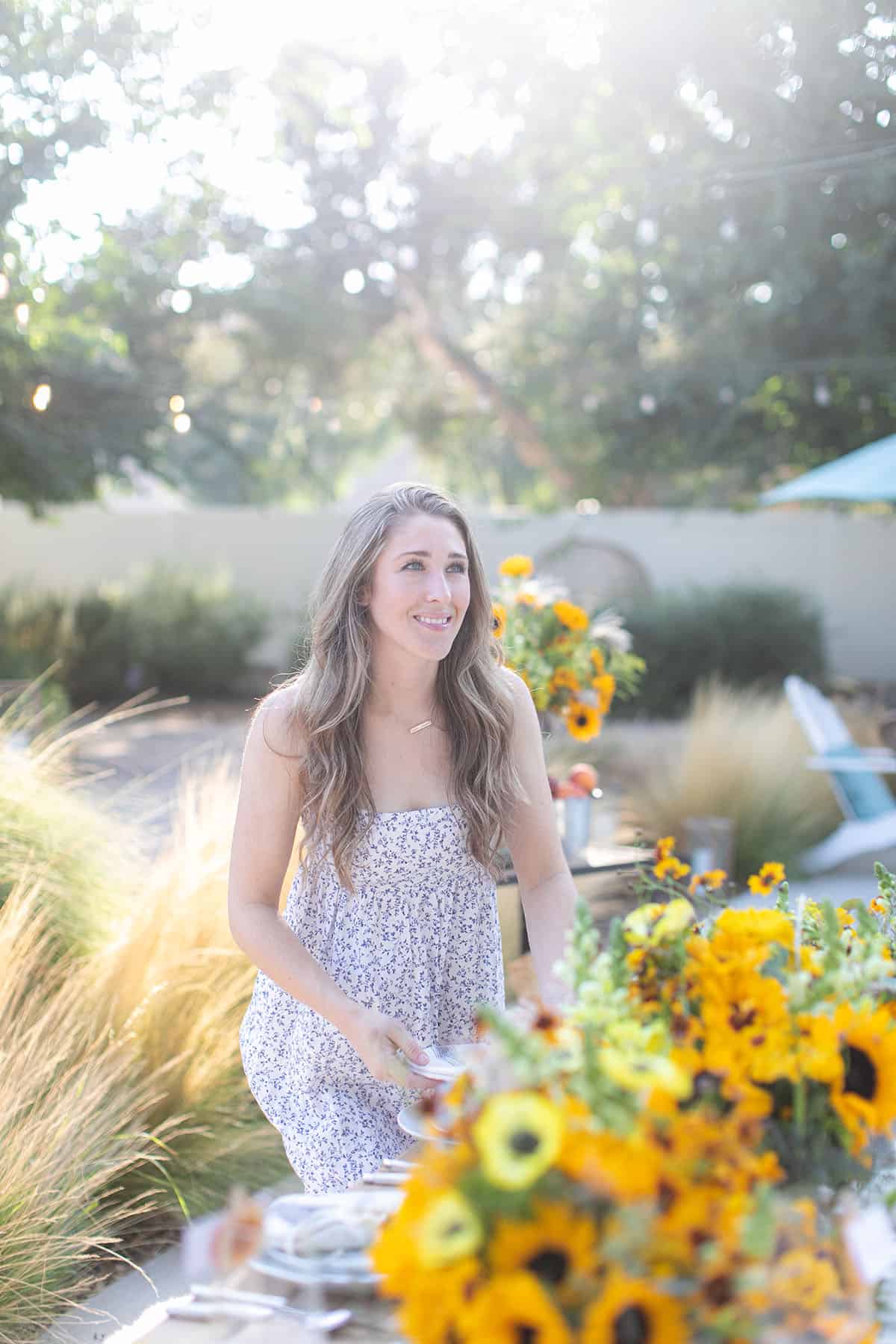 Party Invites
Unless it's a formal event, gone are the days of sending a paper invitation in the mail. We always use Paperless Post or Evite to send themed invitations via email. It makes it easy to track, follow-up or make changes to the party. Sometimes just browsing Paperless Posts beautiful design will inspire a theme for your gathering. When we hosted this tea party, it was inspired by one of their invitation designs.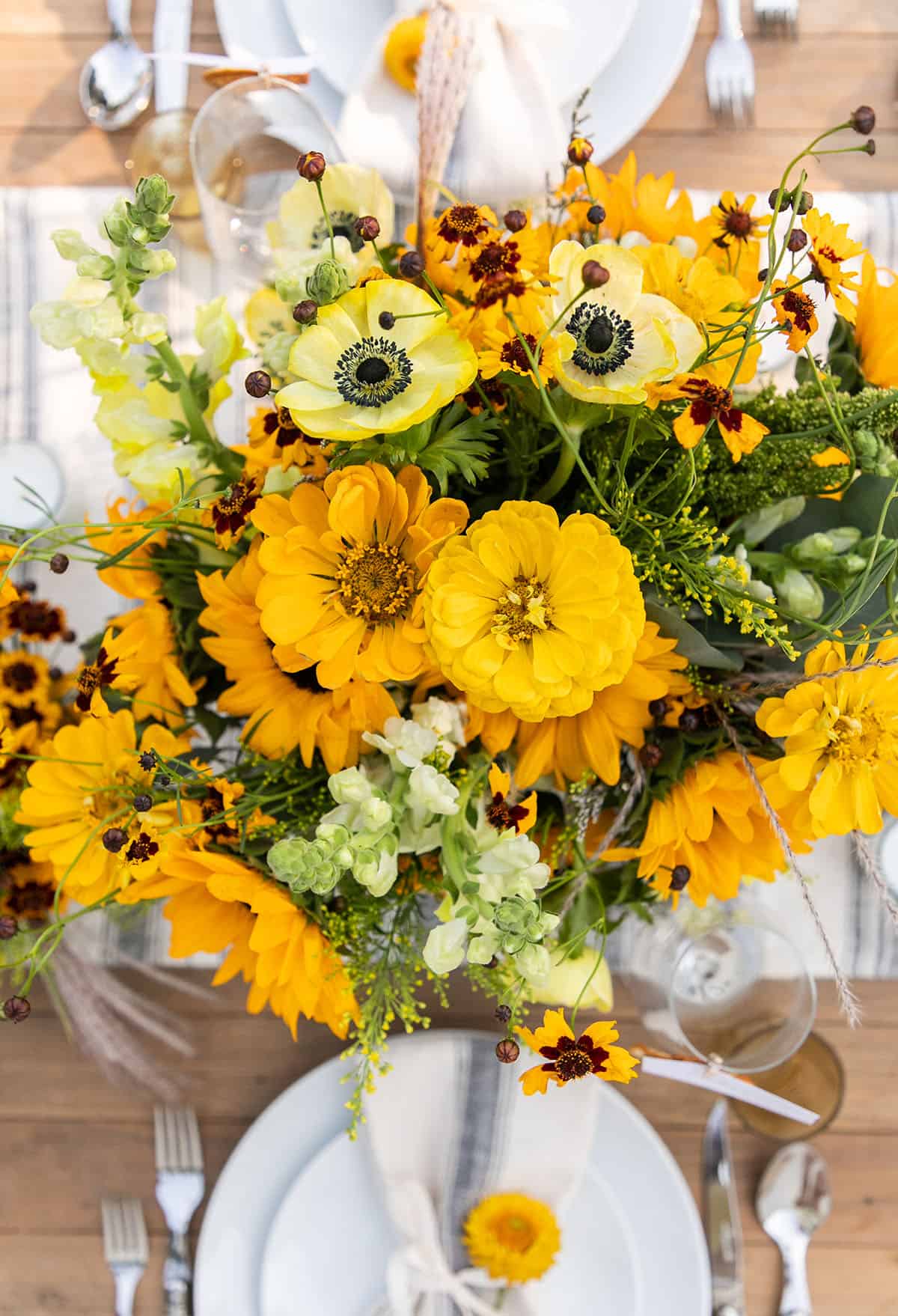 Fall Harvest Party Decorations
This is our forte! We love the decorations and they truly make the harvest party feel like fall. With charming details and decorations, the party will always stand out!
Fall Flowers – Make your own arrangements using seasonal flowers from the grocery store or Farmers market. Our favorite fall flowers are a variety of sunflowers. We also love Hardy Fuchsia, Dahlias, Chrysanthemums, Amaranthus, Pampas Grass, Chrysanthemums, Hellebores.
Use any seasonal flowers that fit within your theme and galvanized buckets to create arrangements for your table setting.
Bales of Hay – These can be used as seating, to stack as a side serving table or to just have around to give all the fall feels.
Fruit – Apples and peaches in baskets or galvanized tins make great fall harvest decorations.
Wreath – Grab a simple dried wreath at your local craft store to use on your door or lean it against a bar cart.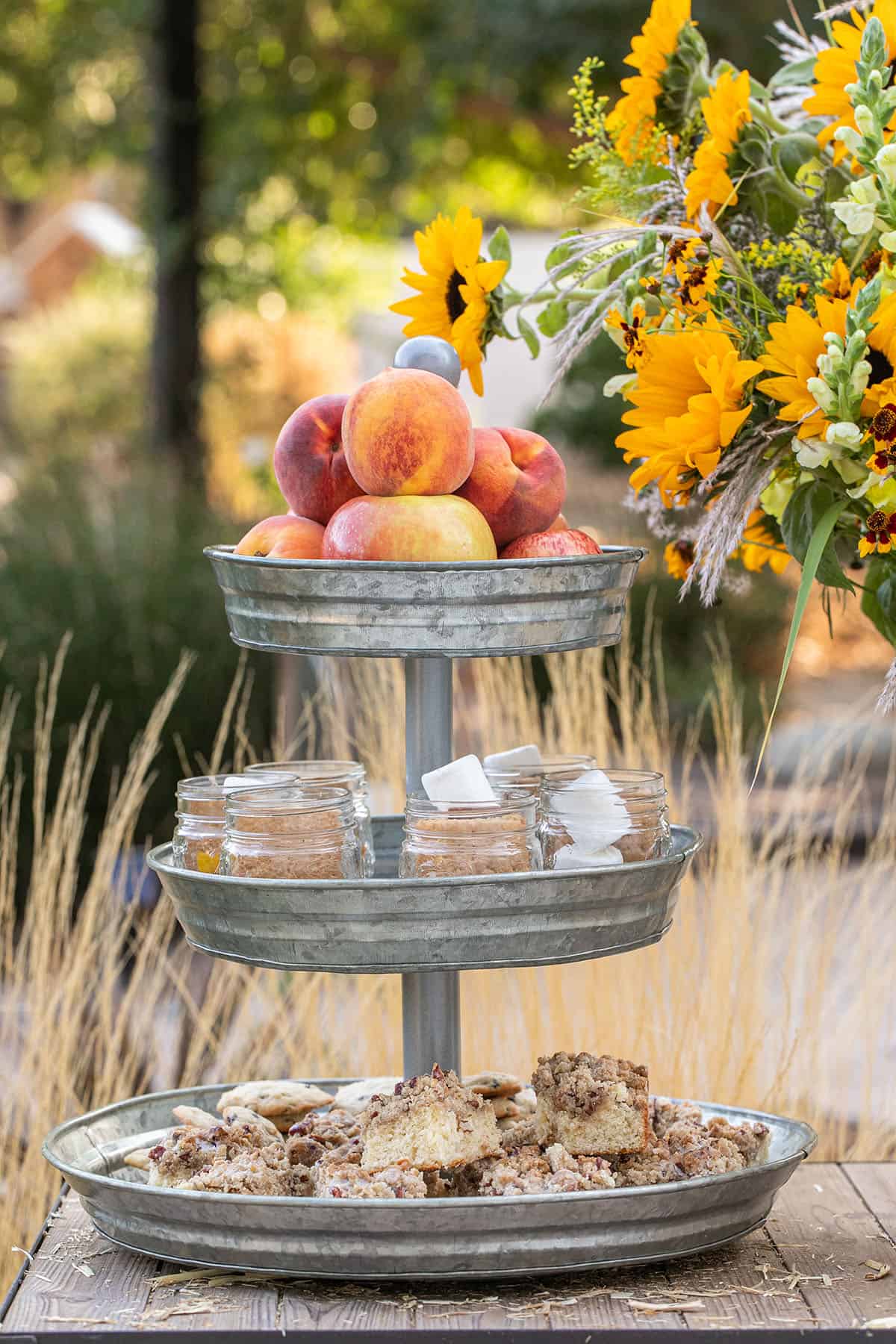 Galvanized – Galvanized trays, platters and vessels are perfect to use for fall decor.
Pumpkins – If you're hosting a fall harvest party in October, pumpkins with be of plenty and make wonderful fall decorations. If the gathering is earlier in the season, use faux pumpkins or concrete pumpkins as fall decor.
Candles – Lighting is key to creating a cozy atmosphere. Candles are a must and if you want to make it even cozier we recommend stringing market lights over the table.
Dried Flowers – We use dried flowers to decorate cocktails, ice cubes, desserts and more. They're great to have on hand for parties. Etsy has a beautiful selection of dried edible flowers you can use to decorate your party.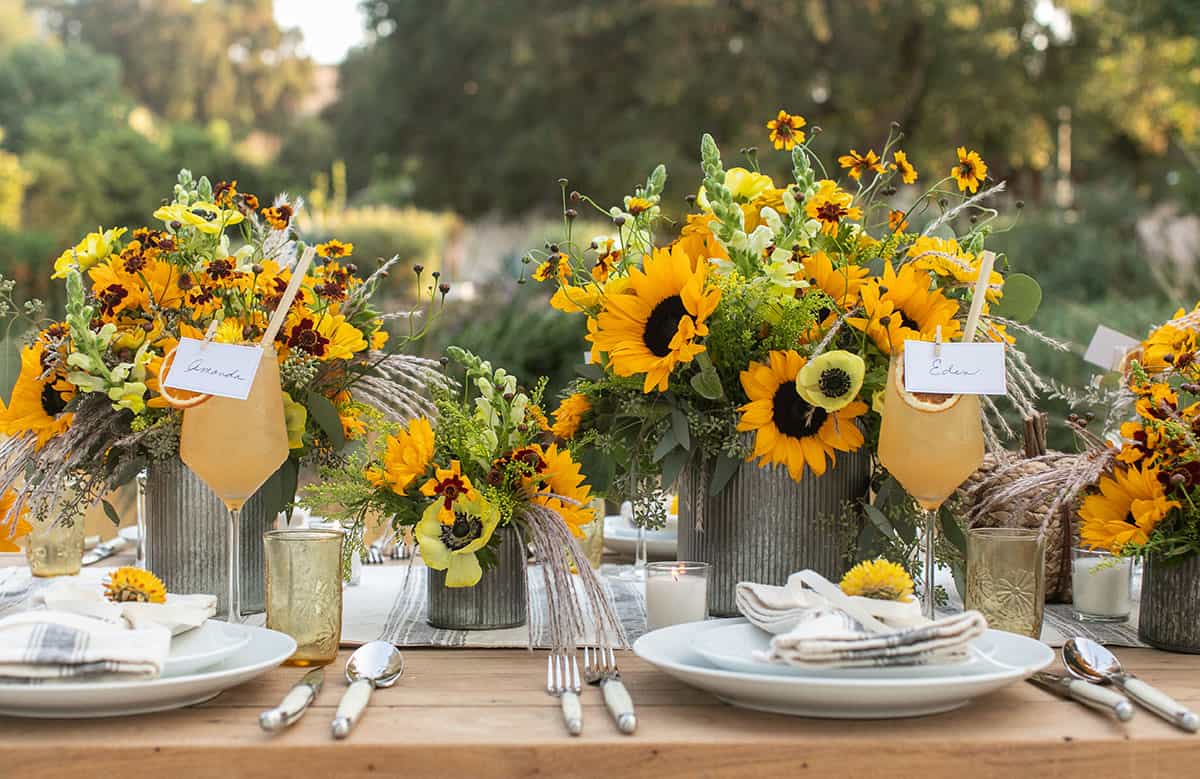 Harvest Table Setting
First, learn everything you need to know for setting a table with our complete table setting guide. Knowing how to set a paper table, whether it's casual or formal is important when hosting a fall harvest party.
Once you have a harvest theme and a menu picked out, you can decide on the flatware, flowers, plates and napkins you'll need.
Since we know you'll ask, the flatware is Jean Dubost Laguiole and we absolutely love it! We used it for our beautiful Christmas table setting too.
For this party, we used classic white plates,pretty yellow water cups, galvanized tins for flowers, striped table runner and linen napkins.
Fall Harvest Party Menu
Keeping things easy and fuss-free when it comes to a fall harvest menu will allow you to enjoy the party. There are several ways to feed guests without the hassle of a fancy coursed meal!
Meat and Cheese Board – Assemble a beautiful fall harvest cheese and charcuterie platter, like this one. It's always a great way to feed guests without the trouble of cooking. To make it special, get really good cheese, high quality ingredients, olives, nuts and special jams.
Crockpot Chili – Get out the crockpot which allows you to do most of the cooking hours before. Our chili recipe is a favorite!
Easy Cast Iron Chicken – Instead of making an entire turkey, keep it simple with a cast iron chicken.
Simple Salad that Goes with Everything – This is a great base salad and dressing. Add seasonal favorites like pomegranates, cranberries or pecans.
Baked Apple Cider Donuts – By far our favorite apple cider donuts. They're baked to perfection, brushed with butter and dipped in a cinnamon and cardamom.
Pumpkin Bread – This pumpkin bread is super moist and full of fall spices.
Corn Bread Muffins – These corn bread muffins pair well with chili or a simple roasted chicken.
Seasonal Fruit Platter – Fill a platter with season fall fruit like sliced apples, peaches, pears and berries.
Sweet Potato Pie – This pie can be made the day before, which always alleviates any stress the day of the gathering. It's the perfect sweet potato pie recipe.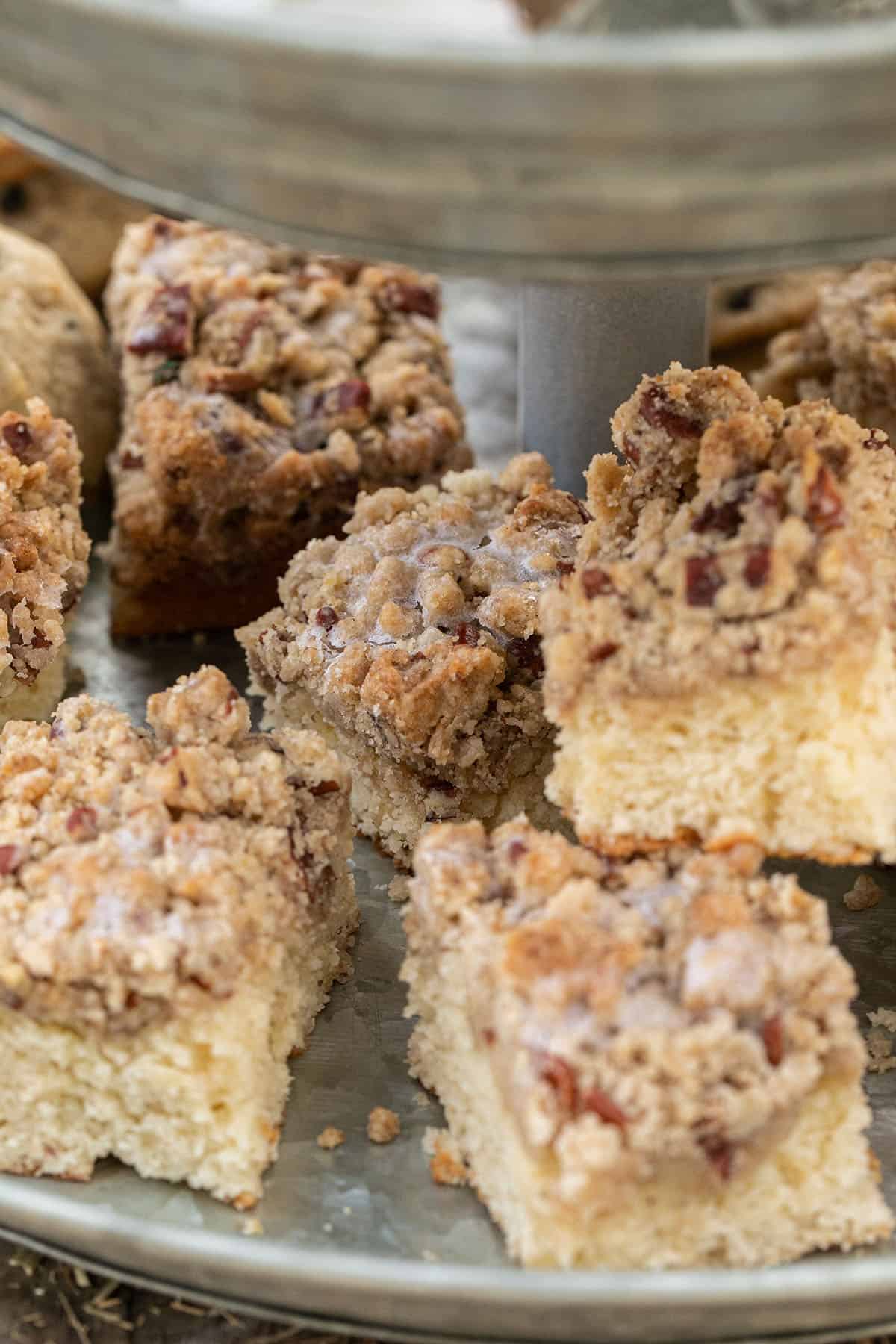 Crumb Cake – A super moist crumb cake is great for a fall harvest party.
Any of these fall desserts would be perfect for a harvest party.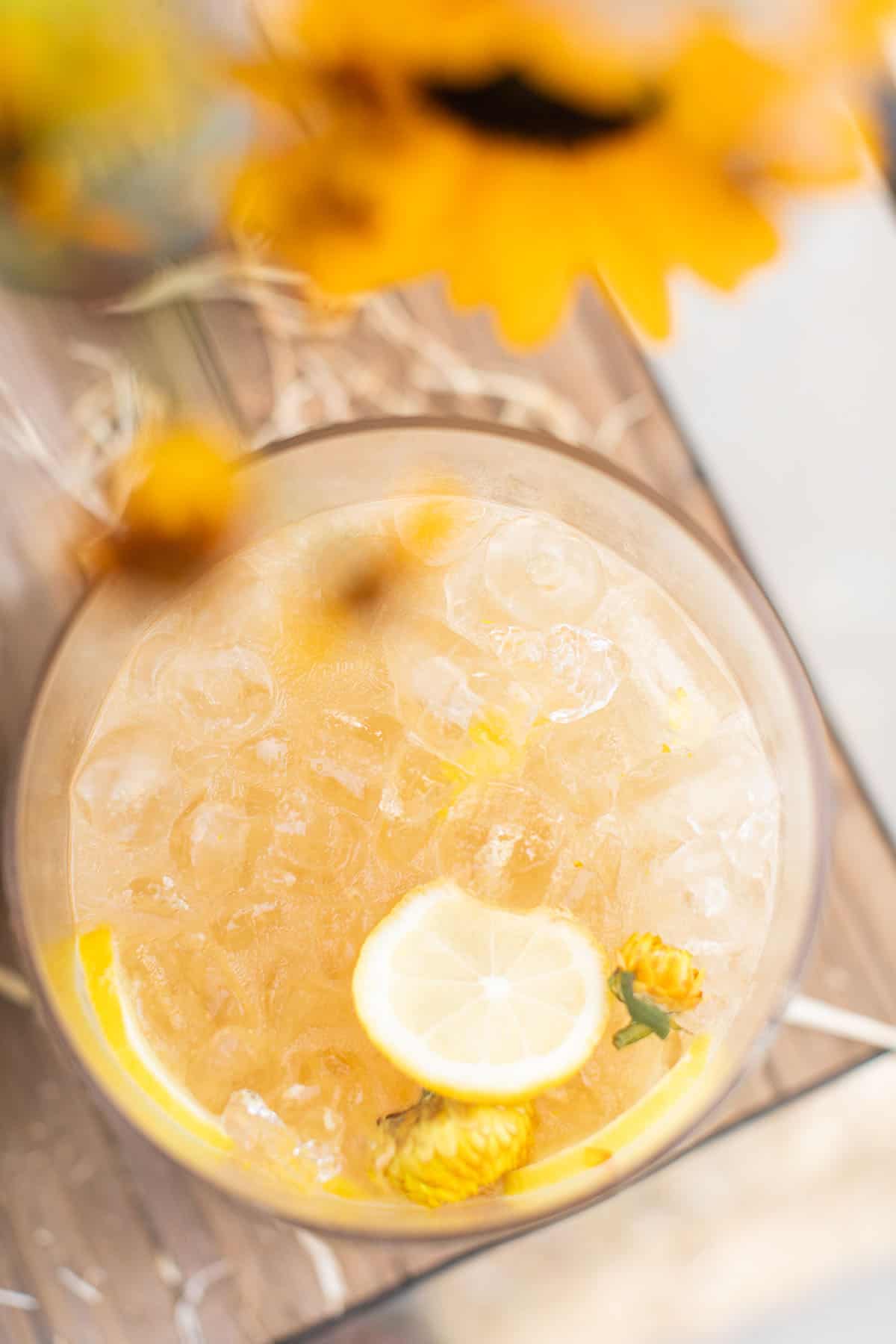 Harvest Party Cocktails
For cocktails we suggest our best fall cocktail recipes.
Apple Harvest Punch – This recipe is made with whiskey, lemon juice, ginger and apple cider.
Classic Whiskey Sour – Another great option to ease into fall is with our classic whiskey sour.
Apple Martini – This is another quick drink that's made with just a few ingredients. It's perfect for a fall party.
Hard Apple Cider Punch – This is a perfect harvest drink for a crowd. It's made with apple cider and kombucha!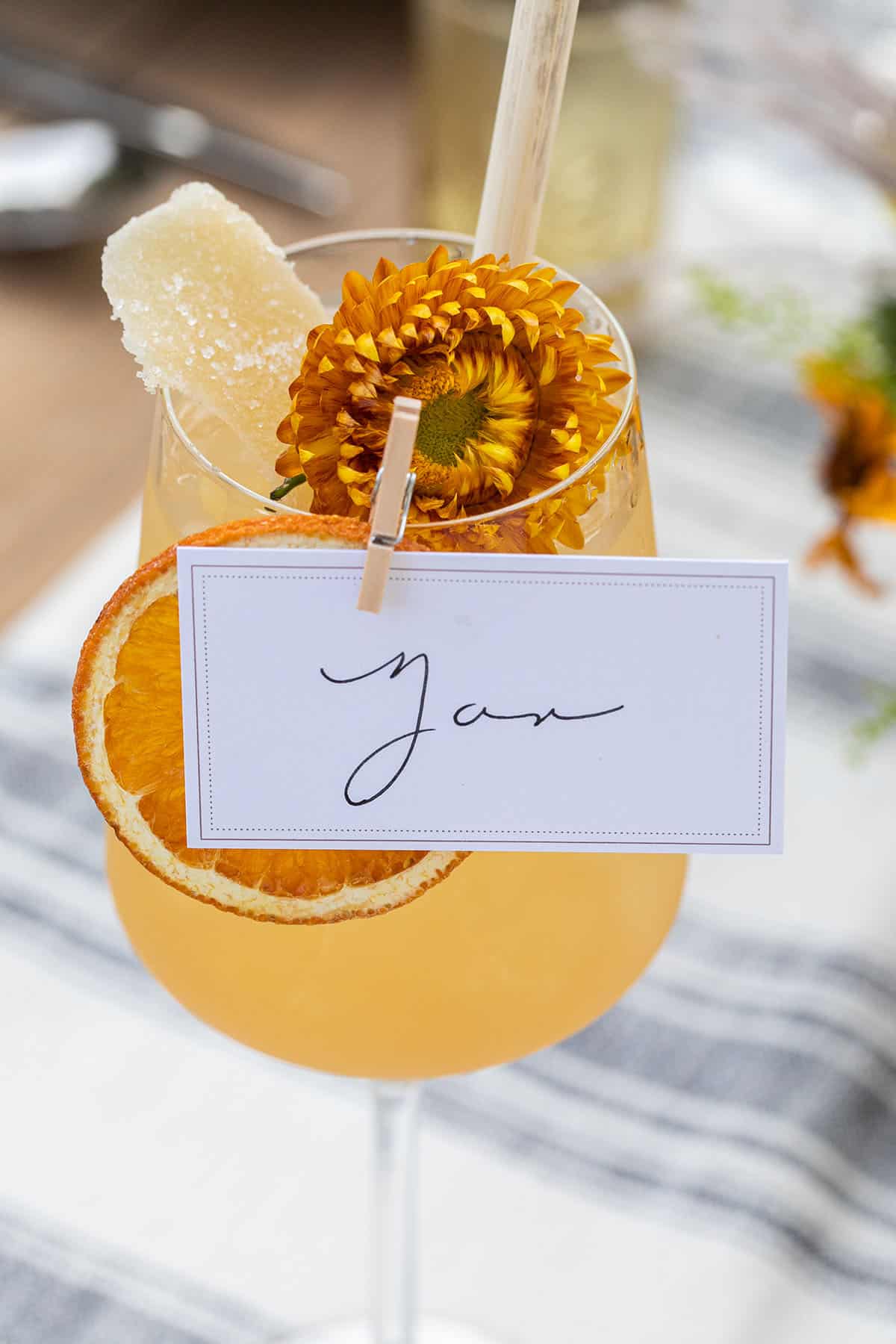 Charming Fall Place Cards
We love this charming touch that works as a place card and a drink marker! You'll need mini clothes pins, small place cards and a few fun fall garnishes. Just clip the card on the side of the glass!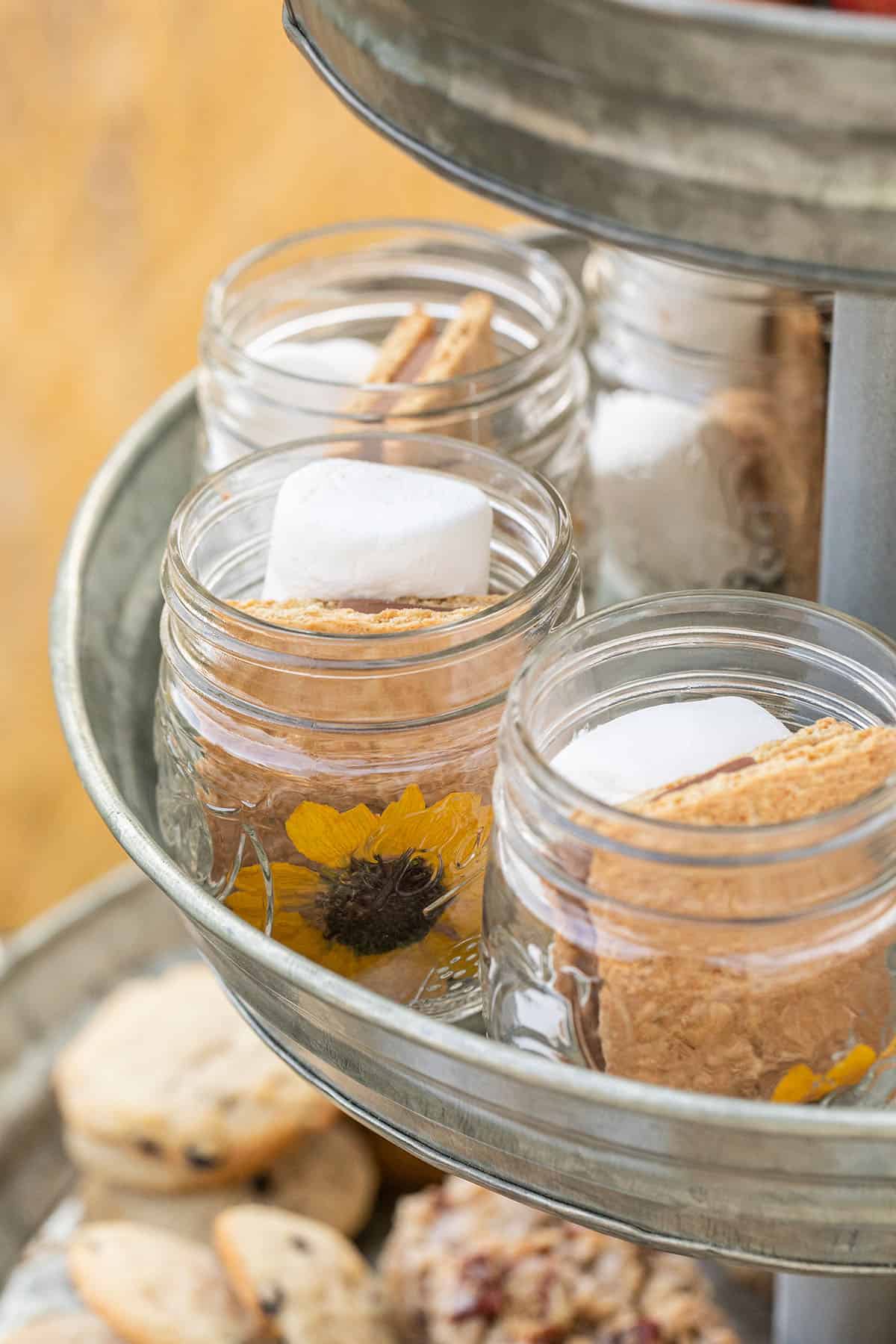 S'more Kits
If you're able to have an outdoor fire, make individual s'more kits in small glass jars.
Add in two marshmallows, two graham crackers and a small piece of chocolate into small glass jars.
Add an edible flower to the jar for a cute detail.
Place roasting sticks in a tall galvanized bucket next to the s'more kits.
Fall Harvest Party Games and Activities
Games are great for intimate gatherings, where you know your guests well or for larger events with a lot adults and kids. Here are a few suggestions for fall harvest party games:
Cornhole – A classic yard game that's great for summer and fall parties. We use ours all year!
Sack Races – Fun for adults and kids!
Pumpkin Bowling
Bobbing for Apples – Instead of a bucket full of water, tie the apples to a string from a tree and have guests try it that way. It keeps everyone dry!
Flash Light Tag – When it gets dark, hand everyone a flashlight for a good game of flashlight tag!
Bonfire – If you have an outdoor fire pit, have a bonfire and serve s'mores and a nightcap.
Craft Table – If kids are guests at the party, put together a small craft table with a little folding table and hay bales to sit. Have mini pumpkins and pinecones to paint along with coloring pages and stickers!
Host a Fall Harvest Party in 6 Steps
Send out an invitation via email.
Choose the theme and colors.
Two weeks out, gather what you have at home to use and shop for supplies online or in store.
Decide on a seasonal fall menu and write out a grocery list and time line for the recipes.
Decorate the day before, setting the table, making flower arrangements getting the outdoor fire ready. Bake and cook anything you can the day before.
Finish the rest of the cooking, get the cocktails ready and add any last minute charming details. Then enjoy the party!
Frequently Asked Questions
What do you serve at a harvest party?
Serve seasonal food that use ingredients like apple, pumpkin and fall spices. See our recommendations above for more recipe ideas.
What do you do at a fall party?
Enjoy good food, festive cocktails around a cozy bonfire with your friends and family. You can play fall harvest games, roast s'mores and enjoy the cooler weather and the beginning of a new season.
What's the best time to throw a harvest party?
The best time to host a fall harvest party is September and early October before all of the Halloween festivities begin.
More Fall Harvest Ideas You'll Love
Here are even more charming fall harvest ideas you can incorporate into a harvest party:
How to Host a Charming Pie Making Party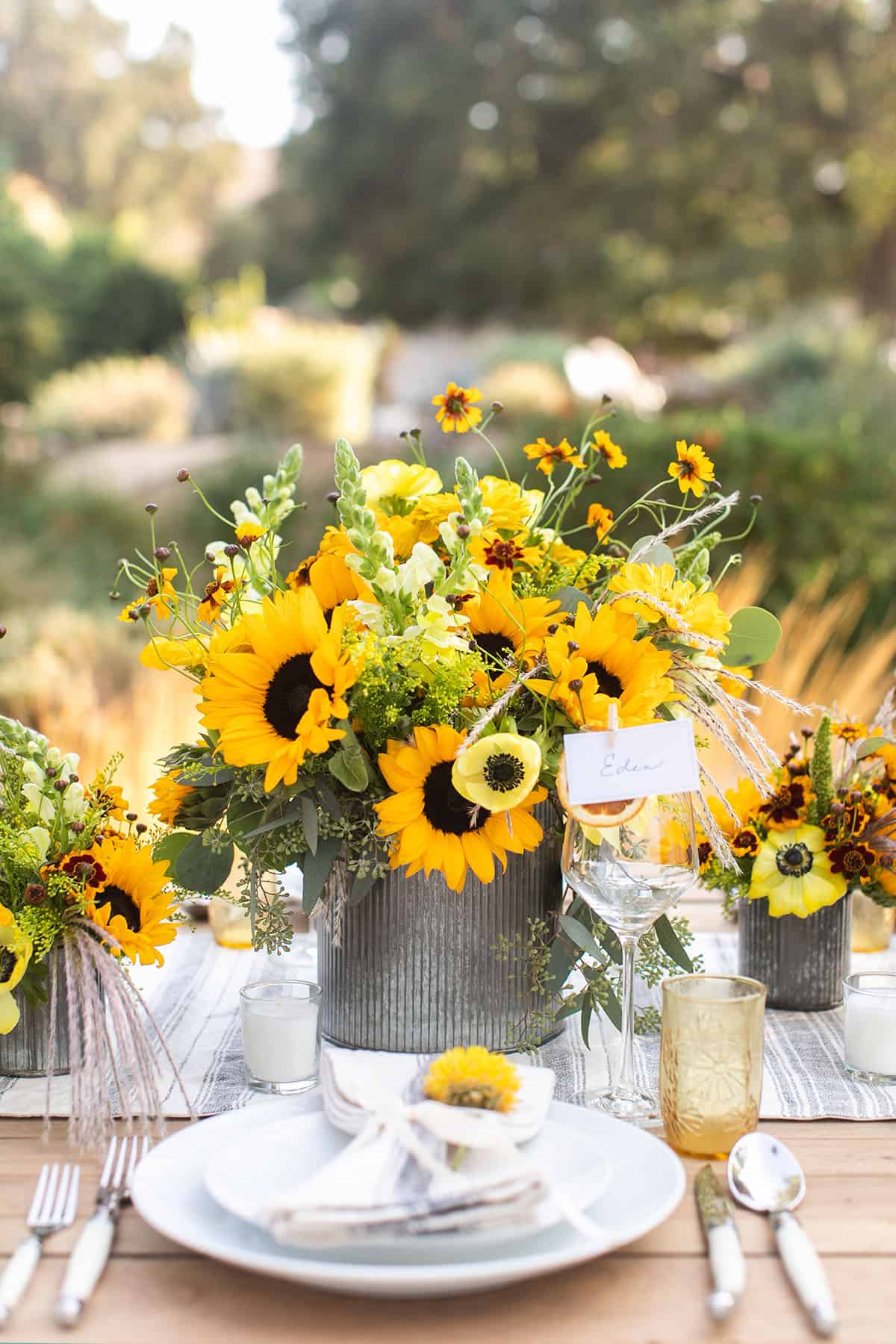 We hope you've been inspired with some charming fall harvest ideas for your next gathering. Fall is one of our favorite seasons and it's a time to enjoy the weather, flavors and seasonal food with friends and family.
For more party ideas and daily inspiration FOLLOW US on FACEBOOK, INSTAGRAM, and PINTEREST to see more delicious recipes, cocktails, desserts, and parties!
This post may contain affiliate links. Please read our disclosure and privacy policy.
Check Out Our Latest Posts