Sharing step by step instructions all the details for creating the most perfect cheese platter! You'll easily be able to assemble your own beautiful cheese board to serve at parties and holiday events!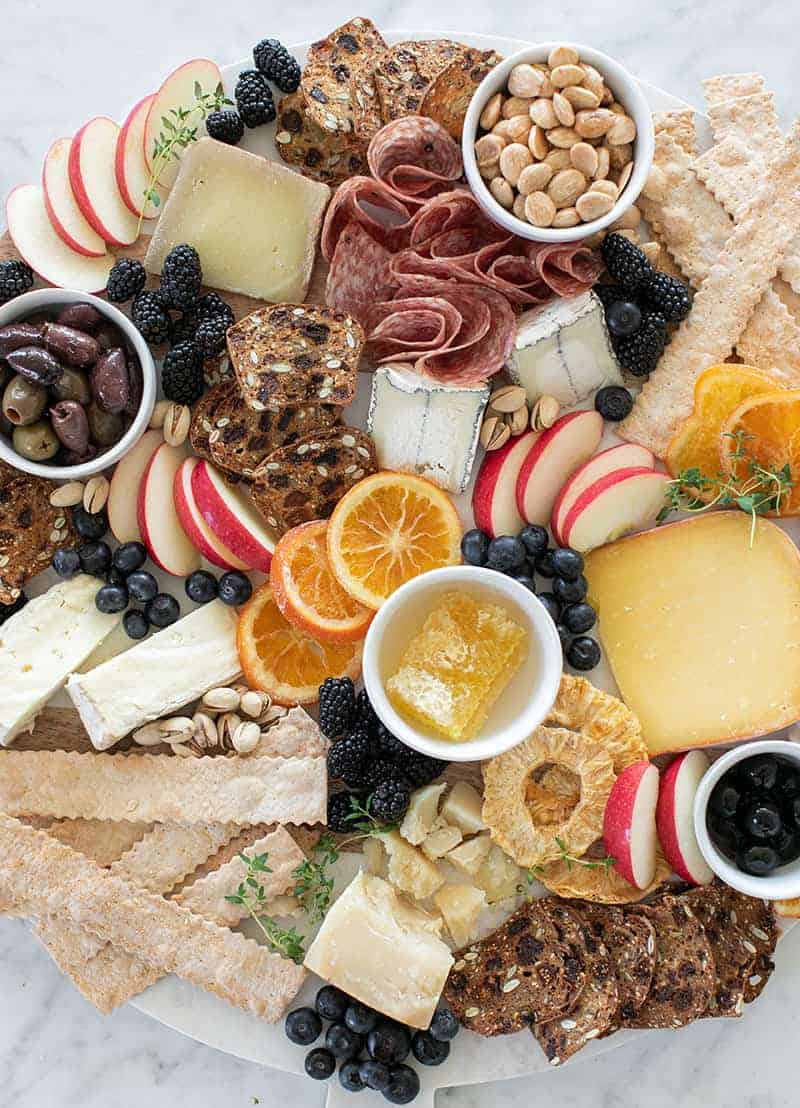 You've seen countless beautiful cheese platters that actually look like a work of art. They are perfectly piled with cheese wedges, fruit, and nuts. And if you're like us, you think I want a delicious glass of wine and an invitation to that party.
Have you ever wondered how those cheese boards look so appealing even with the simplest of ingredients? Do you want to wow your friends at your next gathering with a show-stopping cheese platter?
Read on for all the tricks and tips needed to make your cheese platter the centerpiece of your party. First, we'll go over all of the ingredients and then we'll assemble the cheese platter using step by step instructions!
How to Make a Cheese Platter
Before getting into exactly what ingredients to use and how to arrange them, consider these tips when buying cheese for your cheese board or platter.
Cheese Choices
Since the platter is supposed to be about the cheese, let's start there. You want a variety of hard and soft cheese and cheese that come from a variety of milk sources.
Cheese varies so much in texture, flavor, and tang, think about how you can get some of each from your choices.
You want to use a variety of cheeses on your platter. Variety comes in the form of hard, soft, and semi-soft cheeses. Also aged and new.
Along with the texture, you want to buy cheese from different sources. So adding one cow's milk, sheep's milk, and goat's milk cheeses.
Buy cheese from different locations. Cheese is made around the world and imported so have cheese from Vermont to California and anywhere between as well as overseas like Italy and France.
Here's an example of animal, texture, and location:
Triple Cream – Cow Milk – Soft Cheese – Hudson Valley
Humblot Fog – Goat Milk – Soft Cheese – California
Aged Pecorino – Sheep Milk – Semi-soft Cheese – Italy
Ages Gouda – Cow Milk – Hard Cheese – Netherlands
Parmesan – Cow Milk – Hard Cheese – Italy
As you are selecting your cheeses, also think about how you will present them. Some can go on the platter in a block that guests can cut from, others already cubed or sliced. While some of your softer cheeses may need a knife to spread them.
Hard Cheeses
Hard cheeses are the ones you will likely pre-cut into small cubes or slices. They piled well on a heartily stocked cheese platter. Some hard cheese choices include:
Sharp aged cheddars
Parmigiano Reggiano
Gouda
Manchego
Gruyére
Think about both texture and color as you select the hard cheeses. Depending on the size of your cheese platter, 2 to 3 hard kinds of cheese is a good choice.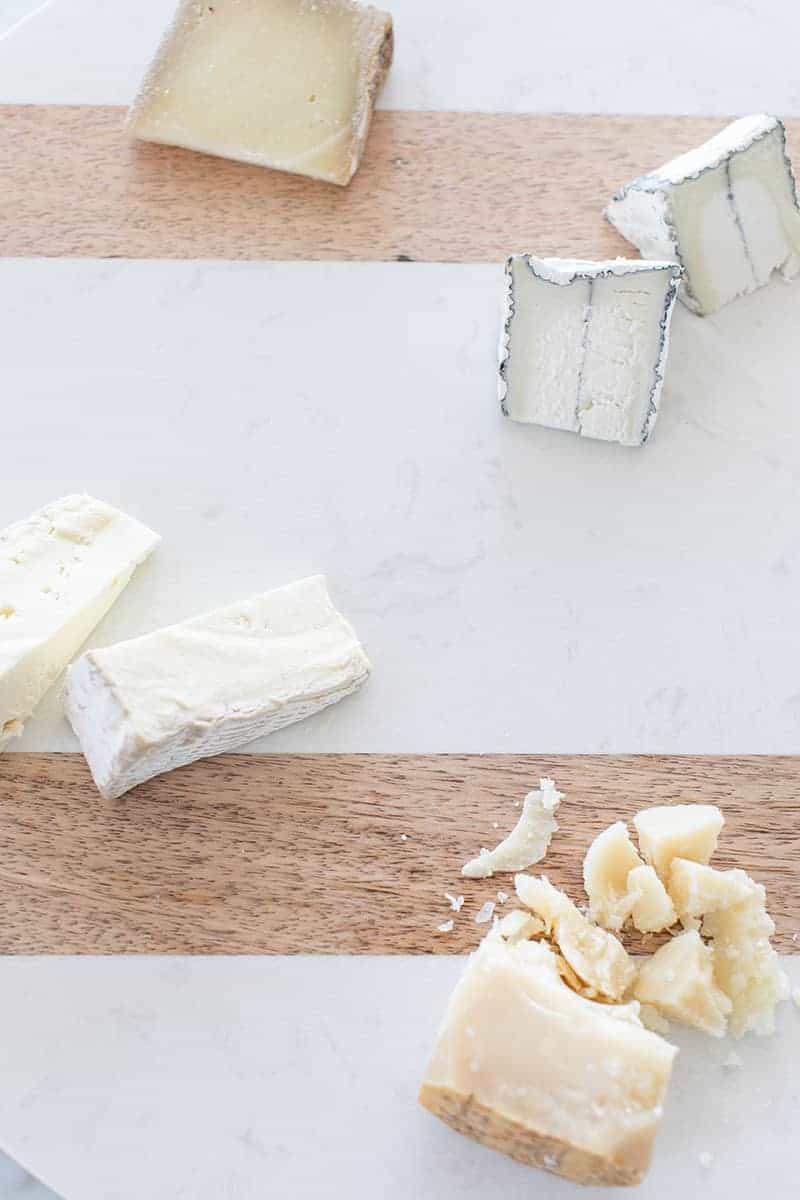 Soft Cheeses
Soft cheeses will either spread or crumble. Consider these choices:
Brie
Blue or Gorgonzola
Burrata or fresh mozzarella
Goat
These are often presented on the platter in the form of wedges, or rounds. Again, depending on the size of your platter, 2 to 3 choices of soft cheeses are good.
How Much Cheese Per Person?
You want to plan for about 3 ounces of cheese per guest.
What should go on a cheese platter?
Now that we've covered the main ingredient on a cheese platter, what else should go on it? Keep scrolling to see all the details on what else should go on the board!
Crackers
The star of the show, the cheeses, should be enjoyed with a variety of crackers and bread. Offer 2-3 options for crackers or crostinis:
Crostini
Crackers
Flatbread
Hunks of fresh French bread
Breadsticks
My favorite crackers are the Rustic Bakery and Crisps with fruit baked into them.
Meat Choices for Cheese Platters
Commonly called charcuterie, add a few meat choices to make a wonderful meat and cheese board! Some choices include:
Soppressata
Bresaola
Chorizo
Coppa
Guanciale
Prosciutto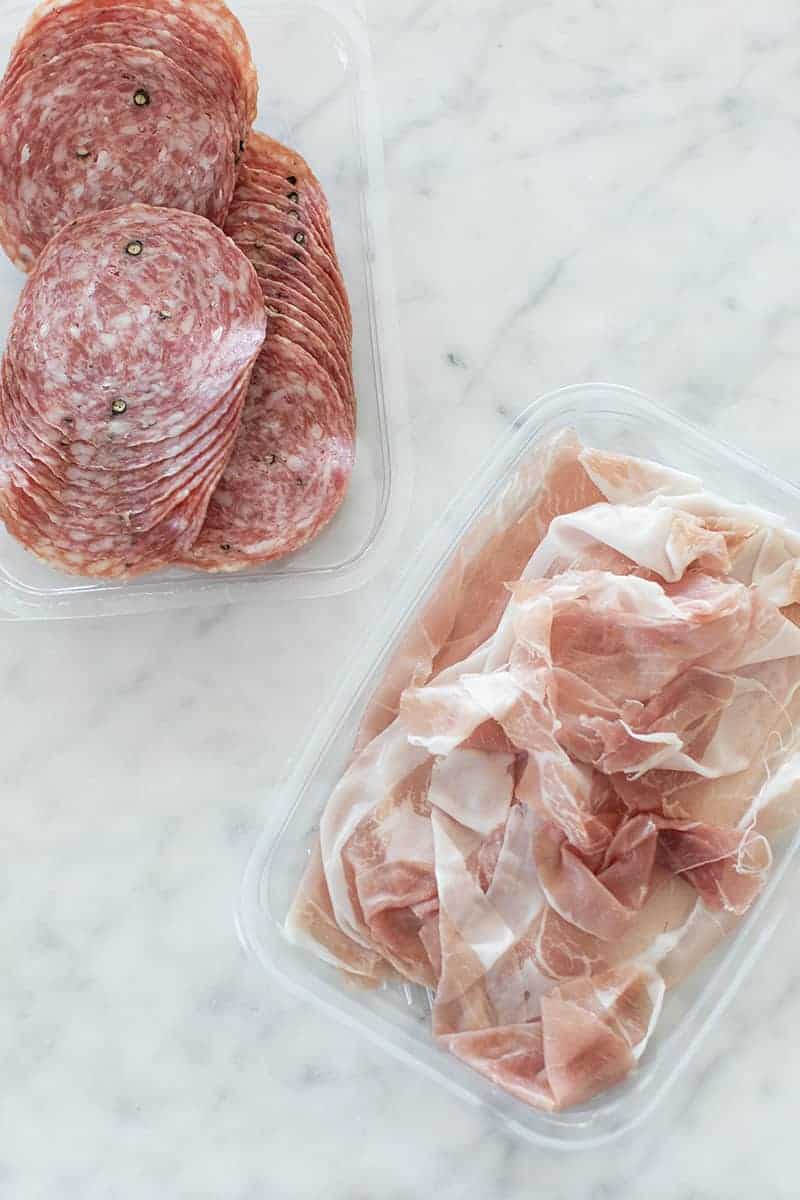 The charcuterie choices will add some spice and salt to your charcuterie tray. Consider 2 to 3 of these choices.
Condiments for a Cheese Platter
Now comes the fun part, adding condiments to a cheese board gives it texture, depth, color, and more flavor!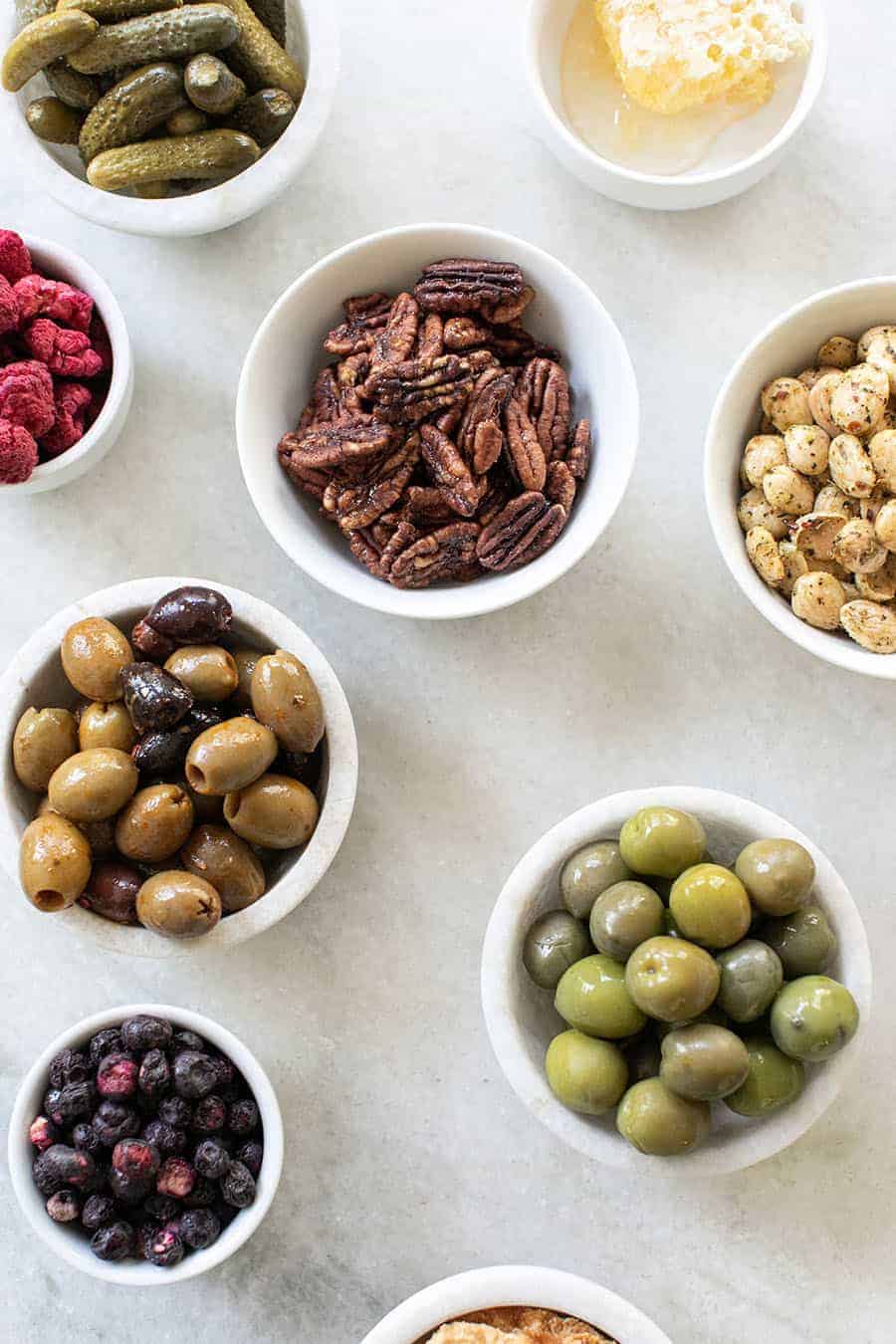 Fresh Fruit and Dried Fruit
Choose 2 berries and 2-3 fruits to slice.
Think about adding both fresh and dried fruit choices to your platter. The sweetness of the fruit pairs well with both the tang and texture of the cheese.
We also like to keep it seasonal, so choose fruit that is in season to serve. Here are some options:
Apple slices
Pear slices
Figs
Grapes on the stem
Berries like strawberries, raspberries, and blueberries
Pomegranates
Dried orange slices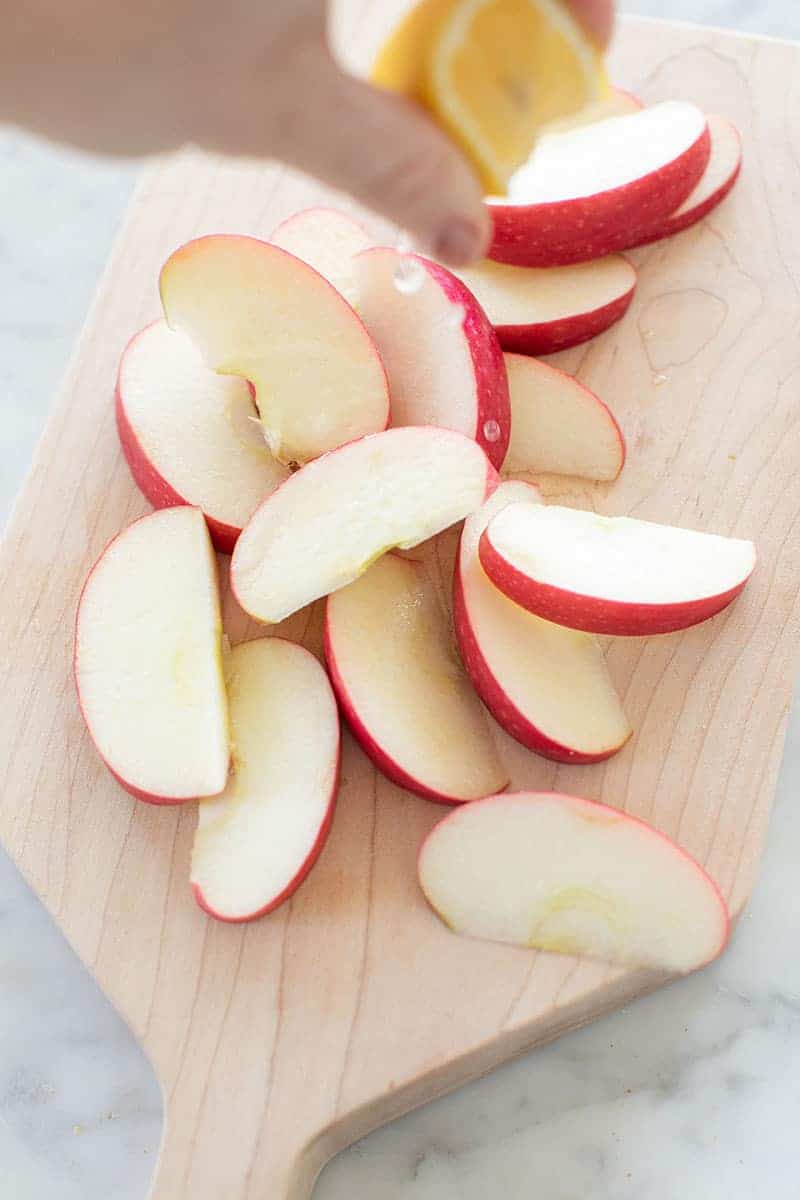 Quick tip – Be sure to slice your apples and pears and give them a quick soak in either lemon or orange juice to prevent them from getting brown on the platter.
Nuts
Choose 2 types of nuts to serve.
A cheese plater must have a few varieties of nuts! Adding crunch and texture to the platter. They also pair so nicely with the cheese, fruit, and honey.
We always choose 2 of these varieties:
Marcona Almonds
Pistachios
Candied Walnuts and Pecans
Hazelnuts
Marinated Olives
Choose 1-2 varieties of olives to serve.
Another must-have condiment for a cheese platter are marinated olives. Don't serve an olive with a pit as it is tricky for guests to eat. Pitted olives only.
Some grocery stores have olive bars which are a great option for marinated olives. You can get spicey or garlic olives which are so good! Here are some common olives to serve:
Picholine
Calamata
Morrocan Salt Cured
Cerignola
Niçoise
We also love adding mini cornichons to the platter! They are tiny pickles and they taste so good! You can find these in jars or at the olive bar.
Honey and Jams
Add sweetness to the cheese platter with jams like fig jam, raw honeycomb, or other fruit spreads.
Imagine how your guests can create their own individualized crudité bites with bread or cracker, cheese, and a dollop of jam.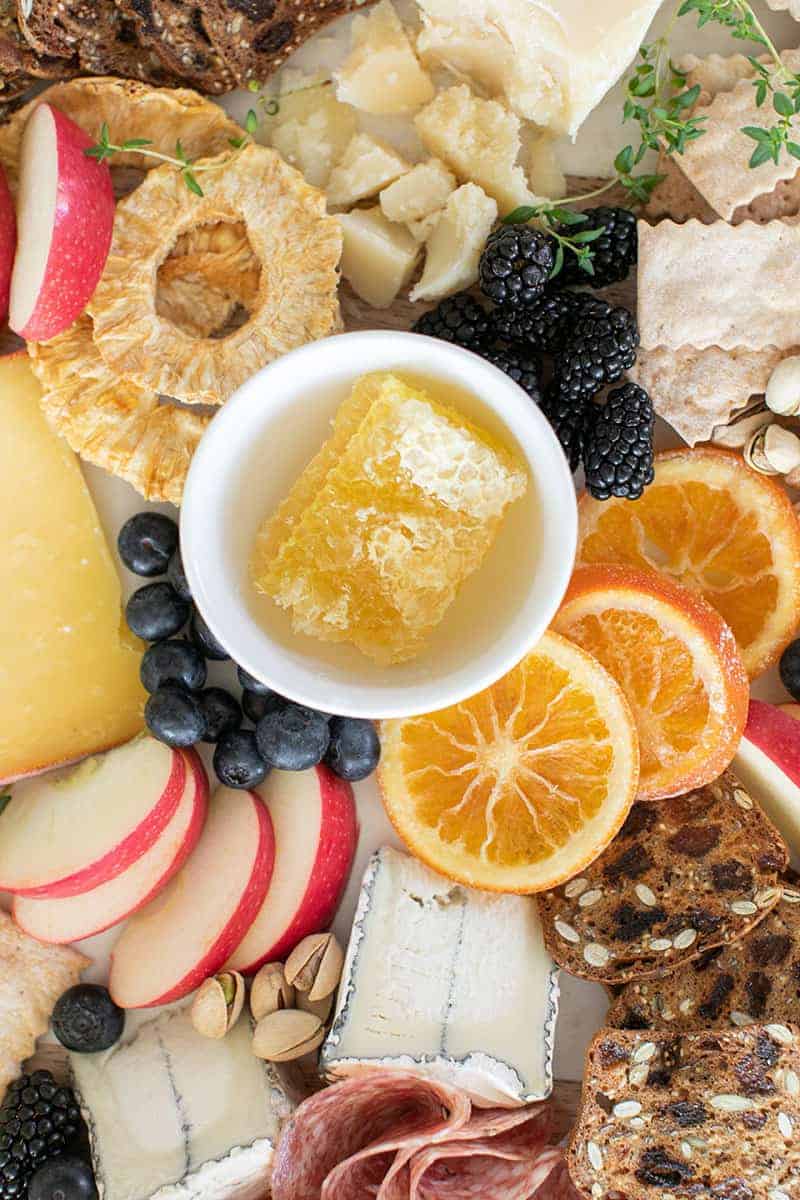 Arranging a Cheese Platter (Step by Step)
Now comes the fun part! Arranging all of these ingredients and choices onto your board.
Here are 5 things you'll need:
A large cheese platter or board.
Small white bowls for olives, jams, nuts, and more.
Small serving spoons.
Cheese knives.
Small cutting board and knife to slice fruit for the board.
Cheese Platter or Board
Start with a platter or cutting board. Don't be afraid to choose a larger piece and really make a statement with the arrangement.
Place Cheese Around the Board
Next, place all of the cheese around the platter. Space them out, separate soft cheeses, cut larger wedges into two, and place next to each other.
Also, think about cutting cheeses in a variety of ways like slices, wedges, and cubes.
Fill Mini Bowls with Condiments
Fill mini bowls with olives, nuts, jam, and honeycomb.
Place the bowls around the cheeseboard.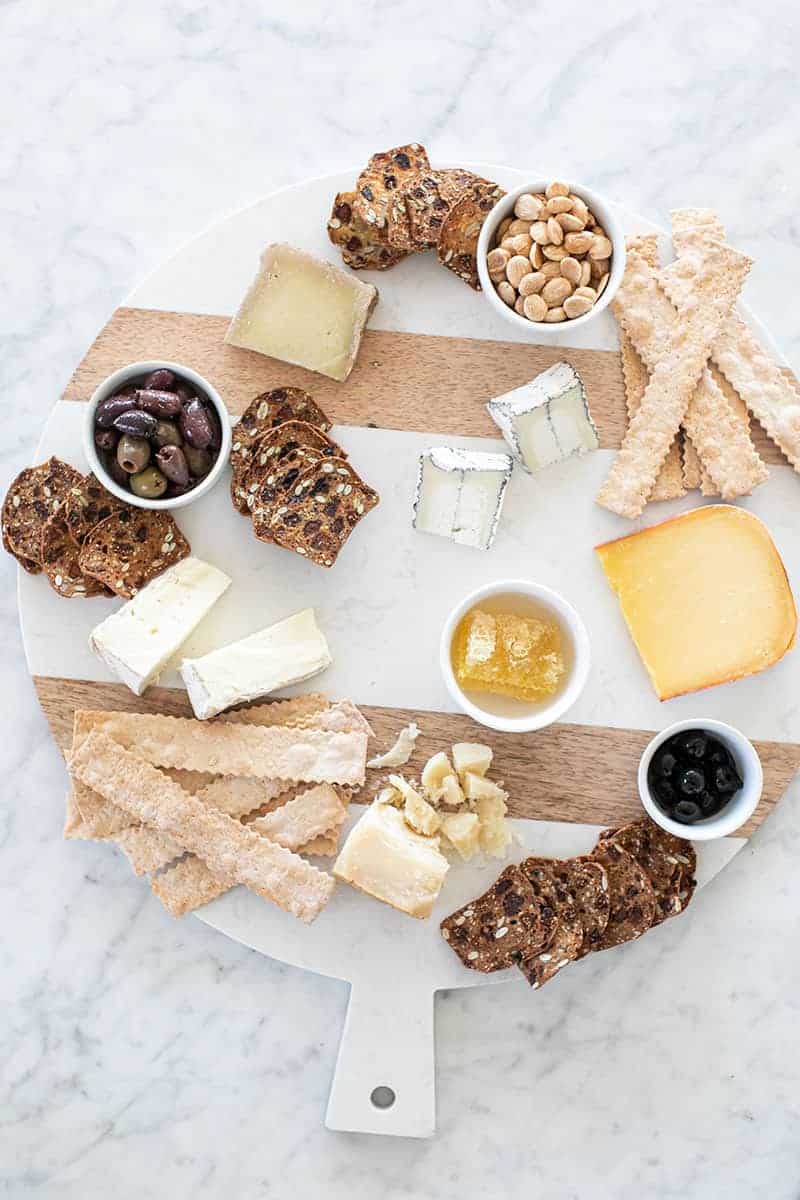 Add the Crackers
Then, add the crackers. Crackers are a crucial part of the cheese platter. Add them around the platter. If you're using a smaller board you can put these on the side, but we love them on the platter.
Next, Add the Charcuterie
After the larger items are placed, add the charcuterie to the platter. Think about putting these on in a variety of ways by rolling, folding, and cutting into chunks.
For round salami, I like to quickly fold it so it looks more like a pretty flower than just a flat piece of salami.
Rolling the meat or folding it helps to add height and shape to the cheese platter.
Add Sliced Fruit
Fill in areas with pretty sliced fruit. Fan the fruit out for a pretty look.
Fill in Empty Spots with Berries
Step back and take a look at the board. If there are empty spots those are the areas you will place the berries. Fill those areas with fresh berries and extra nuts.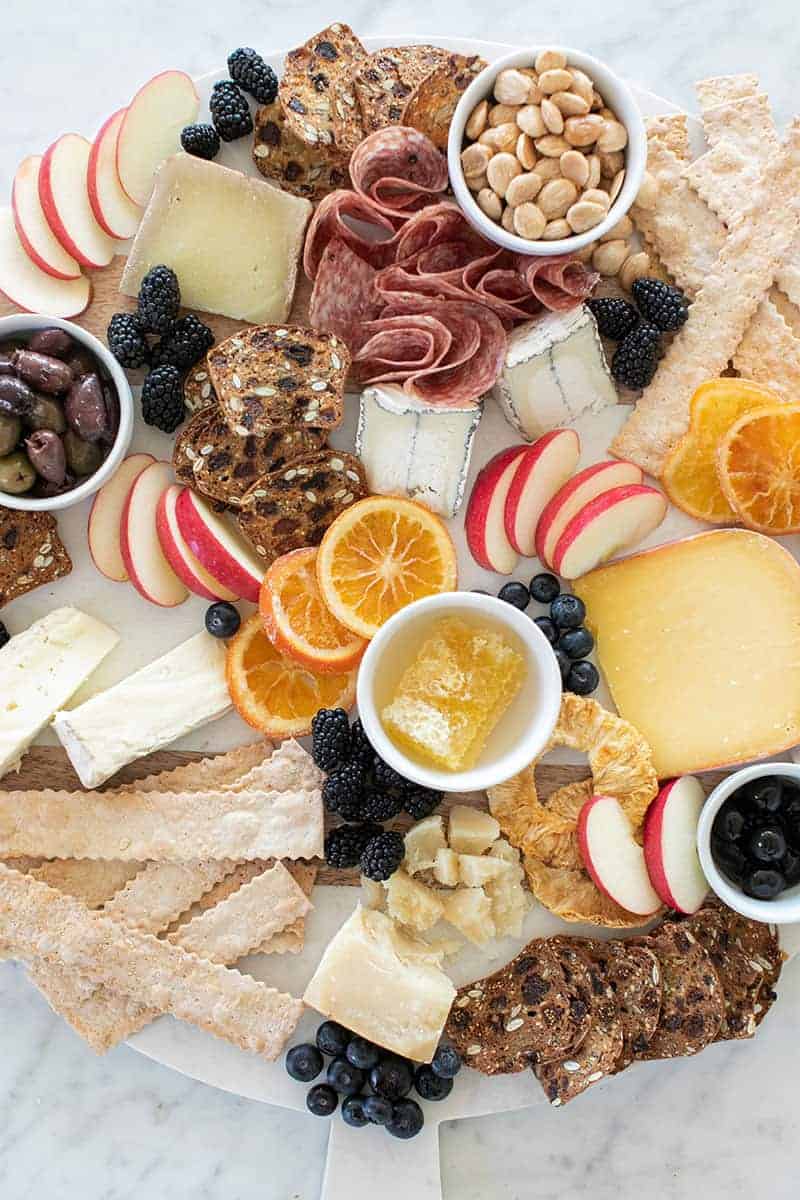 Continue filling in the empty spots on the cheese platter until it's nice and full!
Finishing Touches
Add more color and charm with edible flowers or fresh herbs! Little bits of seasonal greenery or winter pines will look beautiful!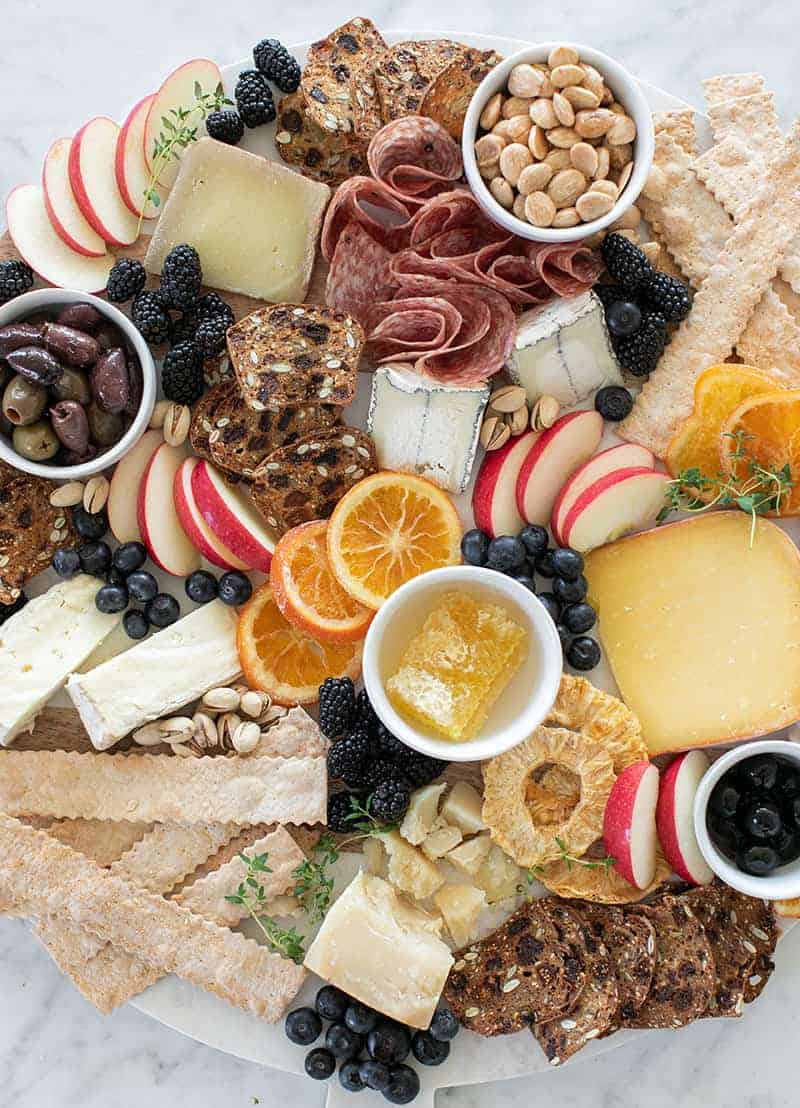 Lay cheese knives next to each cheese for easy cutting.
When to Make Your Cheese Platter
Cheese tastes best when it has come to room temperature. So, it's best to have your cheeses out at least 30 minutes ahead of when you hope to serve it.
Having said that, you don't want to put this together days in advance, as the flavors on your platter will meld together and items will get soggy.
It's best to assemble the platter an hour before the party.
Simple Cheese Platters
Don't be intimidated by fancy platters. Creating your own best cheese platter is really all about choosing a small variety of quality ingredients and then having some fun displaying them all together on a platter.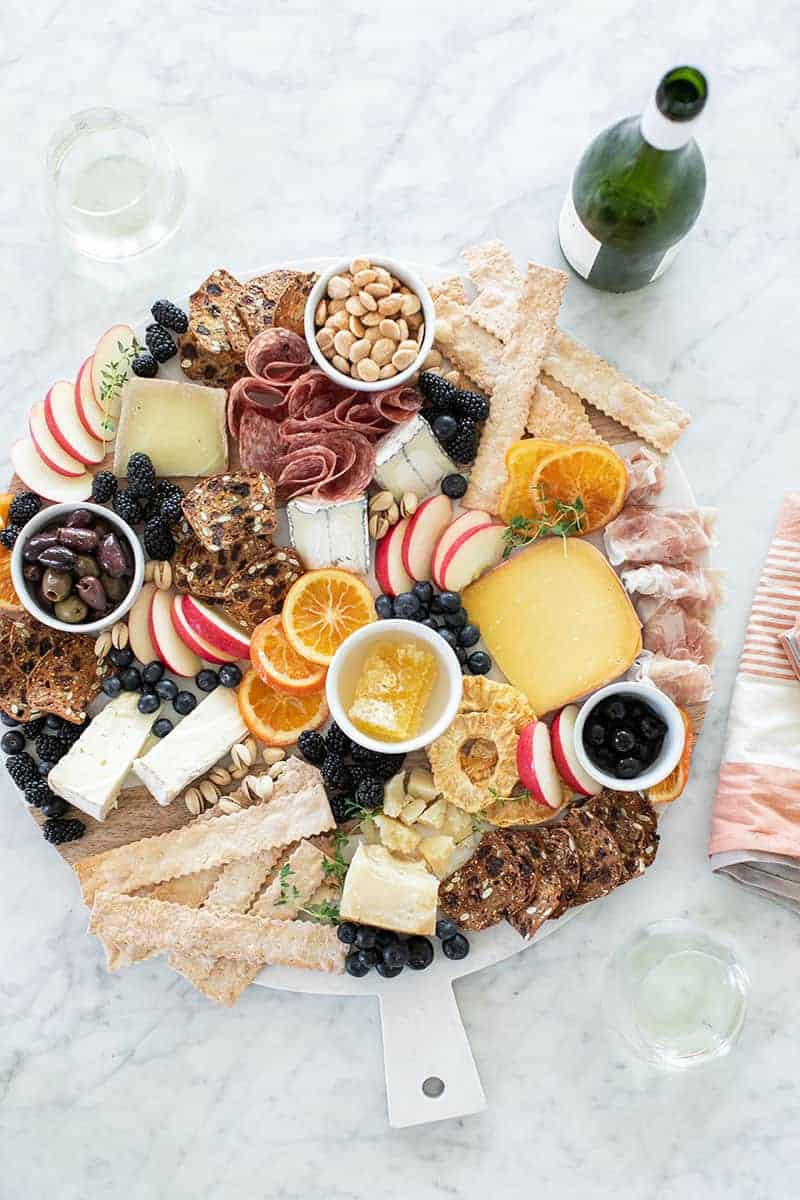 You won't be breaking any rules by just starting. Avoid any big open spaces and your platter will be a hit.
Seasonal Cheese Platters
Make a cheese platter for holidays and season! Here are some beautiful cheese boards we've made in the past!
How to Create the Most Beautiful Halloween Cheese Board
Thanksgiving Appetizer Cheese Board
Summer Wine and Cheese Party and Large Cheese Board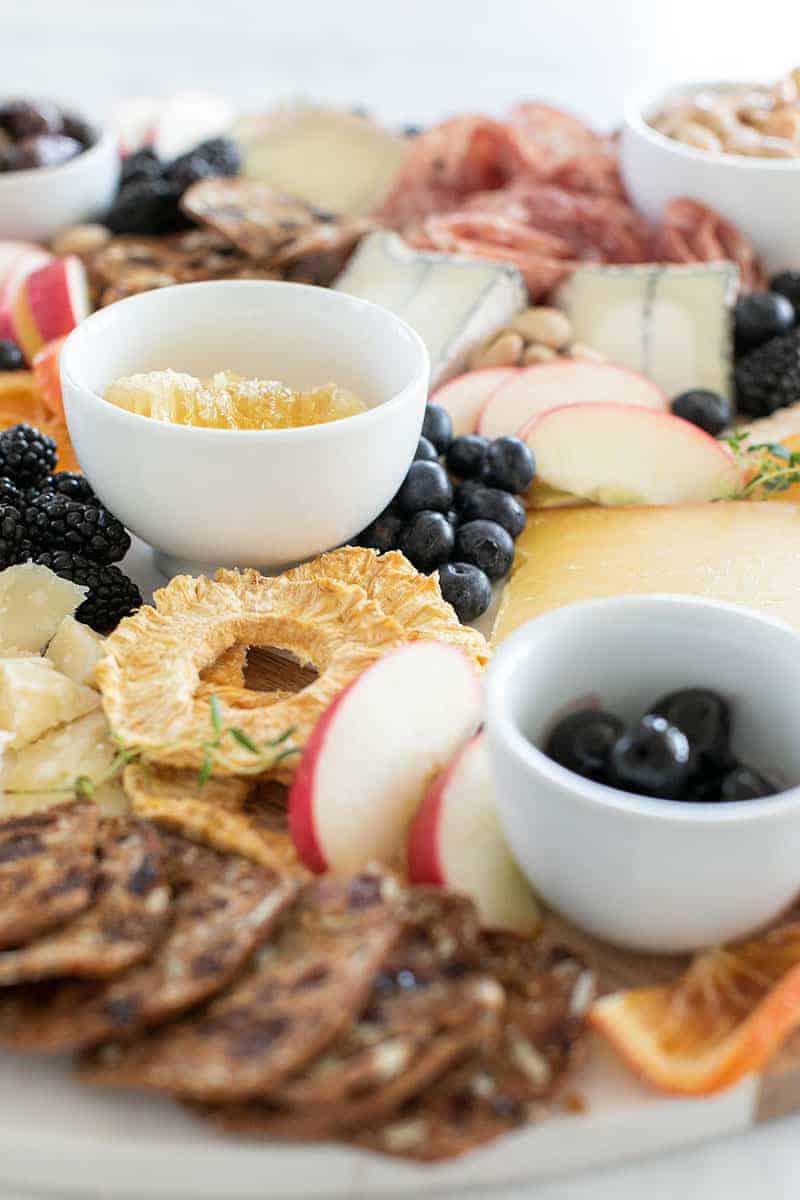 Tips for Making An Affordable Cheese Platter
Cheese platters can be pricey, but there are ways to save money. Truly it's just about spending less money on items. Maybe instead of honeycomb, you can add honey into a small bowl.
Use packaged cheese like cheddar and cut it into cubes. Not all of the cheese has to be fancy imported cheese. Add a little bit of both.
Trader Joe's has a wonderful selection of cheese and crackers for good prices. You can find almost everything on this platter there.
Buy items on sale! I always see cheese fruit and nuts on sale and it's a great way to save money on the end total.
Let us know if you make this cheese platter! We would love to know your thoughts by leaving a comment and review below.
You can also FOLLOW US on FACEBOOK, INSTAGRAM, and PINTEREST to see more delicious recipes, cocktails, desserts and parties!
The Perfect Cheese Platter
These are the ingredients we used to create this cheese platter. Use this as a general guide for creating your own platter! Add different cheese and seasonal fruit to your platter.
Print
Pin
Rate
Ingredients
Cheese
Humbolt Fog Goat Cheese

Mitica Aged Pecornio Toscano Cheese

St Andre Triple Cream 

Clarina Aged Gouda

Aged Parmesan
Condiments
Marinated Olives

Marcona Almonds

Pistachios

Candied Walnuts
Charcuterie
Napoli Salami

Prosciutto

Soppressata
Fruit
Blueberries

Blackberries

Apples

,

Sliced

Oranges

,

Dried

Pineapple

,

Dried
Notes
Use this as a general guide for creating your own platter! Add different cheese and seasonal fruit to your platter. 
Garnsih with edidble flowers and herbs.
Make one hour before your party.