Using fresh flowers is one of the easiest ways to add charm to desserts, cocktails, and salads! This guide and charming edible flower chart will help you choose the right flowers to use.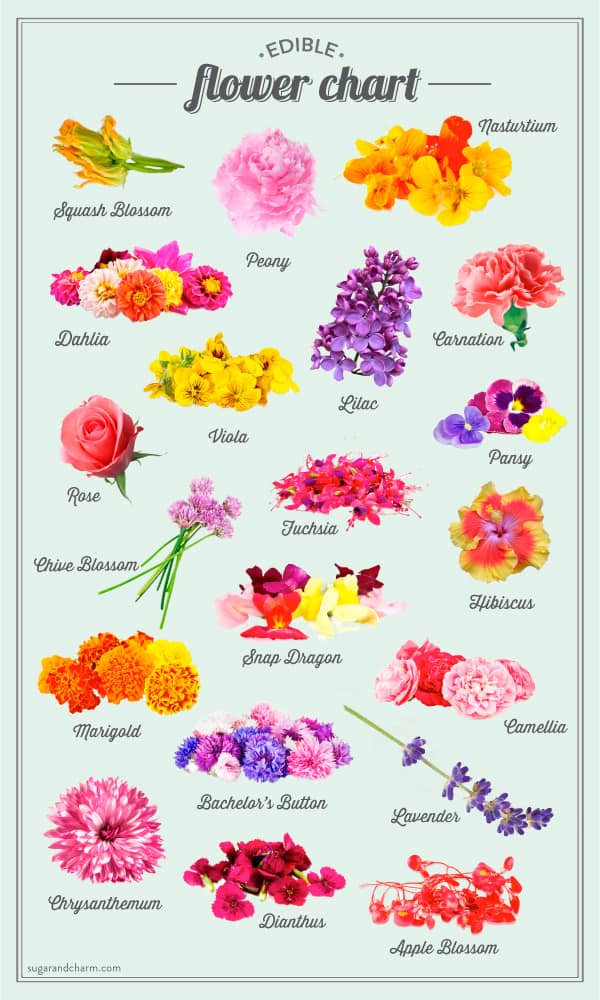 You can plant your own edible flower garden to make sure you always have fresh flowers on hand to use!
Which Flowers Can You Eat?
You might be surprised at the wide variety of flowers that are safe to eat—and we're not talking about herbs! Let's take a look at some of the most common edible flowers from our list. 
Nasturtiums
With a slight peppery taste, add nasturtium to a beef dish or use them in place of watercress. These flowers come in several bright colors, including orange, yellow, and red. Use the flowers for a pop of edible color, but don't forget the leaves!
Nasturtium leaves are delicious and safe to eat, as well.
Peonies
The large pink peony blossoms not only smell wonderful, but they also taste good, too. Use the petals for flavorful preserves or in your favorite cocktail. The peony's roots have medicinal benefits for soothing everything from cramps to an upset stomach and migraine headaches.
Lavender
As an essential oil or room freshener, lavender is a popular scent. However, it's powers are not limited to helping your house smell better! Use lavender blooms sprinkled over a chocolate cake, or as a "drinkable" garnish with champagne.
Roses
If you enjoy the taste of strawberries, you'll love the flavor of rose petals. No matter your favorite color of roses, they make any edible flower list! The petals have a light, fruity taste that closely resembles strawberries. Some varieties also have a hint of mint.
Pansies
Pansies are a colorful addition to flowerbeds in the spring before the temperatures become too hot. They can also add a minty flavor to your favorite summer salad or cocktail.
Carnations
If you have a sweet tooth, carnations might be the edible flower you need in your life! Cut the petals away from the white base of the flower, then add them as a topping to your favorite dessert. Carnations can also absorb your favorite wine or sweet liqueur for a tasty treat.
Marigolds
Much like the carnation, trimming the marigold petals away from the base of the flower. You can Marigold petals raw or dried. Flavors range from citrusy to something with a little spice.
Snapdragon
Despite being a gorgeous flower, the snapdragon isn't one of the best aromas in a typical garden. It's also not one of the most flavorful flowers, but they are edible. Snapdragons make their way onto tables as a garnish more often than as part of the dish itself.
Where Can You Find Edible Flowers?
You might already have some of these tasty plants in your flower garden! However, before you pluck and eat what's already there, make sure they're safe to eat.
Depending on how you grow your flowers and the chemicals or fertilizer you use in your garden, you could have gorgeous flowers that you shouldn't eat—even though they're on our list of edible flowers. If you prefer to grow your edible garden, do the research to make sure you grow healthy and safe flowers to add to your favorite dishes.
What Fresh Flowers Are Edible?
You can eat many of the flowers on our list without cooking or processing them! Make sure you wash all petals and leaves thoroughly before consuming.
If you appreciate the flavor of an edible flower but eating it fresh seems a little strange, try drying the leaves or cooking them into a favorite recipe!
What Hibiscus Flowers Are Edible?
All types of hibiscus flowers are edible. No matter the natural color of the petals, you can safely eat it! Many parts of the full hibiscus plant are safe for consumption, as well.
The hibiscus flower has plenty of medicinal purposes. Use the leaves as a tea or a liquid to treat stomach aches, some infections, fevers, or high blood pressure.
Where Can You Buy Edible Flowers?
If you aren't confident in your abilities to grow an edible garden, or you don't live in a climate that works well for your favorite edible flowers, buy them! Purchasing flowers for consumption at your local farmer's market or grocery store is also an excellent way to ensure that there's nothing harmful in what you eat.
However, make sure the flowers you buy were grown to eat. Don't eat flowers from your grocery store florists. Gardners who grow flowers for consumption understand how to cultivate and fertilize flowers to avoid chemicals or practices that can make edible flowers unsafe for humans to eat.
How Can You Use Edible Flowers?
Use edible flowers in a variety of ways, including:
As an ingredient in your favorite dish
As an edible garnish
Make jams, jellies, and preserves with your favorite flower petals
Steep petals and leaves to make tea
Add petals to your favorite cocktail
Dress up your ice bucket or bowl by adding leaves while chilling your wine or champagne
Get creative! Edible flowers are a fun way to add variety to your everyday meals or try something new.
Tips for Using Edible Flowers
As with anything you eat, exercise caution and best practices when using edible flowers.
Make sure your flowers are safe to eat. If they are on our list, they are safe to eat! If you're unsure, save them for a flower arrangement.
Clean flowers thoroughly before ingesting. Whether you grow them yourself or buy them from your local farmer's market, always make sure petals and leaves are clean and free of contaminants.
Make sure you don't have allergies to any of the flowers you want to eat.
Choose flowers grown for consumption. Your florist doesn't sell roses for eating!
Consider the sources. Soil contaminants, fertilizers, water sources, wildlife, and growing conditions can affect the quality of the flowers you want to eat.
Store flowers properly. Edible flowers might be safe for humans, but they can be harmful to pets.