Everything you need to know to create a DIY indoor herb garden! We used food cans and our charming labels to ensure we'll have fresh herbs to cook with all year long.
We're sharing all the details to make the best indoor herb garden kit, along with free printable labels!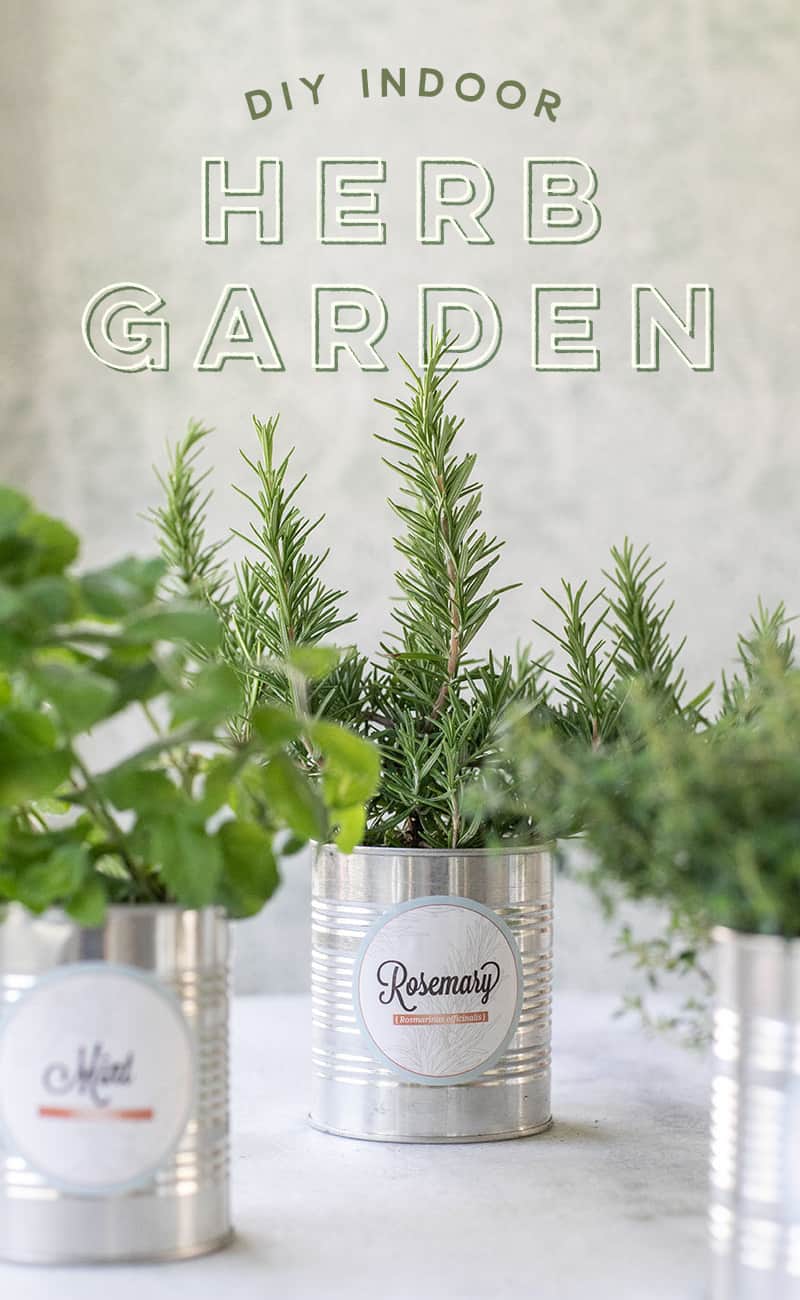 You can have fresh herbs all year long, even in the middle of winter! I love using herbs in our recipes and cocktails. Having fresh mint and basil around the holidays is a must for me!
Depending on where you live, it can be hard to grow fresh herbs outside year-round, so we've taken them inside and created a beautiful DIY herb garden with tin cans!
Furthermore, with our labels, they make the most charming homemade gifts too!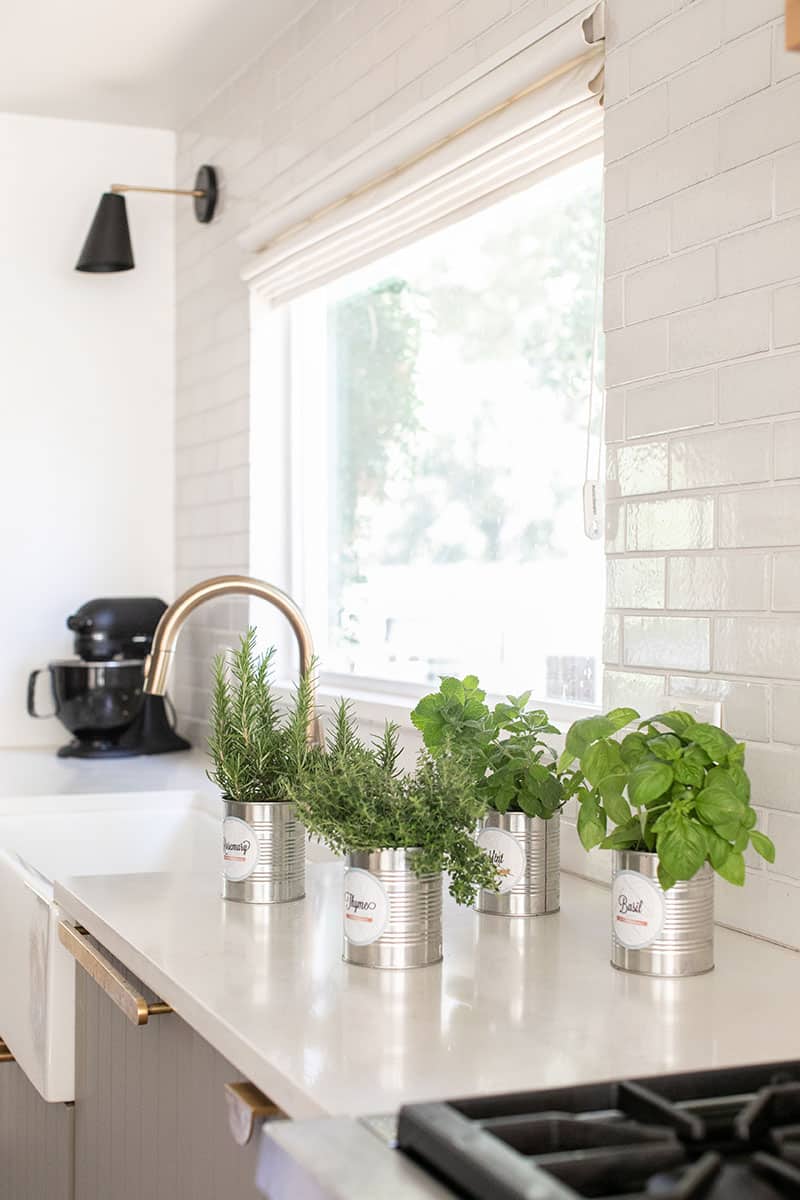 How to Start an Indoor Herb Garden
You want to start the garden towards the end of the summer when you can still buy fresh herbs at the nursery. It's easiest if you plant them already grown. You can start from seeds, but it take a lot longer that way.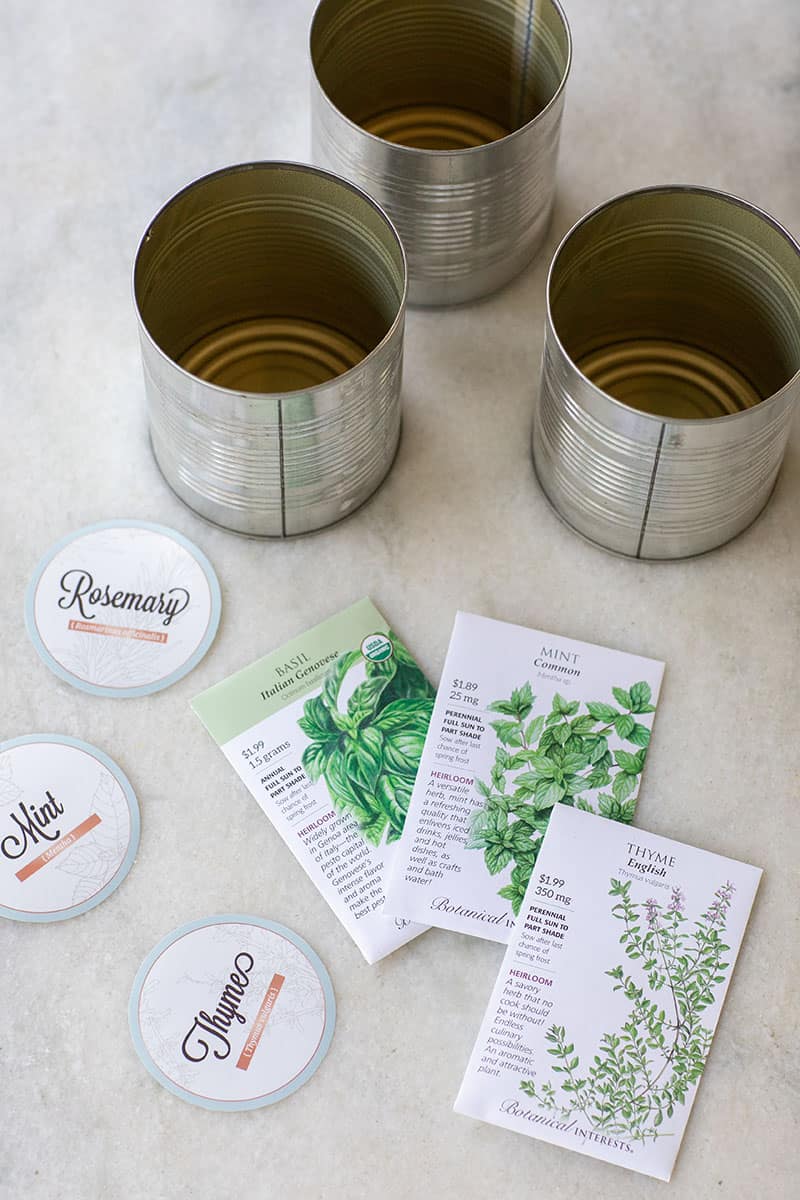 The seeds are charming to add to the tin if you're giving at as a gift!
Have your indoor planter with good drainage.
Add organic soil to the planter box.
Take out the herbs and place them in the indoor planter, leaving them a little above the potted soil.
Place them in an area with really good light. You MUST have light for them to grow. It's imperative to their growth!
Water every few days. Don't over water, let the soil dry between.
How to Grow an Indoor Herb Garden
There are 3 critical things for successfully growing herbs indoors.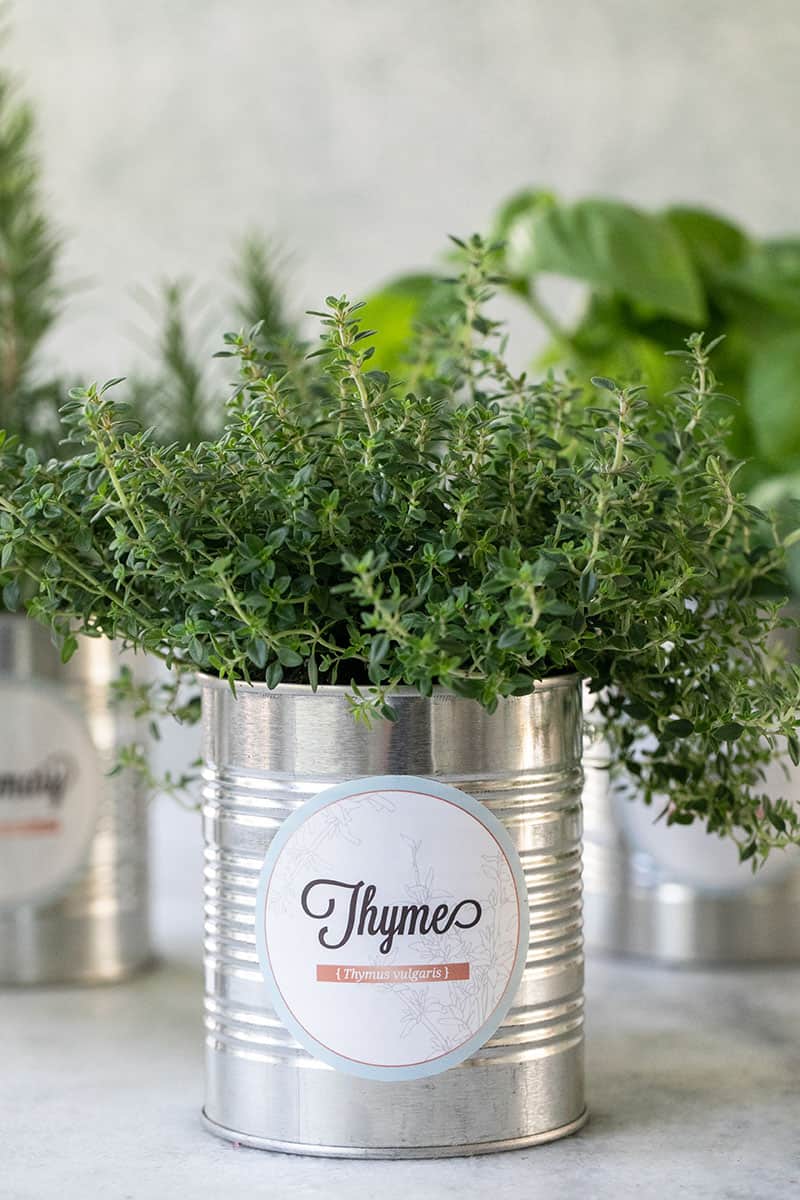 Lighting
Find an area that gets a lot of sunlight, somewhere near a window.
If you live in a location that is overcast during the winter, you may need to use grow lightbulbs for your herbs.
You can do a combination of natural sunlight, and a grow light.
They require at least 6 hours of light a day.
Turn the plants every now and then to make sure both sides are getting light.
Soil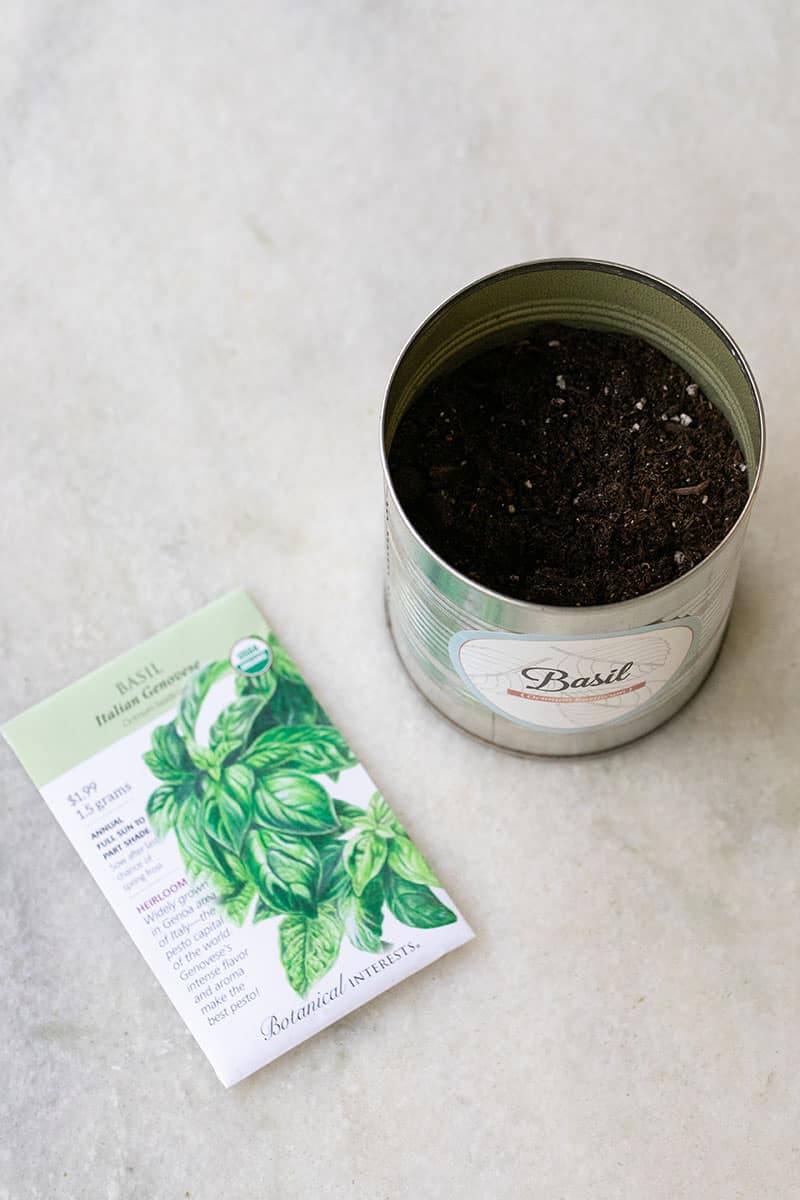 Have the plants sit higher than the potting soil when you're planting them.
Use organic soil when plating and keep it light and air, don't impact it.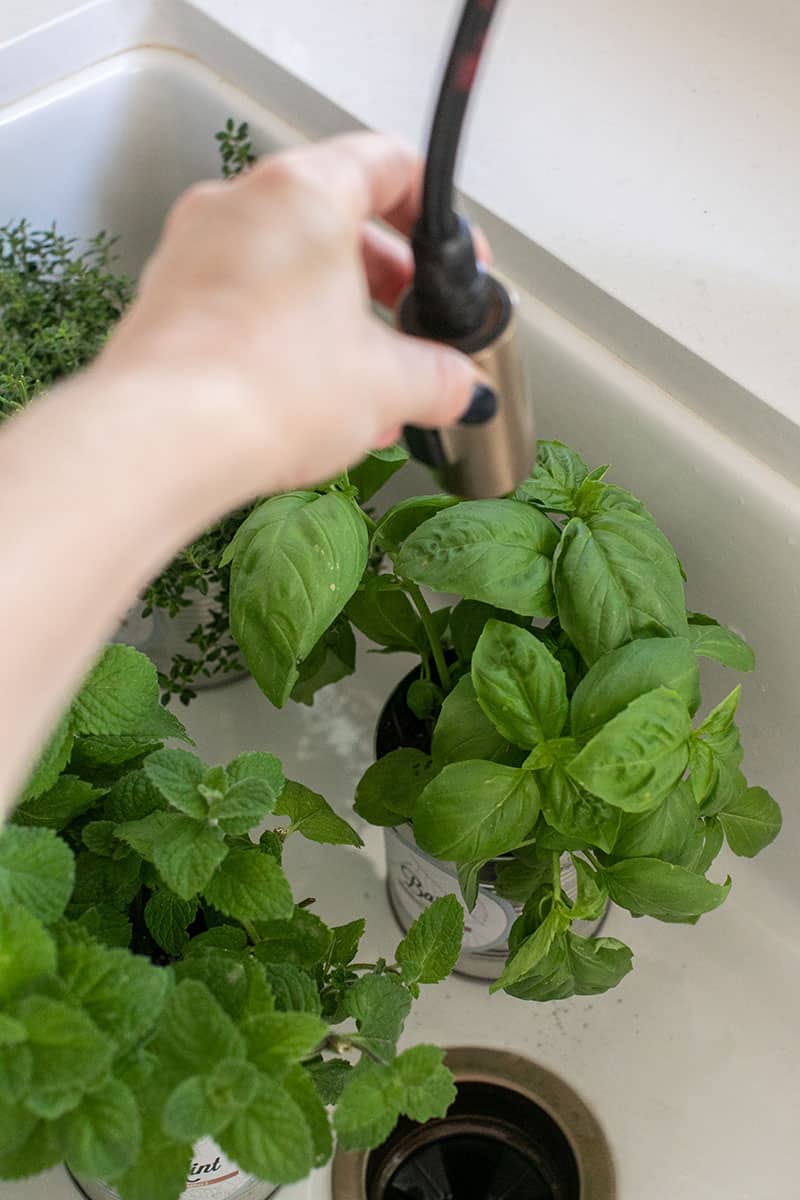 Water
Don't keep the soil too wet. Let the soil dry out between waterings.
To water the herbs, place them in the sink and let the faucet drip on each plant.
Then leave them to drain for a few minutes. Wipe the bottom with a dry towel and then set them back where they belong.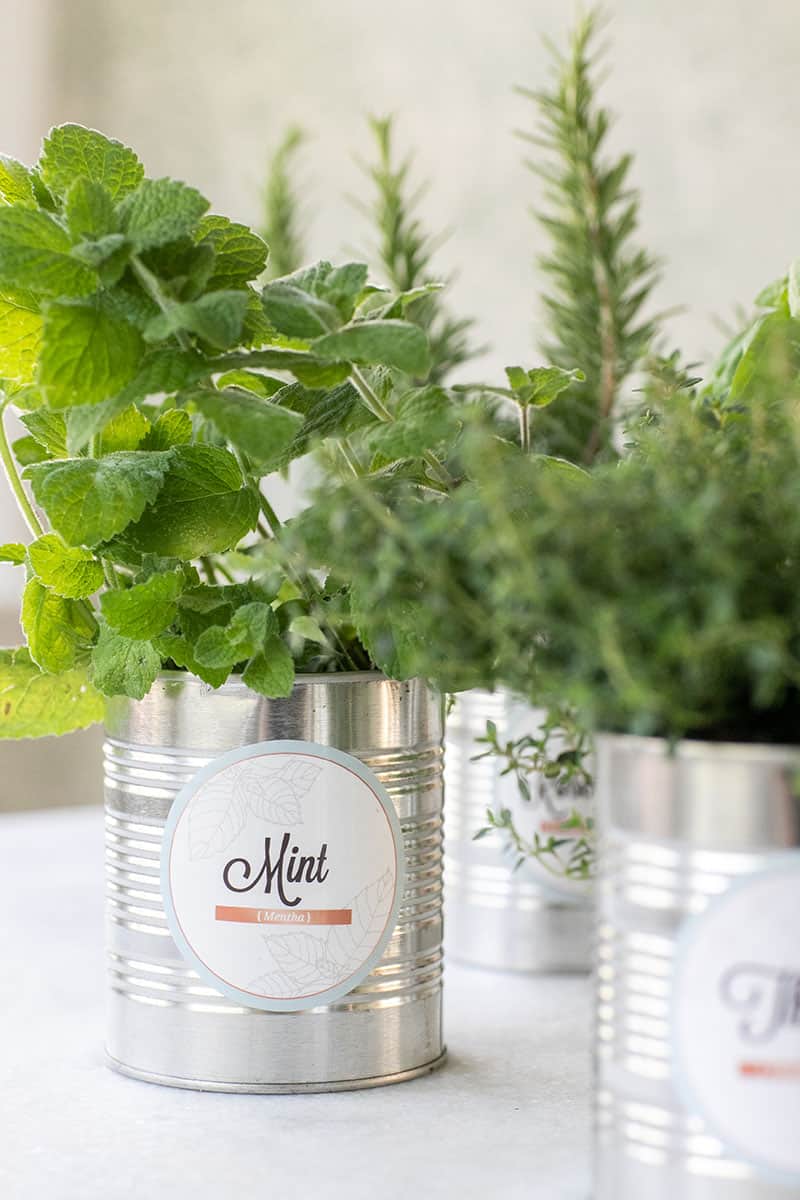 List of Herbs You Can Grow Indoors
Think about what you use the most during the winter and what herbs are hard to find during the winter months. Those are the ones you want to plant. Here's a list of which herbs can be grown indoors:
DIY Herb Garden Planters
We made these DIY garden planters with tins that we used for our pumpkin recipes! They work wonderfully for growing herbs! Here's how you make them.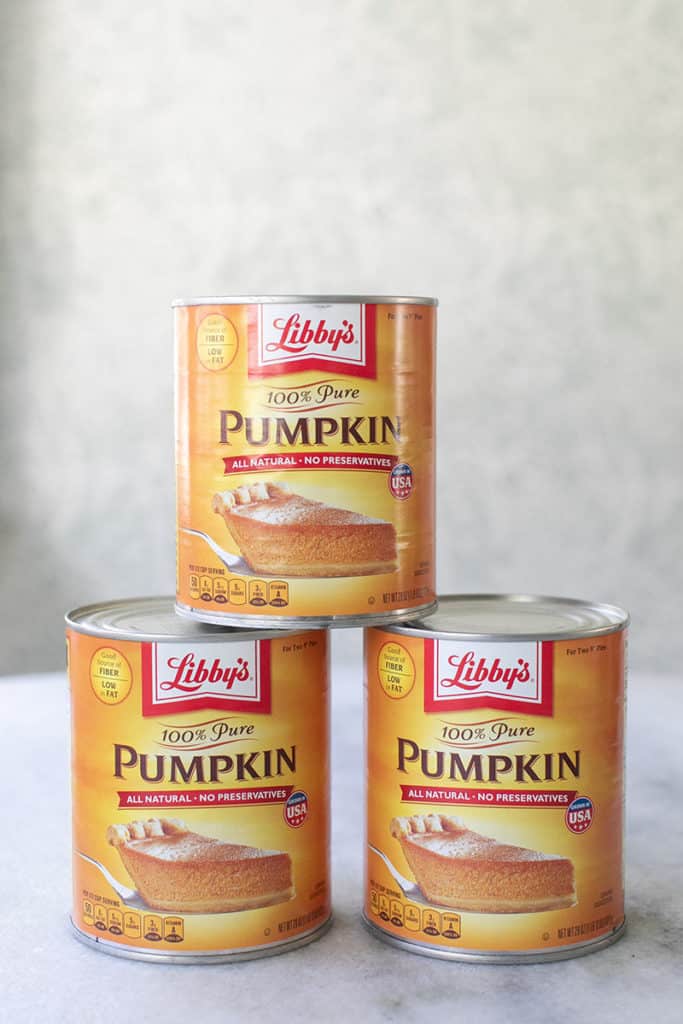 Save your empty 28-ounce cans.
Clean them well with hot water and let them dry.
Turn them upside down, and using a hammer and a nail, hammer in small holes to the bottom of the can. Add about 10 or more for good drainage.
Lightly scoop in organic soil into the can and plant one herb per can.
Once the herb is in, clean off the sides of the can and add one of our free printable labels!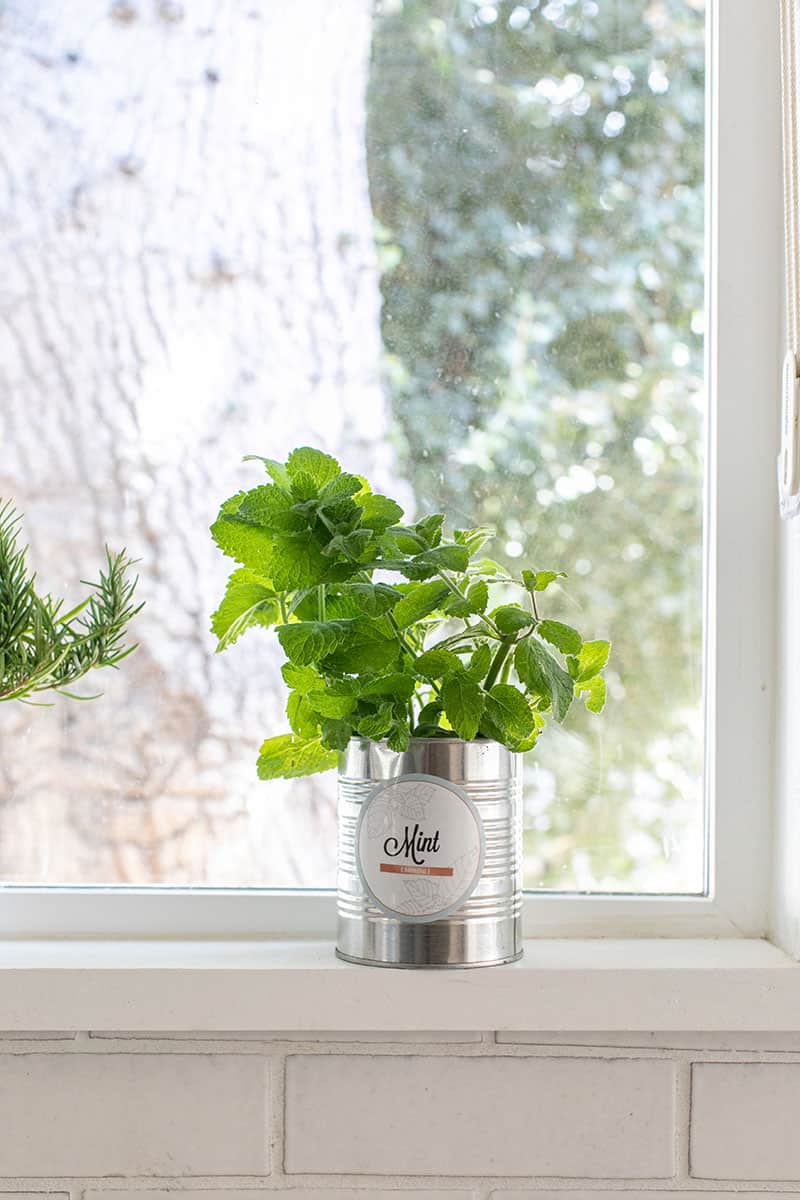 Indoor Herb Garden Light
There are a few options for a grow light that you hang above or near the herbs.
Another shop that sells a Grow-Anywhere Herb Growbar.
The large matte white hanging grow light is modern and sleek!
Can I grow herbs indoors all year round?
Yes! Using natural light or a grow light, you can grow herbs inside all year!
Free Printable Herb Labels
We created these very charming labels for your indoor herb garden! We have a basil, rosemary, thyme, and mint label for you to use.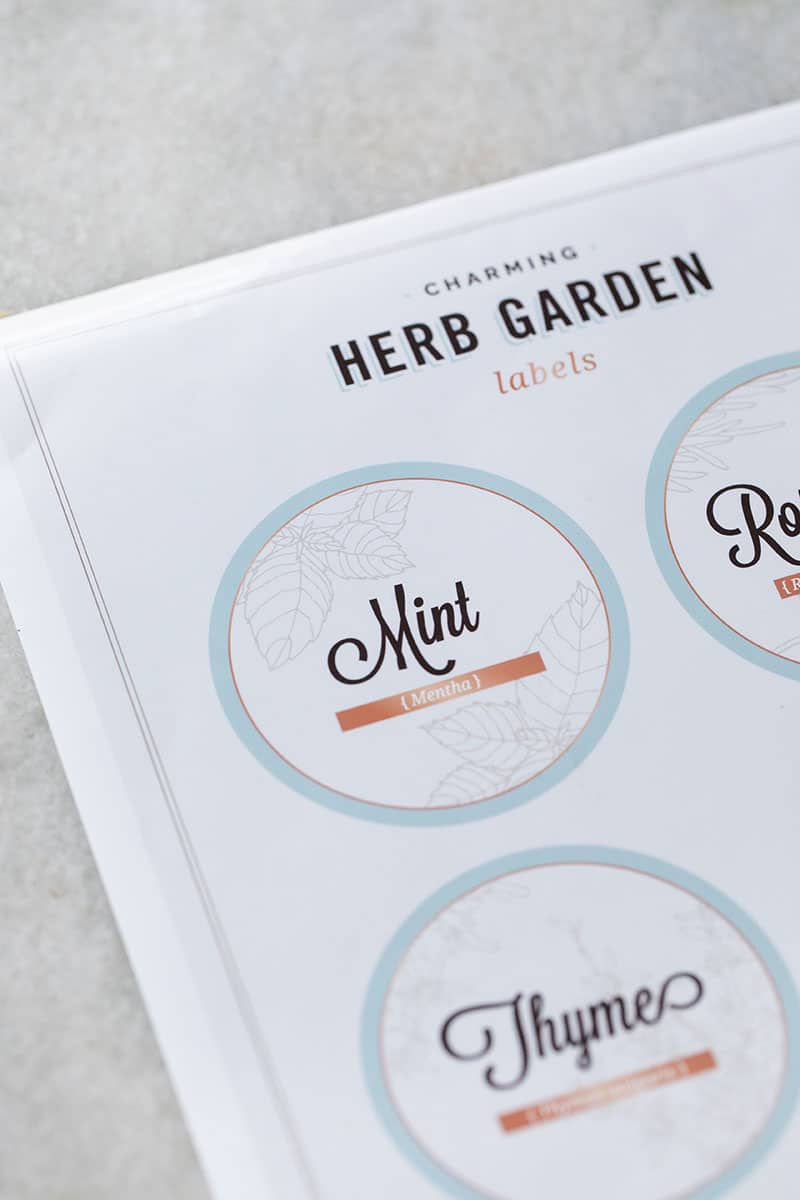 Print them on glossy sticker paper. I like to keep this paper on hand because it not only prints beautifully, but it's a sticker, so you just pull the paper right off! Getting water on the label won't ruin it, either.
Cut the labels out and pull the sticker paper off.
Stick them on to your herb planter!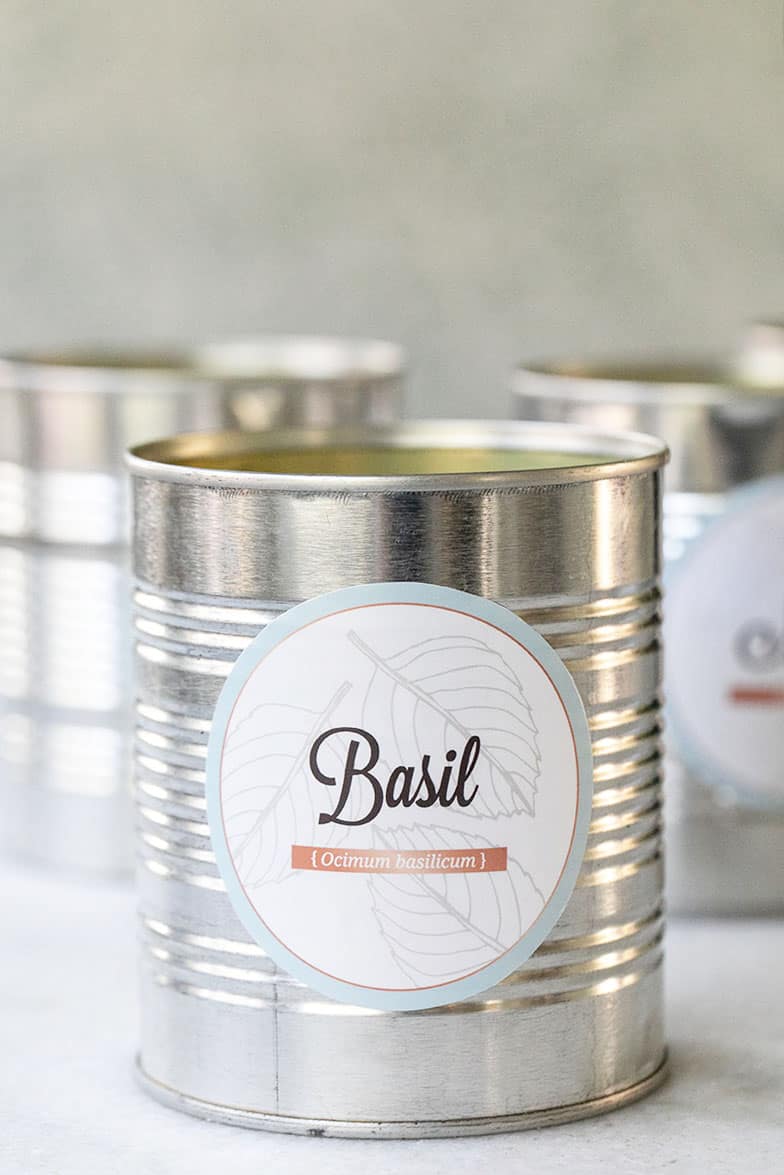 Indoor Herb Garden Kit
These make the most charming homemade gifts! Give them to teachers, coworkers, friends, and families. Here's how you can make this a kit to give as a gift!
Using the instructions above, create the cans and stick them on the labels.
Add a charming pack of seeds and directions for creating the herb garden.
Add a ribbon, and voila! A Charming herb garden kit!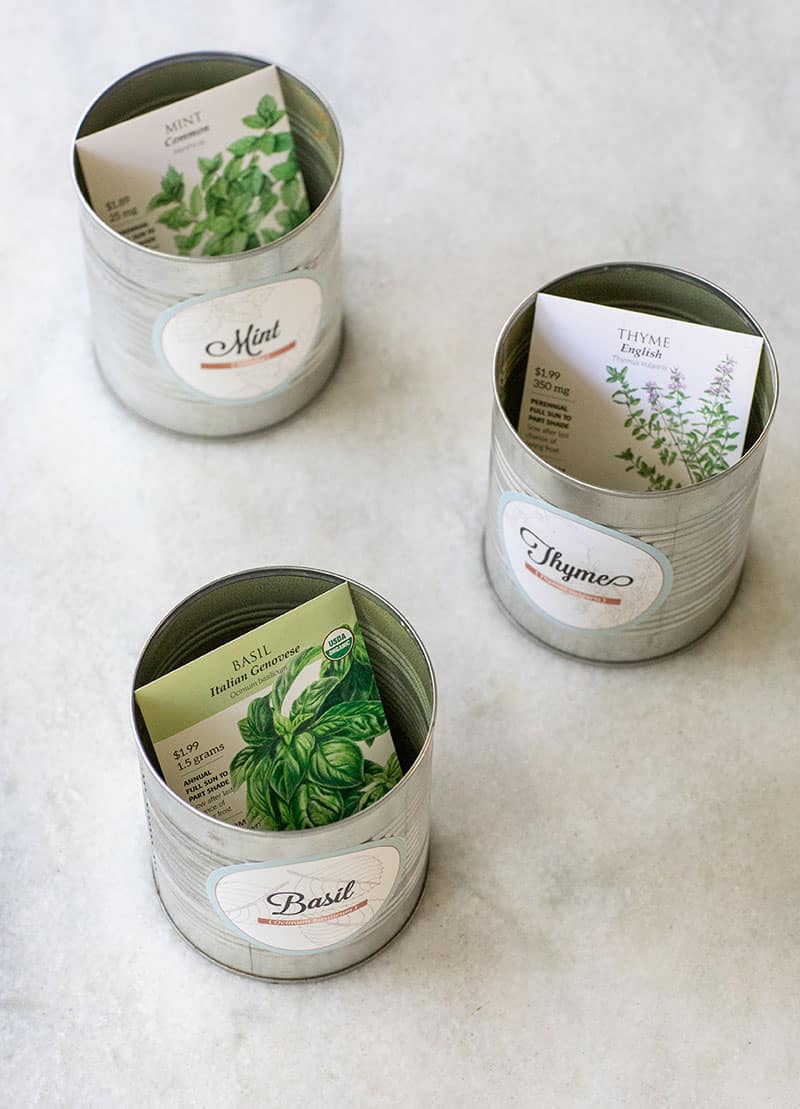 Wrap Up…
So whether you're looking for a fun and easy project to do with your kids over the weekend or you want to have fresh herbs on hand all year long, we hope you'll give our indoor herb garden a try! 
If you are a tea lover, check out our post about creating a tea garden.
Be sure to download our free printable labels so you can get started today. What are your favorite recipes that use fresh herbs?
More Charming DIY Garden Ideas!
DIY Edible Potted Floral Garden
How to Take Care of 15 of the Most Popular Indoor Plants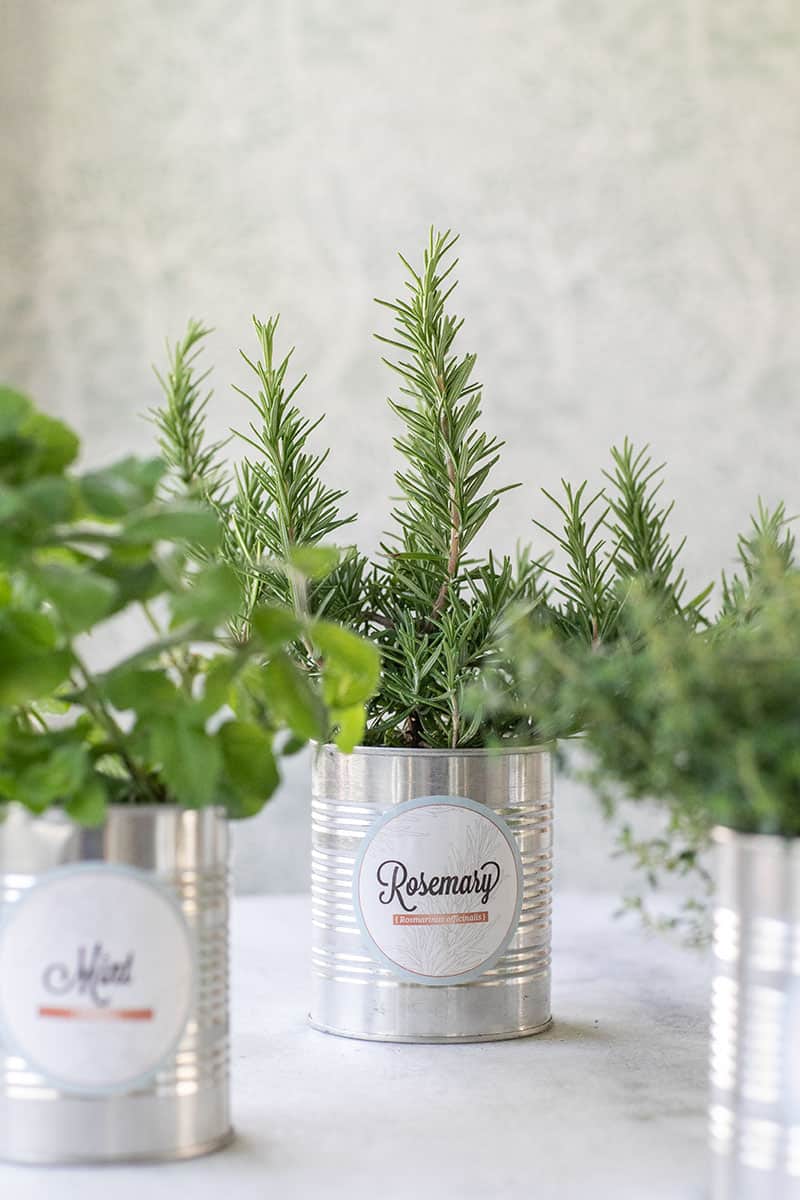 Let us know if you make this indoor herb garden or print our charming garden labels! We love to hear what you think.
You can also FOLLOW US on FACEBOOK, INSTAGRAM, and PINTEREST to see more indoor decor and garden ideas!