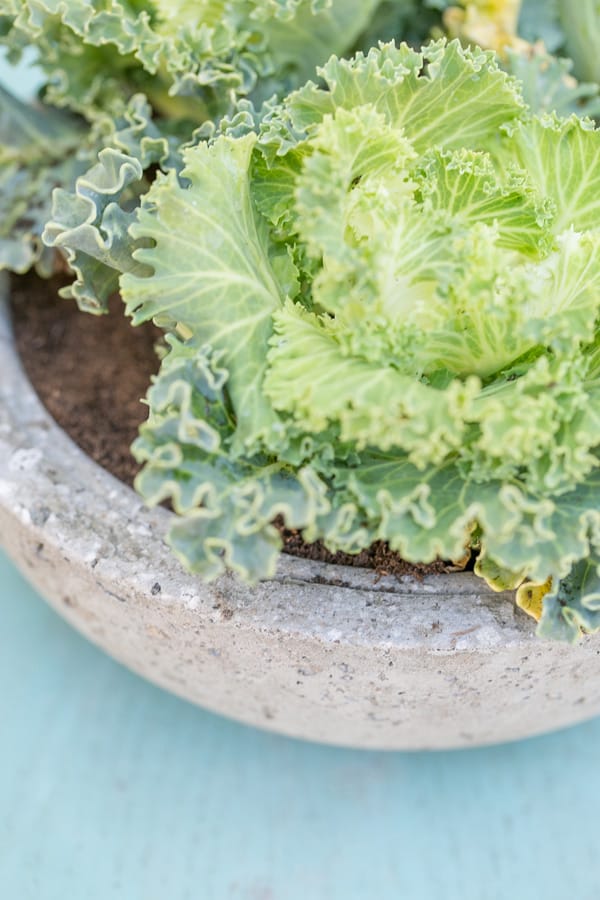 I've been wanting to make some really cool cement planters for the house and I finally did it this week! There's a natural type of rock called Tufa and it's known for growing plants because of its porous texture. Lucky for us, you can create a manufactured version of tufa called hypertufa with just three materials – peat moss, portland cement, and perlite. You can find all of them at a hardware store like Lowes or Home Depot. The materials won't weigh on your bank account either, but they will weigh a lot when you try to take one off the shelf! A small bag of cement weighs 45 lbs. My back found that out quickly. Anyway,  I bought all three for only $24! And these aren't little bags, you can easily make 30 medium sized pots, if not more. I bought the metal bowls at the 99 Cent Store, obviously for only $1 each. I realized as I was making these, how cost efficient they are and if I saw them in a store, I would be the sucker who pays too much for one! This is why I love making things! They would be perfect for a rustic (or even modern) wedding, to give as gifts or just for your pure enjoyment. Don't ask why, but I also made some hypertufa mustaches… I'm thinking about putting one in each planter for good luck growth, hahaha!
Materials and Supplies:
Peat Moss
1 45lb bag Portland Cement
1 small bag Perlite
4 large metal bowls and 4 smaller metal bowls to create a mold
A bucket for mixing the cement
Gloves
Scoopers
Sanding block
Rocks
Drill
Flathead screwdriver
Directions:
1. Mix equal parts cement, peat moss and perlite. I scooped 8 cups of each into a large bucket. This will make 4 medium sized bowls.
2. Mix the ingredients together and add water until you get a texture like wet sand. I did about 8 cups water, easy right?!
3. Spray your molds, in this case the larger bowl with nonstick cooking spray and the bottom of the smaller bowl.
4. Put yellow gloves on (they don't need to be yellow, that's just the color I think of when I think of gloves) and scoop the mixture into the bowl with your hands. Press down and around the sides.
5. Place the smaller bowl on top of the cement mixture. Place rocks inside to weigh it down.
6. Let it dry like that for 24 hours, then remove the top bowl using a flathead screwdriver or something to lift it off. I left the bottom part to harden one more day and then removed it.
7. Once the bottom is removed and the bowl is out of the mold, sand the edges.
8. Drill holes in the bottom of the bowl for drainage.
9. Plant, plant, plant away! Geez I love these things!