We're very excited to embark on our backyard renovation for the cottage! We worked with Yardzen to create the plans for the yard and it was such a pleasant experience! Sharing all of the details for our yard and what it was like working with Yardzen.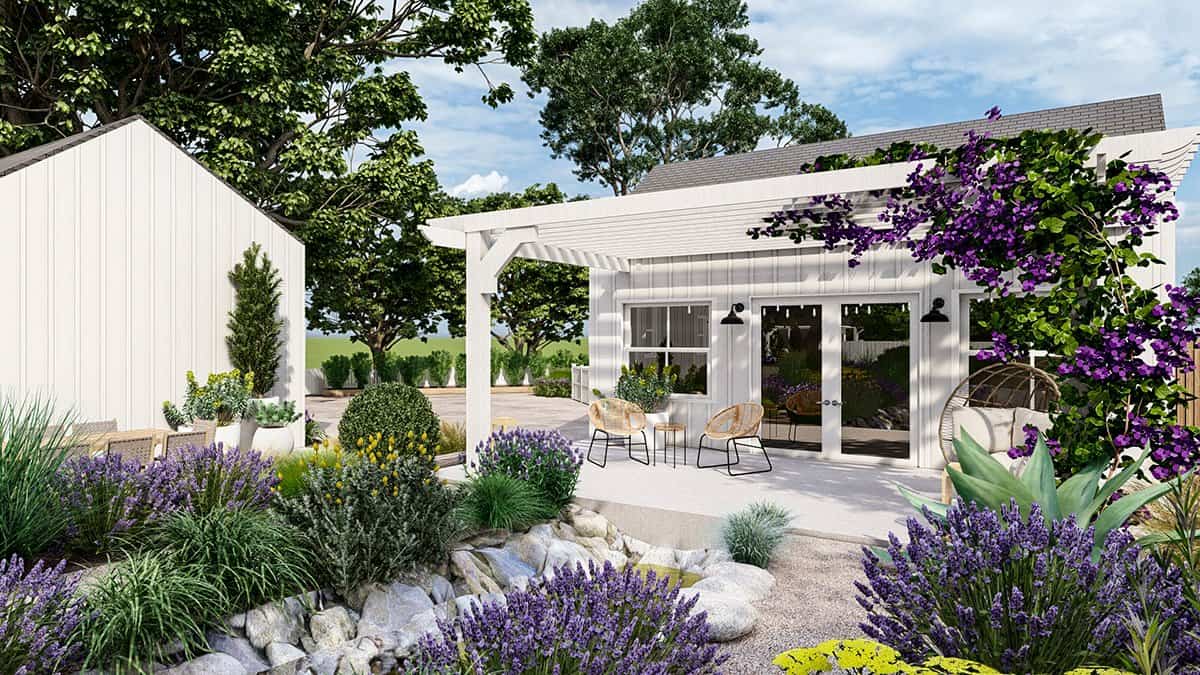 What is Yardzen?
Yardzen is a virtual landscape design firm making landscape design accessible. They are a group of people in all different industries such as horticulturalists, software engineers, world-class landscape architects, exterior designers, and creative marketers that design a gorgeous outdoor space based on your needs, location, and much more.
Working With Yardzen
The Package
There are a few different packages they offer depending on the size of your project. They can even add new paint colors and windows to your rendering and design for a complete transformation. We had them add in our studio plans for a studio that wasn't built yet and they we're able to do that.
I ended up going with their largest package since the space I needed to be designed is a little over a half-acre. We also wanted to include our guest house plans in the rendering as well.
I did the Full Yard package which does everything from paint colors to hardscaping. It also includes a plant palette, 3D renderings, and CAD plans to give to a contractor or whoever will be doing the physical work to put the yard together.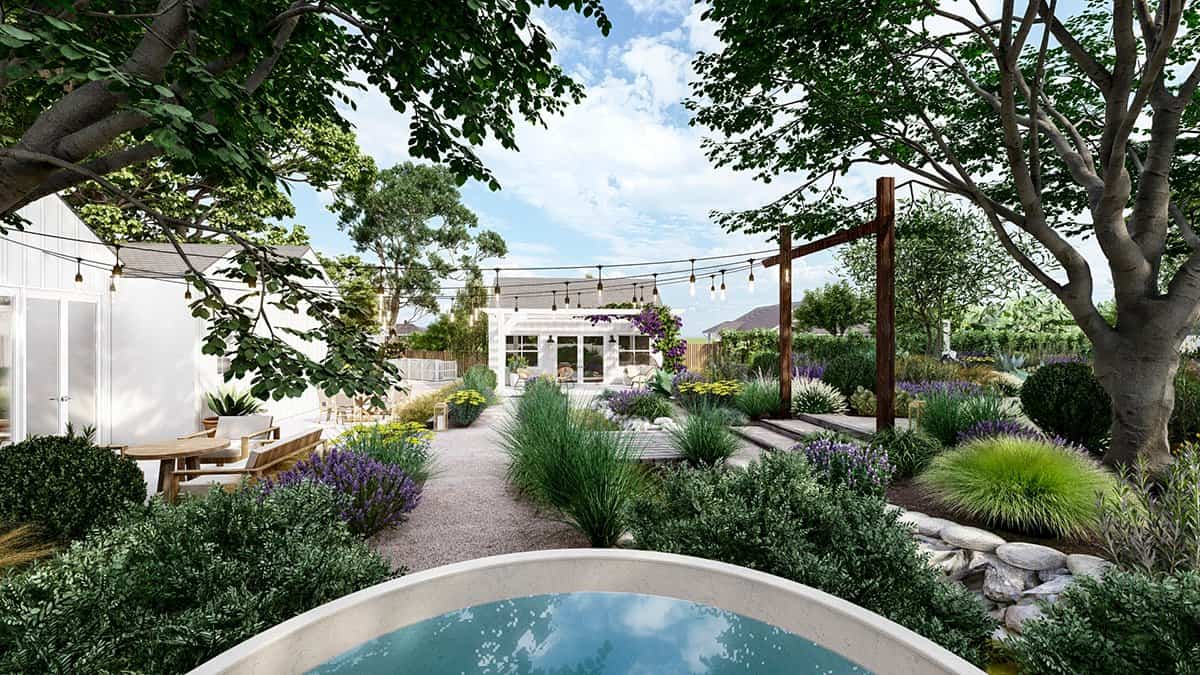 The Process + My Inspiration
We started by taking several photos and videos of the space. Yardzen will guide you in this process. They will request certain photos of different angles of each area in the yard. It's amazing that you don't need to measure anything! They can put it all together from the photos, video, and address.
I got very detailed in my video and let them know what areas are shady, what areas have less water or less sun, and asked for shade plants, low water plants, etc. They listened to all of it.
They also ask for you to upload inspiration photos of what you like and answer a bunch of questions so they can get to know your style and know your budget. I liked how honest they were about the budget and would email me to let me know if we were going over our budget. They wouldn't move forward until they got an approval.
Overall, they want to design a space that is achievable to create.
The design is ready in about 2 weeks. It's the most exciting email ever!! I was in awe of what they created and it was so cool to see a 3D rendering of our house and the yard. It was like a dream!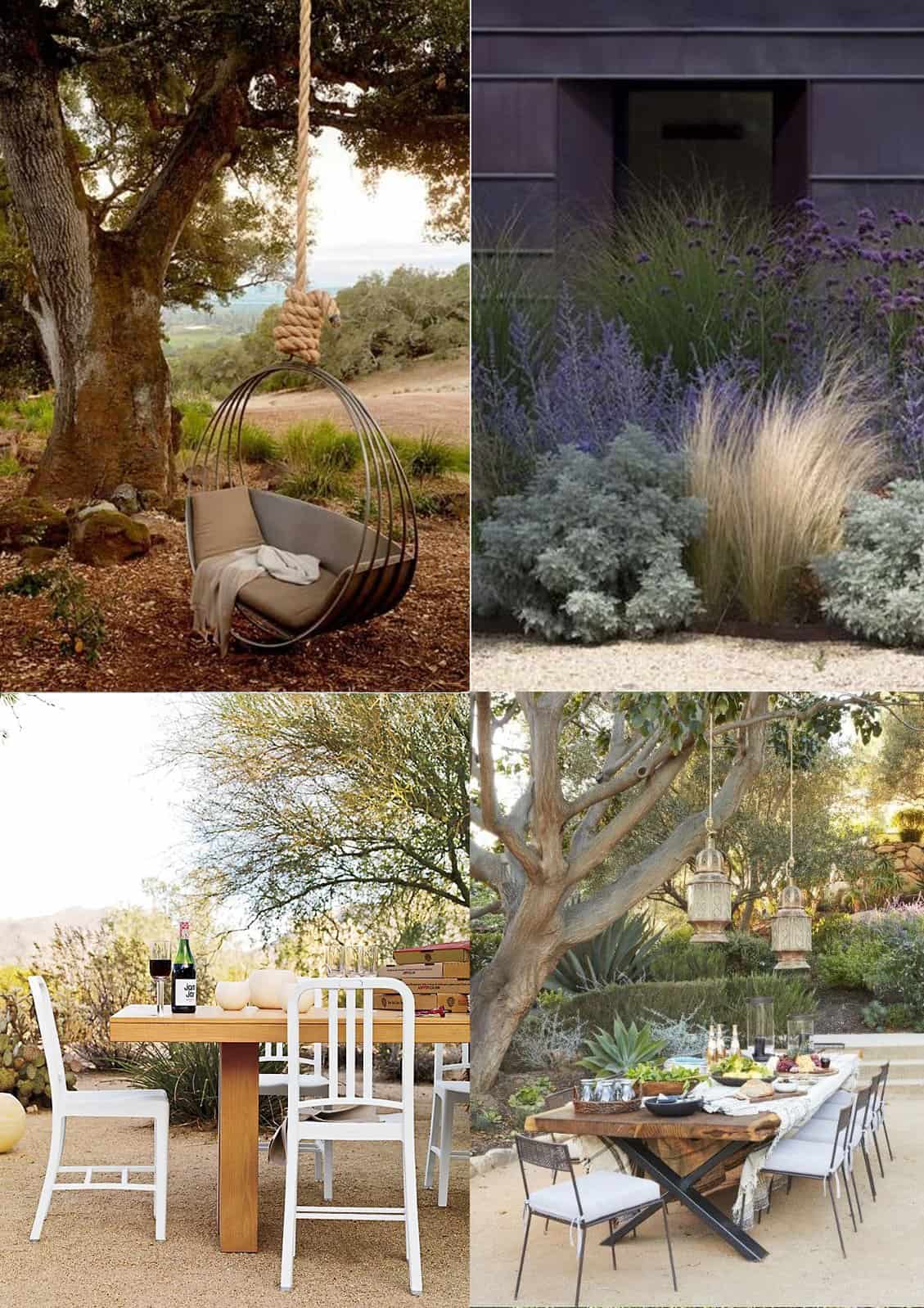 My inspiration is California wine country meets English garden. I love the coziness of an English garden but incorporated a more modern California twist. A lot of green and purple plants and low water, native plants.
I wanted to create different spaces in the yard, like the garden area, fire pit, and different dining areas.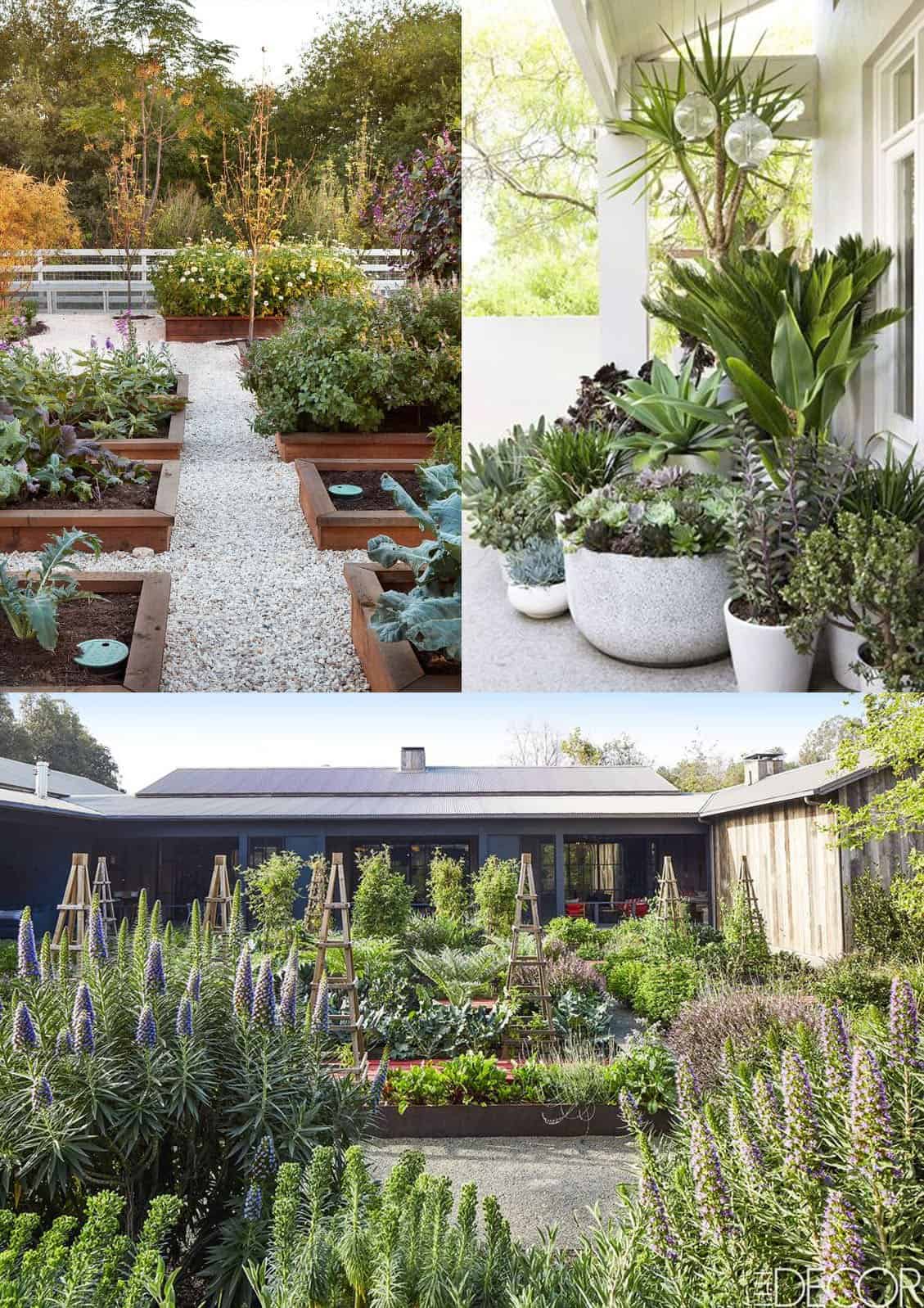 They added in some of our current backyard furniture and suggested other items links of items for the hot tub. I also sent links to the garden beds I wanted and a few other ideas and they added them to the plans.
Once the initial design came in, I was able to make a few adjustments and changes. They sent those back and we finalized the design.
Final Plans
The final plans are filled with everything you need to create this dream space. From the most beautiful 3D renderings, a super detailed plant legend to an overview of the yard with complete measurements. Even the placements of the lights are in the plan. It's way more detailed than I thought it would be! Here are just a few of the items they sent over. They also have different views, a colored map, and more.
They show you exactly where to put each plant, what type of plant, the size to buy, and how much water or sun it needs.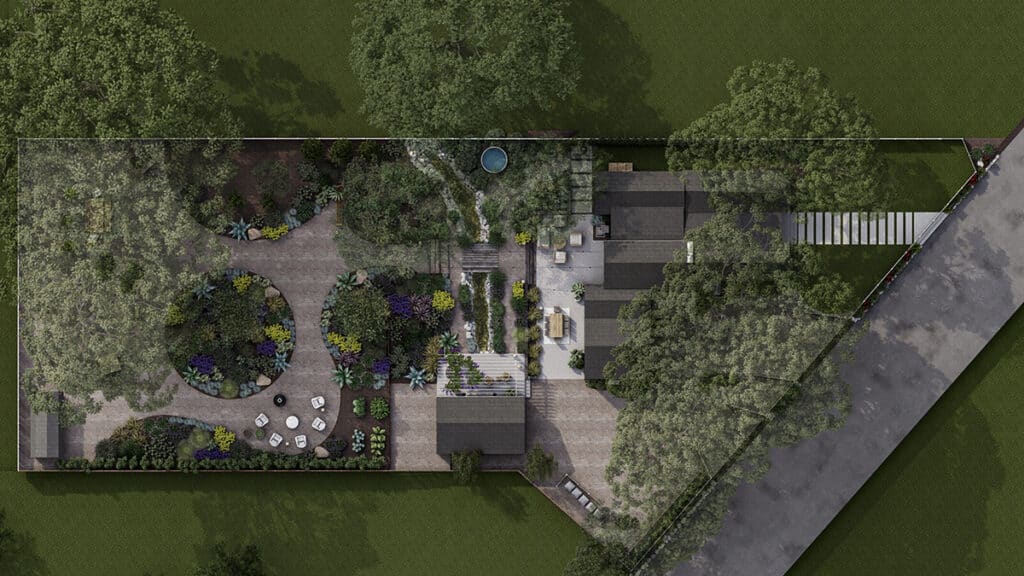 Plant Legend
Yardzen provided me with a very detailed list of all of the plants for our renovations. It listed out what plants we need, how many of each, and the size of the plant. Some of the plants we're using are: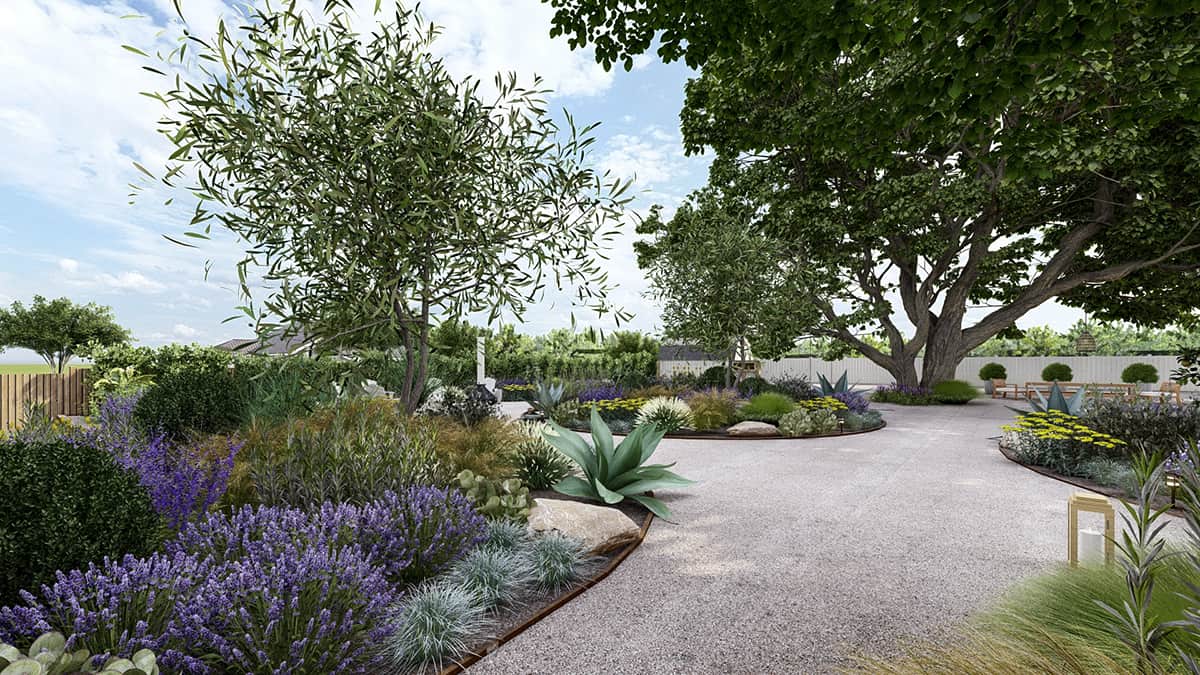 Blue Flame Agave
Fruitless Olive Tree and Bush
Switch Grass
Lilyturf
Rosemary
Lavender
Caribbean Agave
Baby Gem Boxwood
Cape Mendocino Reed
Atlas Fescue
Munstead English LavenderRoman Beauty Rosemary
Pearl Maxwell Camellia
I also use an app that I love so much for my garden. It's called PictureThis. You can take photos of plants that you see around your area and it will pull up what plant it is and everything about it. I add it to my garden and it will tell me how to take care of it as well as the sun and water needs.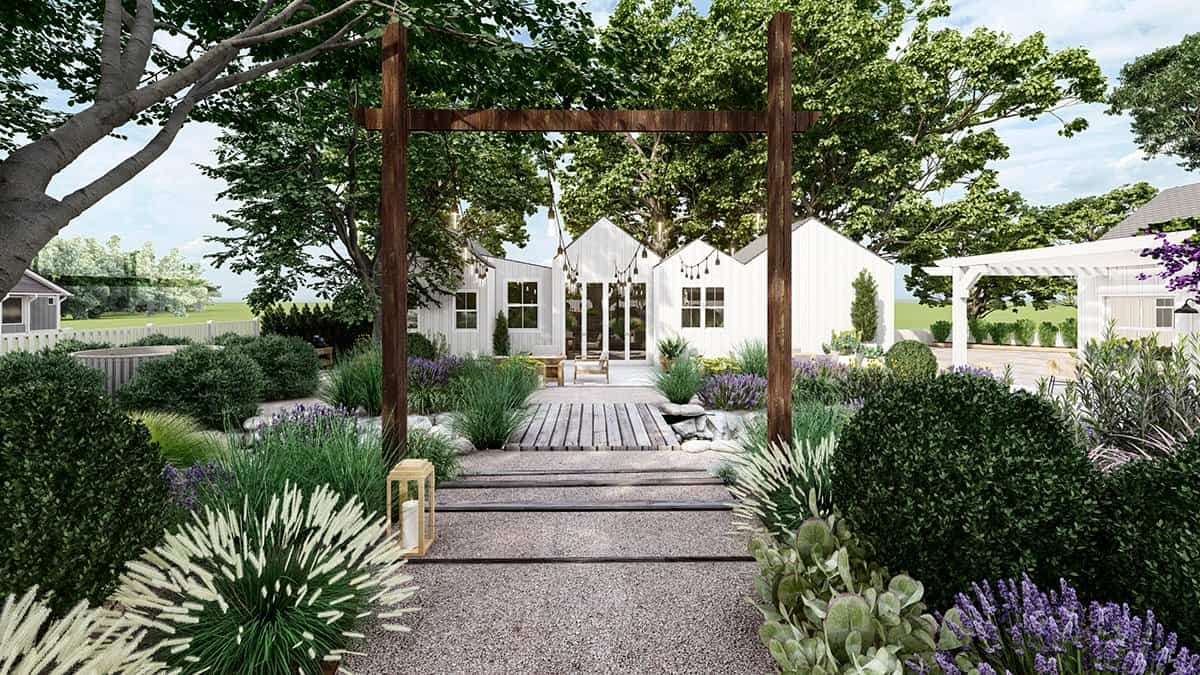 My Backyard List
For the new renovation, we wanted to get rid of the decomposed granite we have in the yard now. It's really messy and tracks a ton of dirt into the house. However, we don't want a huge patch of grass either as we live in Southern California and it's a desert climate.
We have a small patch of grass in the front yard and as much as I would love to add more, it just doesn't make sense where we live and how big the space is.
So we stayed with drought-tolerant plants and softer pea gravel to replace the decomposed granite.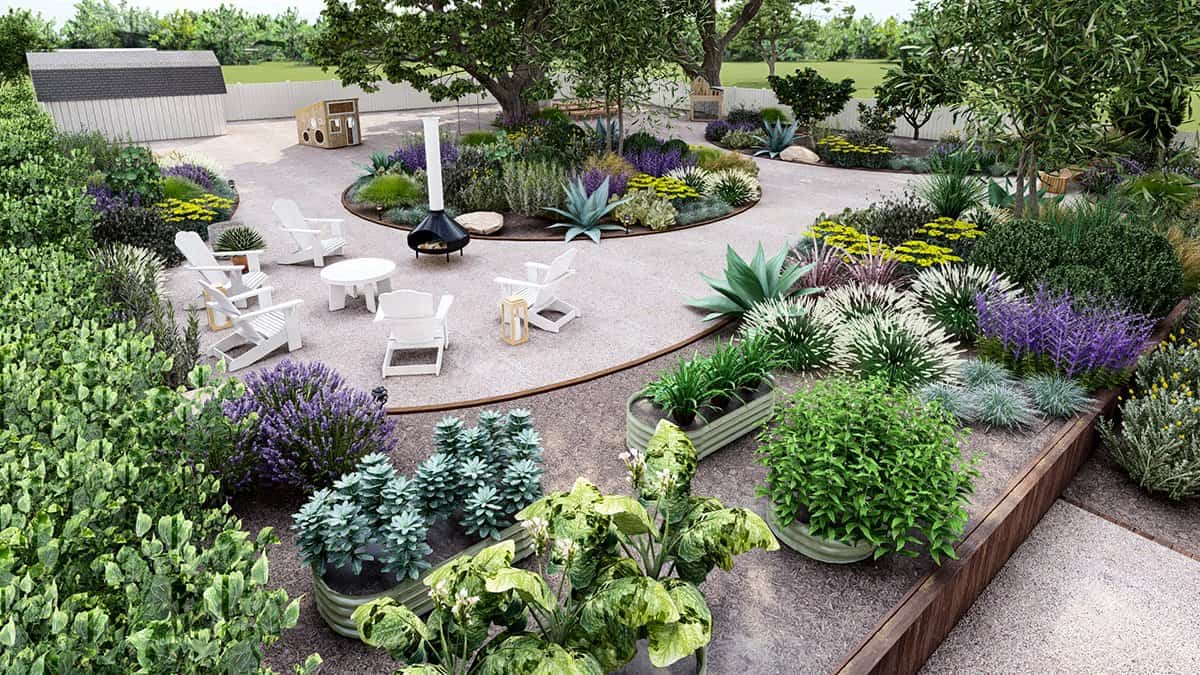 Raised Garden Bed
We're going to plant a lot of lavender, rosemary, and sage around the yard, but I've always wanted raised garden beds for vegetables, edible flowers, and herbs. So I'm adding four green galvanized raised beds.
I am going to use Vego Garden beds in Olive Green. I'm really looking forward to finally having a garden!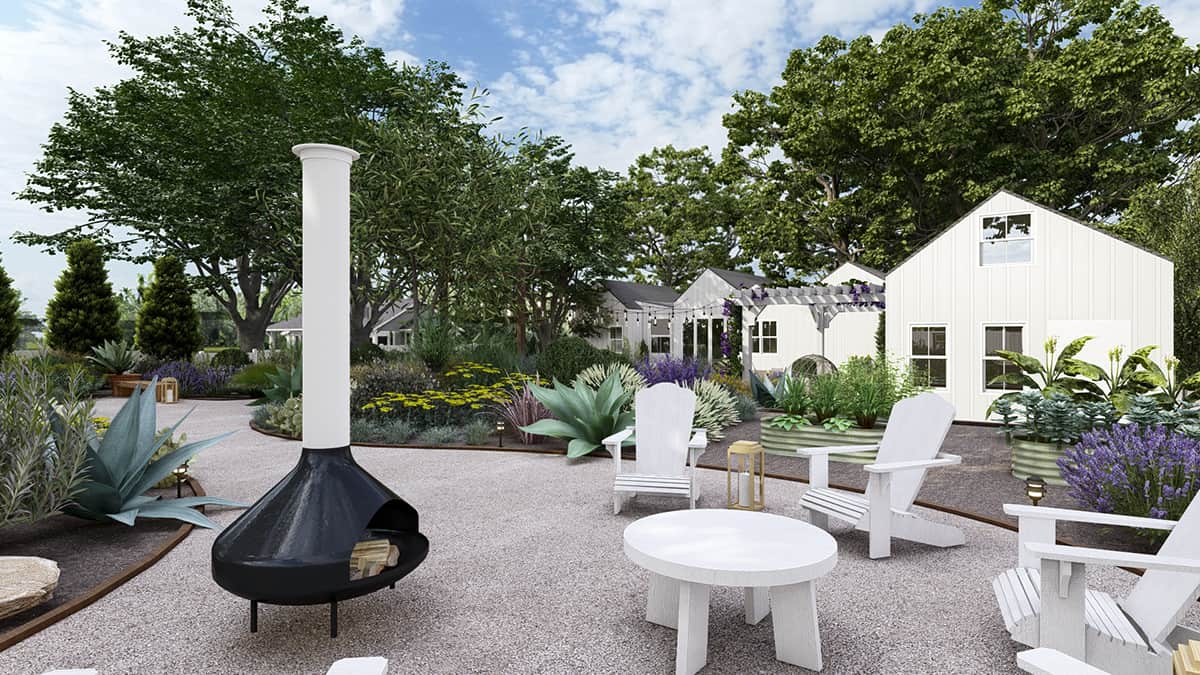 Fire Pit Area
When we were in Knoxville I picked up a very cool vintage Malm. A fire pit area was a must when creating this yard. I wanted an area we can hang out and enjoy a real wood fire. We love sitting by the fire with the kids, making s'mores, and telling ghost stories. It's just as fun as an adult!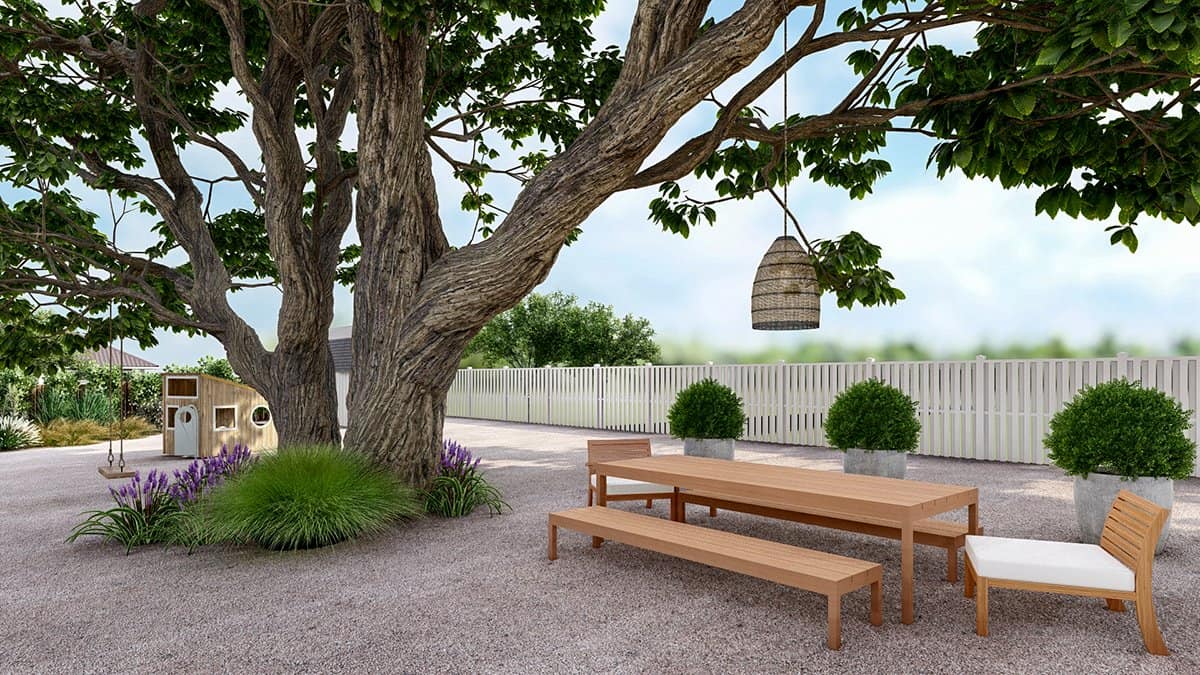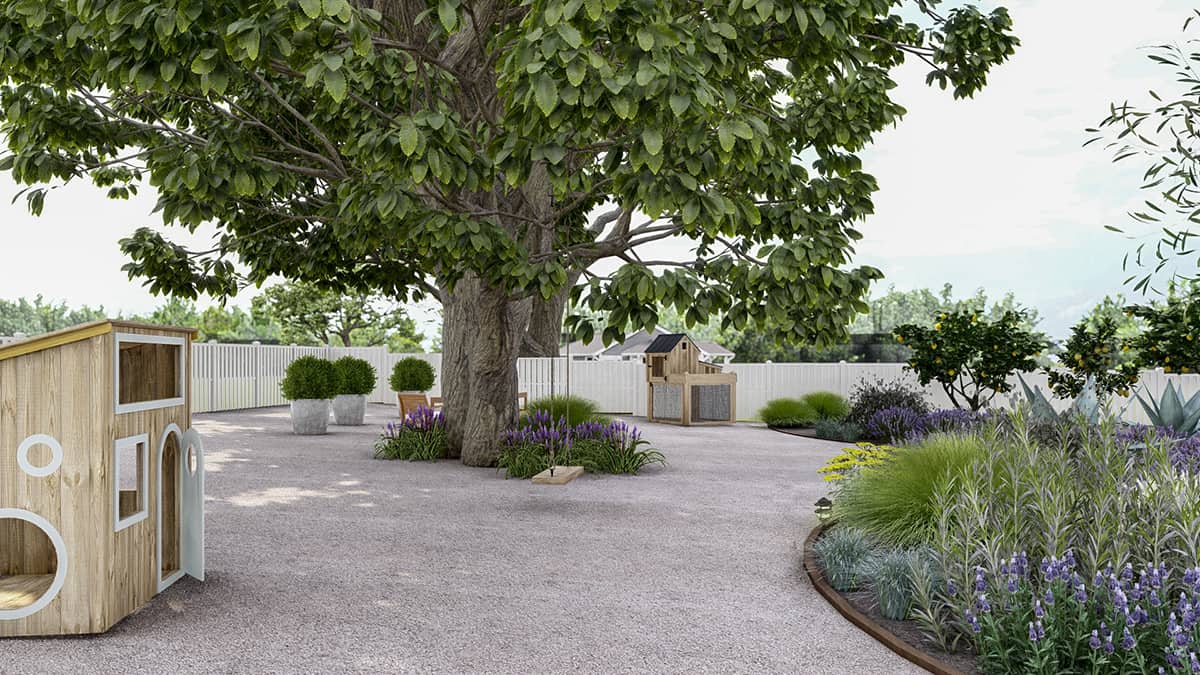 Dining Area
The backyard has two dining areas. One is close to the house on the patio and the other is under our giant oak tree in the back. We're going to hang a large outdoor chandelier in the tree above the dining table.
Kid Play Area
We are removing our larger kid play area that has been there for 8 years! We're going to replace it with something smaller, but haven't fully decided what. Yardzen added that little house as a placement for where the new play fort will be. I'm thinking something small, but tall so they can climb up.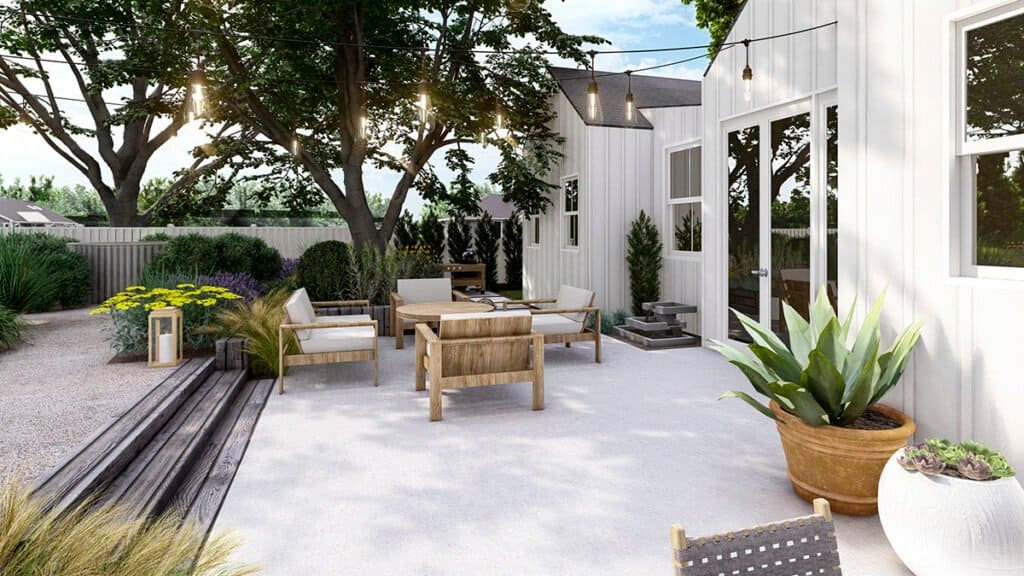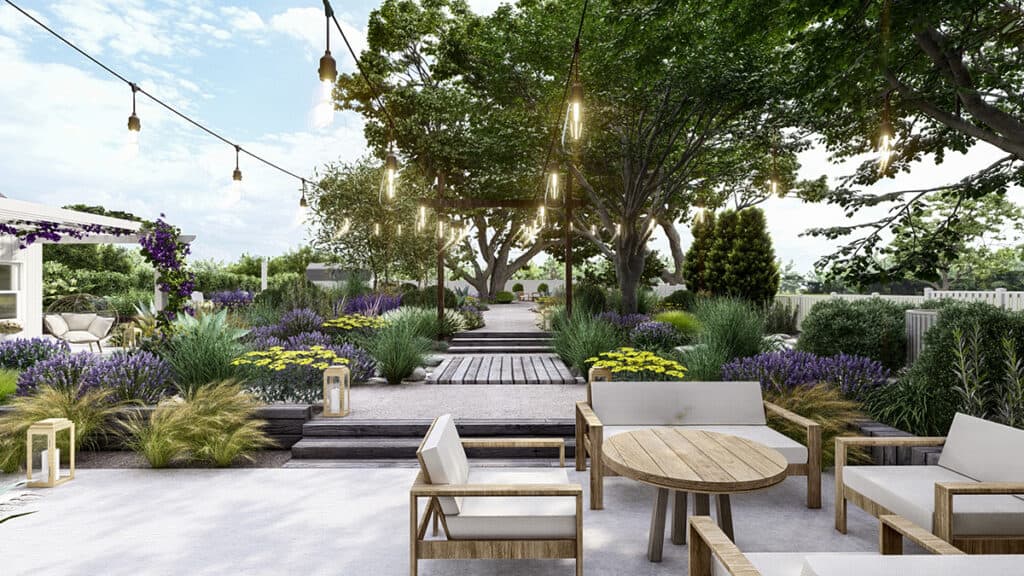 Patio Lounge
This patio is like a second living room for us. The weather in California is so good and we're able to lounge out here most of the year. With our Williams Sonoma patio furniture, this space is so cozy! The chairs are the most comfortable patio chairs ever.
I've listed out and linked all of the furniture below.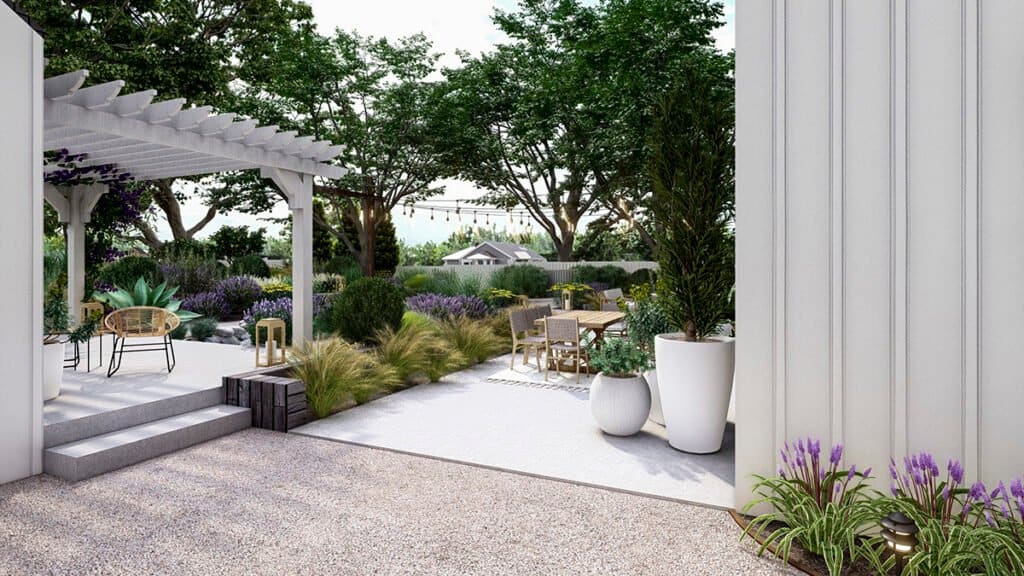 Why We're Not Adding A Pool
We get asked all the time if we're going to add a pool. We have the space for a pool, but it's never been something I've wanted to add to this yard. I still have young kids and having a pool would never allow me to relax when they're outside playing. Even with the kids knowing how to swim, a gate, and a cover, I would always be a little anxious about the pool and kids, even friends' kids!
Also, we will most likely rent this house again and I don't want the liability that comes with a pool and renters.
The kids love to swim, but there is a part of me that doesn't want to create an atmosphere where they have everything they ever wanted. If you want to go swimming, it's grandma's neighborhood pool or vacation!
One day, when we move and the kids are older or have gone to college, I would love to have a pool, but it doesn't feel right as of now.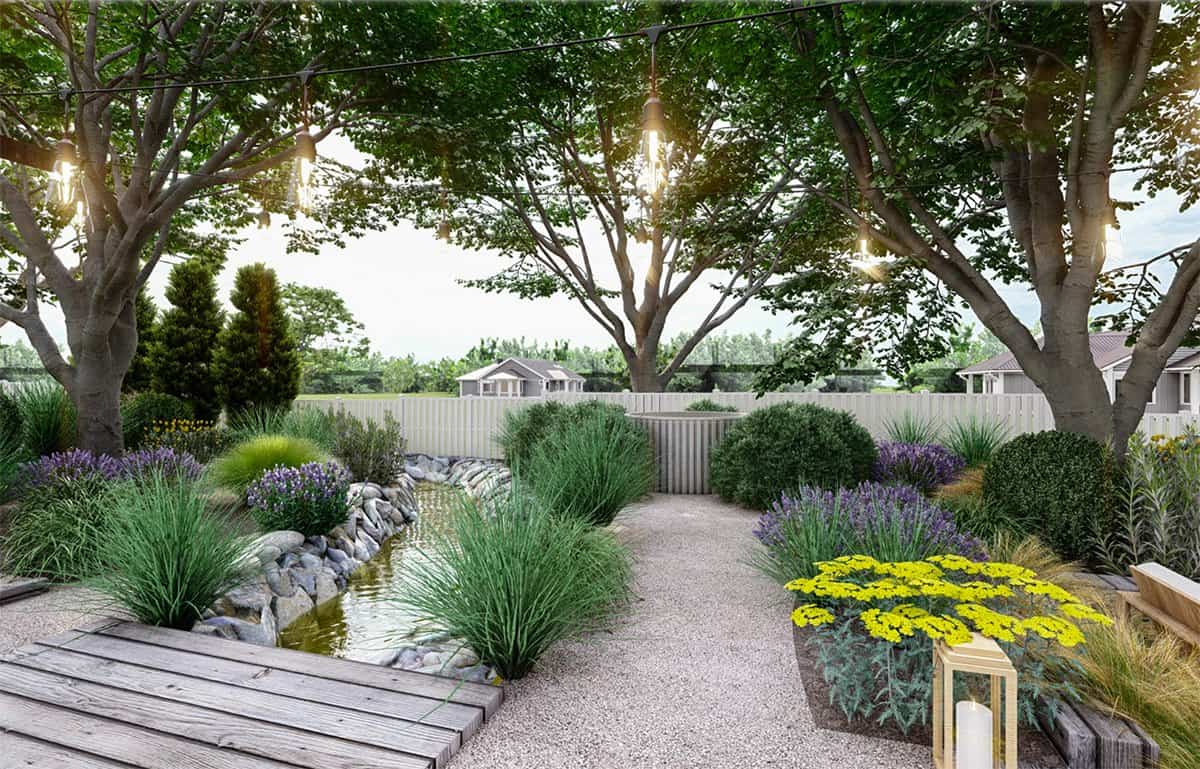 Hot Tub
However, we do love to soak in a hot tub! I feel much more comfortable adding in a hot tub than a pool and I'm excited to relax in it under the stars with a glass of wine.
We're looking at these three hot tubs. I love the cedar hot tubs, but cost-wise and for ease, we're going with one of these options: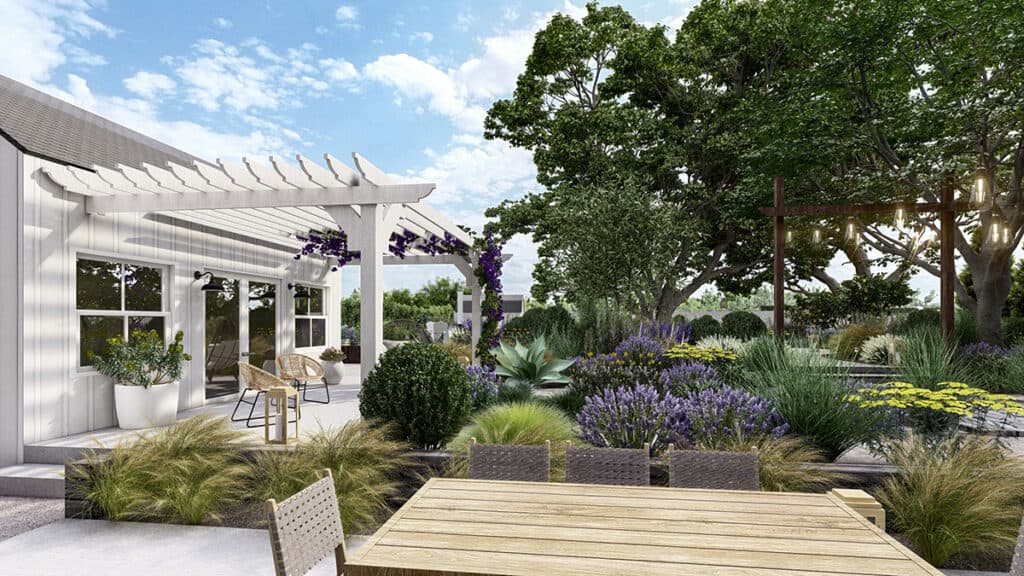 Studio / Guest House
One of the biggest additions to the yard is the new studio/guest house we're building. This space is much needed for us as we both work from home and the cottage is only 1750 square feet. The space will be used as an office and guest area. There is a loft where we'll have a double bed for company.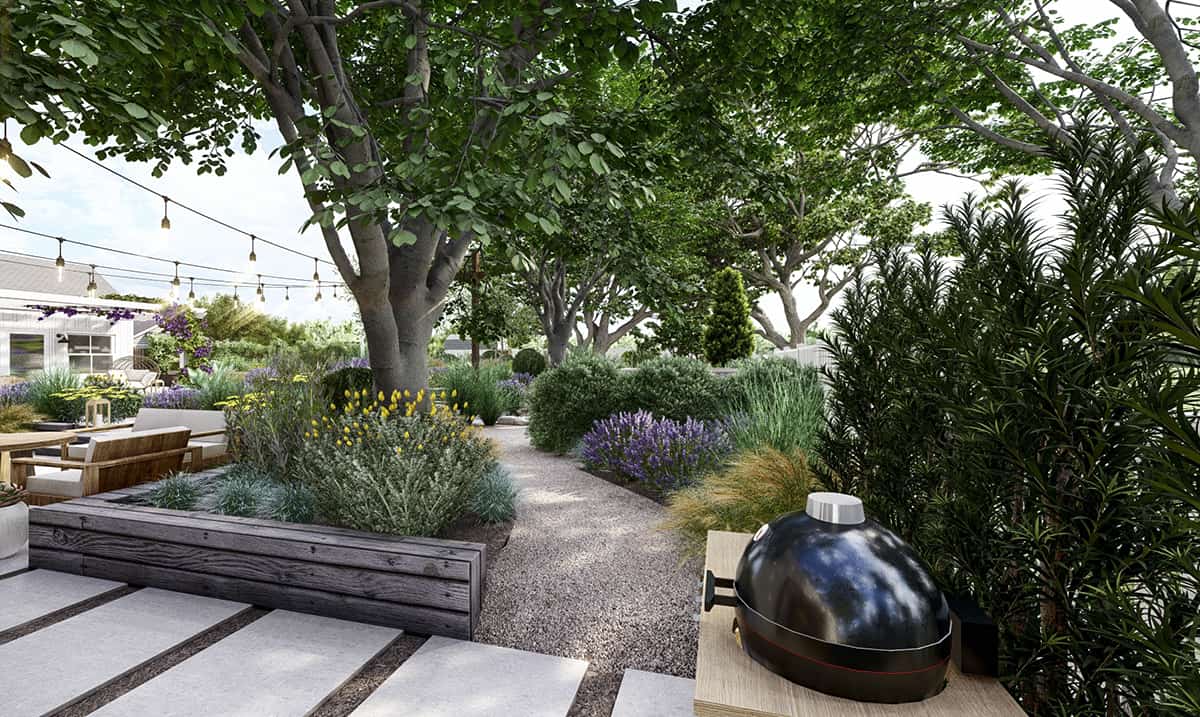 BBQ Area
We recently bought The Green Egg. I really bought it for my husband, but I also had every intention to learn how to use it but it's way more complicated and I have no patience for it. However, Zan loves it and uses it once a week which is awesome!
Citrus Trees
Having citrus trees was another must on my list. We planted two lemon trees, a grapefruit tree, and an orange tree a few years ago and they're doing great. We kept this area and made it a mini citrus grove.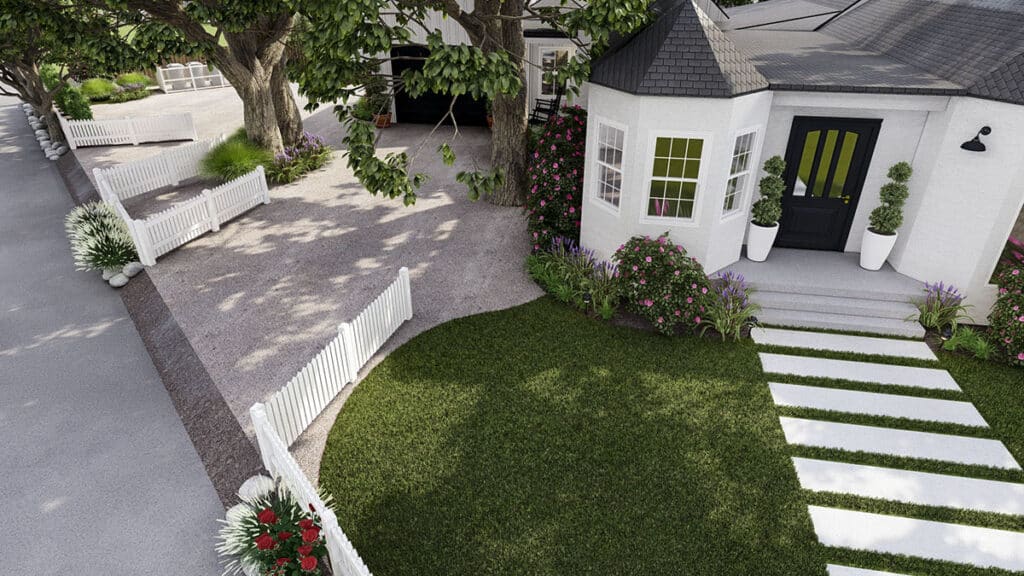 Side and Front Yard
Since we did the package for the entire property, Yardzen updated our front and side yard too. First, let me start off by saying that this house is almost 100 years old! When we bought this cottage it was a tiny shack! It had great bones and I fell in love with the front design of the house. It's all original!
I have always been attracted to older, charming homes and it's hard to find in our area. When we did the first remodel we tried to keep as much of the charm and original architecture of the home, which is the front of the house.
We haven't done much to the front or side yard as it's mostly just stayed the same. I didn't want to change a lot, but Yardzen did a great job giving it a little refresh and I can't wait to implement the design!
They added more plants around the side of the house that was just empty before. Also added plants under a few of the oak trees.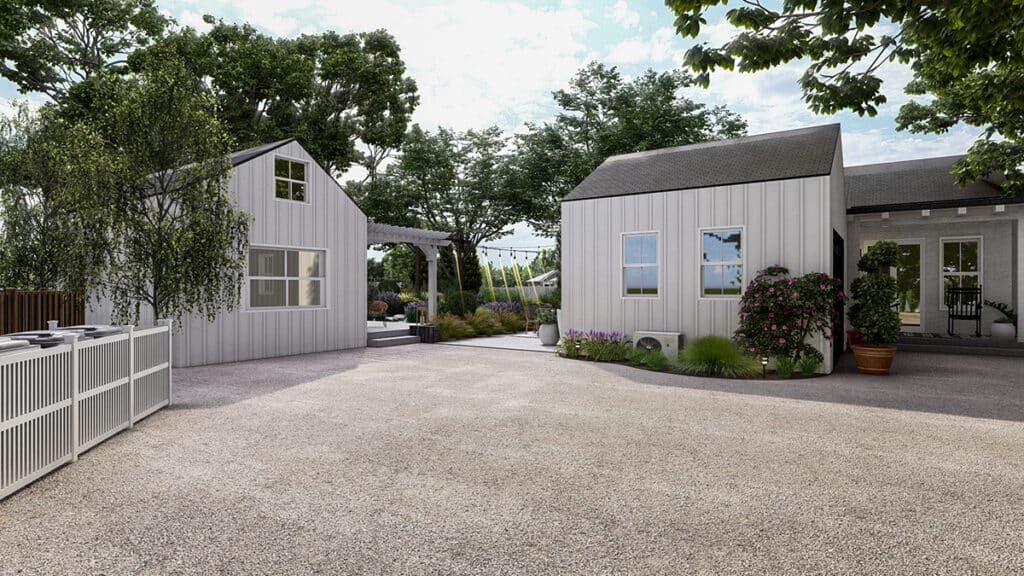 We left this space open for parking and they created an area to hide the trash cans. Also, the studio is much taller than the one in this plan. That is something to note that not every detail will end up looking like the plans they provide. We'll make adjustments and tweak it as we're putting everything together.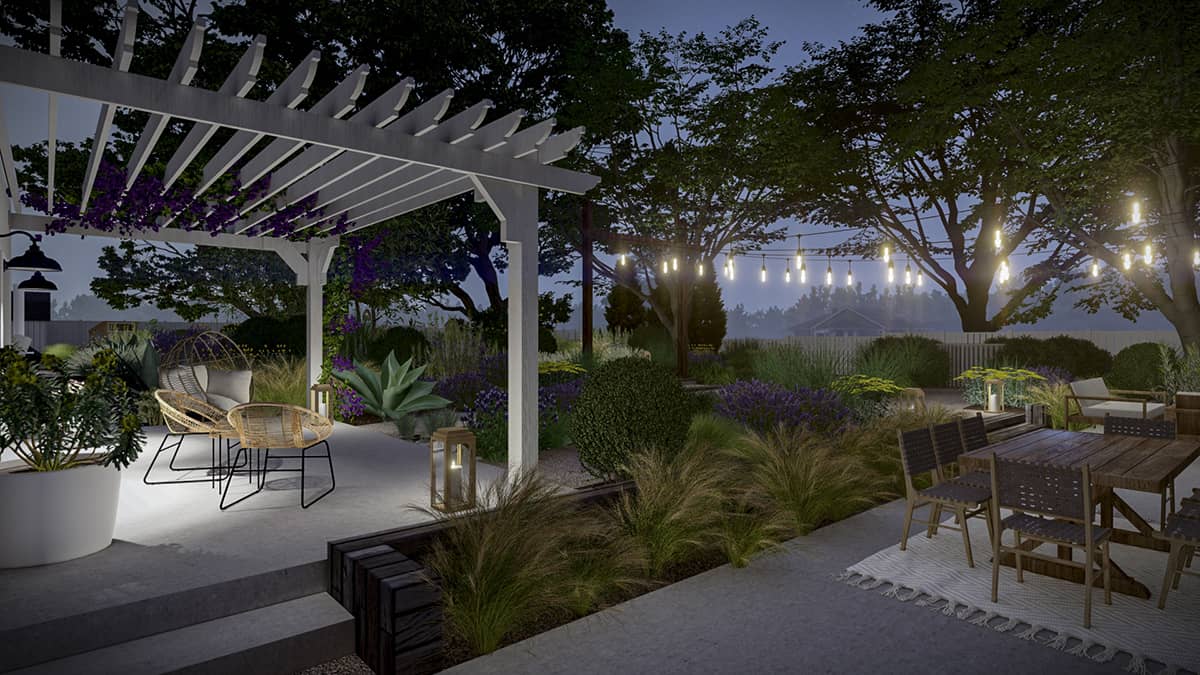 Property At Night
I thought it was so cool that they gave us 3D renderings of what the yard would look like at night! In the plans, they add lights and where you should put them, so if we followed that this is what it would look like.
Our market lights are already added in the space as well as the arch and some of the railroad ties.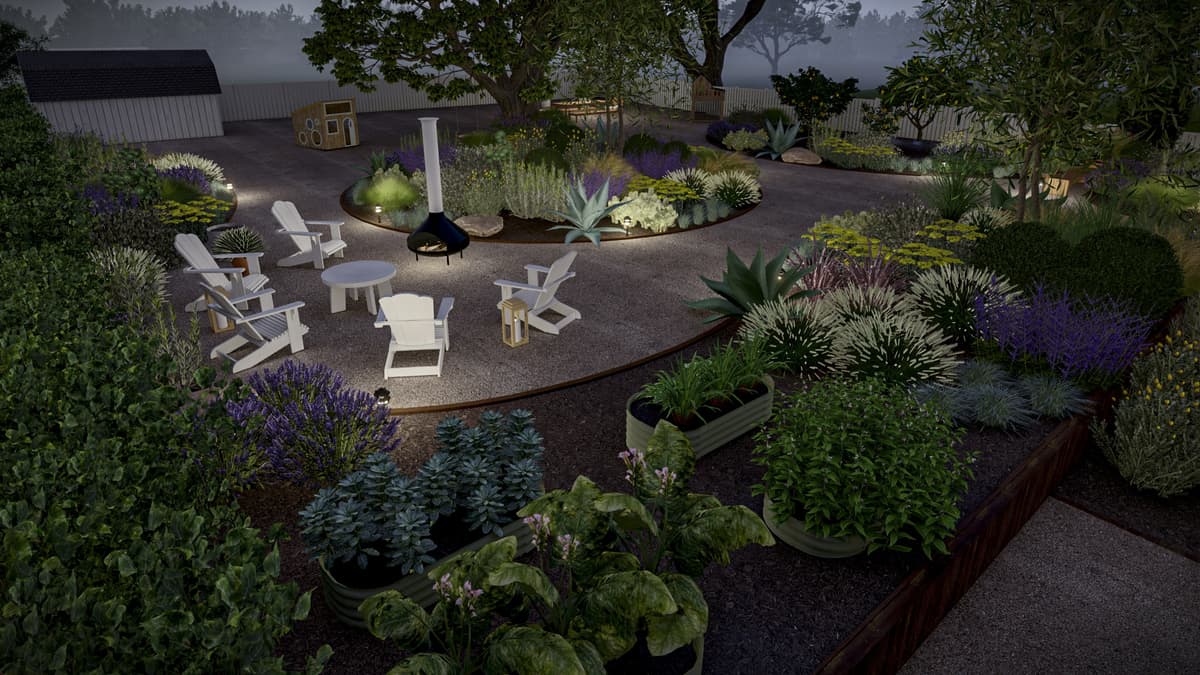 Before and After
Here are some before pictures and angles of the yard with the 3D Yardzen renderings. I love seeing the transformation!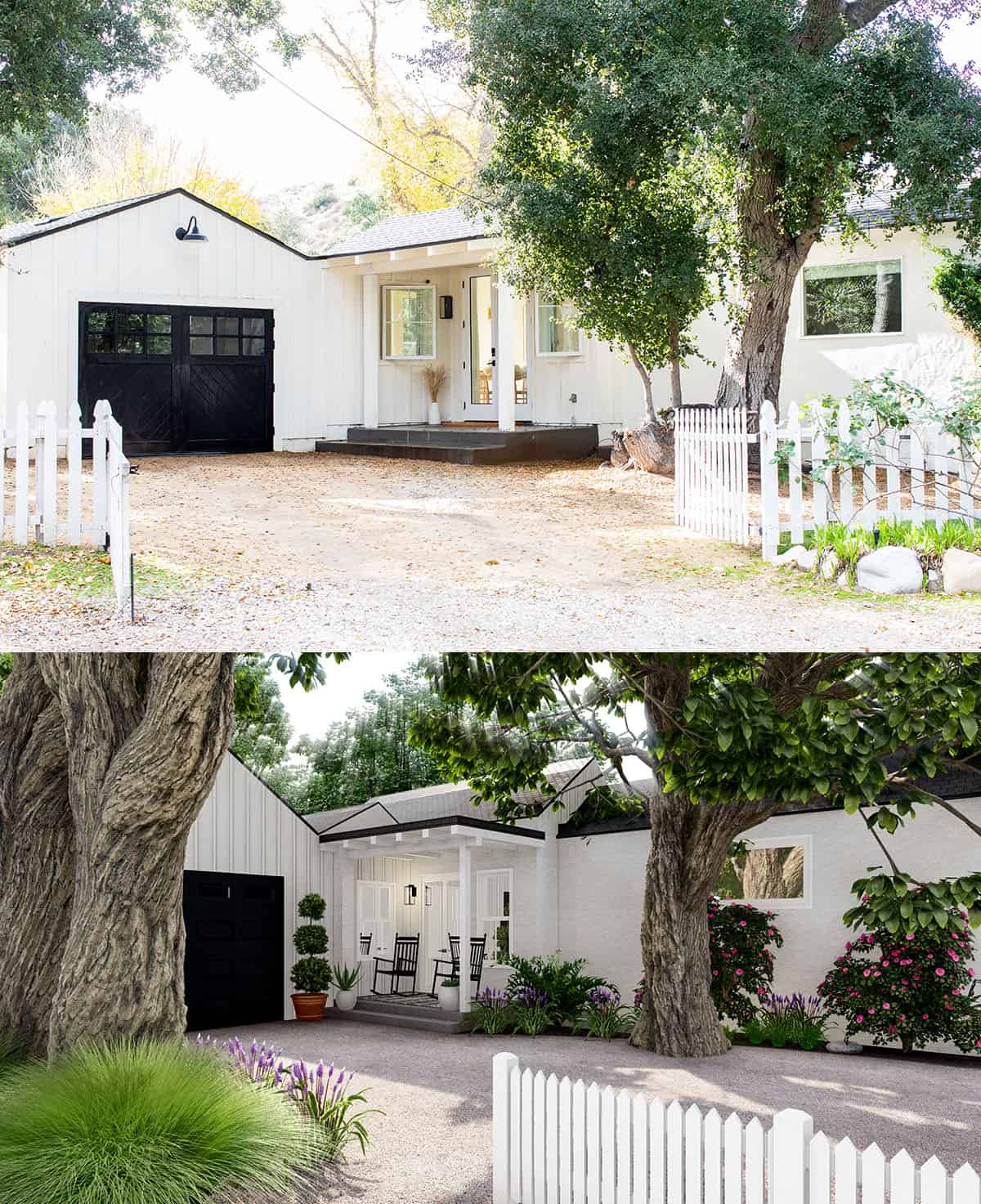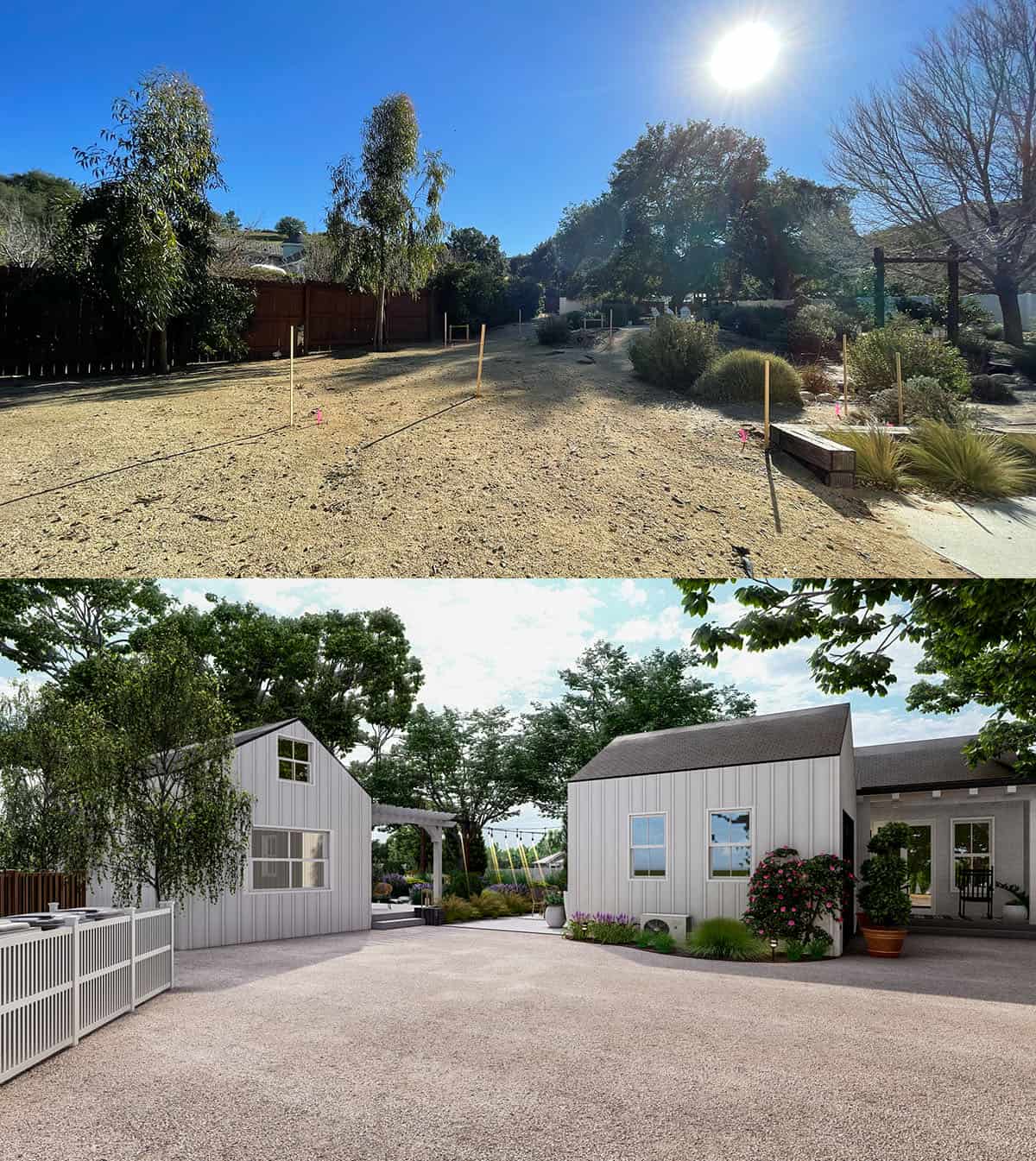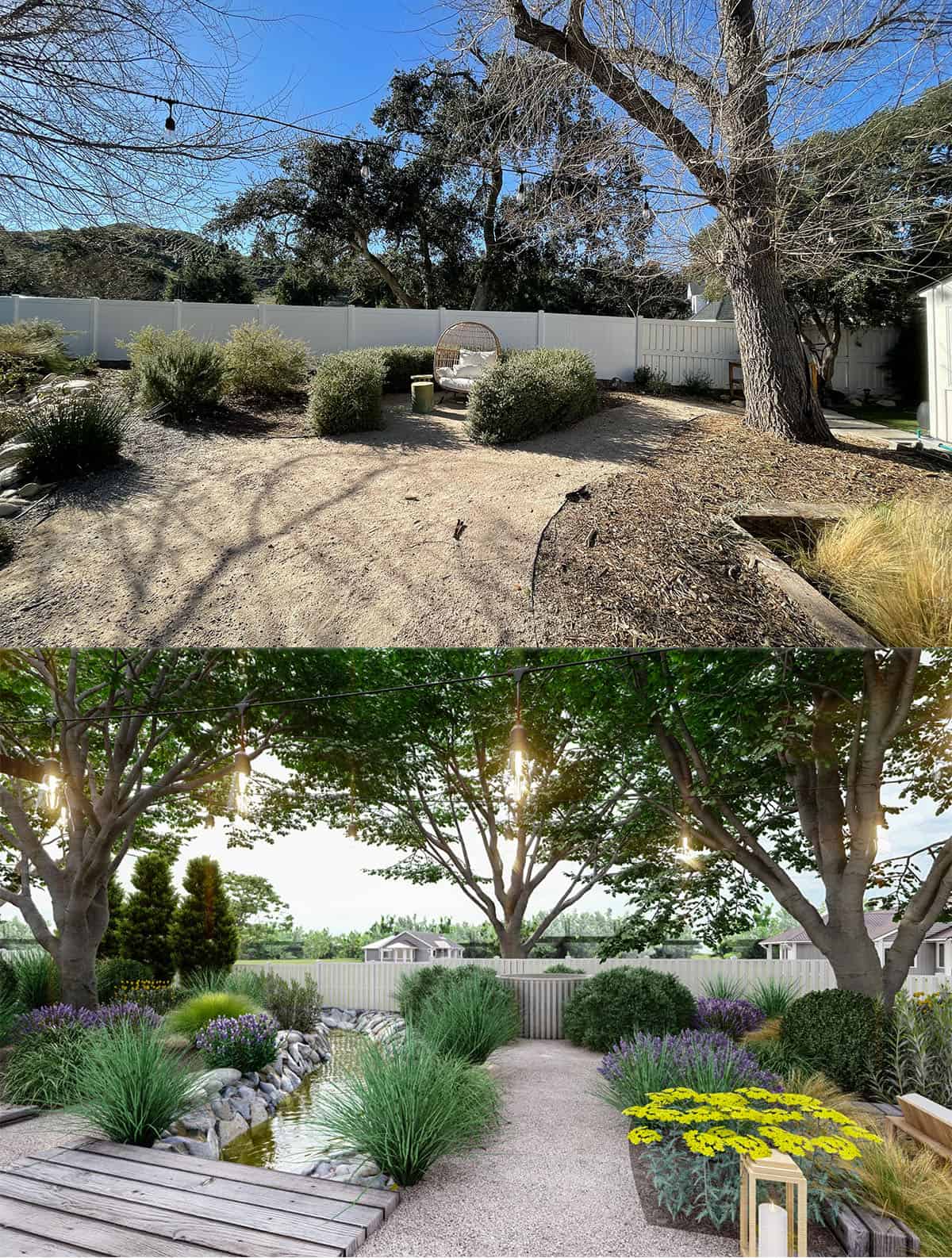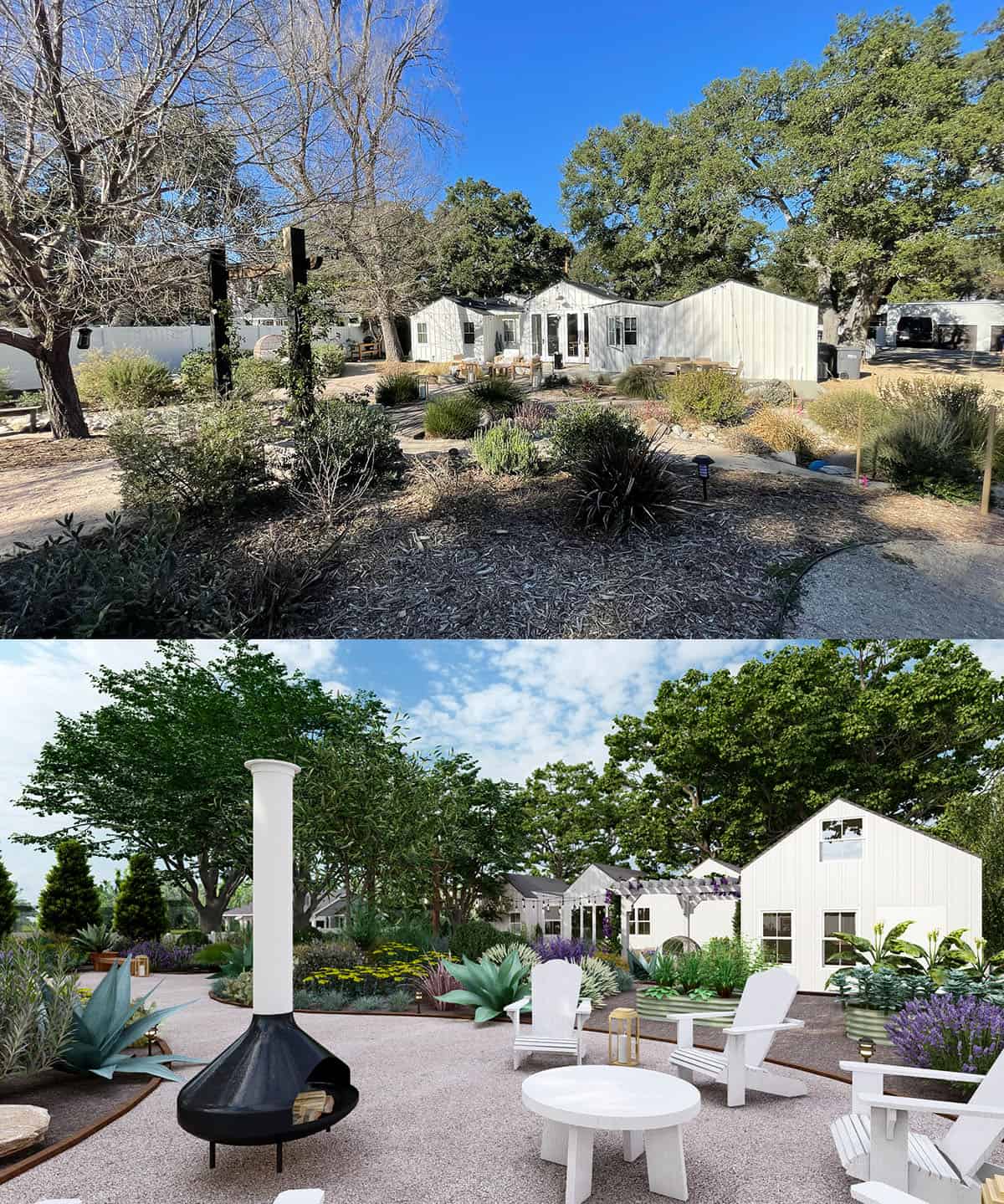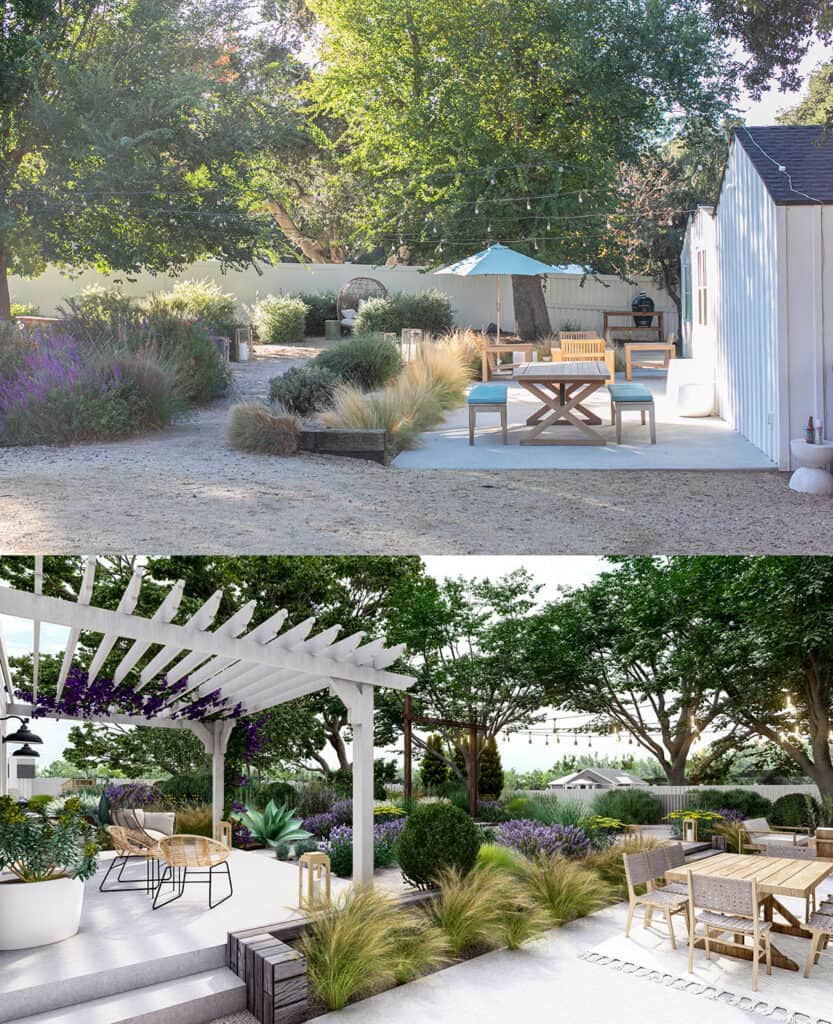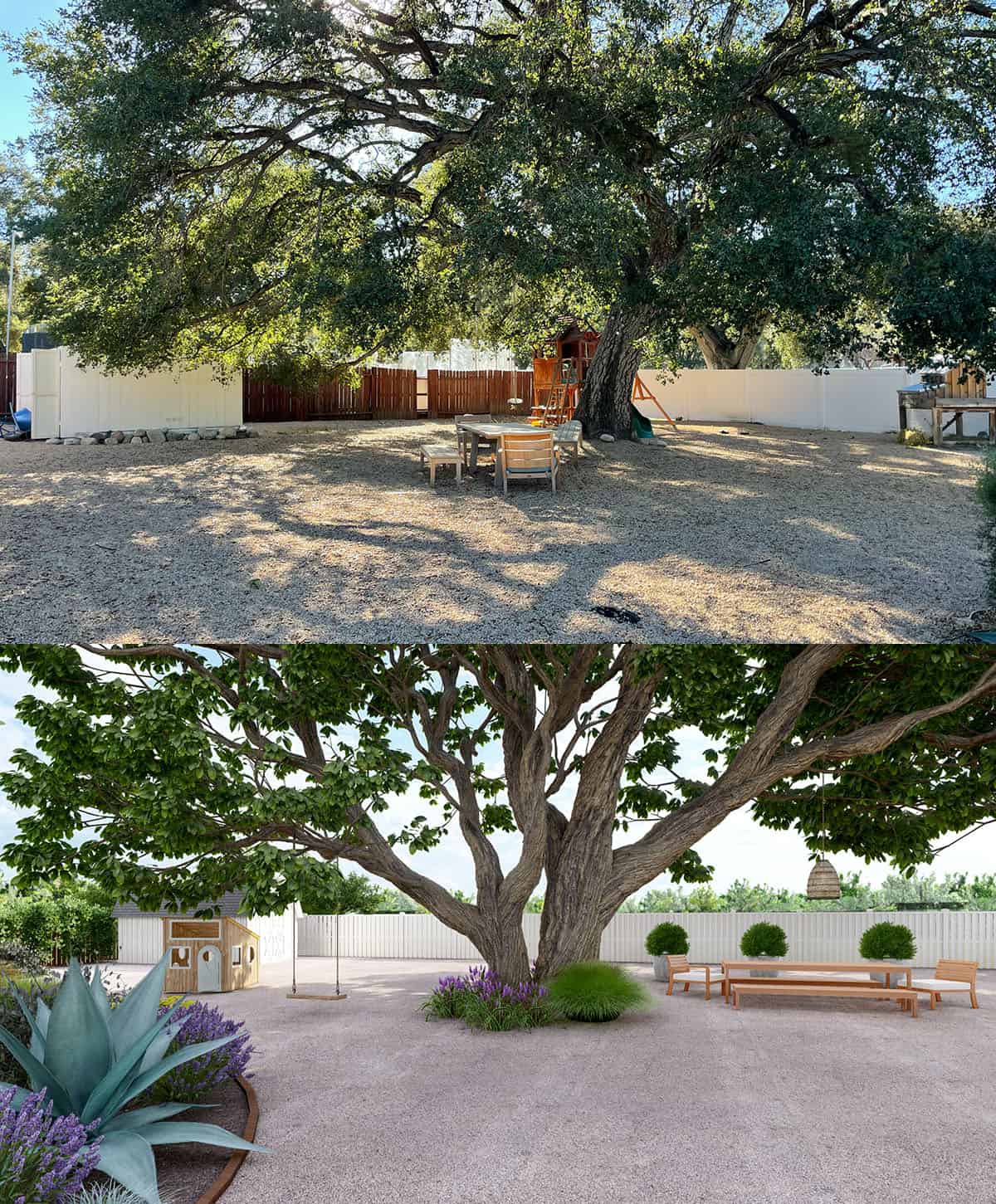 Patio Furnature
All of the patio furniture is from Williams Sonoma Home. I love the look of teak with white accessories. The quality of Williams Sonoma patio furniture is the best. It's so sturdy and luxurious. Truly the outdoor Larnaca lounge chairs are the most comfortable chairs we own!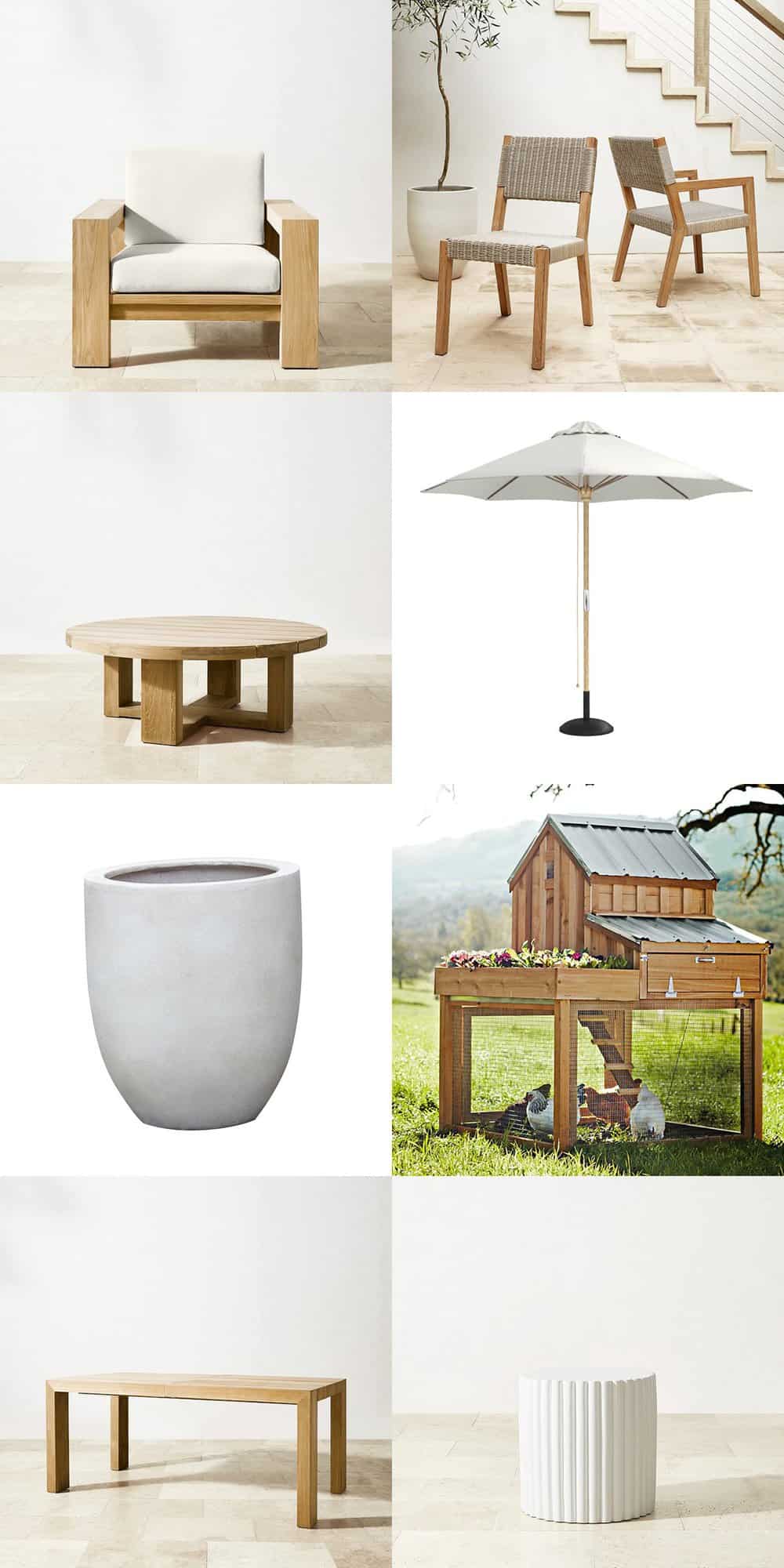 Larnaca Teak Extendable Dining Table
Larnaca Teak x All Weather Weave Dining Side Chair
Larnaca Outdoor Teak Club Chair
Larnaca Outdoor Teak Round Coffee Table
Cedar Chicken Coop & Run with Planter – We plan on getting a few more hens for our coop!
We have been working hard getting the yard finished. The studio we're building is halfway done and then we start on the yard. Can't wait to share the final reveal!