No cooking involved in this wine and cheese party! The easiest menu, that takes very little planning and works for every season. Here are some simple ideas for hosting a wine and cheese party and have your guests feeling happy and full!
A wine and cheese party is a quick and easy party menu that people love! It's one that requires zero cooking and can be a complete meal full of protein, fruit and more!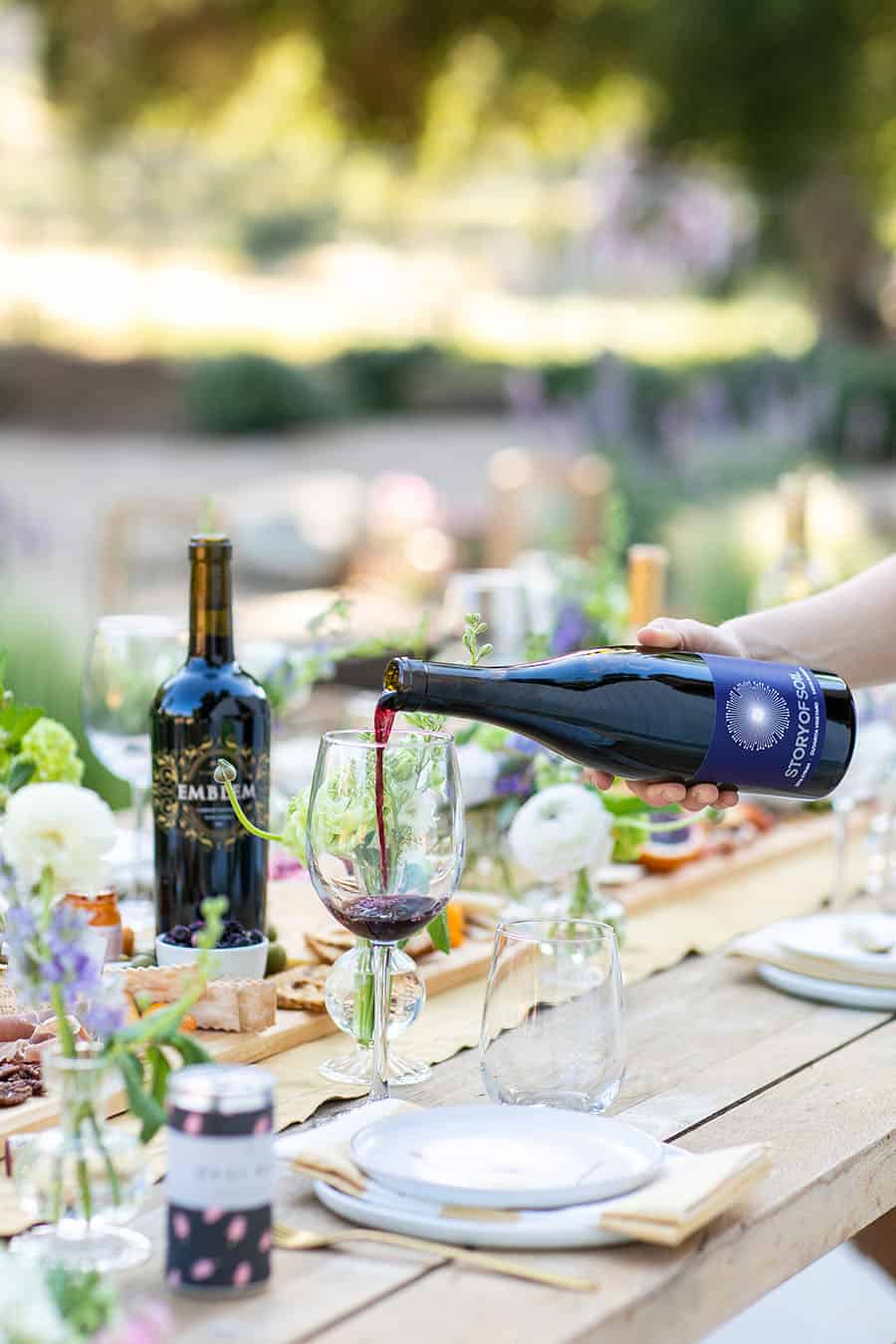 Its as easy and arranging food on a platter and making it look beautiful! I truly love inviting a few friends over to enjoy a light dinner and good wine. Here's my guide to hosting a perfect wine and cheese party!
For even more tips check out our complete guide to making a cheese platter.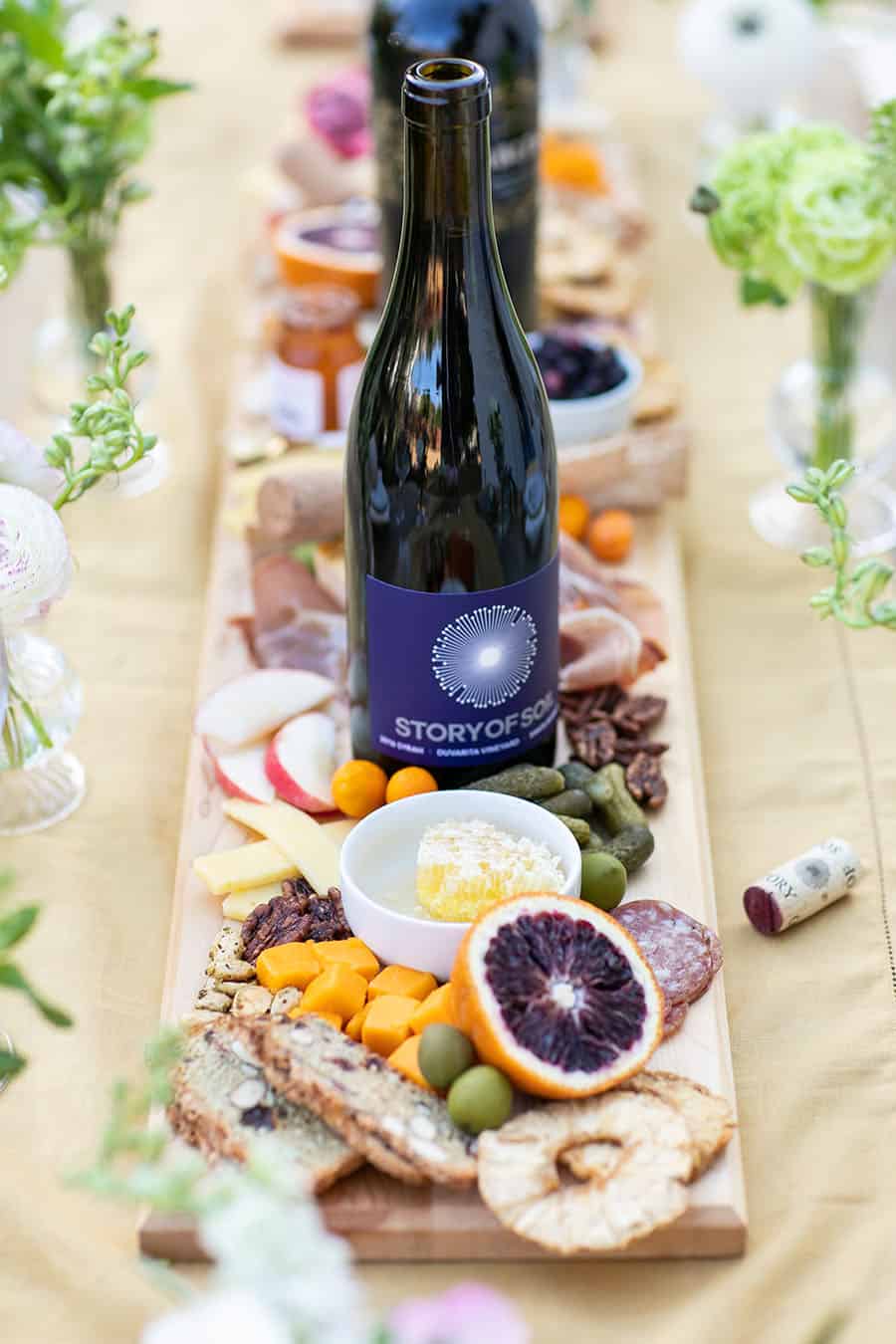 Like wine, it can be intimidating to know what cheese to put on the platter. I shop my local grocery store, preferable Whole Foods or Trader Joes and start with their selection.
If you're lucky enough to have a cheese shop nearby, go there! Buy a variety of cheese for the board that has different textures and are made from different animals.
Try to incorporate a few of the variations below.
Texture: Hard, medium and soft cheese.
Animal: Cow, goat, sheep or a blend.
Shapes: Cut the cheese into different shapes like chunks, triangles, sticks. Give the plate variety.
Locations: Buy cheese from different areas like one from Humboldt County and cheese from Vermont.
Flavors: Some cheese will be coated in herbs, smoked or even have truffle added to it. Choose some unique flavors to add to your board.
Types of Cheese for a Cheese Board
Choose at least 3-4 different varieties of cheese for the platter.
Aged: Gouda, Parmesan, Gruyere, Cheddar, Goat
Crumbly: Goat, Blue Cheese, Feta
Creamy and Soft: Brie, Burrata, Triple Cream, Fresh Mozzarella
Medium to Firm: Jarlsberg, Manchego, Provolone, Cheddar, Sharp Cheddar, Monterey Jack.
Cheese Accompaniments
Since this is the main course of the party, make sure the board is filled with other options other than cheese.
Here's a list of our favorite additions to a cheese platter. Guests love snacking on all these goodies!
Charcuterie: Soppressata, Prosciutto, Cured Salami, Capicola.
Nuts: Marcona Almonds, Candies Walnuts, Roasted Almonds, Pistachios.
Olives: Pitted Kalamata Olives, Black Olives, Castelvetrano Olives. Quick tip, some grocery stores have olive bars which is a great place to get different marinated olives!
Dried Fruit: Dried Blueberries, Dried Cranberries, Dried Pineapples. Freeze Dried fruits like strawberries and raspberries are great too. They even make a pretty powder when crumbled over cheese. Quick tip, you can make this seasonal board with seasonal fruits.
Honey & Jam: Natural honeycomb and little jars of sweet jam are a must for a cheese board!
Pickled Vegetables: Cornichons and any pickled vegetables are a great addition to a cheese platter.
Dips – Light yogurt or cheese dips are great.
Crackers – Choose your favorite crackers.
Sliced Fruit – Use seasonal fruit for the board.
Edible Flowers – Truthfully, guests don't usually stack on edible flowers, but they look stunning on the board so I always add them.
The sweetness of honeycomb with cheese is a wonderful combo. It also looks pretty on the platter. We added it to a small bowl with a spoon, so the honey stays in one area.
Crackers are a must when serving a cheese platter. I really love Rustic Crackers and usually like to serve at least two types of crackers.
Add Seasonal Fruit to the Cheese Platter
Sliced fruit is a great way to add color and sweetness to the cheeseboard. You can also make the board seasonal by adding seasonal fruit.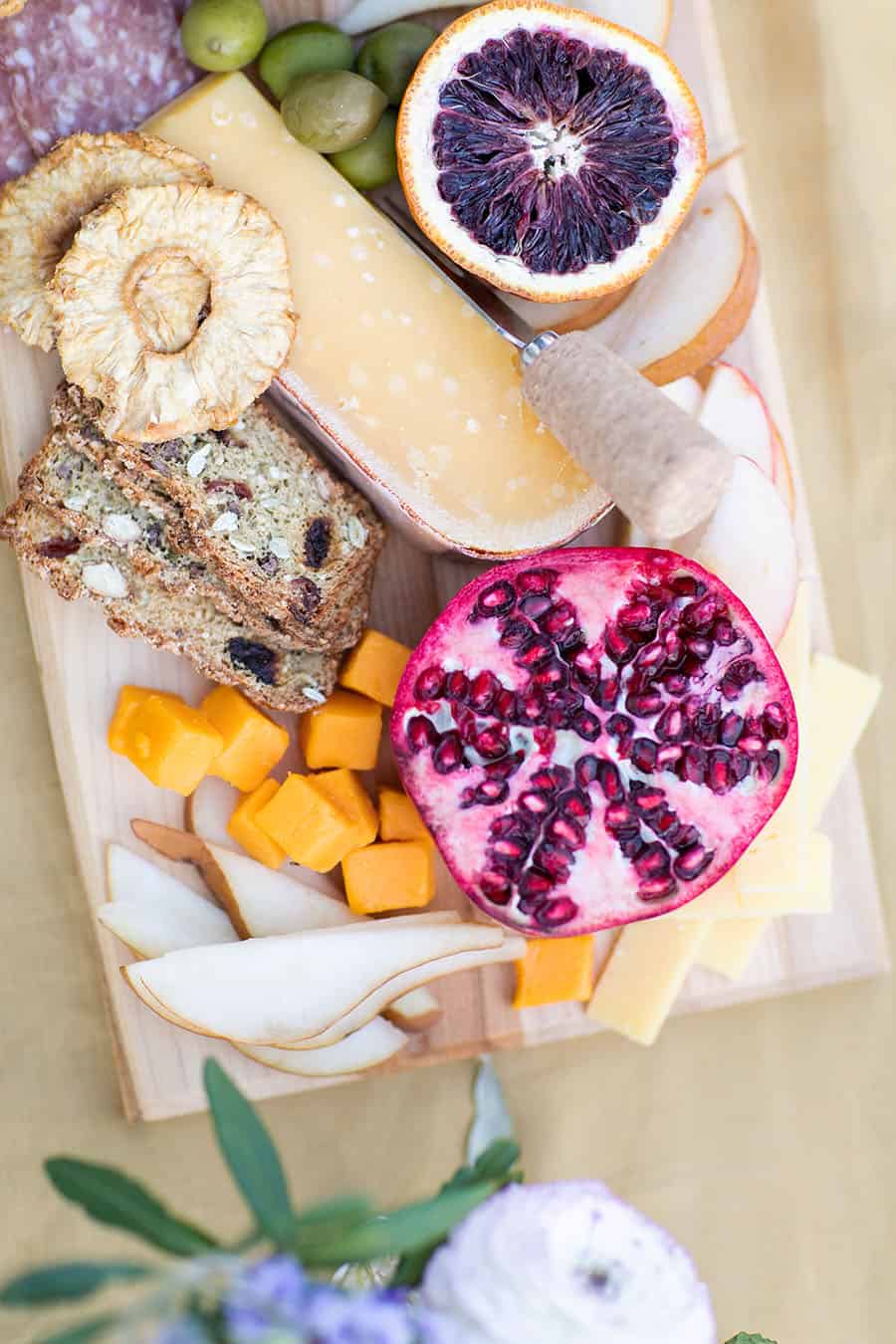 Slicing fruit in half and placing them on the board looks pretty and takes up space if you need to fill an empty area.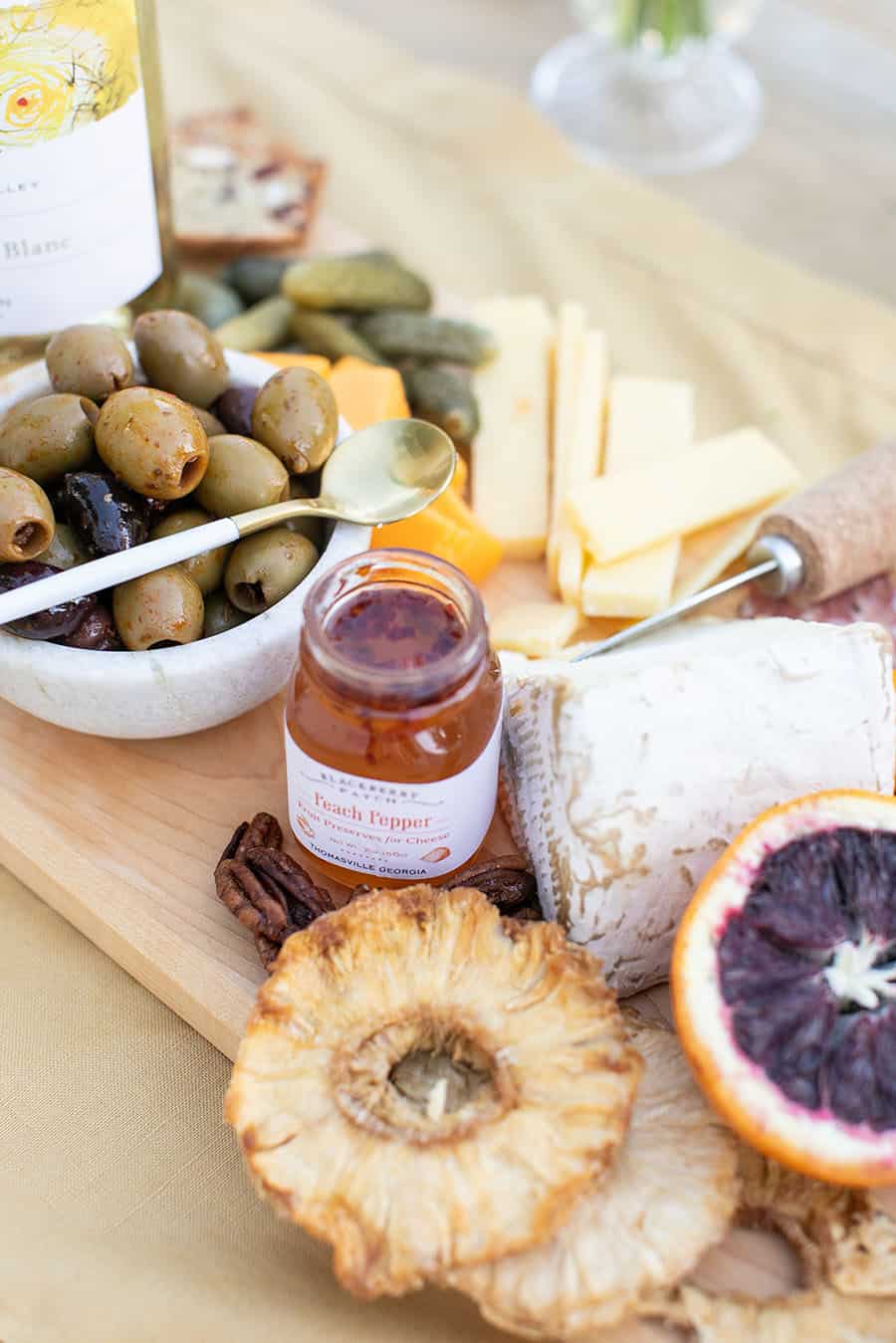 Add charming details to the board, like little jars of peach pepper jelly that's made for cheese.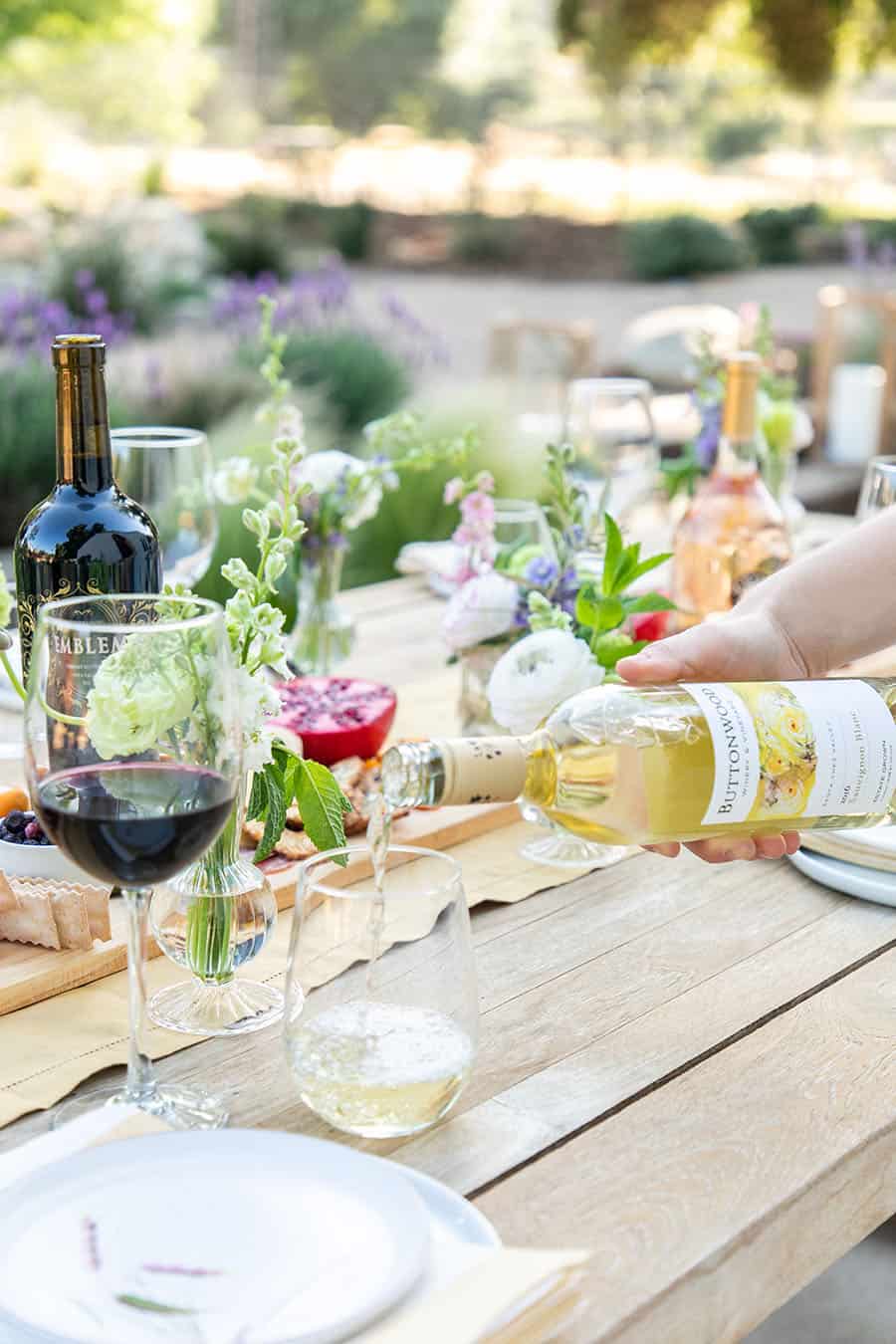 What Wine Do I serve at a Wine and Cheese Party?
It depends on the time of year, but since it's a wine party, you should serve a few different varieties.
For this party, we served red, white and rosé! I placed the wine down the middle of the cheeseboard, almost like a centerpiece!
Give your guests options and the opportunity to test different wines. It's a wine and cheese party after all.
Tips for Serving Wine
We have a very handy guide all about serving wine when entertaining! You can see it here and also download and print it.
Vegan Cheese Options for a Cheese Board
If you have vegan, dairy free or lactose intolerant guests, make a smaller separate board for them to snack on. Here are some good options for vegan cheese:
Kite Hill Cream Cheese Style Spread
Kite Hill Ricotta
Choa Creamery Original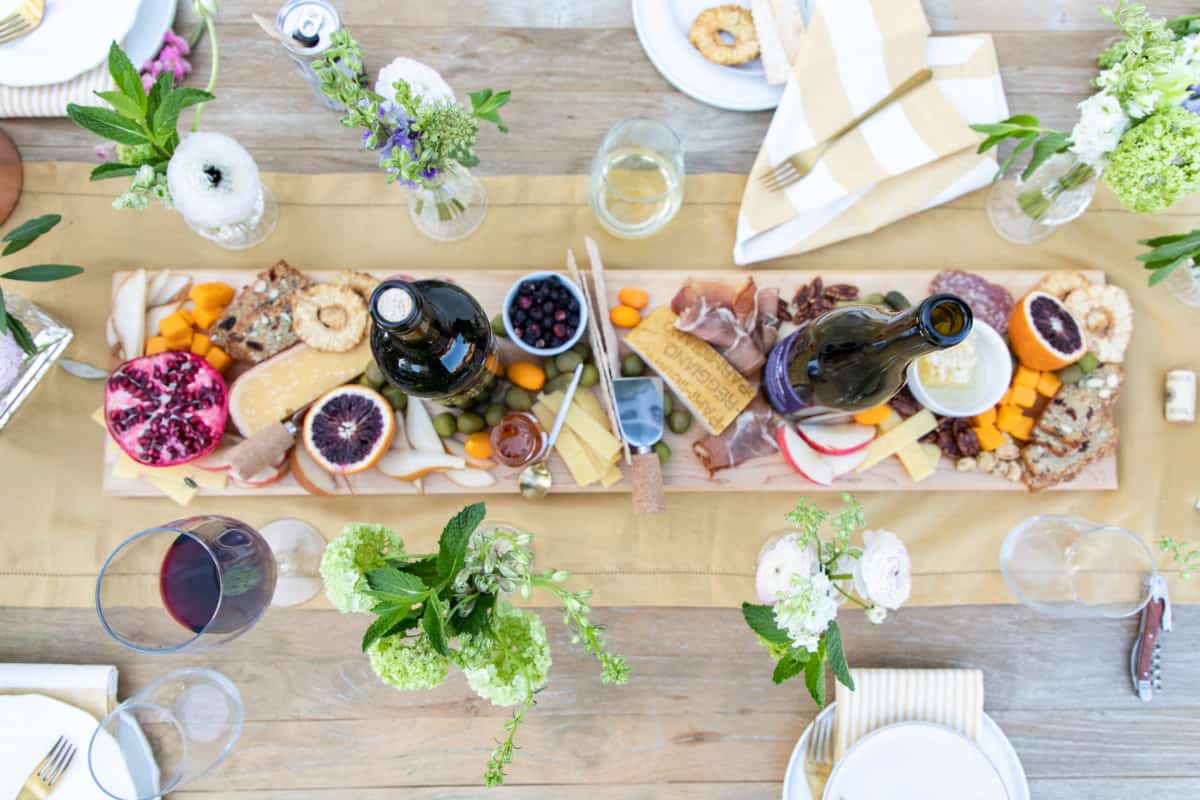 Tips for Building Cheese or Charcuterie Board
First place the cheese around the board in separate areas. These will be the anchors on the board.
Add any small dipping bowls to the board.
Build around the cheese and the bowls. You can color coordinate food which always looks pretty or place small piles in different areas.
Shopping for a Wine and Cheese Party
Wine Opener
Cheese Board – I love these long maple boards that go down the center of a table.
Cheese Knives – Found these cork ones and thought they were perfect for a wine and cheese party!
Napkins – Adore these striped napkins.
Small Plates – Any small plates work!
Wine Glasses – Two glasses per person will work for a wine party. That way they can taste all the reds and whites at the same time.
Flowers – Pick garden flowers or buy grocery store flowers and add to little vases to place around the table.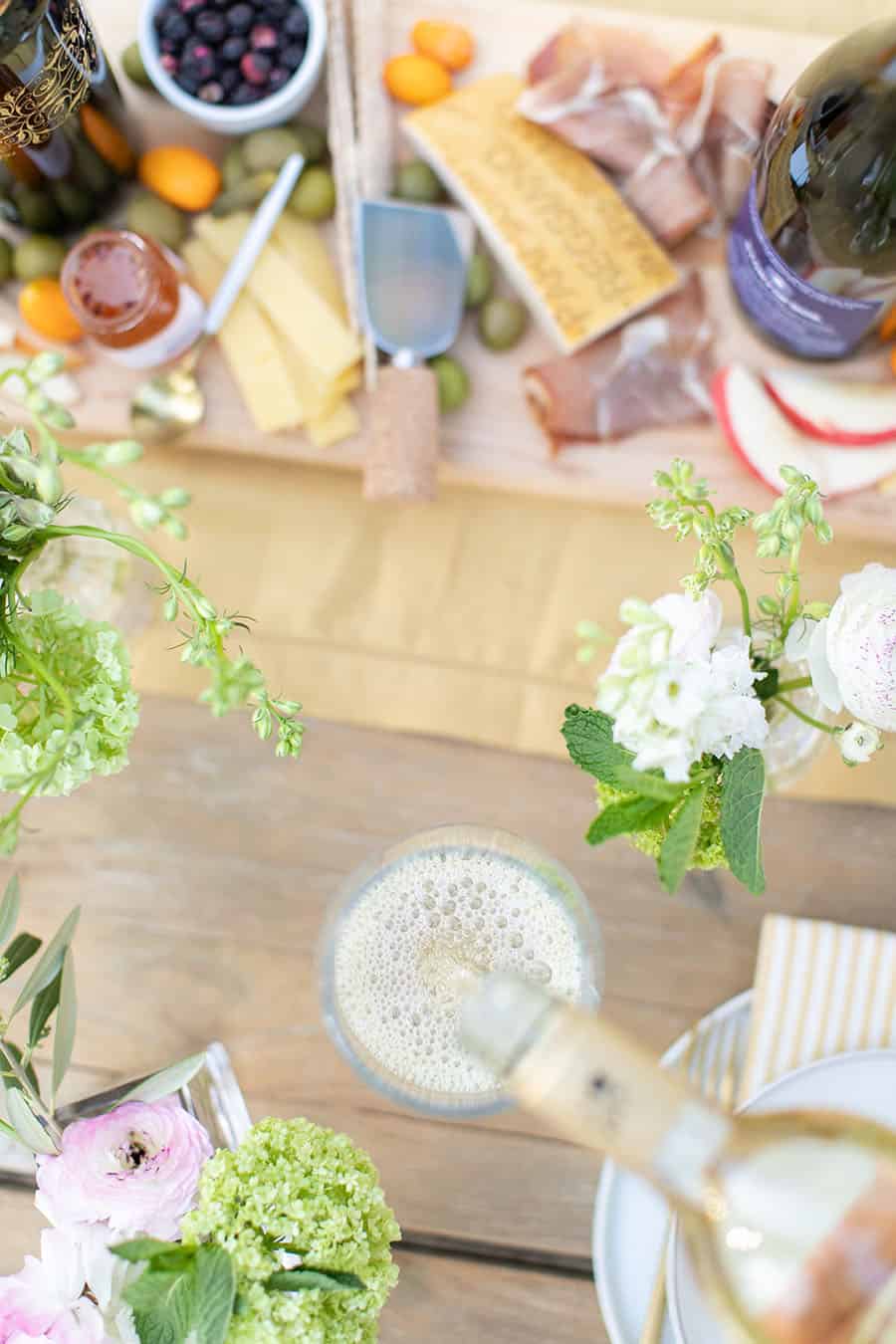 You can also make a delicious sangria for your wine and cheese party! Here are some of our favorite recipes: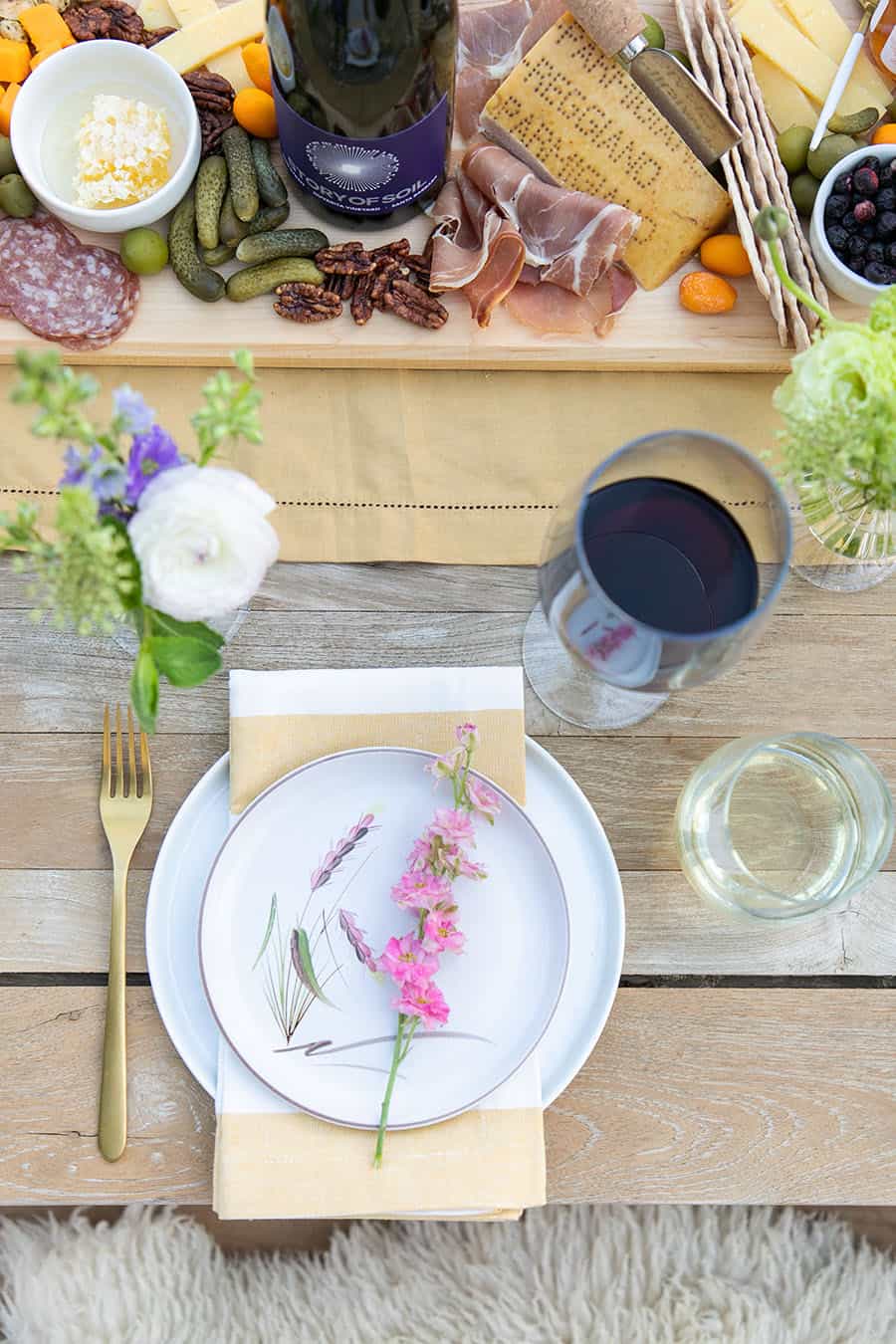 More Cheese Parties!
We hope you host a wine and cheese party soon! Tag us on social @sugarandcharm and show us your party!