Sometimes you don't need a 10-course meal to put on a great night of delicious food and great chat! Read on for some great fall party ideas with an awesome charcuterie party platter!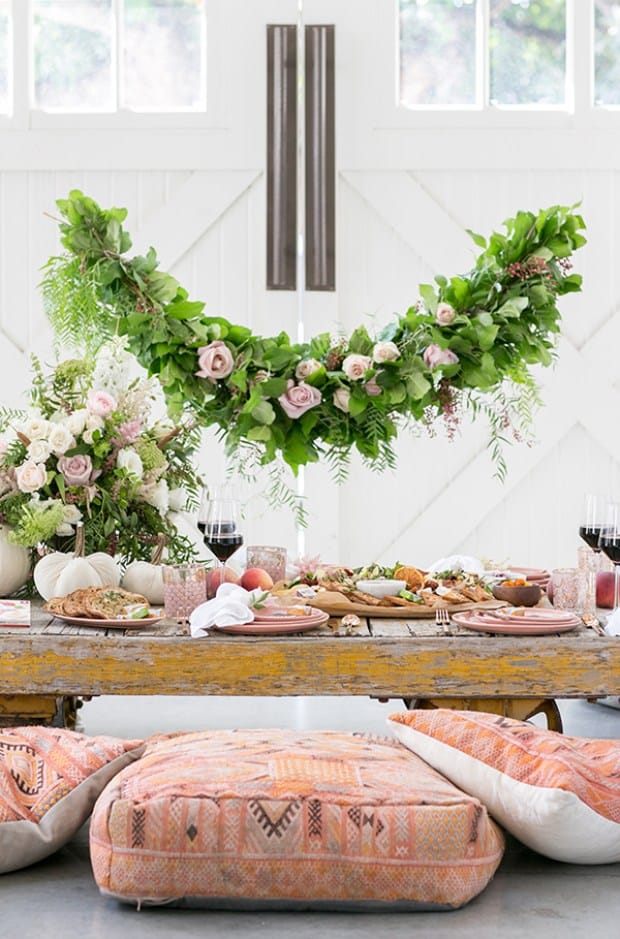 Entertaining doesn't have to be a multi-course, home-cooked, or catered meal! We would never discount the hard work and flavors of a made-from-scratch meal, but sometimes busy lives call for effortless entertaining!
A beautiful presentation, good company, wine (or cocktails!), engaging conversation, and a cozy atmosphere are exactly what we look for when entertaining.
Give me a few of these things and a giant board of charcuterie, cheese, olives, and a little dessert, and I'll be a VERY happily satisfied guest. But no skimping on the cheese!!
Follow these steps below, and you'll be on your way to an effortless fall charcuterie party your guests will LOVE!
It's so simple it is to host a fall charcuterie party like this! We teamed up with Alouette to give you a few tips on how to throw a charming dinner party without too much effort!
Le Petite Fromage is little individually-wrapped cheeses that come in delicious flavors like Cucumber & Dill, Parmesan & Basil, Garden Salsa, and Garlic & Herb.
They're super easy to spread on toasted crostini and, of course, effortless to serve! You can add them to your charcuterie board or place setting.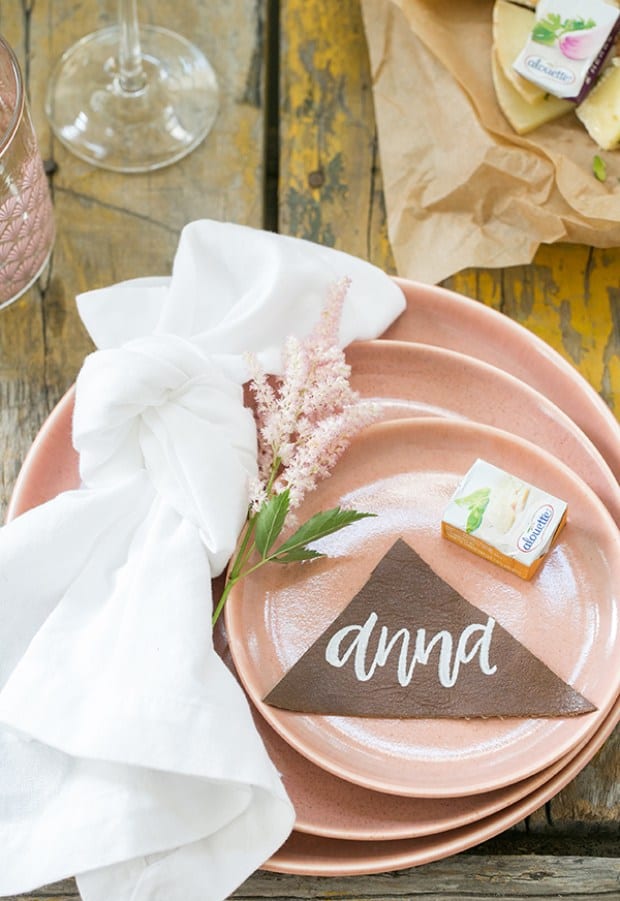 How to Host a Fall Party with Charcuterie Party Platter – Step By Step
1 — Opt for a low table for a cozy atmosphere.
2 — Lay the table settings out in a more formal way, and this is so impactful and pretty!
3 — Decorate the table with a few flower arrangements.
4 — Allow for at least 5 ounces of meat, plenty of bread, and crudites!
5 — Don't skimp on the cheese!
6 — Pair with some good wine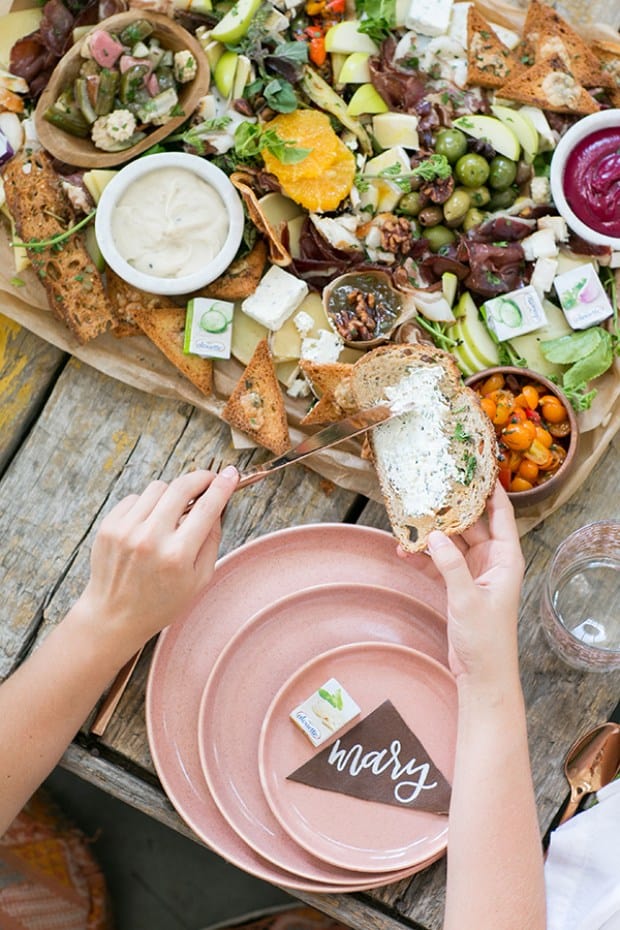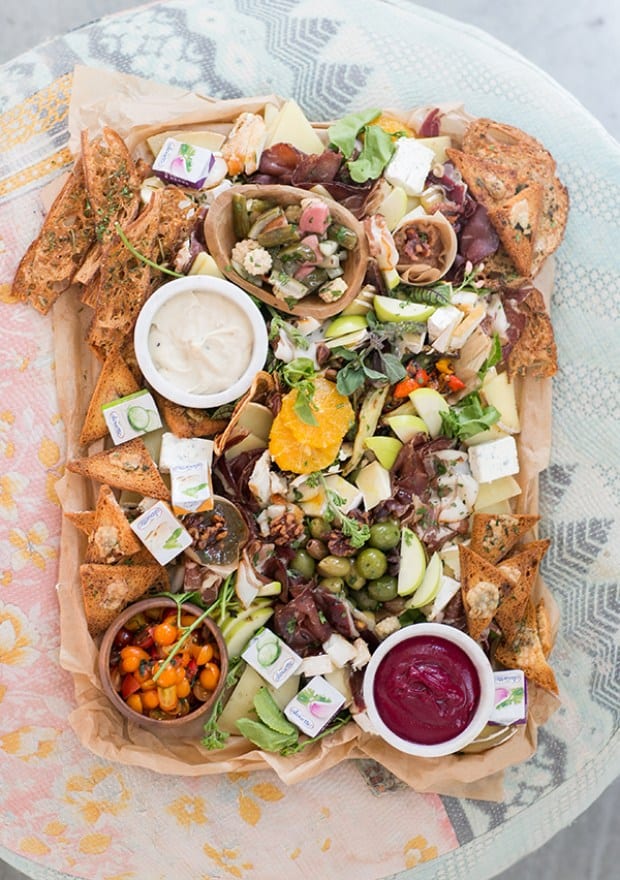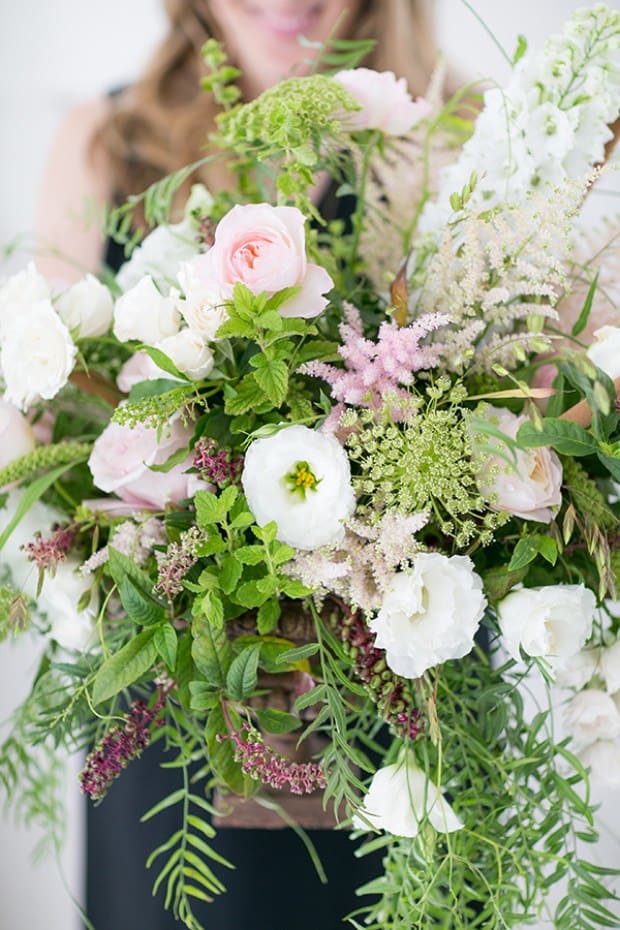 Meats For Your Charcuterie Party Platter
Since it's the main meal at your party, you'll need at least 5 ounces of meat per person and plenty of toasted bread, cheese, dips, and olives to go with it.
Buy a nice mix of meats like dry-cured salami, decadent prosciutto, and smoky sausage.
Also, speck, coppa, and soppressata are great choices, too, if you want to get a bit fancy on the palate.
Cheese For Your Charcuterie Party Platter
Then, add in the cheese! Alouette's Le Petite Fromage is fun to serve and provides delicious, premium flavor options. My favorite flavor is the Garlic & Herb because it's the perfect flavor combination, and I love garlic!!  
It's great to pair these with various hard/aged and soft slices of cheese to give your guests a nice selection!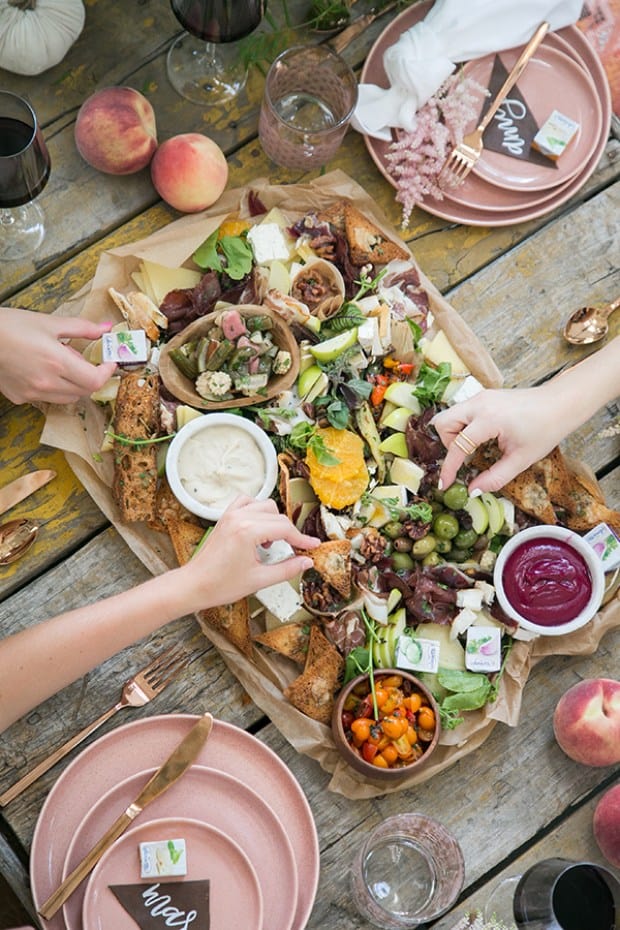 Drinks to Go with Your Charcuterie Party Platter
Serve some red wine and a delicious fall cocktail too. We love this yummy Apple Pie Sangria or popular Apple Cider Moscow Mule.
Go Low!
A low table (you can literally make one!) and lots of throw pillows always make for a cozy and relaxed atmosphere. Throw a few rugs down for extra comfort too.
Table Setting
Set the table to keep it a little more formal…. I like doing that because there's nothing like a pretty table setting! Let the charcuterie and cheese be the center of the table!
Add fresh flowers too! The easiest and prettiest party decor!
Then just snack, drink, and cheers away!
Top Tips For This Fall Party with Charcuterie Board
— Opt for a low table for a cozier atmosphere!
— Go for more formal place settings. It looks great!
— Add a pop of color with some flower arrangements.
— As a rule, go for at least 5 ounces of meats and choose a good mix.
Check Out These Other Charming Party Ideas
The Ultimate Fall Fondue Party
How To Host A Wine and Cheese Party
A Charming Barnyard Birthday Party
4 Tips For Hosting A Pumpkin Carving Party by Kitchn
20 Fall Dinner Party Menu Ideas by Country Living
If you have tried this Charcuterie or any other ideas on Sugar and Charm, then please rate it and let me know how it turned out in the comments below! 
You can also FOLLOW ME on FACEBOOK, INSTAGRAM, and PINTEREST to see more delicious recipes, cocktails, desserts, and party ideas!
Thanks, Alouette Le Petite Fromage, for partnering with us to create this charming fall charcuterie party!