Charming Ideas for Christmas table decorations and how to set a festive table setting for your holiday party!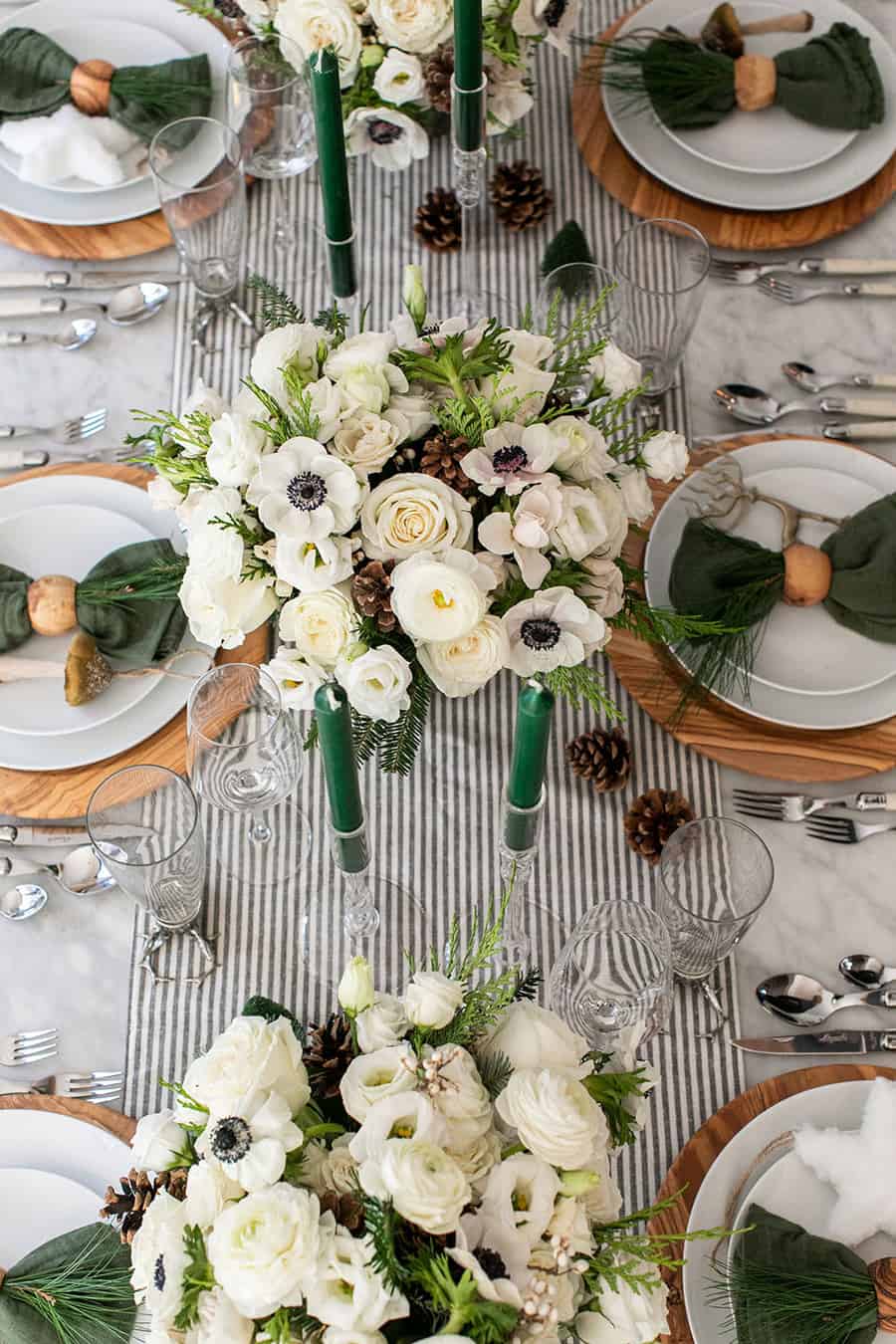 Setting the table for Christmas dinner with decorations and charming touches is one of the ways I add cheer to my home for the holidays. From plates to flatware, everything that is placed on the table is a decoration! I wanted to show you how my holiday tables come to life so you can create your own.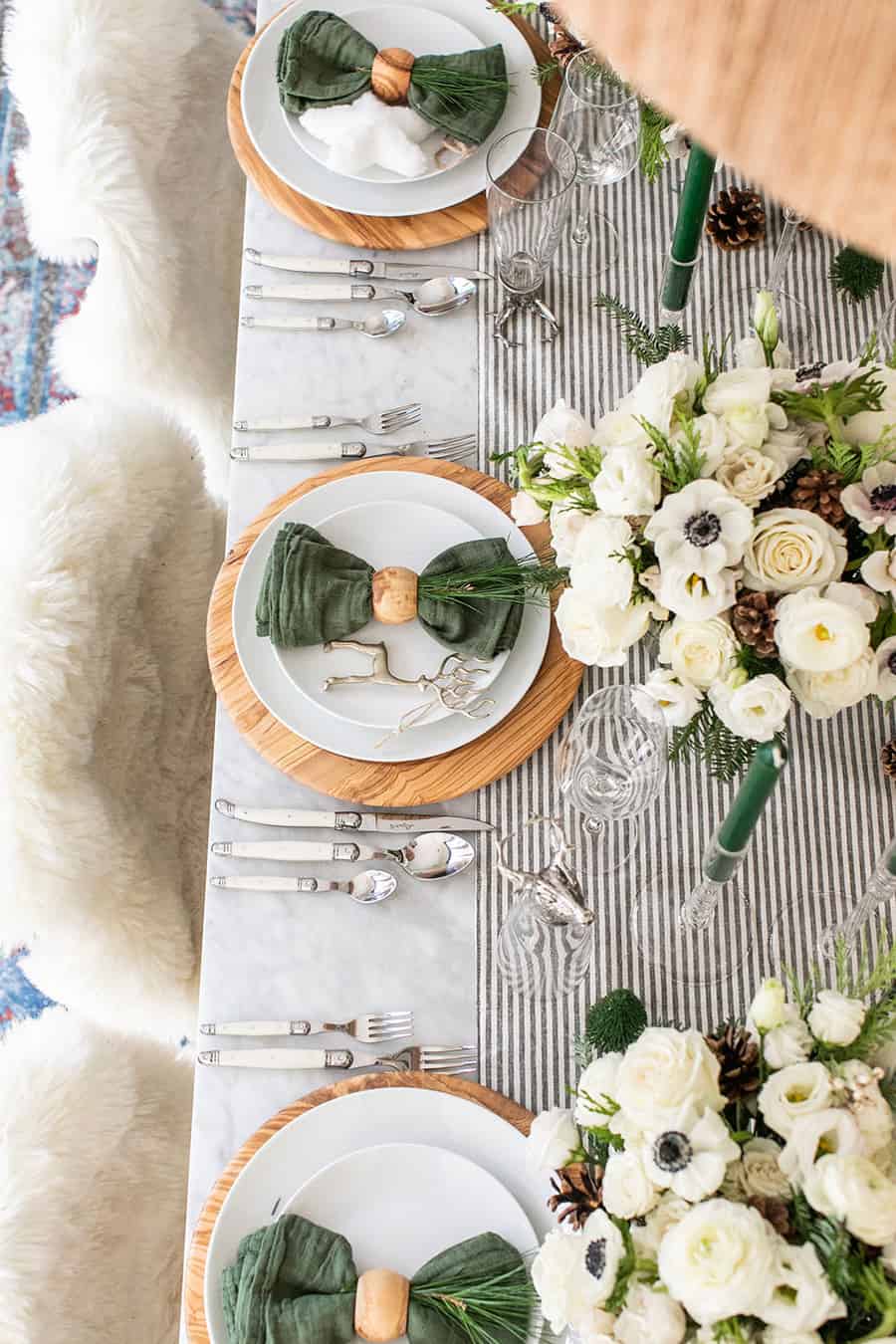 This year, we decorated the Christmas table with a modern, woodsy-themed to go with our Tennessee cabin. First, I always start with a theme for the holiday table setting, which usually goes with the overall holiday decor. It can be modern, woodsy, a color theme, or a pattern.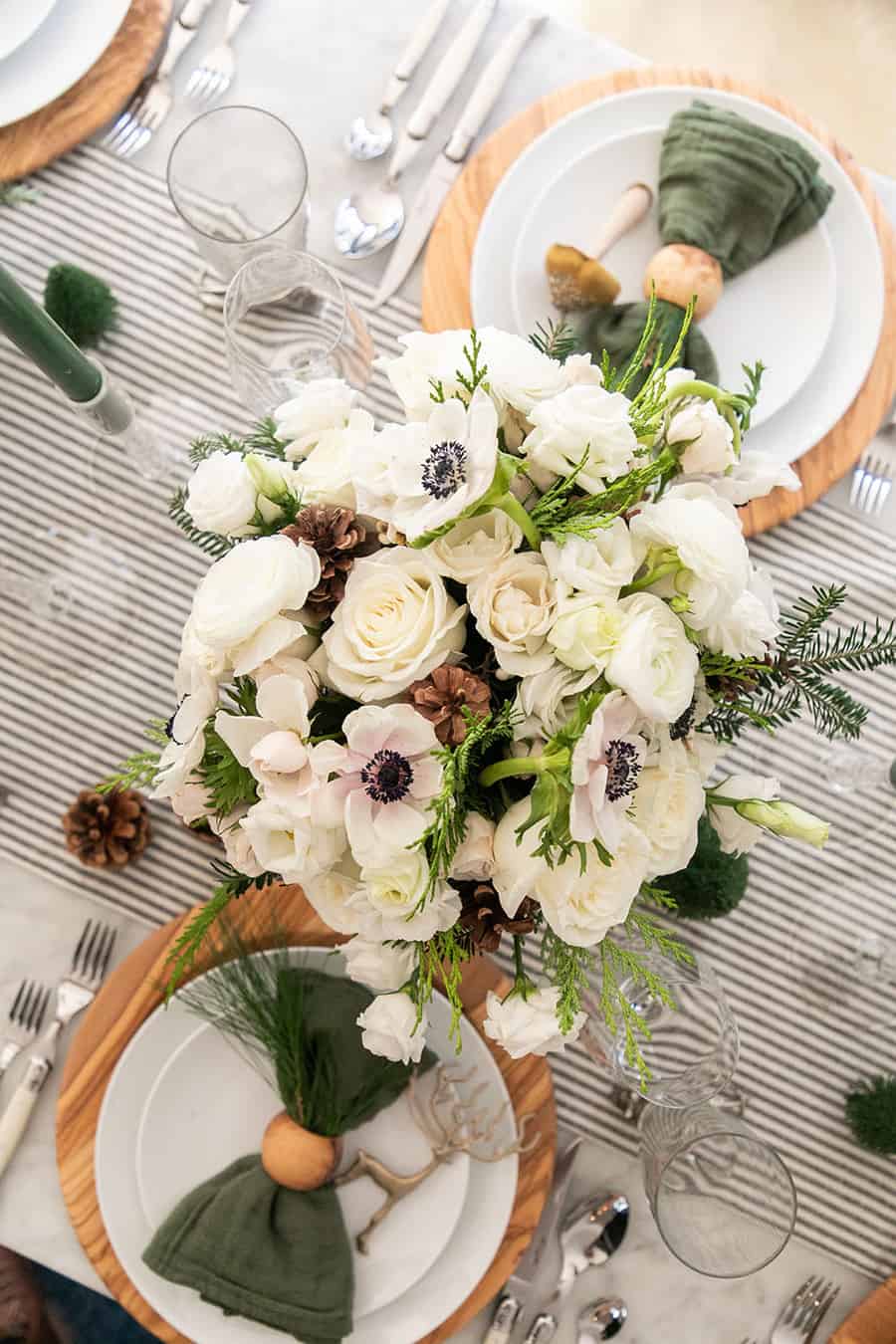 Once the theme is chosen, it's time to start decorating! Pick a few colors to go with the theme, then start shopping! There are a few stores I LOVE for Christmas table decorations, Williams Sonoma is my favorite of them. Most of the items on this table are from there and they're all linked below.
Christmas Table Decorations
Christmas table decorations detailed throughout a table setting. From the flatware to flowers to charming touches like bottle brush trees all of these items work together to decorate a table setting.
A good idea is to create a private Pinterest board for your table setting. Pin napkins, flowers, and items from shops and inspiration. You'll start to see a pattern for your table.
Here is a list of items that you can add to your table that can be used as decor: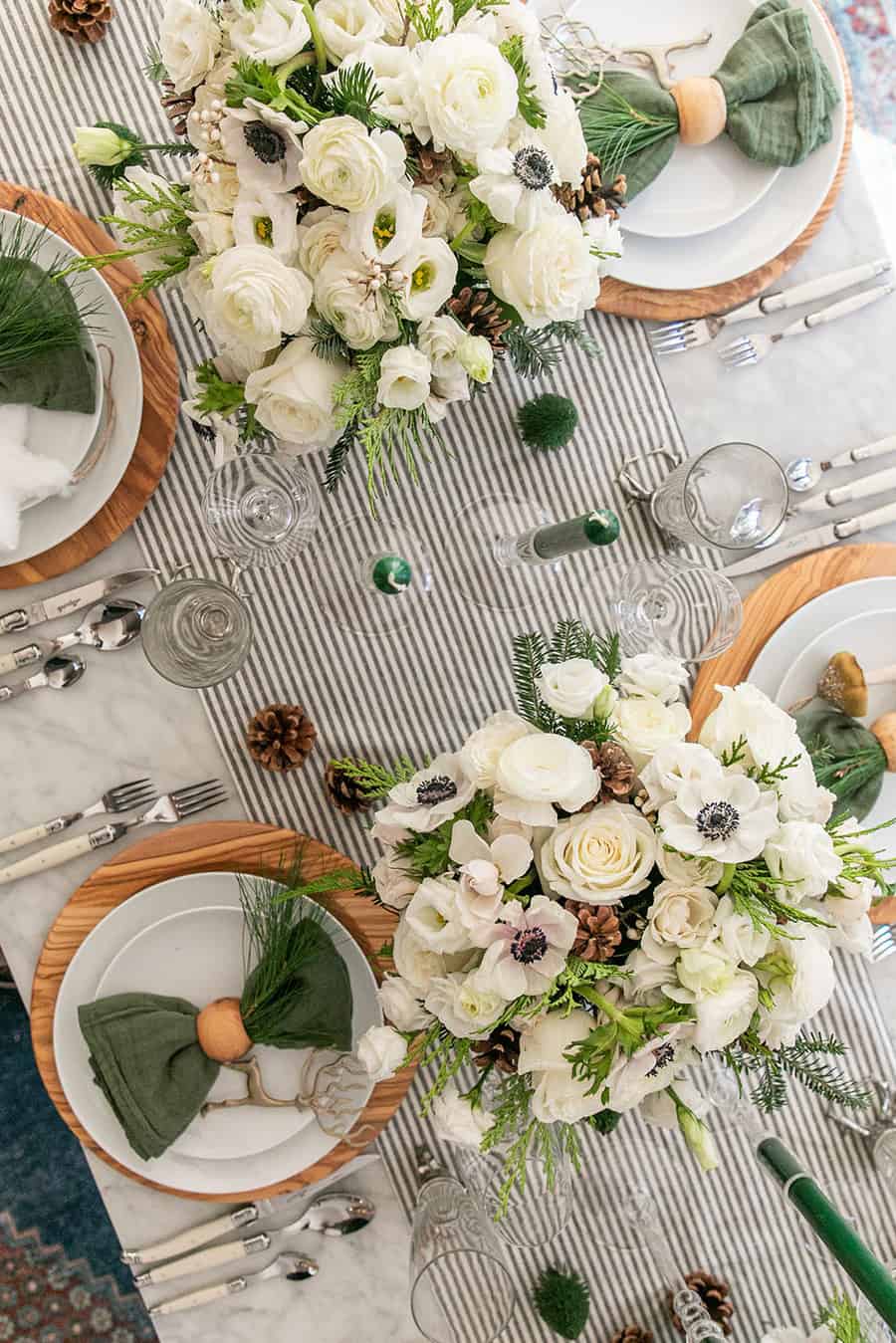 Napkin Rings
Chargers
Unique Flatware
Flowers
Garland
Candles
Ornaments
Decorative Napkins
Bottle Brush Trees
Seating Place Card Holders
Table Runner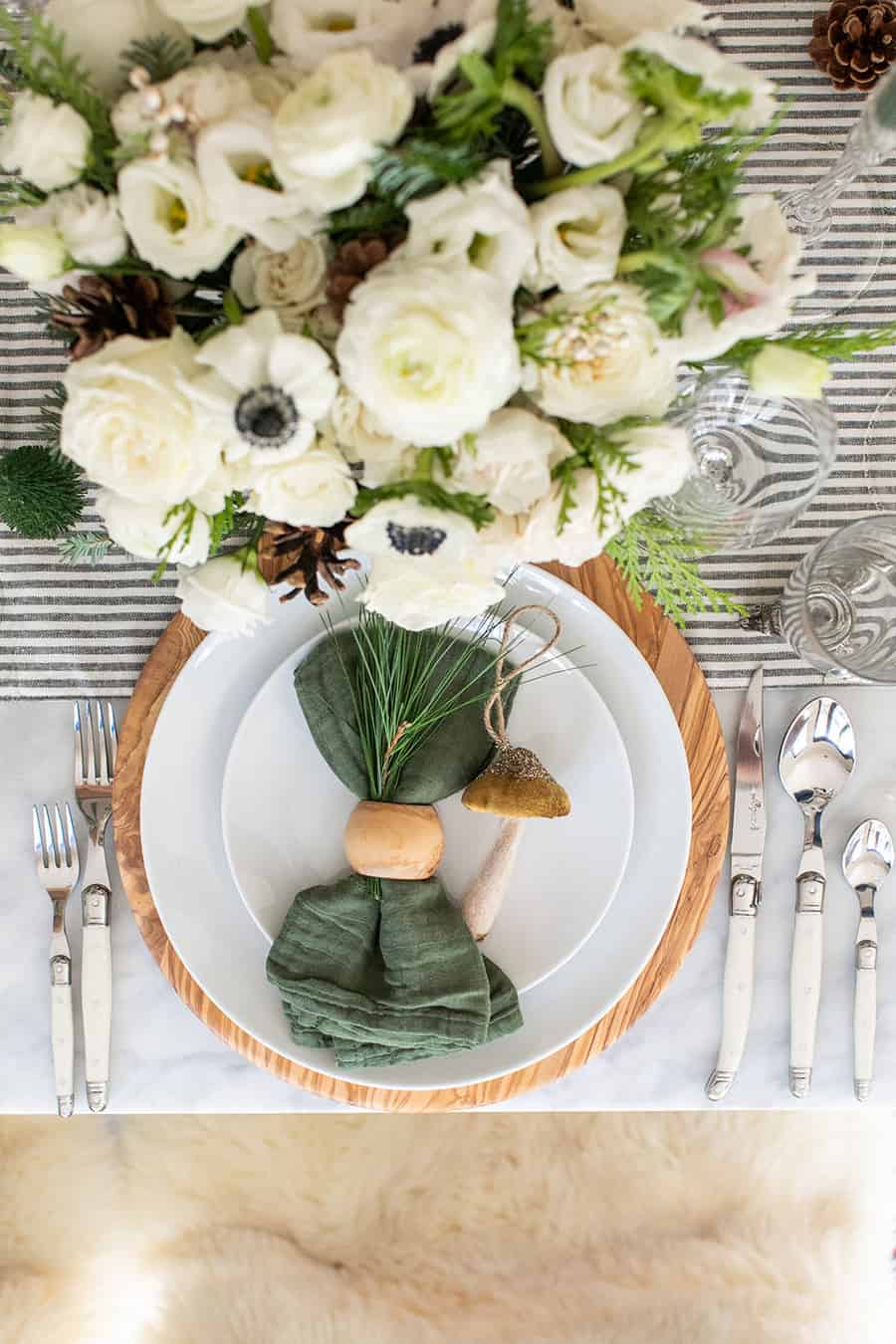 Christmas Flowers
Flowers are another decorative item to place on a table setting. They are called centerpieces and can be as simple or as elaborate as you want!
Lining small vases down the center, filled with greens is one way to create a centerpiece. You can also add a fresh garland down the center of the table or create beautiful flower arrangements down the middle.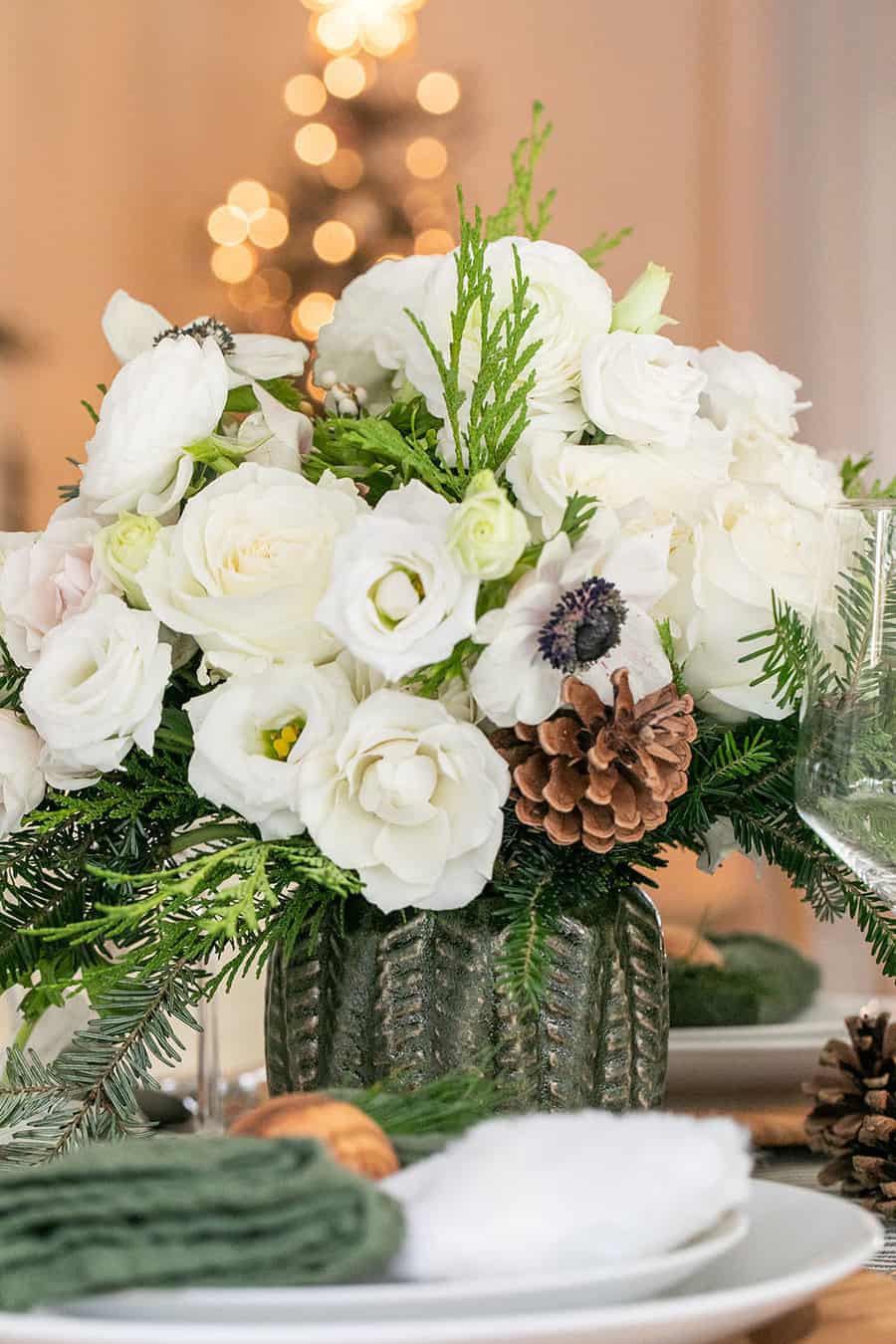 How to Set a Christmas Table
Setting the table properly is important for a festive Christmas table. Check out our complete guide on a few different ways to set a table. It's very informative and you'll learn a few things!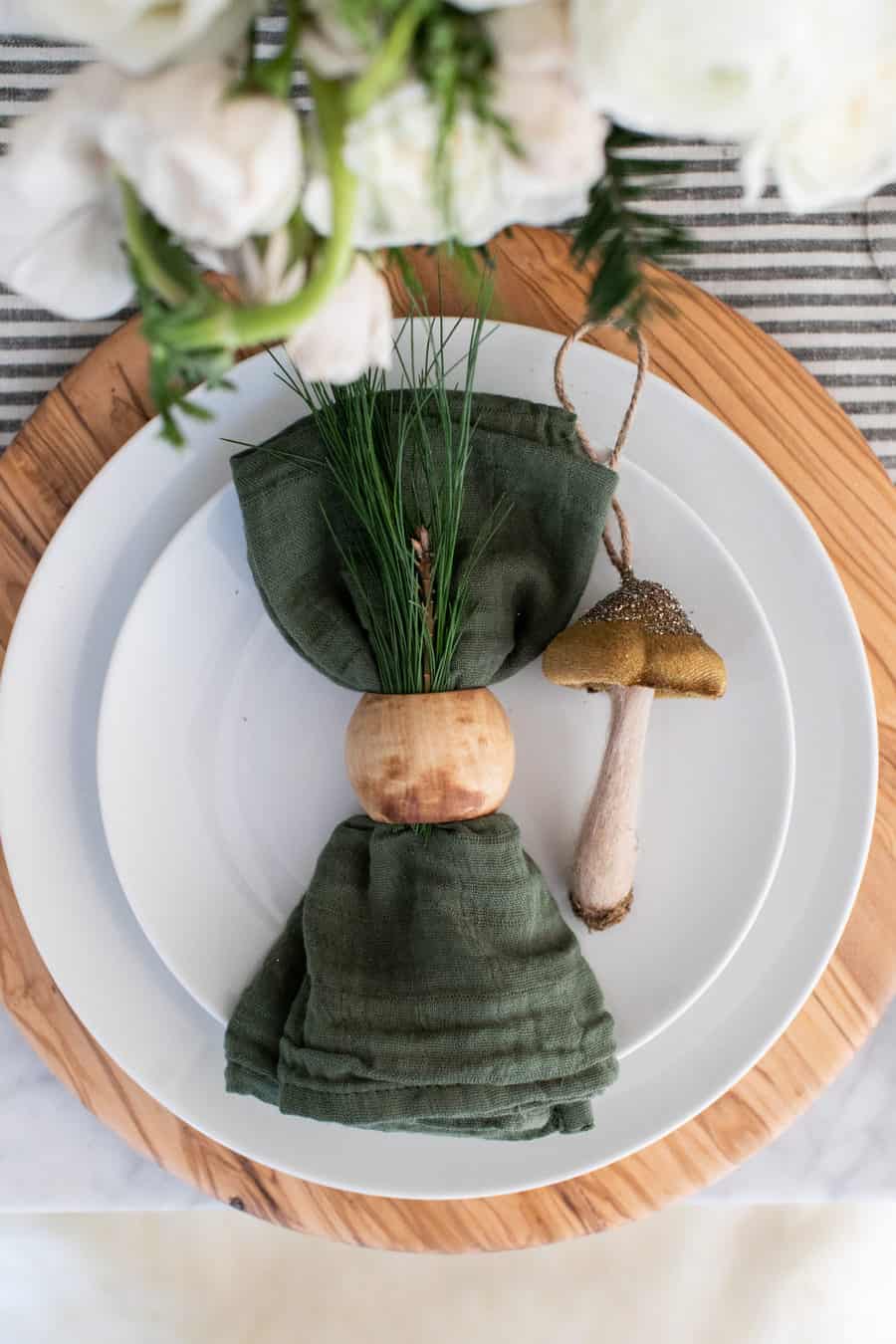 Charming Touches
Once the table is set, add the charming touches. This can be placing sprigs of fresh greens in the napkin rings or pinecones on the table.
One idea is to gift a charming ornament to each guest and set it on their place setting. Or wrap a tiny present and place it on each setting.
Bottlebrush trees make great Christmas table decorations. Vintage bells, small Santa Clause trinkets. All of these items are fun touches you can add.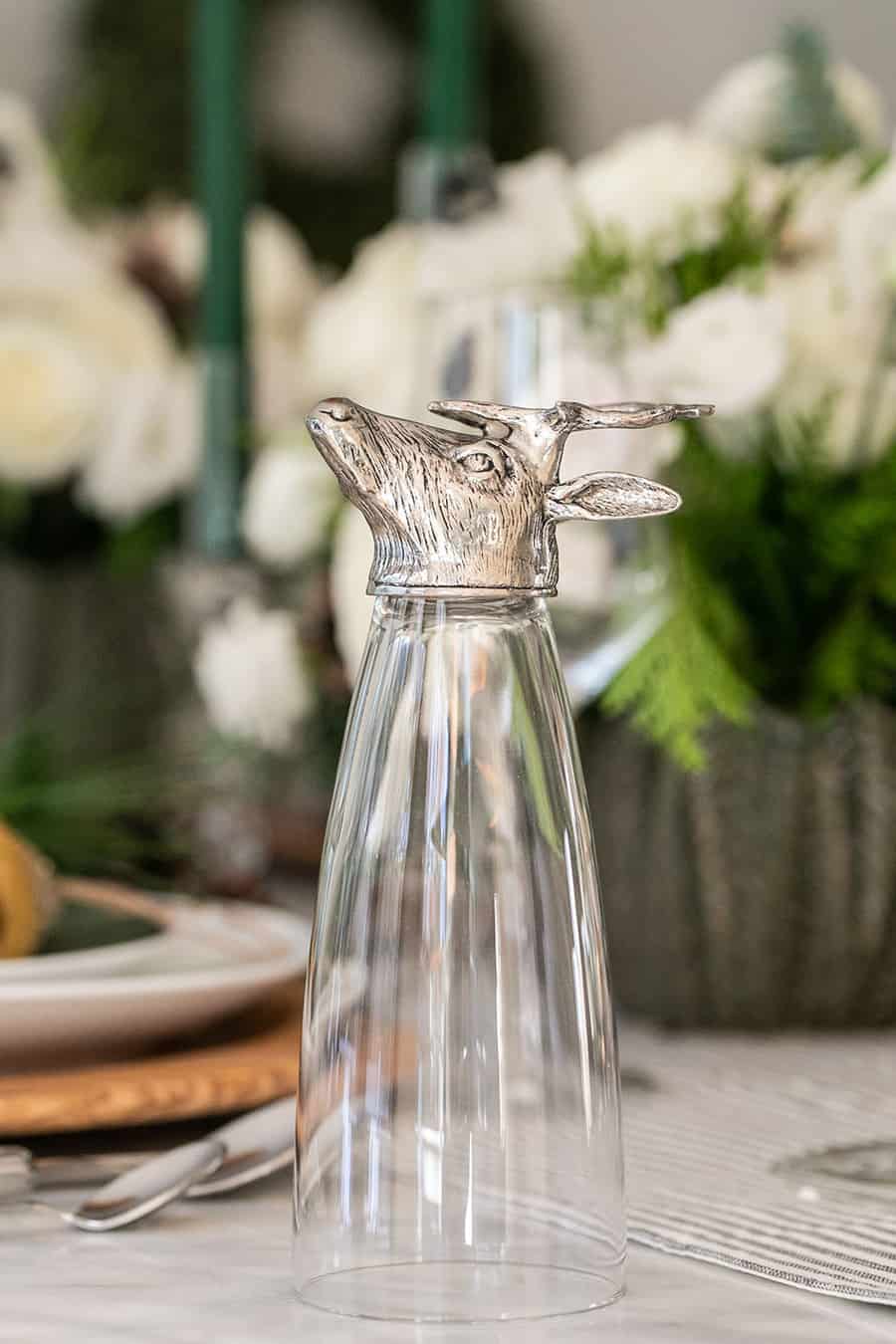 Charming touches can also be fun glassware or flatware. We used these amazing antler glasses which give so much character to the table setting. Once I laid eyes on these, I had to have them! I couldn't have found a more perfect glass for my woodsy Christmas table!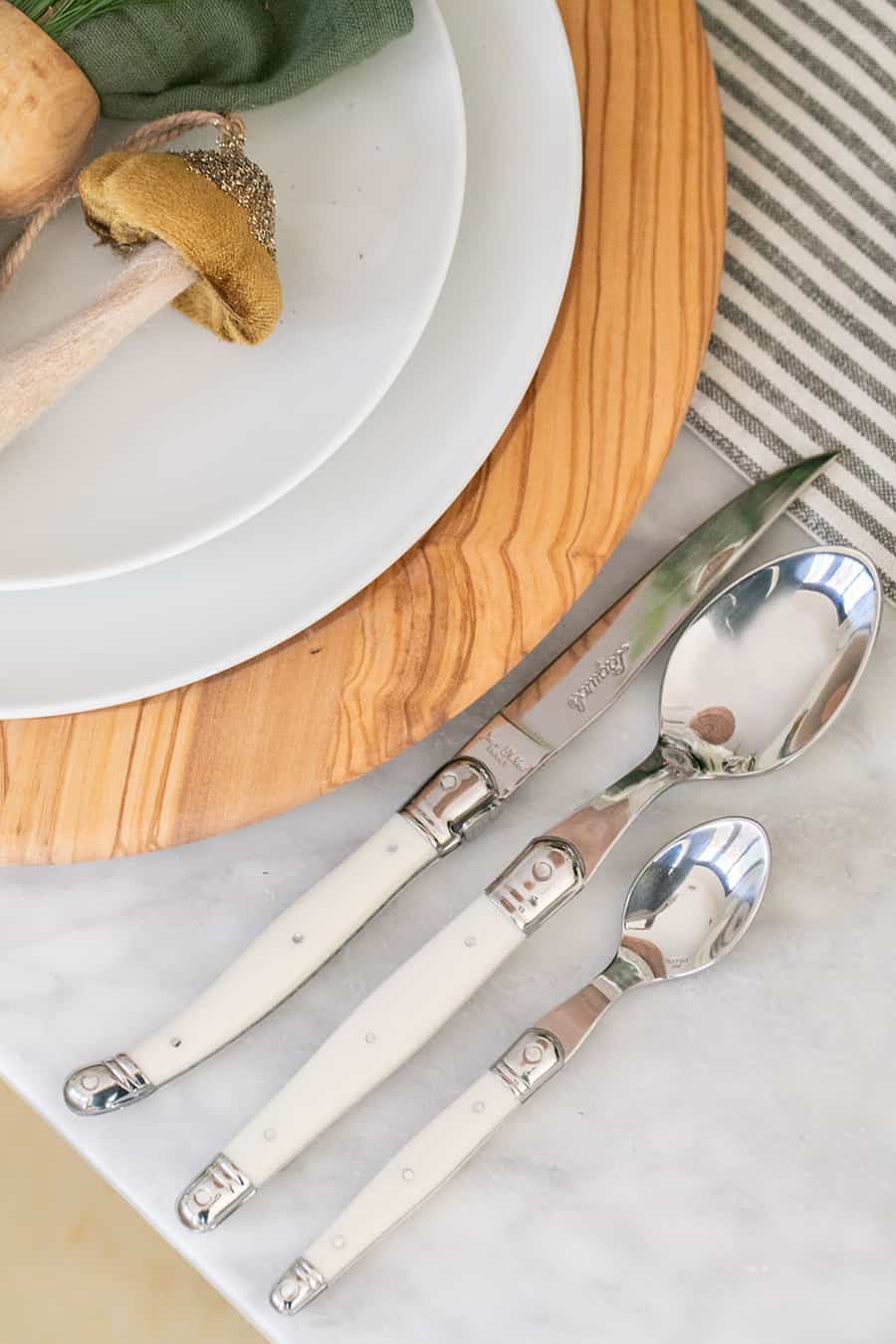 Another one of my favorite items on this table is the Jean Dubost Laguiole Flatware Set. This set is made in the French countryside by the Dubost family who has been creating cutlery for four generations. The design of this flatware was inspired by a shepherd's tool first manufactured in the village of Laguiole in the 19th century. It is absolutely stunning and has so much charm and I can't wait to use this for years to come.
Everything on the table is an important element and all work together to make the most beautiful presentation.
Christmas Table Shopping Guide
Classic White Dinner Plates – Always good to have classic white plates on hand that go with everything.
Olive Wood Chargers – A charger is a decorative item that goes underneath the dinner plate.
Jean Dubost Laguiole Flatware Set – Absolutely LOVE this flatware. It's so beautiful and works well with a woodsy or a ranch themed table setting.
Deer Goblets – These not only fit the theme of the table setting but add the most beautiful decorative item!
Borosilicate Clear Taper Holders – Placed 8 of these (4 tall and 4 short) down the
Wine Glasses – Classic red wine glasses are a must to have on hand.
Cotton Crinkle Napkins – These are super soft, easy to clean and give the table a comfy, more casual feeling.
Striped Linen Table Runner – A runner adds another element of texture, pattern, and color to the table.
Woodsy Ornaments
Olive Wood Napkin Rings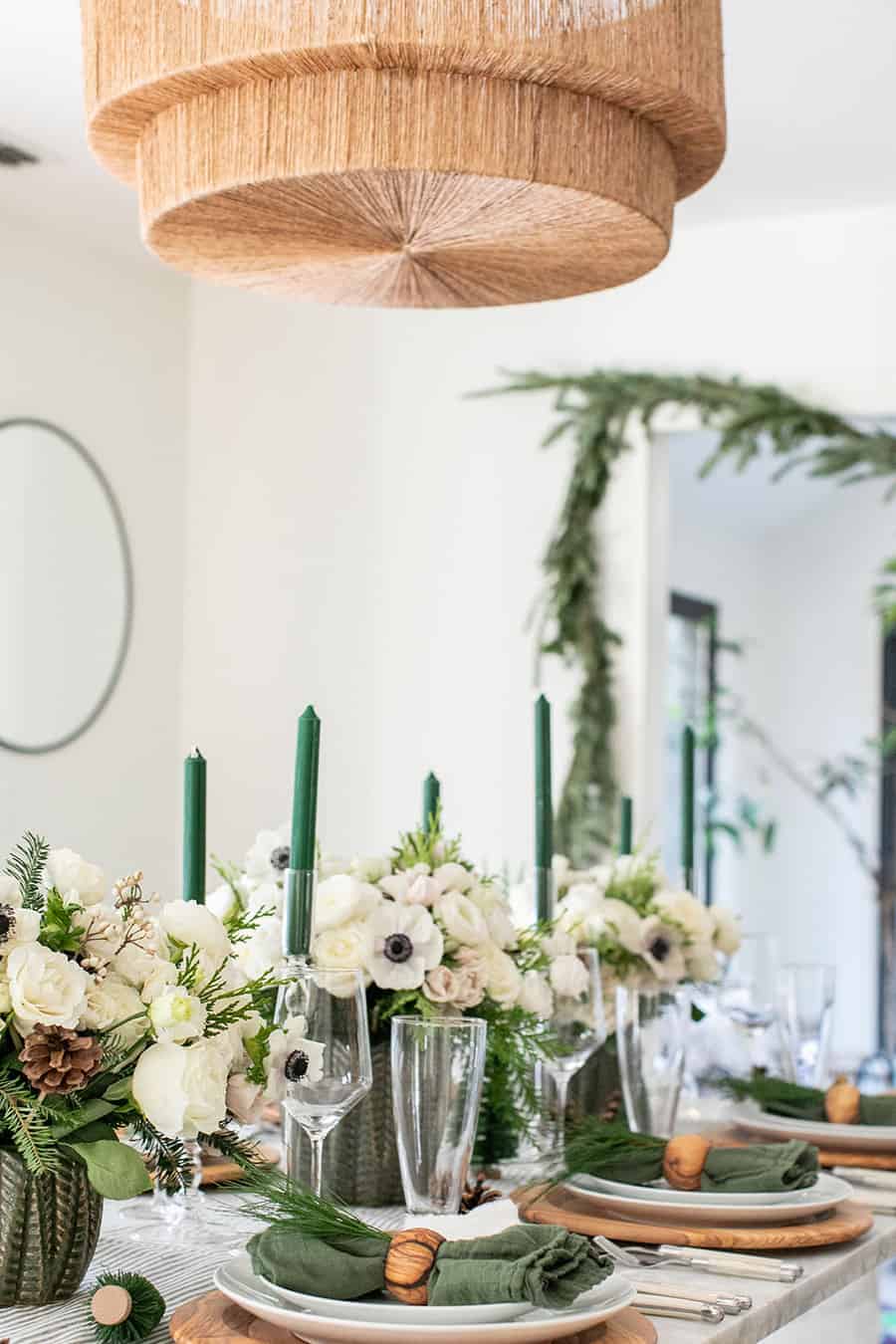 More Christmas Ideas You'll Love
How to Put Together a Charming Christmas Brunch
Beautiful Christmas Table Settings
How to Host a Wonderful Christmas Eve Dinner
Host a Charming Wreath Making Party
A Guide to Christmas Decorations and Holiday Decor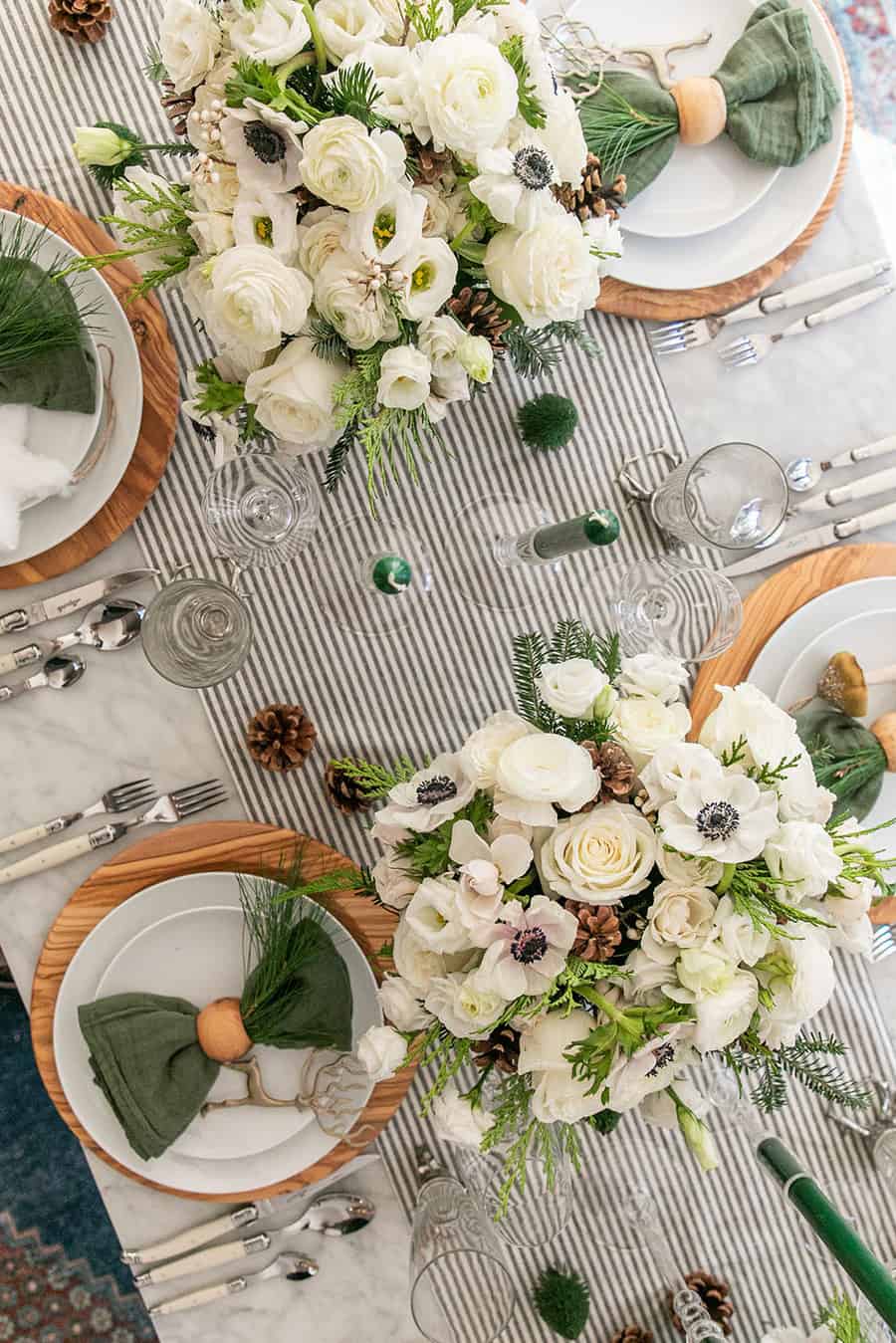 Of course, candles add the most intimate setting for a dinner table. For this table, I added 8 tall tapered candles and when they were all lit, it looked so beautiful!
I hope you're inspired to set your own beautiful Christmas table setting this year!
You can also FOLLOW US on FACEBOOK, INSTAGRAM, and PINTEREST to see more delicious recipes, cocktails, desserts, and parties!