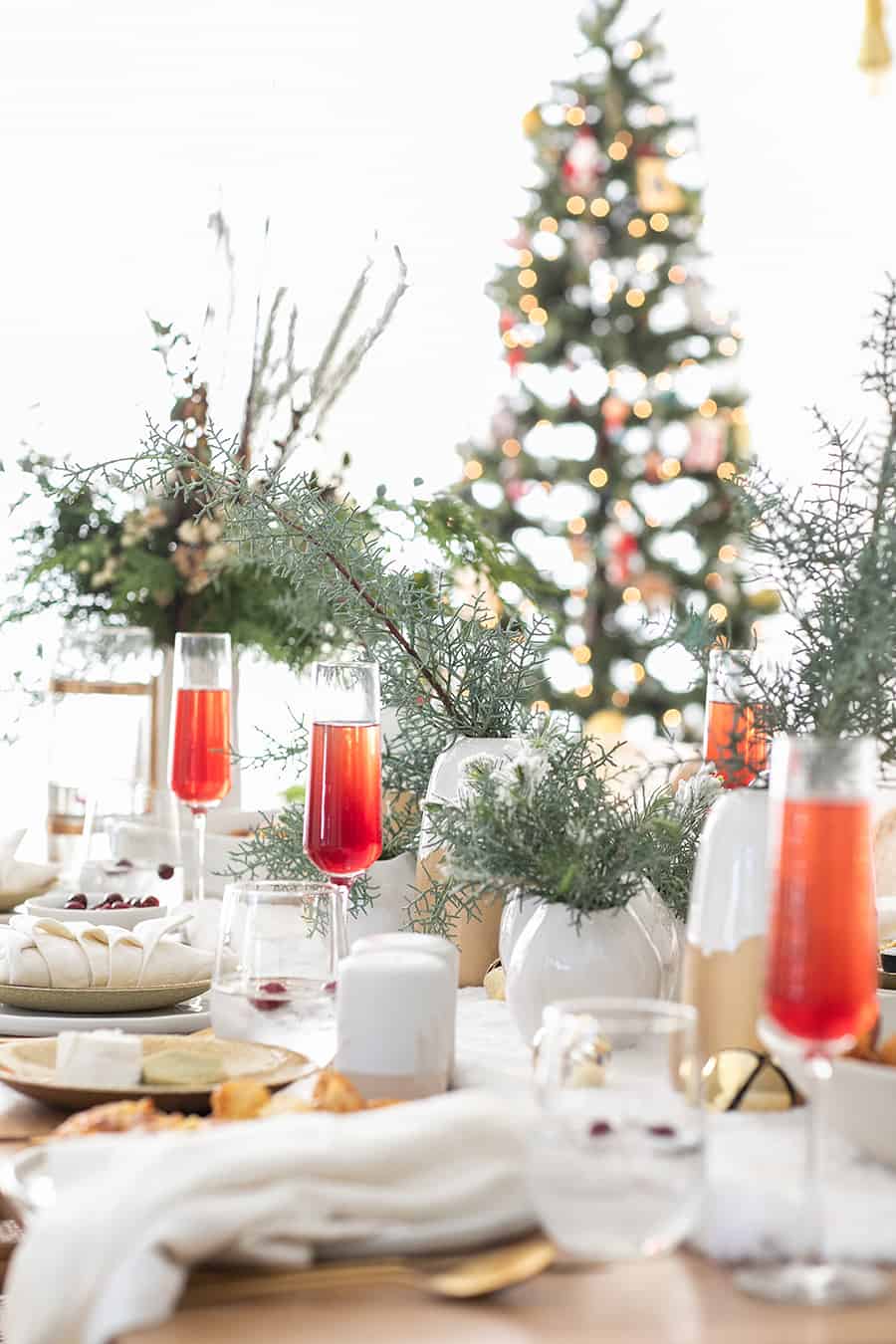 Since we do a large Christmas Even dinner, I like to cook brunch on Christmas day. It starts with early with a morning coffee bar and present opening. Then we start Christmas brunch! I love the sound of a Christmas movie playing in the background and the kids discovering their new toys. Then serving a beautiful, festive brunch is the frosting on the cookie. Below are my tips on how to put together a charming Christmas brunch!
It's not everyday you add a napkin fold to your table setting, but Christmas is the perfect time to do it! I folded all of our white napkins into trees and absolutely love this detail! It's truly not that hard to do either and a great activity for an older child! You can watch the video above for the quick tutorial!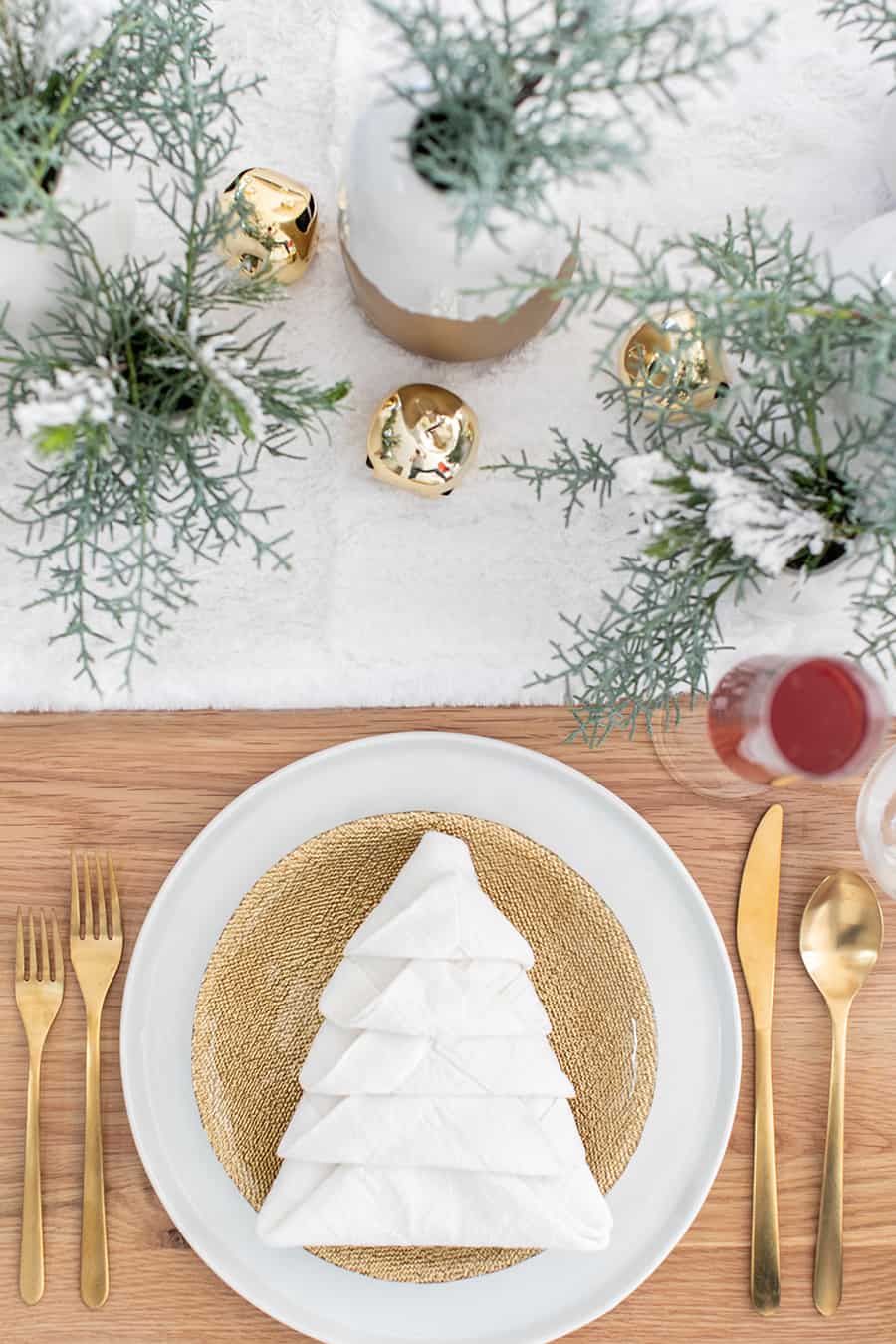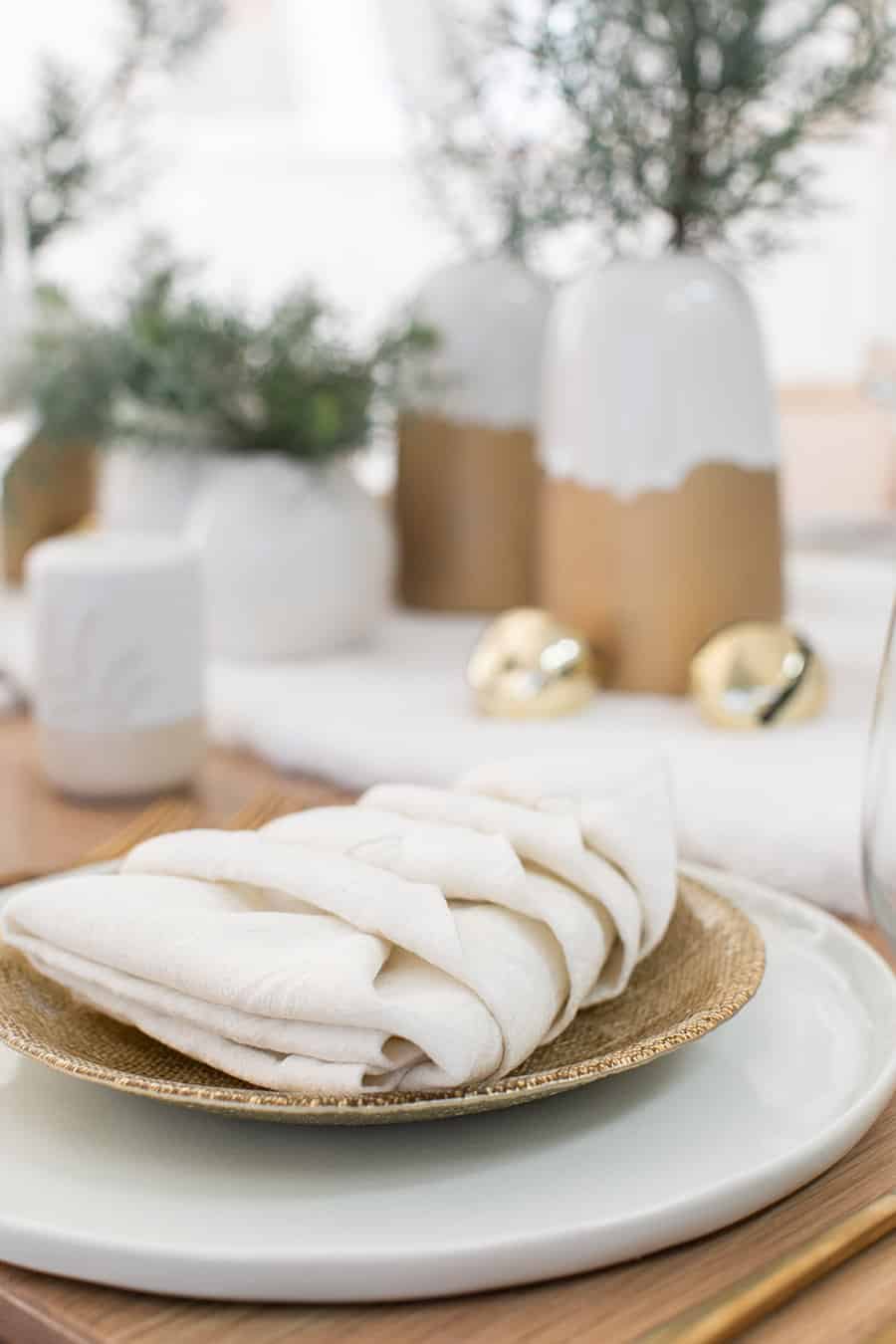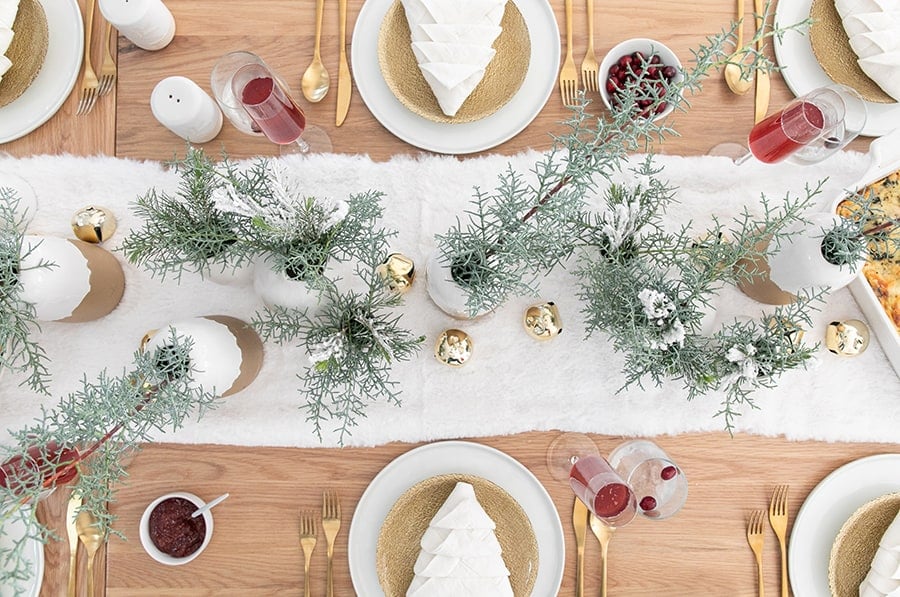 Setting the table for Christmas Brunch
There are so many beautiful ways to set a table for Christmas! First, you need to know the proper way to set a table. You can see our guide for a charming modern table setting here. This year I went for a lighter, snowy look. Maybe it's because I've been longing for a snowy cabin vacation! I used white and gold dishes I've had for a while. If you need extra white dishes for guests, try Home Goods, Target and Walmart. They all have affordable and quick options. Then pair them with gold flatware. For the runner, I bought fuzzy white fabric and cut it! No sewing required since the fuzz covers the cut line.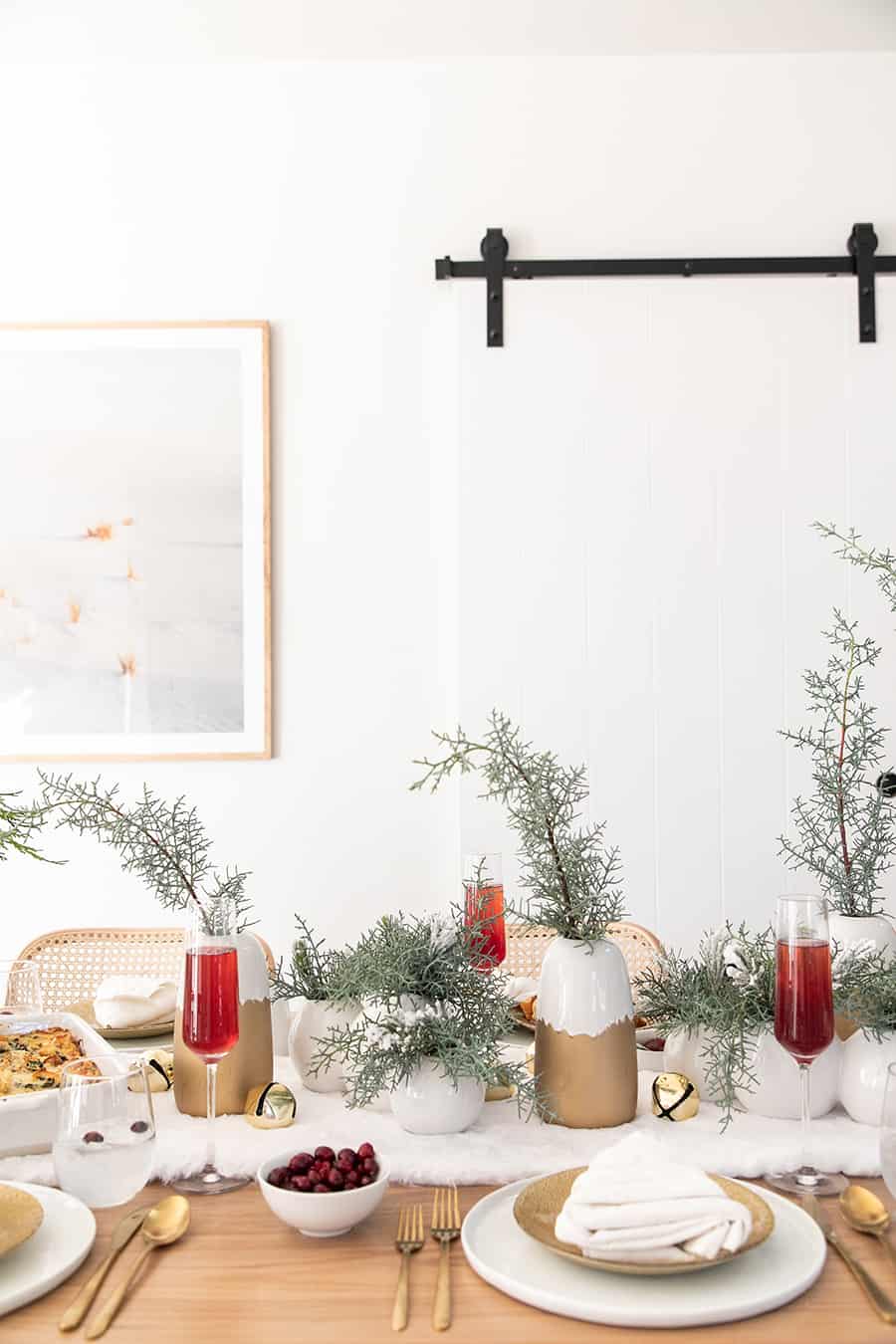 For the centerpiece, we kept it simple and added flocked greens into white and gold vases. This is literally something anyone can do. Just buy some fresh greens at your local grocery store and then cut off the branches and place a few branches in each vase. You'll need at least 15-20 small white vases to get the full look. A variety of white vases like these from West Elm would work perfectly!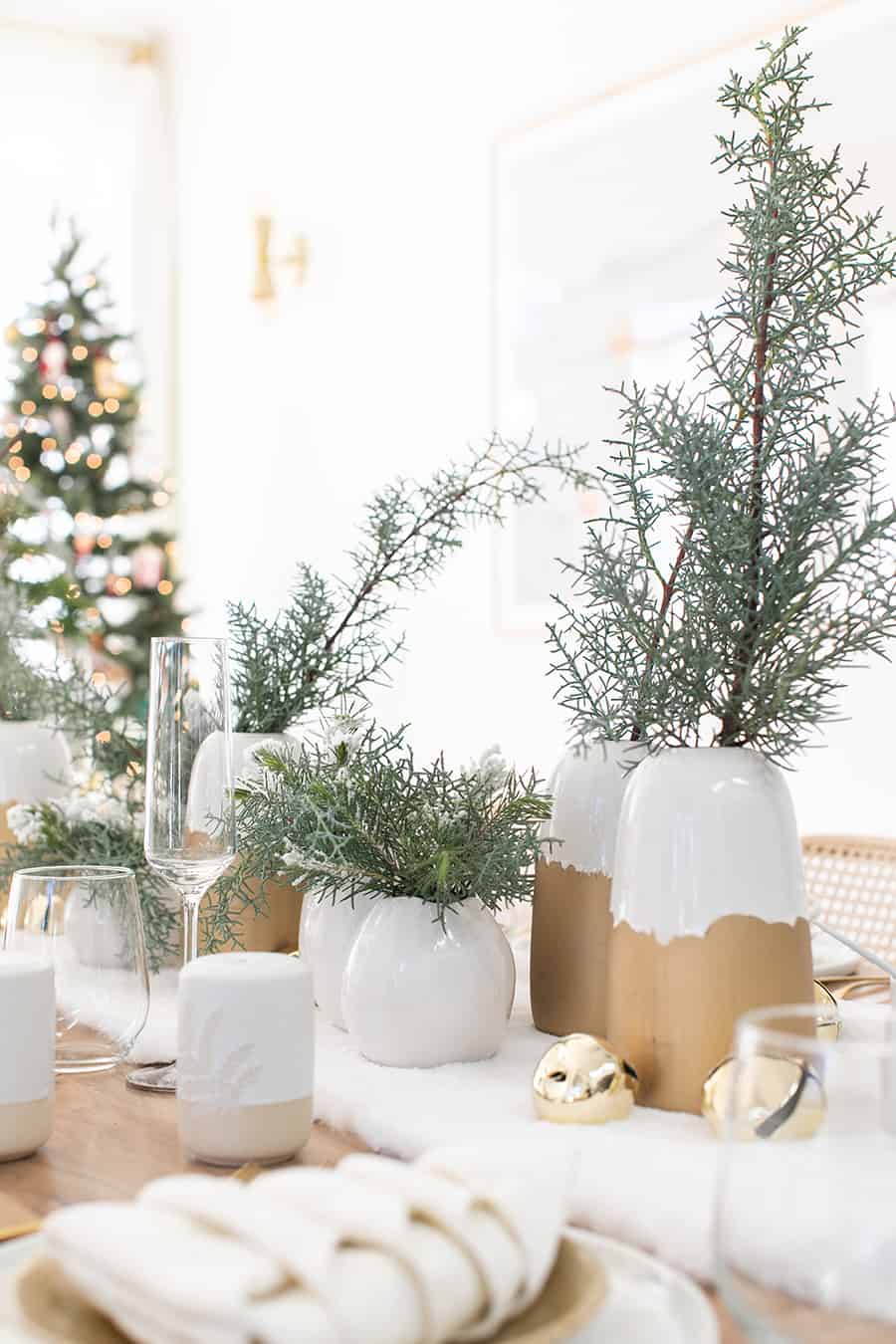 Also, entertaining tip: Set the table, glassware and fold your napkins the night before so it's all ready for Christmas morning! I find that if I don't do it the night before, I end up not doing it at all because it so crazy! So stay up late while you're putting presents under the tree and set your table!
What you should serve on Christmas brunch.
Creating a Christmas brunch menu can be simple! Make an egg based casserole or a frittata (these should be prep ahead to bake day of), either french toast or homemade waffles and a meat dish, like candied bacon or sausage. Truly that is all you need! You can also serve some seasonal fruit and add holiday flavors and spices to each recipe like cranberries, cinnamon, eggnog, etc. Example, for your french toast, maybe it's eggnog french toast with cranberry syrup. If you have those three main dishes your brunch will be so good, elves will join!
My Christmas brunch menu has been a tradition for many years and it's always hit. I make a cheesy and delicious frittata with pimentos and green peppers and a whole lot of cheese. It's a hit every single time we serve it and you can make it in a bowl the day before and bake it in a cast iron pan on Christmas morning. Here is the recipe!
Another tradition we have is our french toast puffs. They are SO GOOD and you can prepare the day before too. These are best hot and fresh, so they should be fried just before eating. Sometime I'll switch it up and make these overnight yeast waffles which are also divine! You do you need a waffle maker and it's a little more time consuming, unless you do something like this waffle bar. Then you can have your family and guests make their own.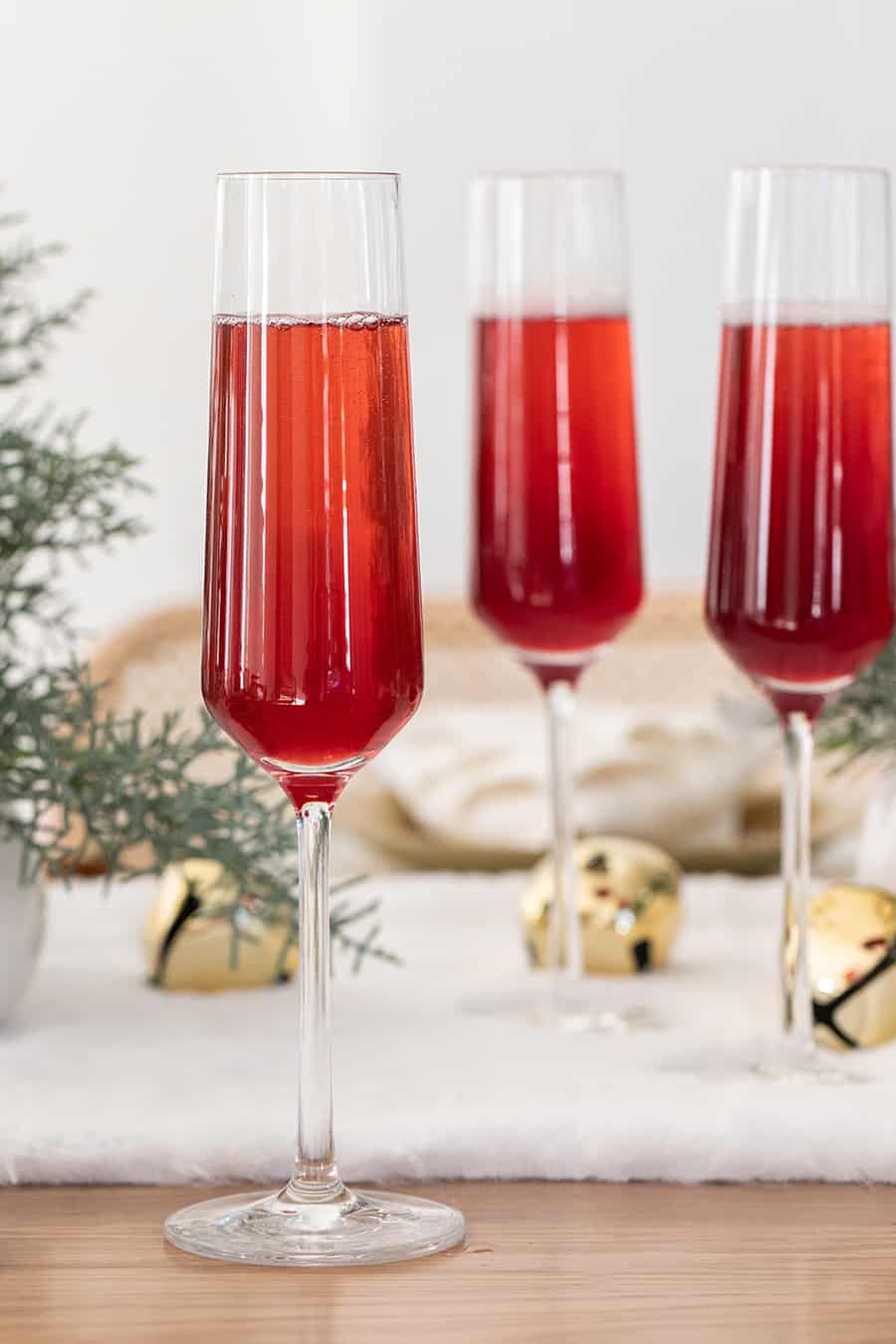 Of course the coffee is always hot and ready, but it doesn't feel like brunch without Champagne. You can add a little sweetened cranberry juice to a crips bottle of Champagne for an easy cranberry mimosa! Also, homemade eggnog is also such a treat on Christmas morning!! This butterscotch eggnog recipe is one of my favorites!
Hope you've been inspired to host a beautiful Christmas brunch! Please share with us on social if you use any of our ideas. We love to see what you're all making too on our Instagram and Facebook. Happy Holidays!