The best blueberry muffins recipe! This easy recipe makes the most tender, moist, and buttery homemade blueberry muffins ever. They're bakery style and made with butter, oil, and buttermilk to make them so incredibly moist. Guarantee, this blueberry muffin recipe will be your favorite!
This recipe is easy to make and perfect to serve for brunch. The streusel topping and juicy fresh blueberries add the perfect sweetness. If you love muffins, try our monkey bread muffins and cornbread muffins too!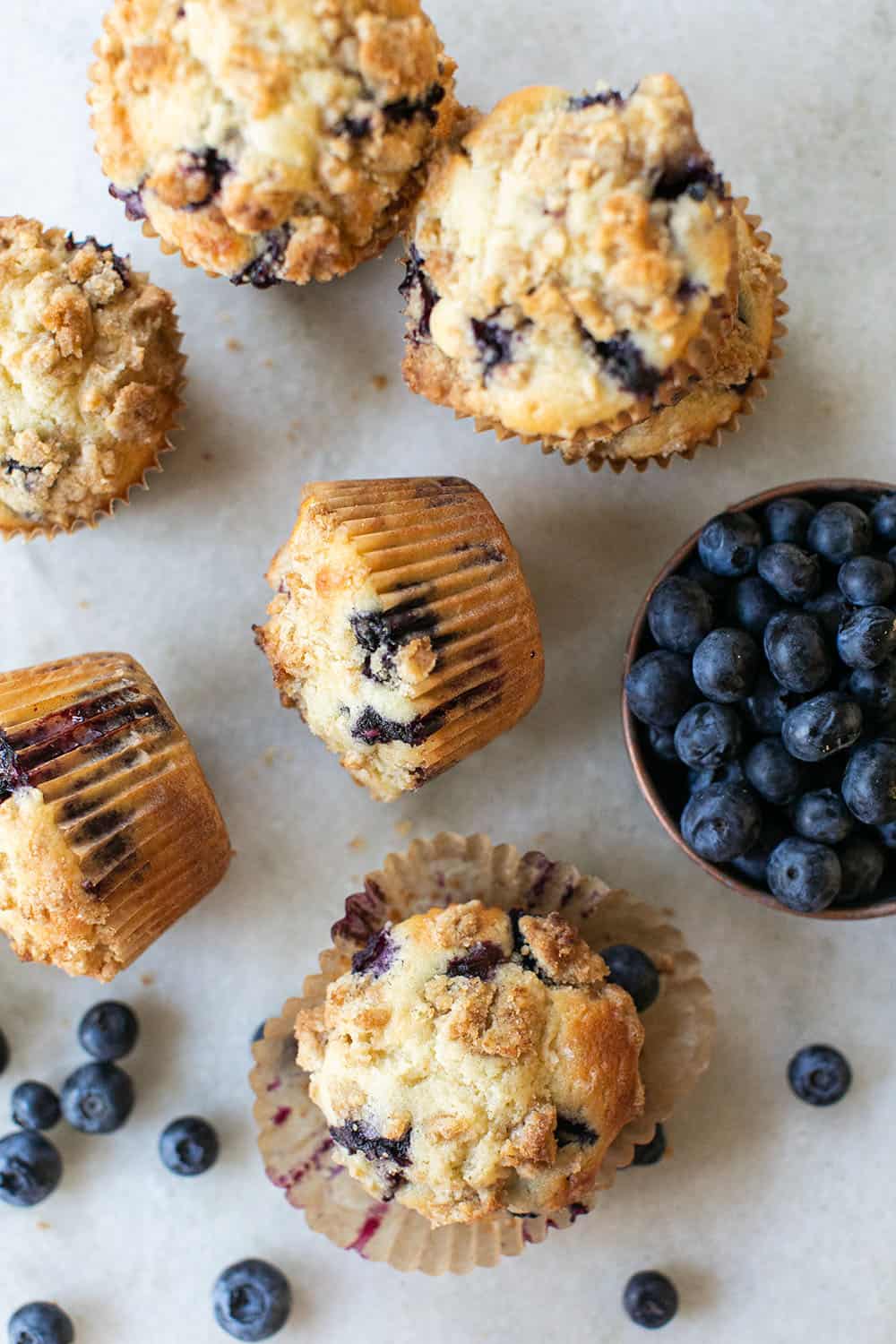 After trying, testing, and alternating several recipes we have come up with a winner. It's by far my favorite easy blueberry muffin recipe ever.
Why We Love This Recipe
What makes this recipe so good is the moistness and tenderness. The perfect amount of juicy fresh blueberries and the buttery streusel topping is the "icing on the cake." They're also easy to make using only two mixing bowls and a spatula, no electric mixer required. Here's everything you need to know for making perfect blueberry muffins.
If you like loaves our banana bread loaf and coconut loaf are both amazing and perfect for brunch.
These muffins stand out from the rest:
Buttery, Moist, and Tender
The Best Streusel Topping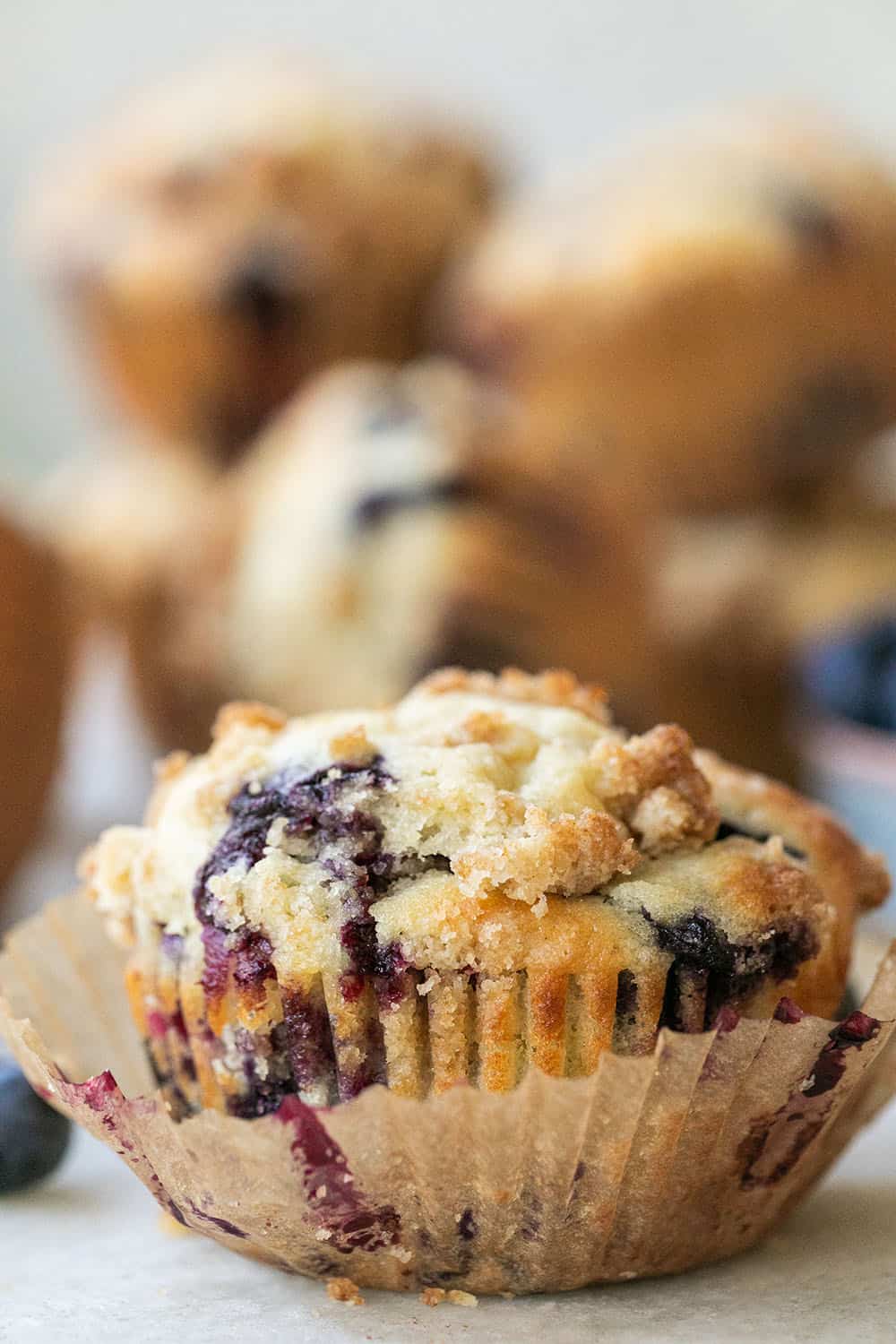 Homemade Blueberry Muffin Video
Blueberry muffins are perfect for breakfast, brunch, picnics, or even an afternoon snack and almost everyone loves them!
Supplies
Here's a list of everything you need to make this easy blueberry muffins recipe:
Measuring Cups and Spoons
Homemade Blueberry Muffins Ingredients
These ingredients combined yield the best muffins. This is a blueberry muffin recipe without milk or yogurt. We use oil, buttermilk, and melted butter to keep them incredibly moist. The full recipe is in the recipe card below.
All-Purpose Flour – We use King Arthur flour for this recipe. It works as a stabilizer to hold the muffins together. You can also use whole wheat flour or a combination of both.
Granulated Sugar – Sweetens the muffins. If you need, you can swap for other sugars such as brown sugar or coconut sugar. However, the texture of the muffins will change.
Baking Powder + Salt – Works to help the muffins rise and the salt brings out the flavor.
Melted Butter (let it cool) – Butter adds to the flavor and moistness. Use whole, organic butter when possible.
Eggs – Creates a very moist muffin. Use large, organic eggs.
Buttermilk – The acid helps to tenderize the muffins.
Canola Oil (or Vegetable Oil) – Creates a very moist muffin. You can also try coconut oil as well. This will change the texture of the muffins.
Vanilla Extract – Adds extra flavor.
Fresh Blueberries – Using fresh berries creates a juicy pop throughout the muffins. If you do not have fresh blueberries, frozen blueberries will work too.
How to Make Blueberry Muffins – Step by Step Instructions
Everything you need to make the best blueberry muffin recipe!
Measure the Dry Ingredients – flour, baking powder, sugar and salt in a bowl and give it a whisk with a fork.
Combine the Wet Ingredients – In a mixing bowl combined the eggs, sugar, vanilla, melted butter, buttermilk, oil and lemon zest and whisk together.
Combine Dry and Wet– Add the liquid ingredients into the dry ingredients.
Mix – Gently mix just until the dry ingredients are wet. Lumps are okay when making muffins. You do not want to mix until the batter is smooth.
Add Blueberries – Gently fold in the blueberries, just until lightly coated in batter.
Scoop – Line a cupcake tin with paper liners. Scoop 1/4 cup into each cupcake liner.
Add Streusel – In a small bowl, combine streusel ingredients and then sprinkle 1-2 tablespoons over each cupcake batter.
Bake – In a preheated 425 degree oven, bake for 15 minutes until golden brown.
Different Size Muffins
This recipe can be used to make different size muffins. The cooking times will vary when making different sizes.
Jumbo Blueberry Muffins
Use a 6 cup muffin tin to make jumbo muffins. These will take a little longer to bake.
Mini Blueberry Muffins
Use a 24 cup muffin pan to make mini muffins. These will bake a lot quicker than jumbo muffins.
Tips for Making the Best Blueberry Muffins
Here are some tips for making the perfect muffin:
Do not over mix the batter. Simple use a spatula to fold the ingredients. It's also okay to have a few lumps in the batter.
Use whole, organic ingredients when possible.
Do not overbake, take them out when they just reach a nice golden brown.
Toss the blueberries with a little flour. The light coating of flour will absorb some of the fruit's liquid, making them less likely to sink. Thicker batters are better at cradling the fruit and keeping it suspended, but it's always a good idea to toss the berries with a pinch of flour.
Homemade Blueberry Muffins with Frozen Blueberries
If you only have frozen blueberries on hand, then let them thaw in the refrigerator and then drain the excess water. Pat them dry and then add to the muffins.
Recipe Variations
Add a little cardamom spice to the muffins for a fall flavor. We add this to our apple cider donuts and it's truly the best!
Use wild blueberries instead of fresh ones. Wild blueberries are much smaller in size and vary in color from different shades of blue to almost black. The flavor can vary from sweet to tart.
Add 1/4 tsp almond extract or 1/4 tsp lemon extract to the batter for a different flavor.
Streusel Topping
It's all about the muffin tops! This extra step is not to be missed and makes the world of difference. Adding a streusel topping over the top of the muffin batter before cooking makes gorgeous muffins!
This recipe uses brown sugar, granulated or turbinado sugar, melted butter, and a little flour. The ingredients are crumbled together in a mixing bowl and then sprinkled over the muffin batter.
This makes for the most amazing, crumbly muffin tops!
How to Properly Mix Muffin Batter
The more you mix the batter the more gluten develops causing the muffins to have a tough texture, which you don't want. Follow these steps for mixing the muffins properly.
Using a spatula, add the wet ingredients into the dry and gently fold the ingredients together just until the dry is moistened.
Lumps are perfectly fine and needed. The batter should not be smooth and fully mixed. It should be thicker with lumps.
Add in the blueberries and lightly mix until they are coated with batter.
Muffins should have a soft and tender texture, so no overmixing!
Lemon Blueberry Muffins
Lemon and blueberry go very well together. If you're looking to make lemon blueberry muffins add 1 tablespoon lemon juice to the batter as well as 1 tablespoon lemon zest. This will give the muffins a delicious lemon flavor.
You can also add some lemon zest to the streusel topping too.
How to Store Leftovers
These homemade muffins are best the day they are made. However, if you have leftovers here's how to store them:
Place them in an airtight container on the counter for two days. This helps them stay moist and fresh since bread will dry out if left uncovered on the counter. The starch molecules in the bread take water molecules from the bread itself and the surrounding air and crystallize. As a result, the muffins become harder and dried out.
Freezing
To freeze, let the muffins cool completely. Then wrap securely in freezer wrap and place in freezer bags. Label all packages with the name of the recipe and the date. Use within the recommended storage time for the best flavor and texture.
Frequently Asked Questions
Can you use frozen blueberries in muffins?
We do recommend using fresh blueberry muffins for this recipe. However, if you can't get fresh frozen will work. It will yield a slightly different muffin and the blueberries will more likely melt throughout rather than painting a full juicy berry. The overall flavor should be the same.

For more information, check out this guide to cooking with frozen blueberries from the Blueberry Council.
Can you Freeze Blueberry Muffins?
Muffins can be stored in the freezer for 2 months. Place them in an airtight container or sealed bag and write the date on the outside to remember.

Let them thaw completely before serving.
How can I make my muffins moister?
Ingredients like buttermilk, melted butter, and oil will all help to make a very moist blueberry muffin. This is why we use all three in this recipe. They even work well together and truly this recipe is amazing and the muffins are very moist.
How do you sweeten blueberries for muffins?
If you want to add a little extra sweetness to the blueberries, toss them in sugar and a little lemon juice before adding them to the batter. You can also try maple syrup too!
When to Serve Blueberry Muffins
These delicious blueberry muffins are perfect year-round and any time of the day! They're also great for any of these occasions:
More Delicious Recipes You'll Love!
If you love these muffins, try some of these recipes:
A Delicious Moist Coffee Cake Recipe
Serve these muffins with one of our brunch cocktails for the ultimate treat!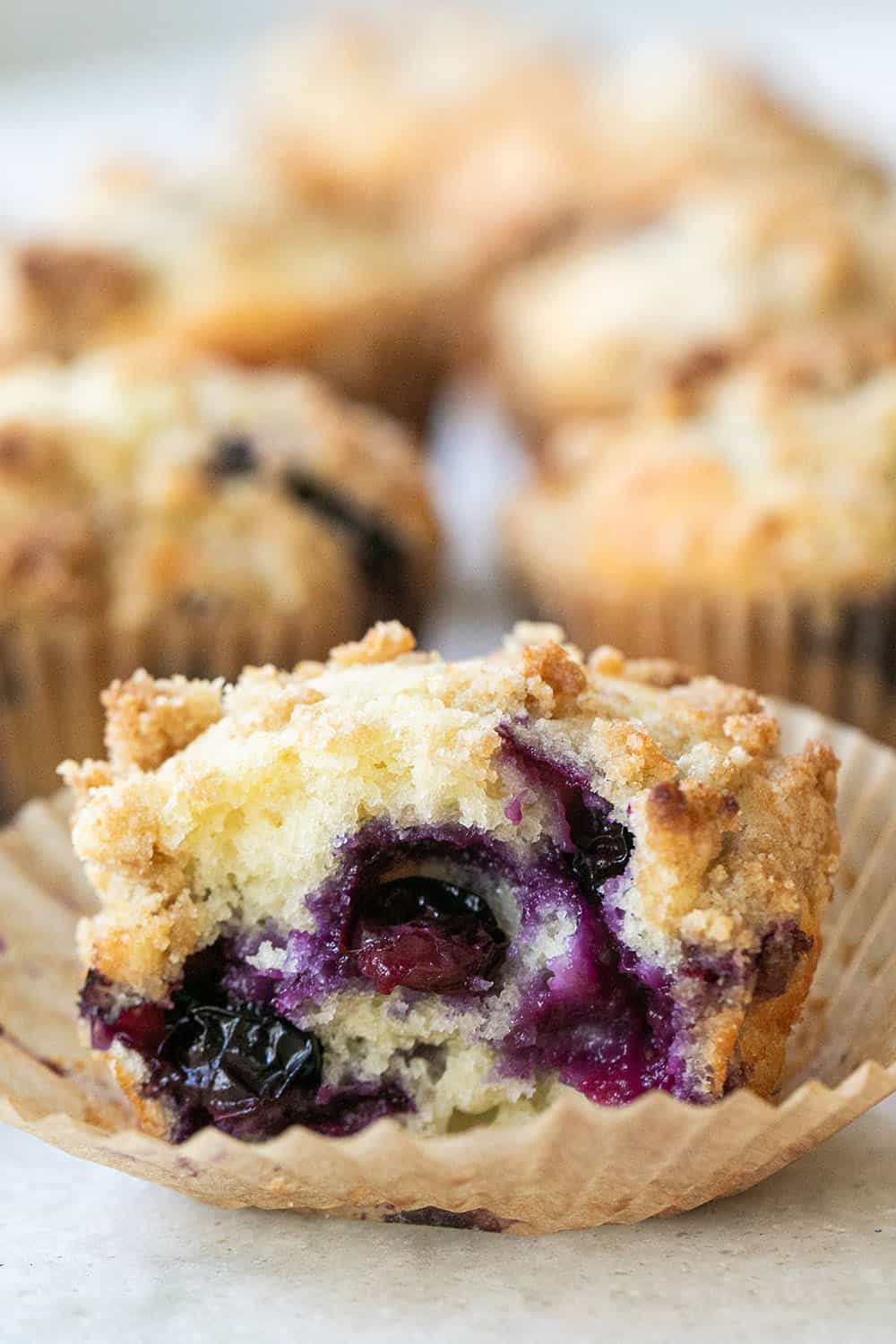 Let us know if you make these homemade blueberry muffins by leaving a comment and review below! We'd love to know your thoughts!
You can also FOLLOW US on FACEBOOK, INSTAGRAM, and PINTEREST to see more delicious recipes, cocktails, desserts, and parties!
This post may contain affiliate links. Please read our disclosure and privacy policy.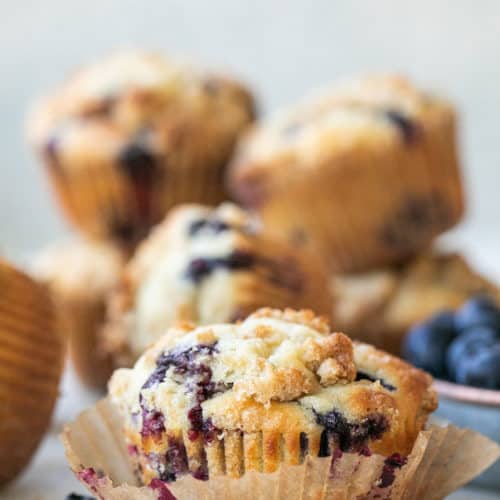 The Best Blueberry Muffins
Moist, tender and buttery homemade blueberry muffins that are topped with a delicious streusel. They're easy to make and absolutely delicious! 
Print
Pin
Rate
Ingredients
2

cups

all-purpose flour

2 1/2

tsp

baking powder

1

tsp

salt

1

cup

sugar

2

large

eggs

1 1/2

tsp

vanilla extract

1

cup

buttermilk

1/4

cup

canola oil

,

vegetable oil works too

4

tbsp

unsalted butter

,

melted then cooled

1

tbsp

lemon zest

2

cups

fresh blueberries
Streusel Topping
1/2

cup

all-purpose flour

3

tbsp

sugar

3

tbsp

brown sugar

4

tbsp

melted butter
Instructions
Add the flour, salt, sugar, and baking powder in a mixing bowl and whisk with a fork.

Combine the wet ingredients, eggs, vanilla extract, butter, buttermilk, oil, lemon zest, and sugar in a bowl and mix until combined.

Gently fold in the wet ingredients into the dry ingredients using a spatula.

Mix just until the dry ingredients are moistened, not fully mixed until smooth. The batter should have lumps in it.

Add in the blueberries and just barely mix until coated in batter.

Prepare a cupcake tin with paper liners and fill 1/4 cup of batter in each.

In a small bowl combine the streusel ingredients and then crumble 1 -2 tbsp over the top of each cupcake.

Bake in a preheated 425-degree oven for 15 minutes until golden brown.
Notes
Do not over-mix the batter. 
Cooking times always vary depending on many factors, true oven temperature, elevation, indoor temperature, etc. So use your best judgment on when the muffins are done. They will be golden brown on the outside.
Always use whole ingredients like whole butter, organic eggs, and real vanilla extract. 
We use King Arthur flour to make these blueberry muffins.
Add lemon juice and lemon zest to make lemon blueberry muffins. 
Nutrition
Calories:
159
kcal
|
Carbohydrates:
22
g
|
Protein:
2
g
|
Fat:
7
g
|
Saturated Fat:
3
g
|
Cholesterol:
27
mg
|
Sodium:
148
mg
|
Potassium:
77
mg
|
Fiber:
1
g
|
Sugar:
12
g
|
Vitamin A:
156
IU
|
Vitamin C:
1
mg
|
Calcium:
36
mg
|
Iron:
1
mg