A refreshing mimosa recipe made with Italian Prosecco! This mimosa has the perfect crisp, bubbly flavor and it's great for all occasions. The best part is you only need two ingredients, Prosecco and orange juice! Also, check out more of our favorite brunch cocktails too!
Need some recipes to go with this cocktail? Take a look at our best brunch recipes!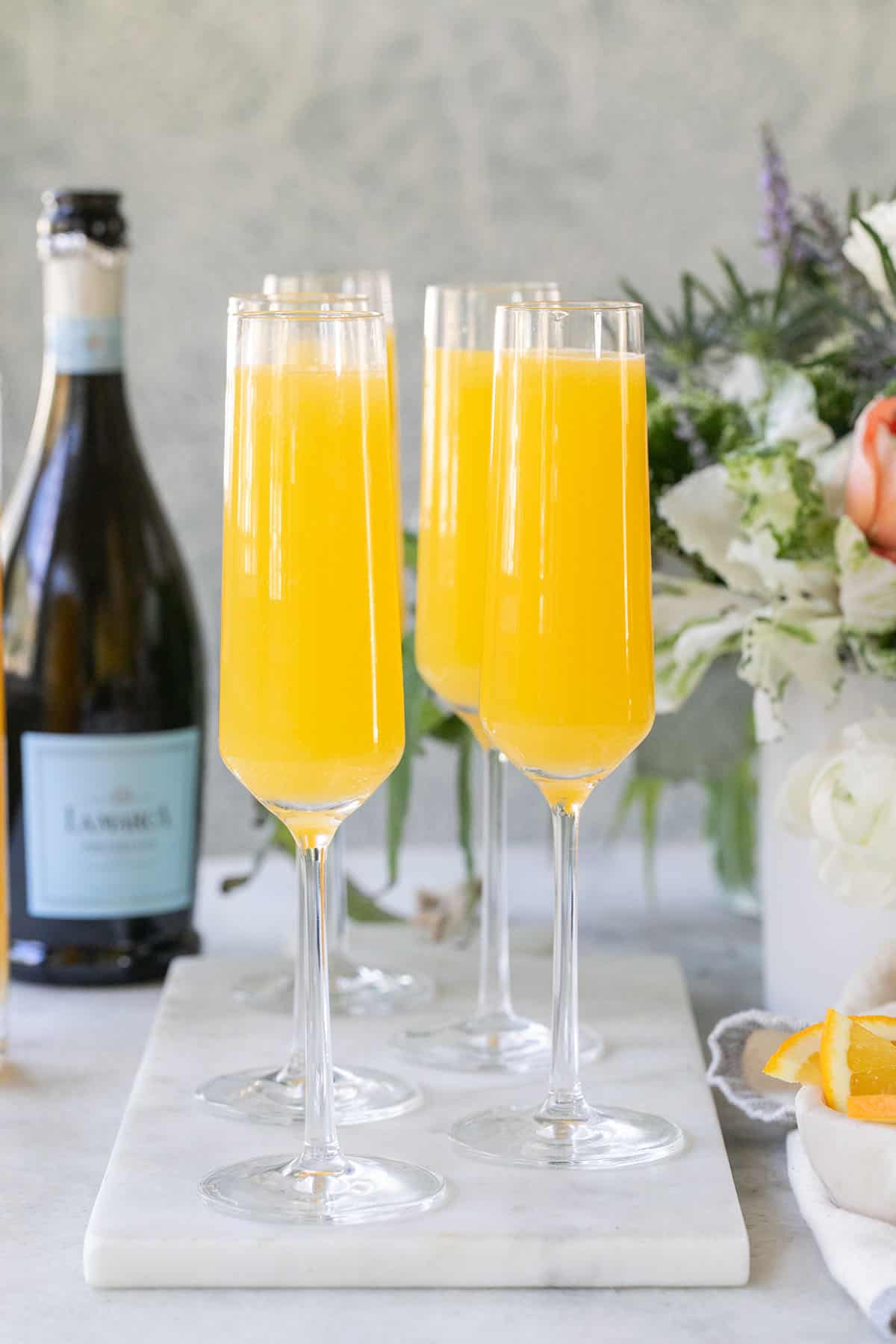 A prosecco mimosa is similar to our classic mimosa, but made with Prosecco insteasd of Champagne. It's the perfect cocktail for a brunch or celebration. We're sharing how easy this cocktail is to make and about choosing the best ingredients to go into this classic drink.
We're sharing this drink as a fun alternative to a classic mimosa. This will be just a little sweeter with the aromas of fresh citrus and fruit.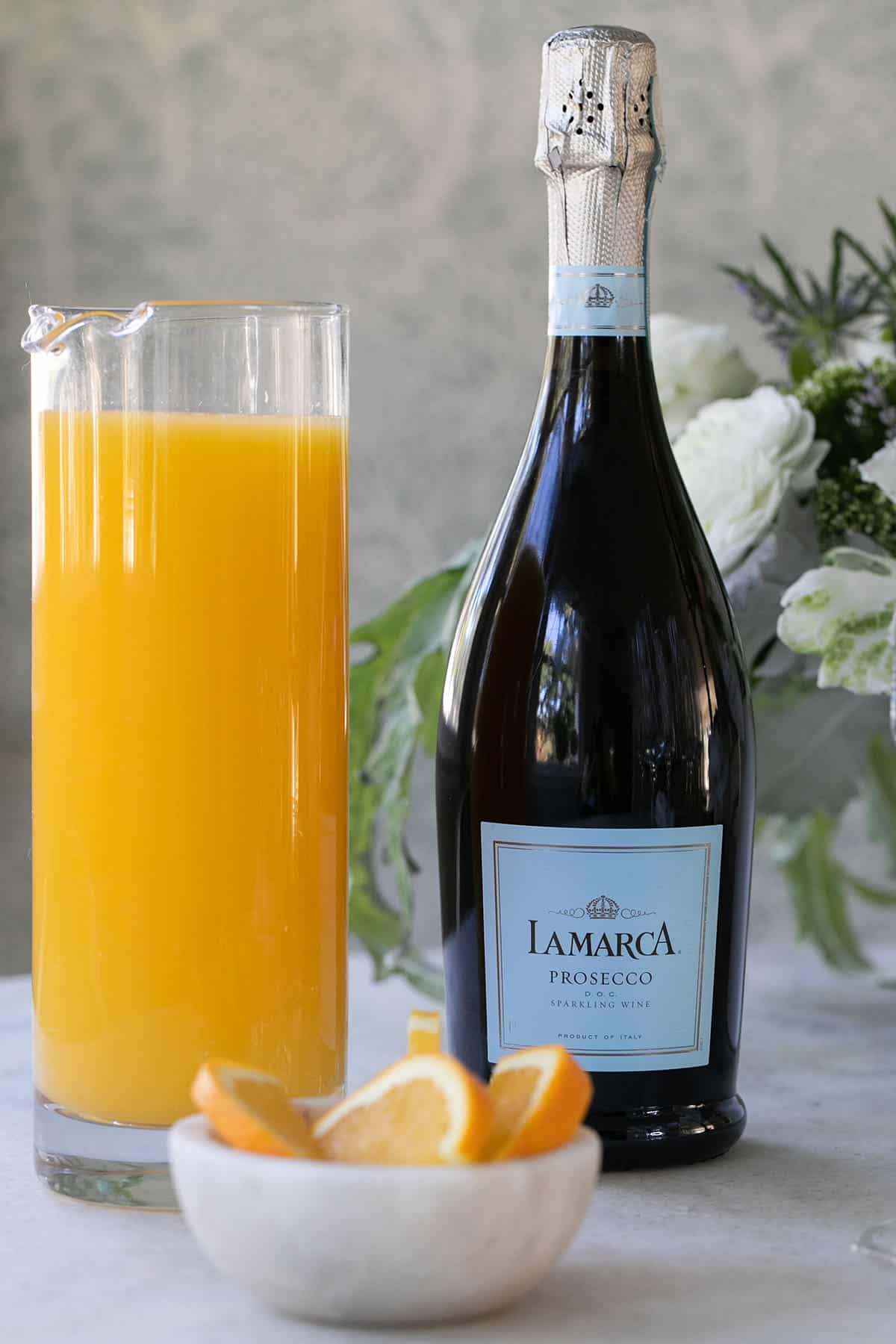 How to Make a Prosecco Mimosa
A mimosa is on the International Bartender Association's IBA list and the official definition is equal parts orange juice and Champagne. In this recipe we're using Prosecco, an Italian sparkling white wine with different flavors and notes than Champagne.
Ingredients
Orange Juice – Fresh squeezed is always best. However, it doesn't have to be homemade, fresh-squeezed. There are plenty of freshly squeezed orange juices available at grocery stores.
Prosecco – A refreshing, crisp, cold bottle of Prosecco is perfect.
Prosecco Mimosa vs Champagne
The number one rule of mimosa-making is not to mistake Prosecco for Champagne. The first difference between the two is Prosecco is from Italy, whereas Champagne is from France.
The most common champagne flavors will be almond, white cherry, or citrus-flavored wines. Prosecco is created using grapes and the tank method. It's also going to be the more affordable option of the two, with a wider variety of flavors to choose from.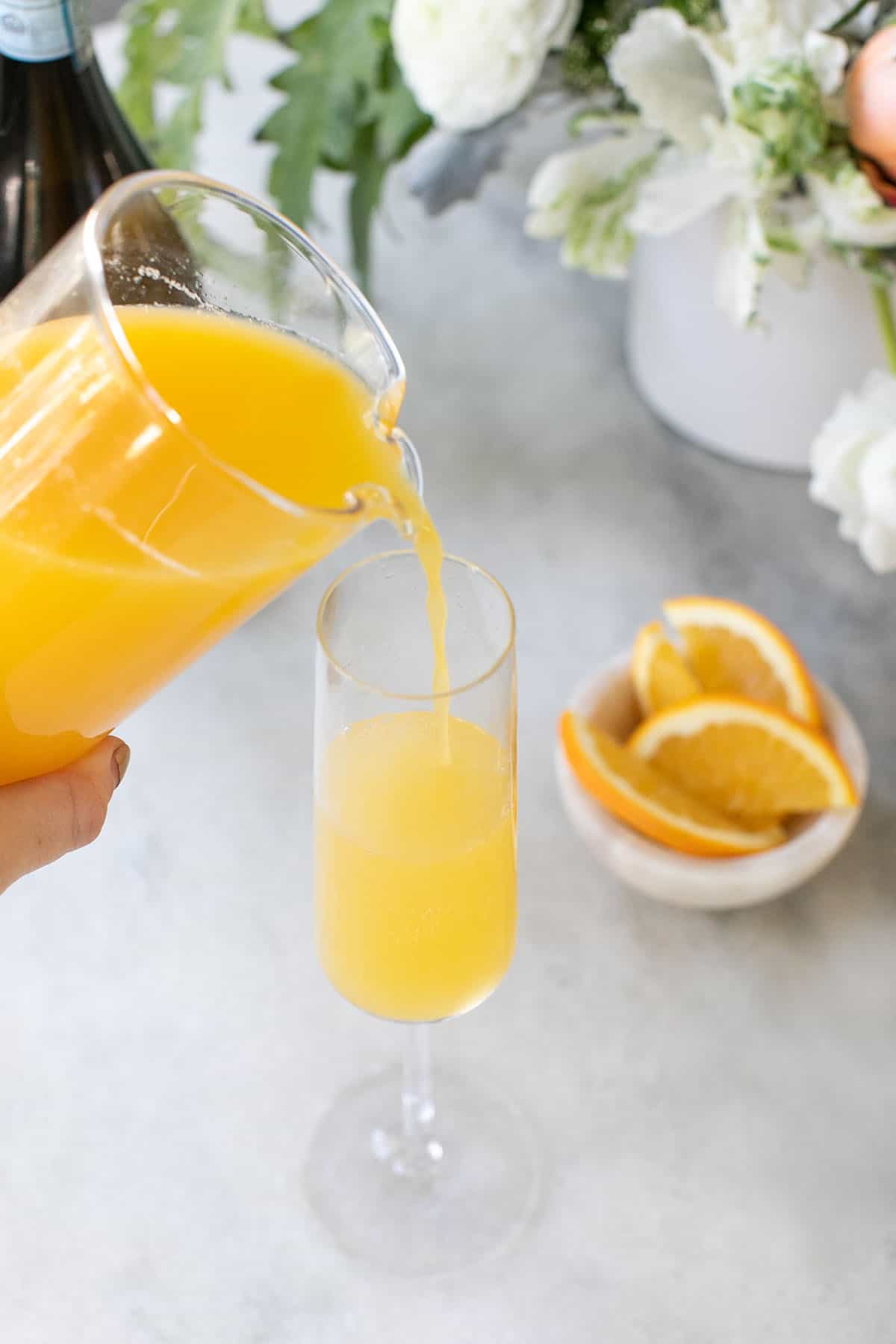 Prosecco Mimosa Ratio
Mimosas are about balance. You don't want to have too much orange juice, but you also don't want to put in too much Prosecco, which would ruin the beverage's taste.
The best Prosecco mimosa ratio is adding 3 ounces of prosecco and orange juice. Depending on personal preference, you can add more or less of each until you achieve the desired taste.
Mimosas for a Party
If you're making mimosas for a gathering here is our ratio for 8 guests:
1 bottle of Prosecco
3 cups orange juice
8 Champagne Flutes
Fill each glass halfway with Prosecco and then halfway with orange juice, leaving a small amount of room at the top. No one wants a glass filled to the brim!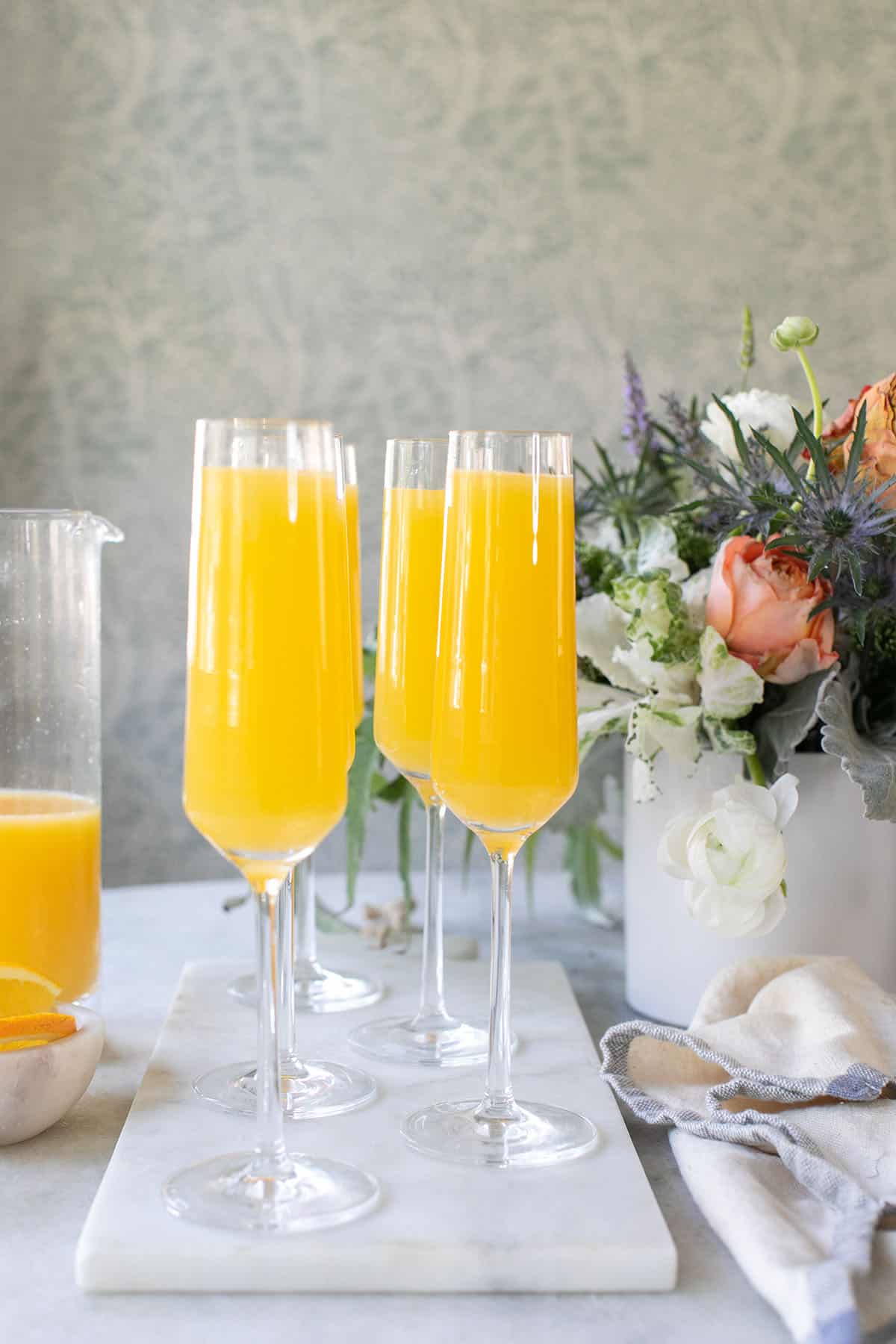 Tips for Pouring a Prosecco Mimosa
Before pouring the mimosa, don't mix the ingredients. When you combine the ingredients, it can cause the Prosecco to be flat and ruin the drink's bubbles. Also, it's best to pour the wine before you pour the orange juice.
This way, you can ensure you're pouring the right amount of wine to get everyone in a celebratory mood. By pouring it first, you won't overflow the glass and waste all the deliciousness.
Of course, don't forget there isn't just one type of mimosa; there are several mimosa variations out there for you to try like:
Classic Mimosa
Megmosa
Pomegranate Mimosa
Mimosa Sangria
Each variation has its own delicious flavors that we know you'll love.
Want more drinks with Prosecco? We created an amazing cocktail recipe with La Marca called sparkling ginger and it's absolutely amazing. Also, try our Aperol spritz and our citrus holiday punch.
Mimosa Variations
Use different juices to add a variation to your prosecco mimosa.
Cranberry Juice – Creates a lovely Poinsettia Drink.
Carrot Juice and Orange Juice – Together these ingredients create a carrot mimosa for Spring or Easter
Grapefruit Juice – Makes a fruity grapefruit mimosa.
Ginger Ale – For a none-alcoholic mimosa.
Lemonade – Add lemonade and blood orange for a unique flavor combination.
Add Orange Liqueur
Cointreau is an orange liqueur that is used in many cocktails, including our strawberry margarita and our classic cosmo. It adds a sweet, orange flavor to any drink. Add 1/2 ounce to your Prosecco mimosa for even more orange flavor and sweetness.
Need a few more orange juice cocktails, check these out: skinny margarita with fresh orange juice, rum punch recipe, the best cranberry Moscow mule or our toasted coconut cocktail served in a pineapple.
Prosecco Mimosa: Creating the Perfect Drink
The Prosecco mimosa is a timeless cocktail that people worldwide enjoy. Always pour the wine first to preserve the bubbles, and don't forget to add equal ounces of the wine and orange juice to the glass.
If you're looking for a mimosa recipe, check out Sugar & Charm and the hundreds of other tasty recipes you're going to want to try!Ask about order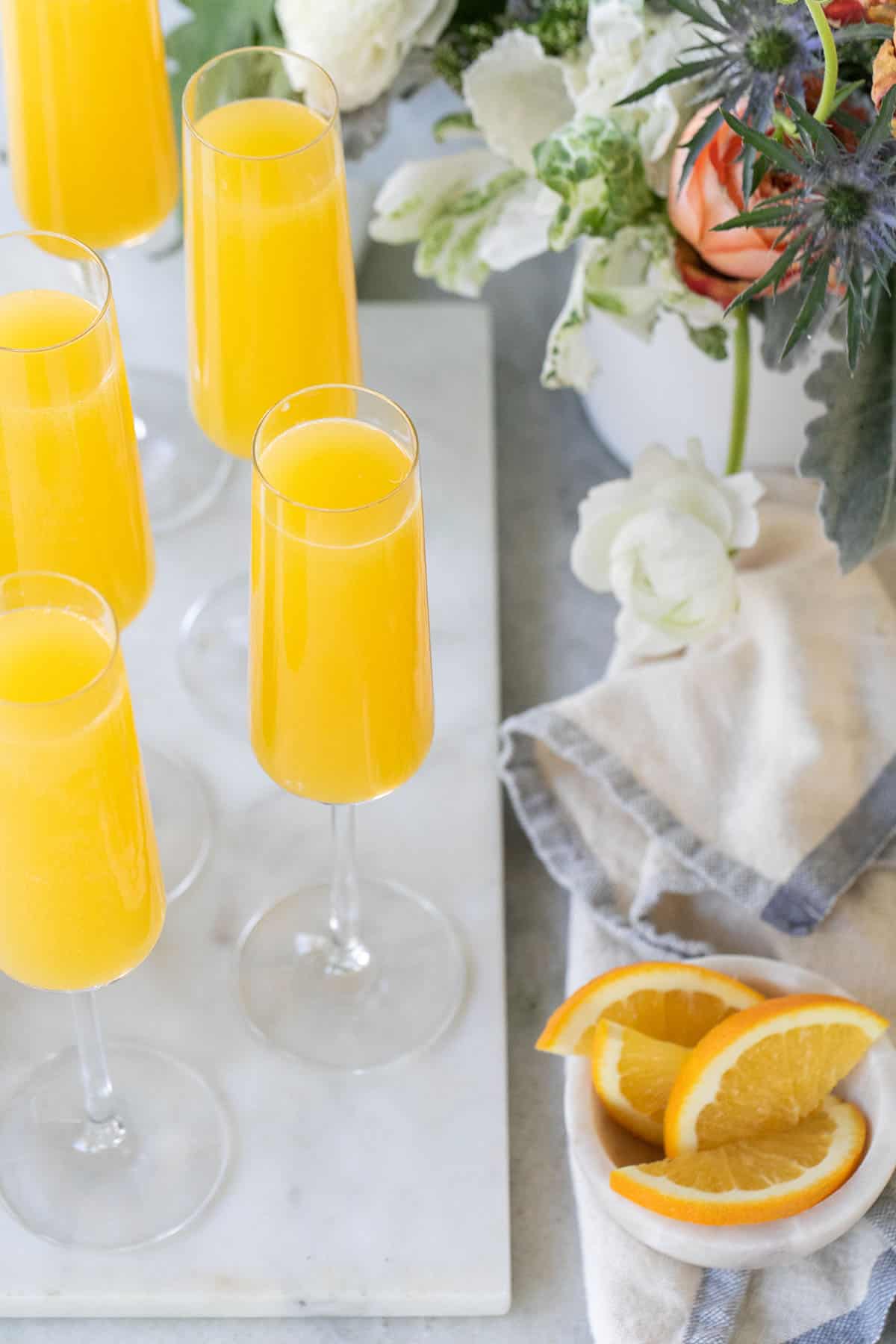 When to Serve a Mimosa with Prosecco
What is so wonderful about this cocktail is how easy it is to make. It's great for gatherings as they can be within seconds. It's typically a drink that is served at brunch or in the mornings. Here are some ideas for when to serve a mimosa.
You can also set up a DIY mimosa bar for a fun celebration!
Frequently Asked Questions
Is Prosecco Good for Mimosas?
There are several ways to make a mimosa, and while it's entirely up to you what mixer you combine with your orange juice, using Prosecco is one of our favorite ways. Prosecco is the perfect sparkling wine for a mimosa because it has fruity undertones and is fresh.
It keeps your mimosa bubbly and enhances the overall aesthetic of the occasion because of its light-body and bubbly freshness.
Which Prosecco Is Best for Mimosas?
If you're still with us, you've joined the Prosecco mimosa movement, and we're glad to have you. There's one crucial part of the mimosa cocktail experience you don't want to miss, and that's choosing the Prosecco you're going to use.
Some quality prosecco brands are:
La Tordera Brut Proesecco
Zardetto Prosecco Brut
La Marca
Here are 7 more ideas for different Proseccos you can use.
More Cocktail Recipes You'll Love
Easy Cocktails to Make at Home
Is Lamarca Prosecco good for mimosa?
Lamarca is perfect for mimosas. It's an Italian sparkling wine with a crisp, clean palate. It has aromas with hints of apple, honeysuckle, and citrus. It pairs perfectly with orange juice and makes a delicious and refreshing mimosa.
Let us know what you think!
If you make these Prosecco mimosas leave a review below and tell us what you think!
You can also FOLLOW US on FACEBOOK, INSTAGRAM, and PINTEREST to see more delicious recipes, cocktails, desserts, and parties!
This post may contain affiliate links. Please read our disclosure and privacy policy.
Prosecco Mimosa
A refreshing mimosa recipe made with prosecco! This mimosa has the perfect, crisp bubbly flavor and it's great for all occasions.
Print
Pin
Rate
Ingredients
3

ounces

Prosecco

3

ounces

orange juice
Instructions
Fill a Champagne flute with Prosecco.

Leave it as is or garnish with an orange slice.
Notes
Pro tip –

Slightly, tilt the Champagne flute to the side and pour the Prosecco in.
Mimosas for a Party
If you're making mimosas for a gathering here is our ratio for 8 guests:
1 bottle of Prosecco
3 cups orange juice
8 Champagne Flutes
Fill each glass halfway with Prosecco and then halfway with orange juice, leaving a small amount of room at the top. No one wants a glass filled to the brim!
Nutrition
Calories:
80
kcal
|
Carbohydrates:
10
g
|
Protein:
1
g
|
Fat:
1
g
|
Saturated Fat:
1
g
|
Polyunsaturated Fat:
1
g
|
Monounsaturated Fat:
1
g
|
Sodium:
7
mg
|
Potassium:
245
mg
|
Fiber:
1
g
|
Sugar:
8
g
|
Vitamin A:
170
IU
|
Vitamin C:
43
mg
|
Calcium:
17
mg
|
Iron:
1
mg