Learn how to make a classic mimosa at home with our easy recipe, tips, and tricks! This orange juice cocktail uses only 2 ingredients, champagne, and chilled orange juice. A classic brunch cocktail and perfect for any time of the year!
Traditionally served in champagne flutes, this simple cocktail is truly perfect for any holiday or occasion, especially brunch.
They are light and refreshing, with just the right amount of sweetness. The most popular mimosa is made with orange juice and champagne, but they can also be made with other fruit juices, such as grapefruit or cranberry.
This refreshing drink is typically served in tall glasses, garnished with a slice of orange or a sprig of mint. They can be enjoyed on their own or paired with breakfast or brunch dishes. Whether you're celebrating a special occasion or simply enjoying a lazy Sunday morning, mimosas are always a welcome treat.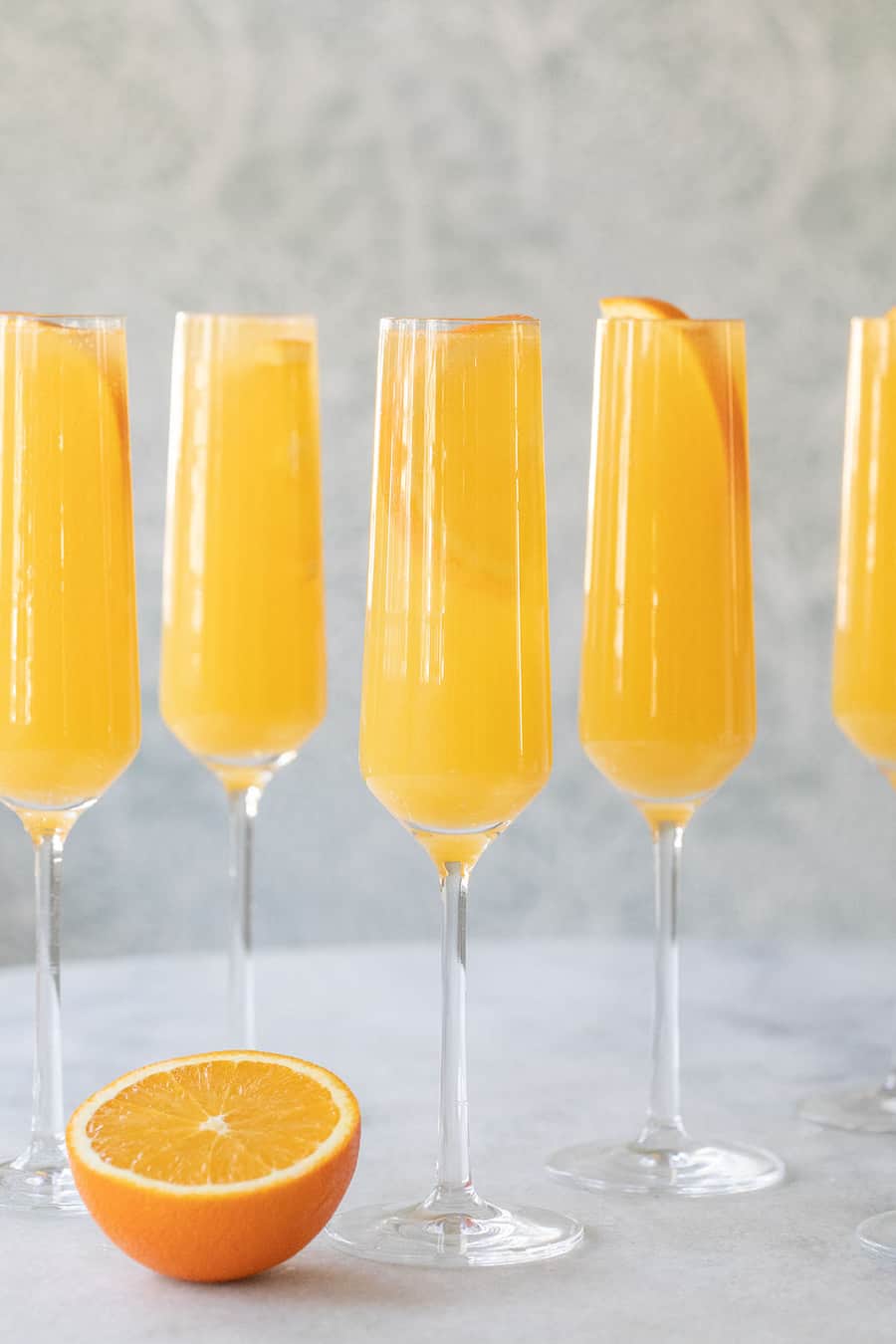 If you're hosting a Christmas brunch, Easter Brunch, Garden Party, Mother's Day picnic or putting together a bubbly bar for a graduation party, mimosa must be on the menu. They're easy for the host to put together and there are several variations you can make!
This classic cocktail is on the International Bartender Association's IBA list and the official definition is equal parts orange juice and Champagne. That's exactly how we like to make it as well! However, feel free to create your own ratio. If you like a stronger cocktail add 2 ounces of orange juice and 4 ounces of sparkling white wine.
Also, check out our mimosa made with Prosecco!
How to Make The Best Mimosa
Ingredients
This is one of the easiest cocktails you'll ever make. It consists of only 2 simple ingredients:
Sparkling White Wine or Champagne – You can use any type of white wine, but champagne is the most traditional choice. Other good options include sparkling wine and prosecco.
orange juice – We recommend using fresh-squeezed orange juice or buying freshly squeezed orange juice at the store. There is nothing better than fresh orange juice in homemade mimosas.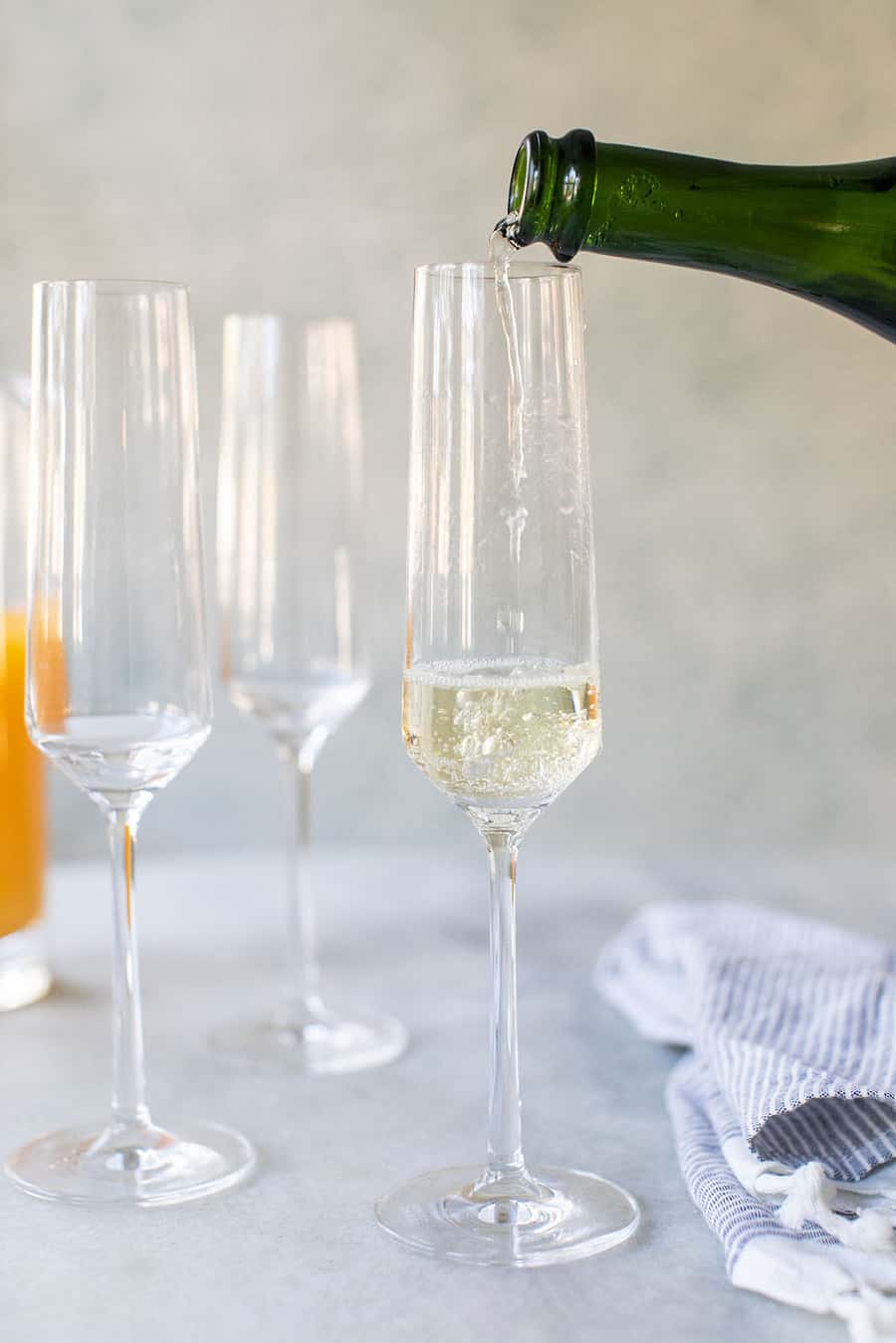 Mimosa in 3 Easy Steps
Making a mimosa is easy! Follow these three steps:
Pour the orange juice into a Champagne flute 1/2 way full.
Top with champagne until the glass is filled. Let the bubbles settle and top it off again.
Garnish with a slice of orange or a sprig of mint.
We find that the best ratio is 50/50 between sparkling white wine and orange juice. For a stronger cocktail, you can also do 2 parts sparkling wine and 1 part orange juice.
Tips for Making Our Mimosa Recipe
Here are some tips for making a perfect mimosa.
Add a Splash of Grand Marnier – It gives it extra flavor and is our favorite way to drink a mimosa.
Use a Champagne Flute – This glass is designed to preserve carbonation. They are perfect for celebrations and the only glass of sparkling wine and Champagne should be served in. These are the ones we used.
Make a Batch – If you're serving many people, mix the mimosa up in a larger pitcher then pour it into each glass.
Fresh Squeezed Orange Juice – To make them the best, use freshly squeezed orange juice. Make this the day before and store it in the refrigerator.
Cold Ingredients – You want the orange juice and sparkling wine to be chilled, so make sure they're both cold before serving. You can leave them in the refrigerator overnight.
Chill The Glass – Since you don't add ice to this drink, chilling the Champagne flutes helps create a smoother, super-cold cocktail when sipping.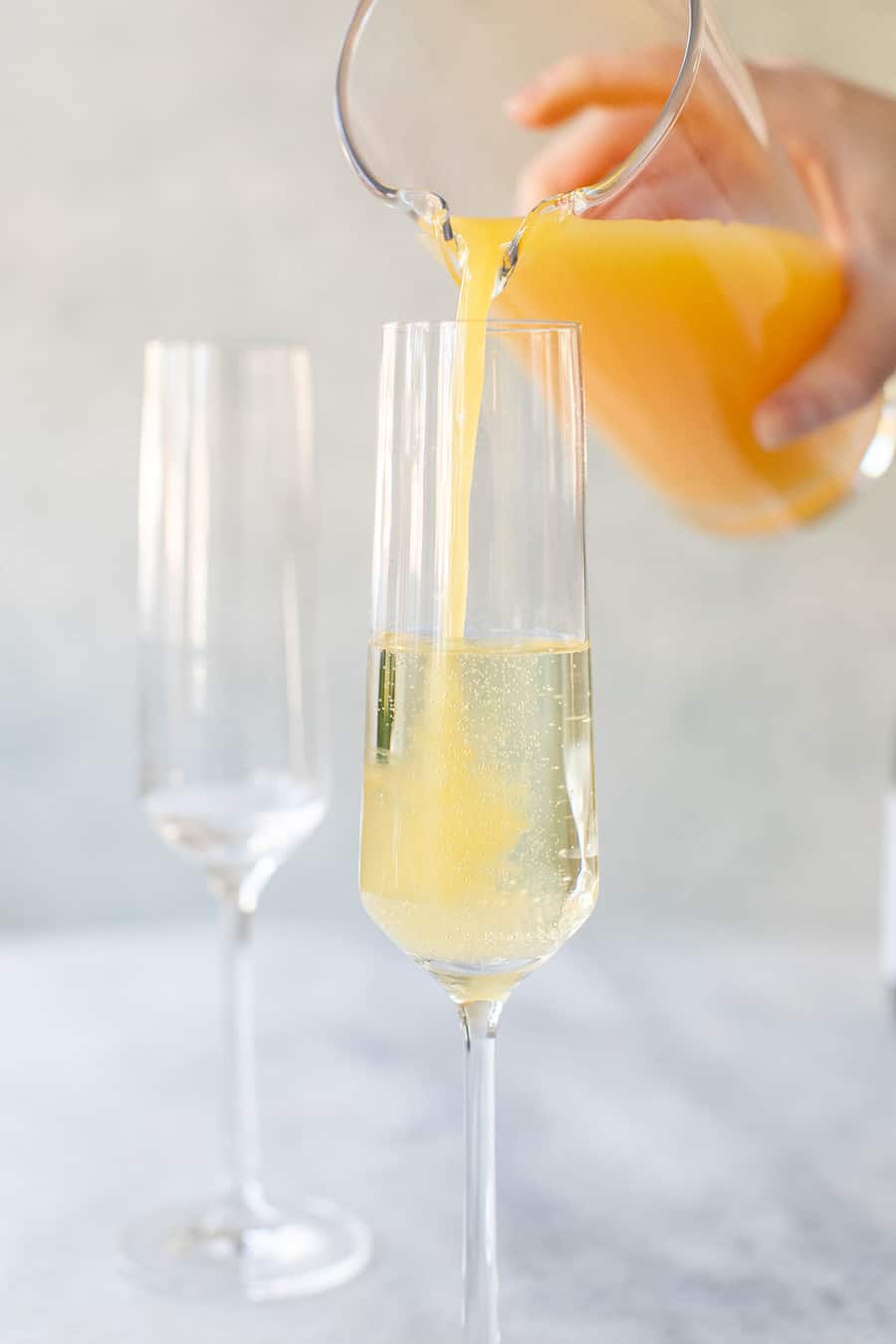 Garnishes for a Mimosa
Mimosas are typically garnished with a slice of orange or a sprig of mint. But there are many other ways to garnish your drink:
Try using seasonal fruit, such as strawberries or raspberries.
Best Champagne for Mimosas
Find out more about the best Champagne for Mimosas. Also here are some quick suggestions:
Look for a dry sparkling wine, that's not too sweet. Dry sparkling wines are made from non-aromatic grapes and are usually labeled as Brut.
Since you're mixing the sparkling white wine with orange juice you don't need to spend a lot of money on the wine. A $12 to $15 bottle will be perfect for making mimosas.
An inexpensive bottle of Prosecco or Cava will also work for making mimosas.
5 Types of Oranges
Oranges are juicy and sweet with a slightly acidic taste. They're a type of citrus fruit that is typically round and bright orange. There are many different varieties of oranges you can use to make this drink. You can even grow your own oranges in some areas! Here are a few of our favorites that you can pick up at your local grocery store:
Name 5 types of oranges
– Valencia oranges
– Navel oranges
– Blood oranges
– Mandarin oranges
– Clementine oranges
Best Way to Serve a Mimosa
There are a few things to keep in mind when serving mimosas. First, make sure the champagne is well chilled before adding the orange juice. You can also add a splash of orange liqueur, such as Grand Marnier, to the glass for an extra kick.
Pitcher of Mimosas
If you're serving mimosas for a large group, you can make a pitcher of them in advance. Combine the orange juice and champagne in a pitcher and refrigerate until ready to serve. When you're ready to serve, pour them into glasses and garnish them with orange slices or mint sprigs.
Blood Orange Mimosa Recipe
One of our favorite mimosa variations is made with blood orange. Blood oranges are in season from December through April. They give the cocktail a vibrant reddish-pink color and have a sweeter flavor.
To make a blood orange mimosa, simply switch out the orange juice for freshly squeezed blood orange juice.
Tequila Sunrise Mimosas Recipe
For a fun and festive twist on the classic mimosa, try making tequila sunrise mimosas. To make these mimosas, you will need orange juice, tequila, and grenadine. Combine equal parts of orange juice and tequila. Then, add a splash of grenadine. Garnish with a slice of orange or cherry.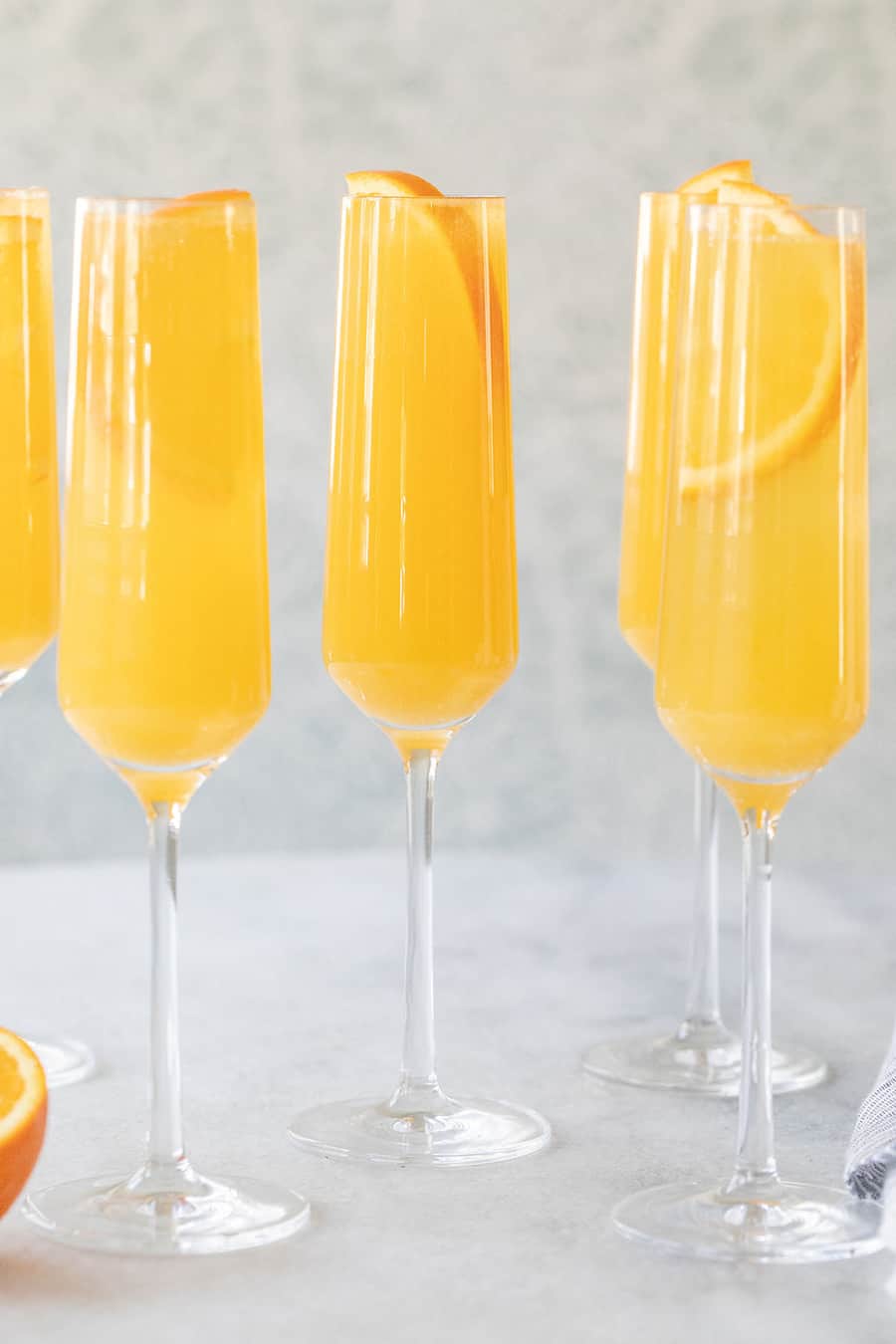 Mimosa Recipe Variations
There are many ways to change up this classic cocktail. For a sweeter drink, you can add a splash of Grenadine or try using sparkling wine instead of champagne.
If you're looking for something with a bit more of a kick, you can add a shot of vodka or swap out the orange juice for grapefruit juice.
And if you really want to impress your guests, you can create a mimosa bar where guests can customize their drinks to their liking.
Here are a few of our favorites juices you can switch out below:
Cranberry Juice – Makes a Poinsettia cocktail that is perfect for the holidays
Grapefruit Juice – If you're looking for a mimosa with a bit of a kick, try using grapefruit juice instead of orange juice. Grapefruit mimosas are refreshing and tart.
Lemonade – Use fresh lemonade.
Pineapple Juice – For a tropical twist on the classic mimosa, try using pineapple juice instead of orange juice. Combine equal parts of pineapple juice and champagne, and garnish with a slice of pineapple or a sprig of mint
Pear Juice – For a unique and refreshing mimosa, try using pear juice in place of orange juice. Pear mimosas are a delicious way to change up your brunch beverage.
pomegranate juice – Pomegranate mimosas are a delicious and festive alternative to the classic drink. To make a pomegranate mimosa, combine equal parts of pomegranate juice
Apple Cider – Make apple cider mimosas for fall!
We even made a carrot and blood orange mimosa that was fantastic for Easter!
You can also add a splash of Grand Marnier, Chambord or Lillet.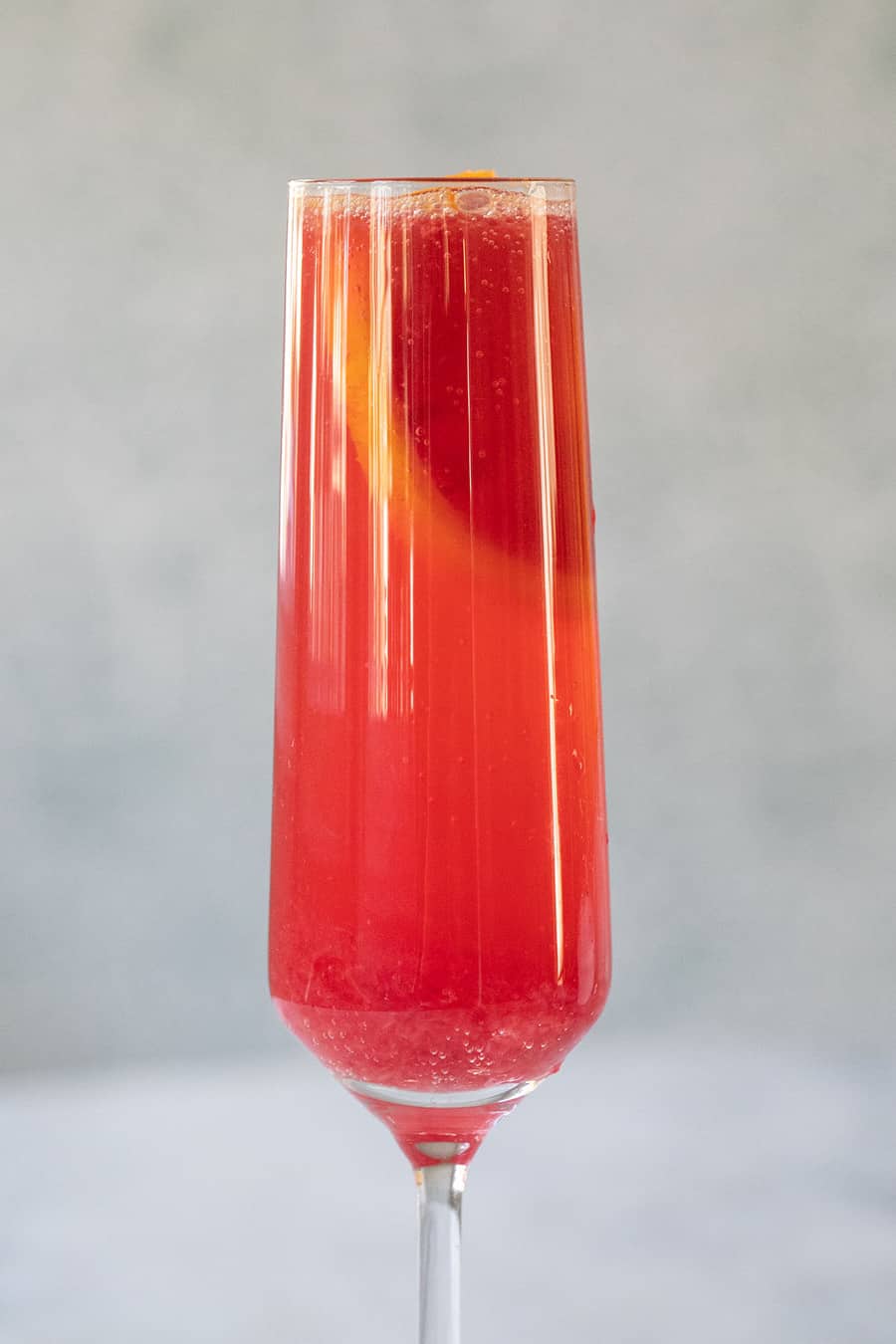 When to Serve a Mimosa
This is the quintessential brunch cocktail, but it's a perfect cocktail for any special occasion! Here are a few ideas:
Birthday Party it's also perfect for a last-minute birthday party!
Mother's Day
Baby Showers
If you want to enjoy a non-alcoholic mimosa, replace the sparkling wine with sparkling soda or sparkling grape juice like Martinelli's.
How to Make a Mimosa Bar
For a fun and festive brunch, similar to our spritzer bar, try setting up a mimosa bar! Set out a variety of juices, fruits, and bubbly beverages. Let your guests mix and match to create their perfect drink.
Place out Champagne flutes with a few bottles of sparkling wine.
Fill carafes with different juices like orange, grapefruit, pear juice, or apple cider.
In small bowls have berries and citrus slices to garnish glasses.
Put out a few liqueurs for guests to add a splash!
Benefits of Drinking a Mimosa
Mimosas are a good source of Vitamin C. Orange juice is rich in Vitamin C, which is an essential nutrient for maintaining a healthy immune system. Additionally, they contain antioxidants, which can help protect your cells from damage.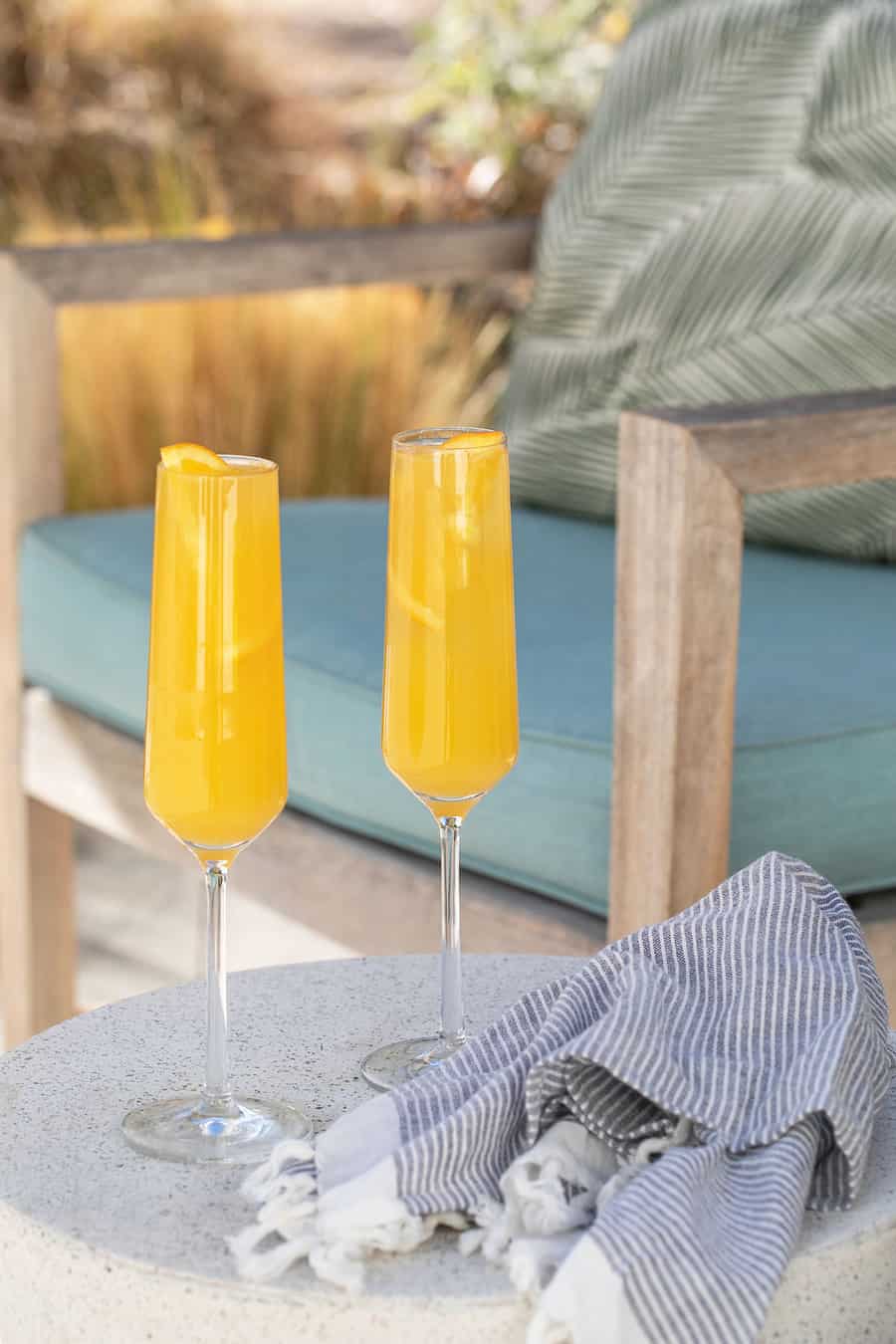 Frequently Asked Questions
What alcohol is best for mimosas?
Mimosas are traditionally made with champagne, but you can also use sparkling wine or prosecco. If you want a non-alcoholic mimosa, you can use sparkling water or ginger ale instead of champagne.
How much orange juice should I use?
The orange juice to champagne ratio is typically one part orange juice to two parts champagne. However, you can adjust this to suit your own taste. If you prefer a sweeter mimosa, use more orange juice.
Why are they called mimosas?
There are a few theories about how the mimosa got its name. One theory is that it was named after the Mimosa tree, which is also known as the Silk Tree. This tree is native to Africa and Asia, and its flowers are a bright yellow color. Another theory is that the drink was named after the Spanish word for orange, naranja.
What is the difference between sparkling white wine and Champagne?
The main difference between sparkling white wine and champagne is that champagne is made from grapes grown in the Champagne region of France. Sparkling white wine can be made from any type of grape and can come from anywhere in the world. Champagne is also made using a specific method, which includes a second fermentation process in the bottle. This gives champagne its unique flavor and bubbles.
How long do mimosas last?
Mimosas will last for up to 24 hours if stored in the fridge. However, the bubbles will start to go flat after a few hours. So if you want to enjoy your mimosa at its best, it's best to drink it within a few hours of making it.
More Easy Cocktails You'll Love!
Easy and Traditional White Sangria Recipe
The Best Skinny Margarita Recipe
You can also view all of our cocktails here!
Let us know if you make these super simple mimosas by leaving a comment and review below! We'd love to know your thoughts.
You can also FOLLOW US on FACEBOOK, INSTAGRAM, and PINTEREST to see more delicious recipes, cocktails, desserts, and parties!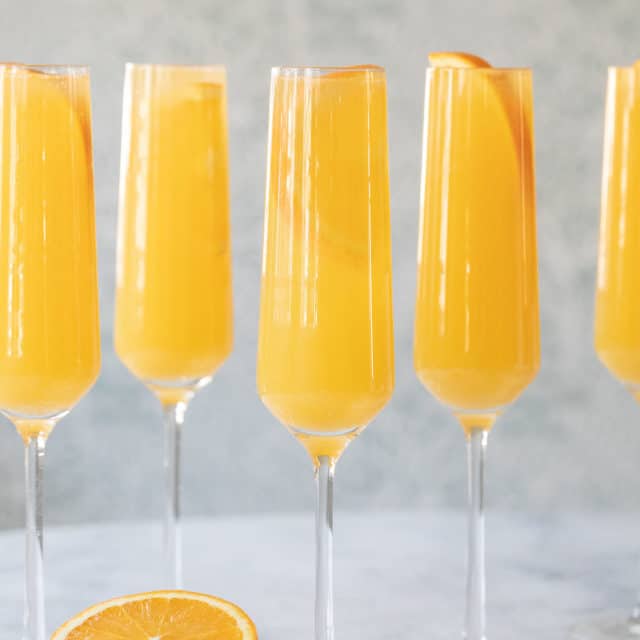 Mimosa Recipe
Learn how to make simple mimosa at home! This cocktail uses only 2 ingredients and is perfect for all occasions, but especially brunch! Also sharing variations and tips for making the best mimosa ever!
Print
Pin
Rate
Ingredients
3

ounces

sparkling white wine

,

or Champagne

3

ounces

orange juice

,

freshly squeezed

1/2

ounce

orange liqueur

,

this is optional, but really good!
Instructions
Fill a Chapgane flute halfway full with sparkling white wine. About 3 ounces.

Top it with fresh squeezed orange juice, about 3 ounces.

Add in a slice of orange to garnish if you please!
Notes
To make a larger batch that serves 8 combine 1 chilled bottle of Champagne or sparkling white wine with cups of orange juice. Either combine in a pitcher and pour into each glass or fill half of the glass with sparkling white wine and then top with orange juice to the top of the glass for a 50/50 proportion. 
You can also make it 2 parts sparkling white wine to 1 part orange juice too. 
Create different versions of a mimosa using grapefruit juice or cranberry juice. 
Make sure the wine and juice are both colds before serving. 
Nutrition
Serving:
1
g
|
Calories:
123
kcal
|
Carbohydrates:
11
g
|
Protein:
1
g
|
Fat:
1
g
|
Saturated Fat:
1
g
|
Trans Fat:
0
g
|
Sodium:
6
mg
|
Potassium:
272
mg
|
Fiber:
1
g
|
Sugar:
8
g
|
Vitamin A:
170
IU
|
Vitamin C:
43
mg
|
Calcium:
17
mg
|
Iron:
1
mg