Once spring has sprung, we're all about hosting a garden party! It's time to enjoy nature, cook from our gardens and enjoy the company and friends and family.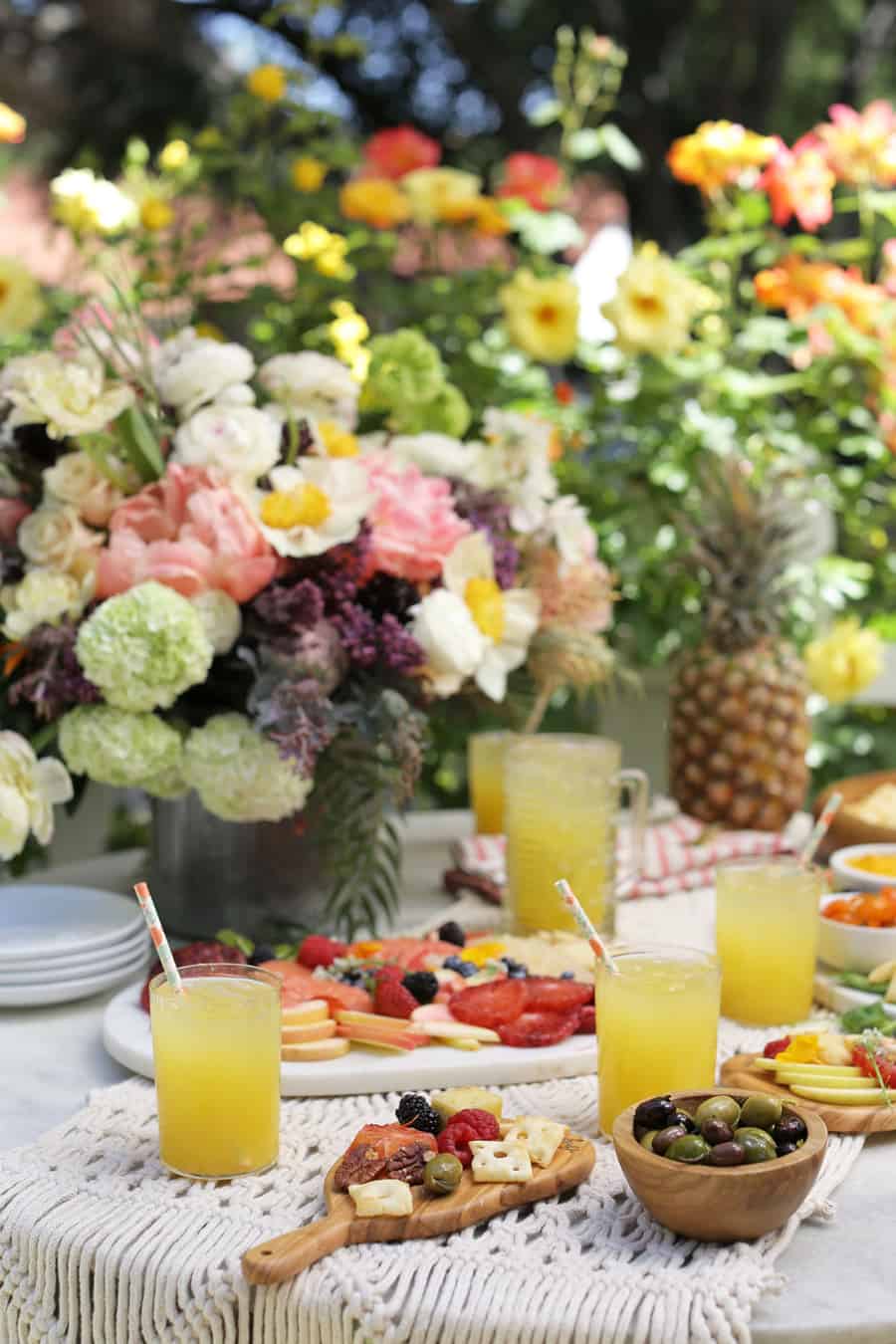 Spring is here and our roses are bursting of color in the yard! To fully enjoy their beauty, we hosted a small garden party with a giant cheese and charcuterie platter filled with delicious seasonal snacks. We're keeping it easy and simple and enjoying time outside.
So invite a few friends over, setup a table outside, preferable in a garden or near beautiful flowers and enjoy a chilled glass of rosé! Here's how!
Garden Party Decor
Table Setting
First of all keep it simple. This doesn't need to be anything outrageous. It's all about fresh, simple, beautiful flowers and seasonal food.
Set out a bistro table or a round table and drape a beautiful linen tablecloth over the top.
For seating use garden stools, chairs (mismatched is fine!) or even haystacks.
Since you'll be serving a cheese platter and dips, this doesn't need to be a fully set table. Just place stacks of cheese boards or plates, flatware and colorful napkins up for guests to grab.
Flowers
Adding flowers to the table is important. Use flowers from your garden to make a quick arrangement or hire a local florist to create a beautiful garden inspired flower arrangement.
We also added packets of garden seeds on the table for decor. Guests can take these home.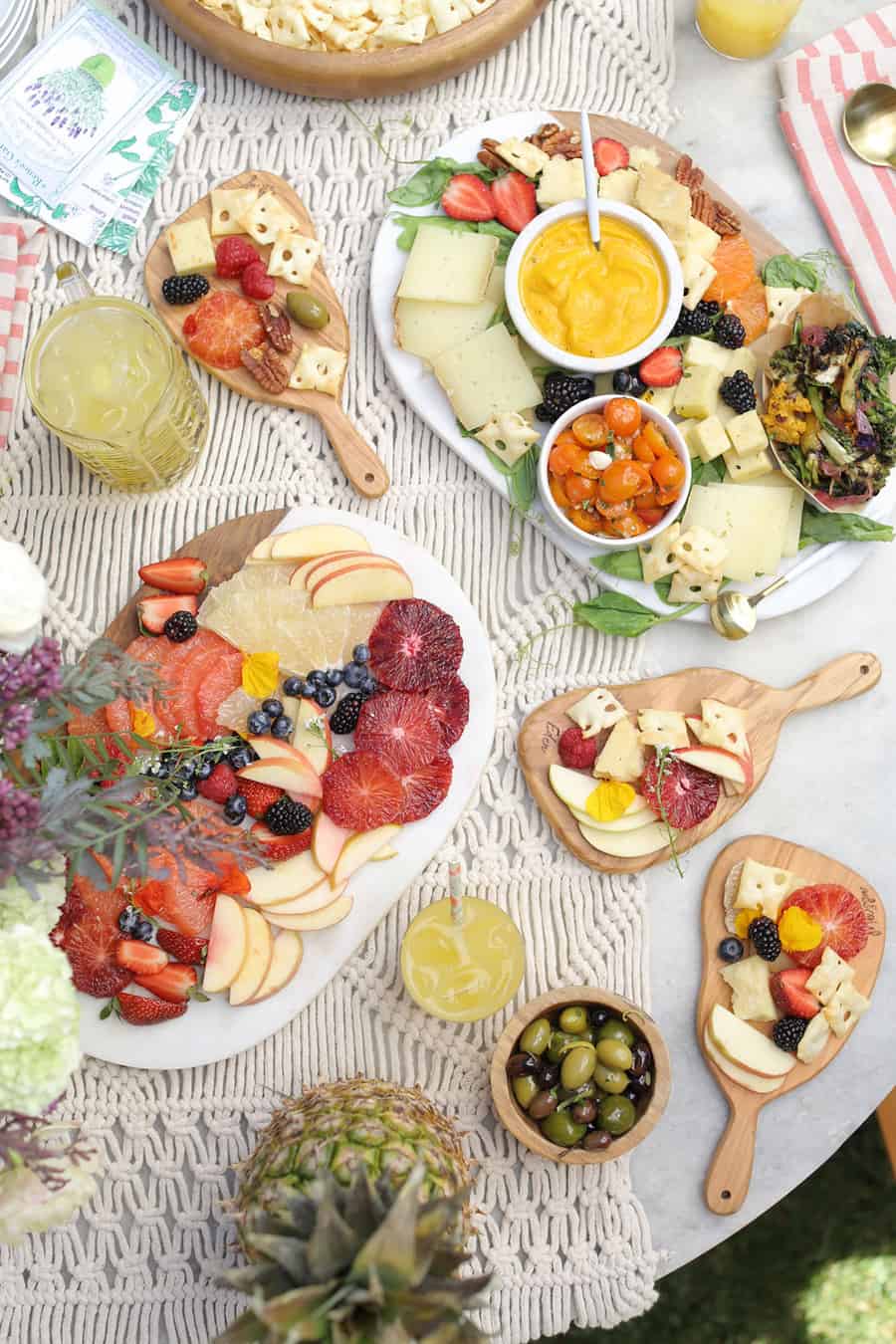 Garden Party Food and Drinks
What food do you serve at a garden party?
Create a cheese and fruit platter with all of your favorite seasonal fruit.
Make a festive dip like our yogurt tahini dip and serve with warm pita bread.
Marinated olives are also so delicious and perfect for a garden party.
Furthermore, if you need more ideas for creating a cheese platter check out our wine and cheese party.
Garden Party Desserts
Lemon and Thyme Shortbread Cookies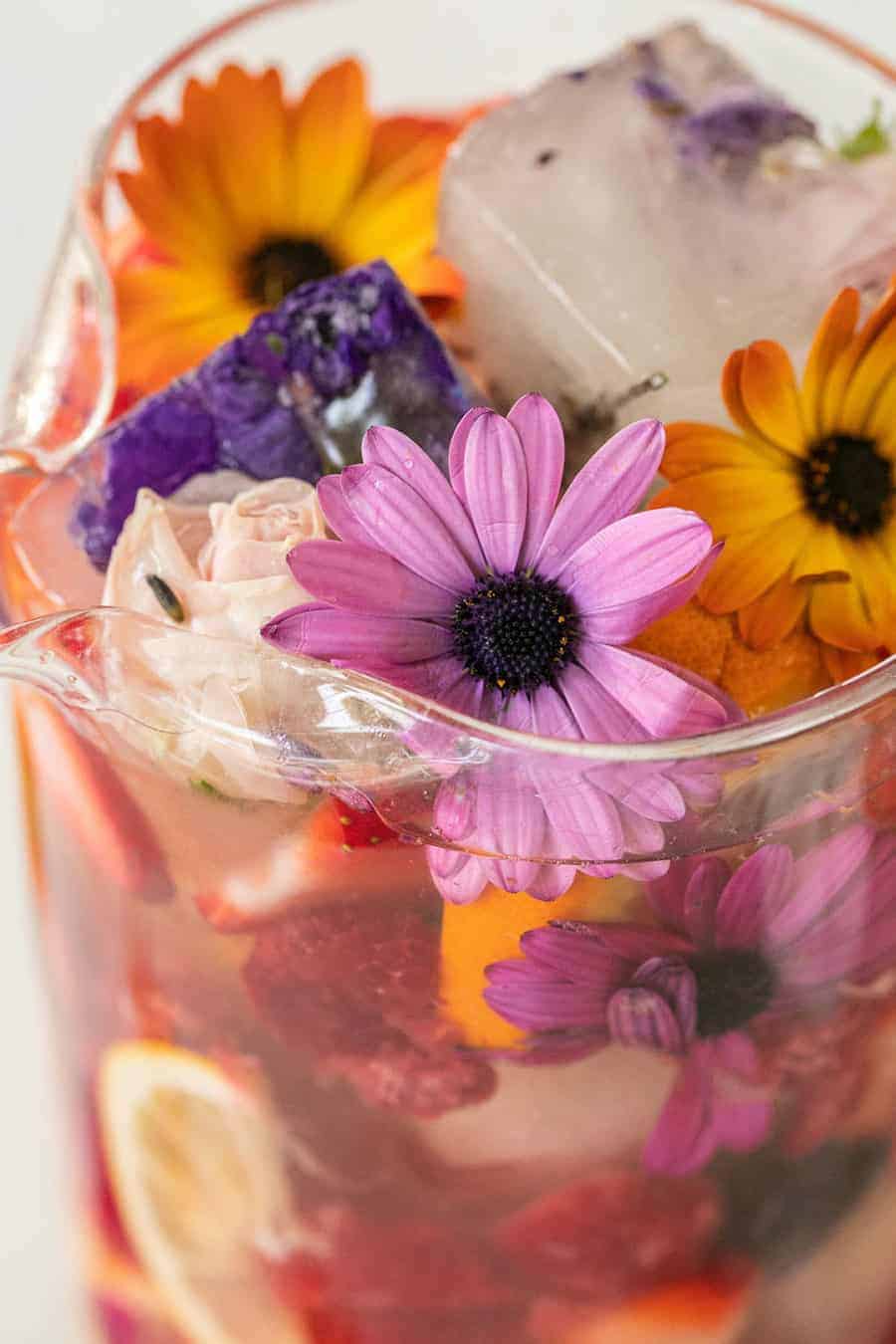 Garden Party Cocktails
Here is a list of our favorite garden cocktails. These are fun, floral and fresh for a garden party!
Naturally Sweetened Pineapple Cocktail
If want to keep it super simple and serve wine, check out our guide for serving wine.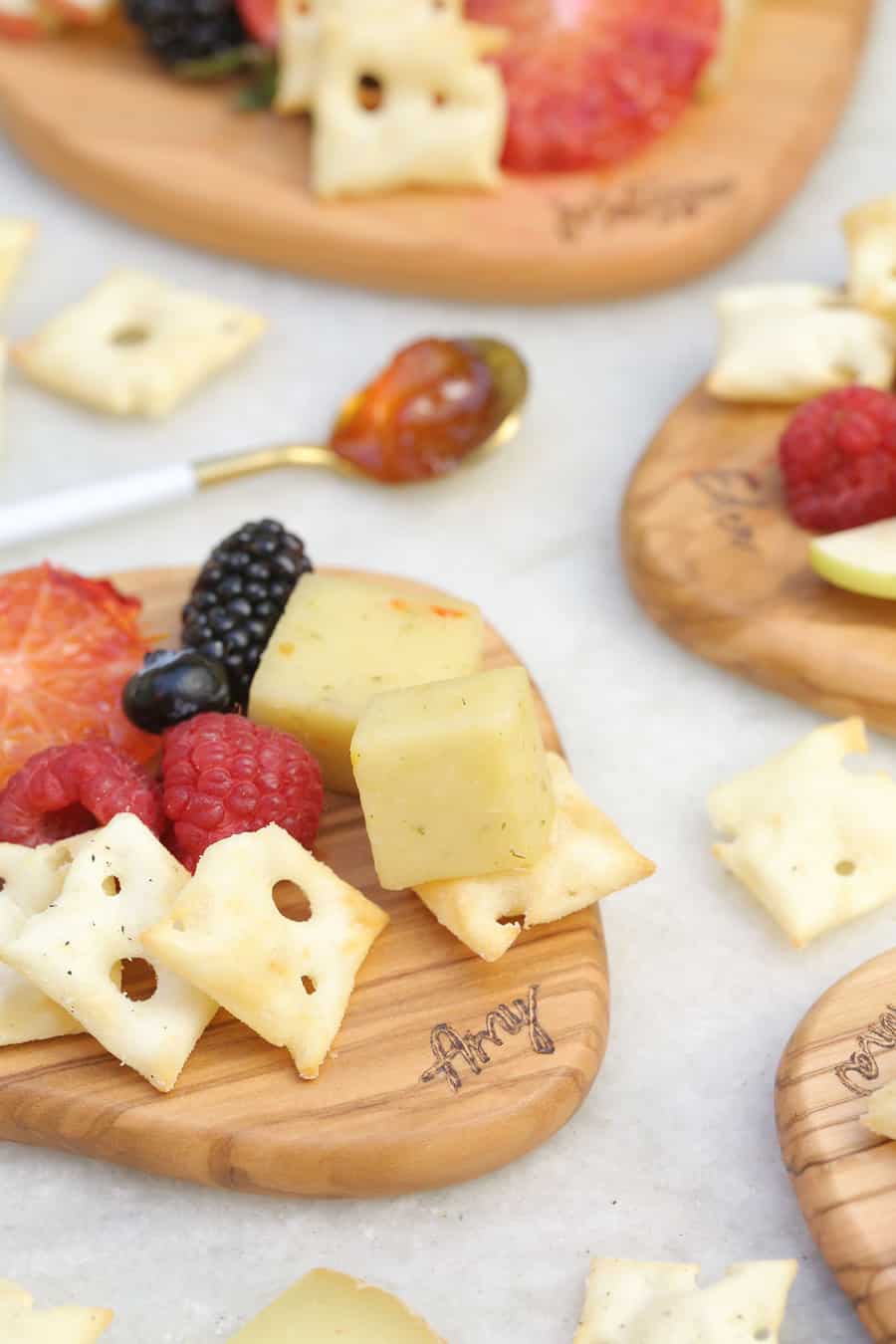 Personalized Cheese Boards
Add a touch of charm to the party with personalized cheese boards. We always recommend doing one thing to take it to the next level and these mini boards are perfect!
This is actually really easy to do. Using mini olivewood boards and a wood burning tool, we carefully carved each guests name into the mini cheese board.
These are perfect favors for your friends to take home too.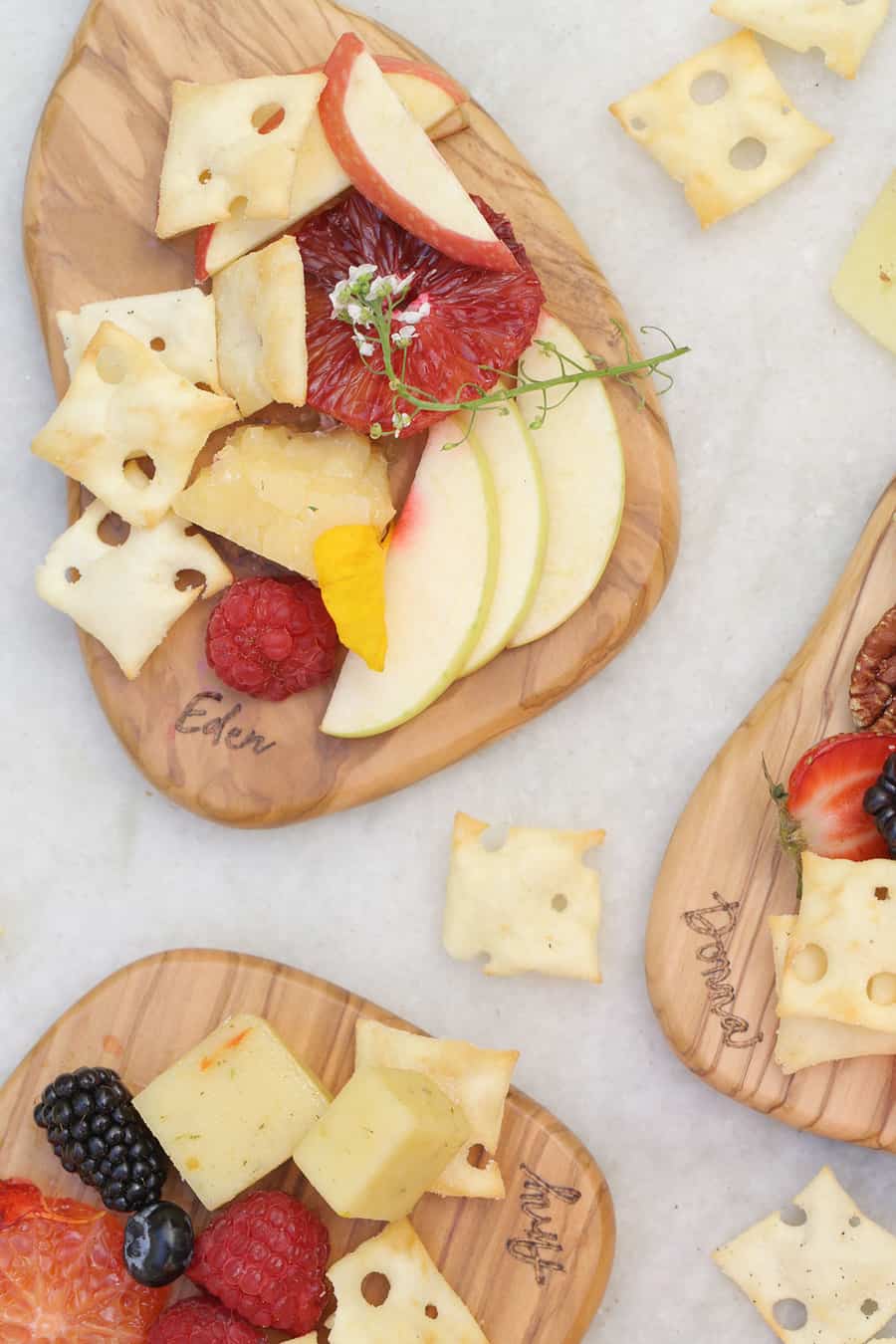 What do you do at a garden party?
If you're hosting a garden party and want an activity for guests to do, here are some fun ideas!
Blend Essential Oil Rollers
Watercolor Painting Class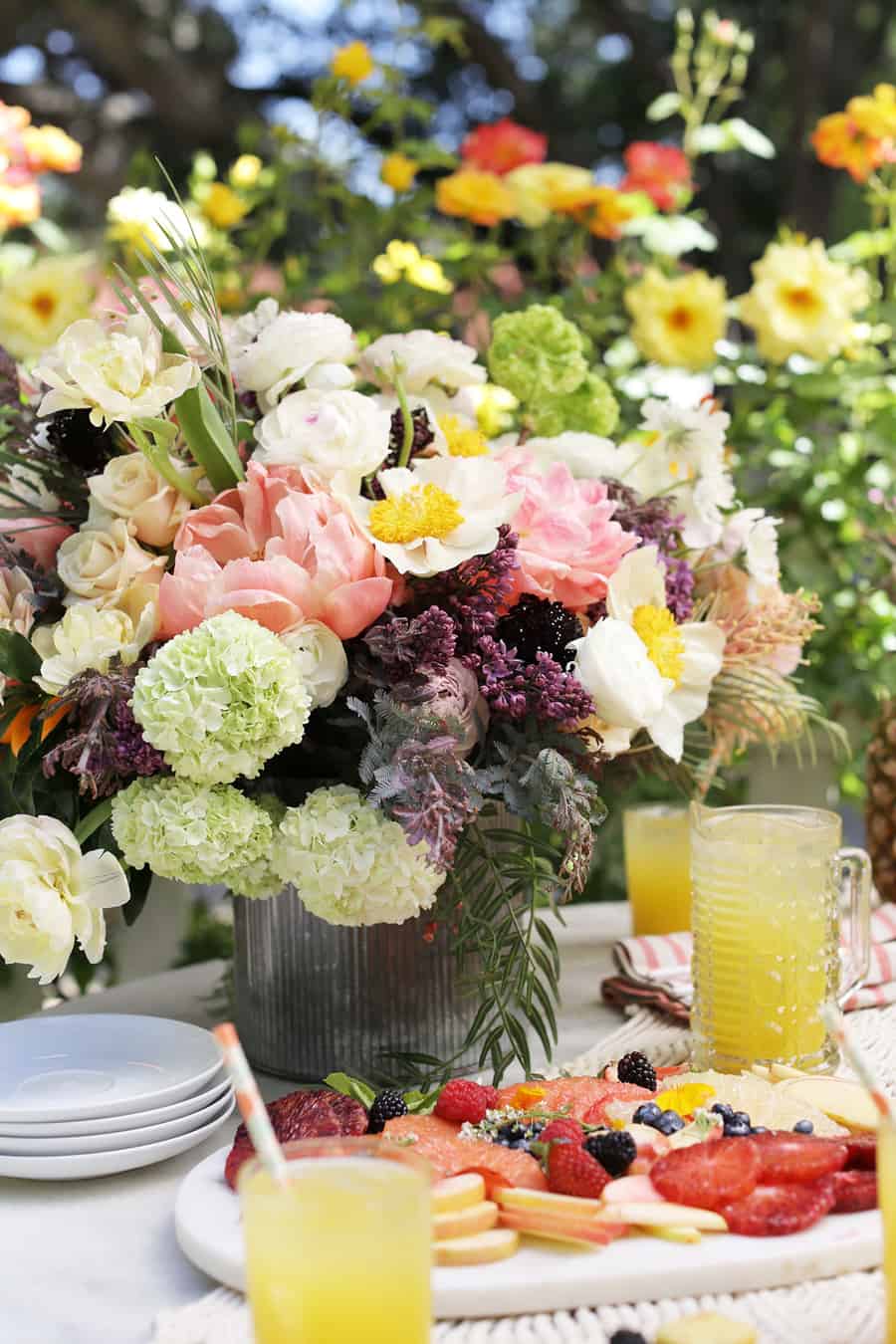 More Parties You'll Love
15 Charming Birthday Ideas for Adults
A Colorful Backyard Carnival Party
The Most Charming Graduation Party Ideas
How to Host a Tropical Summer Party
How to Throw a Last Minute Birthday Party
Now Host Your Own!
We hope you are inspired to create your own beautiful garden party this spring and summer!
You can also FOLLOW US on FACEBOOK, INSTAGRAM, and PINTEREST to see more delicious recipes, cocktails, desserts, and parties!
This post may contain affiliate links. Please read our disclosure and privacy policy.