A creamy and delicious banana pudding pie recipe! It has a fluffy, smooth texture, vanilla flavor, and is layered with fresh bananas. It's served in a Nilla Wafer pie crust, which adds a crunchy texture and delicious cookie flavor.
This pie is one of the best we've ever made and didn't last long in our house. It is the creamiest banana pudding pie and an easy recipe to make, as you don't have to cook or bake the filling!
The fresh bananas give it a delicious flavor, and the creamy pudding filling is so good! It's a messy, delicious banana pie and one of our favorite desserts.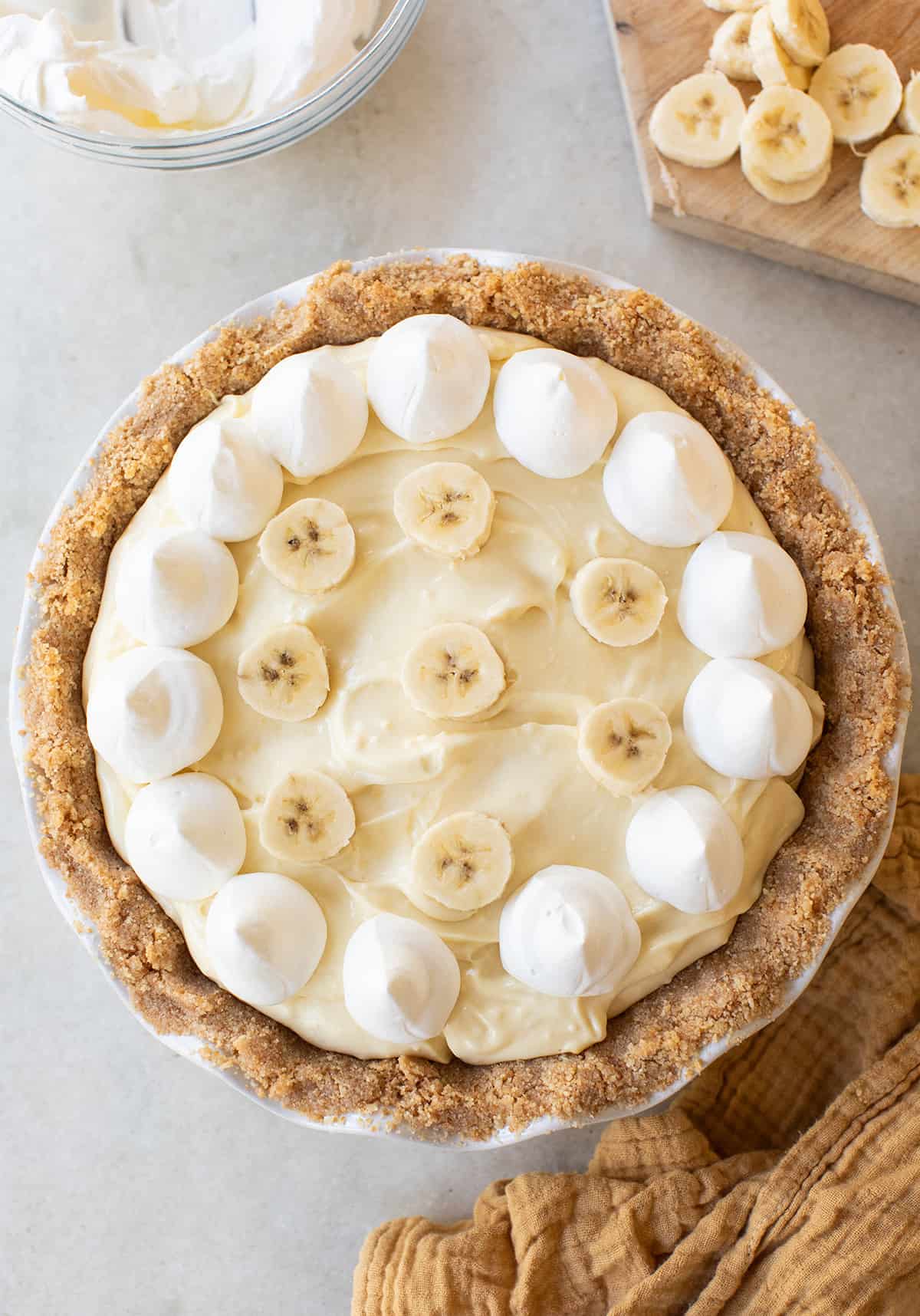 If you're looking for more cream pie recipes try our Coconut Keylime Pie and Old-Fashioned Coconut Cream Pie.
Why you'll love this homemade banana pudding pie:
It has a super creamy, fluffy flavor that's irresistible.
Easy to make, no cooking or baking the filling, it's just whipped to perfection!
It's perfect for any spring or summer gathering.
You don't have to worry about it being too sweet either – the banana adds a balanced flavor that's sure to please.
How to Make a Banana Pudding Pie
We'll cover everything you need to know to make this recipe, answer frequently asked questions, and share our tips for recipe success.
If you prefer to jump to the recipe, scroll to the bottom of the post where you'll find the recipe card, measurements, and step-by-step photos.
Supplies
Here are a few baking items you'll need to make this pie:
Ingredient Notes
Here are all of the ingredients you'll need to make this recipe. You can find them at your local grocery stores.
Cream Cheese – This adds a creamy texture and flavor. Make sure the cream cheese is completely softened. If you need to microwave it for a minute you can. It has to be soft.
Sweetened Condensed Milk – This is what adds sweetness to the pie recipe.
Milk – You can use either 2% or whole milk for this recipe.
Heavy Whipping Cream – This is used to thicken the pie and give it a super creamy flavor.
Instant Vanilla Pudding – This helps thicken the pie and also adds a vanilla flavor. You can mix it with coconut instant pudding mix for a coconut banana cream pie or use banana cream pudding too. If you want a healthier option, try an organic instant vanilla pudding or sugar-free vanilla pudding mix.
Vanilla Extract – Use pure vanilla extract when making this recipe. Adds flavor and also enhances flavor too.
Fresh Bananas – You'll need about 3 bananas that will be sliced and layered in with the pudding. Wait to slice the bananas until you're ready to layer them into the pie. Otherwise, they will brown.
Nilla Wafer Cookies – You'll need two boxes of these classic cookies. These vanilla wafers are cookies that are classic to banana pudding.
Unsalted Butter – Melted butter gives the crust a delicious buttery flavor and holds the crumbs together.
Granulated Sugar – This is added to the crust to give it a little extra sweetness.
Salt – We add a dash of salt to enhance the flavors in the crust.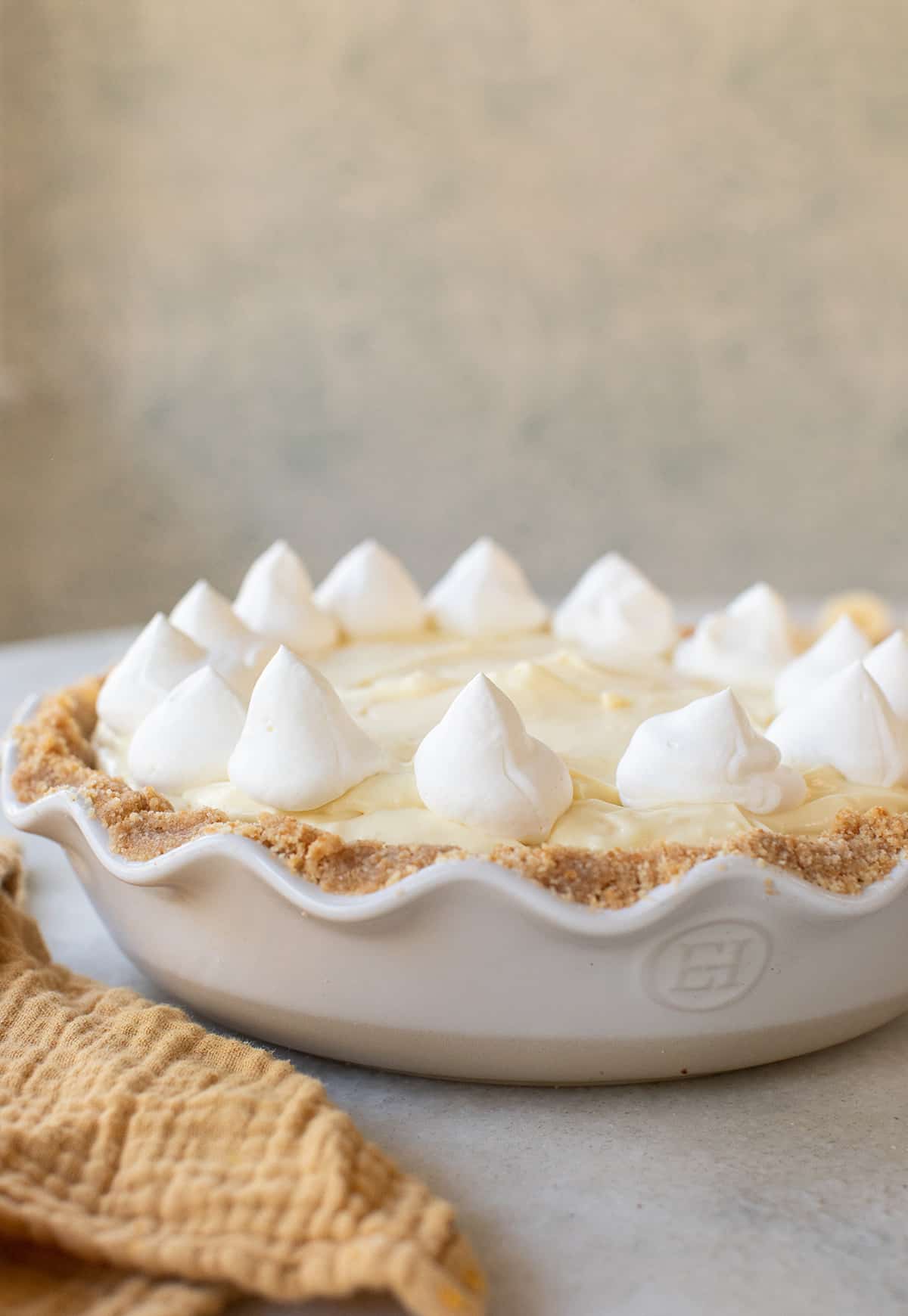 Tips for Making This Pie
Make sure all of your ingredients are at room temperature before starting. This will help ensure the banana pudding pie filling is smooth and creamy.
To make this recipe even easier and no-bake, use a store-bought graham cracker crust.
Slice the banana just before adding it to the pie. If you slice it too far in advance, the banana will start to brown and won't look as nice when you assemble the pie.
Make sure the cream cheese is very soft before mixing. If it's not, there will be lumps in the pie. You can microwave it to soften it.
Butter the pie dish so the crust comes out easily. If you're making homemade crust, it can stick to the pan.
You can use a mix of coconut pudding and vanilla if you want to make a coconut banana cream pie.
You can refrigerate for 1 hour if you want the texture to be a little thicker. But don't worry about cutting the perfect slice, this pie is meant to be messy and delicious!
Make sure to beat and whip the ingredients well. That is what creates the thicker texture of the pie.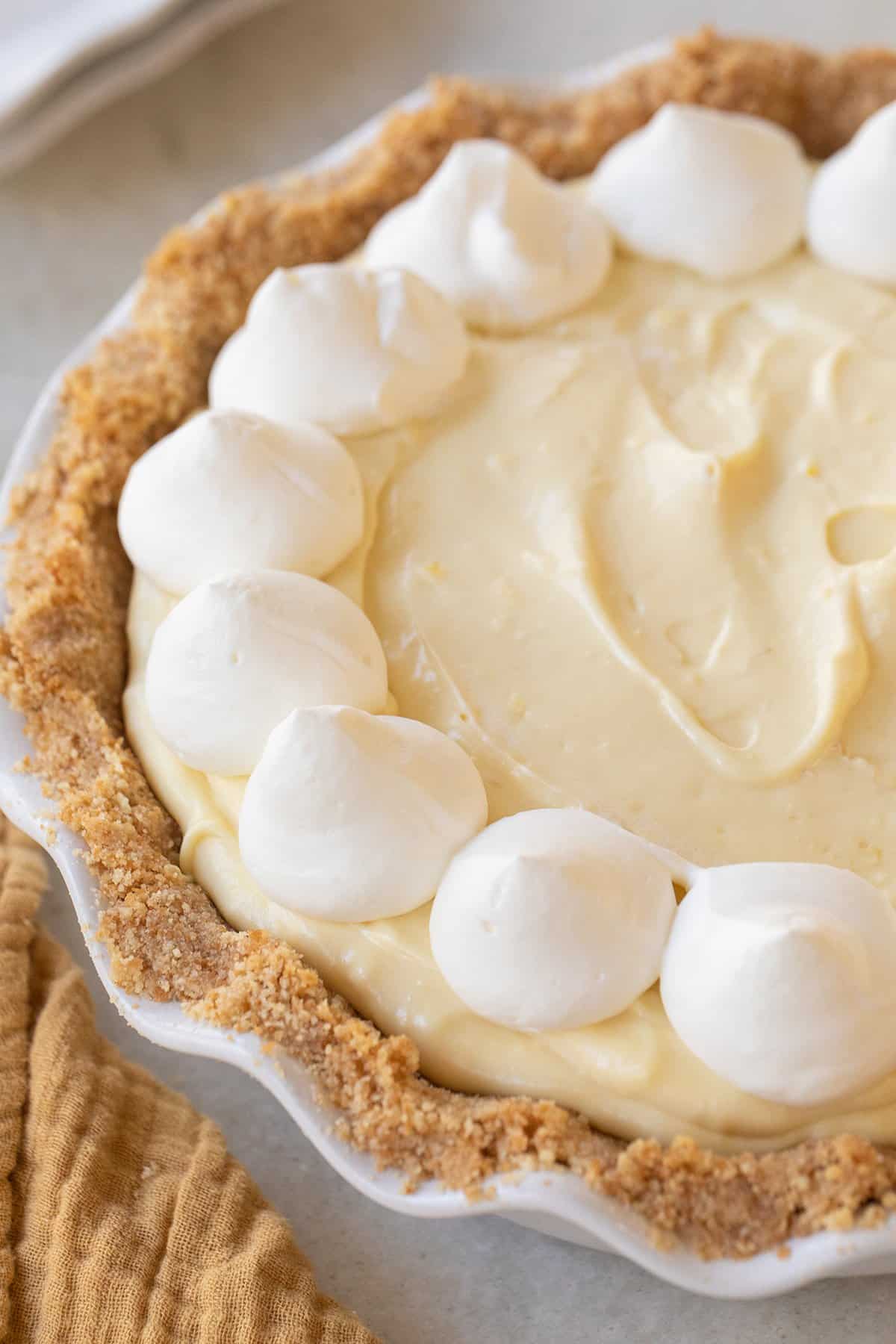 Banana Pudding Pie Garnishes
The banana pudding pie is delicious all on its own, but you can also top it with a few garnishes to make it extra special.
Whipped Cream – Add a big dollop of whipped cream to the top. You can use store-bought or make your own.
Chocolate Shavings – If you want to add a little crunch and chocolate flavor, sprinkle some chocolate shavings on top.
Nilla Wafers – For a classic banana pudding taste, sprinkle some crushed Nilla Wafers on top.
Banana Slices – Add a few sliced ripe bananas to the top of your banana pudding pie.
Caramel Sauce – Drizzle some caramel sauce slices – Add banana slices over the top for a pretty presentation. Do this right before serving.
Shredded Coconut – If you used coconut pudding with vanilla, you can add shredded coconut to the top of the pie. Better yet, use toasted coconut for even more flavor.
How to Store Leftovers
If you have leftover pie, here's how you can store it:
Refrigerate
This banana pudding pie should be stored in the refrigerator. It will last up to five days covered with plastic wrap or foil. However, the bananas will brown once they're sliced.
Freeze
You can freeze this banana pudding pie for up to one month. Once you're ready to serve, thaw it out in the refrigerator overnight and then let it come to room temperature before serving.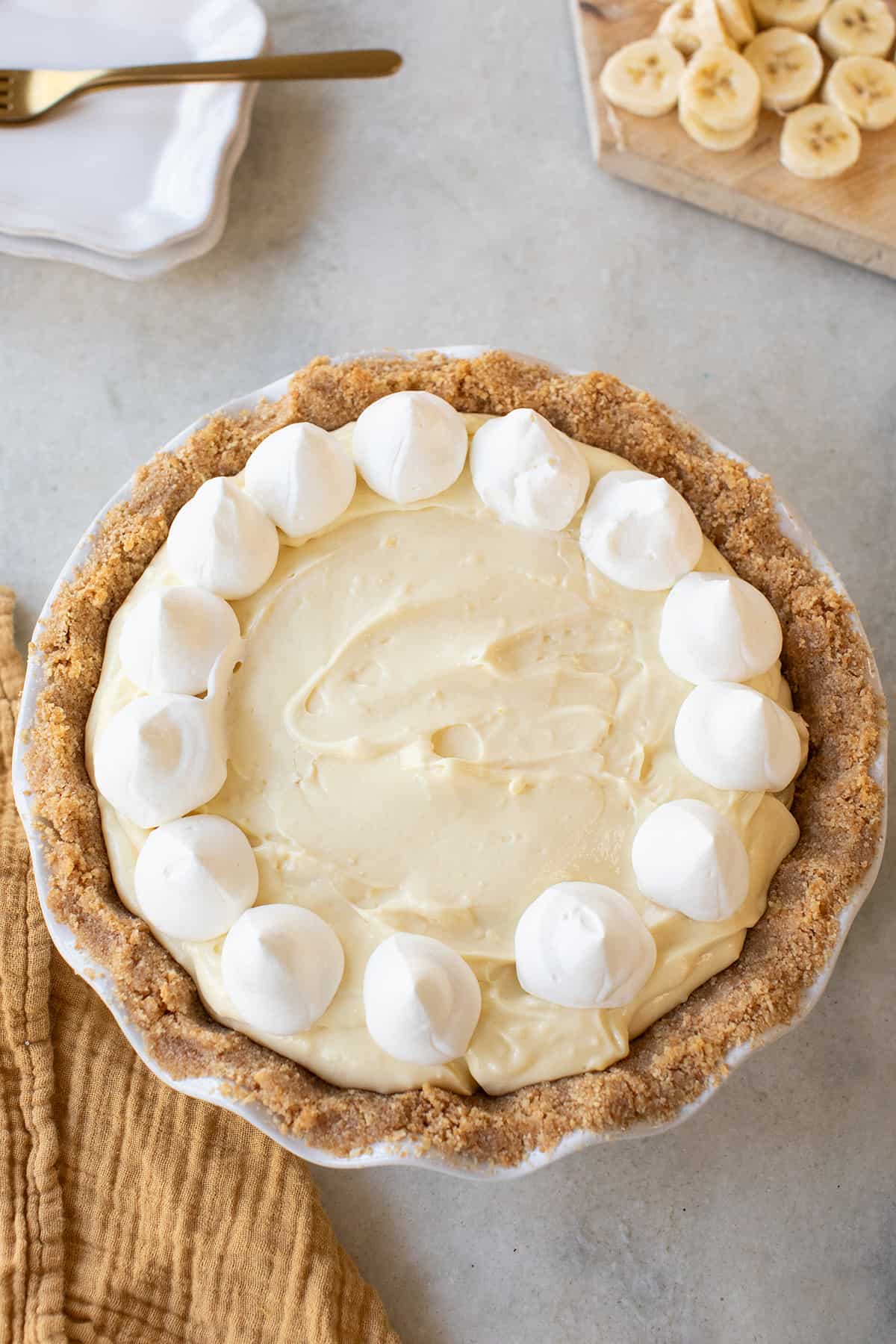 Frequently Asked Questions
Is banana cream pie made of pudding?
Yes, banana cream pie is made of pudding and cream. We use a banana pudding mix combined with heavy whipping cream and sweetened condensed milk to make this banana cream pie. We then layer the banana slices in between and top it all off with a Nilla wafer crust for an irresistible banana pudding pie!
How do you keep bananas from turning brown in a banana cream pie? 
The best way to keep bananas from turning brown in the banana cream pie is to slice them just before adding them to the pie. If you're making banana pudding pie, you can also mix a bit of lemon juice into the banana slices to help them stay slightly yellow and prevent browning. Additionally, you can cover the banana slices with a bit of banana pudding before adding the whipped cream layer to help keep them fresh and colorful.
Should banana cream pie be refrigerated? 
Yes, the banana cream pie should be refrigerated. It will last up to five days covered with plastic wrap or foil.
When to Serve Banana Pudding Pie
This banana pudding pie is perfect for any occasion! It's a great spring and summer dessert that requires no baking. Serve it at a barbecue, picnic, or family gathering for a delicious and refreshing treat!
It's also perfect for birthdays, and anniversaries. Here are some occasions to serve this pie: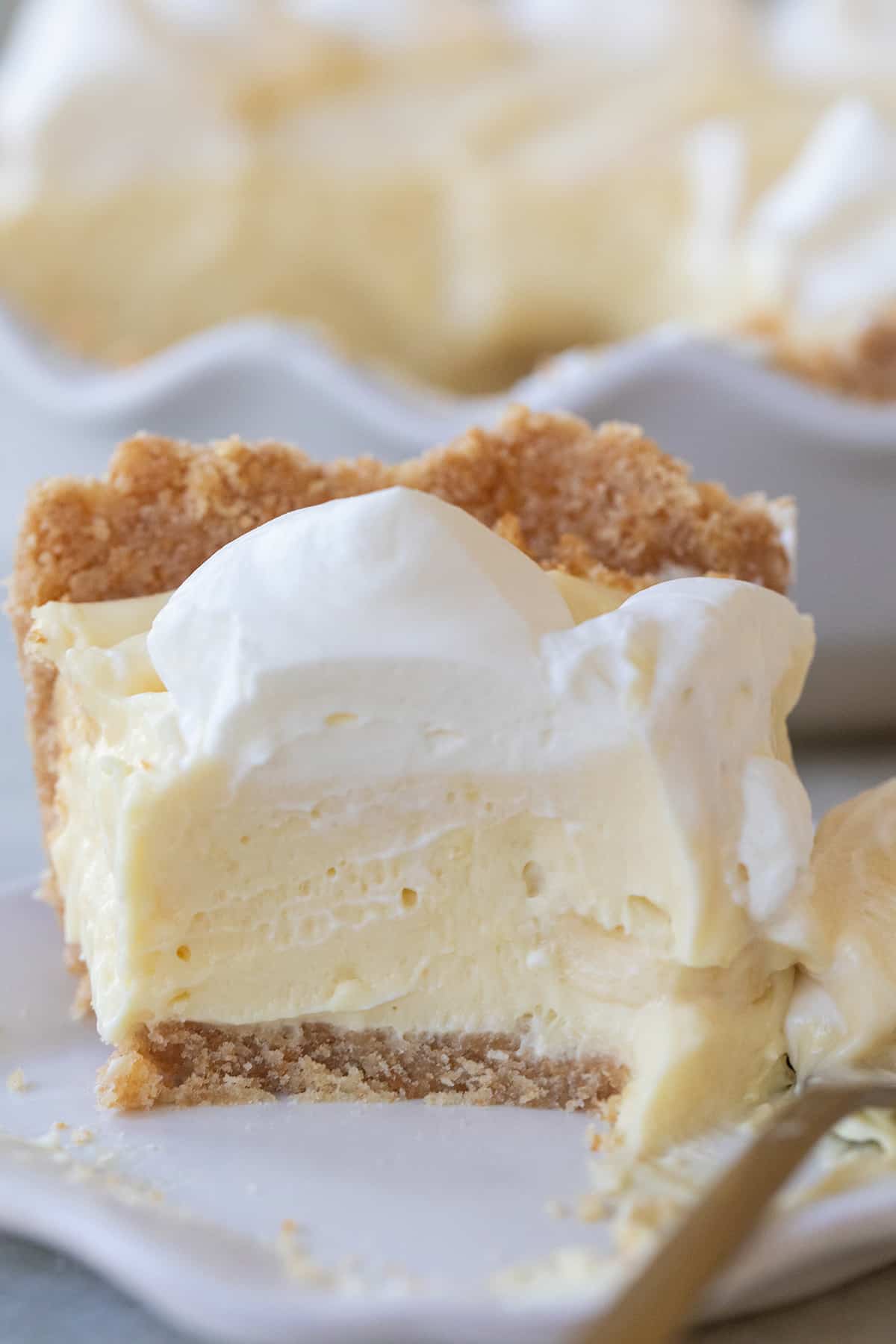 More Pie Recipes
If you love pie as much as we do, here are a few more of our favorite pie recipes:
And if you love bananas try our best banana bread recipe too!
Let us know what you think!
If you make this easy banana cream pie, leave a comment and review below. We'd love to know your thoughts! 
You can also FOLLOW US on FACEBOOK and PINTEREST to see more delicious recipes, cocktails, desserts, and parties!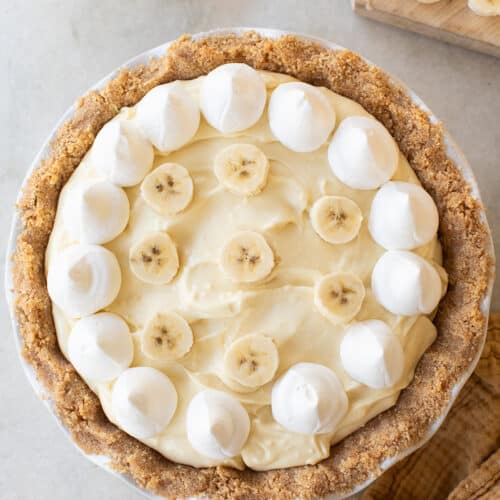 Banana Pudding Pie
A creamy, banana pudding pie recipe made with a Nilla wafer crust.
Print
Pin
Rate
Ingredients
Nilla Wafer Pie Crust
4

cups

Nilla wafer cookie crumbs

11

tbsp

unsalted butter

,

melted

1/3

cup

granulated sugar

1/2

tsp

salt
Banana Pudding Pie Filling
8

ounces

cream cheese softened

14

ounces

sweetened condensed milk

5

ounces

instant vanilla pudding

2

cups

milk

1 1/2

cups

heavy whipping cream

,

divided 1 cup and 1/2 cup

2

tsp

vanilla extract
Instructions
Nilla Wafer Crust (optional)
Add the Nilla wafer cookies into a food processor and pulse until fine crumbs form.

In a mixing bowl, combine the cookie crumbs, melted butter, sugar and salt and mix with a spatula.

Butter the pie dish and press the cookie mixture into the pie dish and up the sides.

Bake in a preheated 350-degree oven for 10 minutes.
Banana Pudding Pie Filling
First make the whipped cream which will be folded into the pudding mixture. To do this beat 1 cup of heavy cream until it forms stiff peaks. Set aside.

In another mixing bowl, you'll make the pie filling. You need to make sure the cream cheese is completely softened. You can actually remove the foil, place the cream cheese in a microwave-safe bowl and heat it for 15-20 seconds.

Once the cream cheese is fully softened, use an electric mixer fitted with the paddle attachment and beat until light in texture with no lumps.

Beat in the condensed milk, pudding mix, cold milk, heavy cream, and vanilla extract. 

Beat until completely smooth. Note, it will not be a thick pudding consistency yet. It will be more watery and as it sits it becomes thicker.

Next, fold in the whipped cream you made previously.

Do this by adding it to the pudding mix and then using a spatula to gently fold the mixture until it's all incorporated. 

Slice 3 peeled bananas to layer into the pudding mixture.

Pour 1/3 of the pudding into the pie dish.

Add a layer of sliced bananas and repeat 2 more times.

Top with whipped cream and bananas.
Notes
You can use a store-bought crust to make this recipe or our homemade graham cracker recipe too.
Make sure the cream cheese is super soft, otherwise you'll have lumps in the filling. 
Use good quality ingredients to make this recipe. 
You can use vanilla or coconut pudding or a mix of both. 
Let the pie sit for 30 minutes to thicken. 
Make sure you butter the pie dish so the crust comes out easily. 
Nutrition
Calories:
345
kcal
|
Carbohydrates:
33
g
|
Protein:
6
g
|
Fat:
21
g
|
Saturated Fat:
13
g
|
Polyunsaturated Fat:
1
g
|
Monounsaturated Fat:
5
g
|
Cholesterol:
69
mg
|
Sodium:
200
mg
|
Potassium:
240
mg
|
Fiber:
0.1
g
|
Sugar:
31
g
|
Vitamin A:
845
IU
|
Vitamin C:
1
mg
|
Calcium:
183
mg
|
Iron:
0.1
mg