Looking for great cocktail recipes? Look no further! We're sharing the most amazing recipes you can make at home! From our best Moscow mule recipes to a unique twist on a dirty martini! There's a cocktail in here for everyone.
As much as we love baking at home, we also love playing bartenders and creating great cocktails too. Not only is it fun to whip your own drinks, but it also saves money! It's not hard to do either, with these recipes below you'll be able to make a refreshing cocktail to enjoy. Make these drinks for parties, events, dining alfresco, holidays or just for fun!
Get your mixologist hat on and start mixing! We can't wait to see which recipes you make.
Great Cocktail Recipes
Blueberry Moscow Mule
An easy recipe for the best Blueberry Moscow Mules! They're perfect for summer sipping, full of ginger and fresh berries. Also, check out all of our best Moscow Mule recipes.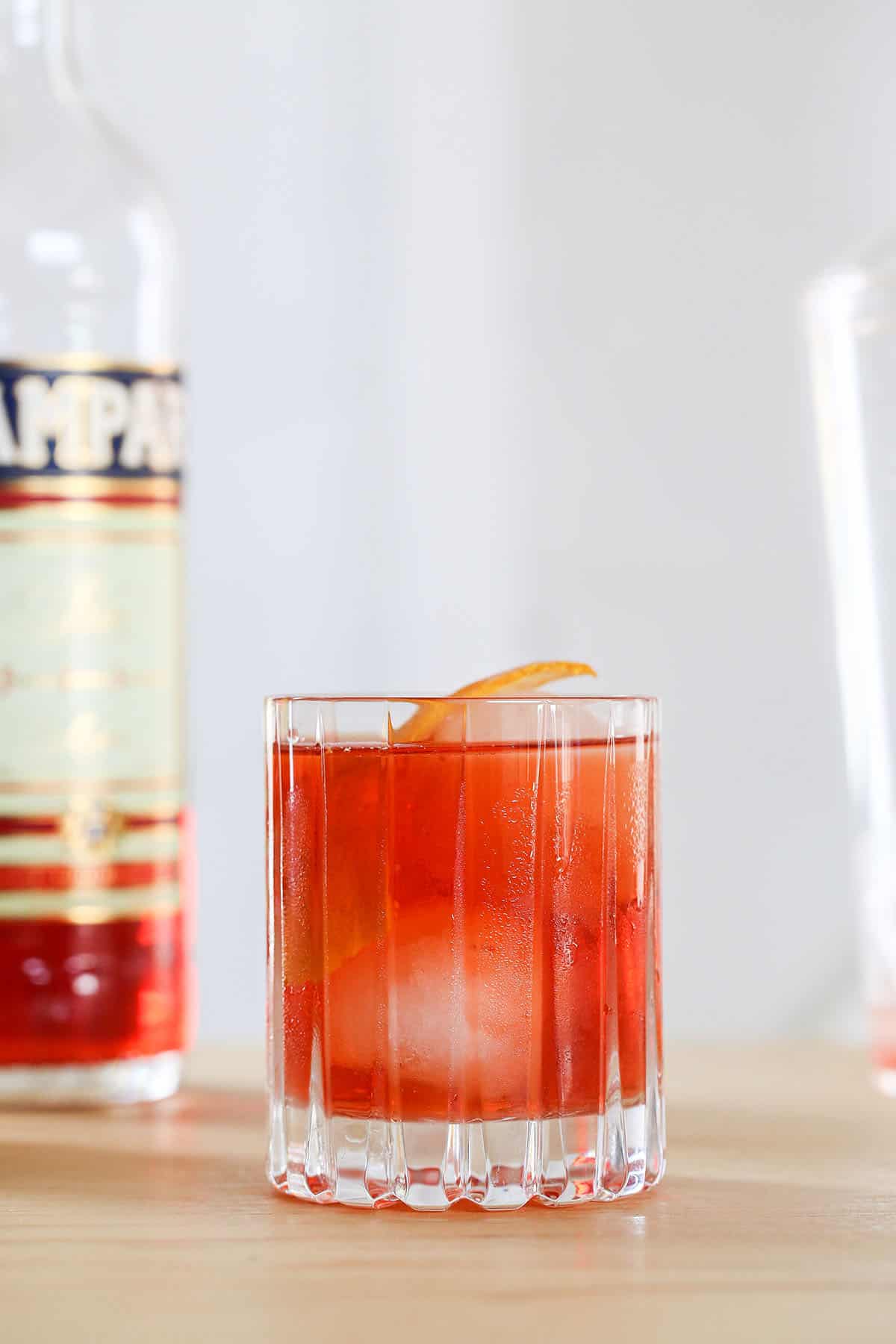 Classic Negroni
We're showing you how to construct a classic Negroni cocktail! Such a perfect cocktail deserves to be made and enjoyed with friends! Also, check out our negroni popsicles too!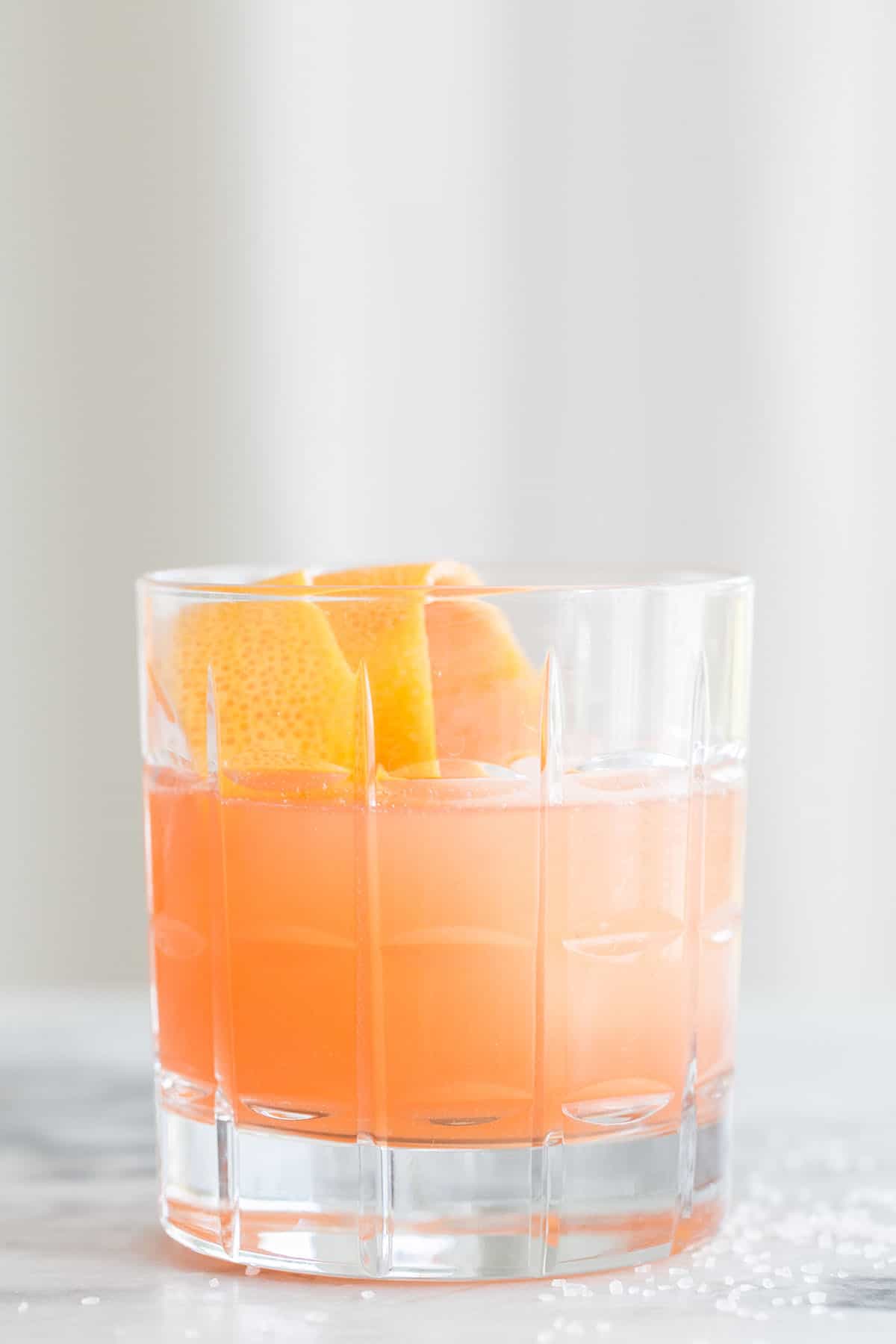 Italian Paloma Recipe
This refreshing and zingy Italian Paloma Cocktail is easy to mix and even easier to drink! Made with a little Campari, this cocktail has a sweet and bitter flavor and an irresistible color. Also, check out our frozen Paloma too!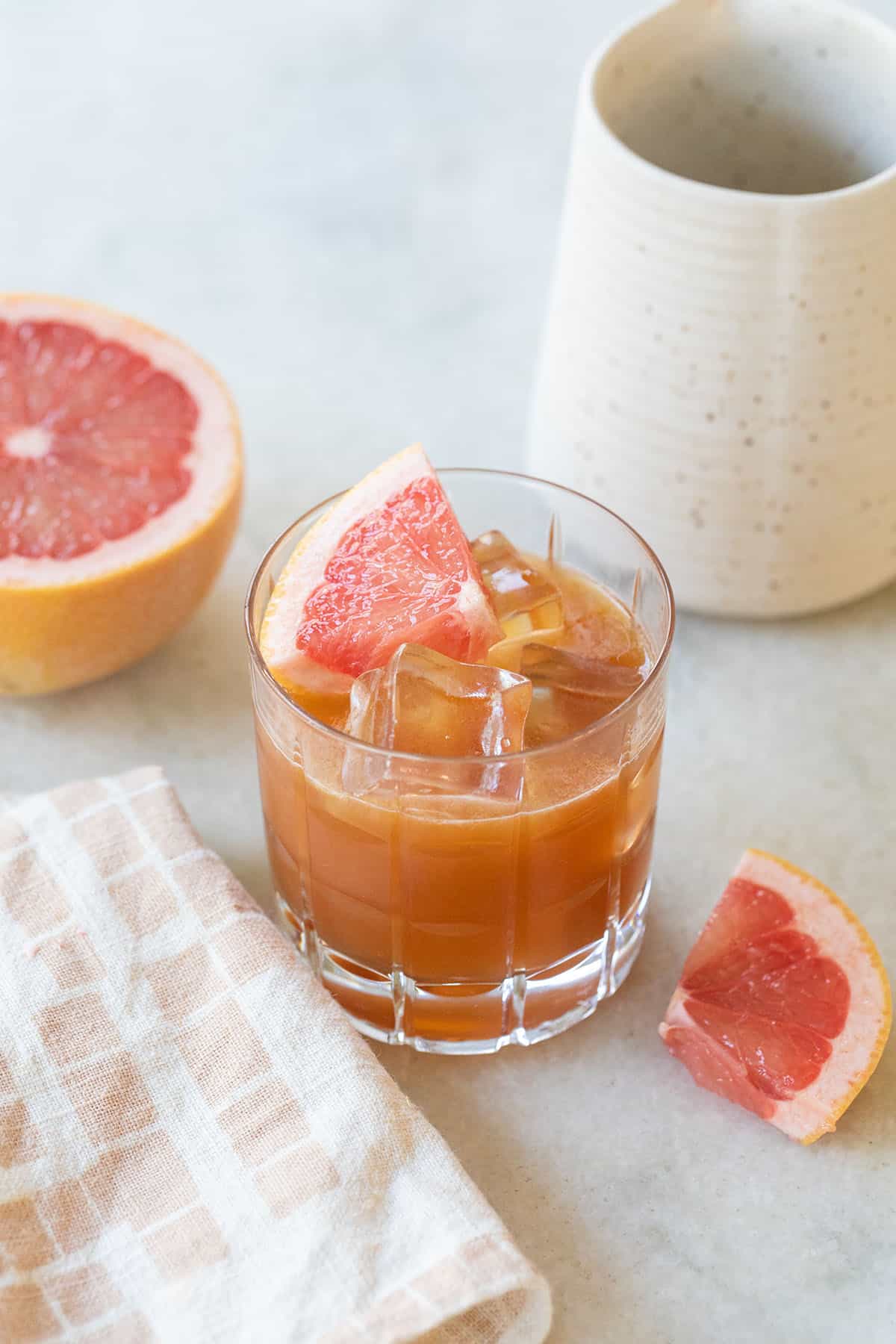 Jagermeister and Grapefruit Juice
A refreshing Jagermeister cocktail recipe with grapefruit juice. This recipe is made with 3 simple ingredients and has a beautiful, citrus flavor with the aromas and botanicals of Jagermeister.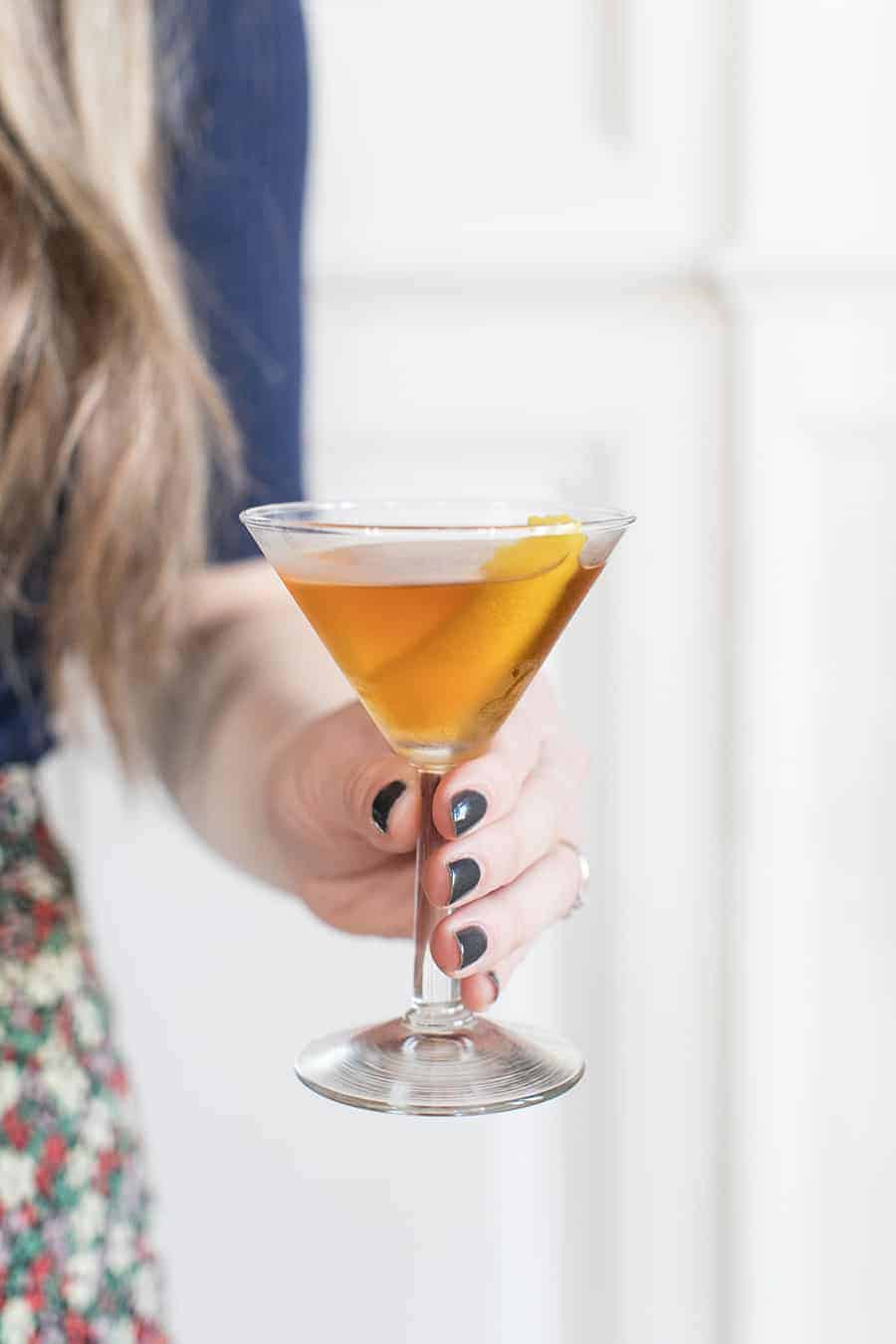 Bénédictine Cocktail
Learn how to make a Bénédictine Cocktail straight from the Bénédictine Castle in France! We're teaching you the simple recipe we learned during our visit to Fécamp!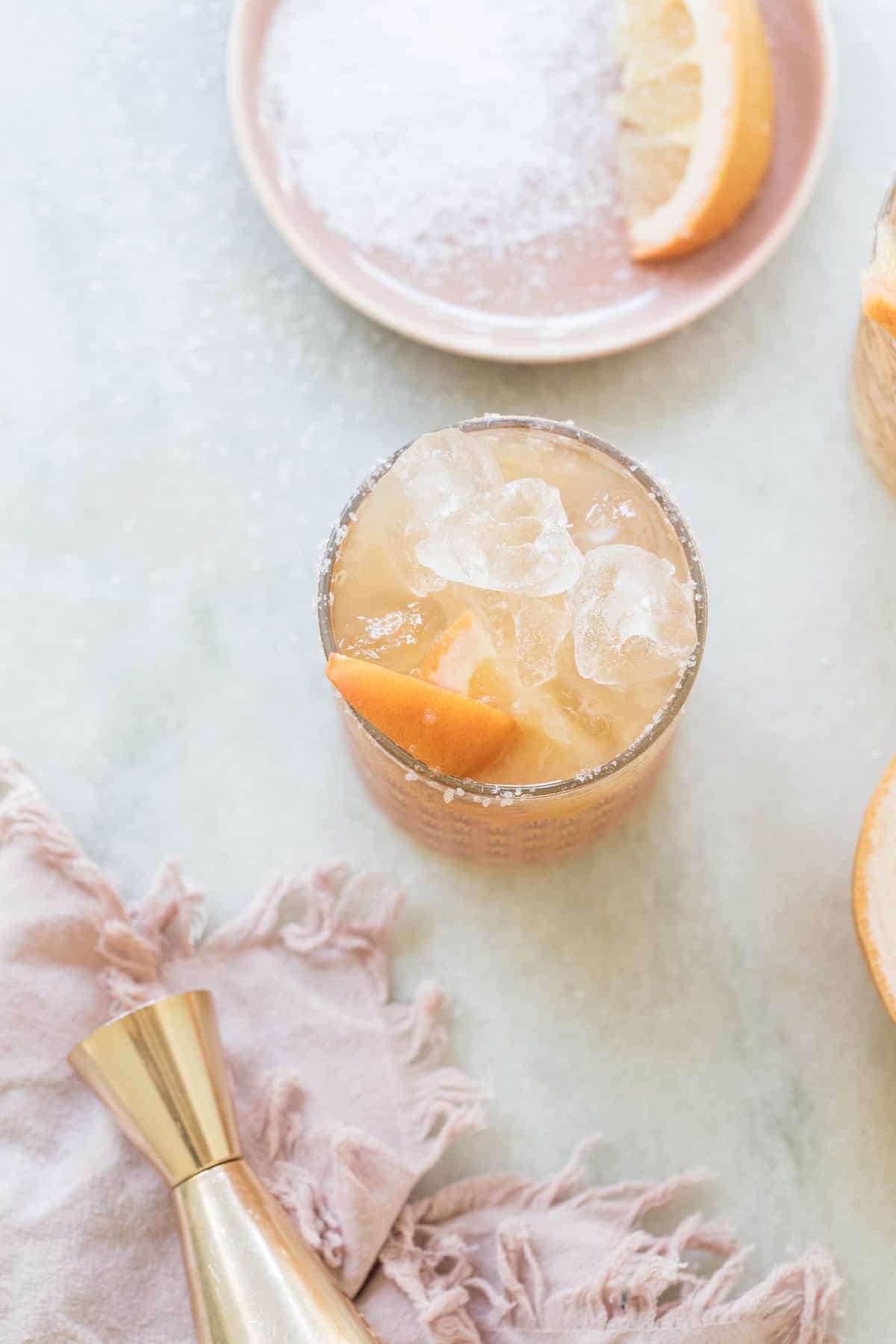 Peachy Salty Dog
If you want a light and refreshing drink, then this Peachy Salty Dog cocktail will have your tail wagging! The peaches and grapefruit work so well in this classic cocktail, perfect for a warm summer's evening!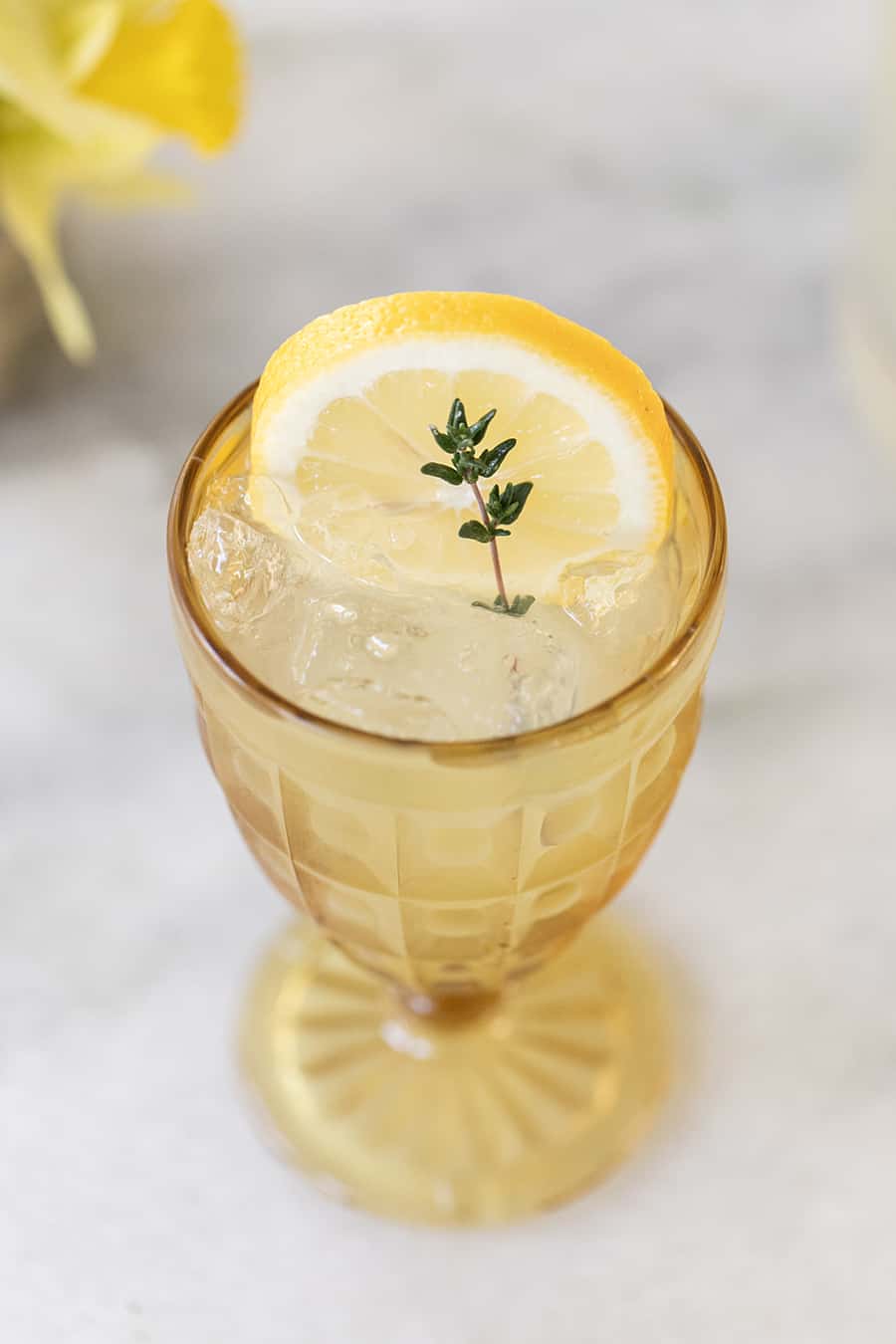 Spiked Tequila Lemonade
The easiest and most refreshing Thyme Tequila Spiked Lemonade Recipe. You can use store-bought light lemonade or make your own. The key is adding in fresh thyme and a good quality tequila!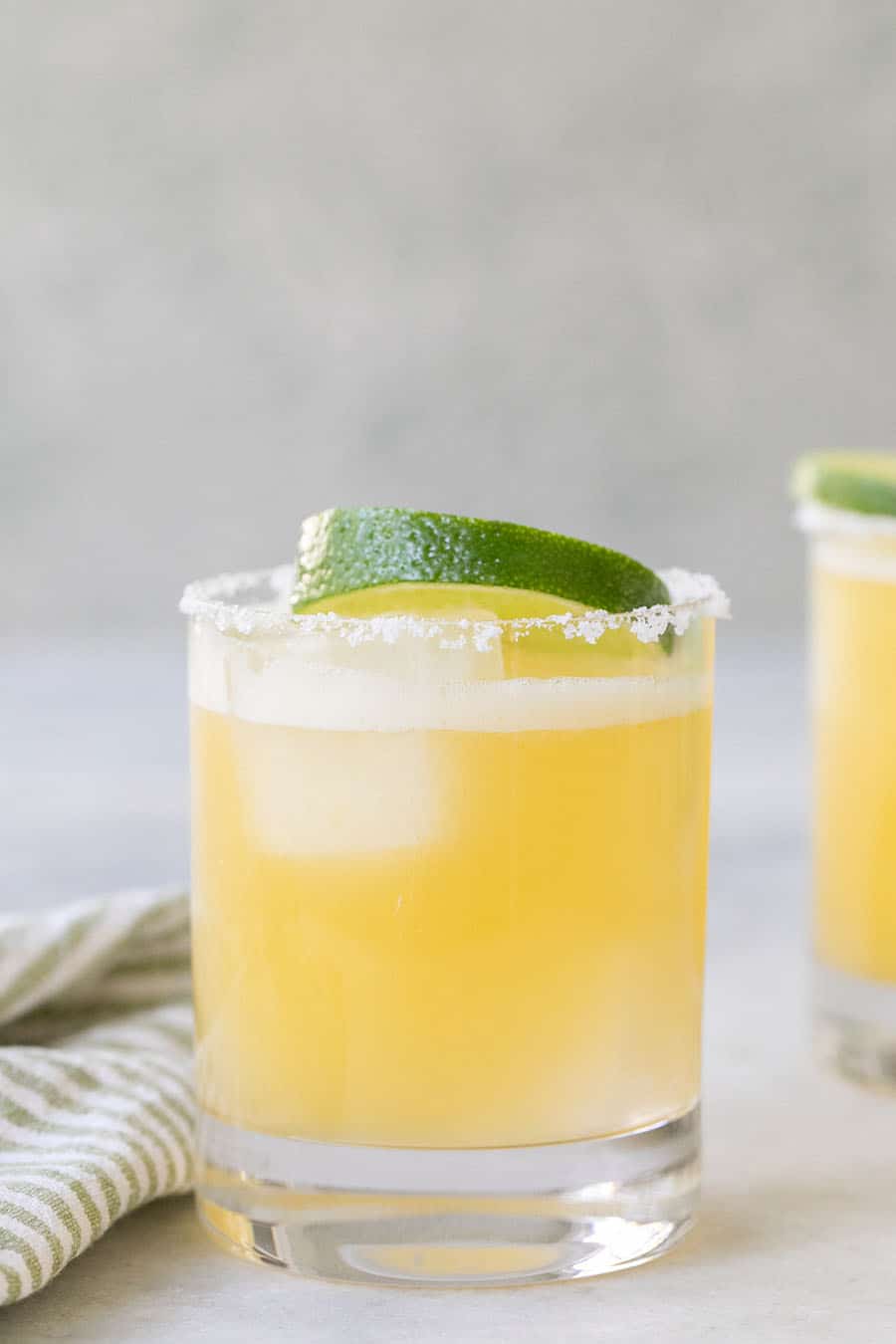 Skinny Margarita Recipe
You'll never want a regular margarita again after tasting this Skinny Margarita! Made with fresh ingredients, this cocktail is low-calorie and sugar, but still tastes amazing! Perfect for summer cocktail recipe for sipping on a hot day! Also, try out frozen margarita popsicles!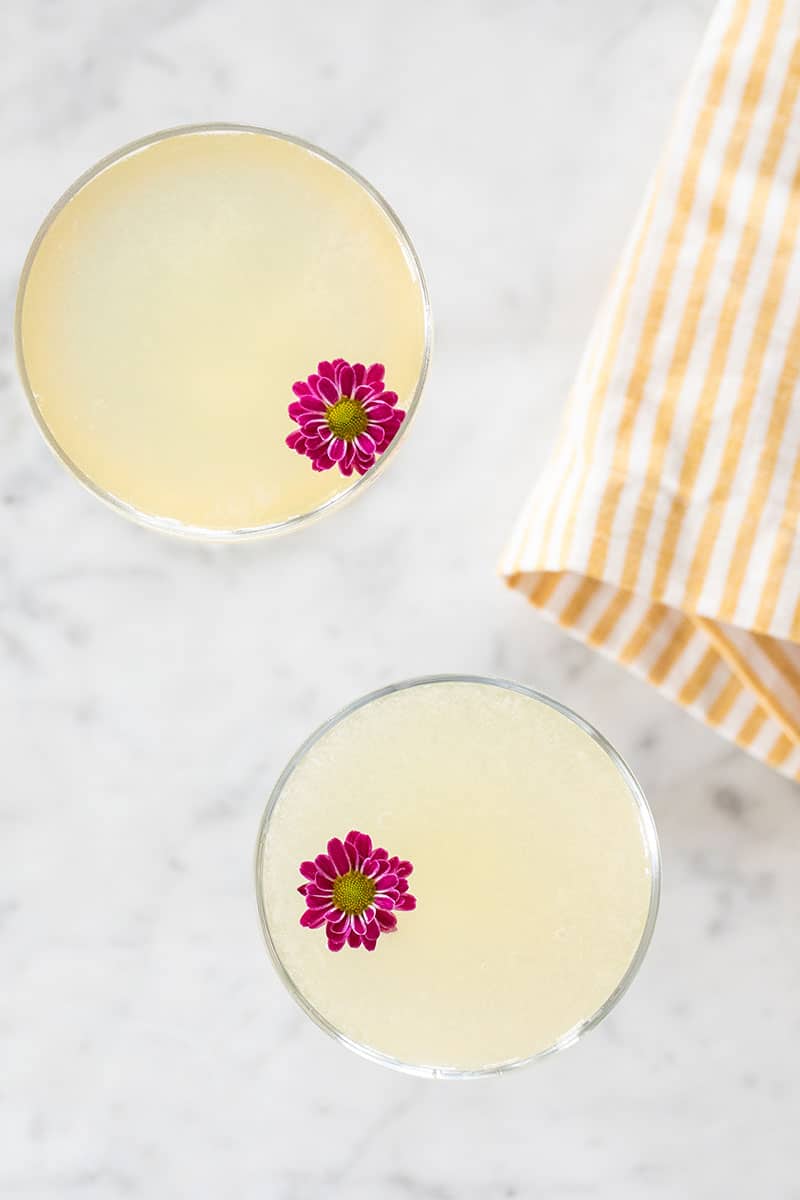 How to Make a Bee's Knees
Sharing all the details for making a Bee's Knees cocktail. It's made with three simple ingredients and is perfect for all year! Easy to make, refreshing, and absolutely delicious.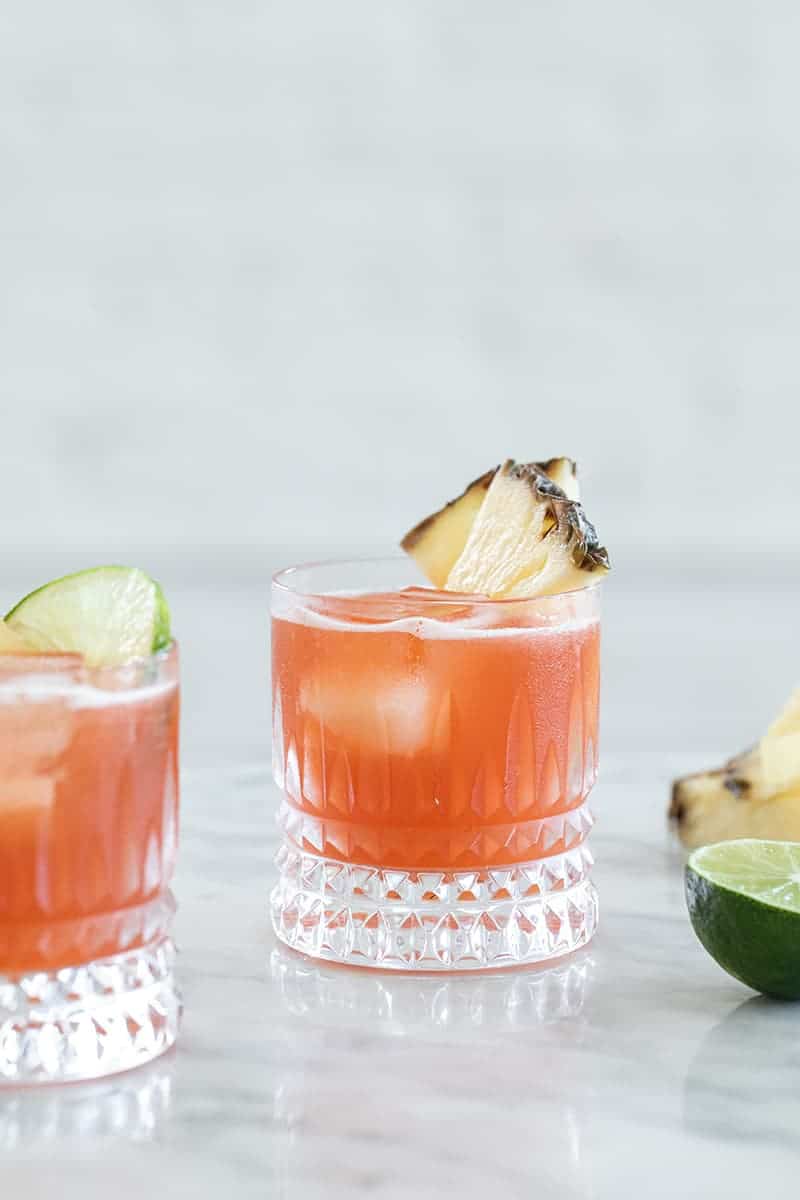 Jungle Bird Cocktial
If you like tiki cocktails, you will love the Jungle Bird! It contains only 5 ingredients and is so easy to make at home! This drink was invented at Kuala Lumpur Hilton in 1978 and it's one you'll want to make at home!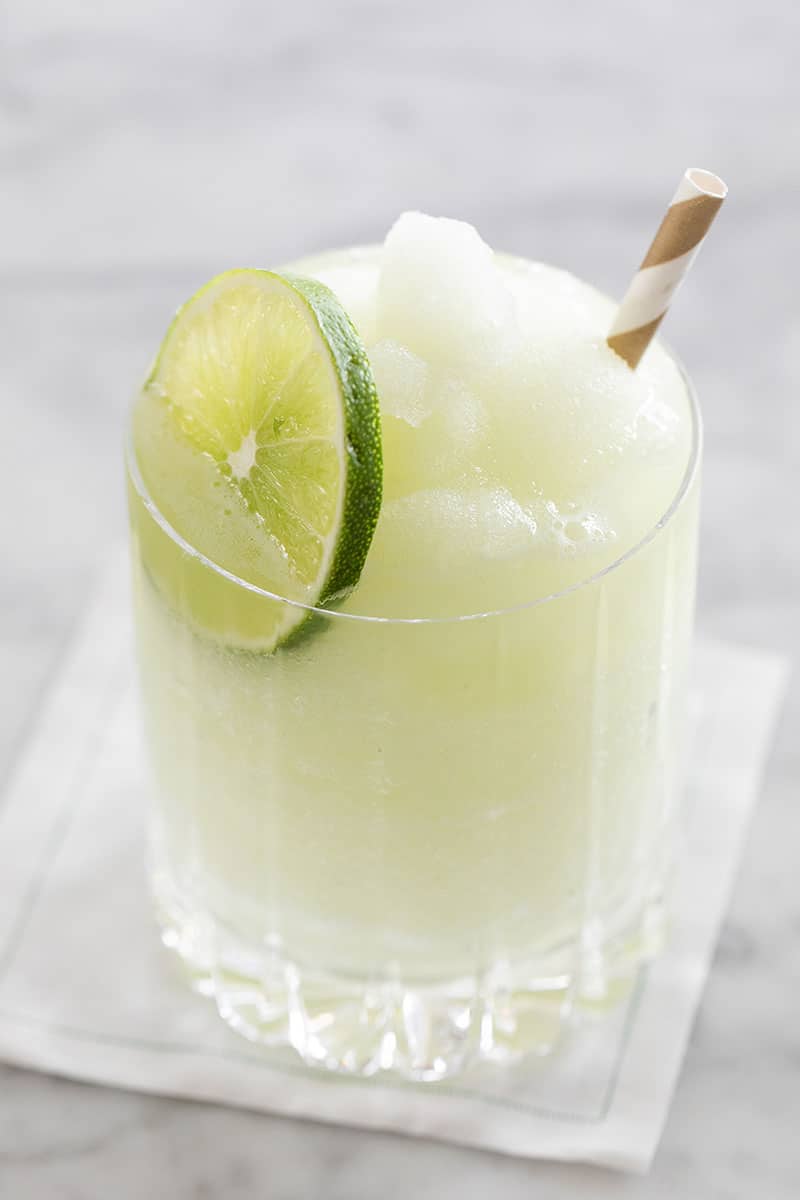 Frozen Gin and Tonic Recipe
If you love gin and tonics, this Frozen Gin and Tonic will be your new favorite cocktail! It will get you through hot summer days. Made with lime juice, gin, tonic, and a little cucumber, this drink is refreshing, full of flavor, and easy to make!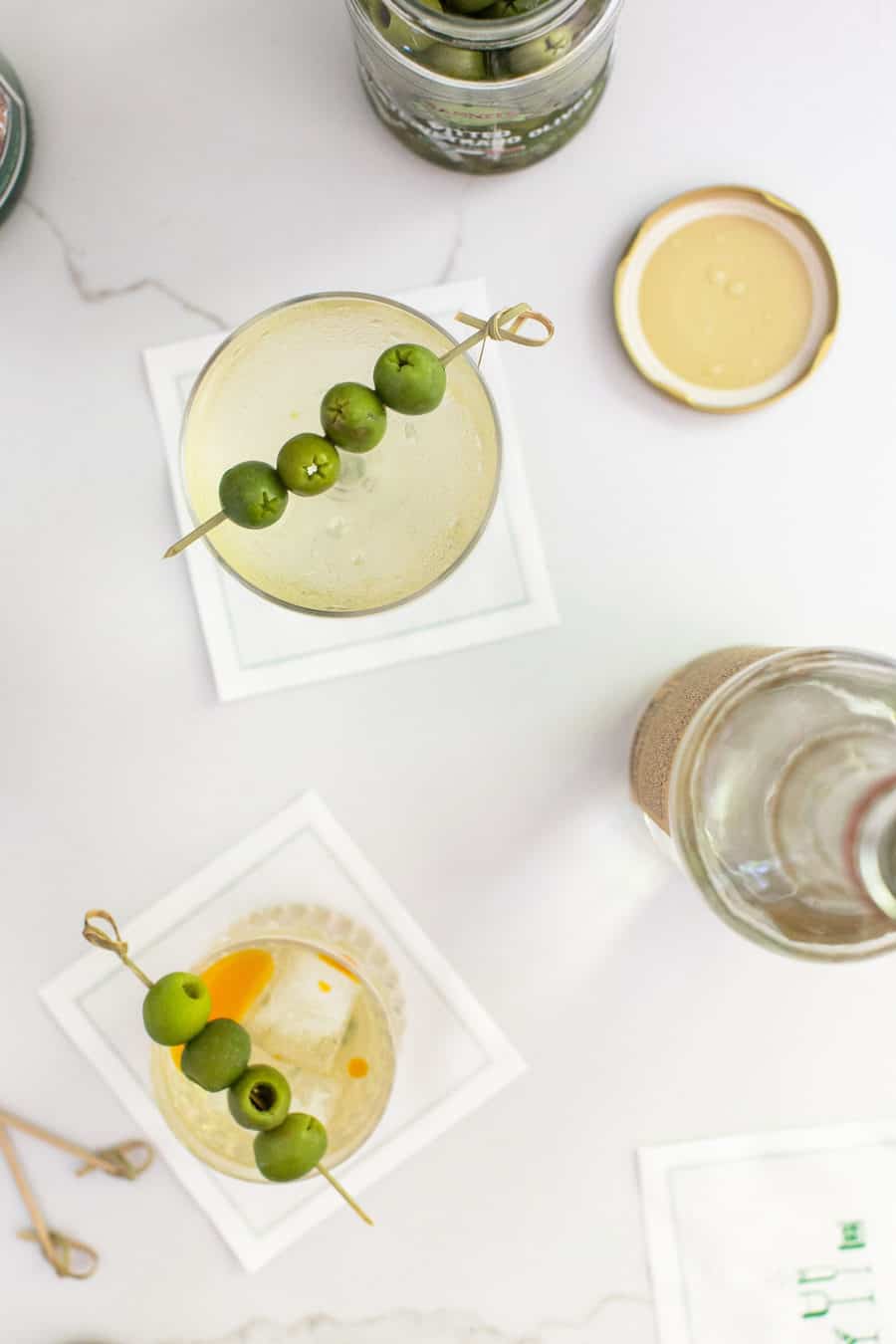 Dirty Martini Recipe
Our favorite Dirty Martini recipe and the history of this classic drink! We're sharing all of the details about making this cocktail shaken and stirred! Also, check out our dirty martini recipe with tequila!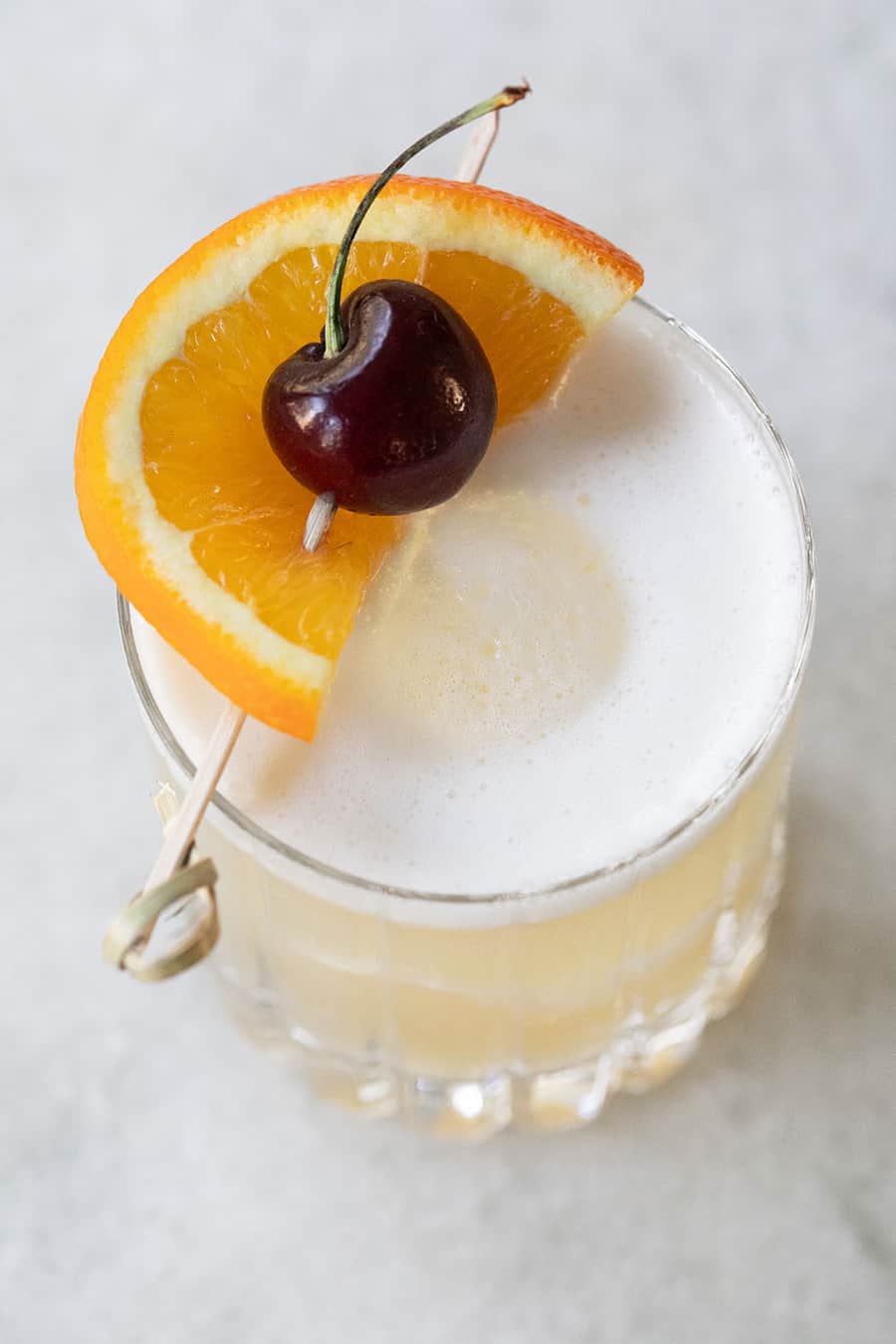 Classic Whiskey Sour
Our favorite, classic Whiskey Sour recipe is easy to make, perfectly balanced, and contains only 4 simple ingredients.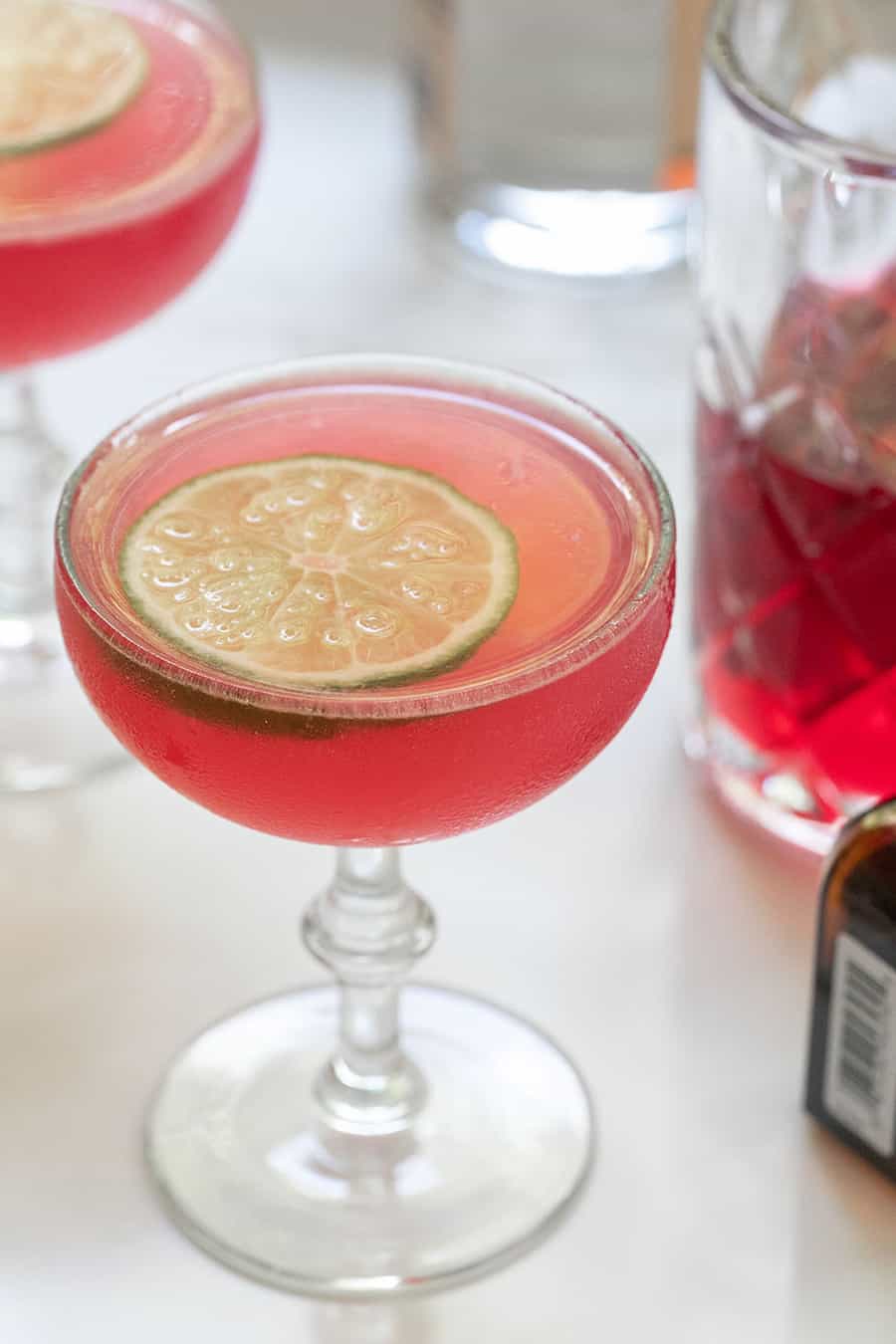 The Best Cosmopolitan Recipe
This is the best Cosmopolitan cocktail recipe! It's easy to make and uses only 4 simple ingredients. The vibrant color and flavors make this cosmopolitan drink perfect for parties and year-round sipping.
It's also one of our best vodka cocktails to make.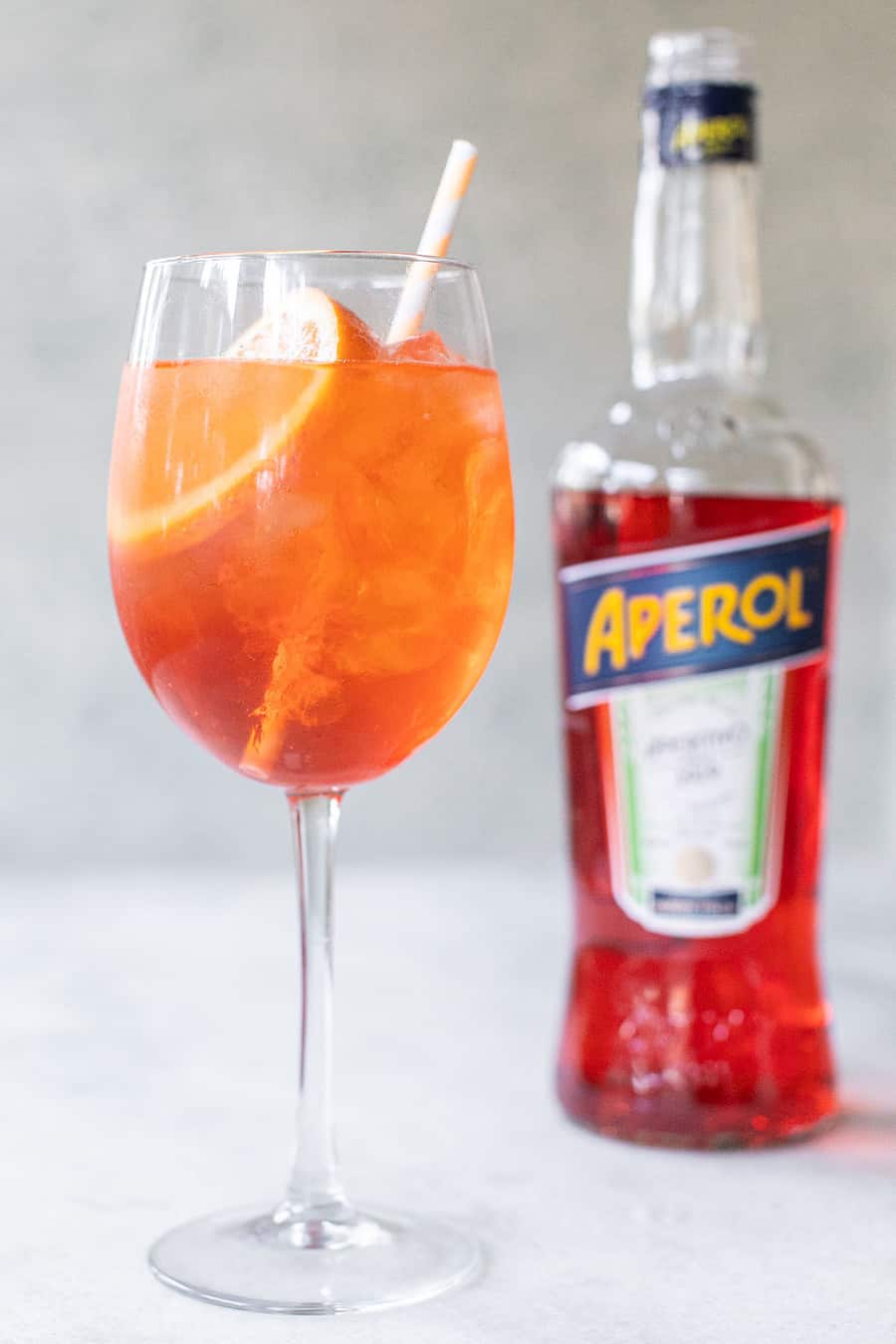 The Best Aperol Spritz
A simple, refreshing, three-ingredient Aperol Spritz recipe that is perfect year-round! This classic cocktail couldn't be easier to make and truly is delicious.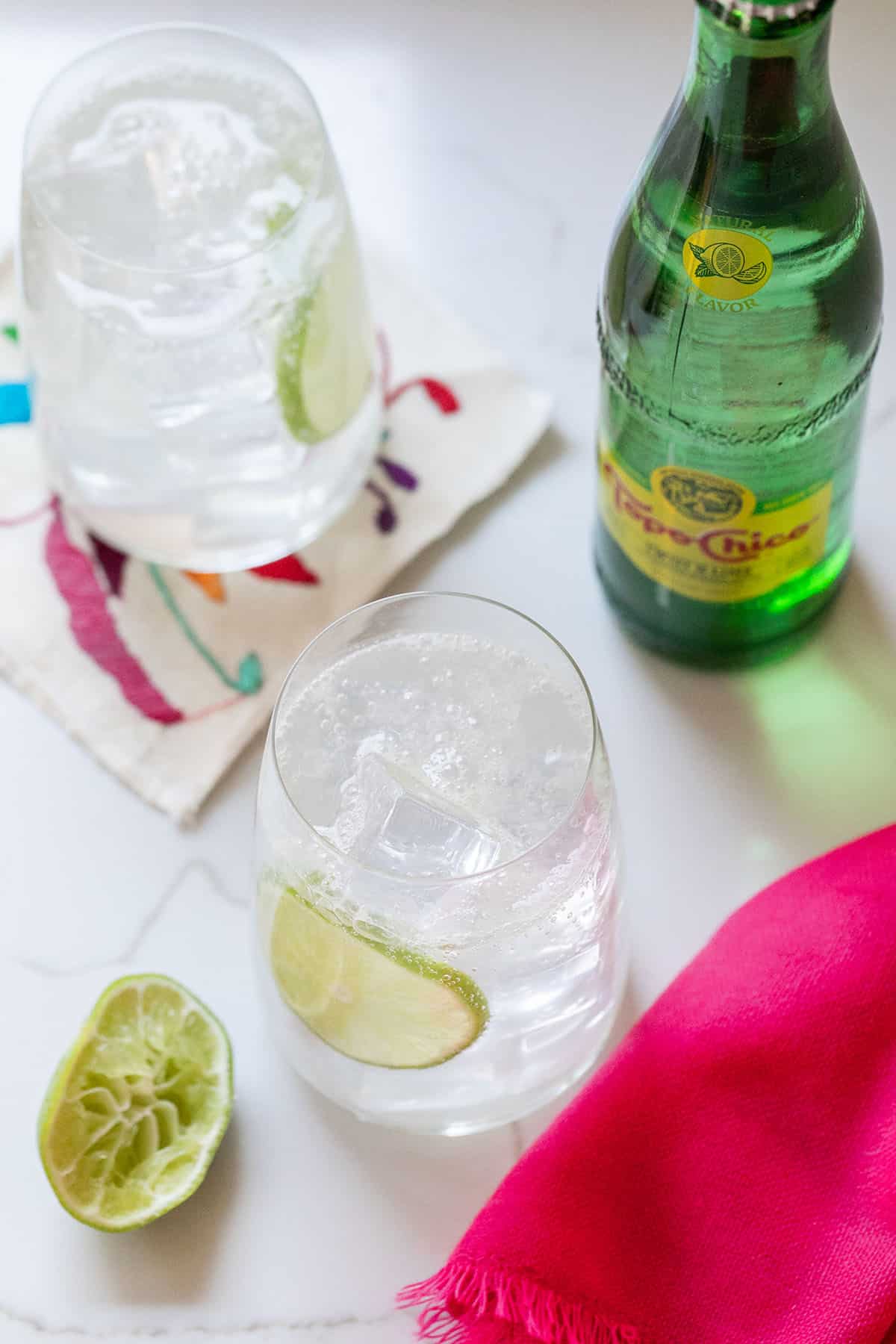 Ranch Water Cocktail
This Ranch Water recipe is a refreshing, 3-ingredient low-calorie cocktail created in West Texas. It's a Topo Chico cocktail, perfect for a hot day and easy to make. Sharing everything you need to know about this ranch water drink!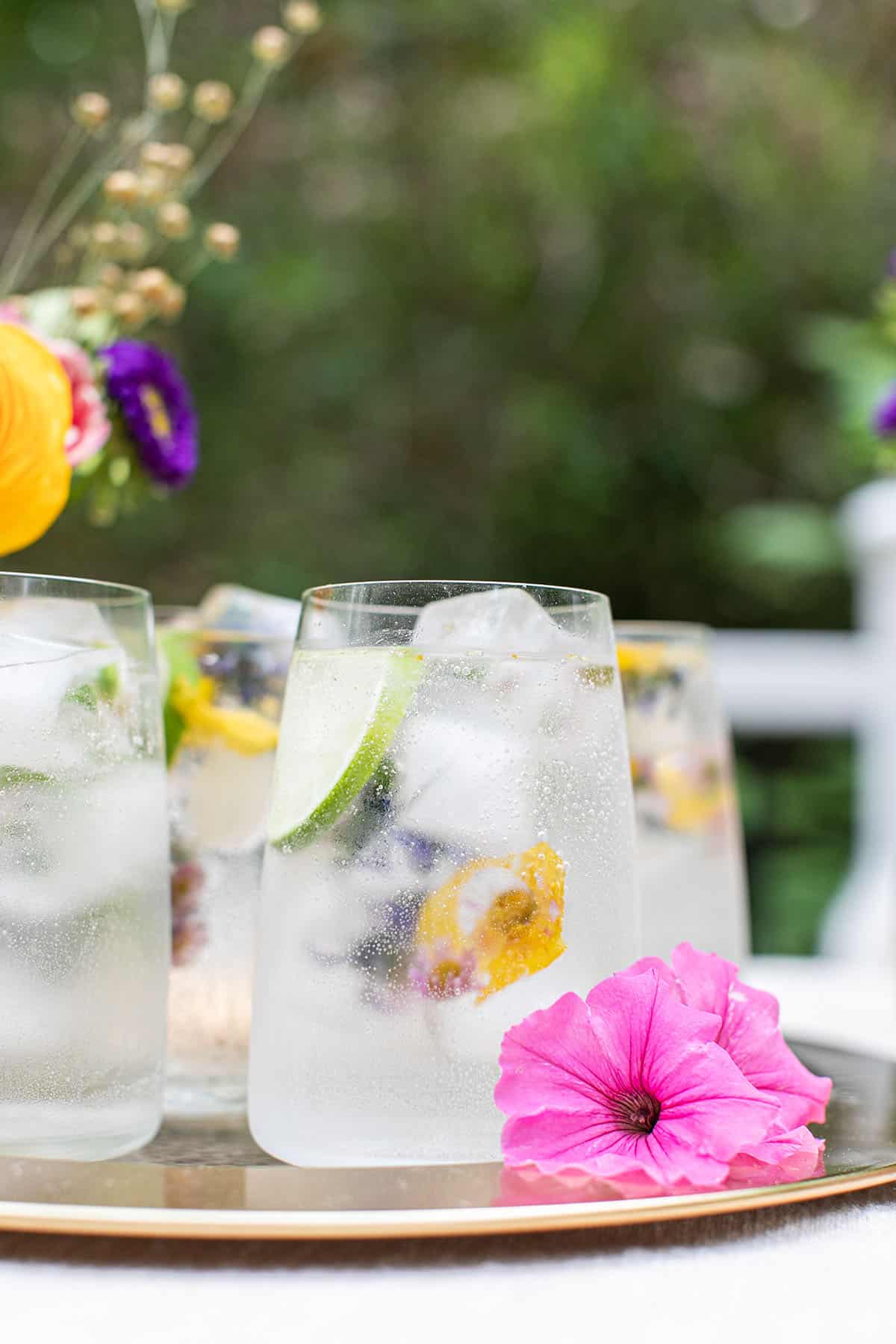 Vodka Soda
A Vodka Soda is a super simple cocktail recipe! We spruce it up by adding floral ice cubes and lime juice.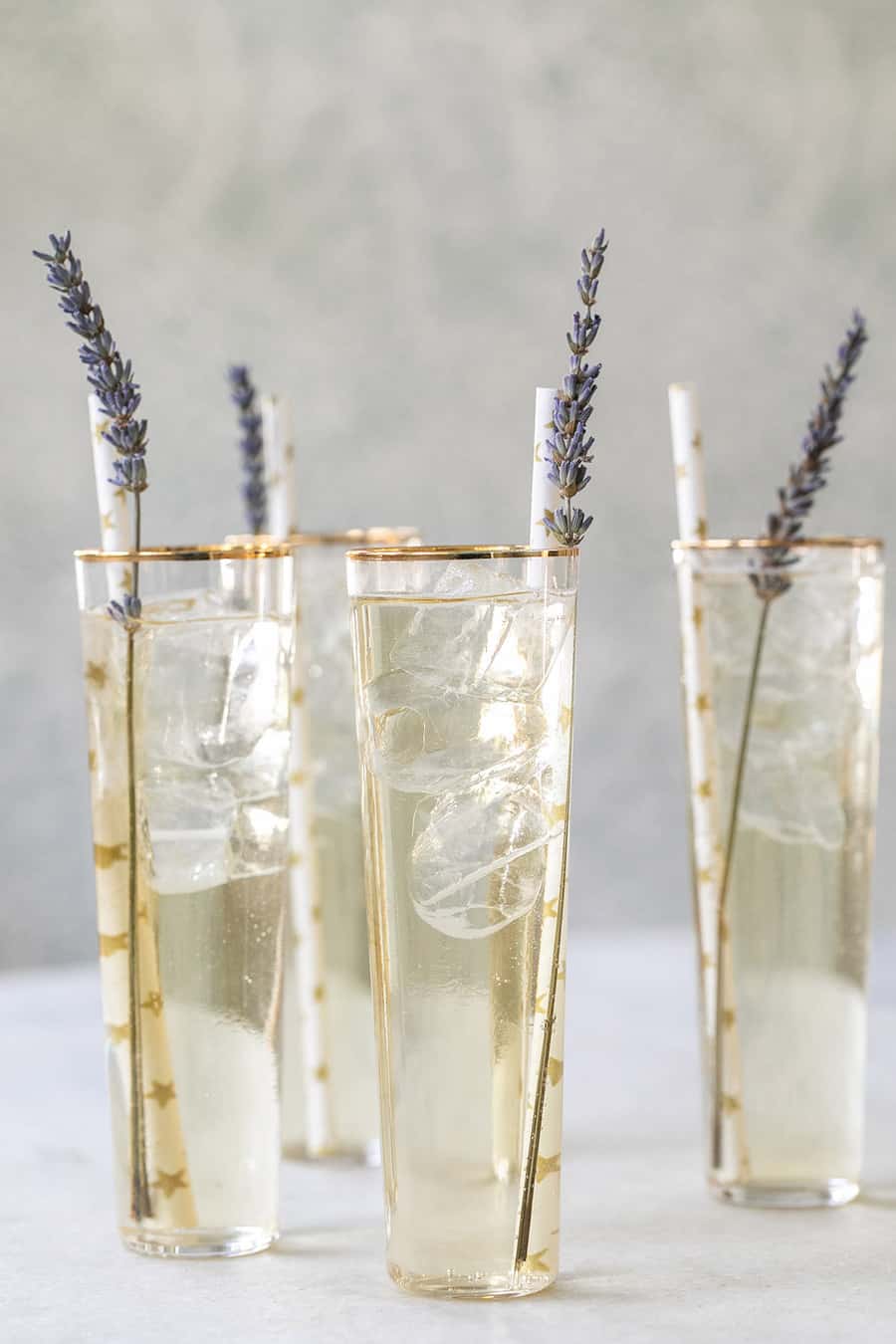 French Spritz
Our French Spritz is a great cocktail for brunch. It's made with Elderflower and Champagne!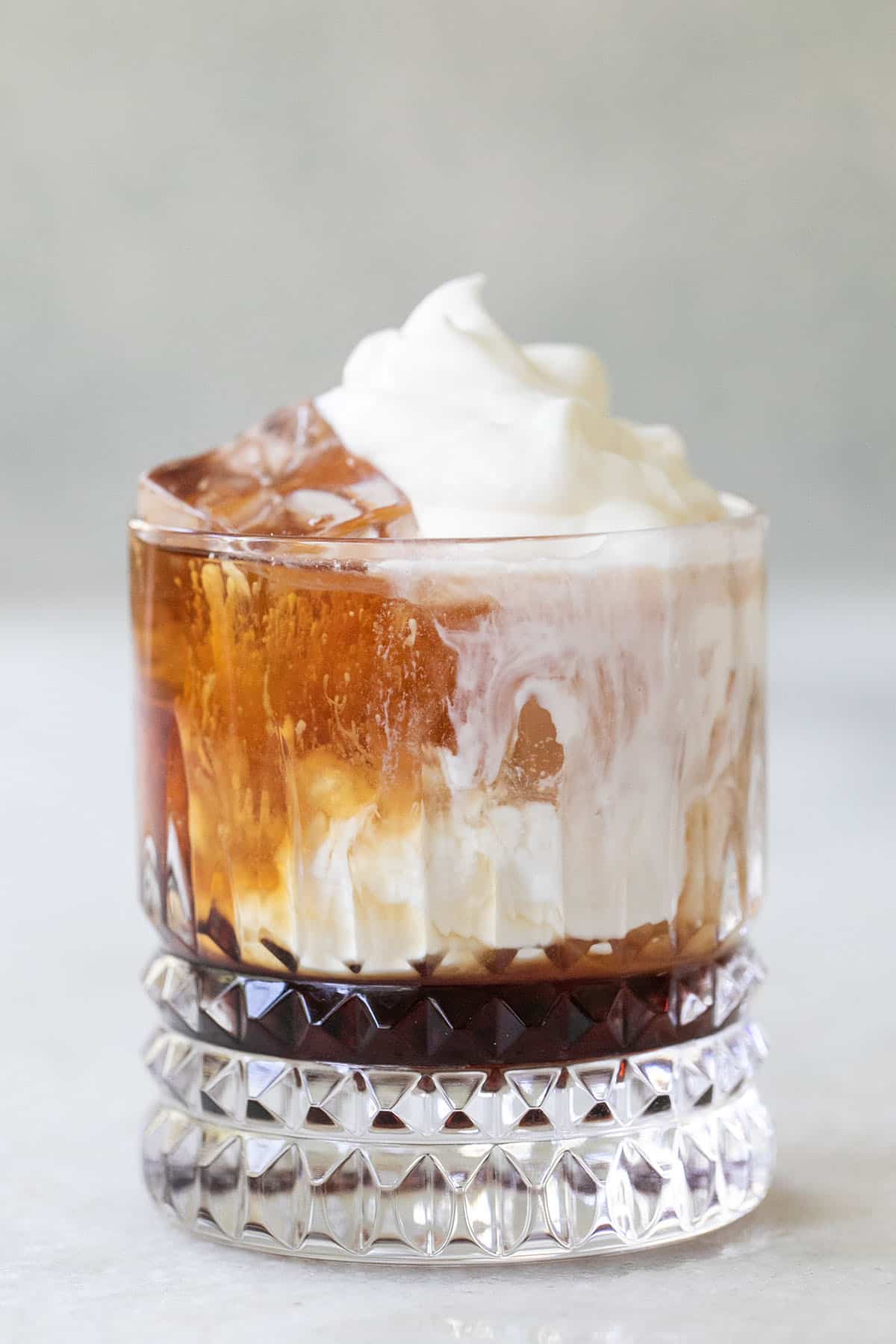 Whipped White Russian
A quick recipe for a whipped White Russian! This classic cocktail combines vodka, Kahlua, and cream. It's a fantastic cocktail and simple to make.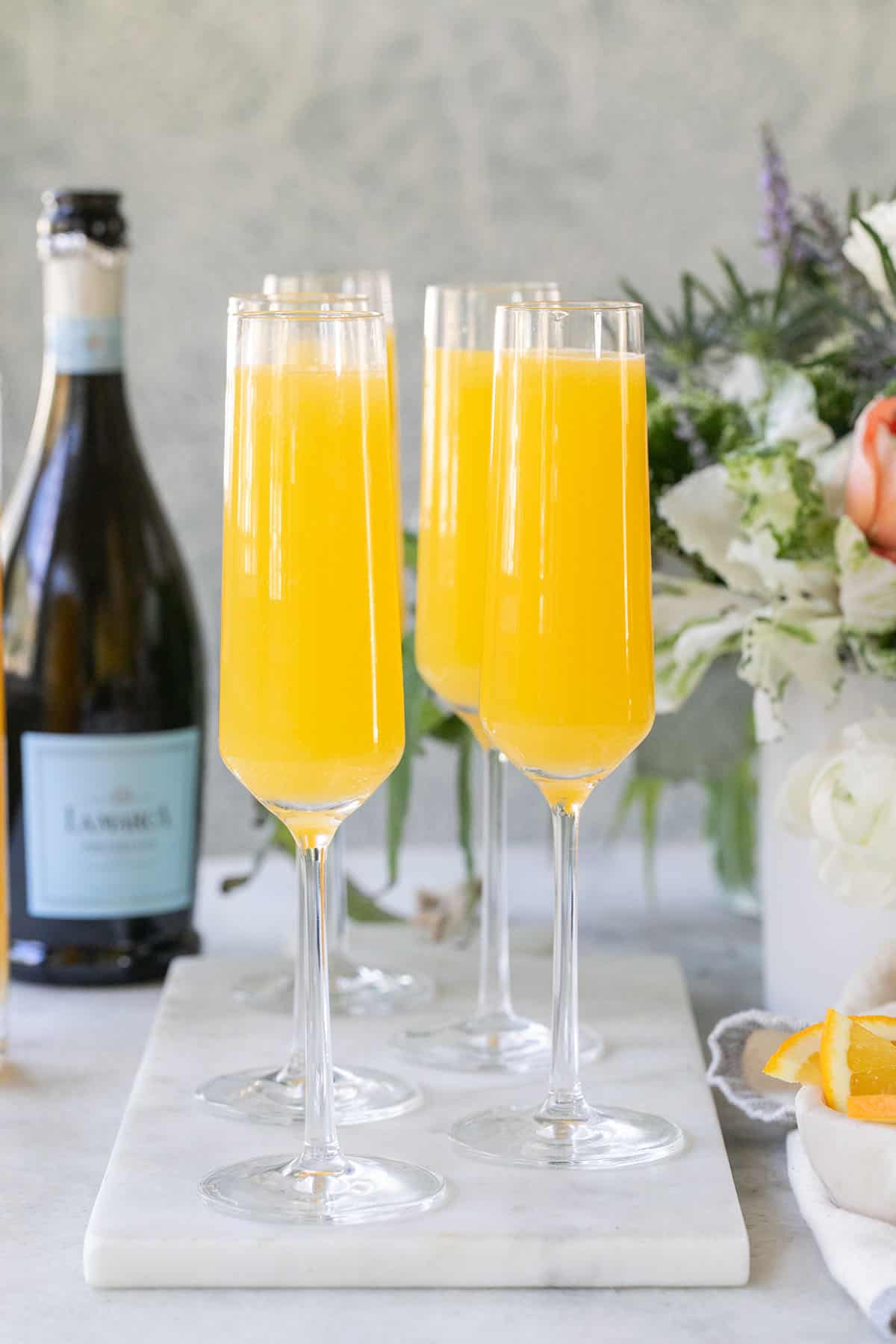 Processo Mimosa Recipe
A refreshing Mimosa Recipe made with Italian Prosecco! This mimosa has the perfect crisp, bubbly flavor and it's great for all occasions. The best part is you only need two ingredients, Prosecco and orange juice!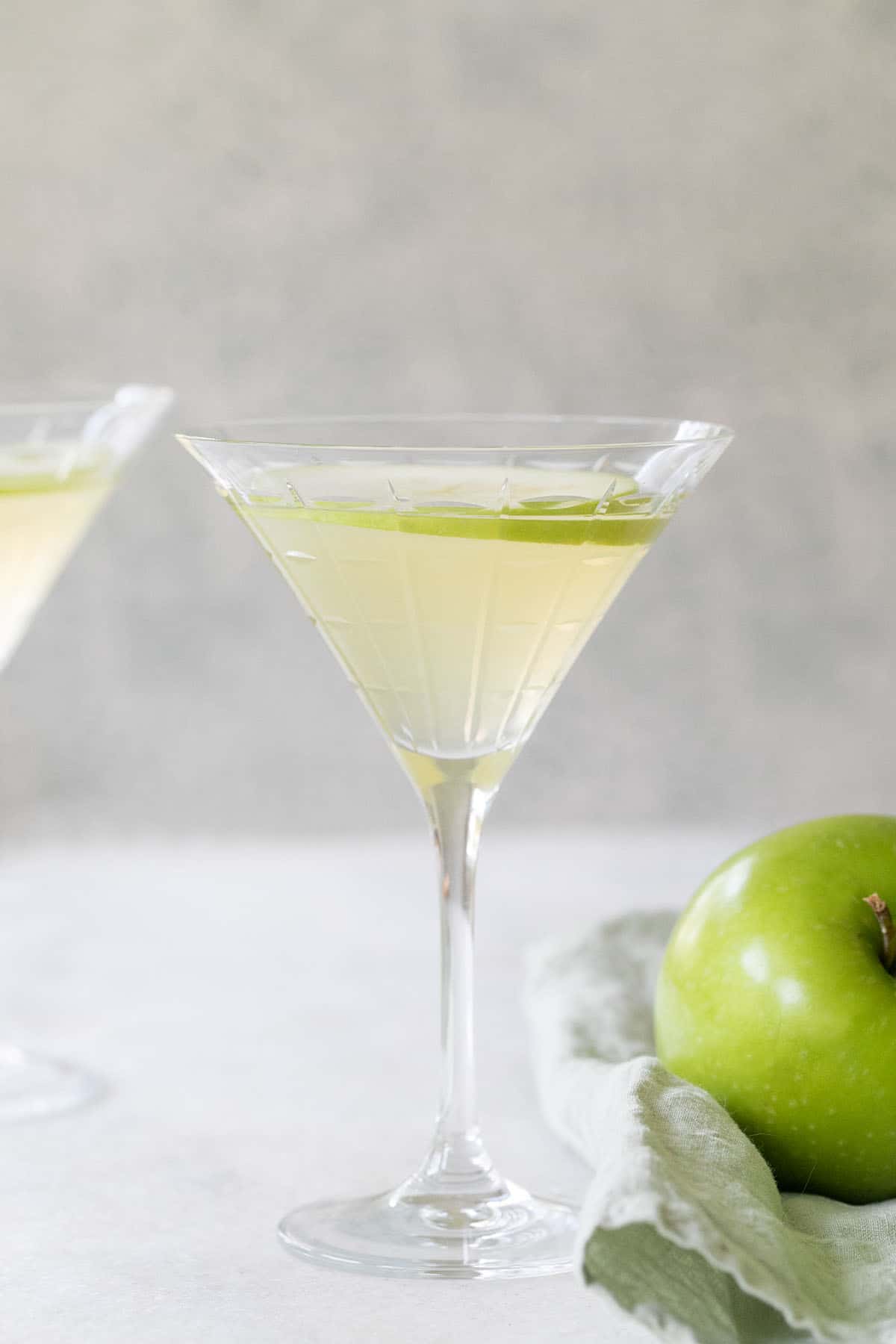 Apple Martini
Apple Martini, also known as an appletini, is a simple three-ingredient cocktail with a crisp, juicy apple flavor. This recipe uses apple vodka, giving it a strong apple flavor as well as apple cider to sweeten it and lemon juice to add acidity to the martini.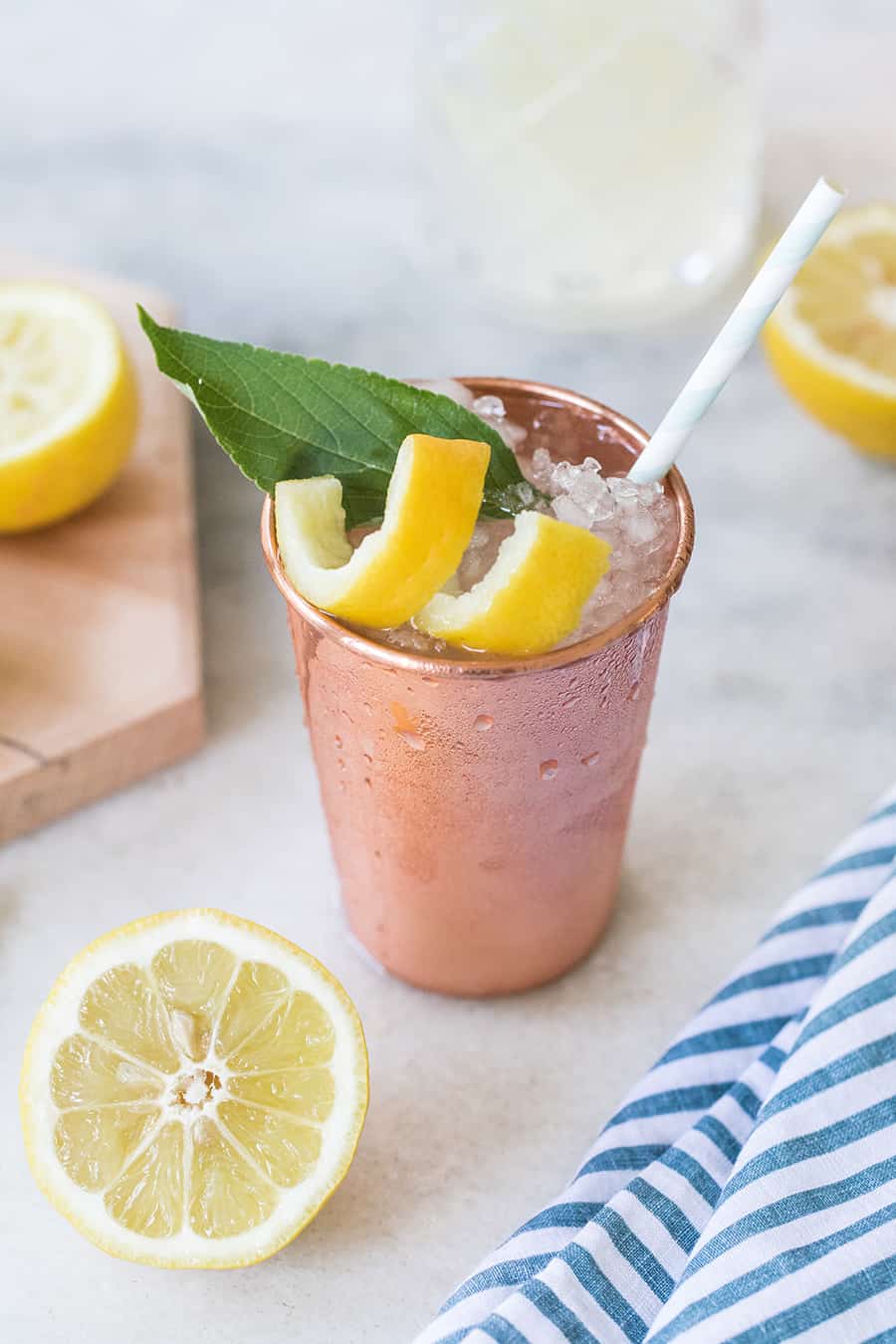 Lemon and Sage Moscow Mule
This Lemon and Sage Moscow Mule is a twist on the classic Moscow Mule. Using the awesome combo of lemon and sage, this is one delicious and refreshing cocktail that's perfect for summer!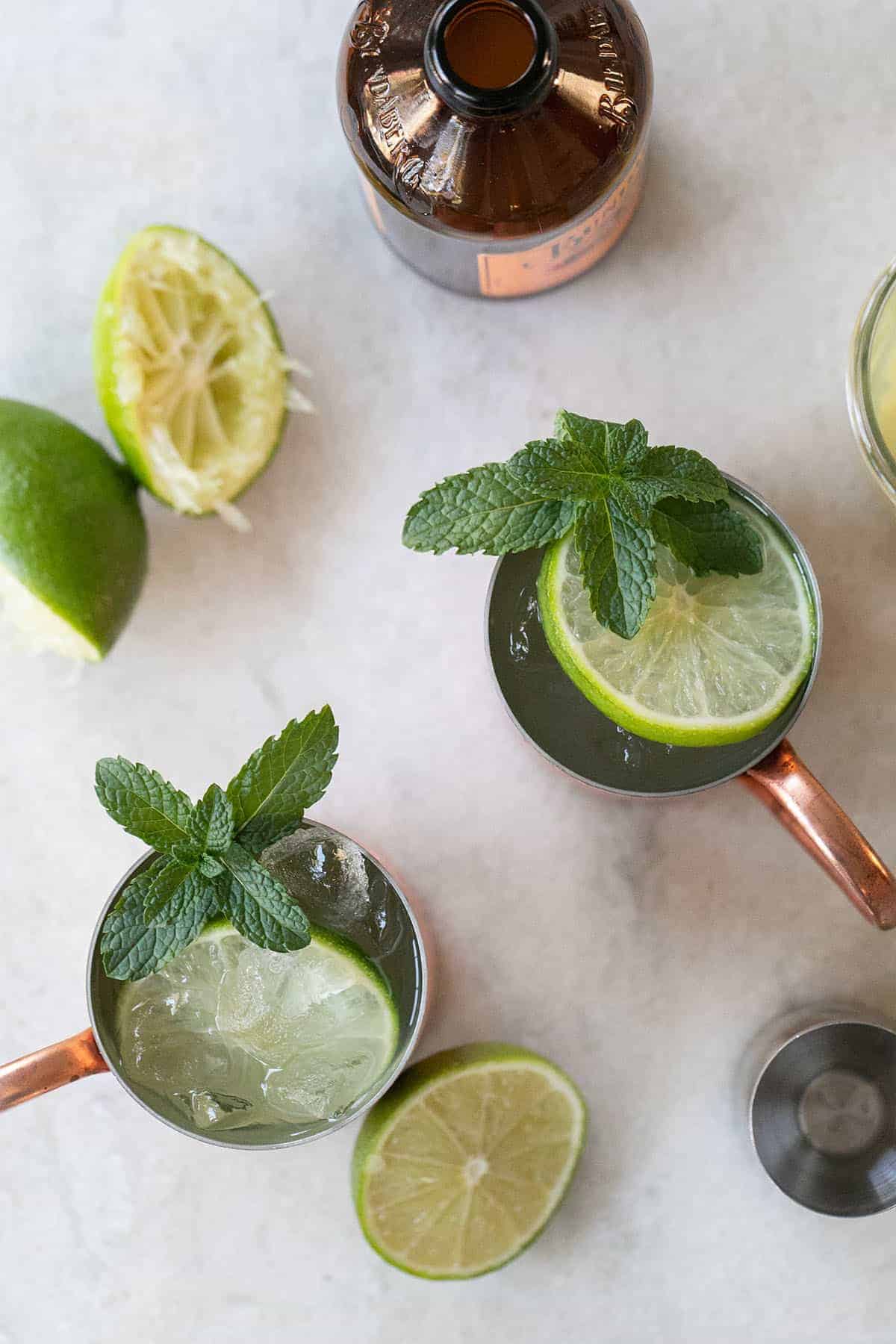 Classic Moscow Mule
Learn how to make a classic, refreshing Moscow Mule with our three-ingredient recipe. Also, sharing tips on making different versions and ways to spruce it up!
Tips for Making Great Cocktails at Home
You'll need the right supplies to make cocktail recipes at home. Here's what we suggest:
Cocktail Shaker – One with a strainer.
Muddler – Technically you can use a spoon, but it's nice to have one like this on hand.
Ice Cube Trays – This ice cube starter kit is great and comes in all different shapes.
You'll also need to have a semi-stocked bar at home. We recommend keeping these spirits and liqueurs on your bar cart at home:
Gin
Vodka
Tequila
Whiskey
Rum
Sweet Vermouth
Campari
Aperol
Elderflower Liqueur
Coffee Liqueur
Sparkling White Wine
Other items to keep on hand for making great cocktails at home:
Elevate Your Cocktail with These Fun Ice Cubes!
How to Make Natural Blue Ice Cubes
Floral Ice Cubes – Freeze edible flowers with water in an ice cube tray.
Frequently Asked Question
What are the top 10 cocktails?
The top 10 most popular cocktails are:
1. Old Fashioned
2. Manhattan
3. Martini
4. Margarita
5. Negroni
6. Pina Colada
7. Mojito
8. Cosmopolitan
9. Mai Tai
10. Whiskey Sour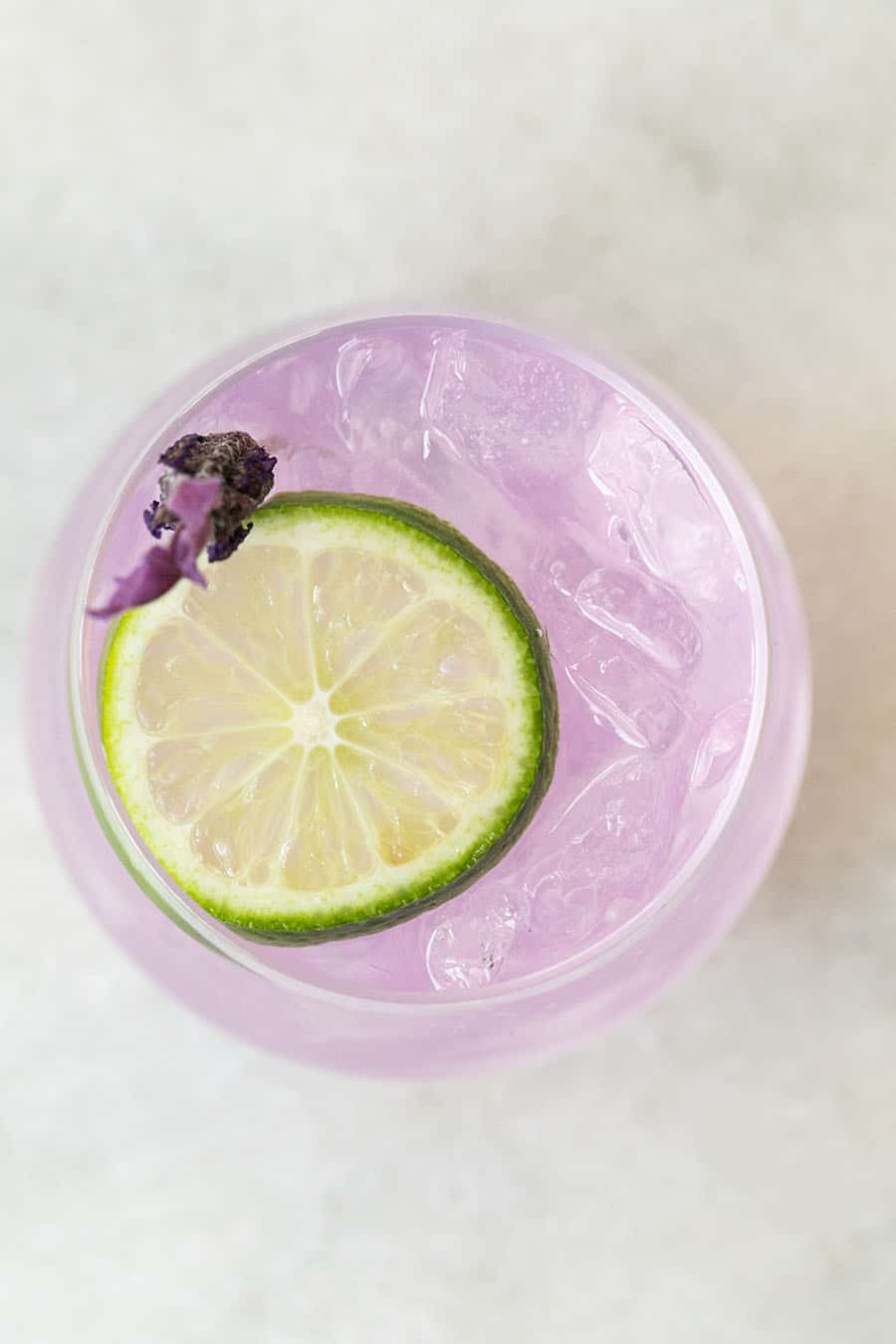 More Great Cocktail Recipes You'll Love
The Best Old Fashioned Cocktail
Easy Mojito Recipe with Matcha
Also check out our favorite brunch recipes, the best-mixed drinks, tequila cocktails, gin cocktails and cheap drinks to make at home!
Let us know if you make any of these great cocktail recipes by leaving a comment below!
You can also FOLLOW US on FACEBOOK, INSTAGRAM, and PINTEREST to see more delicious recipes, cocktails, desserts, and parties!
This post may contain affiliate links. Please read our disclosure and privacy policy.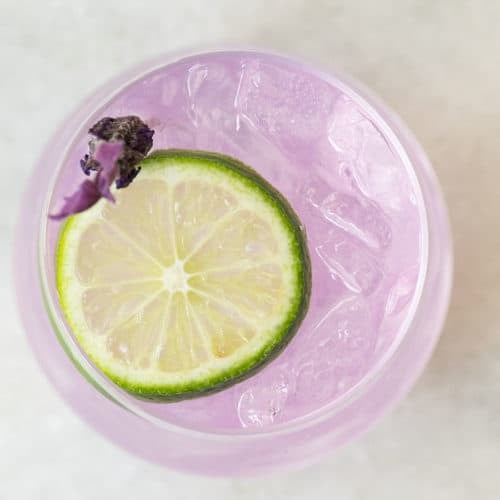 Great Cocktails – Purple Gin + Tonic
Great cocktails can be easy to make, like this purple gin and tonic! Made with Empress gin, tonic water, and fresh lime.
Print
Pin
Rate
Ingredients
2

ounces

Empress gin

,

this is a purple colored gin

1

ounce

lime juice

4

ounces

tonic water
Instructions
Add all of the ingredients into a glass filled with ice.

Stir and then garnish with a lime wegde.
Notes
If you want to make this a lavender gin and tonic, infuse the 2 ounces of gin with dried lavender for 5 minutes. It will give the drink a hint of lavender. 
Add more or less tonic water as you like. 
Nutrition
Calories:
138
kcal
|
Carbohydrates:
2
g
|
Protein:
1
g
|
Fat:
1
g
|
Polyunsaturated Fat:
1
g
|
Sodium:
25
mg
|
Potassium:
37
mg
|
Fiber:
1
g
|
Sugar:
1
g
|
Vitamin A:
14
IU
|
Vitamin C:
9
mg
|
Calcium:
10
mg
|
Iron:
1
mg