A French 75 is a cocktail made from gin, Champagne, lemon juice, and sugar. This delicious and easy recipe is sure to be a winner at your next party, gathering or just hanging out!
I tried my first one in the most appropriate place, Arnaud's French 75 Bar in New Orleans! Bartender Chris Hannah, one of America's best mixologists, made us this classic cocktail and we sat in the coziest lounge and sipped our cocktails. It was an evening to remember and we have been drinking them ever since.
How to Make a French 75
It's made with Champagne, lemon juice, gin (sometimes recipes use Cognac, but use what you have on hand!) and a little sugar.
The drink dates back to World War 1! It's a sophisticated cocktail and one that is very easy to make!
When Was the French 75 Cocktail First Invented? And Why Is It Called a French 75?
The French 75 is just one of the many beloved cocktails invented in Paris. But the timeline of its invention is up for debate.
Legend has it that Allied soldiers came up with the idea during World War I. They wanted simple gin cocktails, but they couldn't get any club soda. So, they substituted a traditional mixer for champagne and the rest, they say, is history.
The story ends with the Allied soldiers naming their new cocktail. They called it the French 75, supposedly after the Canon de 75 Modèle 1897, a gun they used on the battlefield.
Others say it came to be earlier — in the 1860s, more specifically. At that time, author Charles Dickens served Tom Gin and champagne together. Because of the beverage's closeness to a Tom Collins, some called it John Collins at first.
That story gives a date, but not a reason as to why the French 75 came to be known by its current title.
What Is the Best Gin for a French 75?
The gin is perhaps the most essential ingredient to nail in your cocktail. If you choose something too dry or tart, it will take away from the sweetness of this sugar-and-champagne-infused beverage. 
Mixologists have their opinions — Beefeater Gin and Tanqueray Ten make the list of best gins for a French 75.
What Goes into a French 75?
We've touched on this one, but we'll spell it out here again — it'll make your pre-mixology shopping list easier to write.
Ingredients
Gin
Champagne
Sugar cube or simple syrup
Lemon juice
Lemon twist for a cute garnish
You'll need a cocktail shaker and strainer for these, too.
In Which Glass is a French 75 Served?
It's a tough call — looking at that ingredient list, you could imagine this drink in a couple of different cocktail glasses. However, you'll pour the drink into a champagne flute. 
Are There Any French 75 Variations?
You can mix things up — literally and figuratively — when you make a French 75. Try any one of these variations to see if you prefer the original or one of its spin-offs.
Swap the gin for cognac, as is done at the famous Arnaud's French 75 Bar in New Orleans.
Try a flavored syrup instead of simple syrup. A lemon- or elderflower-infused version could be extra tasty!
Add bitterness with a dash Amaro.
Pour the drink over ice and serve it in a highball glass for a longer drink.
Make it fruity — we love it with peach!
Tips for Making a French 75
We use a sugar cube to sweeten our cocktail, but you can also use simple syrup or honey.
Choose a dry gin or something like Hendricks which has floral and cucumber notes.
You can also use cognac for this cocktail. There is a big debate on whether it's better made with gin or cognac… try both for yourself!
More Classic Cocktail Recipes
Also, check out our French 75 Punch!
Have fun with these and any other mix-ups that sound good to you. You're the bartender, after all!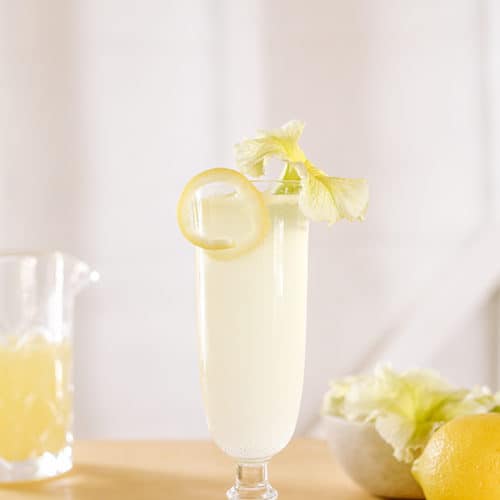 Ingredients
1/2

ounce

lemon juice

1

ounce

gin

1

small

sugar cube

2 -3

ounces

Chilled Champagne
Instructions
Add the lemon juice, gin and sugar cube in a shaker with ice

Shake for 20 seconds so the sugar cube can dissolve

Strain into a Champagne flute

Top with Champagne

Garnish with a lemon twist