A gin and tonic is a cocktail made with gin and tonic water poured over ice. It's a refreshing and easy mixed cocktail, to add charm add a flower on top with a striped paper straw!
Also check out our 5 best gin and tonic recipes and our best gin cocktails too!
If you're wondering how to make a Gin and Tonic, it literally consists of 3 ingredients… gin, tonic and lime juice. Yes, the name says it all! It's that simple and boy is it satisfying. When I traveled to Zurich a few years ago this was the drink of choice.
You could buy them as you walked down the street and they would serve up Gin and Tonics in to-go cups to take with you!
So what makes this classic cocktail so good? Creating a balanced cocktail where you can taste each ingredient is the answer.
Quick Tip – Use the small glass bottles of tonic water so it stays fresh and carbonated and avoids tasting flat. Stay charming!
How to Make a Gin and Tonic Video
Ingredients
Gin – Use any quality gin you like.
Tonic Water – A bubbly water made with sugar and quinine.
Add all of the ingredients in a high ball glass with ice and stir.
Garnish with a lime or an edible flower. Cheers!
Origins Of The Drink
The Gin and Tonic drink has been around for centuries and was actually created for medicinal purposes in the 1700's. The cocktail was introduced by the army of the British East India Company in India.
In India and other tropical regions, malaria was a persistent problem. In the 1700s it was discovered by Scottish doctor George Cleghorn that quinine could be used to prevent and treat the disease.
The quinine was drunk in tonic water, however, the bitter taste was unpleasant. British officers in India in the early 19th century took to adding a mixture of water, sugar, lime, and gin to the quinine in order to make the drink more palatable, thus gin and tonic was born.
Soldiers in India were already given a gin ration, and the sweet concoction made sense. Since it is no longer used as an antimalarial, tonic water today contains much less quinine, is usually sweetened and is consequently much less bitter. Quite the history!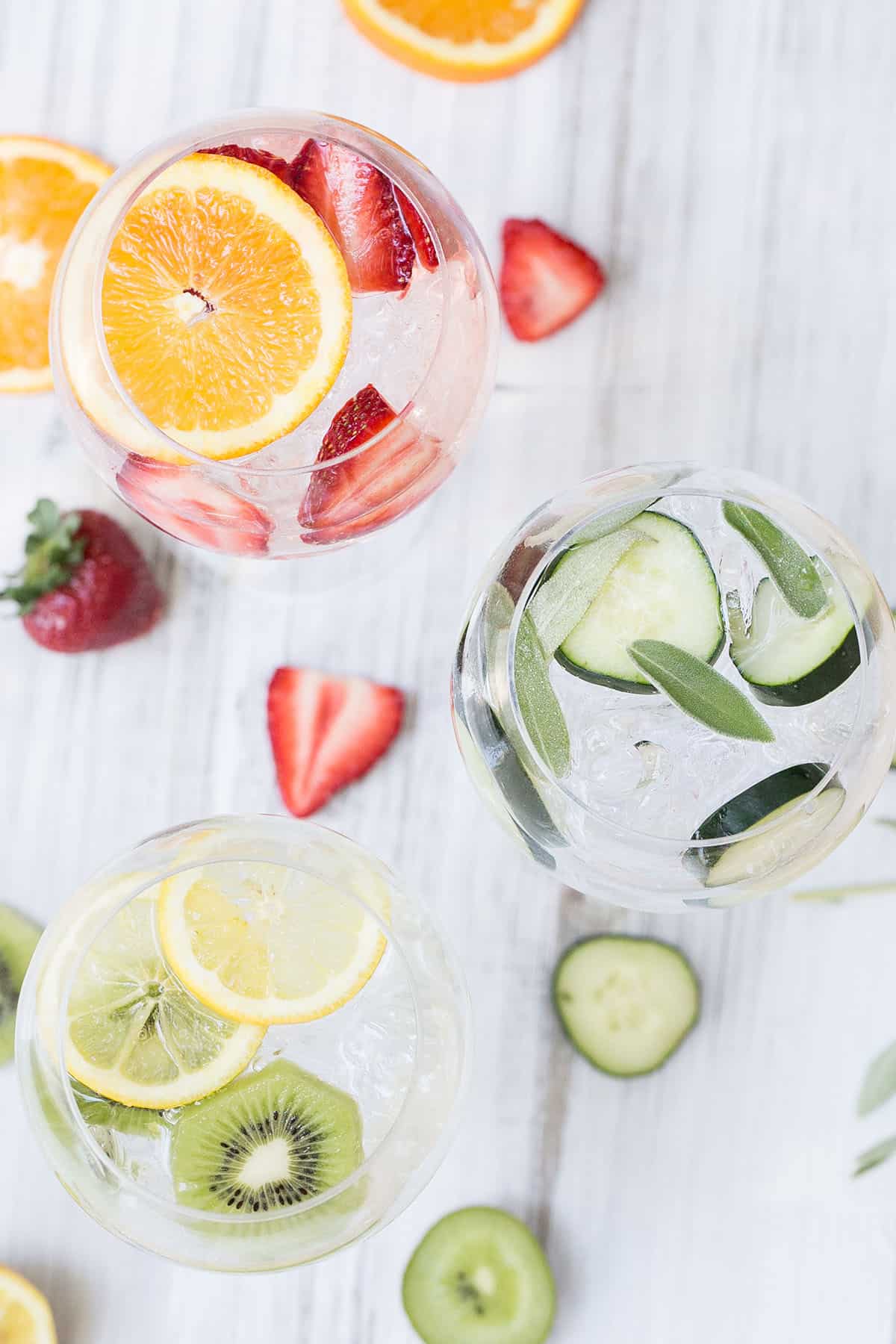 How To Make Gin and Tonic – Spanish Style!
In Spain, a variation on the drink called Gin-Tonic has become popular. This differs from a traditional gin and tonic as it is served in a balloon glass (copa de balon) or coupe glass with plenty of ice and a garnish tailored to the flavors of the gin.
The drink could be fruit-based but the use of herbs and vegetables, reflecting the gin's botanicals, is increasingly popular.
The balloon glass is used because the aromas of the drink can gather at its opening for the drinker to more easily appreciate.
The popularity of this variation of the gin and tonic has led to the establishment of Gin-Tonic bars, in which customers can choose their preferred gin, tonic, and garnish from a menu.
So you can mix things up and go Spanish by serving in a balloon glass and with some fresh rosemary or thyme or other fragrant herbs!
Using Herbs in Your Gin and Tonic
Here are some great herbs and additions to lift your gin!
Lavender
Lavender is so much more than your auntie's preferred soap scent. In moderation, lavender is warm and wildly aromatic, a scent memory of Provencal summers.
If you like your gin and tonic garnishes on the floral side, don't stop there: edible flowers are also an increasingly popular – and visually impressive – garnish.
Rosemary
Powerful, robust rosemary adds a deliciously savory note to any G&T. Thanks to the herb's piney flavor profile, it also plays very well alongside the juniper.
Cinnamon Sticks
The sweet spice of cinnamon is a potent flavor addition to your G&T, so be sure you're using a gin that can hold its own. Just don't be tempted to use your cinnamon as a swizzle stick – you don't want your G&T becoming under-carbonated after a few idle stirs.
Lemon Thyme
If you're a tippler who's always come down on the lemon side in the great garnish debate, then consider adding a few sprigs of lemon thyme to your G&T. The end result should be equal parts of lemony and herbaceous.
Top Tips For a Gin and Tonic
Ger creative with garnish. Aromatics are especially important in such a refreshing and simple drink as the G&T.
Choose a good gin and a good tonic water. The quality of the ingredients makes a difference.
Serve with a striped paper straw or a reusable straw.
When to Serve a Gin and Tonic
This is a simpel cocktail to make and can be enjoyed during happy hour or at any of these speical occasions:
Birthday Party it's also perfect for a last-minute birthday party!
Frequently Asked Questions
What is the ratio of gin to tonic?

The ratio for a gin and tonic can vary and be altered to the way you like it. A good ratio is 2 parts tonic water and 1 part gin with a splash of lime.
Check Out These Other Delicious Cocktails
Cranberry and Thyme Gin and Tonic
Pretty Pink Cranberry and Gin Martini
Snow Globe Cocktail with a Rosemary Gin Fizz
If you try this super easy cocktail, leave a review below!
You can also FOLLOW US on FACEBOOK, INSTAGRAM and PINTEREST to see more delicious recipes, cocktails and desserts!
HOW TO MAKE A GIN AND TONIC
Start making the best gin and tonics!
Print
Pin
Rate
Ingredients
2

ounces

good quality gin

4

ounces

fresh tonic water

,

use the small glass bottles to ensure freshness

1/2

lime juice. You can cut the lime into 4 wedges and use two wedges per drink or juice ½ lime
Instructions
Add all of the ingredients in a high ball glass with ice and stir.

Garnish with a lime or an edible flower. Cheers!
Nutrition
Calories:
133
kcal
|
Carbohydrates:
0
g
|
Protein:
0
g
|
Fat:
0
g
|
Saturated Fat:
0
g
|
Cholesterol:
0
mg
|
Sodium:
24
mg
|
Sugar:
0
g
|
Vitamin C:
3
mg