Our Lavender Gin and Tonic Punch is light and refreshing! It's naturally flavored and the beautiful purple color is from butterfly pea tea. Absolutely perfect party punch for spring and summer.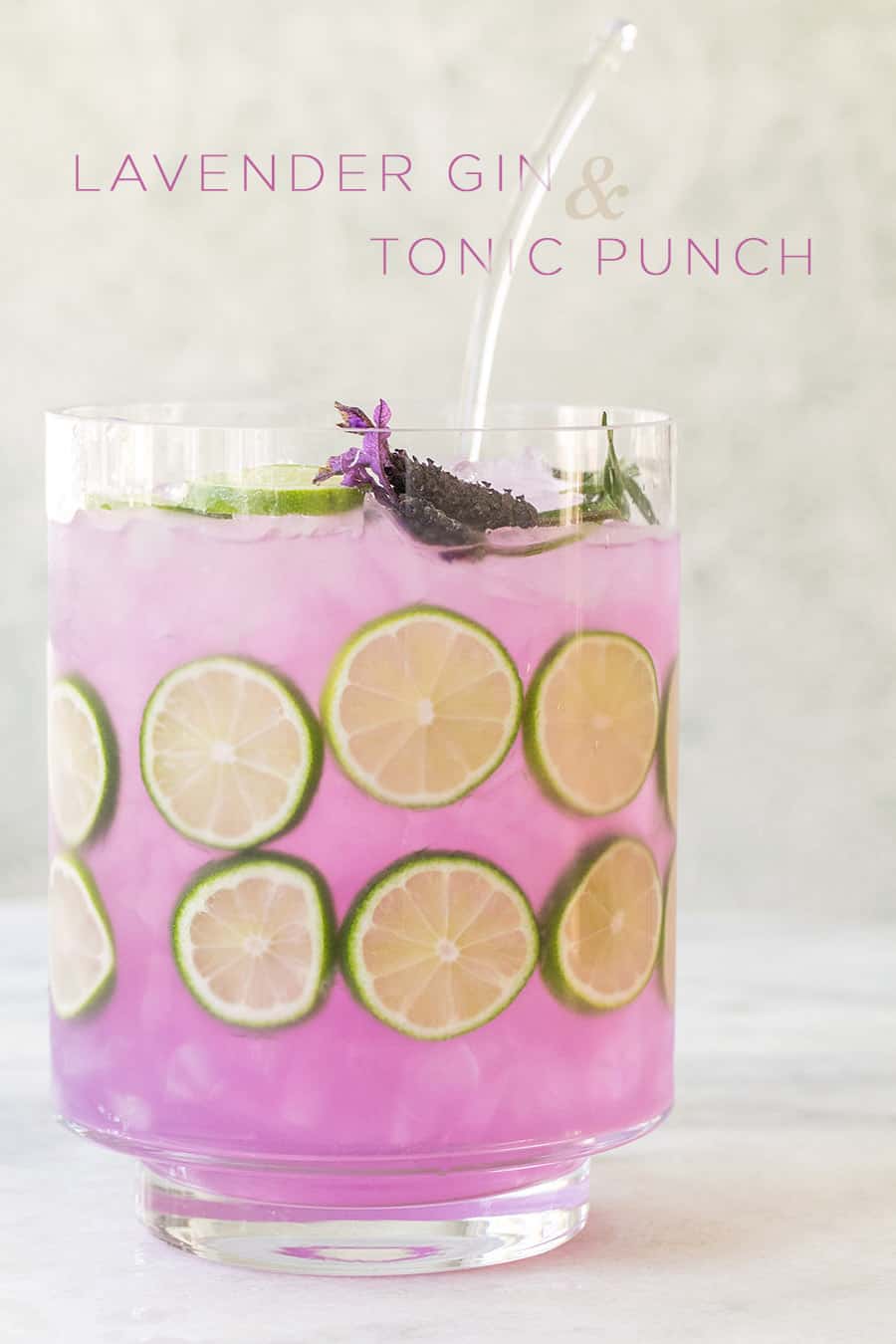 I planted about 15 lavender plants in my yard and they are all blooming and look gorgeous! Lavender is one of my favorite scents and flavors so I like to incorporate it in foods and cocktails as much as I can. I thought it would be nice to add a hint of lavender to one of my favorite cocktails… a gin and tonic. Not only does this cocktail have the lavender flavor and scent, it also has the most beautiful purple color! It's a crowd pleaser for sure!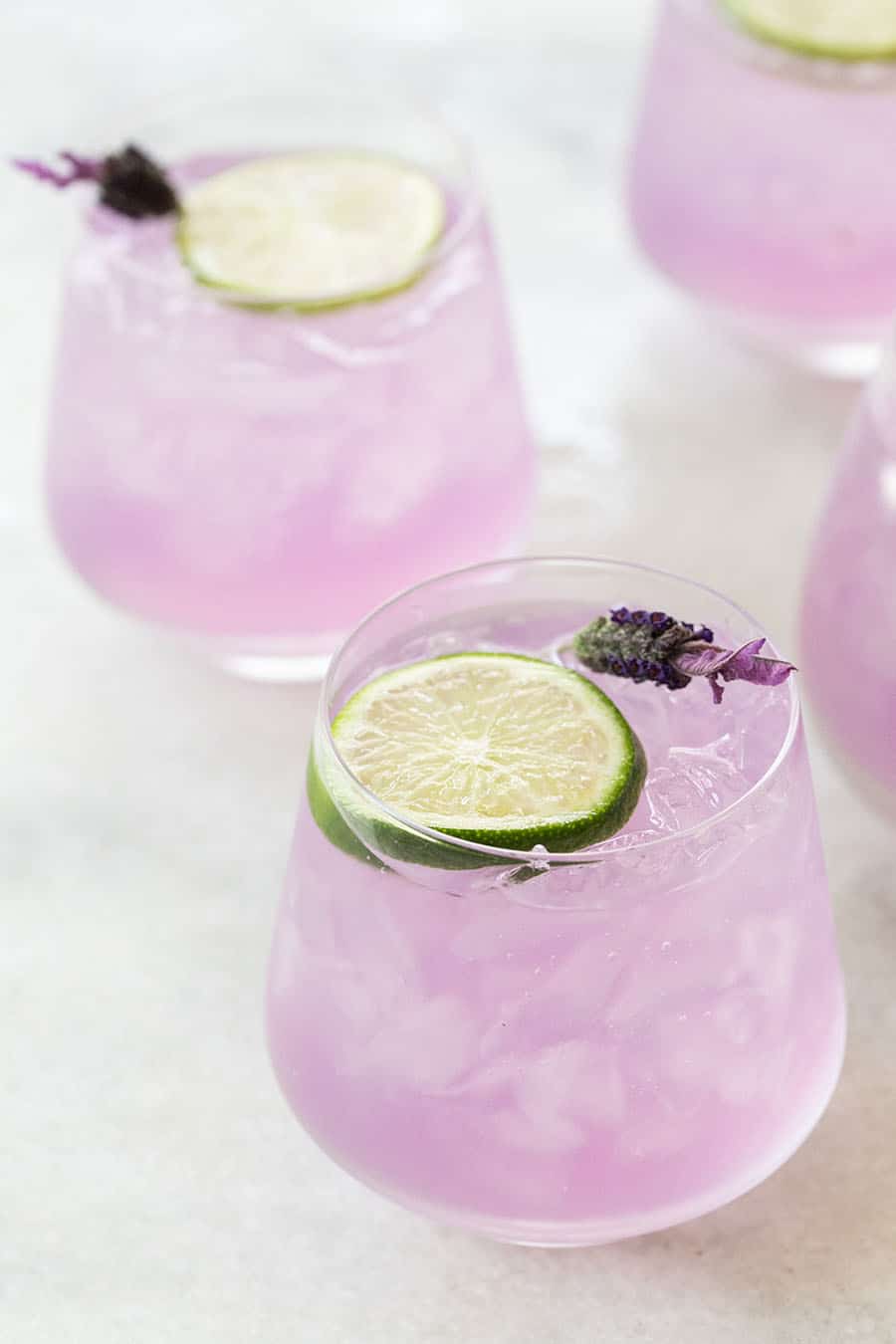 How to Make a Lavender Gin and Tonic
Gin and tonics are incredibly easy to make and only use gin, tonic water and lime. Those are the standard gin and tonic ingredients.  You can add fruit and berries and more to give gin and tonics a twist.
To make a lavender gin and tonic we infused the gin with dried lavender. We also infused the lime juice with butterfly pea syrup to give to cocktail a beautiful purple color!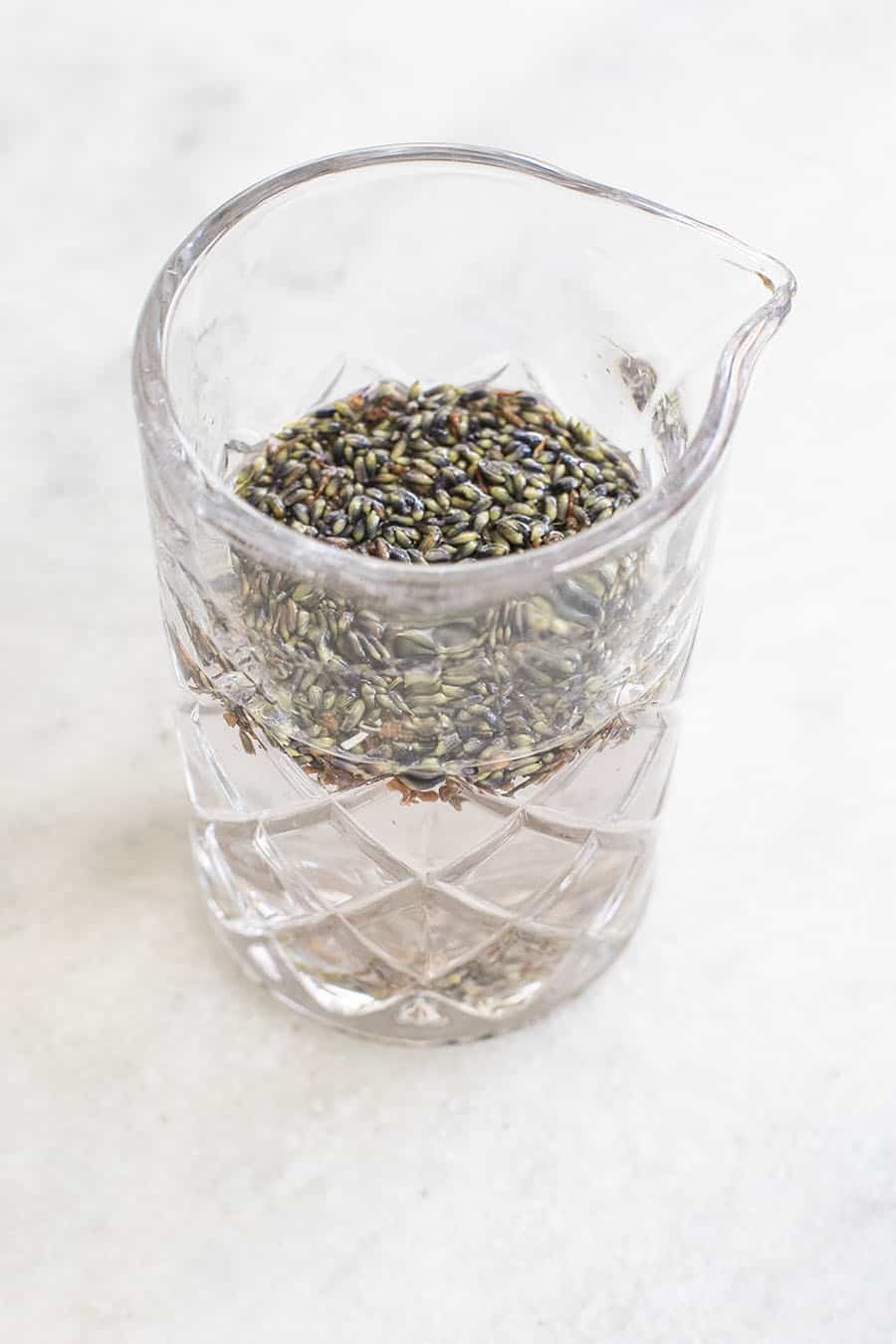 How do you infuse spirits?
Infusing spirits is a great way to get a natural flavor that you want in alcohol. Herbs, fruit, berries and even candy all work great for insuring spirits! For this we used 2 tablespoons lavender to 1 1/12 cups gin. The longer the lavender sits in the gin, the stronger the taste and smell. For this, you can do anywhere from 5-24 hours. After 5 ours you will be able to smell and taste the lavender. Once it's finished, pour it through a mesh strainer, letting the gin fall into a glass and catching the dried lavender to through away.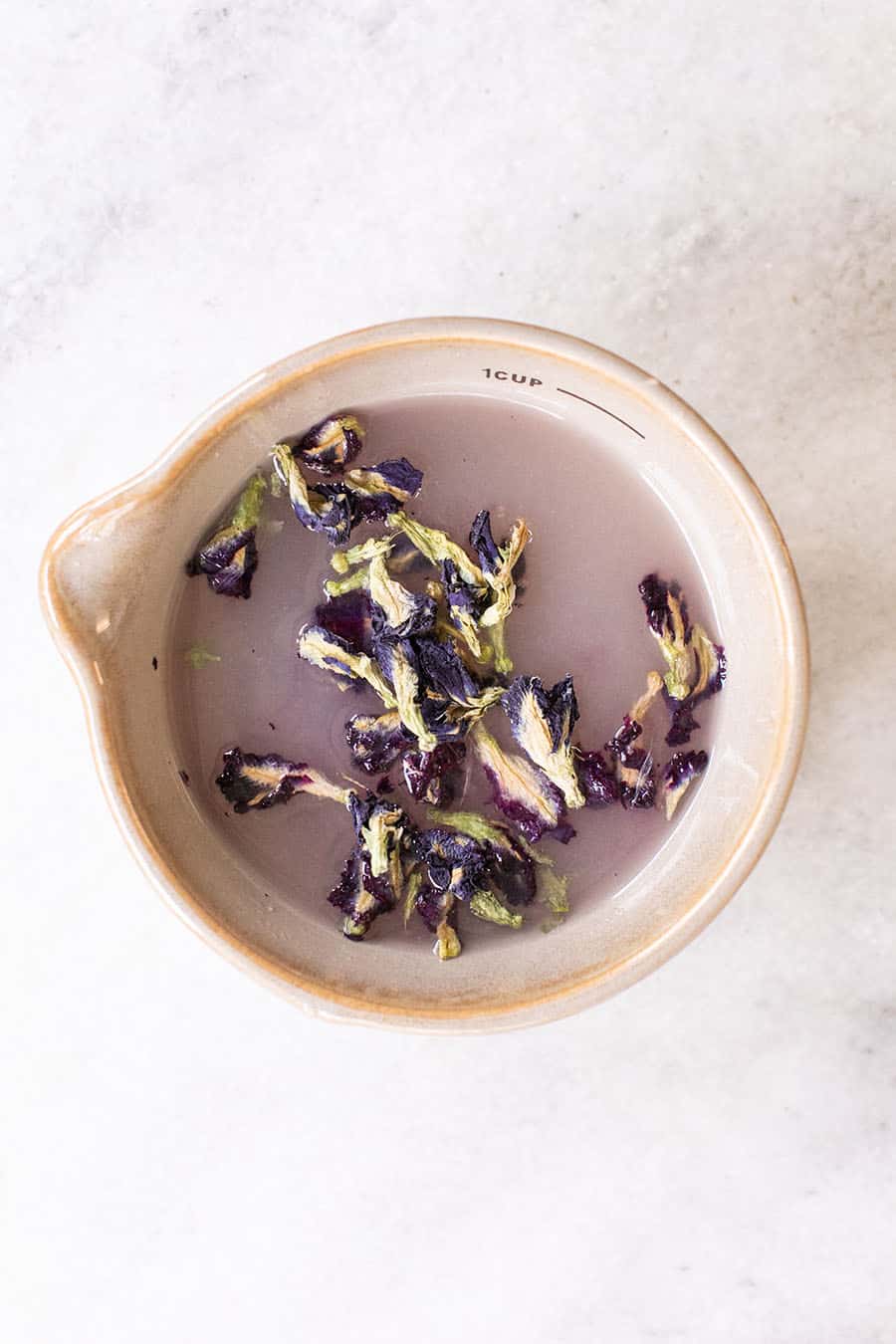 Why does butterfly pea tea change color?
Since lavender isn't strong enough to produce the purple shade I wanted for our cocktail, we infused the lime juice with Butterly Pea Tea! Butterfly pea tea comes from blue butterfly pea flowers. It changes colors based on the pH of whatever it's mixed with. When it's mixed with an acid like citrus it will turn purple. When it's by itself, steeped in hot water it's blue. We made natural blue ice cubes using it as well. Here is some more info about Butterfly pea flowers.
For this recipe, we combined 2 tablespoons dried butterfly pea flowers with 4 ounces lime juice and let it infuse for about an hour. It turned a deep purple color that was perfect  when mixed with the other ingredients.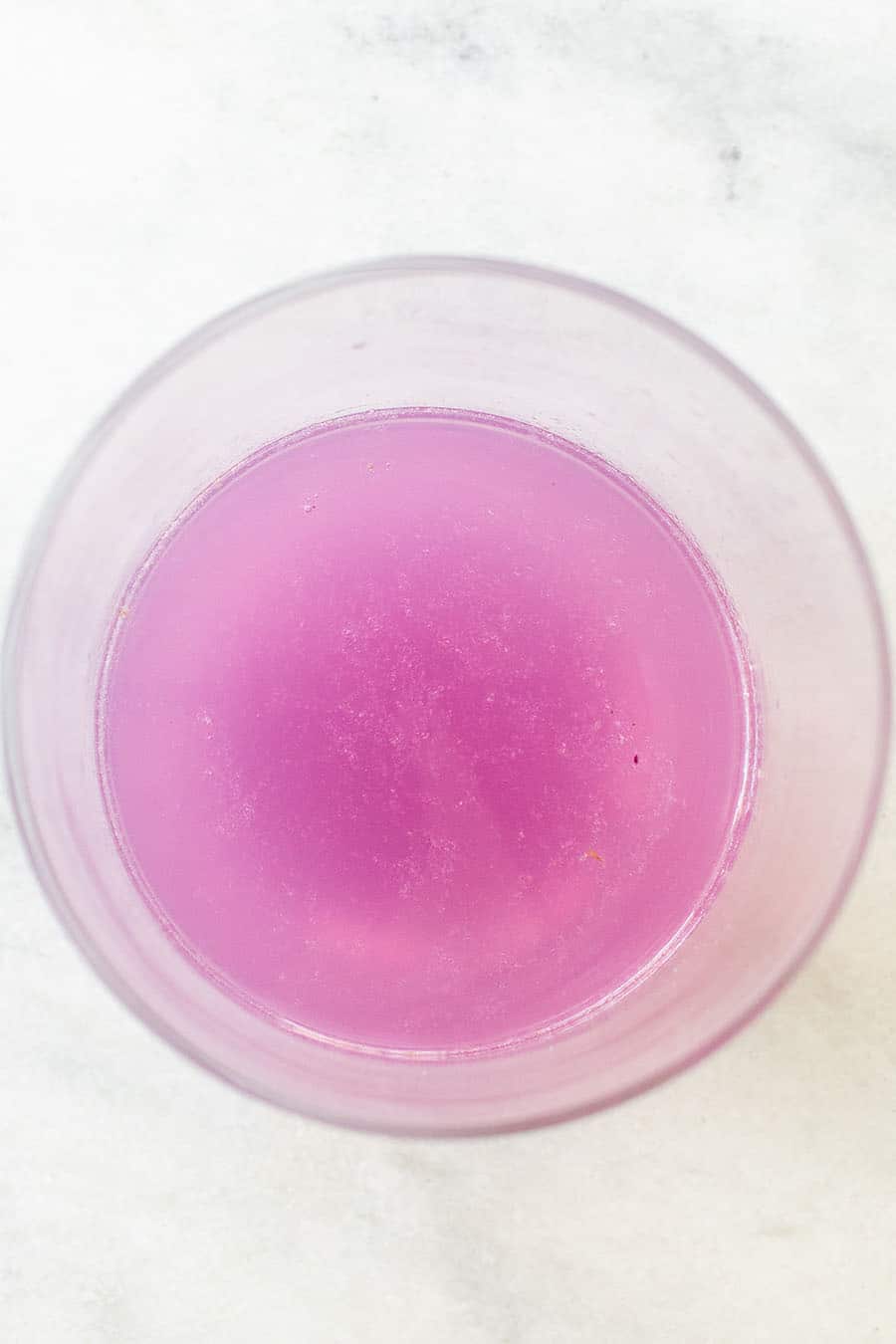 How to make a Gin and Tonic Punch
Once you've infused the gin and made the purple lime juice, you can add the ingredients into a punch bowl with 32 ounces tonic water crushed ice right before serving. This will serve about 6-8 people.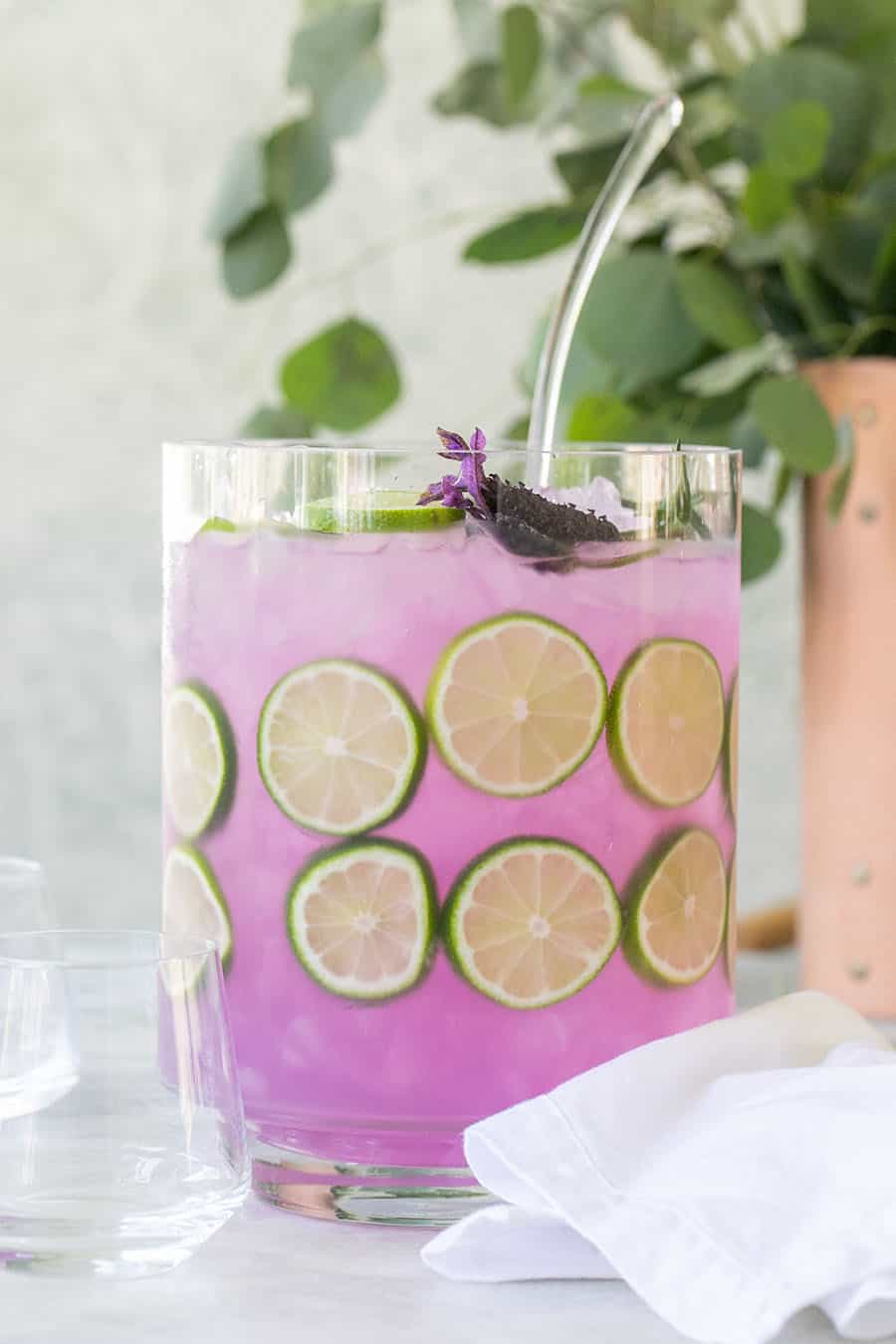 Ingredients in a Lavender Gin and Tonic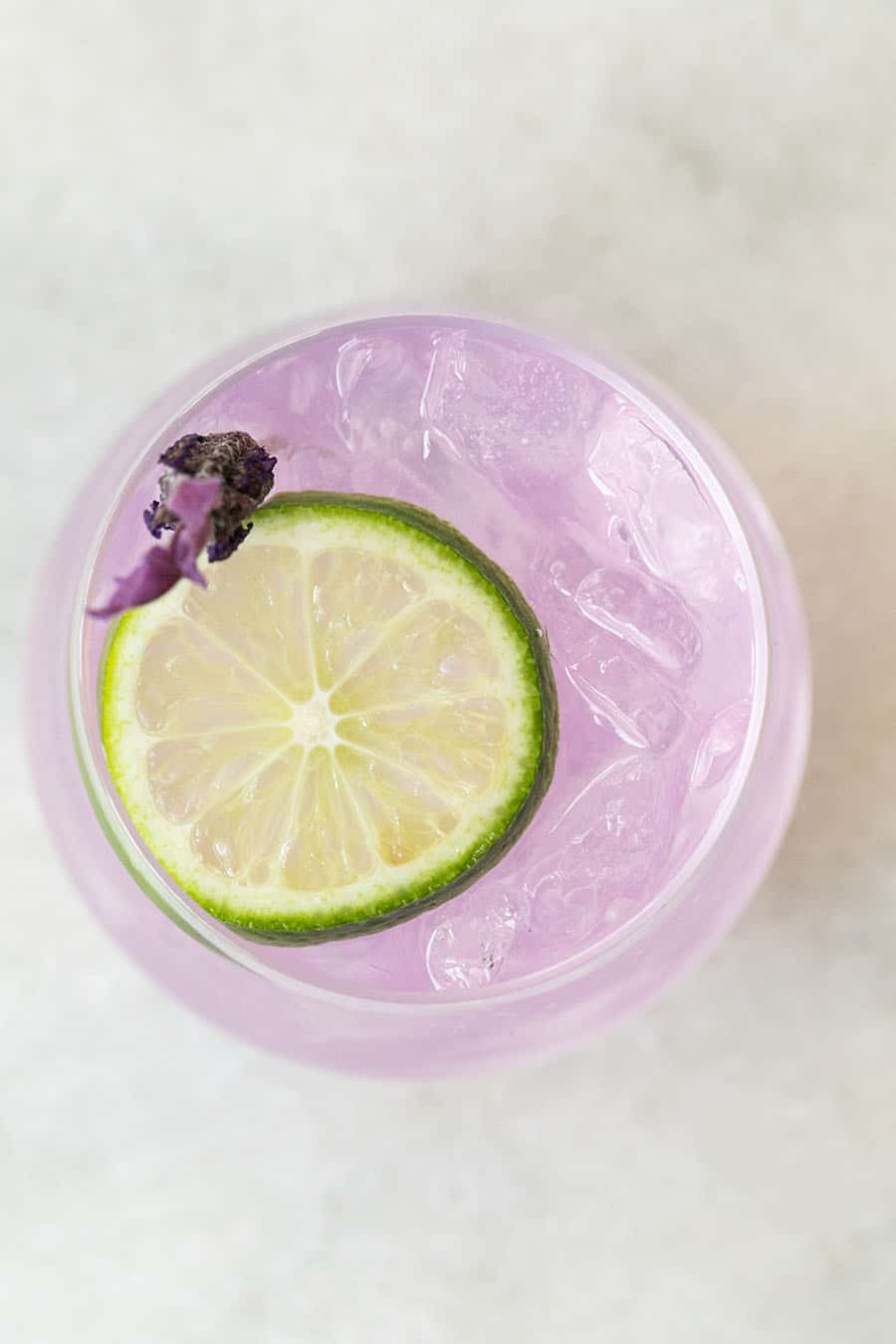 If you're looking for more cocktails delicious check these out…
Citrus Rosemary Gin and Tonic  – Salt and Wind
How to Make the Perfect Gin and Tonic José Andrés – Food and Wine
If you make this recipe, please let us know by leaving and comment and review! You can also share by tagging our social channels @sugarandcharm. We love seeing what you all make!