Empress Gin is a beautiful colored gin that creates the most stunning blue and purple cocktails! We're sharing a few Empress Gin cocktail recipes that you can assemble at home.
Empress Gin 1908 by Victoria Distillers is a spirit that is all the rave right now. It's blue, it's smooth, and most importantly, it's strong.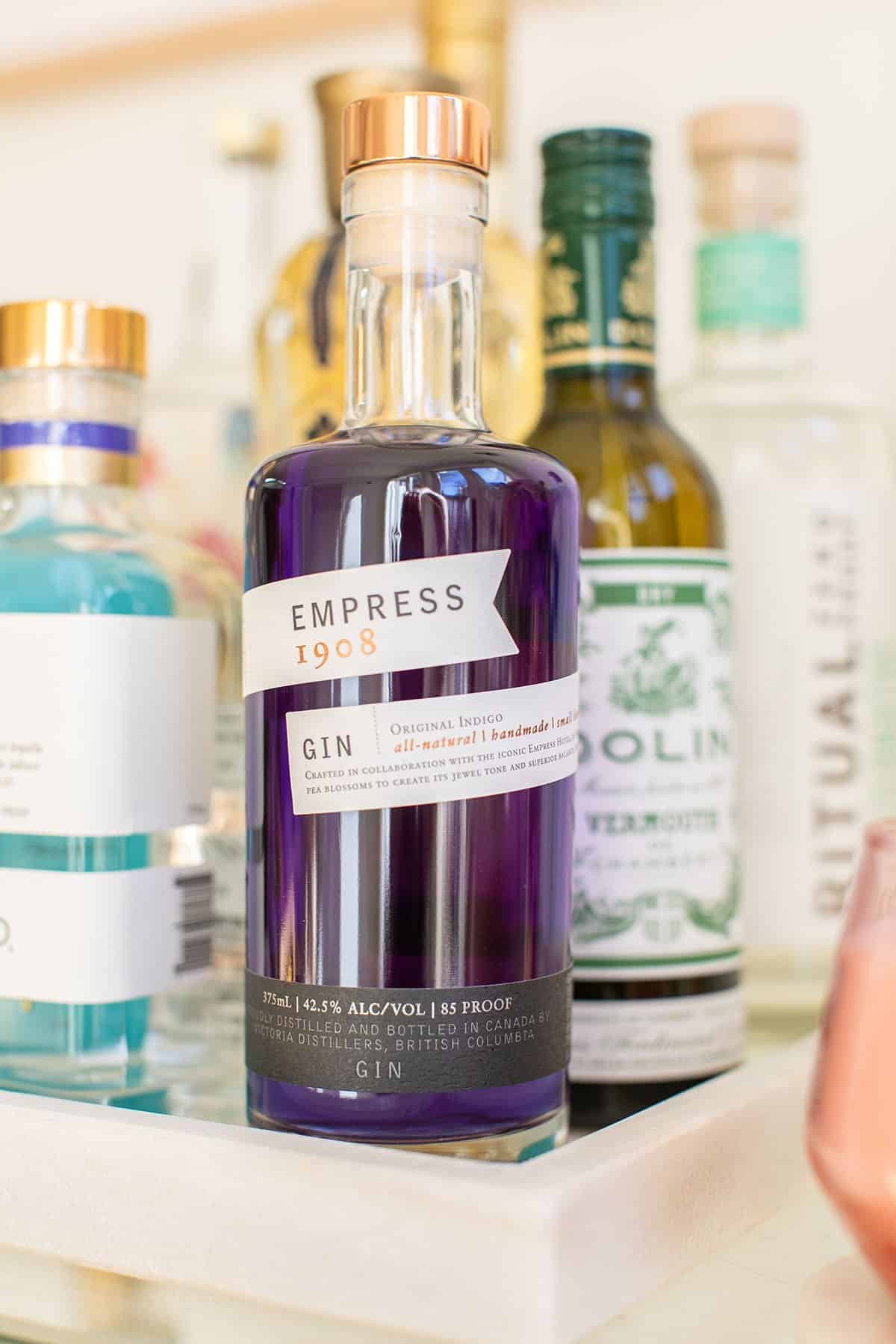 It's the perfect gin for poolside cocktails with the girls, classy mixed drinks for company parties, and a quick nightcap after a long day. In this guide, you'll learn everything there is to know about it including where it gets its color and what it tastes like.
Keep reading to learn more.
Empress Gin Ingredients
Victoria Distillers carefully select their tea leaves and only use the best ingredients available to craft their exquisite gin. These include the following botanicals:
Butterfly Pea Flower
Fairmont Empress Tea
Juniper
Grapefruit Peel
Coriander Seed
Cinnamon Bark
Rose Petal
Ginger Root
The result is a lavish gin with a delicate aroma, elegant taste, and an incredible aesthetic. The best part— there are no artificial colors, chemicals, or dyes.
Empress Gin Cocktails
Soda Water and Gin
This is an easy Empress Gin cocktail using soda water and gin. It's low in calories and looks beautiful in an old-fashioned glass.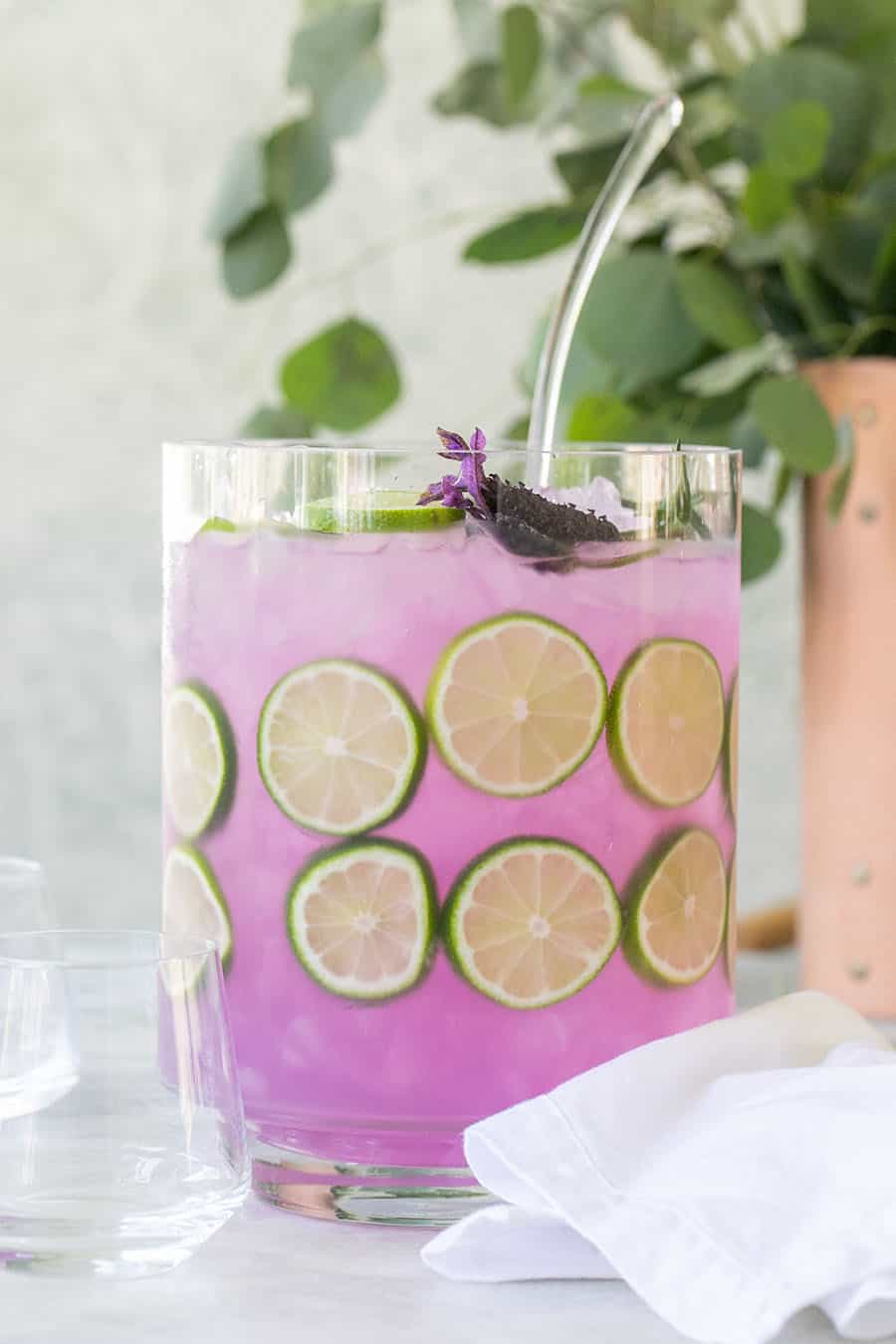 Lavender Gin and Tonic
Make a lavender gin and tonic by infusing Empress gin with lavender. Originally we used butterfly pea flower to make this, but using Empress makes it a step easier!
Classic Gin and Tonic
Make a classic gin and tonic and garnish with a rose and lime wedge. Guests will love the added color, turning a simple cocktail into a fun drink!
Why is Empress Gin Purple?
Butterfly pea flower is a very popular resource in many cultures for extracting natural blue dye. It's been used for centuries in South East Asia and South America to enhance the aesthetics of their bold cuisine.
Many distilleries, including Victoria Distillers, started using butterfly pea flowers to give their beverages a beautiful blue hue that makes cocktails vibrant and earthy.
What Makes Empress Gin Different?
Empress Gin 1908 is one of the most unique spirits created. It is handcrafted in copper-pot still and blended with eight different tea botanicals to give it an exquisite taste.
It doesn't use any artificial dyes or chemicals, which makes it stand out from the competition. Most colored spirits use artificial dyes that many consumers are sensitive or allergic to.
It is an accessible spirit for those that want gorgeous blue cocktails without all the fake ingredients.
How Do You Serve Empress Gin?
It's great served straight or in a cocktail. A few ice cubes, a splash of gin, and a lime garnish are some of the most common ways to enjoy it.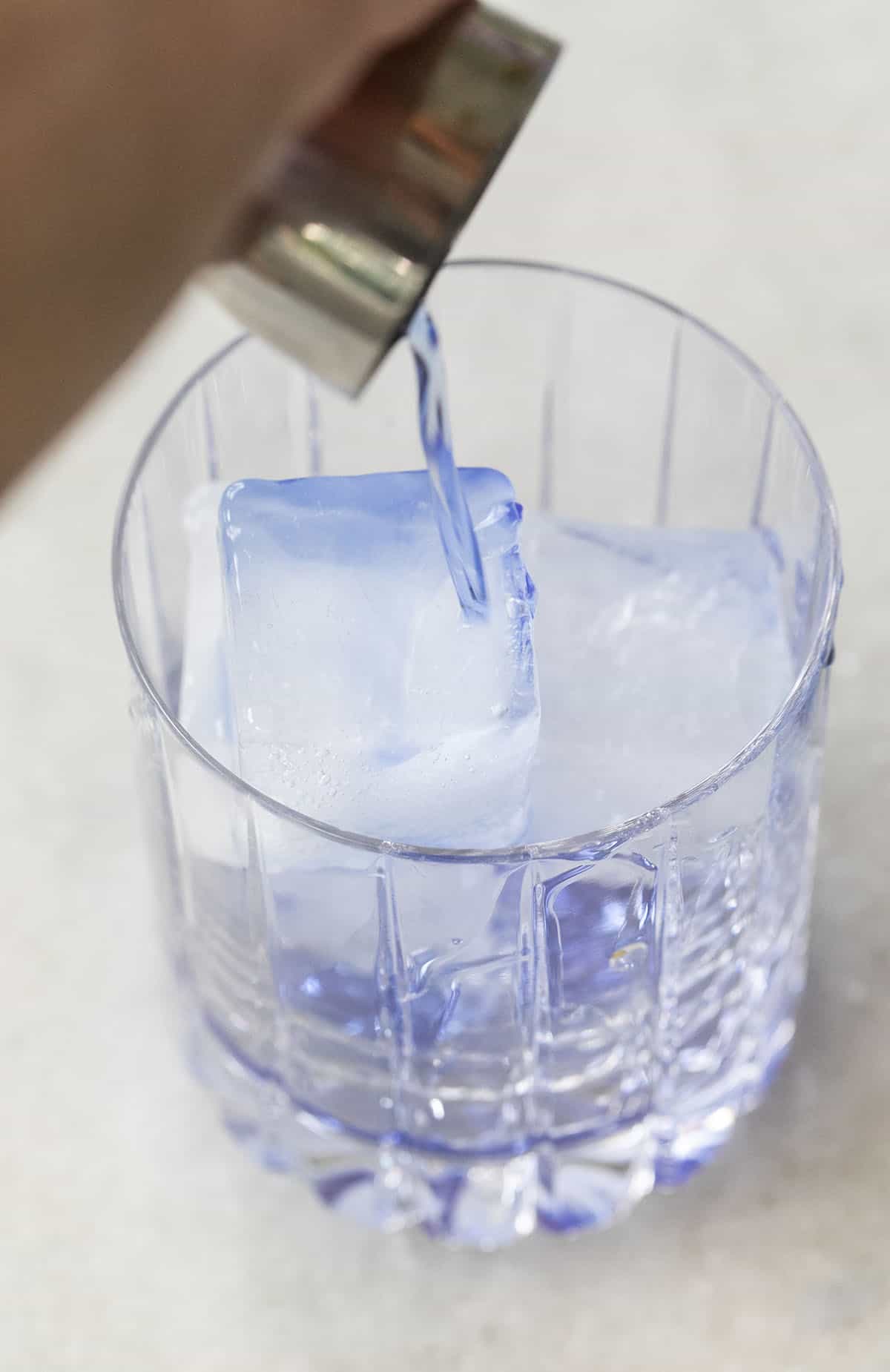 Is Empress Gin a London Dry Gin?
No, it is not a London Dry Gin. It's a Pacific Northwest Gin that is expertly distilled with Empress tea and other botanicals that pair nicely with the classic taste of juniper and citrus. The result is a modern gin with the perfect amount of class and flavor.
How Does Empress Gin Taste?
As itself, it tastes juniper, earthy tea, and citrus. As a base, cocktails embody this unique flavor to enhance the other ingredients of the mix for a one-of-a-kind experience.
Now you know everything there is to know about this beautiful gin, including where it gets its color and what it tastes like.
More Cocktail Recipes You'll Love
Jagermeister Grapefruit Cocktail
Let us know if you make one of these recipes by leaving a comment below!
You can also FOLLOW US on FACEBOOK, INSTAGRAM, and PINTEREST to see more delicious recipes, cocktails, desserts, and parties!
This post may contain affiliate links. Please read our disclosure and privacy policy.
Empress Gin Cocktail
A simple purple gin and tonic recipe made with Empress Gin.
Print
Pin
Rate
Ingredients
2

ounces

Empress Gin

1

ounce

Lime Juice

4

ounces

Tonic Water
Instructions
Fill a short glass with ice.
Nutrition
Calories:
138
kcal
|
Carbohydrates:
2
g
|
Protein:
1
g
|
Fat:
1
g
|
Polyunsaturated Fat:
1
g
|
Sodium:
25
mg
|
Potassium:
37
mg
|
Fiber:
1
g
|
Sugar:
1
g
|
Vitamin A:
14
IU
|
Vitamin C:
9
mg
|
Calcium:
10
mg
|
Iron:
1
mg