is Earl Grey Tea Cocktail is a refreshing alcoholic drink made with gin, lavender, lemon, and earl grey tea. Easy to make and easy to drink, this libation will become your new favorite cocktail!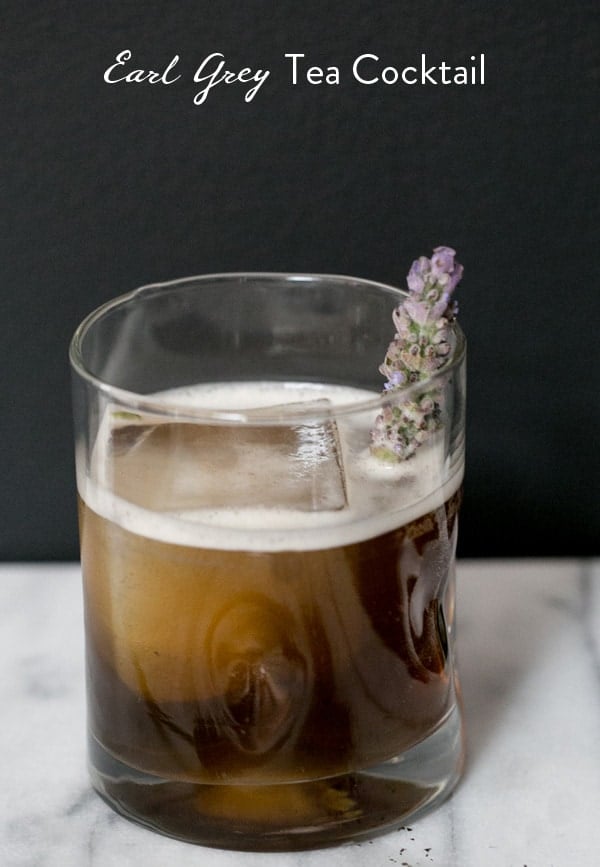 It must be the caffeine in the tea, or maybe it's the combination of the gin, tea, and honey… whatever it is, this Earl Grey tea cocktail is an energy booster!
I'll sip on one when Zan comes home from work, and I'm like an Energizer bunny until 12am.
It has a mild flavor, like tea with a dash of lemon and a touch of lavender, and then lightly sweetened with honey simple syrup.
This recipe is excellent if you're looking for a "healthy" cocktail! It's incredibly refreshing and easy to make because you can do the prep work beforehand.
It also makes a great early evening cocktail… if you want to stay up! Sometimes I need the push to get me through my midnight work schedule!
Brief History of Earl Grey Tea
Earl Grey tea is a black tea flavored with the oil of bergamot. It was named after the Earl of Grey, Prime Minister of the United Kingdom in the 1830s.
Grey tea was said to have been his favorite, and he requested that a blend be created especially for him. Earl Grey tea is high in caffeine and has a light, citrusy flavor.
How to Make an Earl Grey Cocktail 
Ingredients
Earl Grey Tea – We use Earl grey tea bags to brew the tea. We use cold tea for this recipe, so you can brew it before and then let it sit in the refrigerator until you're ready. 
Gin – Use good quality botanical gin.
Honey Simple Syrup – This is simple to make using water and honey and simmering in a small saucepan. It's the perfect way to sweeten this drink. 
Fresh Lemon Juice – Provides a bright, tangy flavor. The acidity and freshness of the juice balance out the sweetness of other ingredients and add a refreshing zing to the drink. Additionally, fresh lemon juice contains natural oils and aromas that can enhance the flavor and aroma of the cocktail. 
Lavender Sprigs – This is optional, but we love the way it looks. 
Directions
In just a few quick minutes, you can make this delicious cocktail!
First, brew the earl grey tea – make extra to keep some in the fridge ready to make more! Read our guide to brewing tea.
Make a batch of honey simple syrup by heating honey in water until it has dissolved and cool in the fridge.
Add all ingredients to a cocktail shaker with ice, shake, and strain into a glass.
Garnish the drink with a sprig of lavender.
A Tea Cocktail with Gin
Tea is such a great ingredient to use in a cocktail due to it's complex flavors, and I decided to mix it with gin to let the floral flavors of earl grey sing.
The lemon and lavender work wonderfully well with earl grey creating a refreshing libation.
What alcohol goes with tea?
For this recipe, I chose gin as the alcoholic element as its botanicals work really well with the bergamot in earl grey tea. Other types of tea work better with different types of alcohol.
If you are a keen mixologist, why not experiment, mix, and match with the teas and spirits below.
Spirits that mix well with teas
Different teas to make cocktails with
Best Gin for Tea Cocktails
There are a lot of great gins you can get at your average store for a reasonable price. Some notable favorites include Tanqueray, Hendrick's, and Indigo. Here's a list of our favorites:
A Cocktail For A Tea Party
If you plan on hosting a tea party, this cocktail is a great serving option. A little spiked tea at a tea party is a must! Especially for a bridal shower tea party!
This is also an excellent recipe for happy hour too!
Tips And Variations For Making a Tea Cocktail
Make sure the tea and the honey syrup is at room temperature, or cooler, before mixing it.
Keep shaking the cocktail shaker until it has turned cold.
Always use a good quality spirit.
Add in an egg white into the cocktail shaker for a frothy foam topping. Egg whites contain proteins that, when shaken, create air bubbles that get trapped in the liquid. These bubbles create a foam that adds texture and creaminess to the drink. 
You can use vodka if you prefer. 
You can try this with English breakfast tea too. 
​Tea Cocktail Garnishes
Try any of these charming garnishes:
Cinnamon Stick
Lemon Wedge or Lemon Twist
Lavender Sprigs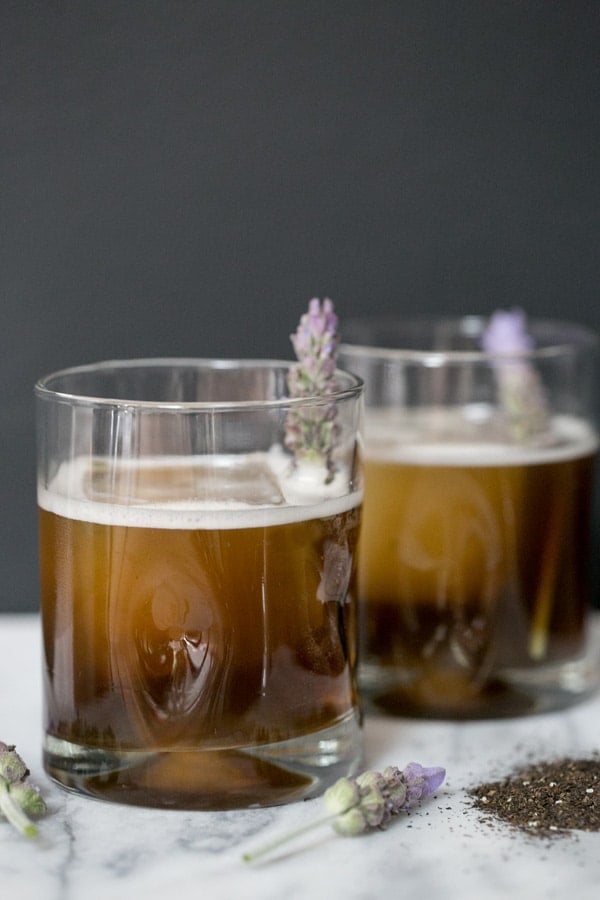 Frequently Asked Questions
What Alcohol Goes Well With Tea?
Many types of alcohol go well with tea. Some popular choices are vodka, gin, and white wine. We have used vodka in this recipe, but feel free to experiment with different types of alcohol.
What Exactly is Earl Grey?
Earl Grey tea is a type of black tea flavored with oil from the rind of the citrus fruit Bergamot. Earl Grey tea is typically made from a blend of teas but can also be made using a single-origin black tea.

The most common type of Earl Grey tea is Assam tea, a black tea from India. Other types of Earl Grey tea include Ceylon, Darjeeling, and Keemun. 
The Bergamot citrus fruit combines the sour Seville orange and the lemon. Bergamot oil flavors Earl Grey tea and other foods and beverages such as Earl Grey ice cream, Earl Grey martini, and even Earl Grey cupcakes.
What alcohol can you mix with hot tea?
Many types of alcohol can be mixed with hot tea, depending on your preferences. Some popular options include whiskey, brandy, rum, and liqueurs like amaretto or Grand Marnier.

Spiced rum or flavored liqueurs can add an extra twist to your hot tea cocktail. It's important to note that alcohol can affect the taste and temperature of your tea, so it's best to experiment with small amounts and adjust to your liking.
What are the Benefits of Earl Grey Tea?
There are many benefits to drinking Earl Grey tea:
Rich in Antioxidants
Earl Grey tea is rich in antioxidants, which can help protect your cells from damage and reduce your risk of chronic diseases such as heart disease and cancer.
Detoxifies the Body
Regularly drinking Earl Grey tea may help your body detoxify from harmful chemicals and pollutants.
Boosts Energy Levels
Earl Grey tea contains caffeine, which can help increase your energy levels and improve your focus and cognitive function.
Reduces Stress Levels
The Bergamot in Earl Grey tea has stress-reducing properties, which can help lower your stress levels and improve your mood.
Improves Digestion
Earl Grey tea can help improve your digestion by stimulating the production of digestive juices and relieving stomach discomfort.
Is Earl Grey Tea High in Caffeine?
Yes, Earl Grey tea contains caffeine. A cup of Earl Grey tea typically contains about 40-50 mg of caffeine, which is about half the amount of caffeine in a cup of coffee. Caffeine is a stimulant that can help increase your energy levels, focus, and cognitive function.
When you start drinking Earl Grey tea, adjust your caffeine intake accordingly. If you're used to drinking coffee or other caffeinated beverages, start with one cup of Earl Grey tea and see how you feel.
More Tea Cocktail Recipes
If you love this recipe, try any of these delicious cocktails: 
The Perfect Peach Bellini Tea Cocktail
The Green Goblin – A Green Tea and Cucumber Cocktail
If you have tried this earl grey cocktail recipe, then please rate it and let me know how it turned out in the comments below!
You can also FOLLOW US on FACEBOOK, INSTAGRAM, and PINTEREST to see more delicious recipes, cocktails, desserts, and parties!
Earl Grey Tea Cocktail
If you're looking for a "healthy" cocktail, this recipe is great! It has a mild flavor, like tea with a dash of lemon, a touch of lavender and then lightly sweetened with honey simple syrup.
Print
Pin
Rate
Ingredients
6

ounces

Cold Earl Grey tea

1¼

ounces

good quality gin

1¼

ounces

honey simple syrup

,

(5 cups water, 1 cup honey in saucepan. Simmer until honey is dissolved)

1/4

ounce

fresh-squeezed lemon juice

2

sprigs

lavender
Instructions
Brew 4 cups Earl Grey tea. This will give you enough to make a few cocktails. Store in the refrigerator to keep cold.

Make a batch of honey simple syrup to store in the fridge as well. 5 cups water, 1 cup honey.

Bring to a simmer until honey has dissolved.

Add all of the above ingredients into a cocktail shaker, with 2 sprigs lavender and ice.

Shake several times. Then strain the cocktail into a glass over one large ice cube.
Nutrition
Serving:
0
g
|
Calories:
186
kcal
|
Carbohydrates:
28
g
|
Protein:
0
g
|
Fat:
0
g
|
Saturated Fat:
0
g
|
Cholesterol:
0
mg
|
Sodium:
26
mg
|
Potassium:
62
mg
|
Sugar:
27
g
|
Vitamin C:
2.7
mg
|
Iron:
1.3
mg