An easy and refreshing green tea shot recipe made with just 4 simple ingredients. This is a simple whiskey shot with a sweet, peachy flavor. You'll be surprised to find out it doesn't actually contain green tea but gets its name from its perfectly light green color.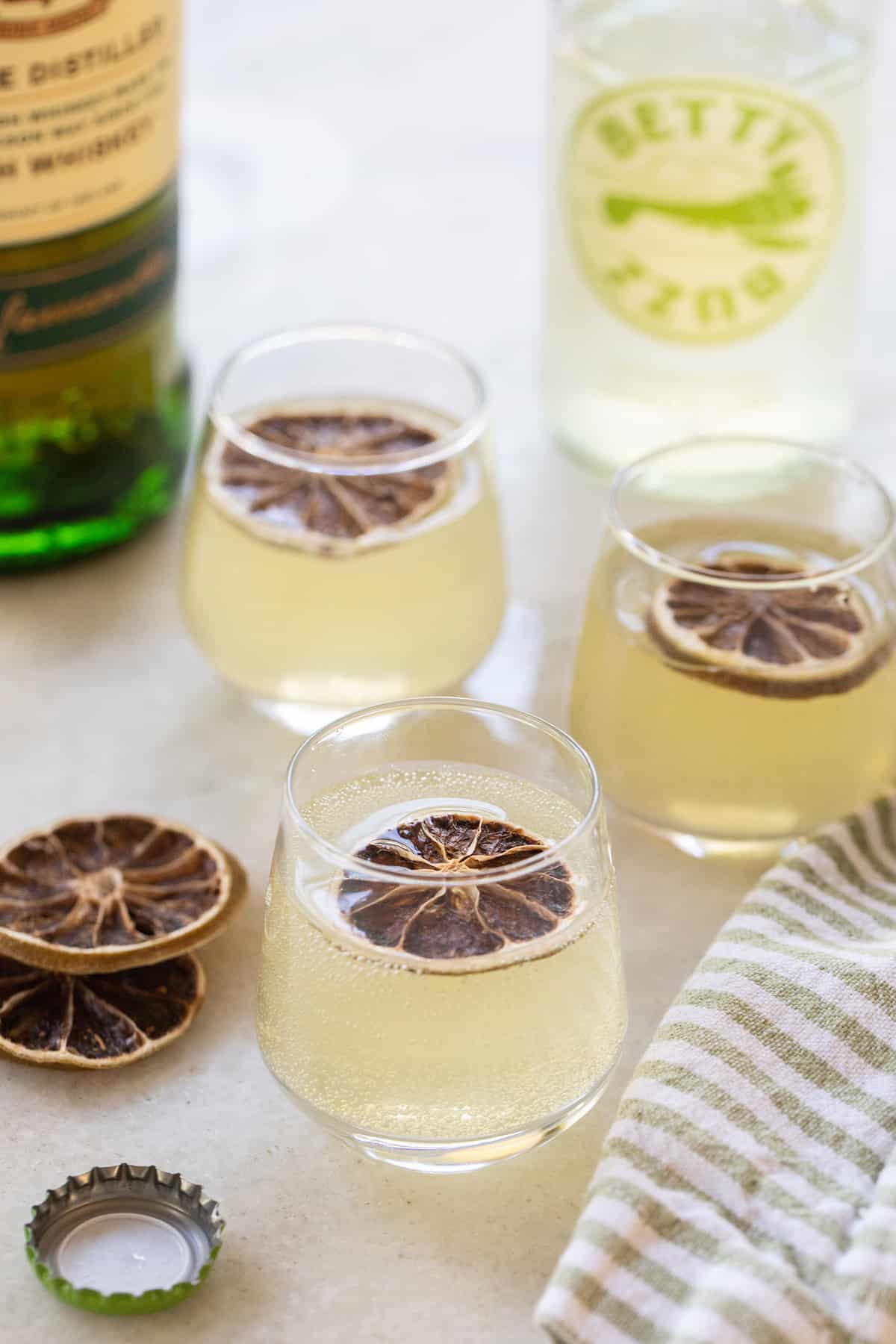 A Green Tea Shot (or "Jameson Green Tea" as it's sometimes called) is an intriguing combination of whiskey and peach schnapps. Similar to our Jolly Rancher shot, lemon drop shot, and Gummy Bear shot, this shot has a refreshing fruity flavor.
But don't let its green hue fool you – no green tea is involved in this cocktail! However, its unique flavor combination of sweet and sour makes for excellent summertime refreshment.
Also, check out our Jameson Whiskey Jello shots and our whiskey green tea punch too!
How to Make a Classic Green Tea Shot
We'll cover everything you need to know to make this green tea shot recipe, answer questions and share our expert tips.
If you prefer to jump to the recipe, scroll to the bottom post where you'll find the recipe card. 
Supplies
Here are a few bar tools you'll need: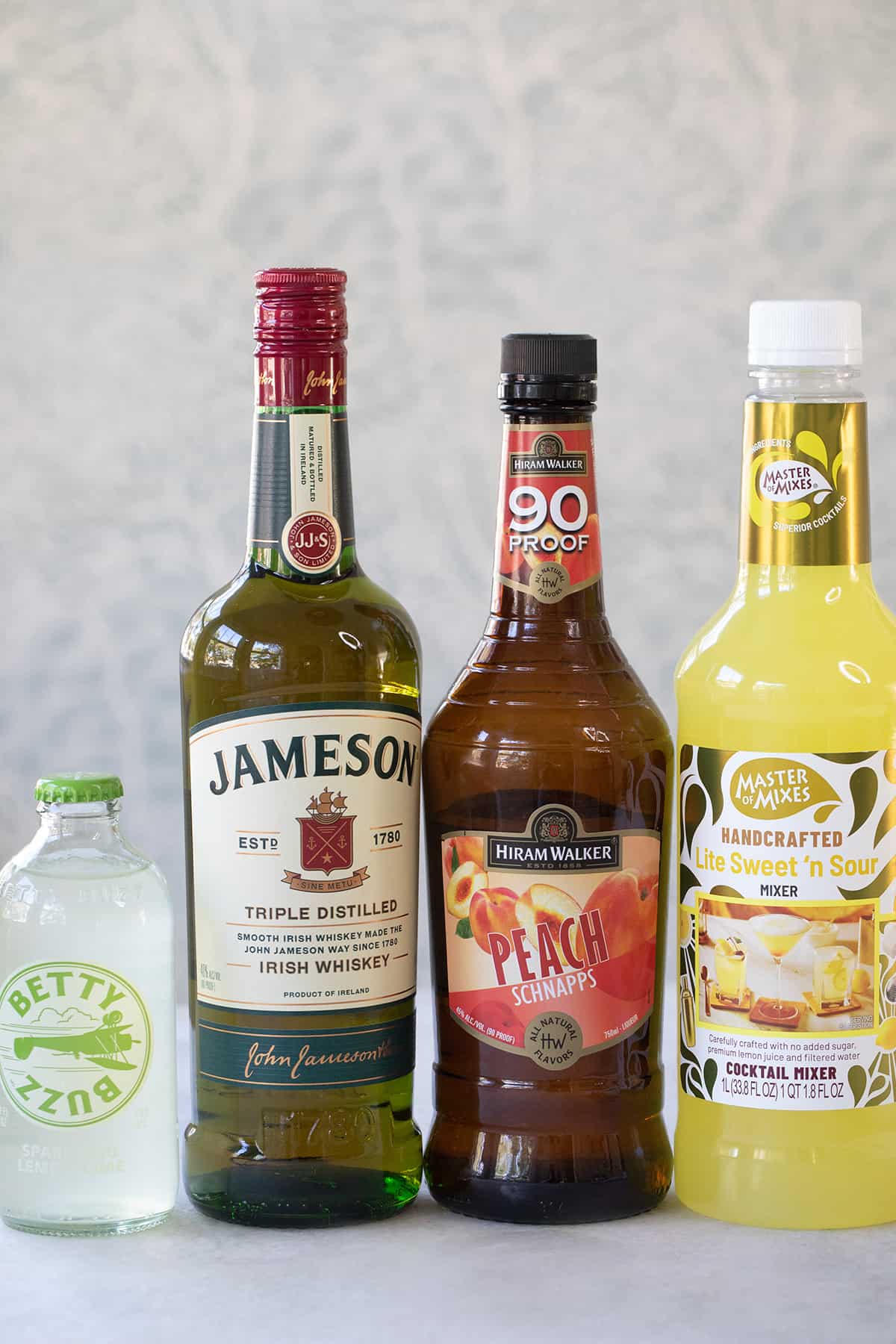 Ingredient Notes
You can find these ingredients at your local liquor store or grocery store.
Jameson Irish Whiskey – This is the best whiskey for green tea shots. It's a popular whiskey that's been around since 1780. Its triple-distilled blend of spices gives it a smooth and balanced flavor that works well in green tea shots. The whiskey also has notes of vanilla and green apple for extra depth. 
Peach Schnapps – Use quality peach schnapps with a good flavor profile. This Adds a hint of sweetness and fruity peach flavor.
Sour Mix – Lemon-lime type sour mix is the best for green tea shots.
Lemon Lime Soda – Adds a bit of fizz and balances out the alcohol taste in the shots.
Directions
Fill the cocktail shaker with ice cubes.
Add whiskey, peach schnapps, and sour mix.
Shake the mixture vigorously for about 30 seconds.
Fill shot glasses with the green tea shot mixture.
Garnish with a lemon wedge or lime wedge if desired.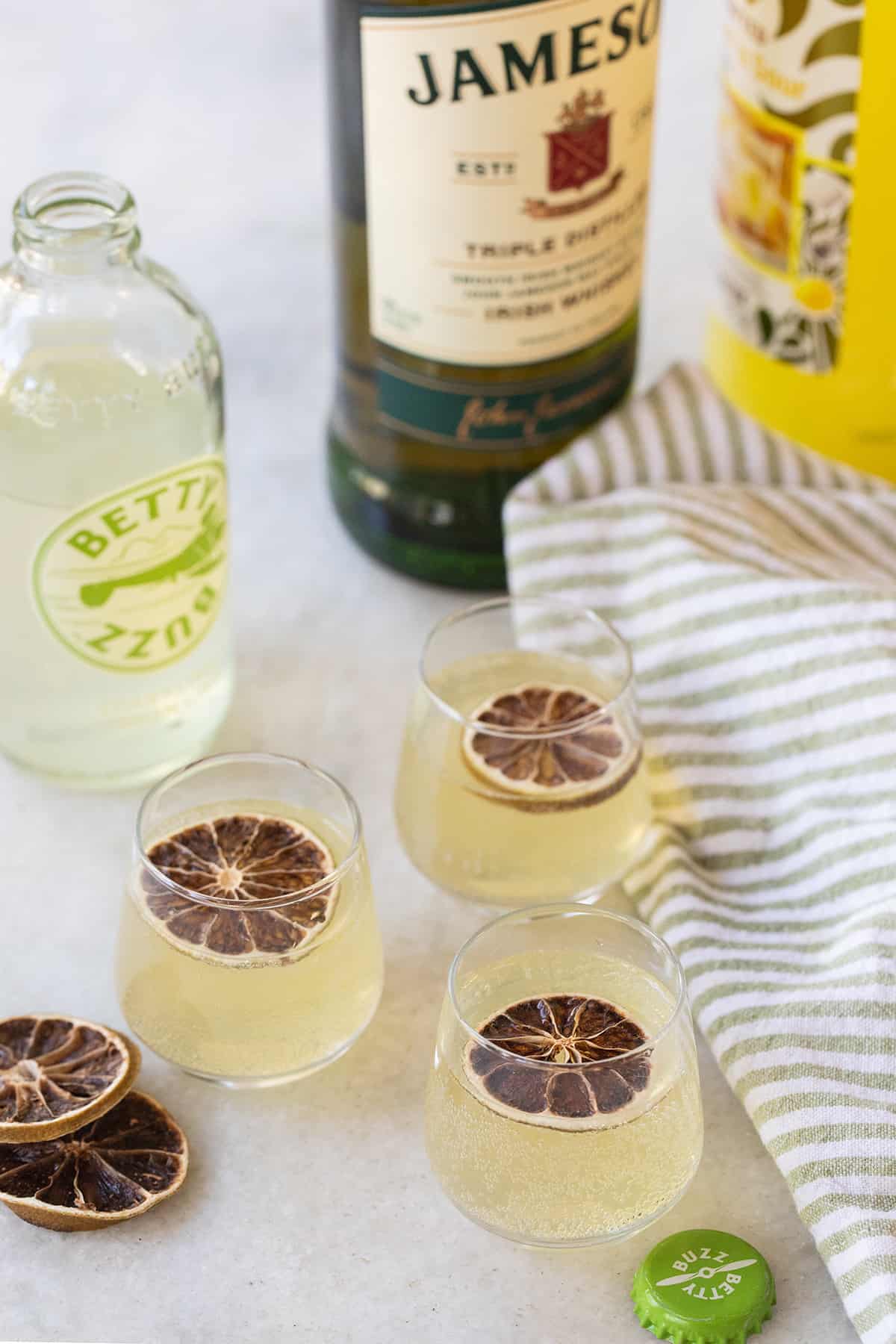 Tips for Making This Green Tea Shot Recipe
Just like our Dirty Shirley recipe, we like to add more than a splash of lemon-lime soda as it's crucial to the balance of the shot. So don't be shy when adding fizz and add that extra lemon-lime soda.
If you don't have a cocktail shaker, you can use a Mason jar and shake vigorously.
Make sure to chill your glasses ahead of time to keep the green tea shot cold and refreshing. You can also serve these in ice shots!
Use a low-sugar sour mix if you prefer.
You can use a diet lemon-lime soda to keep the sugar down.
Add a little lemon juice or fresh lime juice in the shot for a twist in flavor.
Recipe Variations and Substitutions
White Tea Shot
Make a white tea shot by using vodka, lemon juice, peach schnapps, and simple syrup. Everything is shaken into a cocktail shaker and strained into shot glasses.
Green Tea Shot Mocktail
Turn this drink into a non-alcoholic version using zero-proof whiskey and peach nectar instead of peach schnapps. Make the cocktail exactly how you would using these non-alcoholic options. 
American Whiskey
If you don't have Jameson whiskey, you can use good-quality American whiskey. 
Homemade Sweet and Sour Mix
Don't have a sweet and sour mix, make your own! It's easier than you think.
Make Ahead Directions
The green tea shot can be made ahead of time and stored in the fridge for up to 3 days. Measure the ingredients into a cocktail shaker, leaving out the soda.
When you're ready to serve, add ice and shake. Then strain into each shot glass and pour the soda over the top.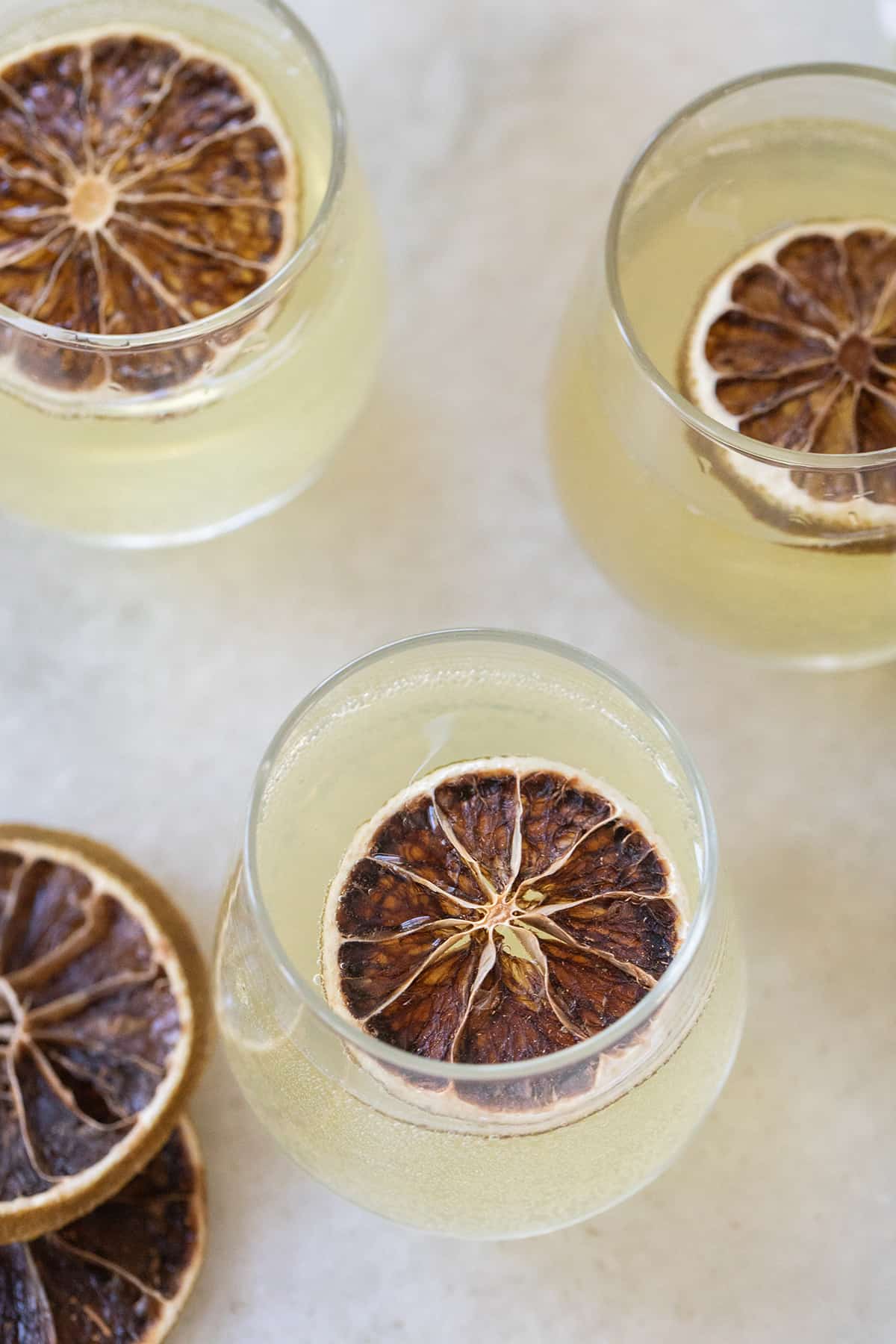 When to Serve a Green Tea Shot
Green tea shots are an excellent cocktail for summertime fun. It's a great way to relax and enjoy the warm weather with friends.
You can also serve green tea shots at parties or special occasions. It's a fun and unique drink that your guests will love! Here are some ideas:
Frequently Asked Questions
What is a green tea shot made of? 
This shot is a combination of Jameson Irish Whiskey, Peach Schnapps, Sour Mix, and lemon-lime soda for a little extra zing!
Why is it called a green tea shot? 
The green tea shot got its name for its green hue that's created when combining the ingredients. It doesn't actually have green tea in it but the color resembles green tea!
What shot is similar to a green tea shot? 
The green tea shot is similar to a Long Island Iced Tea or a green apple martini. It's also similar to a white tea shot with similar ingredients.
Do I need green tea to make this shot? 
No green tea is needed to make this shot; it's just the hue that lends its namesake.
More Shot Recipes
Birthday Cake Shot – This shot tastes like a vanilla birthday cake, especially with the rim covered in frosting and sprinkles.
Candy Corn Shots – These are fun to make for Halloween.
Cranberry Jello Shots – These are festive, delicious, and perfect for the holidays.
Pina Colada Shots – Another great summer shot, these have pineapple and coconut!
If you're looking for more popular whiskey-based cocktail recipes check out our whiskey and ginger ale and our whiskey highball or our whiskey and orange juice.
Let us know what you think!
Now that you know how to make this classic green tea shot recipe, let us know what you think! Leave a comment and review below.
You can also FOLLOW US on FACEBOOK and PINTEREST to see more delicious recipes, cocktails, desserts, and parties!
Green Tea Shot
A refreshing green tea shot made with simple ingredients. They have a fruit and tangy flavor and are great to serve year-round!
Print
Pin
Rate
Ingredients
1

ounce

Irish Whiskey

1

ounce

Peach Schnapps

1

ounce

Sour Mix

3

ounces

Lemon-lime Soda
Instructions
Fill a cocktail shaker with ice.

Pour the Irish whiskey, peach schnapps, and sour mix into the shaker.

Strain evenly into 3-shot glasses.

Add an ounce of lemon-lime soda over the top. You can do more or less depending on how you like it.
Notes
Use American whiskey if you don't have Jameson. 
Add more or less soda depending on what you like. 
Make sure to shake the cocktail for 30 seconds to dilute it. 
Add a garnish like a lemon or lime slice.
Nutrition
Calories:
85
kcal
|
Carbohydrates:
12
g
|
Protein:
0.03
g
|
Sodium:
8
mg
|
Potassium:
6
mg
|
Sugar:
12
g
|
Calcium:
2
mg
|
Iron:
0.4
mg