Gummy bear shots are sweet, fruity, and tasty like white gummy bears! These shots are easy to make using raspberry vodka, peach schnapps, and juice. This white gummy bear shot is an adult twist on classic candy. It's similar to our Jolly Rancher shot and great to serve at parties!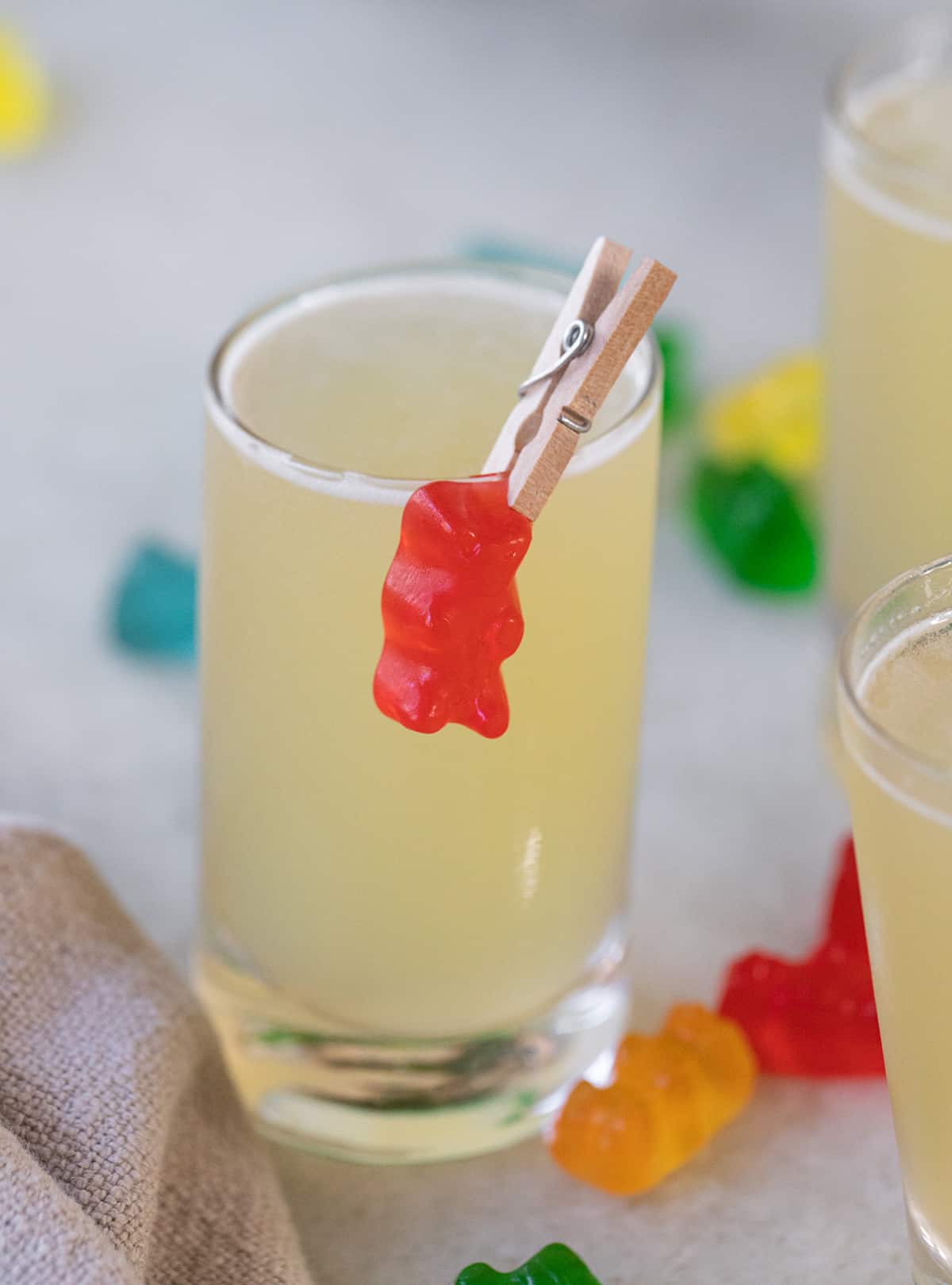 A gummy bear shot tastes like a sweet, fruity version of a boozy gummy bear. The combination of fruits together gives these shots a white gummy bear flavor.
They are perfect for adult birthday parties, summer pool parties or even to serve adults at a gingerbread house party! Really, you can serve these fun and festive shots year-round.
Also, try our birthday cake shot recipe, lemon drop shot, and green tea shot! Another great recipe for parties!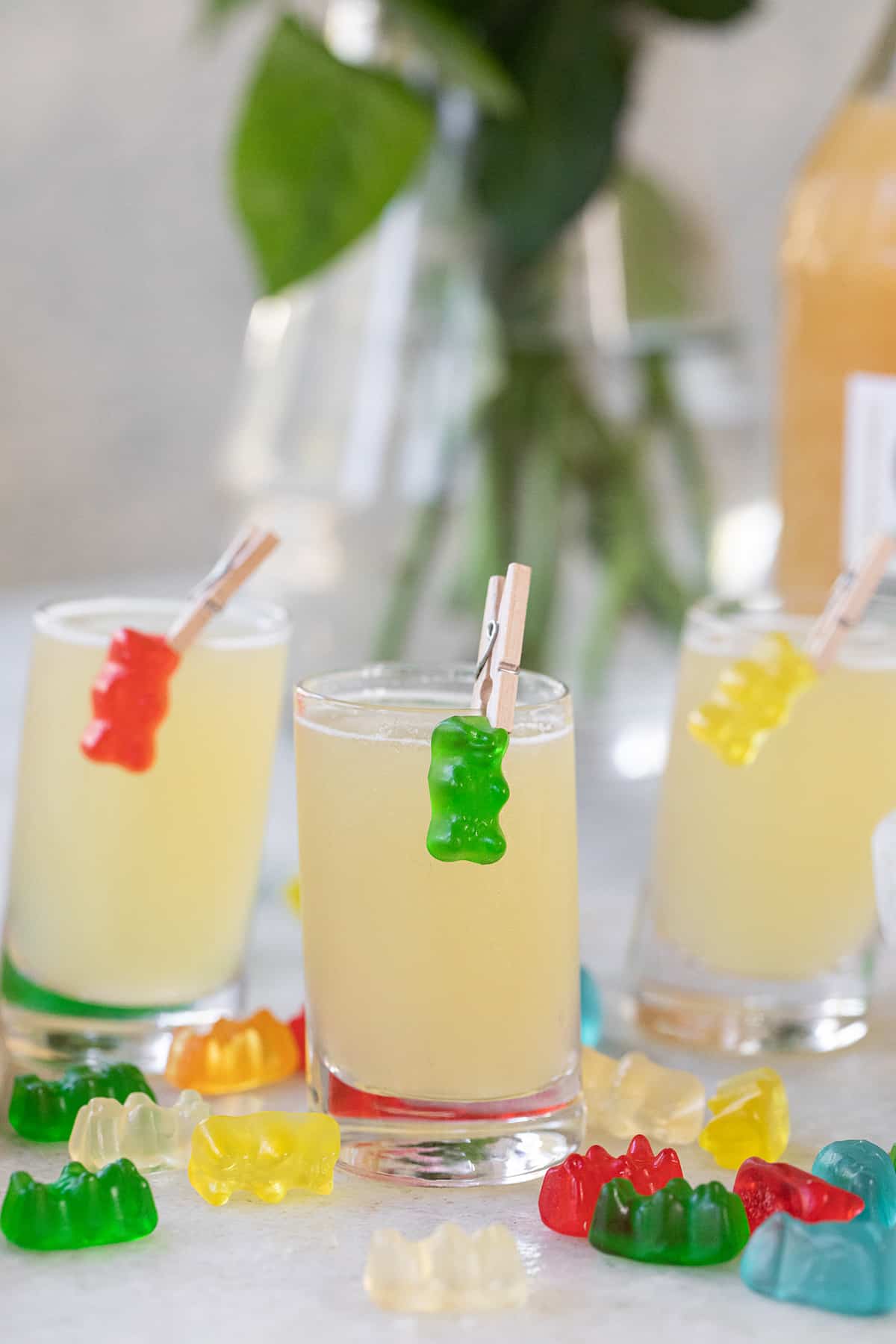 Why You'll Love This Recipe
It's made with simple ingredients that you can find at your local grocery store.
This shot really tastes like a white gummy bear!
These fruity shots have no extra simple syrup in them, just the sugar in the juices and liqueurs.
Here's a fun fact: Gummy bears were invented in Germany in the early 1920s by candy maker Hans Riegel Sr. They became an instant hit and have been a beloved treat ever since!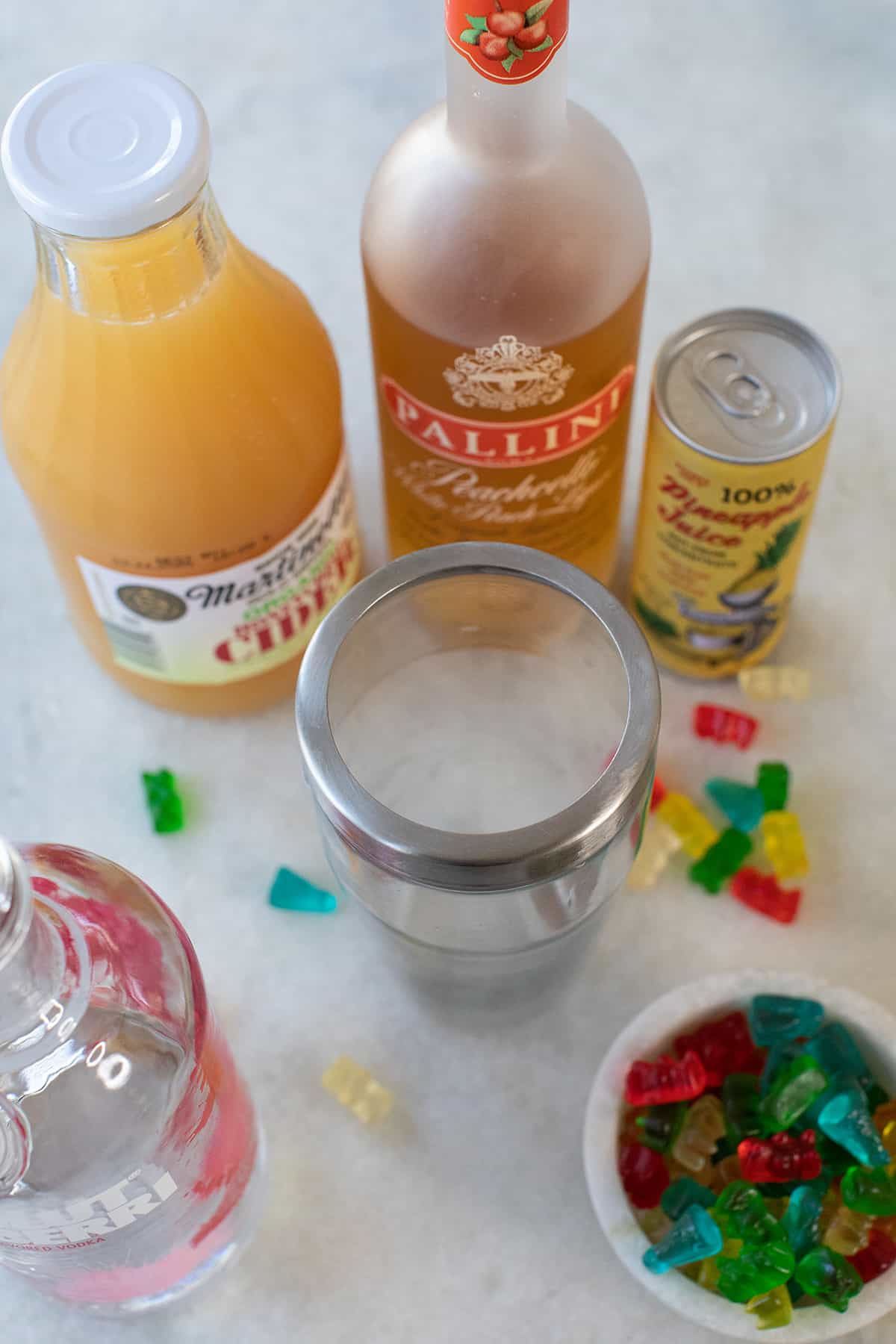 How to Make Gummy Bear Shots
We will cover everything you need to know to make these shots, answer frequently asked questions and share our expert tips for recipe success!
If you want to skip to the recipe, scroll to the bottom where you'll find the recipe card, measurements, and directions.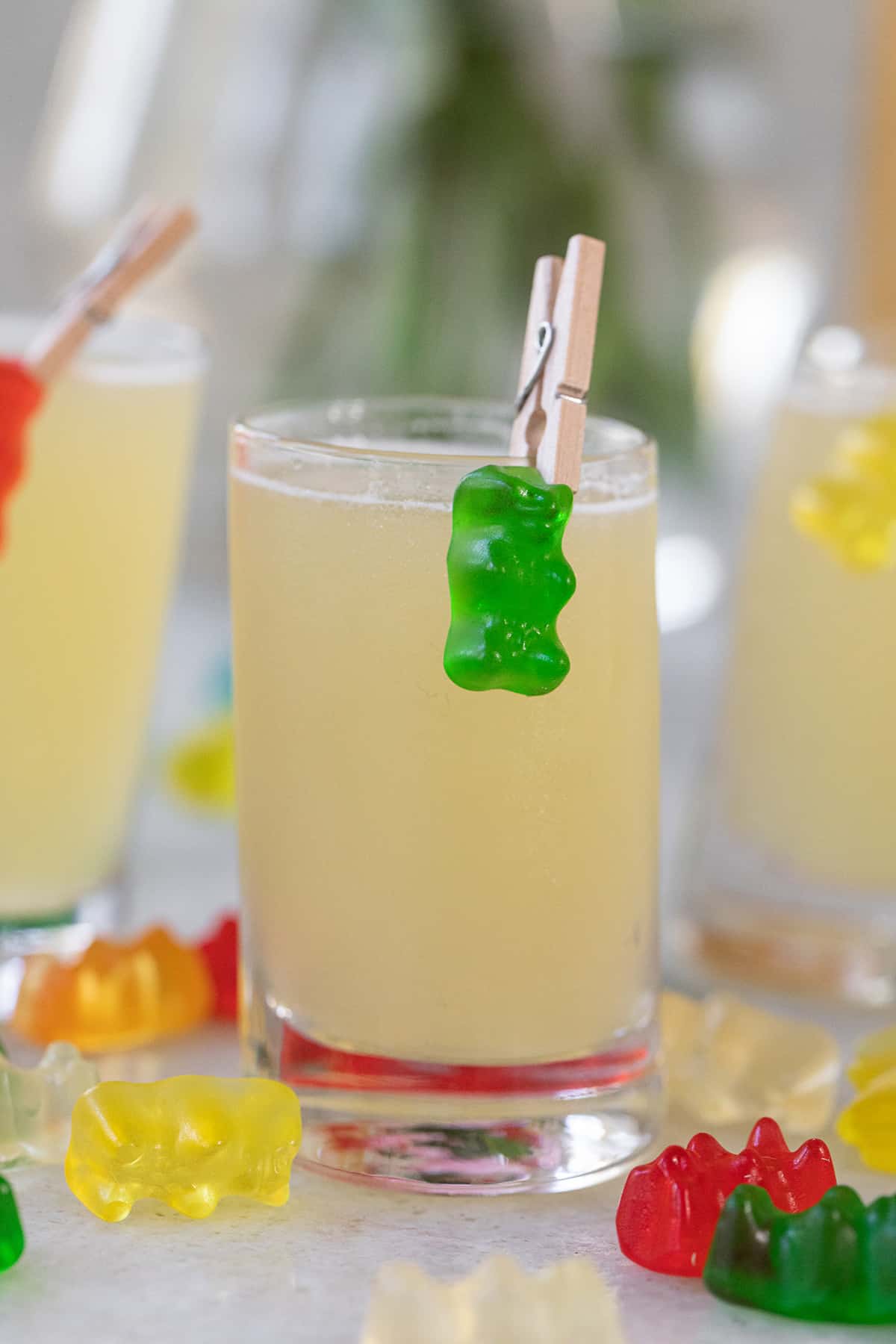 Supplies
Here are a few supplies you'll need to make these shots:
Mini Clothes Pins – We use these for the gummy bear garnish! They are great for clipping the gummy bears to the side of the glass.
Ingredient Notes
Raspberry Vodka – A sweet and fruity flavored vodka with a delicious raspberry flavor. You can also use cherry vodka for this recipe. There are different brands of vodka, but any raspberry, cherry, or fruity flavor will work.
Peach Liqueur – Either peach schnapps or peach liqueur will work for this recipe. The peach adds a sweet and smooth flavor with notes of honey and spice.
Apple Cider – The apples add more flavor depth and fruity flavor to these shots. We use organic apple cider, but you can also use pure apple juice too.
Pineapple Juice – This adds tropical flavors to the shot that you taste in gummy bears. It gives the shots a sweet and tangy flavor and compliments all of the flavors in this recipe.
Gummy Bears – It's important to serve these shots with a gummy bear. You can drop one into the bottom of the shot glass, clip one onto the side, add a few to a cocktail pick, and serve the shot with that.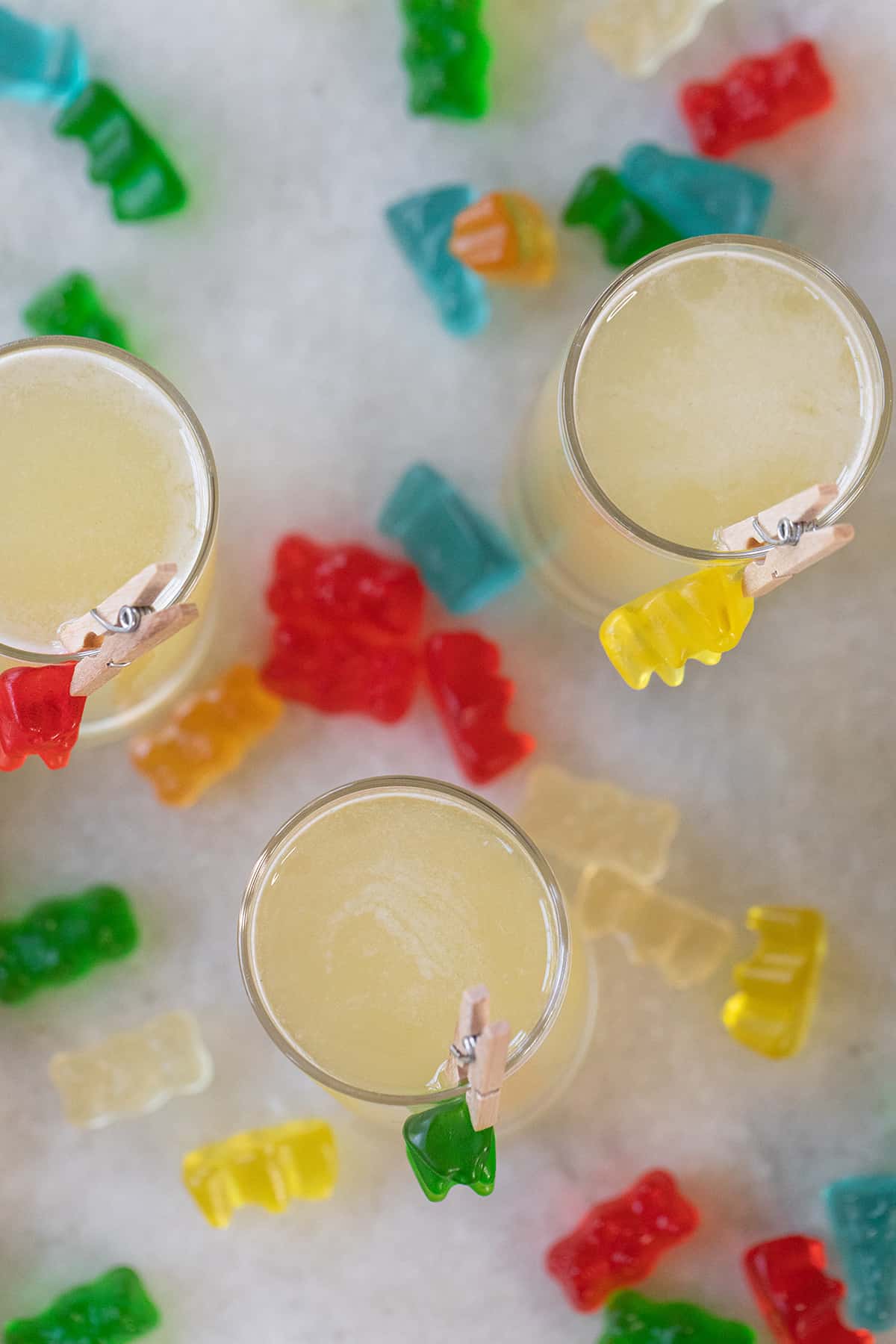 Tips For Making This Gummy Bear Shot Recipe
Make sure you shake with ice for 20 seconds so the water can dilute the ingredients.
Add more or less vodka, depending on how strong you like the shots to be.
You can use any fruity vodka if you don't have raspberry.
Make gummy bear vodka by soaking gummy bears in the vodka for 8 hours.
Add a splash of lemon-lime soda for some fizz.
Gummy Shot Variations
Blue Gummy Bear Shot Recipe: Mix 3 ounces raspberry vodka, with 2 ounces blue curaçao, 2 ounces pineapple juice, and 1-ounce apple juice and shake well. Pour into 4 shot glasses. Top off each shot with a few gummy bears and an orange slice.
Pink Gummy Bear Shot Recipe: Combine 2 ounces of vodka, 3 ounces of raspberry vodka, 1 ounce of peach liqueur, 1 ounce of apple juice, and 2 ounces of sweet cranberry juice in a shaker filled with ice. Shake well and pour into 4 shot glasses. Sprinkle gummy bears on top of the shots for an added touch!
Green Gummy Bear Shot Recipe: In a shaker filled with ice, 3 ounces of orange vodka, 2 ounces of Midori (or melon liqueur) 3 ounces of apple juice, and 1 ounce pineapple juice. Shake well and pour into 4-shot glasses. Top off each shot with gummy bears for a festive touch!
When to Serve Gummy Bear Shots
These are fun for any adult occasion where you want to serve a fun drink. Here are some special occasions you can serve these: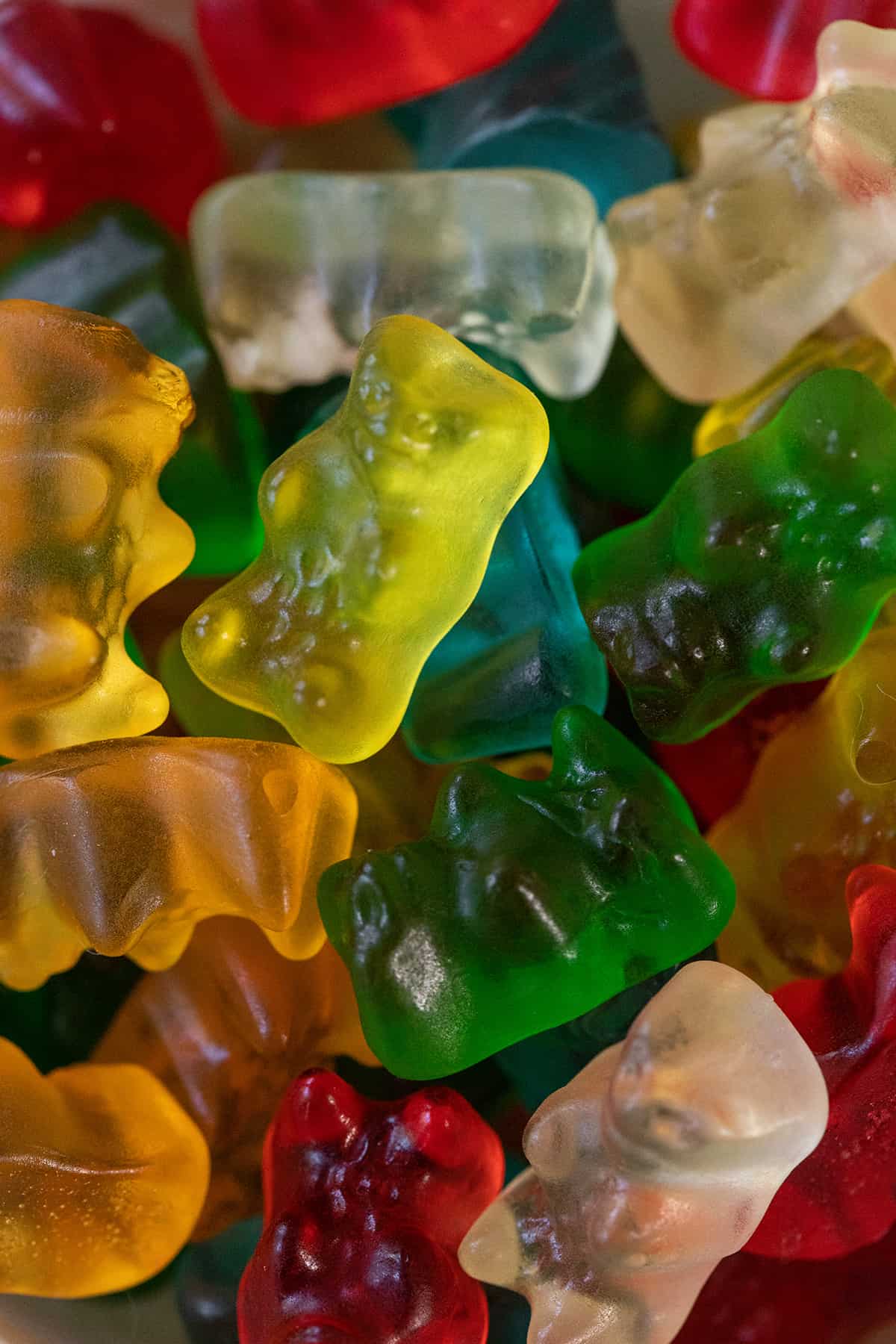 Frequently Asked Questions
What is a gummy bear shot made of?
Our gummy bear shot is made with pineapple juice, apple juice, raspberry vodka, and peach liqueur. The ingredients are shaken in a shaker before straining into a shot glass. It has a sweet, fruity taste and is garnished with additional gummy bears for an added festive touch.
What does a white gummy bear taste like?
A white gummy bear has tropical, sweet, and slightly tart fruity flavors to it.
Can I make these shots ahead of time?
If you want to make these ahead of time, measure the ingredients into a cocktail shaker, without ice, and store them in the refrigerator. Add the ice and shake for 20 seconds when you're ready to serve. Then strain into the shot glasses.
Do I need a cocktail shaker to make a gummy bear shot?
You do need a cocktail shaker, as the ice will help dilute the shot and give it the perfect balance. If you don't have a shaker, you can use a jar with a lid.
More Recipes You'll Love
Let us know what you think!
Let us know if you make this popular sweet shot! These tasty shots are great to serve year-round and so much fun for a party!
You can also FOLLOW US on FACEBOOK and PINTEREST to see more delicious recipes, cocktails, desserts, and parties!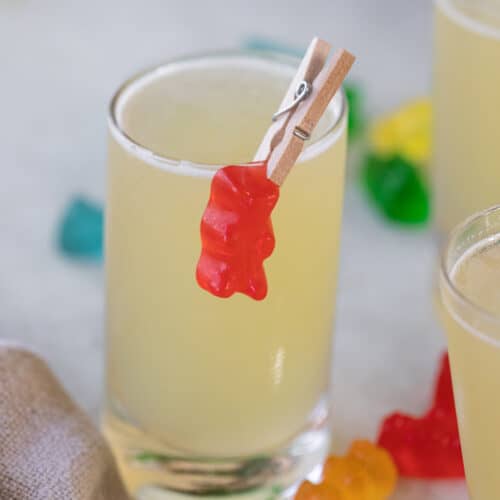 Gummy Bear Shot Recipe
Easy and delicious gummy bear shots taste like white gummy bears! This is a great recipe for any adult party.
Print
Pin
Rate
Ingredients
3

ounces

raspberry vodka

1

ounce

peach liqueur

3 1/2

ounces

apple juice

2

ounces

pineapple juice
Instructions
Fill a cocktail shaker with ice.

Pour all of the ingredients into the cocktail shaker and shake for 20 seconds.

Pour an equal amount into 4 shot glasses.

Clip a gummy bear to the side of the shot glass.
Notes
Add more or less vodka depending on how you like it. 
Make sure you shake for 20 seconds with ice. 
Nutrition
Calories:
94
kcal
|
Carbohydrates:
7
g
|
Protein:
0.1
g
|
Fat:
0.1
g
|
Saturated Fat:
0.01
g
|
Polyunsaturated Fat:
0.01
g
|
Monounsaturated Fat:
0.01
g
|
Sodium:
1
mg
|
Potassium:
44
mg
|
Fiber:
0.1
g
|
Sugar:
7
g
|
Vitamin A:
1
IU
|
Vitamin C:
2
mg
|
Calcium:
4
mg
|
Iron:
0.1
mg