If you're looking for a great Moscow Mule recipe, look no further! These are the best Moscow mule recipes and variations. There are several ways to put your own spin on the classic Moscow Mule. These recipe variations to the classic ginger beer and vodka cocktail are all incredible.
No matter what occasion, we have a Moscow mule recipe for it! We love this simple cocktail for a good reason! 
It's bubbly and tangy and we're celebrating our favorite, delicious cocktail with a roundup of the best Moscow mule recipes. All of these recipes have a unique twist to the classic cocktail making it extra flavorful and colorful.
What is a Moscow Mule?
It's a three-ingredient cocktail made with ginger beer, fresh lime juice, and vodka. Despite its name, the Moscow Mule it's said that the first Moscow mule was created in 1941 by bar owner Jack Morgan. He owned the Los Angeles British pub Cock 'n' Bull. However, that might not be the case.
In a 2007 article in the Wall Street Journal penned by the reliable Eric Felton, the Cock 'n' Bull's head bartender Wes Price also claimed to have invented the drink.
While the traditional version uses 3 main ingredients: lime juice, ginger beer, and vodka, there are so many amazing ways to spice it up. There are many variations on the original Moscow Mule recipe, including this Apple Cider Moscow Mule. One of the most famous is the Kentucky Mule, where the vodka is replaced with bourbon.
The Moscow mule cocktail is very easy to make and is perfect to serve year-round! Enjoy this drink on a hot summer day or serve up a gingerbread mule for a holiday party.
How to Make a Moscow Mule
First, let's go over the classic formula and basics of making a perfect Moscow mule. It's one of the easiest cocktail recipes!
A Moscow mule should be very gingery and refreshing. Use as much ginger in the ingredients as possible. For example, use ginger vodka (you can quickly make your own), a good quality ginger beer, and add a dash of ginger syrup to the drink for the ultimate flavor.
Fill a copper mug with ice.
Pour in the vodka and fresh lime juice.
Top with ginger beer and a sprig of mint.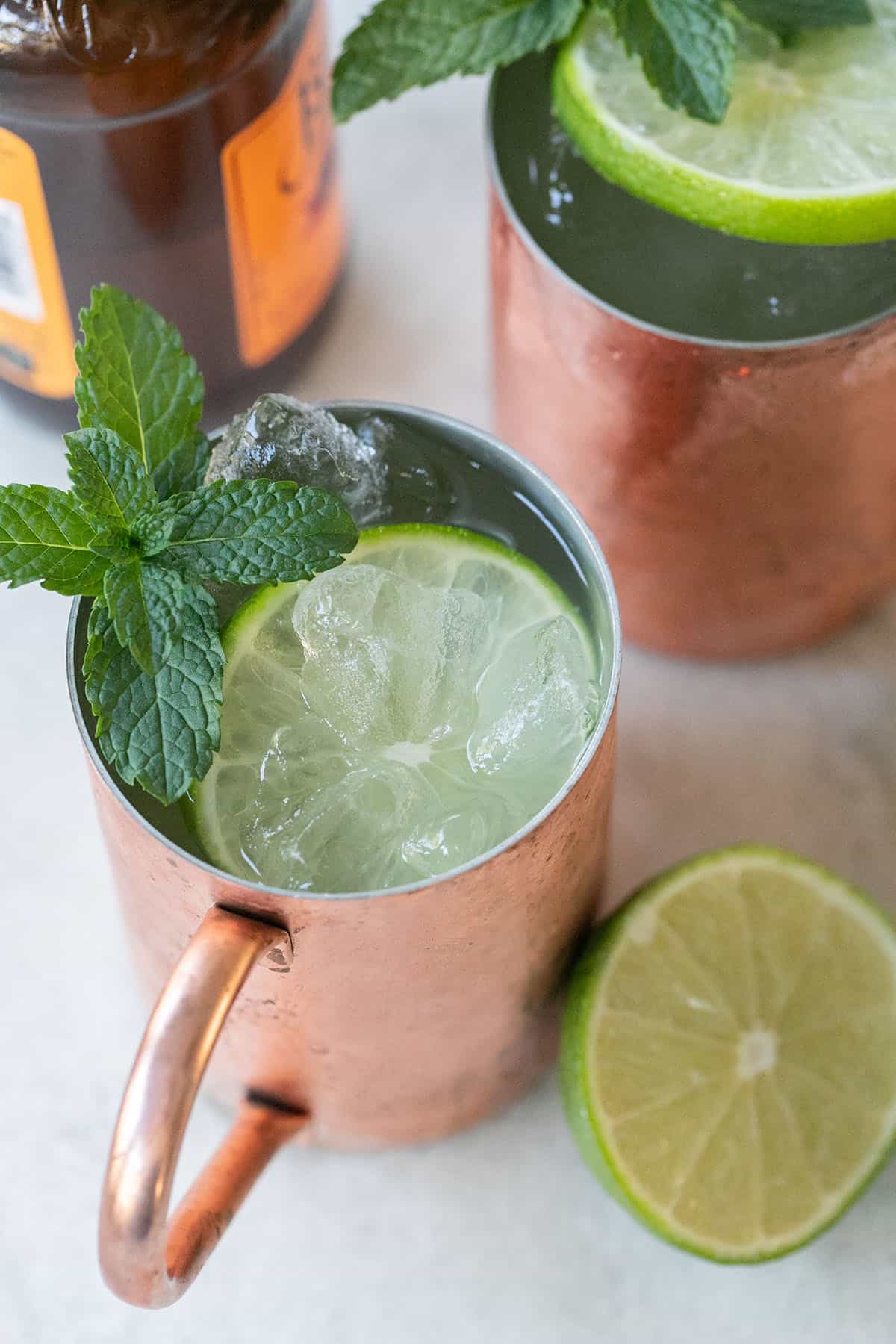 Best Moscow Mule Recipes
If you're looking for a classic recipe, this is for you. Simple to make with just a few ingredients, ginger beer, lime, and vodka.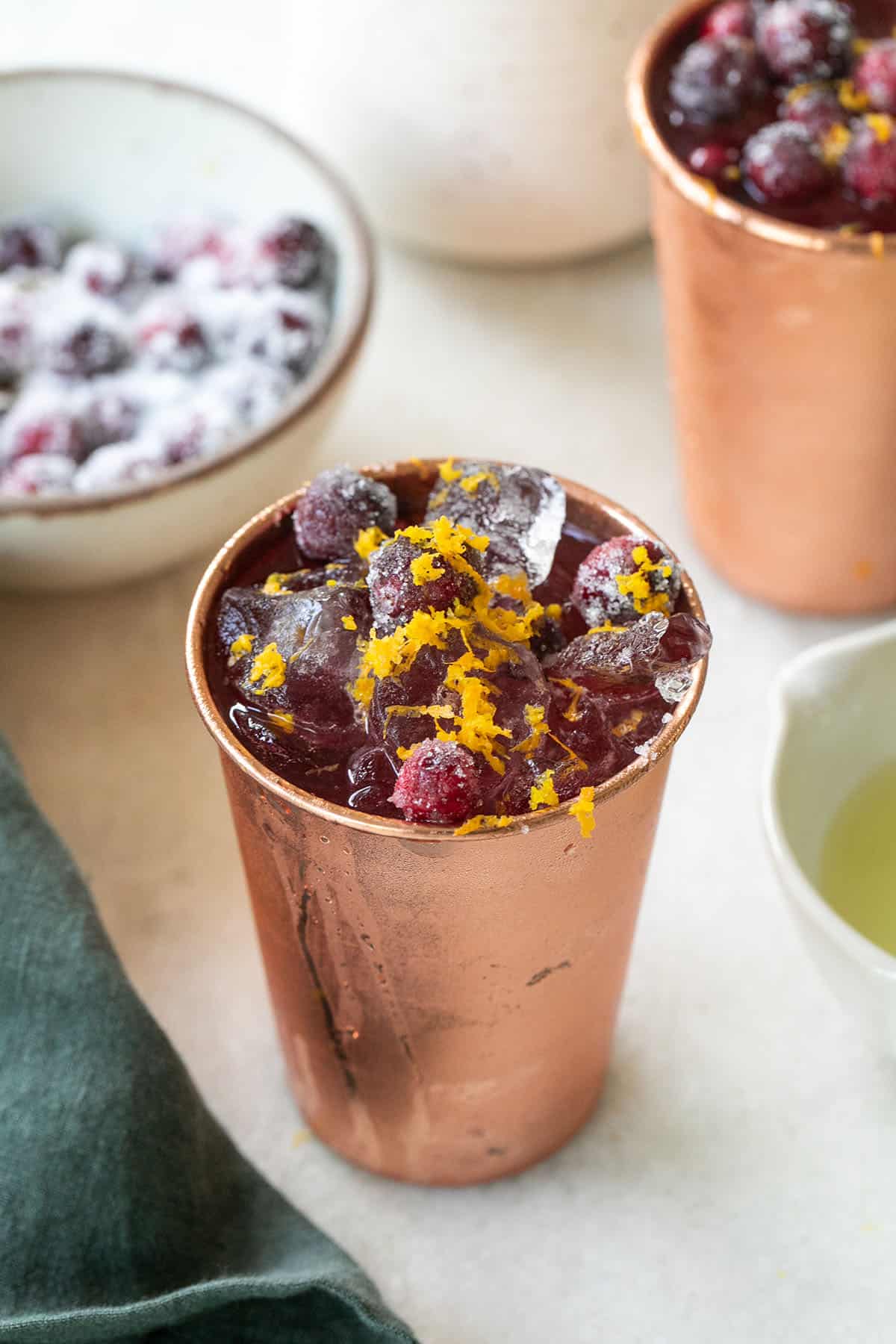 This version has a festive twist to it and it's made with cranberry simple syrup. We also use orange zest over the top with sugared cranberries. The flavor in this recipe is incredible.
If you're looking for a recipe to make with all of the juicy, plump blueberries you picked this summer, this recipe is for you! Made with a homemade blueberry simple syrup, it has a sweet berry flavor to it.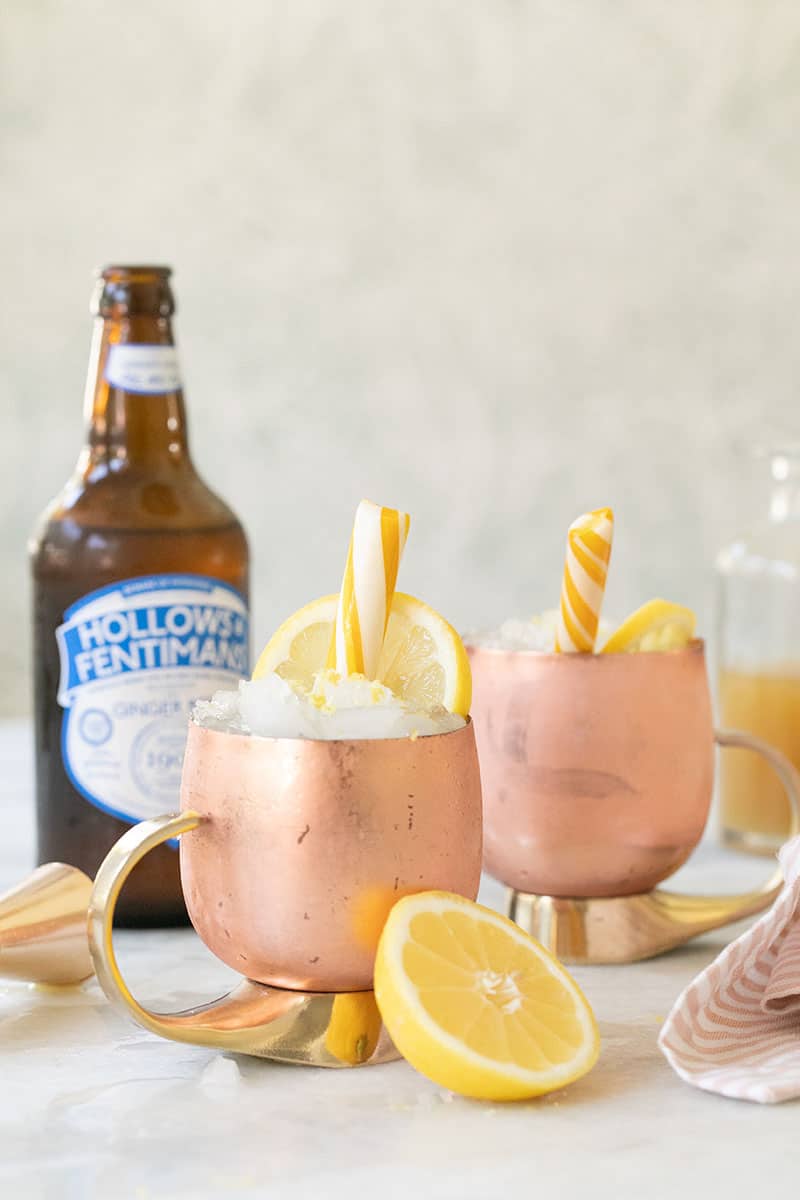 The smoky flavor comes from Mezcal in this mule recipe. It also has fresh lemon juice instead of lime and it's really refreshing in the summer.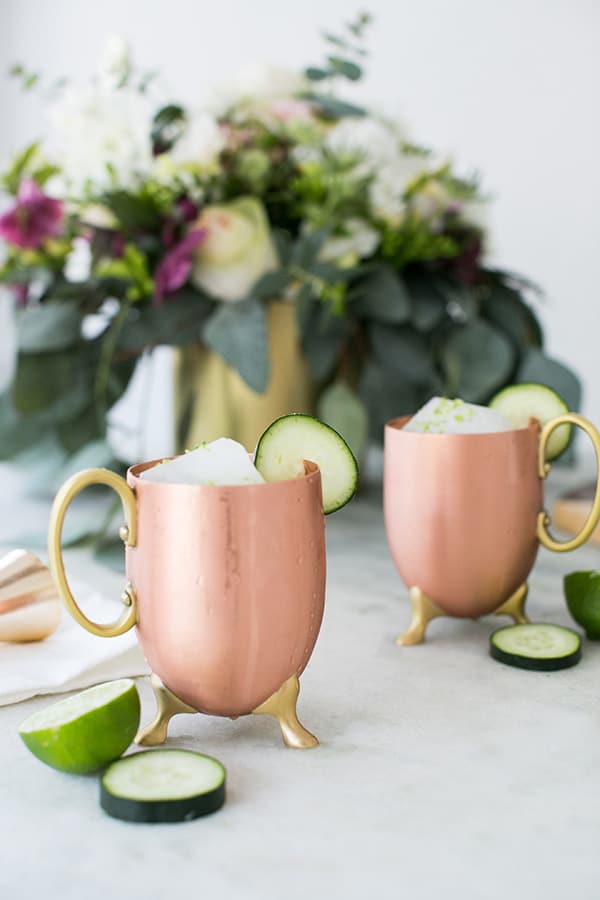 A refreshing, spa-like mule! Made with sake and cucumber. This recipe is for sipping and relaxing.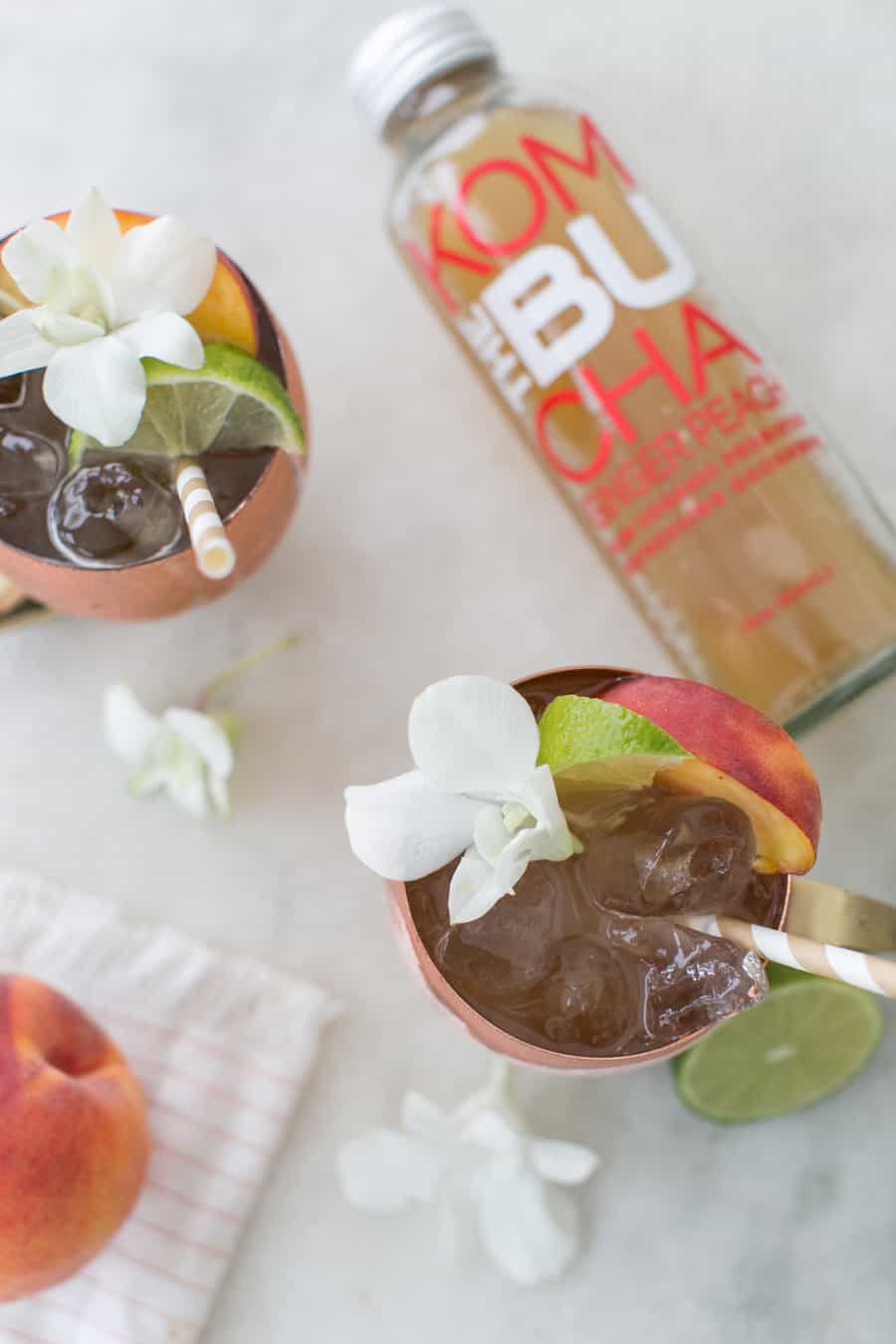 This recipe has kombucha in it to give it a super bubbly taste. Kombucha also has some health benefits to it as well with is a bonus!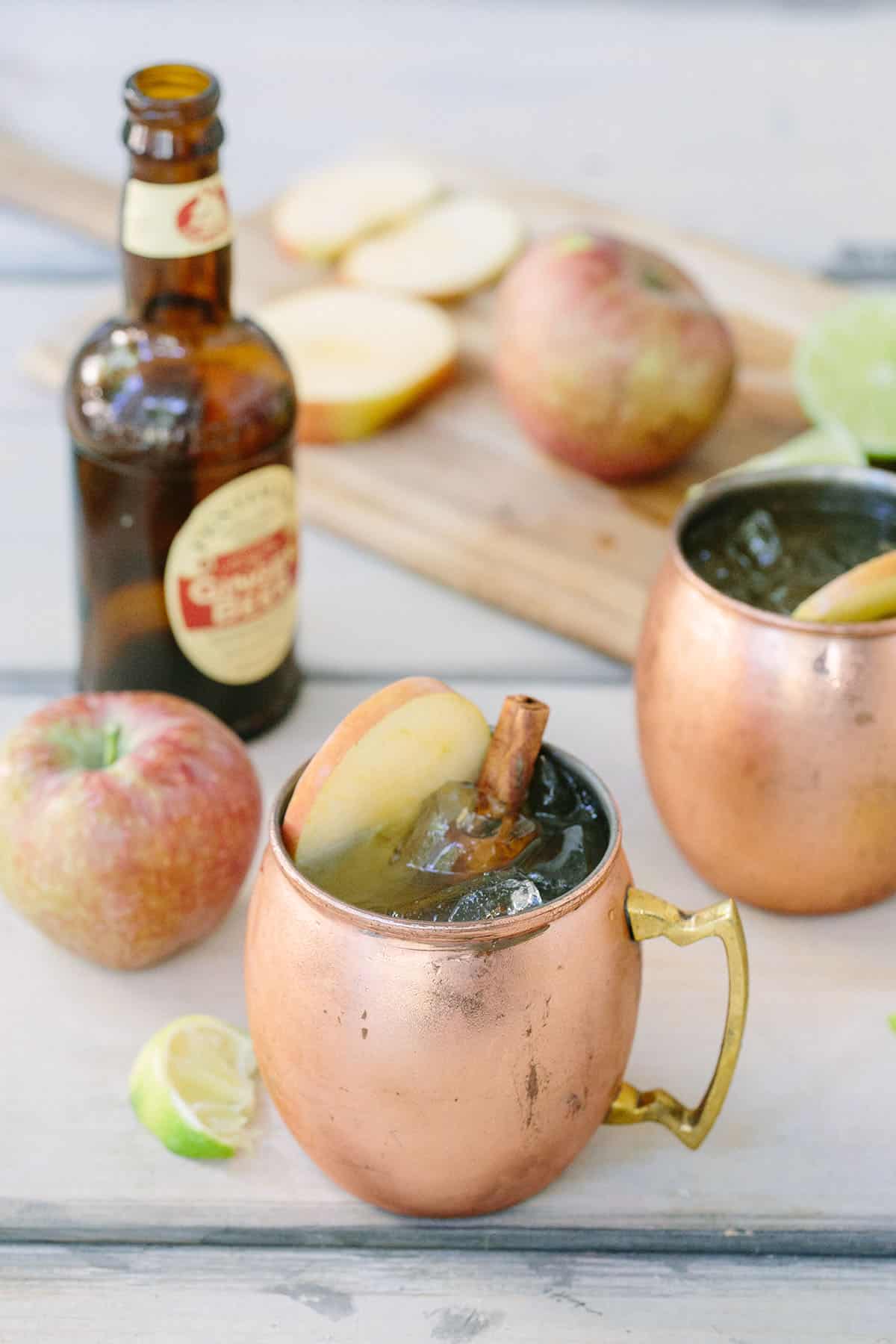 The first-ever Moscow mule recipe! We created this cocktail many years ago and it's still a favorite here on Sugar and Charm. It's perfect for fall with apple and ginger flavors.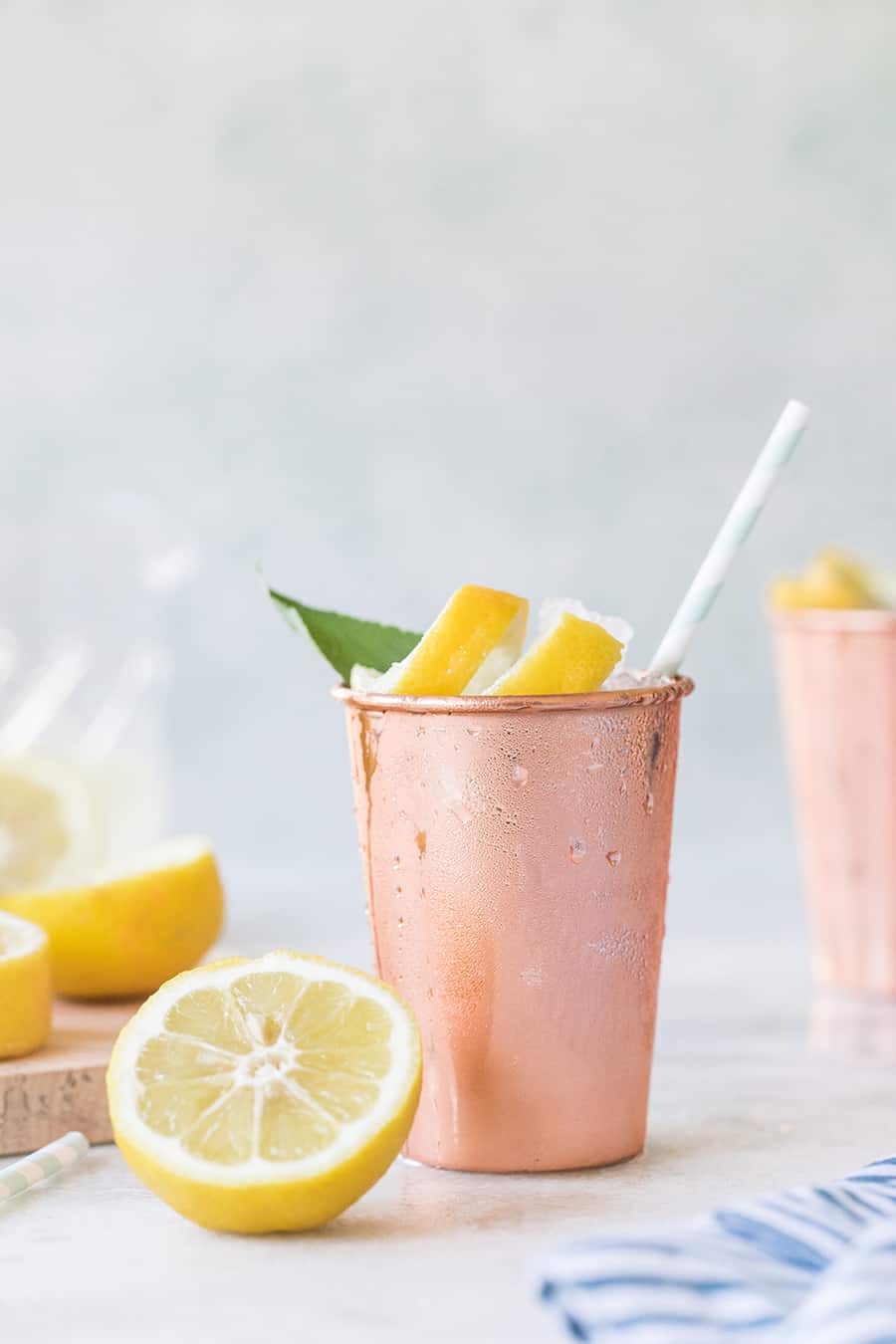 This recipe is full of lemon flavor and even has a dash of limoncello! The hint of sage gives it a refreshing taste. It's the perfect garden mule.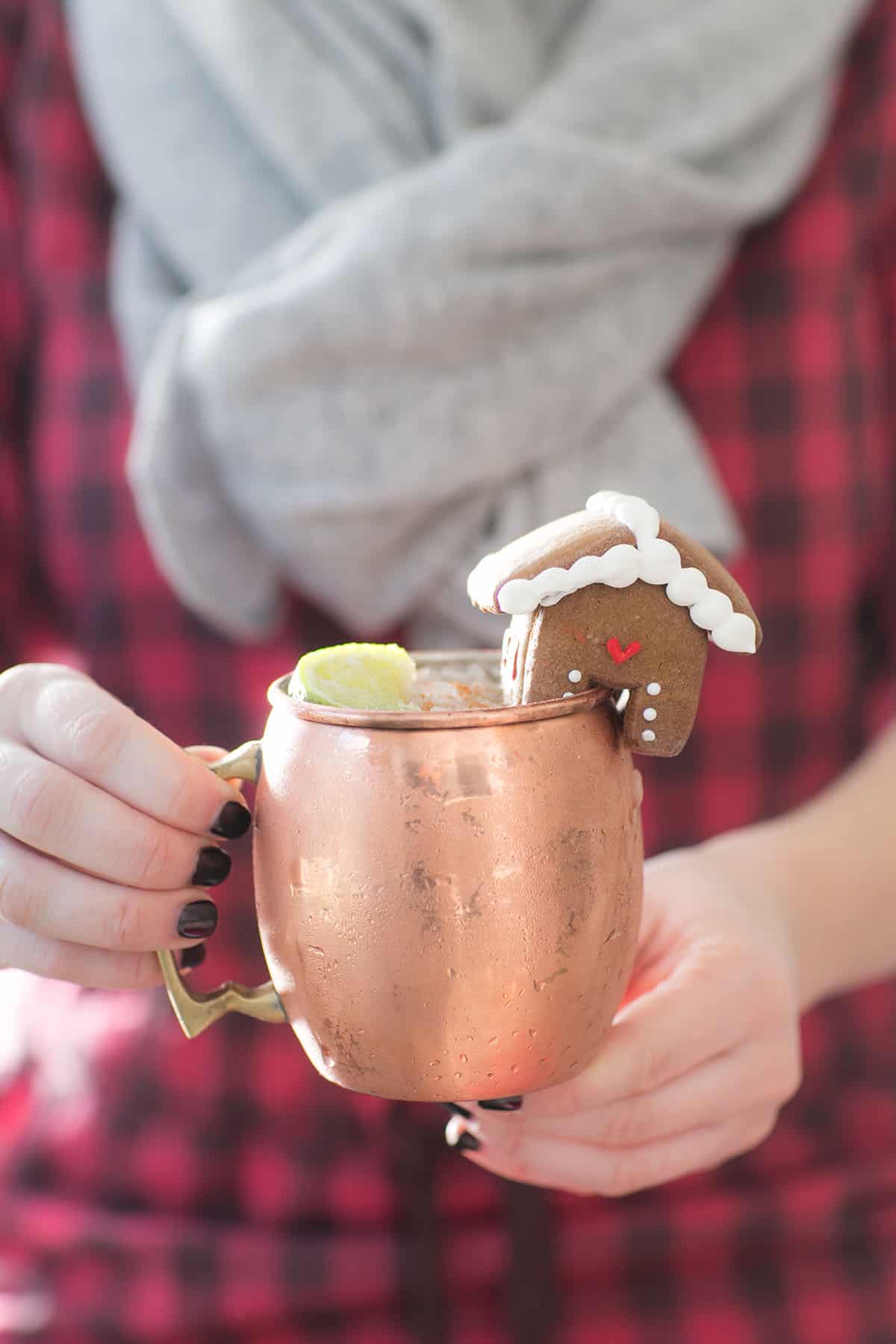 Need a Moscow mule recipe for Christmas? Nothing beats this gingerbread mule! It's packed with spices, molasses, and ginger flavor.
Try our Mexican Moscow Mule below! You'll also love this pineapple mule too!
Best Ginger Beer for Moscow Mules
There are many different ginger beers on the market. We've tried plenty of them and these are the best brands we use over and over again. 
Crabbies Original Ginger Beer 
More delicious ginger beer brands to consider when making this cocktail.
The Copper Mug
It's a must that Moscow mules are served in a copper mug! There are a plethora of copper mugs online. You can buy solid copper, nickel-lined, or stainless steel mugs with a copper finish.
Hammered Copper Mini Mule Mugs
Stainless Steel Lined, Smooth Copper Mugs
Ginger Simple Syrup
Some of our recipes call for an ounce of ginger syrup, which is like a simple syrup. It's easy to make with fresh ginger, sugar, and water or ginger juice. You can also buy ginger syrup and have it on hand for your recipes. The syrup gives the cocktail an even stronger ginger flavor, which to us is even better.
If you want to buy some here are our favorite brands:
Moscow Mule Variations
There are even more variations you can make to these recipes! From swapping out the vodka to tequila or even gin! Here are some ideas:
Irish Mule – Swap vodka for Irish whiskey. 
Mexican Mule – Swap vodka for tequila. 
Kentucky Mule – Swap vodka for bourbon.
Jamaican Mule – Swap vodka for spiced rum. 
Southern Mule – Swap vodka for Southern Comfort. 
London Mule – Swap vodka for gin.
Moscow Mule Cocktail Garnishes
Lime Wheel or Lime Wedge
Dried Lime Slice or Dehydrated Orange Slice
Grated Fresh Ginger
Candied Ginger
Fresh Berries
Fresh Mint Leaves
When to Serve Moscow Mules
This simple drink can be served year-round at parties, special events, or just for an easy happy hour cocktail. Here are some festive occasions to serve this classic drink:
Birthday Party it's also perfect for a last-minute birthday party!
Frequently Asked Questions
Why does a Moscow Mule have to be in a copper cup?
There are several reasons for this. First, copper is a thermal conductor that keeps drinks either cold or hot. When filled with ice the copper mug keeps the Moscow mule super chilly and refreshing with each sip.

Personally, we believe the copper (or nickel) gives the drink a slight flavor. They keep the cocktail extra fizzy and the cold metals add to the gingery flavor. It enhances the flavor and the chill of the drink.
Is there alcohol in ginger beer?
Regardless of the name, most ginger beers do not contain alcohol. The only one that we use that does contain alcohol is Crabbie's Original Ginger Beer which gives the cocktail an extra kick.
More Cocktail Recipes
If you love Moscow Mules, you'll love these recipes too!
Also check out our favorite brunch recipes, the best-mixed drinks, tequila cocktails, cheap drinks , and great cocktails to make at home!
Now that you have the best Moscow Mule recipes, start mixing! Leave a comment and review below and let us know your thoughts and which one is your favorite!
Also, check out our Mexican Mule in the recipe card below.
You can also FOLLOW US on FACEBOOK, INSTAGRAM, and PINTEREST to see more delicious recipes, cocktails, desserts, and parties!
This post may contain affiliate links. Please read our disclosure and privacy policy.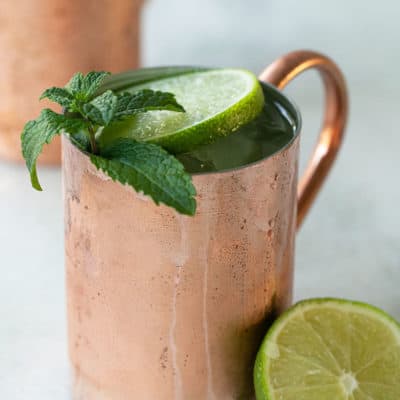 Mexican Mule
This recipe uses tequila instead of ginger beer!
Print
Pin
Rate
Ingredients
1 1/2

ounce

tequila

4

ounces

ginger beer

1

ounce

lime juice
Instructions
Add all of the ingredients into a copper mug filled with ice.

Garnish with a sprig of mint and a lime slice.
Notes
Add more or less ginger beer depending on how you like it. 
If you like a sweeter cocktail, add simple syrup. 
Nutrition
Calories:
144
kcal
|
Carbohydrates:
12
g
|
Protein:
1
g
|
Fat:
1
g
|
Polyunsaturated Fat:
1
g
|
Sodium:
9
mg
|
Potassium:
35
mg
|
Fiber:
1
g
|
Sugar:
10
g
|
Vitamin A:
14
IU
|
Vitamin C:
9
mg
|
Calcium:
7
mg
|
Iron:
1
mg