A grasshopper drink recipe is a rich and creamy cocktail that has a vibrant green color! It has a wonderful chocolate and mint flavor and makes a perfect dessert cocktail. Here's everything you need to know to make your own classic grasshopper cocktail! You will love this easy drink.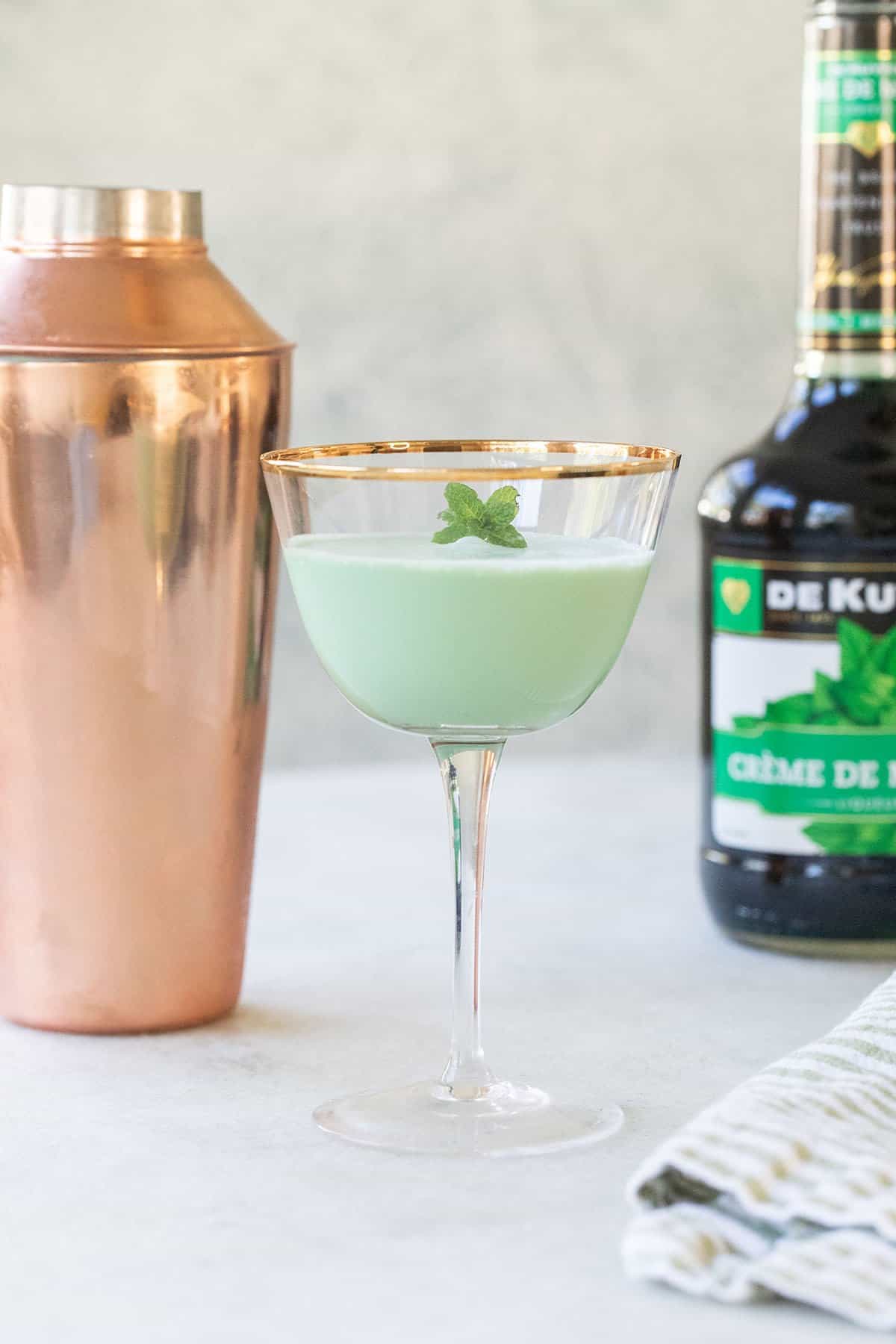 The best part about this cocktail is that you can serve it year-round! It makes a delicious Christmas cocktail, summer cocktail, and spring drink.
If you love dessert cocktails and a minty flavor, this recipe is for you! A boozy dessert cocktail is our weakness!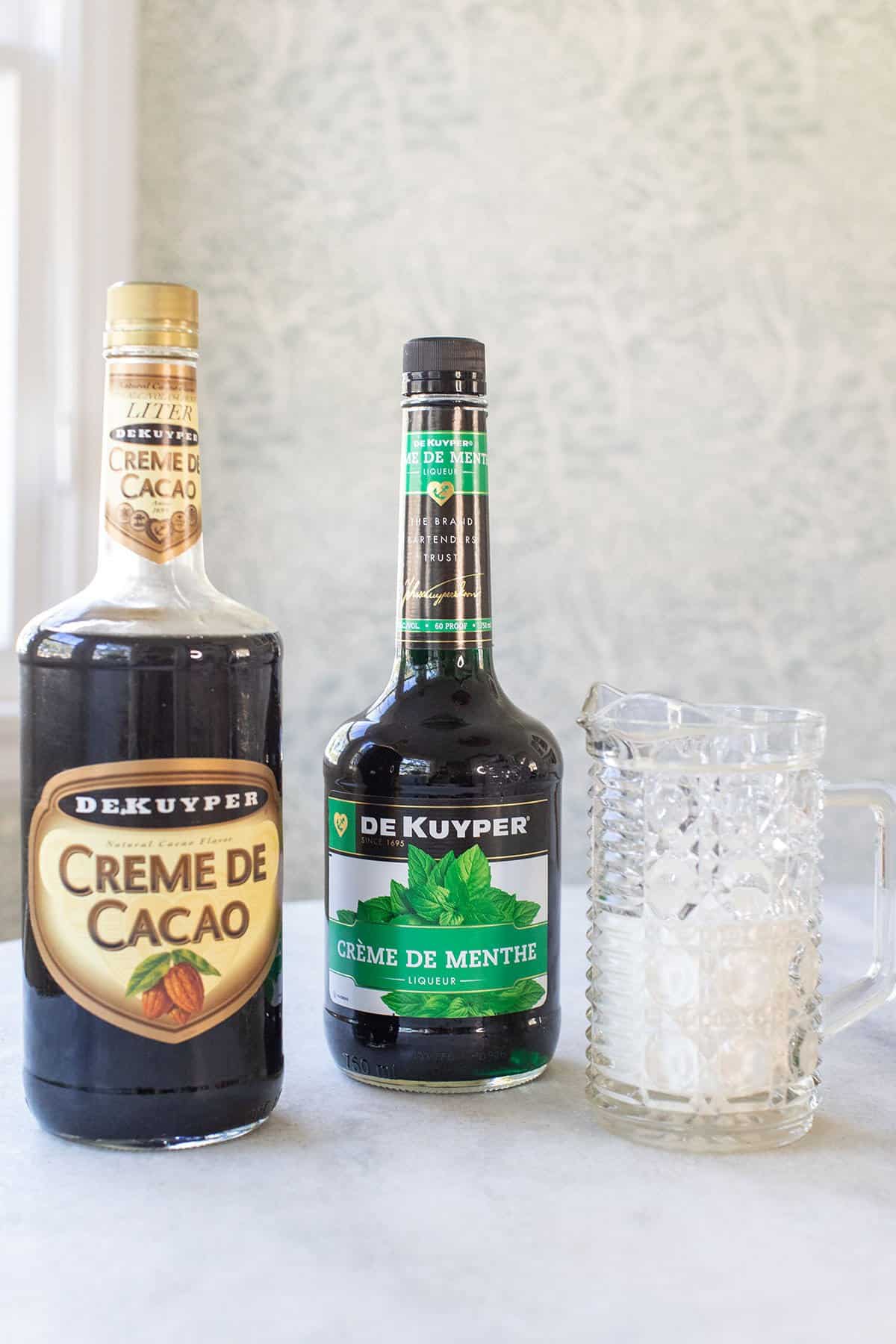 How to Make a Grasshopper Cocktail
Ingredients
The full recipe is in the recipe card at the bottom of the post.
Here is a list of the three ingredients we use in this minty cocktail:
Creme de Menthe – A green, mint-flavored liqueur. It also comes in clear. However a grasshopper is known for its vibrant green color, so you must use the green creme de menthe for this drink.
Creme De Cacao – A chocolate-flavored liqueur that comes in clear, also known as white creme de cacao as well as a darker color. You can use either, although it will change the color of the cocktail. If you want a bright green color, use clear creme de cacao. We used the brown creme de cacao and it still has a nice green color.
Heavy Cream – This is what makes the drink extra creamy and dessert-like!
Directions
Simply add the ingredients into a cocktail shaker filled with ice. Shake for 20 seconds, then strain into a martini glass or a coupe glass.
Where to Find Grasshopper Cocktail Ingredients
You can find fresh cream and mint at your local store. Find Creme de Cacao and Creme de Menthe online or at your local liquor stores. We also shop at Bevmo often for last-minute spirits. They keep everything stocked well. Drizly is a great local delivery option for spirits.
The ingredients to make his grasshopper drink recipe are affordable. A bottle of Creme de Menthe is under $10 and will make several cocktails!
Chilling the Glassware
For best results, chill the glassware before pouring the cocktail into the glass. Do this by placing them in the freezer for 30 minutes. This will keep the drink nice and cold as you sip it.
Grasshopper Variations
The great part about this cocktail is that it can be made to fit any mood or occasion! Popular grasshopper drink variations include:
The Frozen Grasshopper – This drink is made with mint chocolate or vanilla ice cream instead of cream. This is also considered a grasshopper milkshake
The Flying Grasshopper is made by replacing the cream with vodka for an added kick
The After Eight – A grasshopper with dark chocolate liqueur added to the mix
The Girl Scout Cookie — A grasshopper made with peppermint schnapps instead of crème de menthe
The Twinkie Grasshopper – This cocktail uses, you guessed it, Twinkies! It also uses mint chocolate cookies, ice cream, and chocolate syrup for a cocktail that's more akin to a mint chocolate milkshake.
Grasshopper Drink With Ice Cream
Turning this drink into an easy dessert by making a grasshopper drink with ice cream is easy! This drink goes perfectly with a scoop of vanilla ice cream. Similar to an affogato, simply add a scoop of vanilla ice to a glass. Then pour the cocktail over the top and enjoy!
Grasshopper Cocktail Garnishes
It's all about fun garnishes for our cocktails! Add a little extra charm to this grasshopper drink recipe with these ideas:
Chocolate shavings – Using a zester, zest a chocolate bar over the top of the drink.
Chocolate Syrup – Before you strain the cocktail into the glass, swirl some chocolate sauce down the sides and then pour the drink in.
Mint – Fresh mint adds color and charm to the drink. We always keep fresh mint on hand in our indoor herb garden. We make a lot of cocktails, including mojitos so fresh mint is always on hand!
Whipped Cream – Add a little whipped cream to the top of the cocktail.
Spooky Halloween Topping – If you're serving this as a Halloween cocktail, you can get really crazy and serve it with a chocolate-covered grasshopper.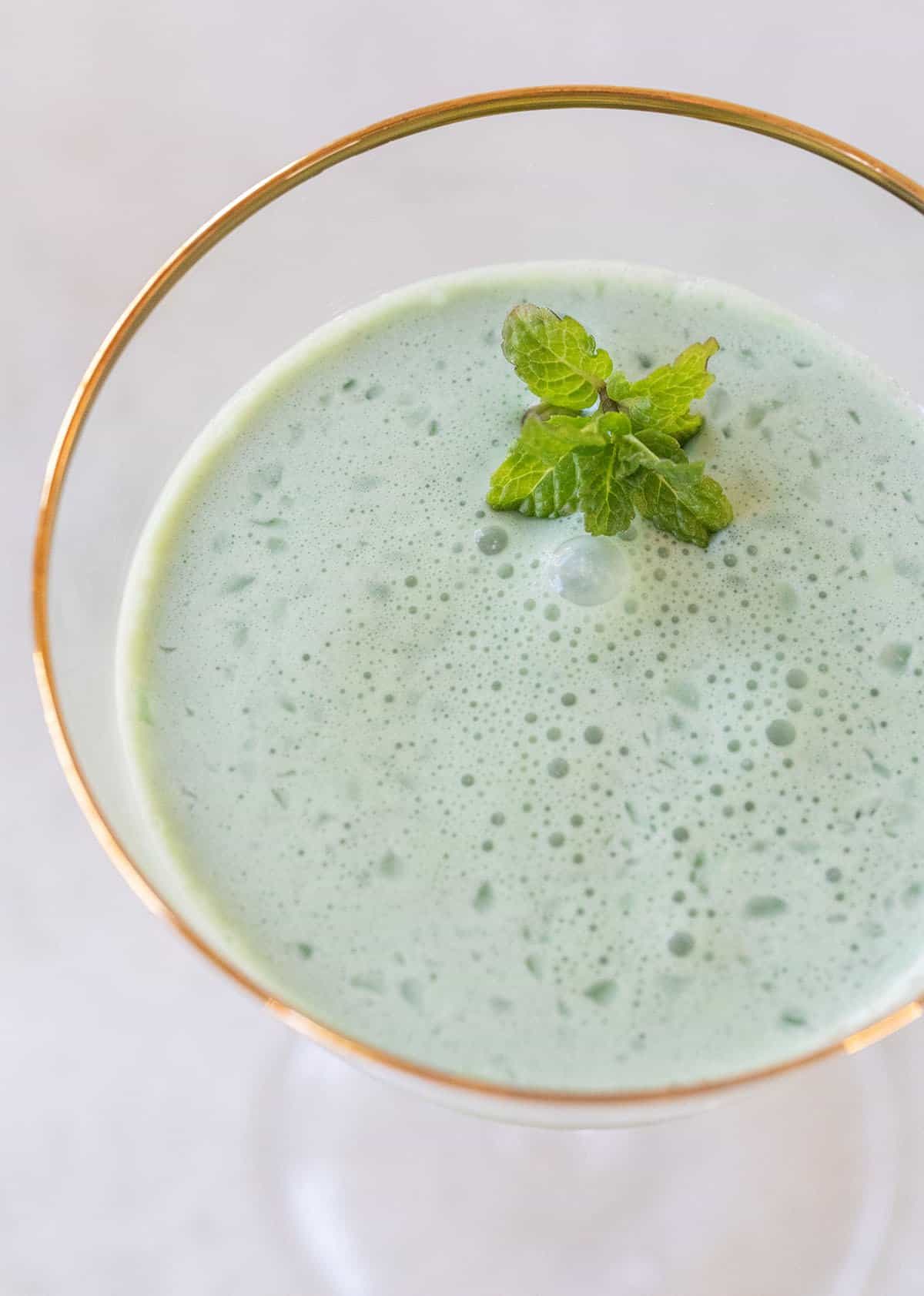 Frequently Asked Questions
What Is Crème de Menthe?
Crème de menthe, a French phrase meaning "mint cream," is a mint-flavored liqueur. It's made by steeping mint leaves in a clear, neutral liquor. After that, it's typically filtered, sweetened, and sometimes aged.

There are two varieties of crème de menthe: clear (commonly called white) and green. Depending on the brand, the green version is colored with mint leaves, natural coloring, or artificial dyes. Both can be used interchangeably in cocktail recipes.
Can You Drink Crème de Menthe Straight?
You certainly can! However, crème de menthe is very rich so it's best enjoyed as a cocktail ingredient. Traditionally, though, it was an after-dinner drink consumed by itself to aid digestion.
Does Crème de Menthe Have Alcohol?
True crème de menthe is always made with alcohol. Most brands have anywhere from 18% to 25% ABV, though there are versions with slightly lower or higher alcohol content.
Is Crème de Menthe the Same as Mint Syrup?
No, they aren't the same. Like crème de menthe, the mint syrup is flavored with mint leaves or artificial flavors. However, mint syrup doesn't contain alcohol and uses sweet syrup as a base. Mint syrup is also typically sweeter.
If you're making a grasshopper mocktail or one with reduced alcohol content, the mint syrup is a great substitution for crème de menthe.
What Is Crème de Cacao?
Crème de cacao is a clear, chocolate-flavored liqueur. It's made by soaking cocoa beans in vodka. Many times, it has a small amount of vanilla in it to bring out the smooth, chocolaty notes.
Despite the name, crème de cacao contains no dairy. In fact, the "creme" part of the phrase refers to the high sugar content that gives these liqueurs their slightly syrupy consistencies.
When to Serve a Grasshopper Drink
This grasshopper is a dessert cocktail that's perfect to sip after dinner or on special occasions like St Patrick's Day, Christmas, or even Easter!
It's also a great seasonal cocktail and can be served year-round. Here are some of our favorite occasions to sip and serve this drink:
Happy Hour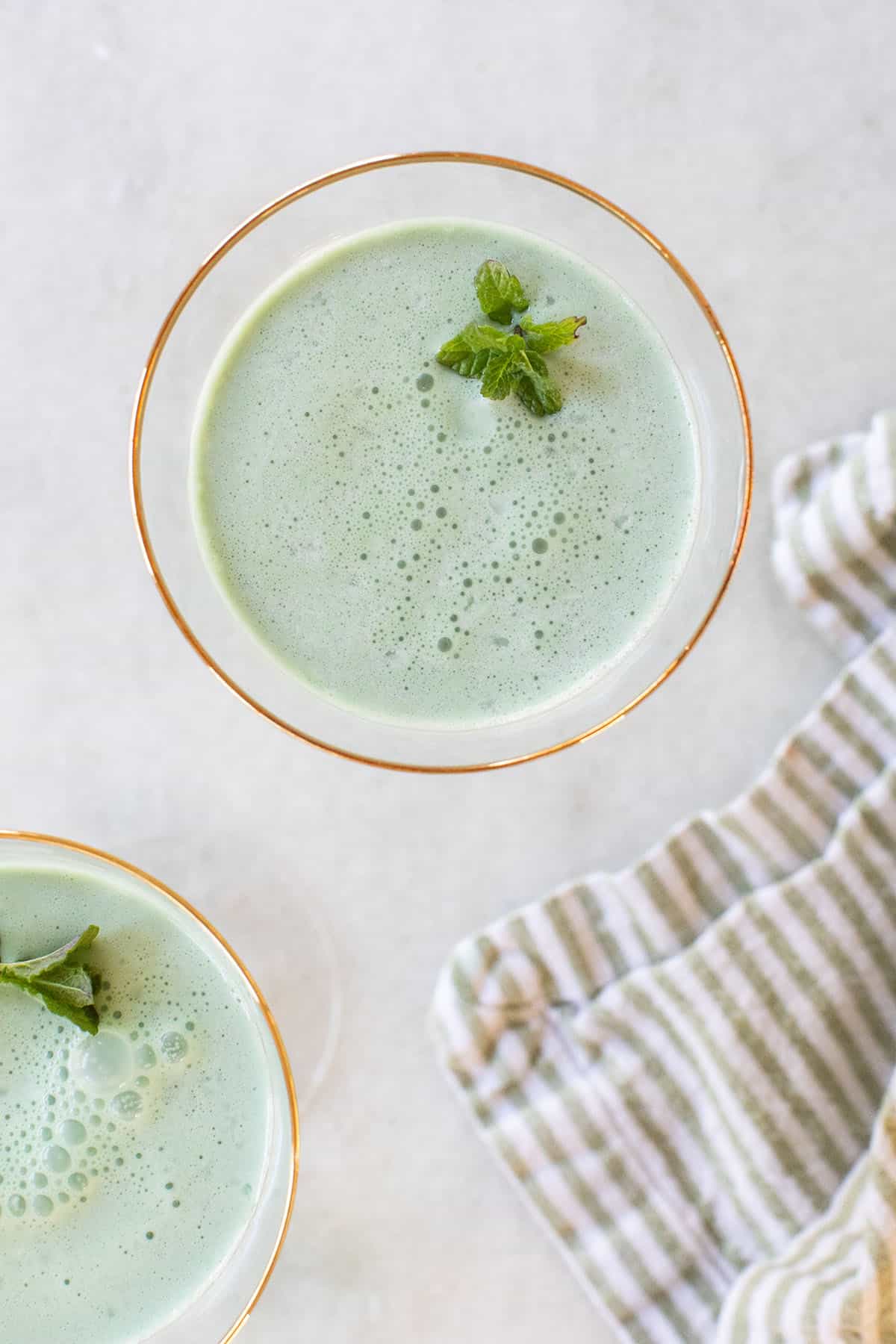 More Dessert and Green Cocktail Recipes
If you love this delicious cocktail, try these recipes!
And if you love peppermint cocktails, try our peppermint martini!
No matter how you serve it, the grasshopper drink is a must for any summer party or Southern-inspired soiree.
Let us know what you think!
Let us know if you try this drink by leaving a comment and review below! We'd love to know your thoughts.
You can also FOLLOW US on FACEBOOK, INSTAGRAM, and PINTEREST to see more delicious recipes, cocktails, desserts, and parties!
Grasshopper Cocktail
A classic green cocktail recipe with chocolate and mint flavors. This recipe uses only three ingredients and makes a wonderful cocktail!
Print
Pin
Rate
Ingredients
1

ounce

Creme de Cacao 

1

ounce

Creme de Menthe 

2

ounces

heavy cream
Instructions
Fill a cocktail shaker with ice and add the ingredients.

Strain into a coupe glass and garnish with fresh mint.
Notes
Serve in a chilled martini glass or coupe glass. 
For an extra special dessert cocktail, serve this over a scoop of vanilla ice cream.
Nutrition
Calories:
396
kcal
|
Carbohydrates:
28
g
|
Protein:
2
g
|
Fat:
21
g
|
Saturated Fat:
13
g
|
Polyunsaturated Fat:
1
g
|
Monounsaturated Fat:
5
g
|
Cholesterol:
64
mg
|
Sodium:
17
mg
|
Potassium:
54
mg
|
Sugar:
22
g
|
Vitamin A:
833
IU
|
Vitamin C:
1
mg
|
Calcium:
37
mg
|
Iron:
1
mg