This is a classic peppermint martini recipe made with just four ingredients. If you're looking for a dry, not-too-sweet peppermint martini, this recipe is for you! There is no cream or extra sugar in this festive cocktail. It's for martini lovers who want a holiday twist! 
The holiday season is upon us. Whether you're having a festive Friday yourself, hosting a holiday brunch, or just relaxing with your loved ones, you want to serve up some season-appropriate and tasty drinks.
I love that this is a proper martini with a peppermint twist, and it will surely get you into the holiday spirit! It is classy and has that hint of mint that makes you think of Christmas as soon as you take a sip.
Before diving into this recipe, check out our Christmas martini, pretty pink cranberry, dirty martini, and apple martini recipes! 
How to Make An Easy Peppermint Martini
You'll need martini glasses, a cocktail jigger, a cocktail shaker, a long spoon to stir, and a lot of mini candy canes and peppermints!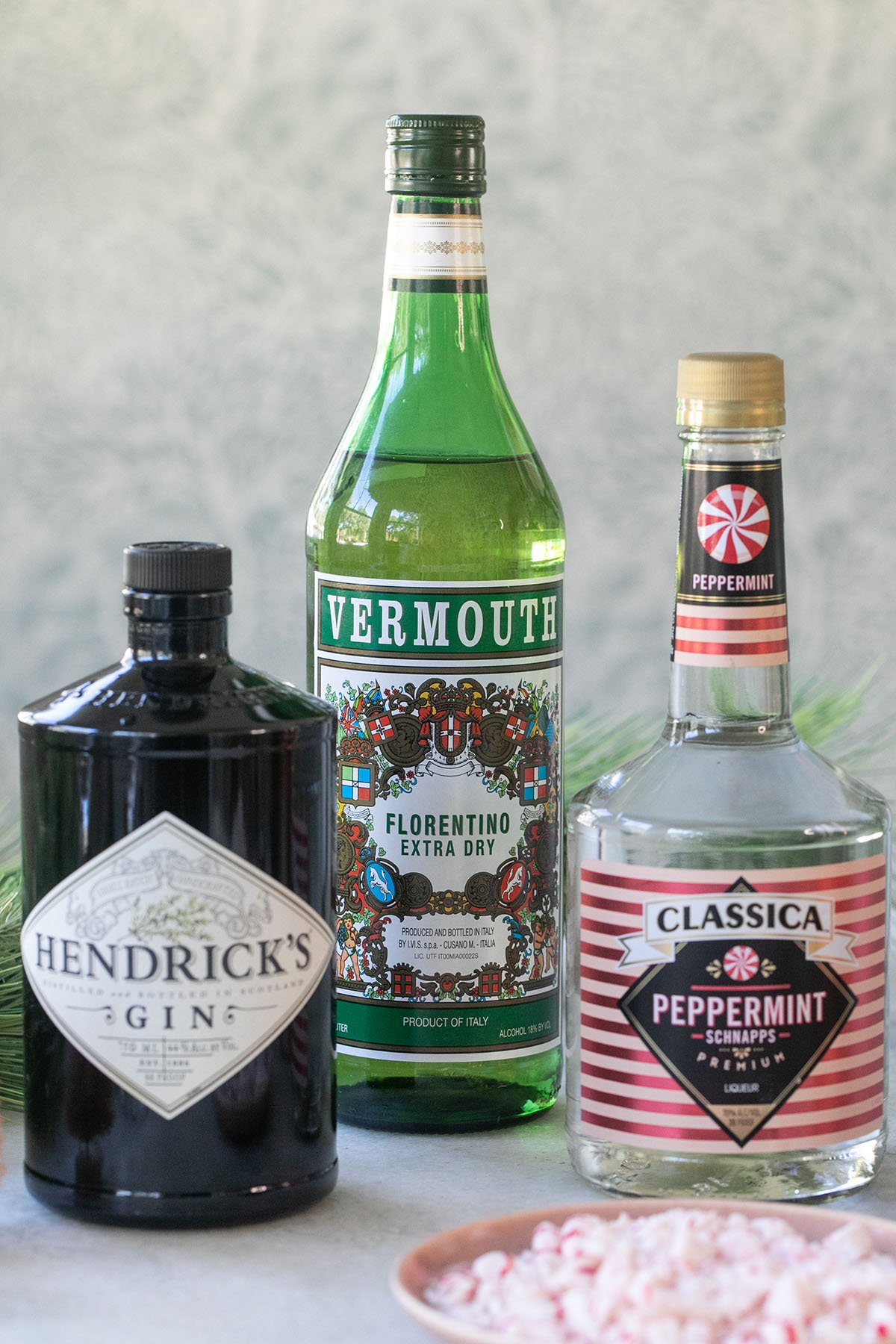 Ingredients
Gin – Use a good quality gin when making a martini since it's the main ingredient in the drink.
Vermouth – A dry vermouth works best in this martini.
Peppermint Schnapps – This is a peppermint flavor, distilled liquor that gives the cocktail the peppermint taste.
Small Candy Cane & Peppermint – Use these festive garnishes to rim the glass or add a little holiday cheer to the drink.
Directions
In a cocktail shaker with ice, add the vermouth, peppermint schnapps, gin, and a little peppermint.
Stir (or shake) the cocktail for about 30 seconds.
Strain into a martini glass rimmed with crushed candy canes and serve with a mini candy cane and a little peppermint!
Tips and Variations
If you're not a fan of gin you can easily swap it for a good-quality vodka! Vodka works just as well when making a peppermint martini. If you want a strong peppermint flavor, try using peppermint vodka!
For a super peppermint flavor add a dash of peppermint extract to the drink. When we say dash, we mean dash! The extract is strong and you don't need much.
If you like a sweeter drink, add a little simple syrup.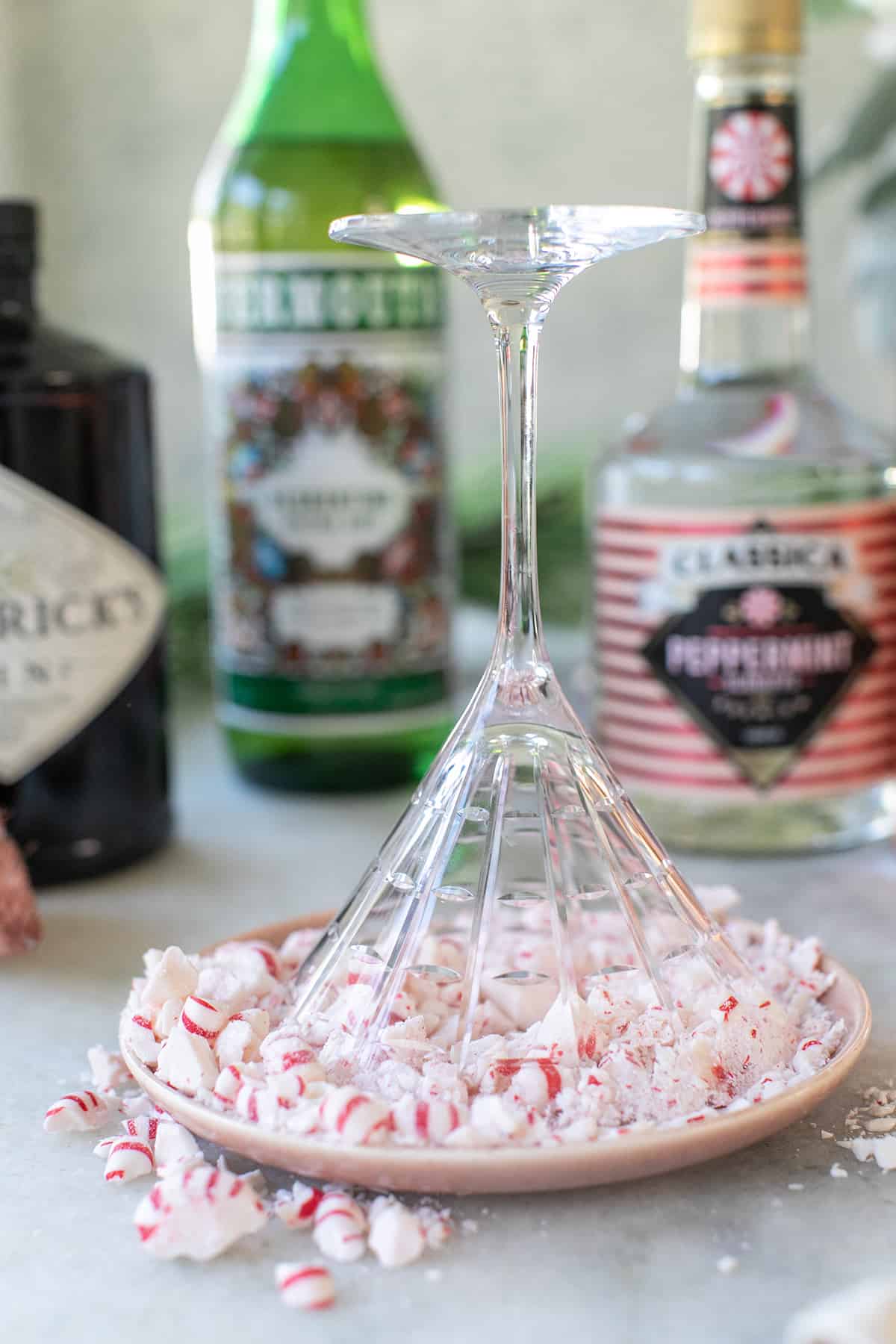 How to Rim a Glass With a Crushed Candy Cane
Rimming the martini glasses with a crushed candy cane or crushed peppermint. This will be the cherry on top of your delicious and festive drinks! It's very easy to do too.
Rim the glass with water, then dip it directly into a small plate of crushed candy canes.
Best Gin for Martinis
There are so many gins on the market that it's hard to know which ones are best for martinis! When making a martini, gin is one of the main ingredients, so a quality gin with a smooth finish is highly recommended. Here are some of our suggestions:
Gray Whale
Bombay Sapphire
Sipsmith
Tanqueray
Hendrick's
If you need more suggestions, try one of these gins for martinis. 
When to Serve a Peppermint Martini
This is a great cocktail to serve during the holidays or any time of the year if you love peppermint! Serve them by the fire on a chilly winter night or for a Christmas Eve dinner party. Here are some more fun occasions to serve this drink:
Frequently Asked Questions
What Is Vermouth?
Many people think that vermouth is a spirit, but it's actually an aromatized fortified wine. This means it has botanicals in it, such as roots, spices, flowers, seeds, bark, and herbs.There are two types of vermouth: sweet and dry. You'll want to use dry vermouth for most martinis, although there are exceptions.
Is Peppermint Schnapps a Vodka?
Peppermint schnapps is a distilled spirit that has peppermint flavoring added to clear grain spirit for that unique kick. While it's a spirit, it's not a true vodka.
You can consider it a "light" vodka since it's very similar. Because of this, schnapps is an acceptable substitute for vodka in cocktail recipes if you don't have any on hand.
Are Creme de Menthe and Peppermint Schnapps the Same?
No, creme de menthe and peppermint schnapps aren't the same. Both are made of grain alcohol and peppermint flavoring. However, creme de menthe has a lower alcohol content, is sweeter, and has a less intense peppermint taste.
Shake or Stir?
Either! Stirring will give you a smoother and silkier taste than shaking. However, we prefer to shake our peppermint martini as it makes the drink extra cold and dilutes the alcohol just a little. Whether you shake or stir, do it with a peppermint inside to give the drink a very light shade of pink! 
What Is a Martini?
A martini is considered a cocktail. The base ingredients are gin and vermouth, and you're free to add extra ingredients to make it special. Martinis are usually garnished with an olive with a toothpick or a lemon twist on the rim.
However, since this recipe is for a peppermint martini, we garnish it with a mini candy cane, crushed candy cane, and peppermint!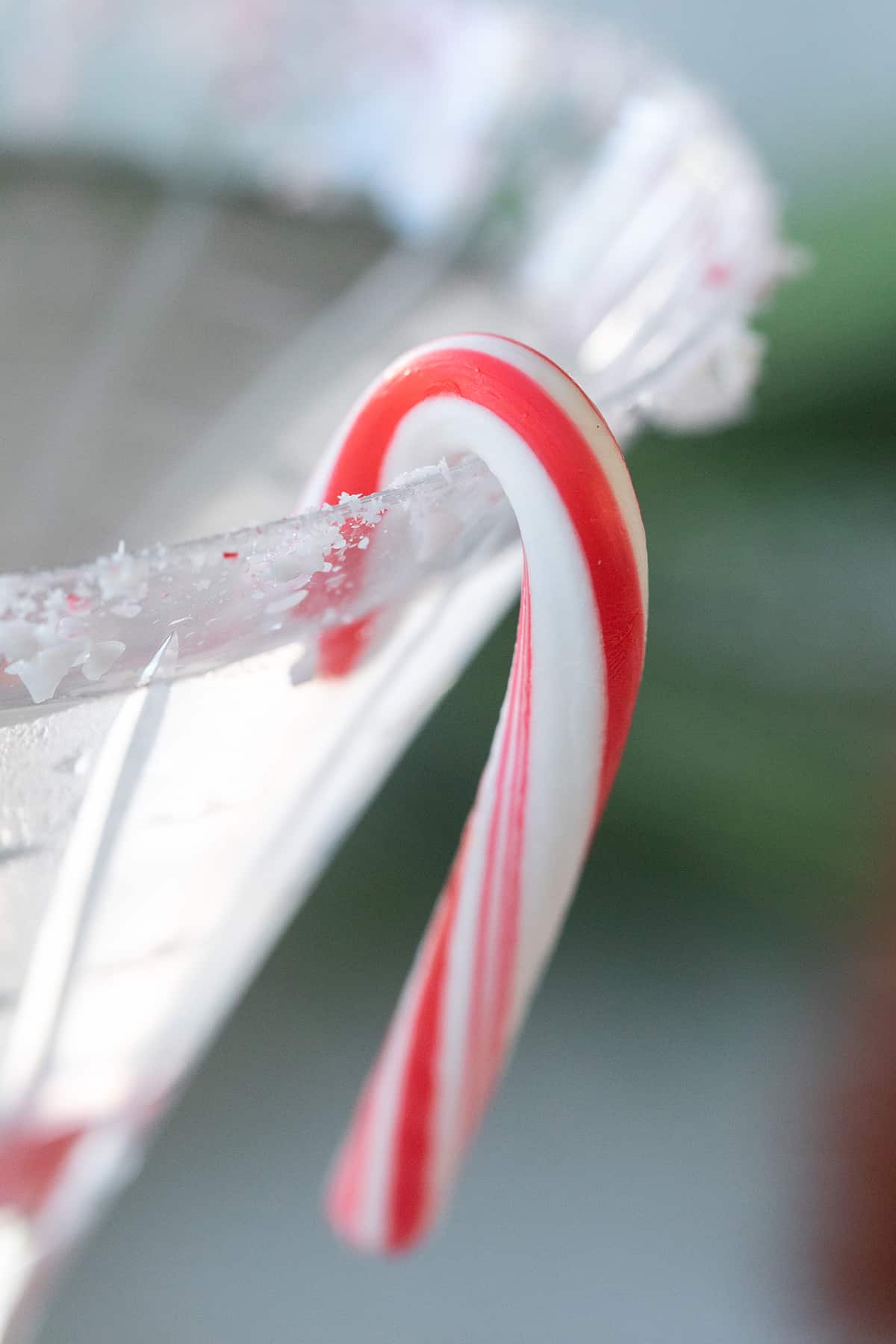 Vodka Martini
If you're not a gin fan, you can easily swap it for a good quality vodka! Vodka works just as well when making a peppermint martini.
More Christmas Cocktail Recipes You'll Love
If you love holiday cocktails like this, try some more of our favorite recipes!
Cucumber Martini with Ginger Vodka
Also, check out our peppermint hot chocolate recipe.
Now that you know how to make a peppermint martini, it's time to pick up some ingredients. Mix and serve your guests with a tasty martini they'll always remember!
Serve this martini with some delicious Christmas appetizers for a festive holiday party!
You can also FOLLOW US on FACEBOOK, INSTAGRAM, and PINTEREST to see more delicious recipes, cocktails, desserts, and parties!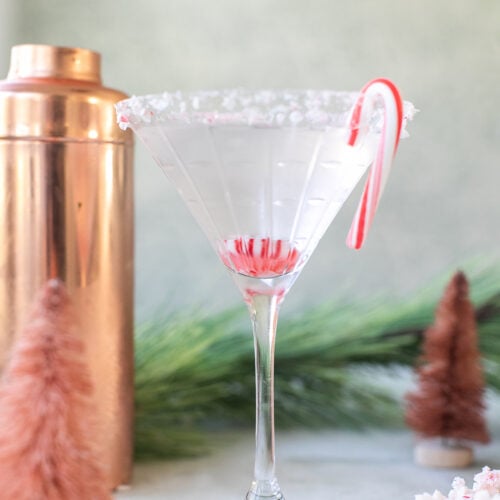 Peppermint Martini
A classic martini recipe with a touch of peppermint! This peppermint martini is perfect for the holidays!
Print
Pin
Rate
Ingredients
2

ounces

Gin

1

ounce

Vermouth

,

dry

1

ounce

Peppermint Schnapps

1

peppermint

3

mini

candy canes

,

two to crush and line the rim and one to garnish with
Instructions
In a cocktail shaker, filled with ice add the gin, vermouth, schnapps, and a peppermint.

Stir (or shake) for 30 seconds.

If you're lining the rim of the martini glass, crush the candy canes on a plate. Then wet the rim of the glass and roll it in the crushed candy cane.

Strain the cocktail into a martini glass and garnish with a candy cane.
Nutrition
Calories:
271
kcal
|
Carbohydrates:
15
g
|
Protein:
1
g
|
Fat:
1
g
|
Saturated Fat:
1
g
|
Monounsaturated Fat:
1
g
|
Cholesterol:
1
mg
|
Sodium:
1
mg
|
Potassium:
3
mg
|
Fiber:
1
g
|
Sugar:
13
g
|
Vitamin A:
4
IU
|
Vitamin C:
1
mg
|
Calcium:
1
mg
|
Iron:
1
mg