The best lemon drop martini recipe! We cover all the bases for making a bright, citrus cocktail with fresh lemon juice and vodka.
The bright, refreshing flavor of the lemon drop martini is a simple, yet easy drink to miss the mark on. We cover everything you need to know to nail this cocktail. Also check out all of our favorite lemon recipes!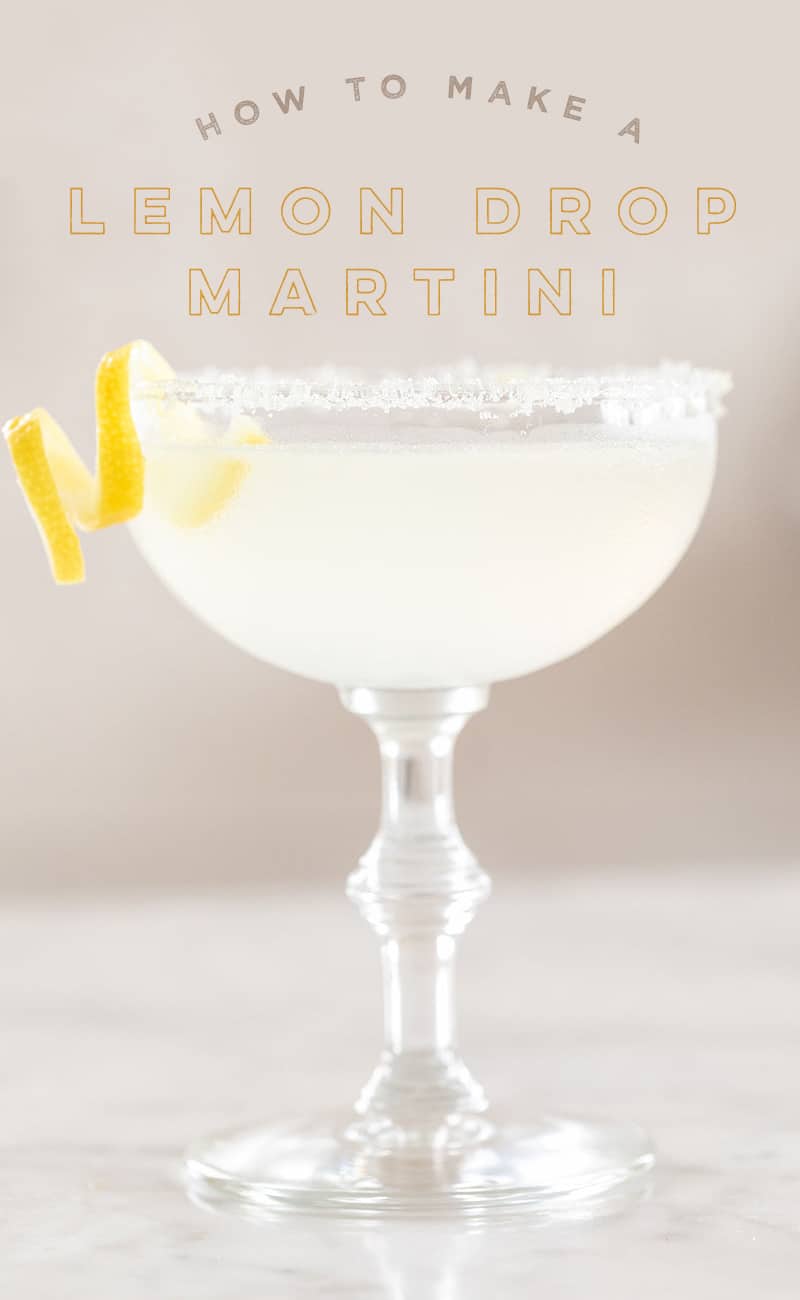 In need of a light cocktail perfect for a warm summer evening?
If refreshing lemonade is the official drink of summer for kids, then the cocktail version is a great way for adults to join in the fun!
A lemon drop cocktail is a perfect blend of sweet and sour. It's great for summer picnics and Mother's Day brunch.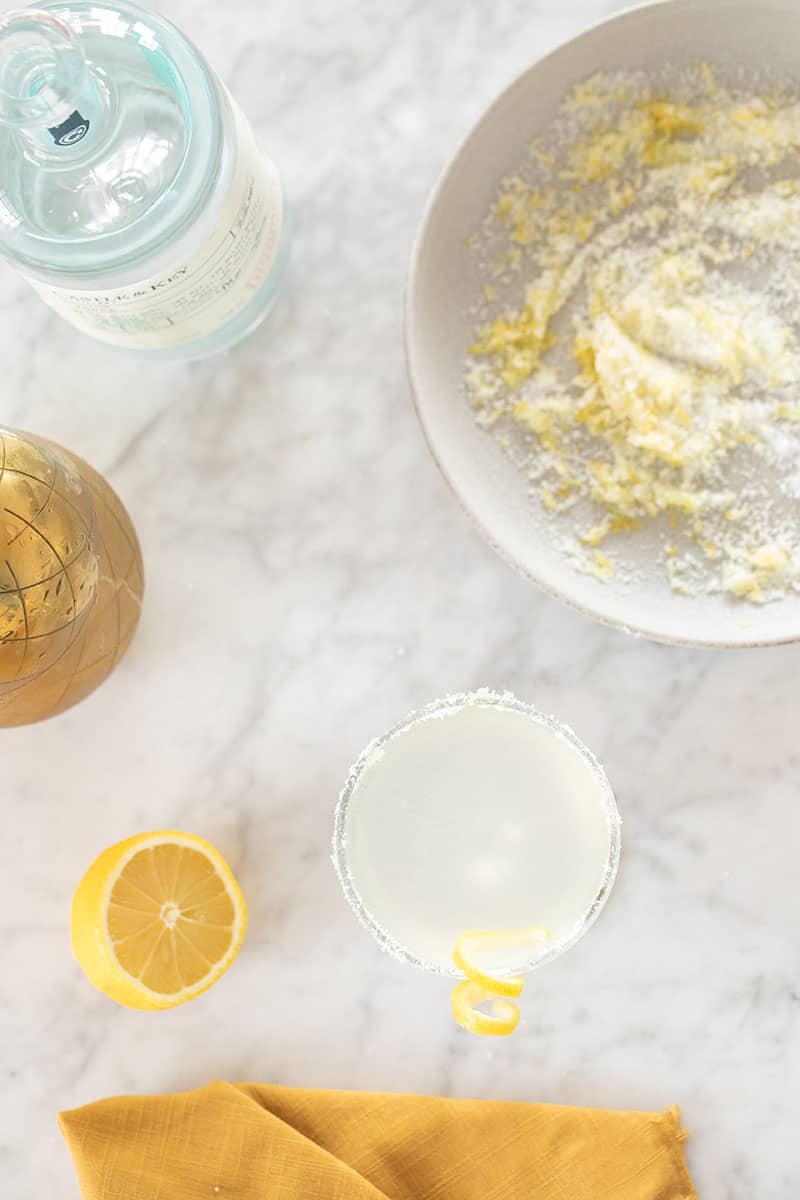 We love this classic drink because it's simple to make and taste so refreshing. Here's how you make it:
What is a Lemon Drop Made Of?
If you're wondering what is in a lemon drop martini, here are the ingredients you'll need:
Vodka – Use a good quality vodka for this cocktail.
Lemon Juice – Freshly squeezed.
Simple Syrup – Follow our simple syrup guide!
Sugar – Use this for the rim of the glass.
Add a shot of limoncello, a delicious lemon liqueur, for a limoncello lemon drop with an extra dose of sweetness and a burst of lemon flavor!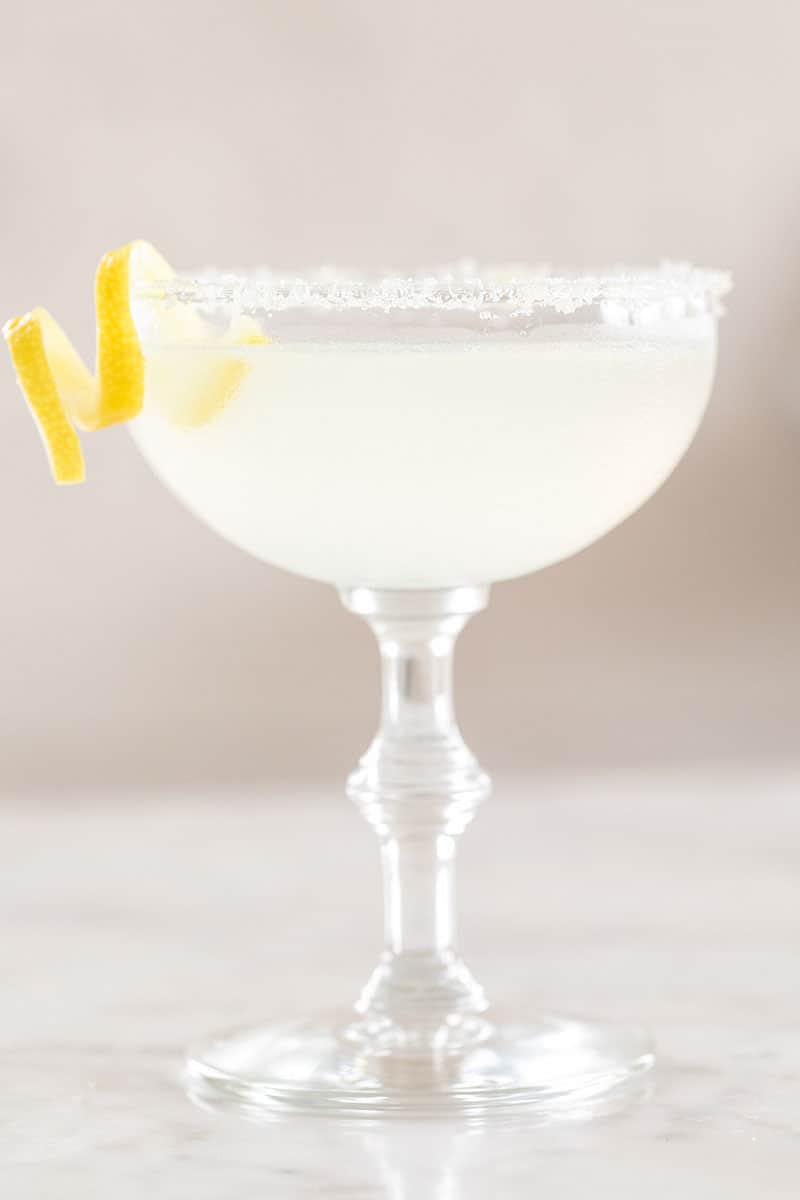 How to Make a Lemon Drop
Once you've made the simple syrup, squeezed lemons for fresh juice and prepared the sugared rim, you're ready to make the cocktail!
To make the simple syrup by simmering 1/2 cup water and 1/2 sugar until sugar has dissolved.
Simple, add in the simple syrup, lemon juice, and vodka into a cocktail shaker with ice.
Shake for 30 seconds so the ingredients become very chilled and the water can dilute and mix the flavors.
Strain into a sugar-rimmed glass with a lemon twist!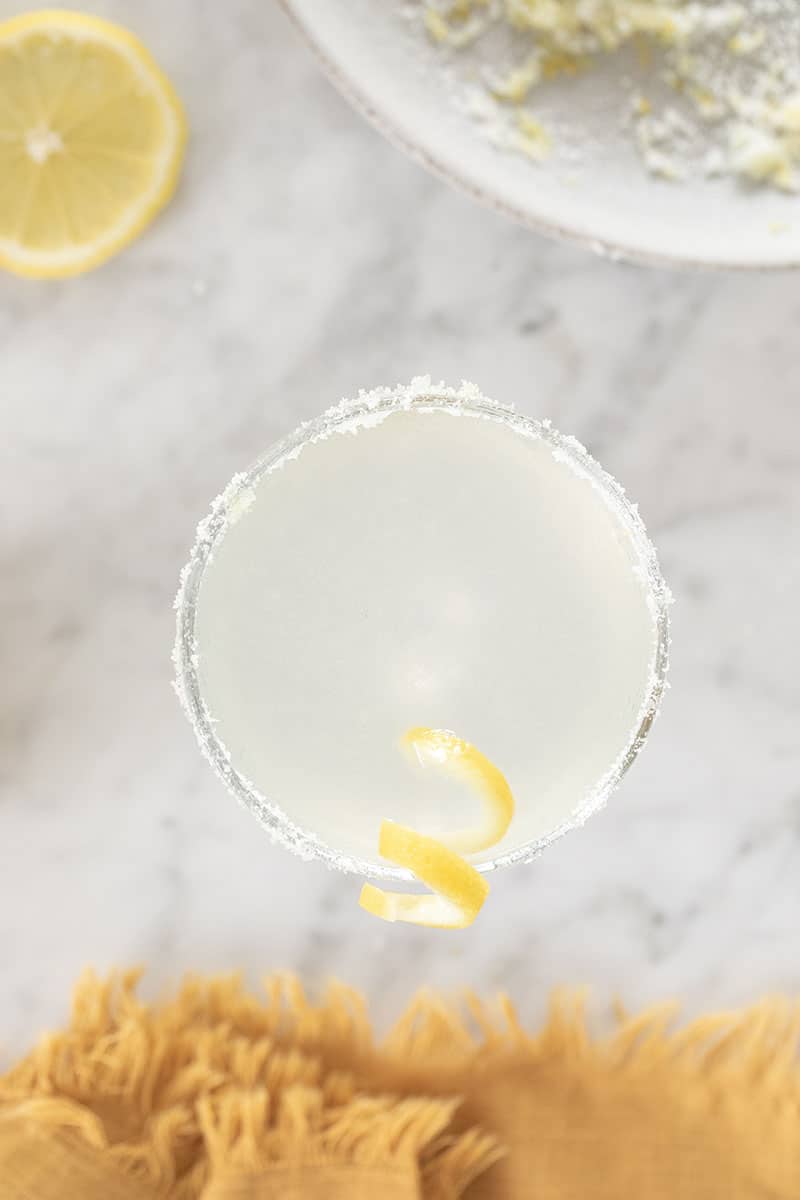 Tips for Making This Lemon Drop Martini Recipe
A lemon drop is one of our favorite summer cocktails. Its bright and citrus flavor is sunshine in a coupe! Here are tips for making the perfect lemon drop:
Shake with ice for 30 seconds to dilute the ingredients. This gives the cocktail a balanced flavor.
Use high-quality ingredients when making martinis. Each ingredient is crucial to making a great cocktail.
Always use fresh-squeezed lemon juice. It makes a huge difference in the taste of this drink. You can use Meyers lemons too.
Give the drink a pretty garnish for a charming presentation.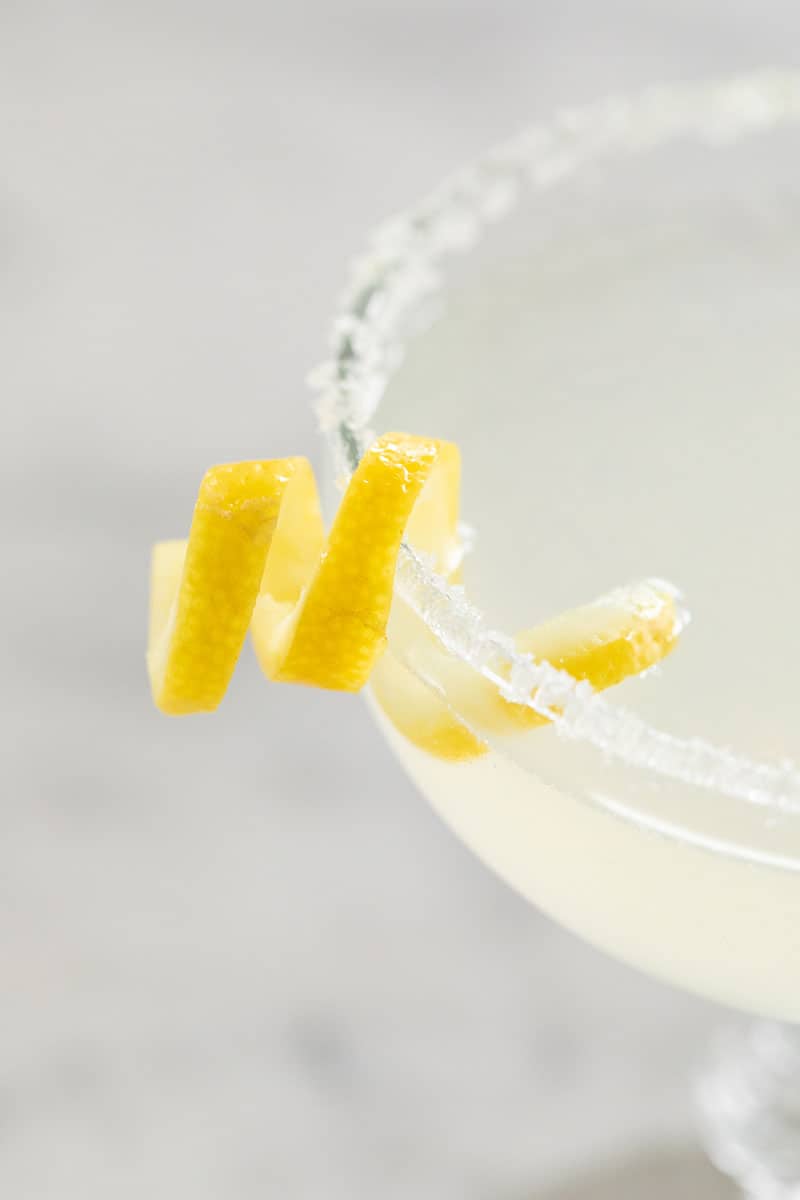 How Do You Make Lemon Twists?
Lemon twists are the perfect garnish for the best lemon drop martini! Here's how to make one:
Slice a ring from a fresh lemon peel.
Cut through one side of the peel and remove the pulp so you just have a strip of the peel.
Curl the peel into its desired twist and it will naturally hold its shape.
Lemon Sugar Rim
The sugared rim is an important part of a lemon drop martini! We use sugar and lemon zest to make a lemon-infused sugar.
Combine 1/4 cup sugar and 1 tablespoon lemon juice in a shallow dish. Use your fingers to rub the sugar and zest together to infuse the sugar.
Using water, wet the rim of a coupe glass or martini glass then dip it straight down into the sugar to coat the glass.
We love infusing sugar for recipes. Find more ideas for infusing sugar here!
Benefits of Lemon Juice
Not only will lemon juice add a refreshing zing to your cocktail, it also has health benefits!
Lemon juice is packed with vitamin C that can reduce your risk for heart disease and boost your immune system!
Lemon juice also has fiber that aids in digestive health and can help you lose weight. Fiber from the lemon juice expands in your stomach, making you feel full for a longer amount of time.
So drink those lemon drop martinis and feel guilt-free!
Which Brand of Vodka is Best?
Since the best lemon drop recipe requires vodka, you may need some recommendations!
Personally, we love to use local, small-batch vodkas if you can. The best place to find these are at local liquor stores.
Titos vodka is widely popular and very good. Also, Reyka vodka is a great option and affordable. Another option is Vapid Vodka which is a California vodka with a clean, subtle sweetness.
We also recommend Grey Goose. Its spicy notes work well in a variety of cocktails, making it a perfect addition to any bar!
However, whatever you happen to have on hand will work well in a lemon drop!
When to Serve a Lemon Drop Martini
Serve this glass of sunshine at any of these fun occasions:
Birthday Party it's also perfect for a last-minute birthday party!
Baby and Bridal Shower
Spring Lunch
Happy Hour
More Martini Recipes
Gingerbread Martini and Christmas Martini
When Was the Lemon Drop Invented?
The lemon drop martini originated in San Francisco, California in the 1970s. The creator, Norman Jay Hobday, was a bar owner who wanted to create a sweet and tart drink for the ladies.
He believed that if they came to his bar for this cocktail, the men would follow and his business would be a success!
He was right and the drink spread quickly around the world!
Making the Perfect Lemon Drop Martini
Now that you know everything there is to know about the lemon drop martini, it's time for you to make a batch!
More Classic Cocktail Recipes You'll Love!
Also check out our favorite brunch recipes, the best-mixed drinks, gin cocktails, vodka cocktails, and cheap drinks to make at home!
Let us know if you make this cocktail by leaving a review and comment below! We'd love to know your thoughts!
You can also FOLLOW US on FACEBOOK, INSTAGRAM, and PINTEREST to see more delicious recipes, cocktails, desserts, and parties!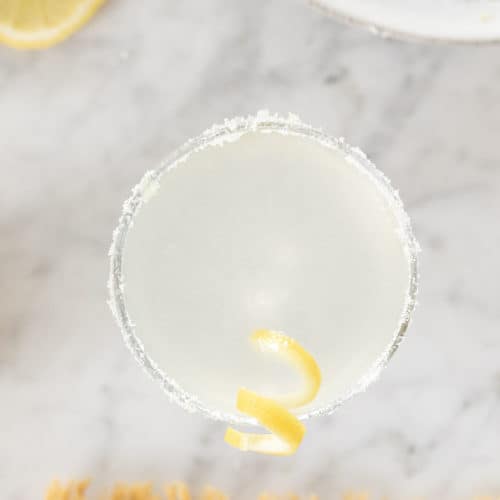 Lemon Drop Martini
An easy, fresh and delicious recipe for a Lemon Drop martini!
Print
Pin
Rate
Servings: 1 Lemon Drop Martini
Calories: 213kcal
Ingredients
2 ounces vodka
1 ounce lemon juice, fresh-squeezed
1 ounce simple syrup
Instructions
Make a small batch of simple syrup and let it cool to room temperature.

Make fresh lemon juice. 1 lemon will be enough for one cocktail.

Add the ingredients into a cocktail shaker and shake for 30 seconds or more.

Strain into a martini or coupe glass and serve immediately.
Lemon Sugared Rim
To make a lemon sugared rim, pour 1/4 cup sugar in a shallow dish, add 1 tablespoon lemon zest and mix using your fingers to blend the lemon flavor and fragrance into the sugar.

Wet the outer edge of the glass, then dip it straight into the sugar to coat the rim!
Notes
Always use fresh lemon juice.  Any vodka will work for this recipe, the better the quality the better the drink.  
Nutrition
Calories: 213kcal | Carbohydrates: 23g | Protein: 1g | Fat: 1g | Saturated Fat: 1g | Sodium: 17mg | Sugar: 21g | Vitamin C: 11mg | Iron: 1mg