Need a refreshing summer cocktail to cool you down? We're sharing the best summer cocktails including our famous frozen gin and tonic and some super easy cocktails made with vodka and tequila!
Summer cocktails are all about fruity and refreshing libations that will cool you off on a hot summer day! Refreshing cocktails made with soda water and flavors like strawberry, coconut, and mango are all ingredients we crave in a summer drink. We also love using fresh herbs like mint, lots of edible flowers to garnish the drinks, and juicy seasonal berries.
Let's get started on the best summertime cocktails!
Summer Cocktails with Gin
Gin is a perfect spirit for summer. It's derived from juniper berries and other botanicals. It can have a subtle floral flavor and is great for mixing with seasonal summer ingredients. Here are our favorite summer cocktails with gin!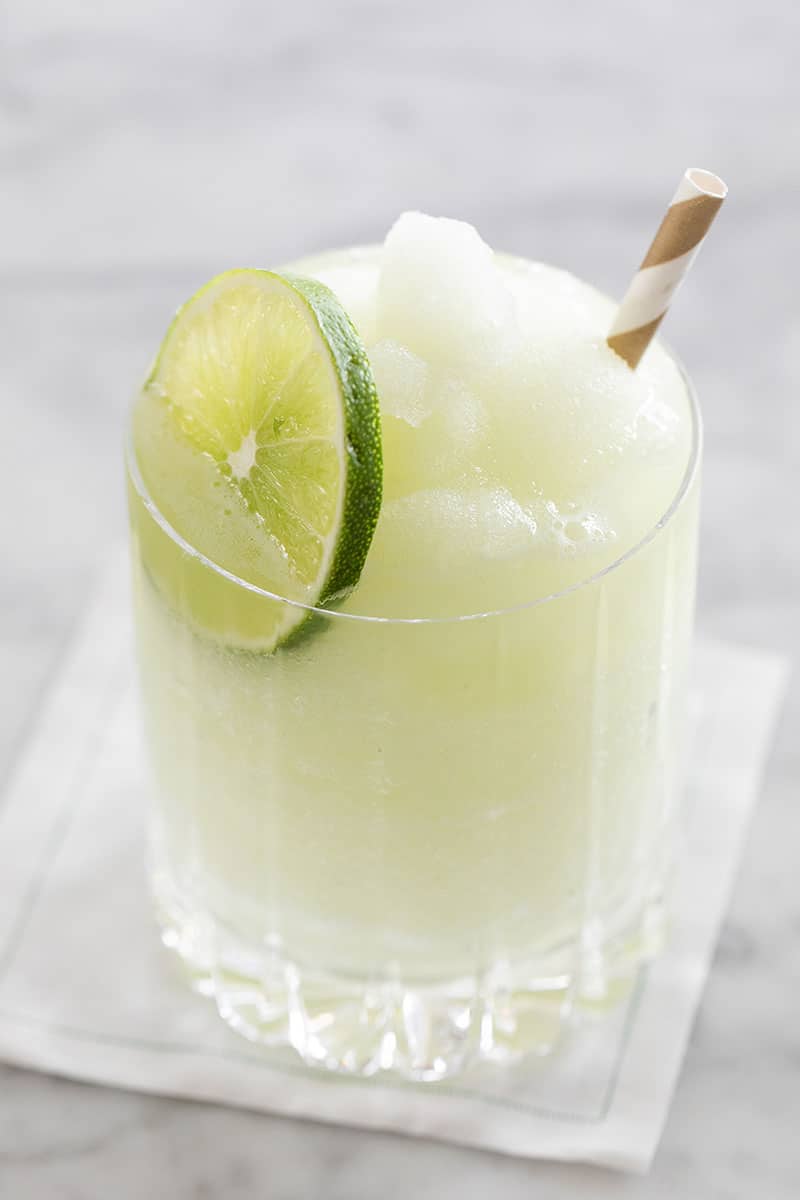 If you love gin and tonics, this frozen gin and tonic will be your new favorite cocktail! It will get you through hot summer days. Made with lime juice, gin, tonic, and a little cucumber, this drink is refreshing, full of flavor, and easy to make!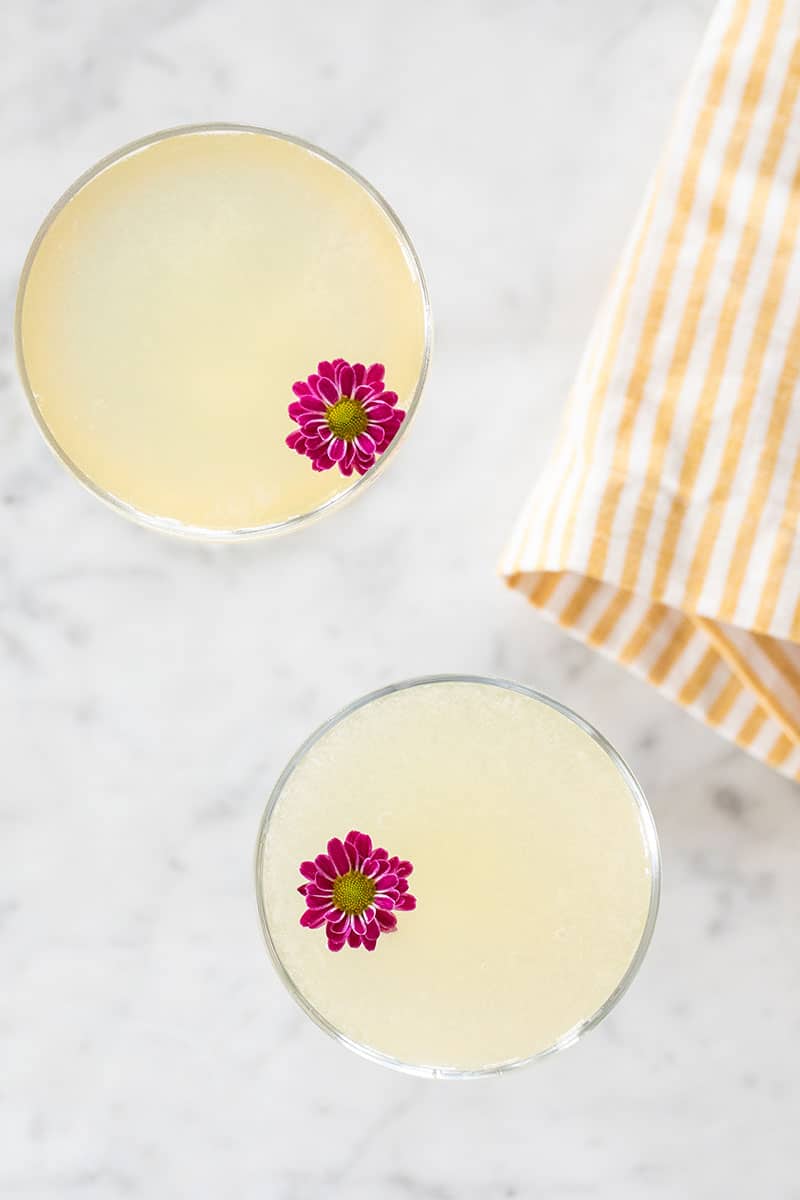 One of our favorite summer cocktails with gin is a classic Bee's Knees. It's made with three simple ingredients and is perfect for all year! Easy to make, refreshing, and absolutely delicious.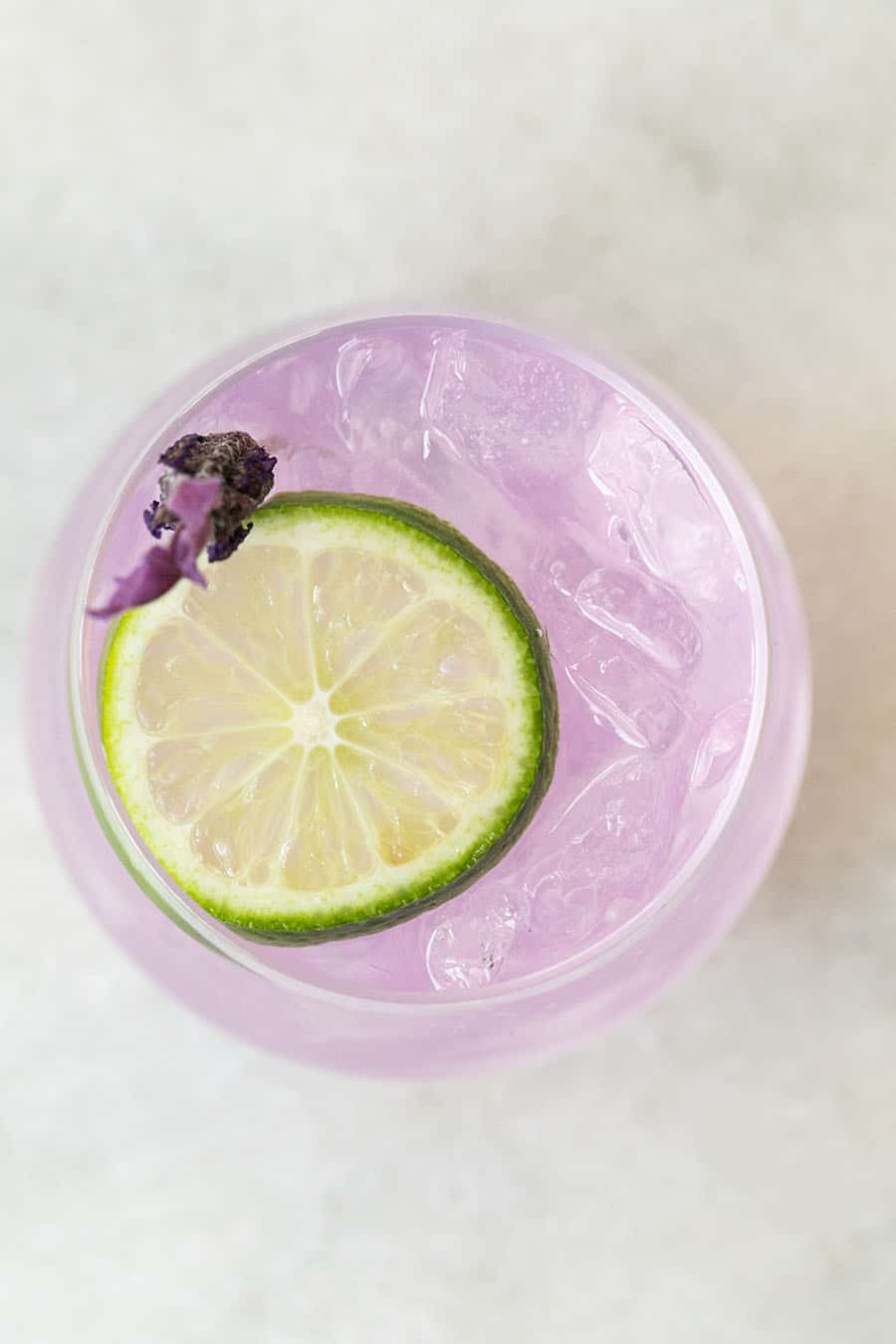 Our Lavender Gin and Tonic Punch are light and refreshing! It's naturally flavored and the beautiful purple color is from butterfly pea tea. Absolutely perfect party punch for spring and summer.
Also, check out these 5 refreshing gin and tonic drinks!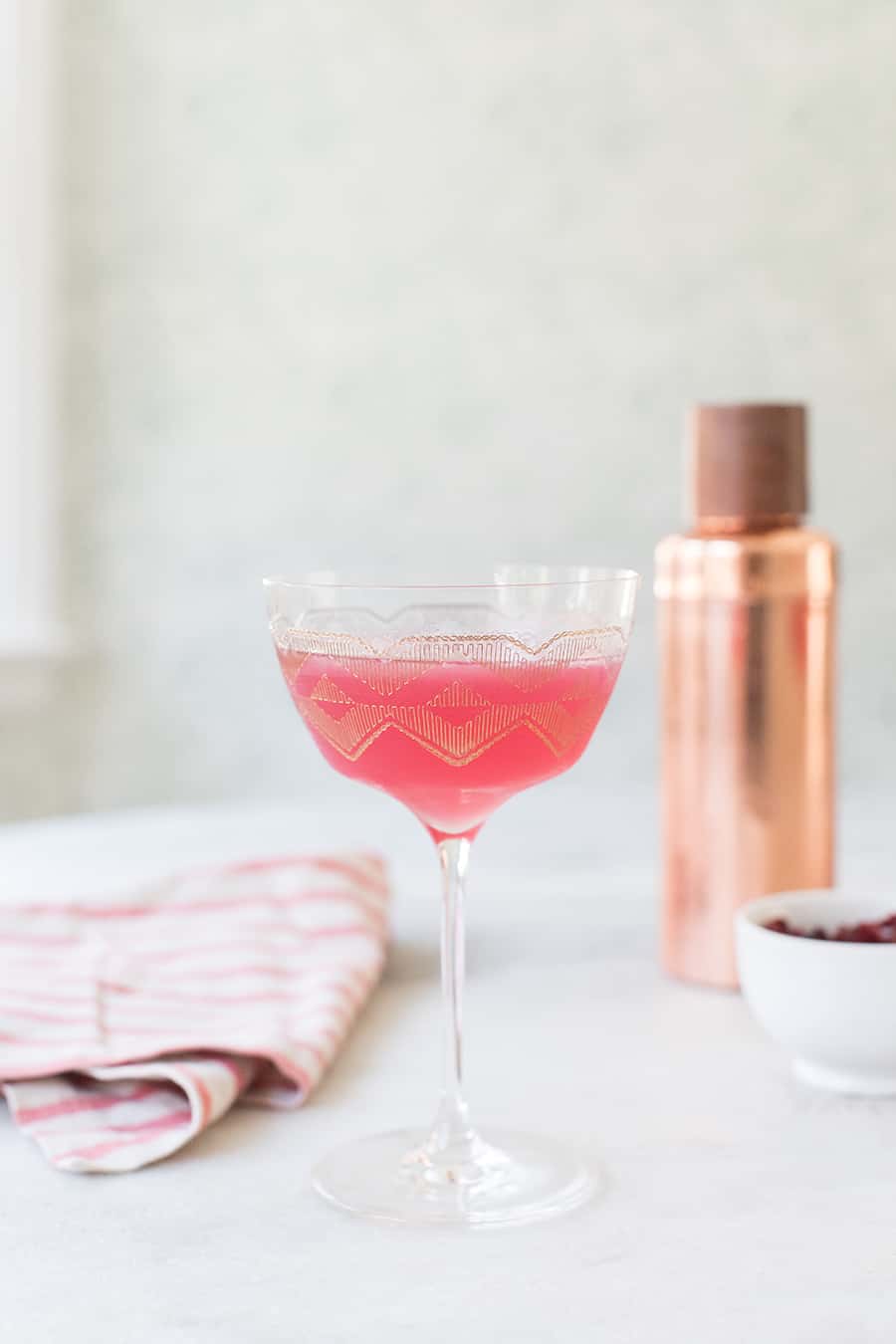 This bright and tasty Cranberry Martini is perfect for entertaining! It's an easy cocktail that's bound to please.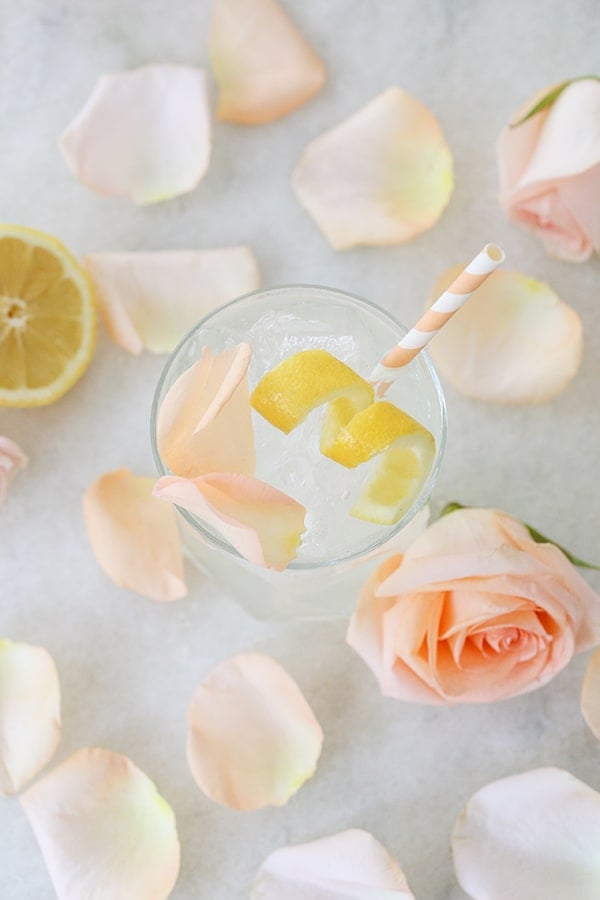 If you're looking for a romantic summer cocktail, look no further! It doesn't get more romantic than this unique and delicious, Rose Water Gin Cocktail!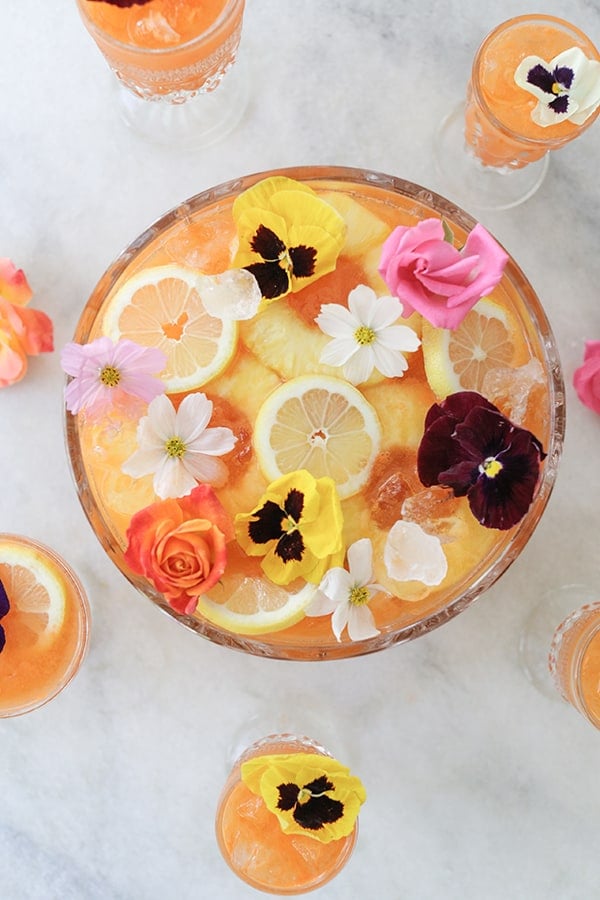 This gin punch really packs a punch! Not only do the carrot and pineapple work so well together, flavor-wise, but they also add a lovely bright color.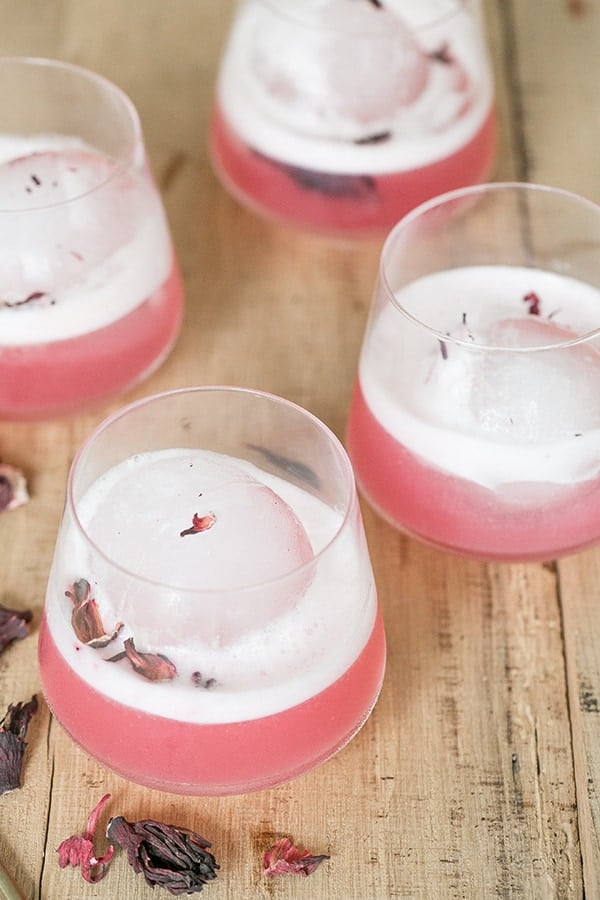 This beautiful pink and delicious gin sour is a fantastic summer cocktail with gin. The hibiscus doesn't just give this creative gin cocktail a lovely color, but also a delightful waft of fragrant floral notes!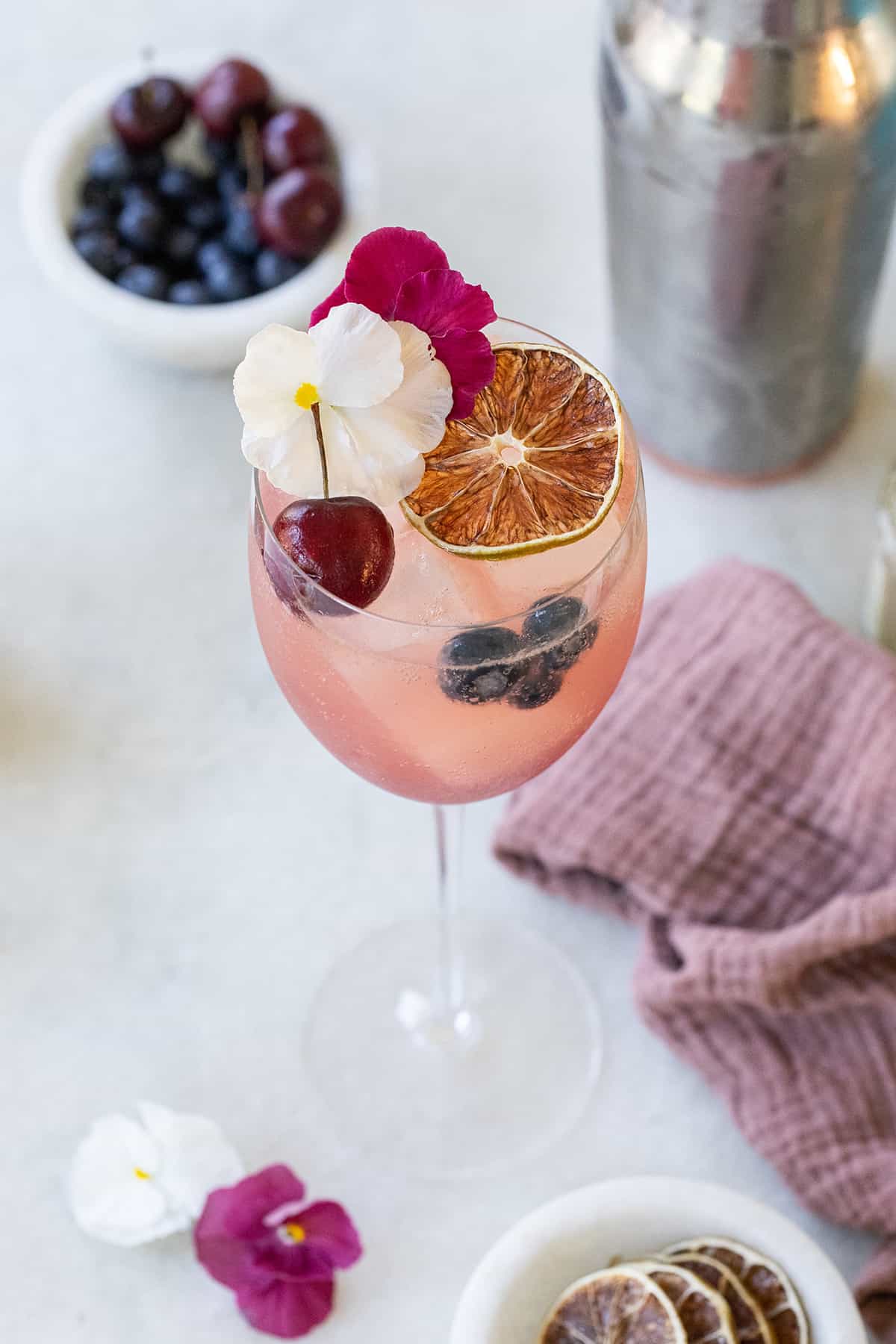 An easy 3 ingredient cocktail that is made with gin! It's bubbly and fruity and perfect for a hot day.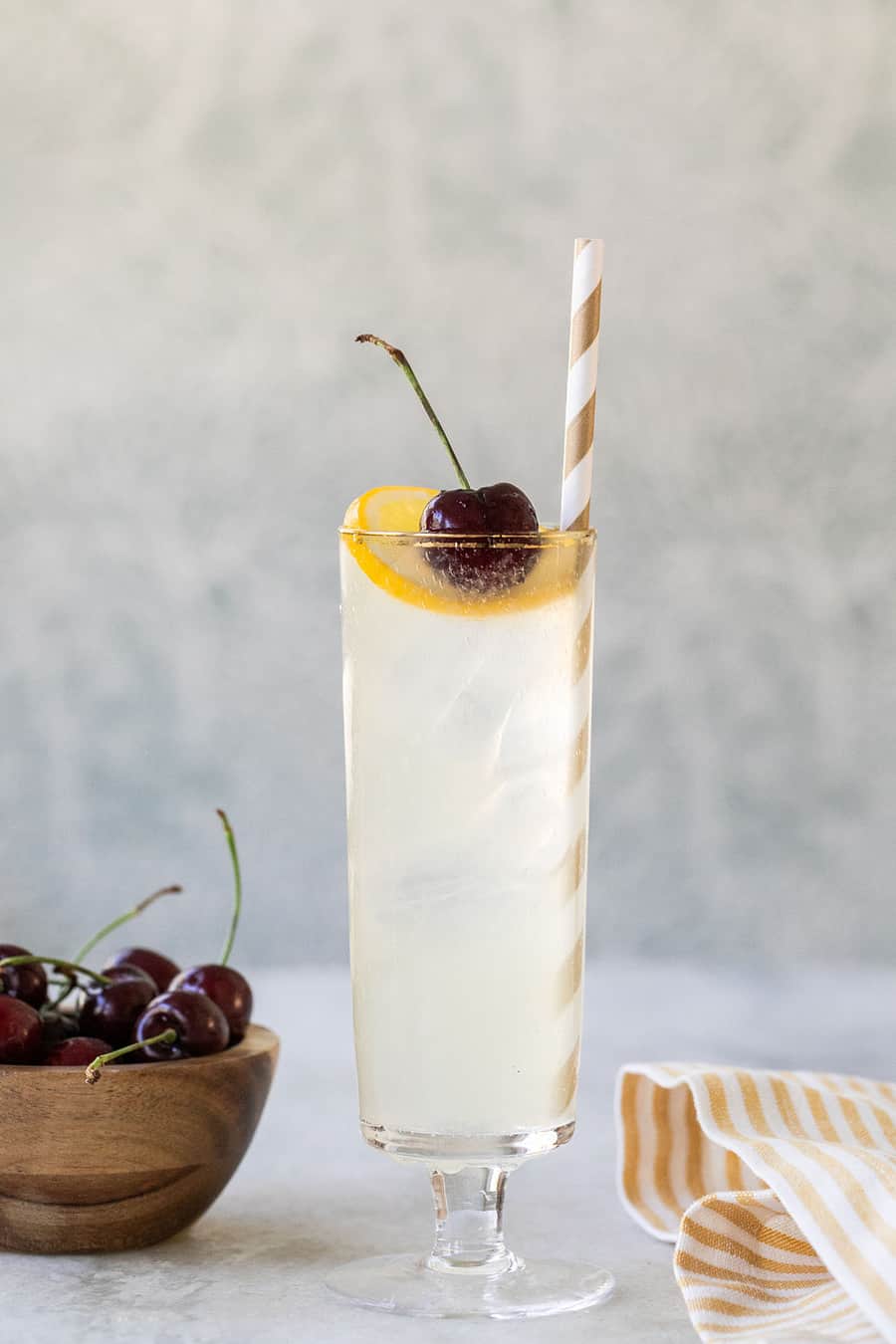 Any connoisseur of gin cocktails has likely had a Tom Collins or two, as this simple and classic drink has been around for at least 145 years. Made with only 4 simple ingredients, this cocktail is refreshing and easy to whip up.
Summer Cocktails with Vodka
Vodka is always welcomed in the summer. It's one of the lowest-calorie spirits and goes well with citrus ingredients. Here are our favorite summer cocktails with vodka.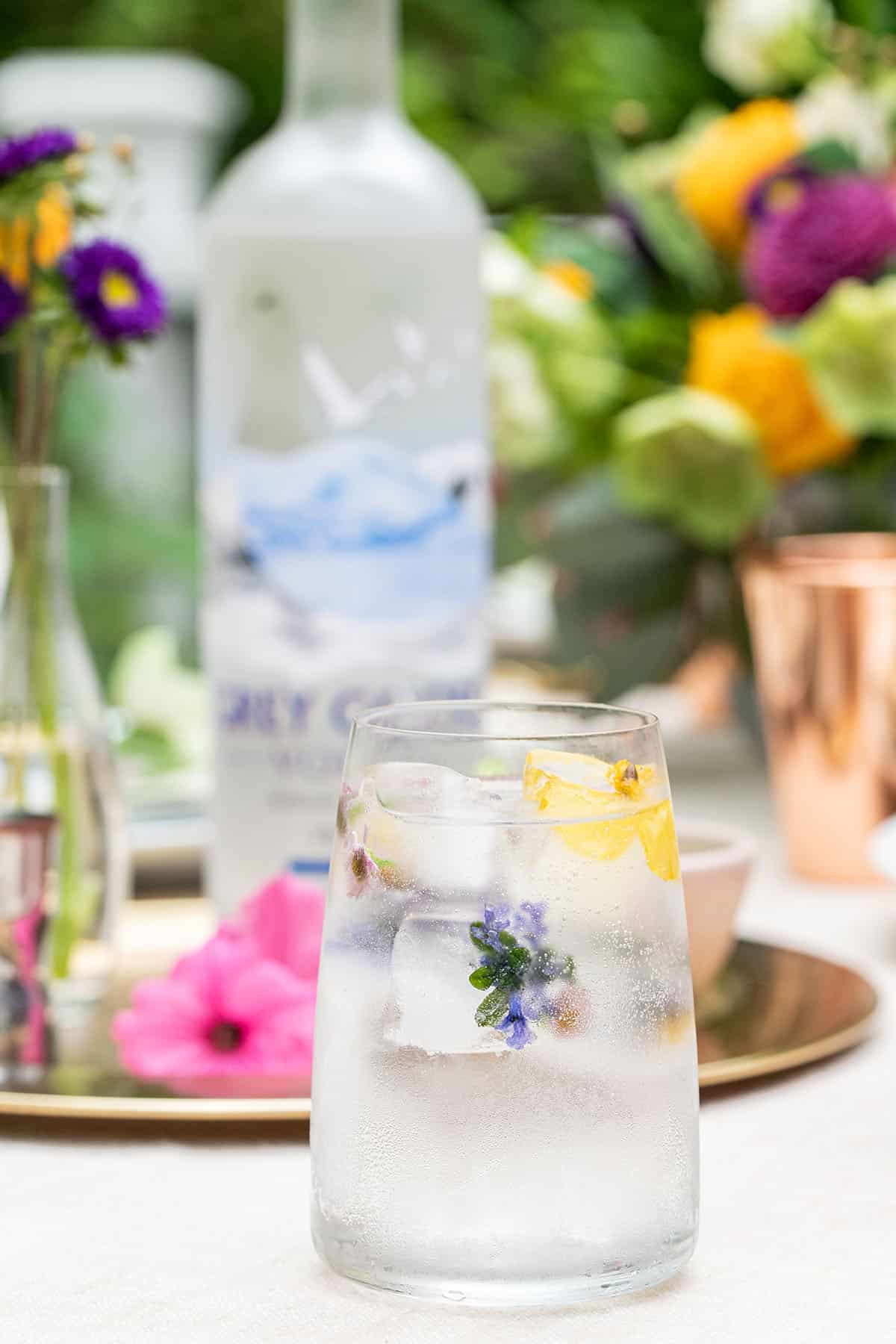 One of our favorite summer cocktails with vodka is a simple vodka soda. This recipe can't be easier and it's low in calories and sugar too.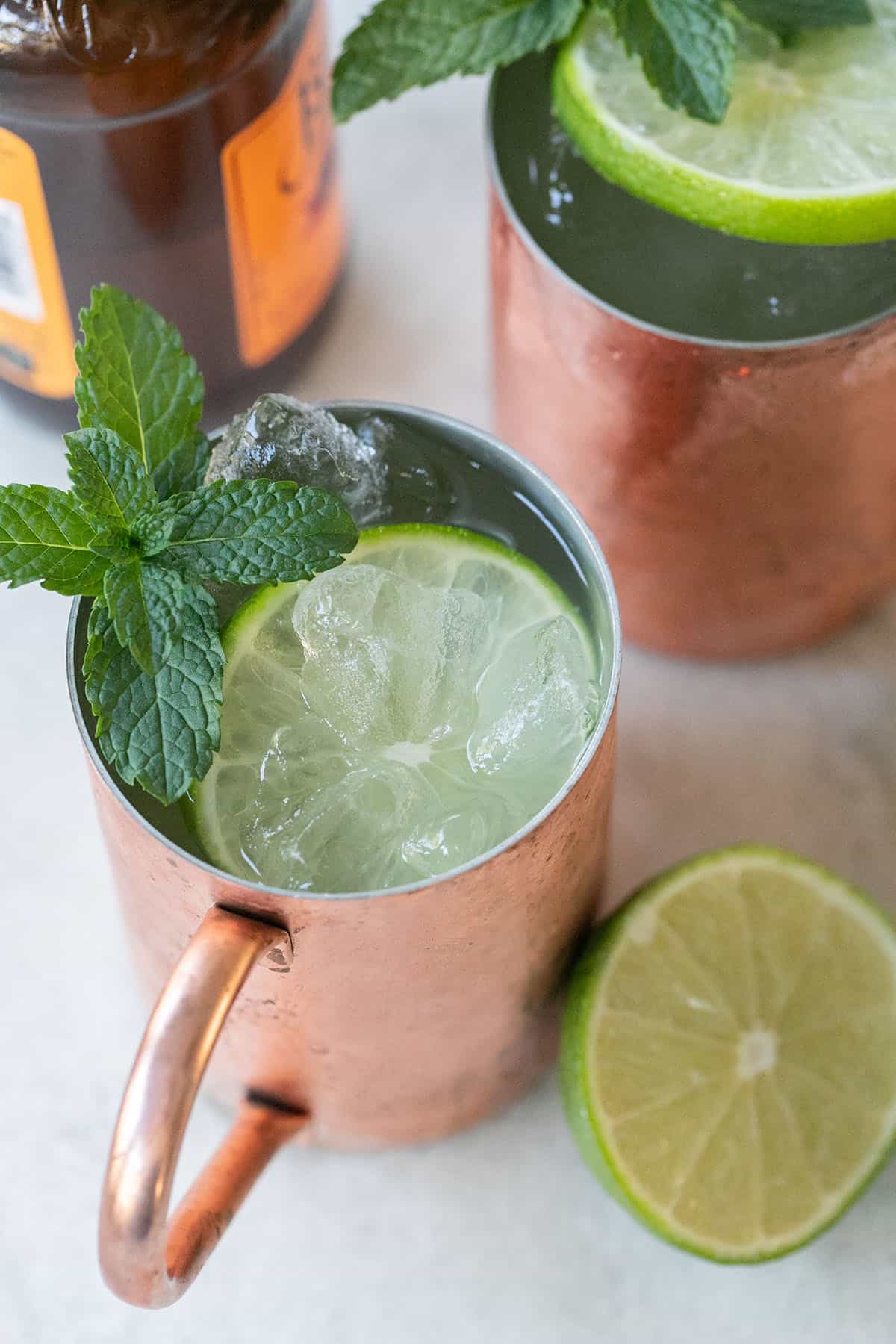 One of our favorite summer drink recipes is the classic Moscow Mule. We have several versions of this drink to choose from and they're all wonderful and great for summer.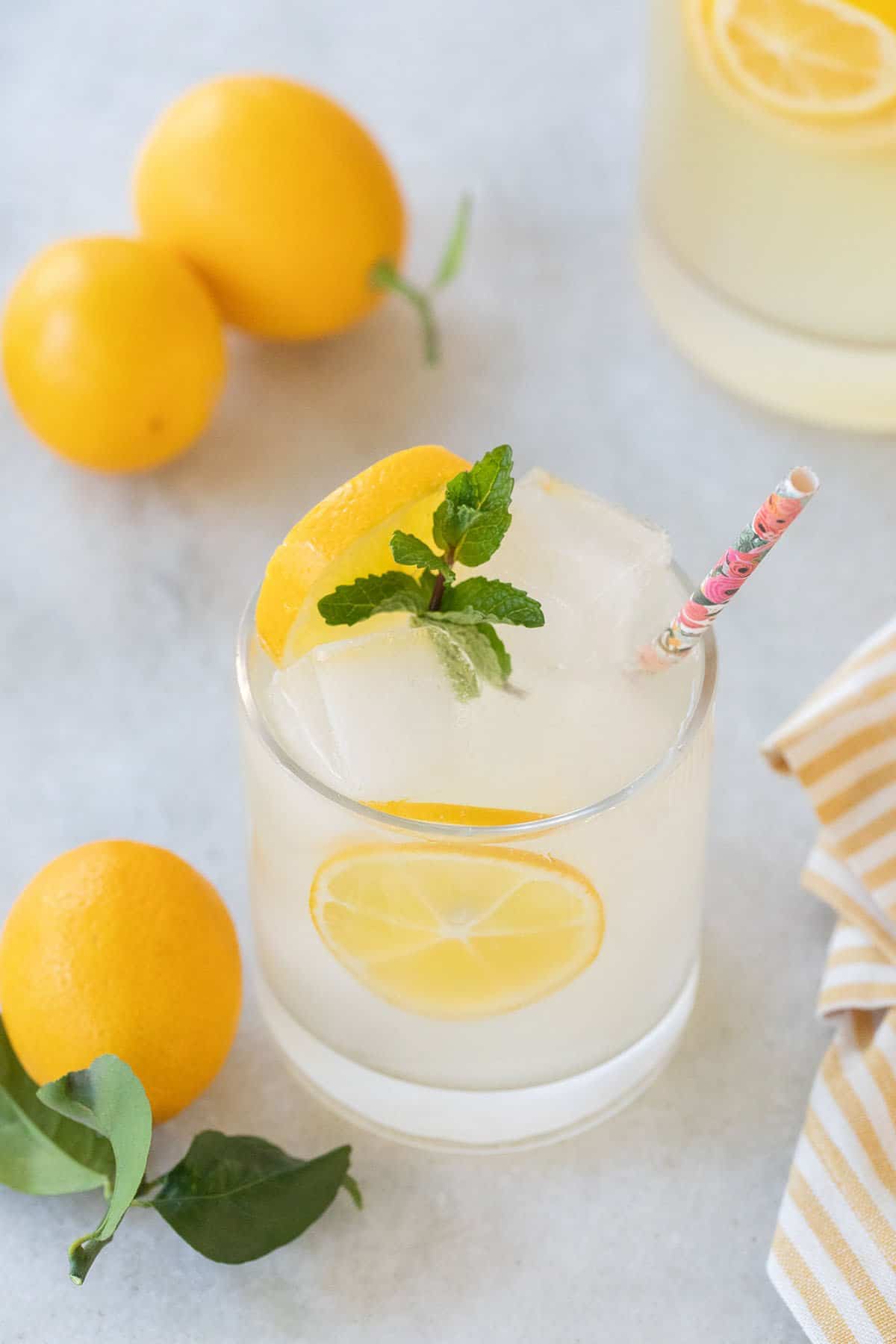 This vodka lemonade recipe is one of our favorite easy cocktails. It's perfect for a hot summer day, super simple to make, and has the perfect sweet and tart taste to it. Make it with homemade lemonade or a good quality store-bought.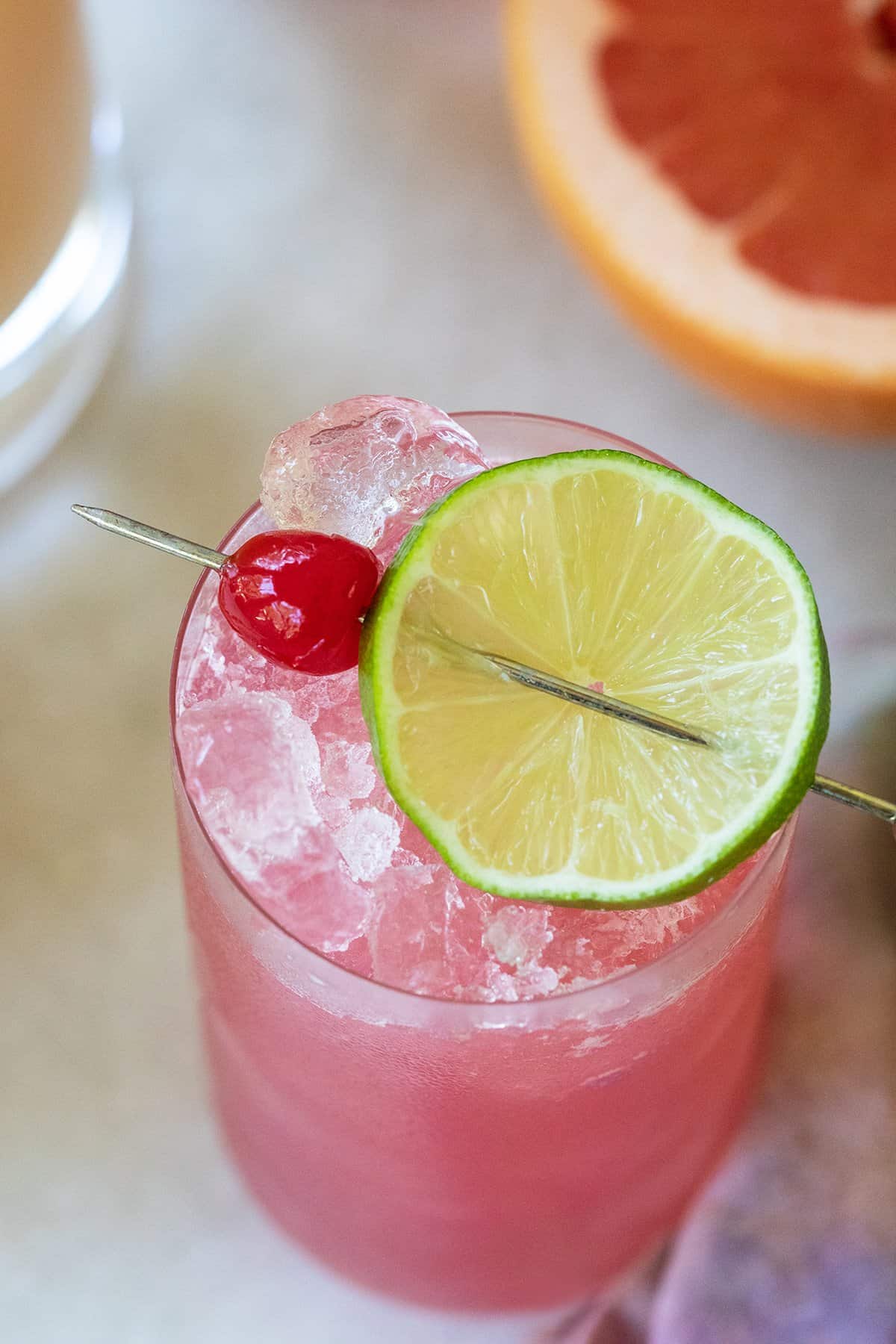 The sea breeze is a mixed drink made with grapefruit juice, cranberry juice, and vodka. It's one of our easy summer cocktail recipes that we can't get enough of!
Frozen peach Bellini recipe that's full of juicy peach flavor, Champagne, and vodka! These are easy to whip up and perfect for a hot summer day!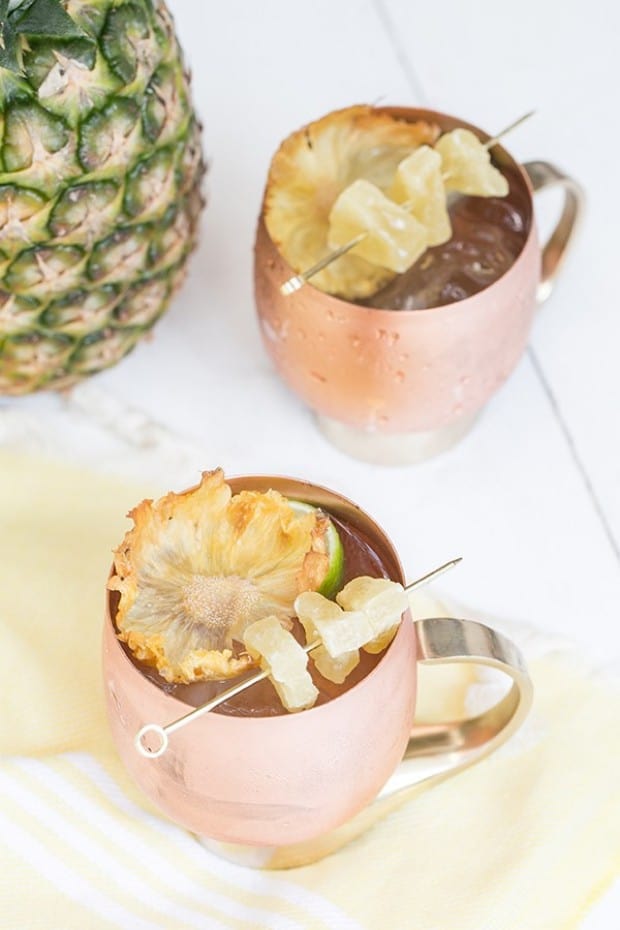 Another one of our favorite summer cocktails with vodka is the classic Moscow Mule. For summer we spruced it up and made a refreshing pineapple and ginger Moscow mule recipe! Using fresh ginger juice and homemade simple syrup, this is the perfect Moscow mule recipe for summer!
Summer Cocktails with Tequila
Easy summer cocktails with tequila! From frozen cocktails to our favorite easy ranch water, you'll love these tequila drinks!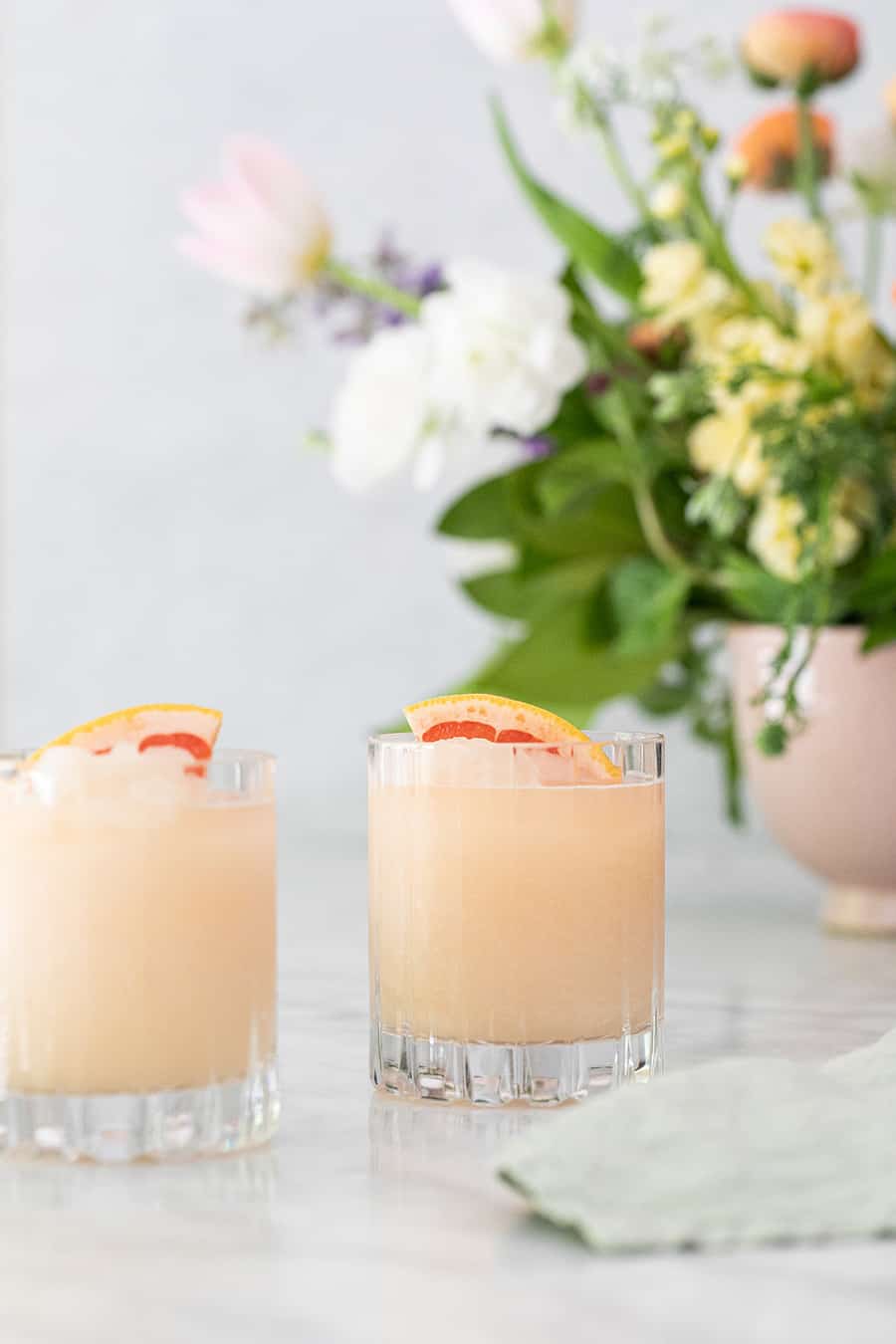 If you love a classic Paloma, try our frozen Paloma cocktail! It's easy to make with only four simple ingredients and a blender! Perfect for a summer gathering. We love sipping our Italian Paloma during a hot summer day too.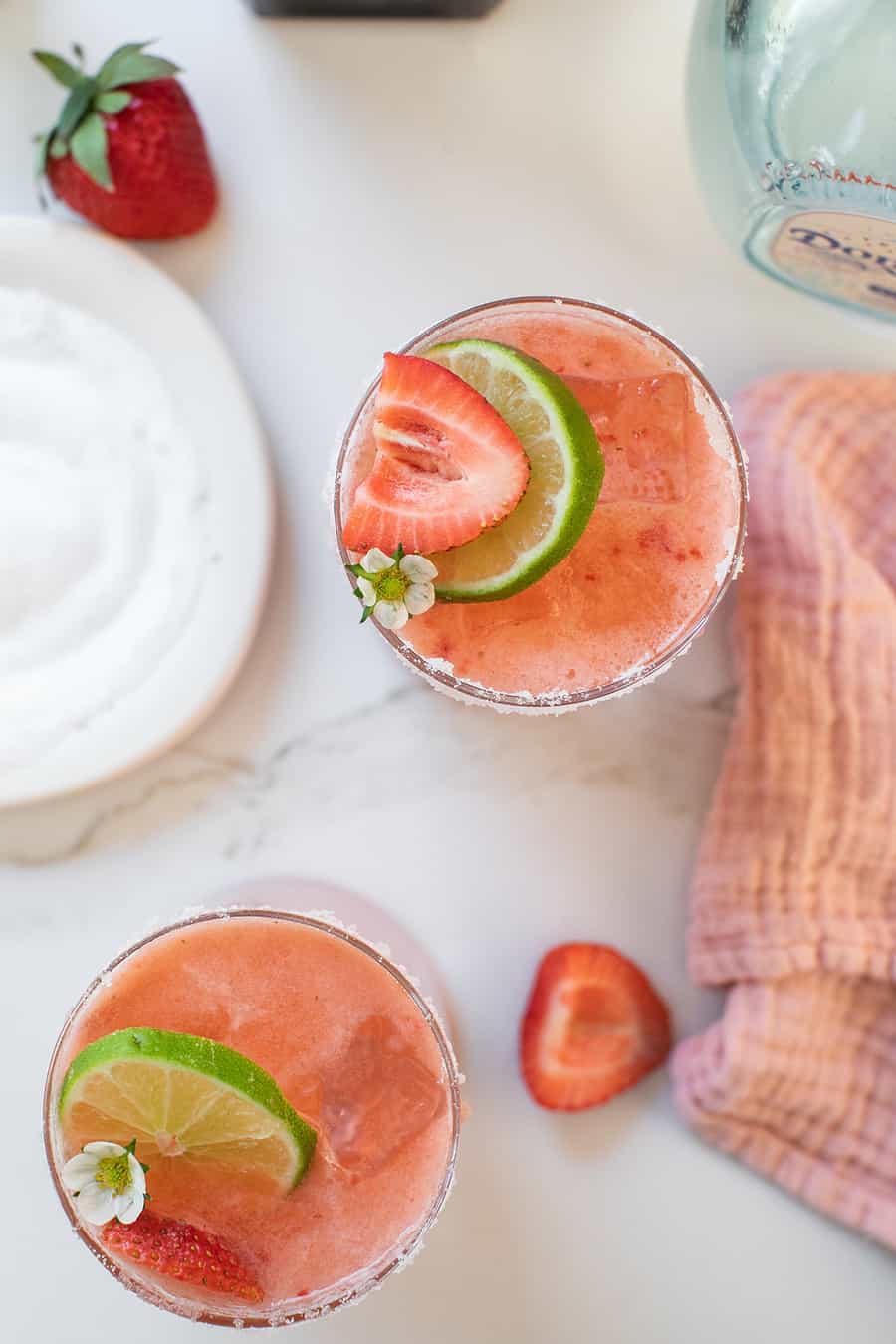 If you love a classic or skinny margarita, then you'll enjoy this refreshing strawberry margarita recipe! It's made with a strawberry simple syrup and fresh muddled strawberries. Perfect for spring and summer!
Summer Cocktails with Tequila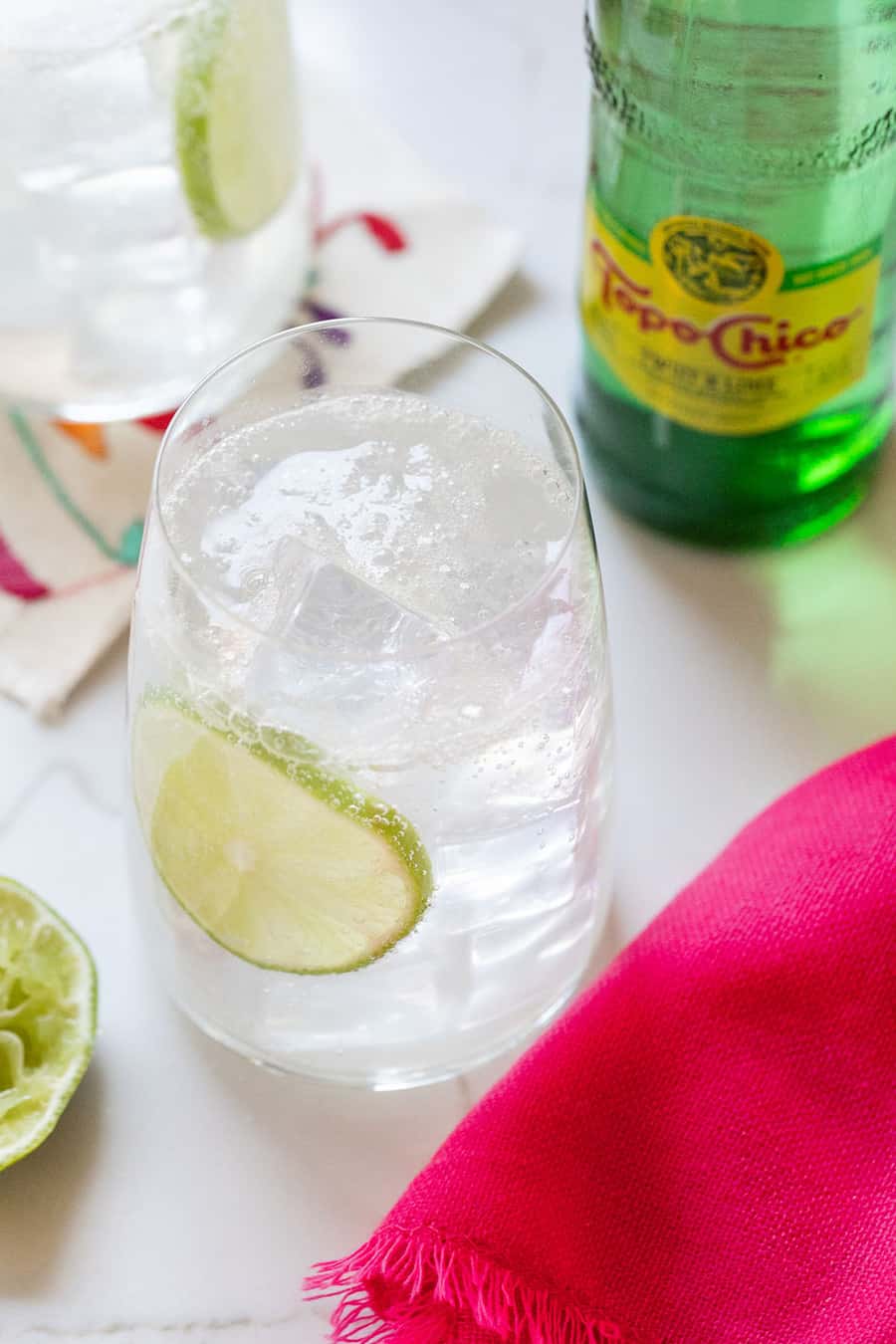 This Ranch water recipe is a refreshing, 3-ingredient low-calorie cocktail created in West Texas. This drink is made with Topo Chico and is easy to make and super refreshing on a hot day.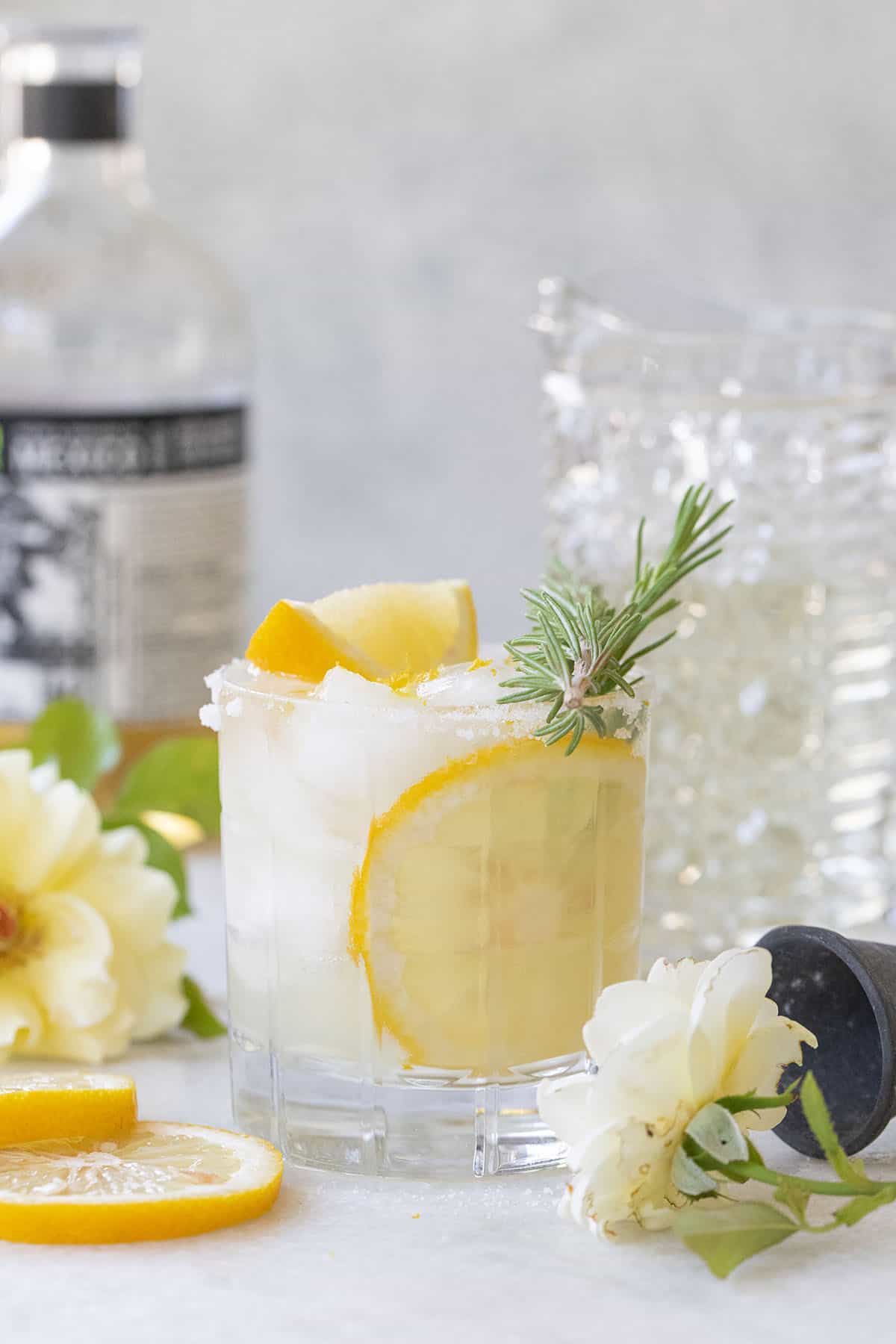 This lemon margarita recipe is super easy to make using only 4 simple ingredients, tequila, fresh lemon juice, orange liqueur, and a little simple syrup It's a nice twist on a classic margarita and is perfect for summer sipping.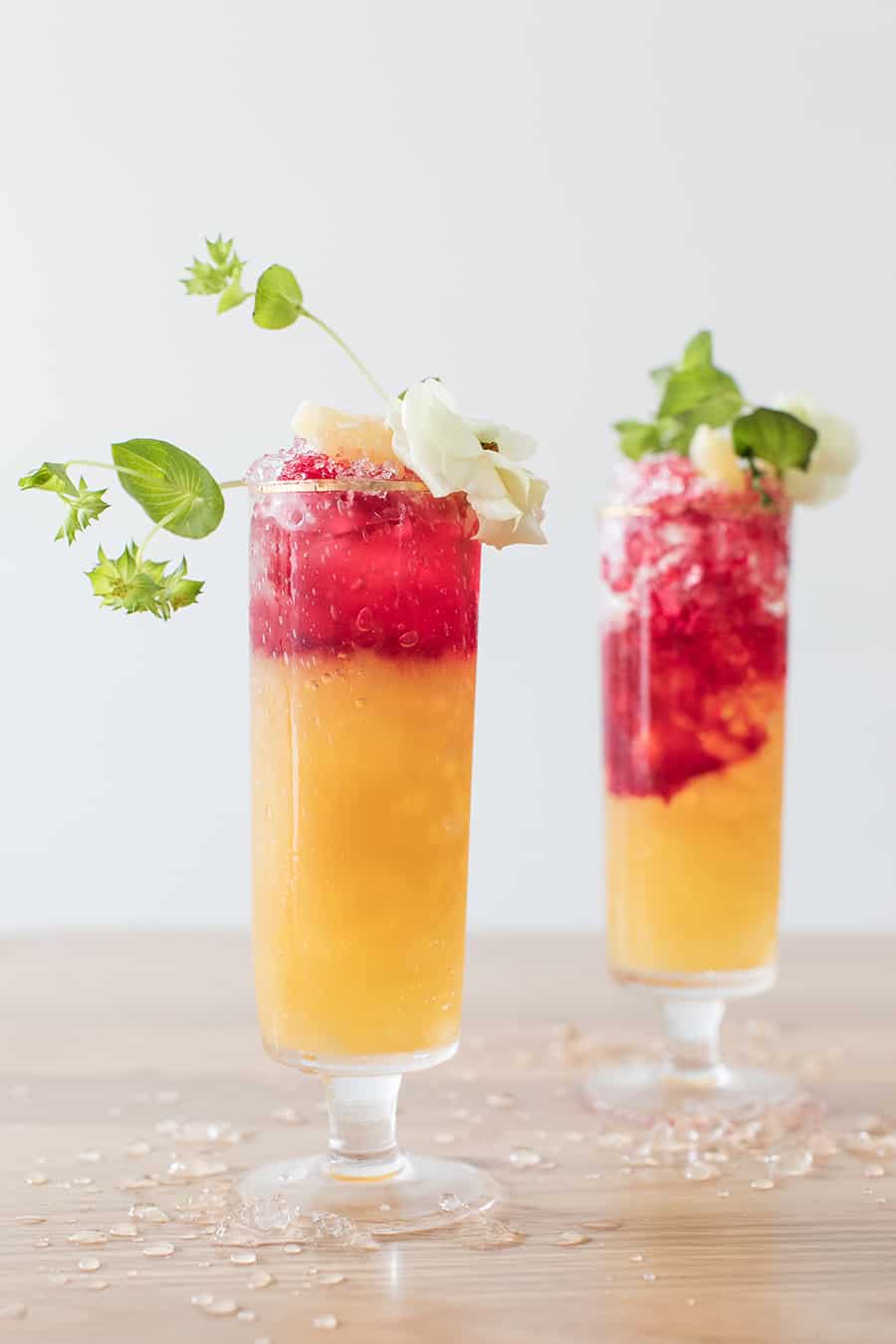 You're all going to love this naturally sweetened Pineapple Tequila Cocktail! It's the best refreshing spring cocktail with a tropical twist, but not made with artificial sweeteners or syrups.
These strawberry tequila sodas are refreshing and super easy to make! They consist of tequila, tonic water (or a splash of club soda), and lime juice with a few muddled strawberries. Perfect for a warm summer day!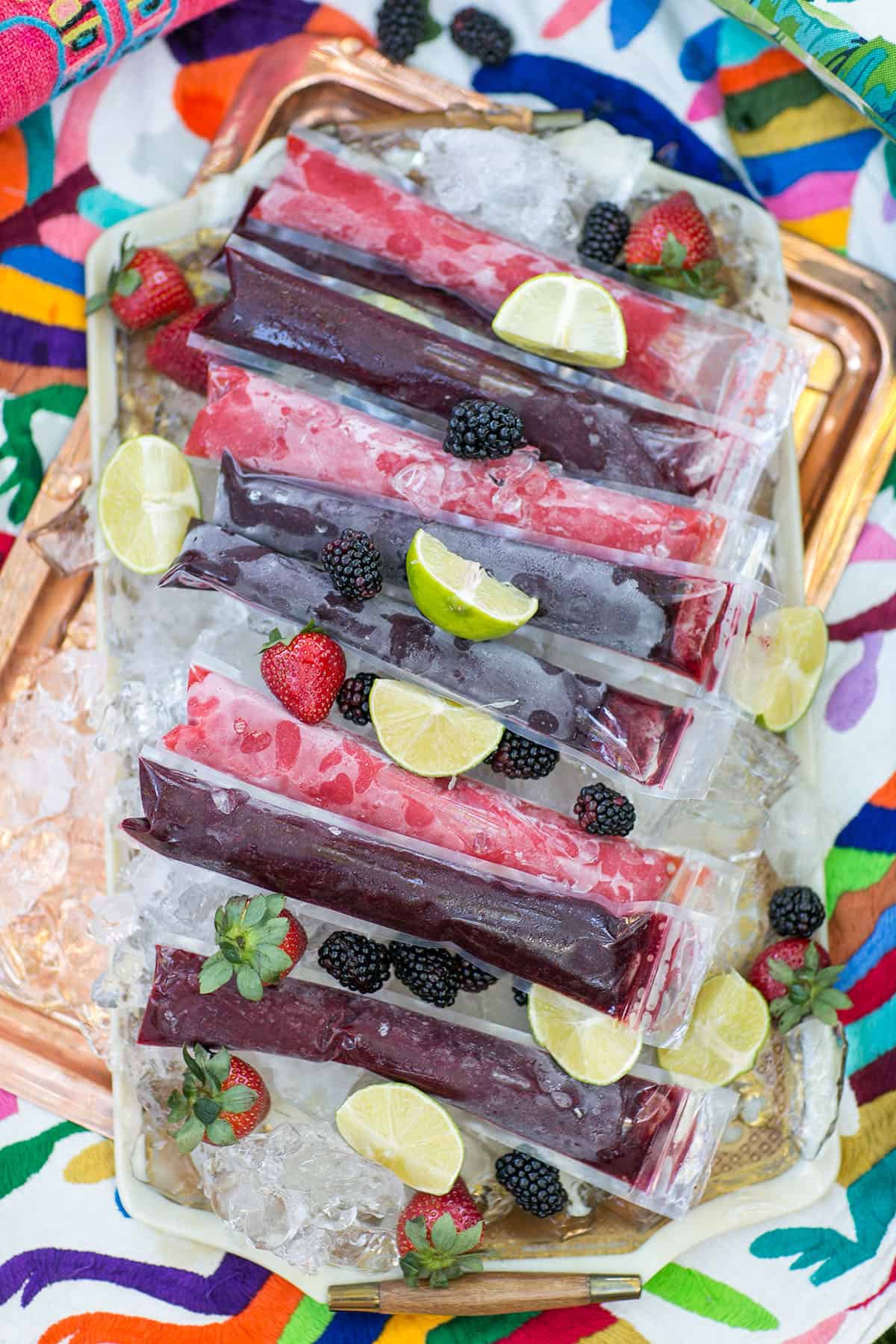 We may have just found the perfect delivery system for margaritas! These frozen margarita alcoholic ice pops are so fun and so tasty, perfect for summer parties and entertaining. Pack them up with some ice packs and have a boozy picnic, why not!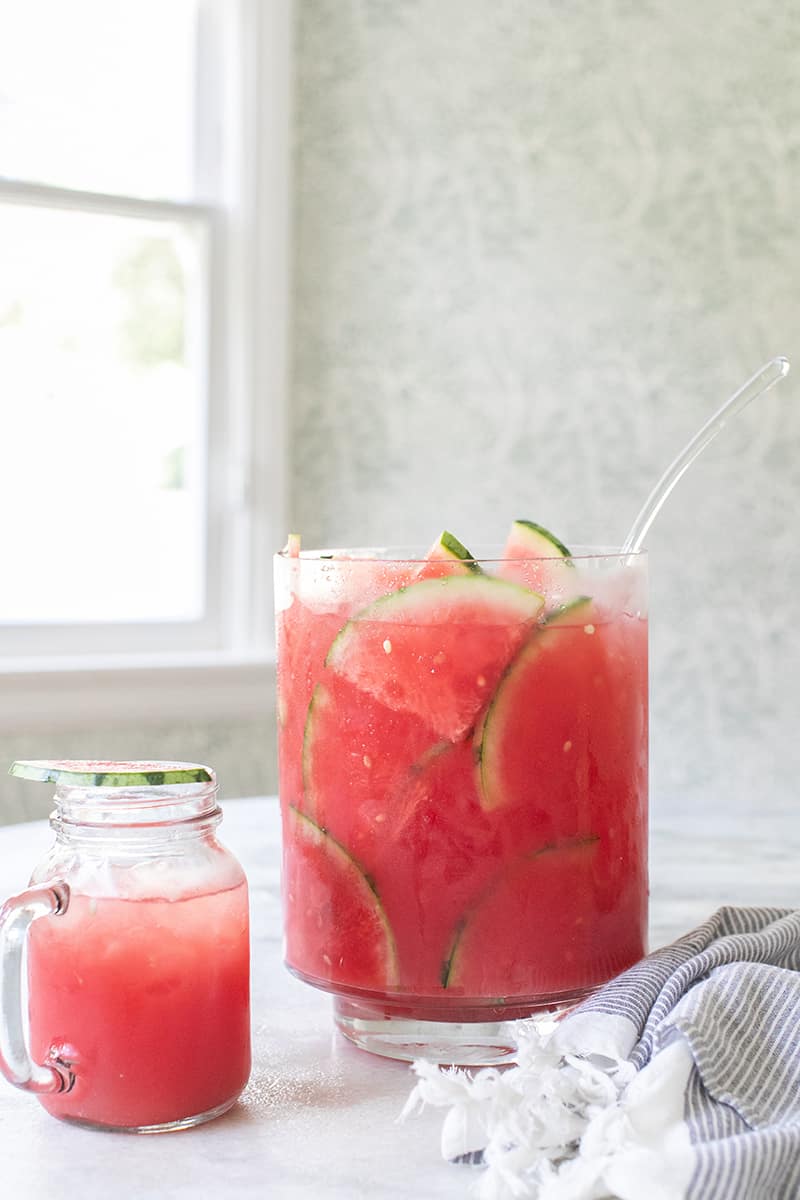 This watermelon cocktail punch is perfect for a summer cookout! Made with fresh watermelon juice and simple ingredients and tequila, it's sure to cool you down!
The easiest and most refreshing Thyme Tequila Spiked Lemonade Recipe. You can use store-bought light lemonade or make your own. The key is adding in fresh thyme and a good quality tequila!
More Summer Cocktail Recipes
More summer cocktails that are made with wine, Aperol, and rum!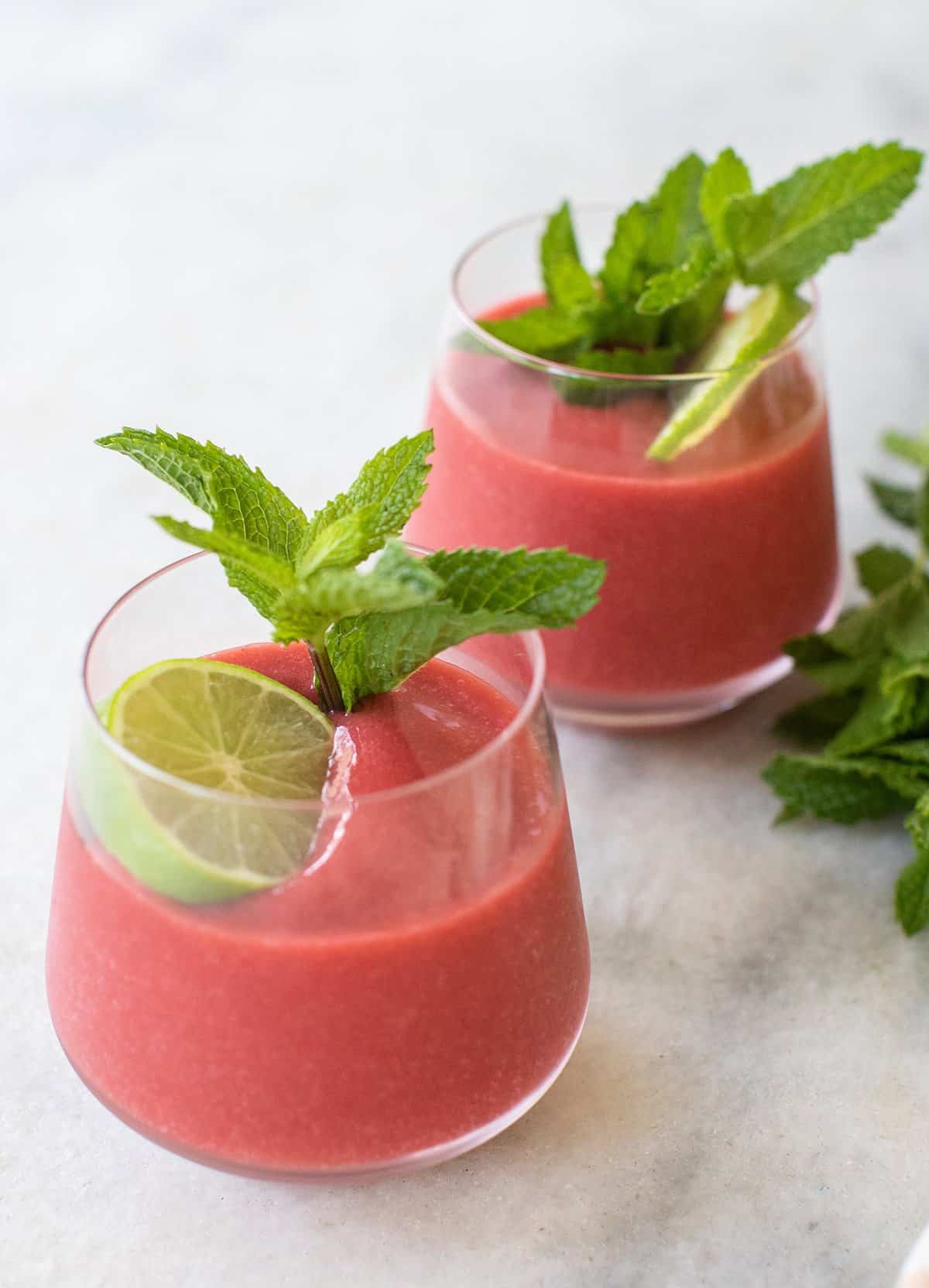 An easy 4 ingredient frozen strawberry daiquiri recipe made with the best ingredients. This strawberry cocktail is not too sweet, made with organic frozen strawberries and lightly sweetened.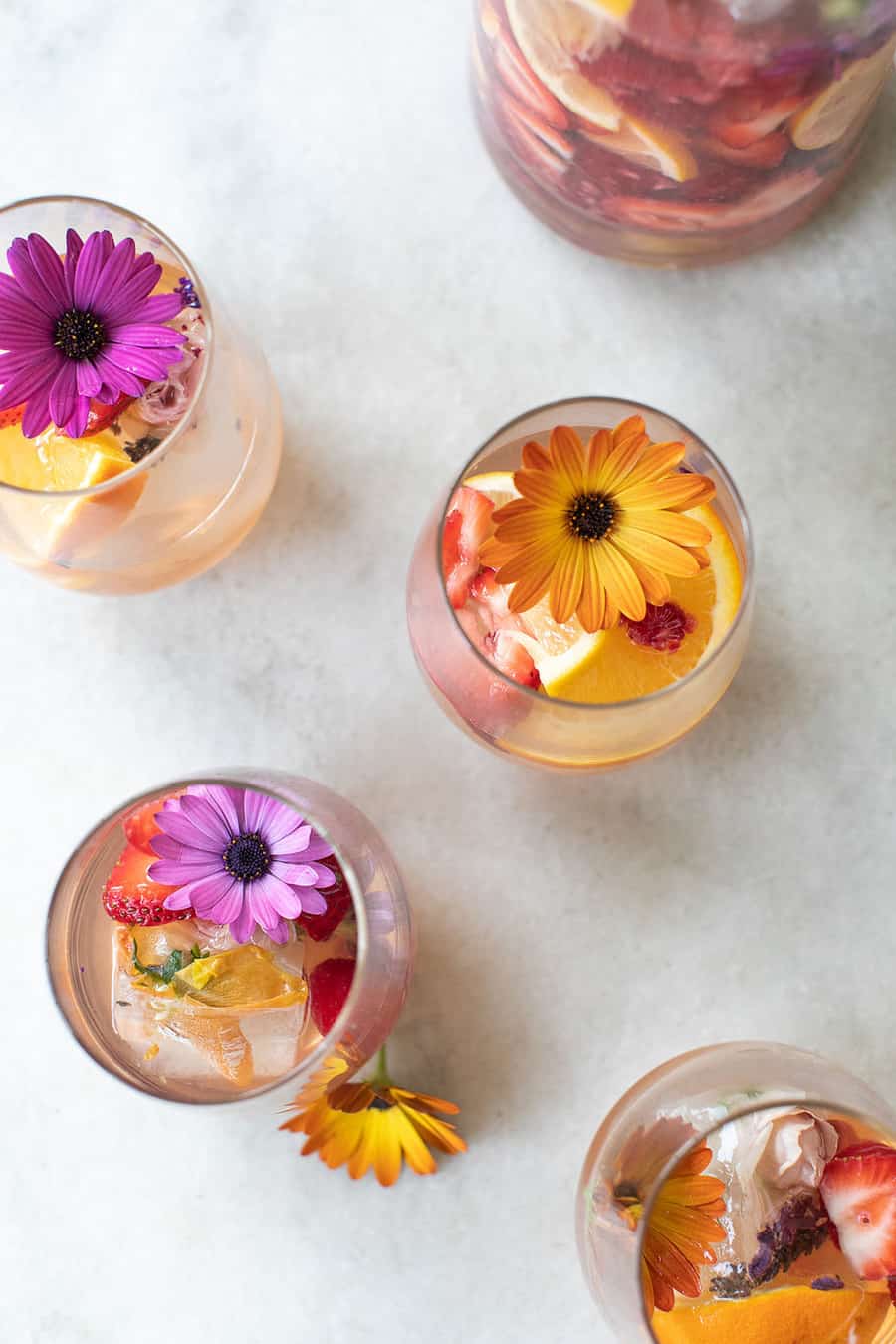 This floral sangria recipe is made with white wine and elderflower liqueur. It's refreshing, light, fruity with the most beautiful floral notes throughout.
Happiness in a cup! Picture yourself on a beach, sipping one of these on a summer vacation. This frozen pina colada cocktail is made with only 5 simple ingredients and tastes so good!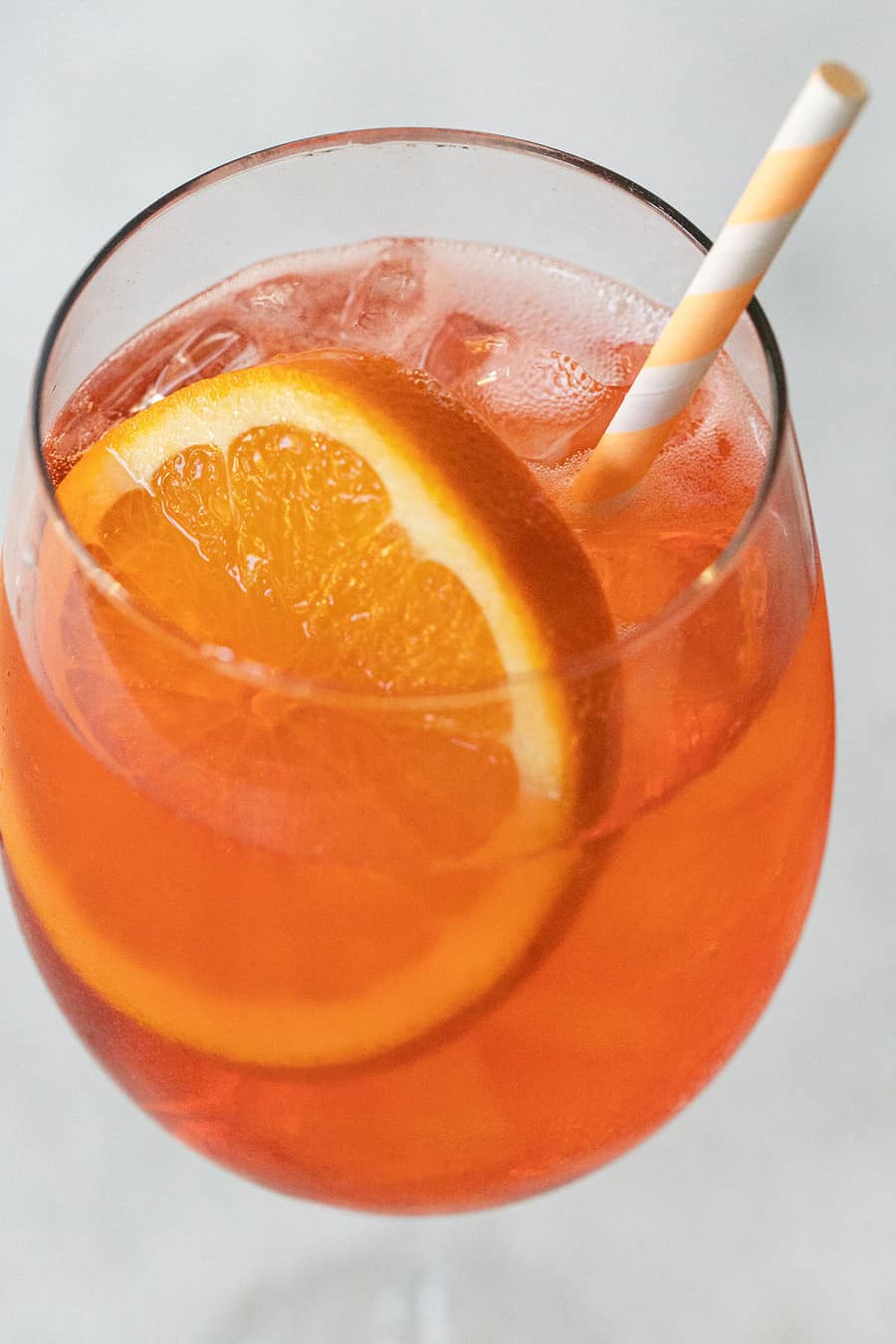 A simple, refreshing, three-ingredient Aperol spritz recipe that is perfect year-round! This classic cocktail couldn't be easier to make and truly is delicious. 
A refreshing, easy and delicious rosé spritzer! It has a light and fruity flavor and is sure to please your guests. So gather up some friends and give this recipe a try!
This is the best-frozen mojito recipe! You will never need another frozen mojito recipe after trying this one. This drink is made with rum, frozen limeade, fresh lime juice, and a lot of fresh mint!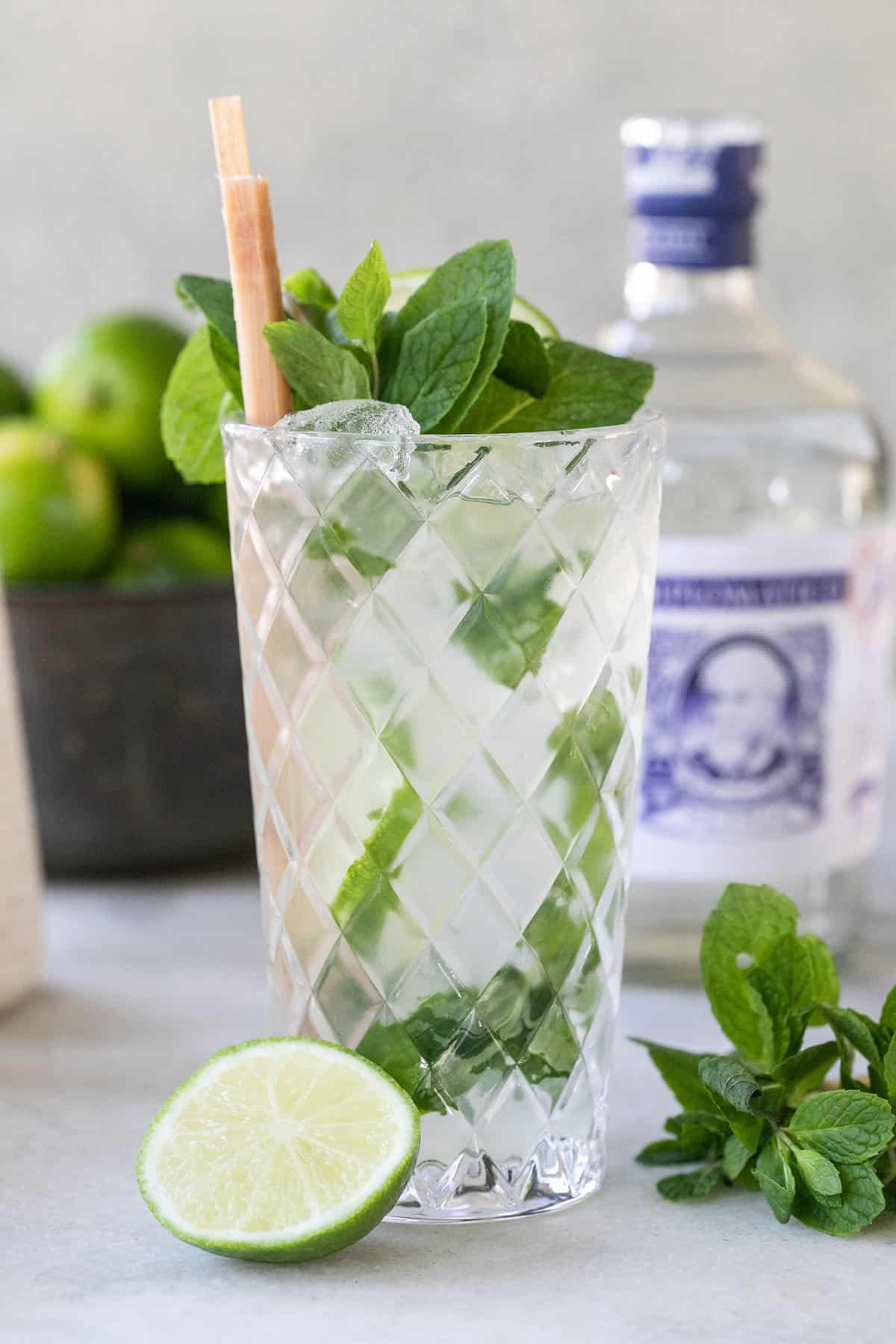 There is nothing better than a refreshing mojito made with fresh lime juice and lots of fresh mint! Also, try our coconut mojito recipe and our pineapple mojito too!
If you like tiki cocktails, you will love the Jungle Bird! It was invented at Kuala Lumpur Hilton in 1978. It contains only 5 ingredients and is so easy to make at home! It's simple to make and so good!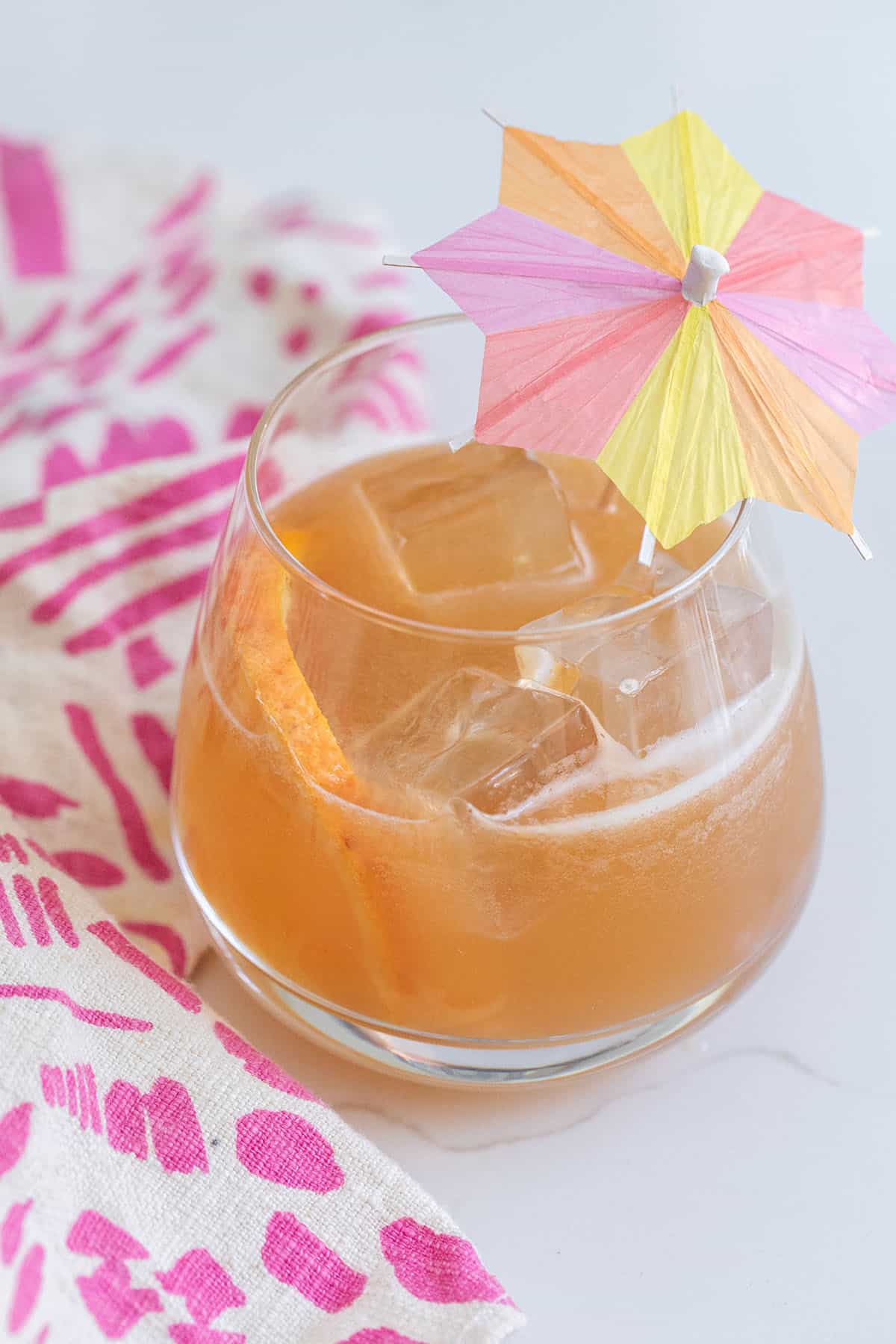 This tropical rum punch recipe is a Caribbean signature drink. It will transport you to your favorite island destination spot! We're sharing all the details on how to make rum punch and it's easier than you think. This recipe uses fresh-squeezed juices and two varieties of rum.
You will love this refreshing honeydew and watermelon sangria recipe! It's such an easy cocktail to make and perfect for those balmy summer months!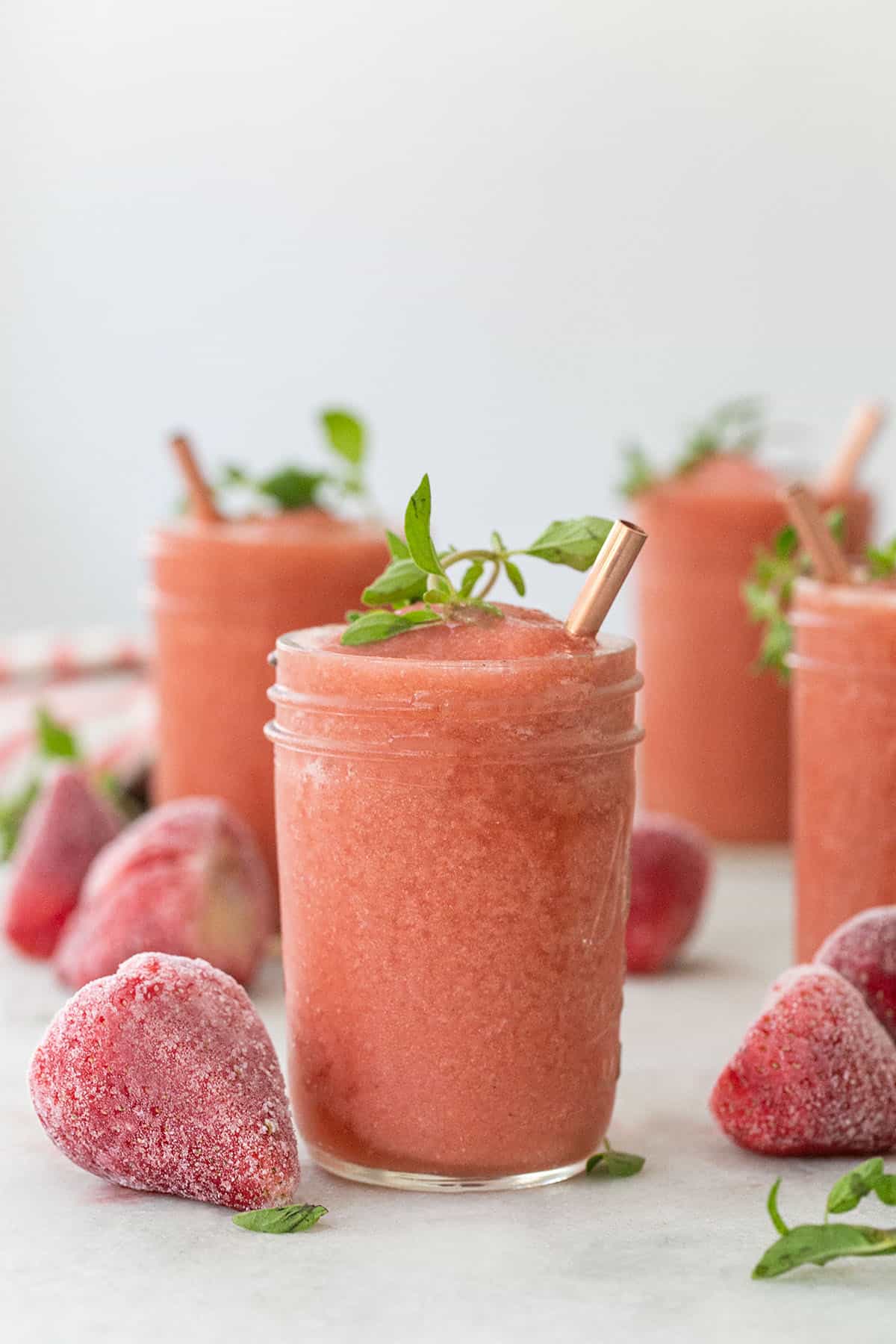 Frozé drink, also known as Frosé is frozen rosé made with wine and frozen strawberries. This Easy Strawberry Frosé Recipe is made with rosé and frozen fruit and no added sugar. Garnish with fresh strawberries for the perfect summer drink!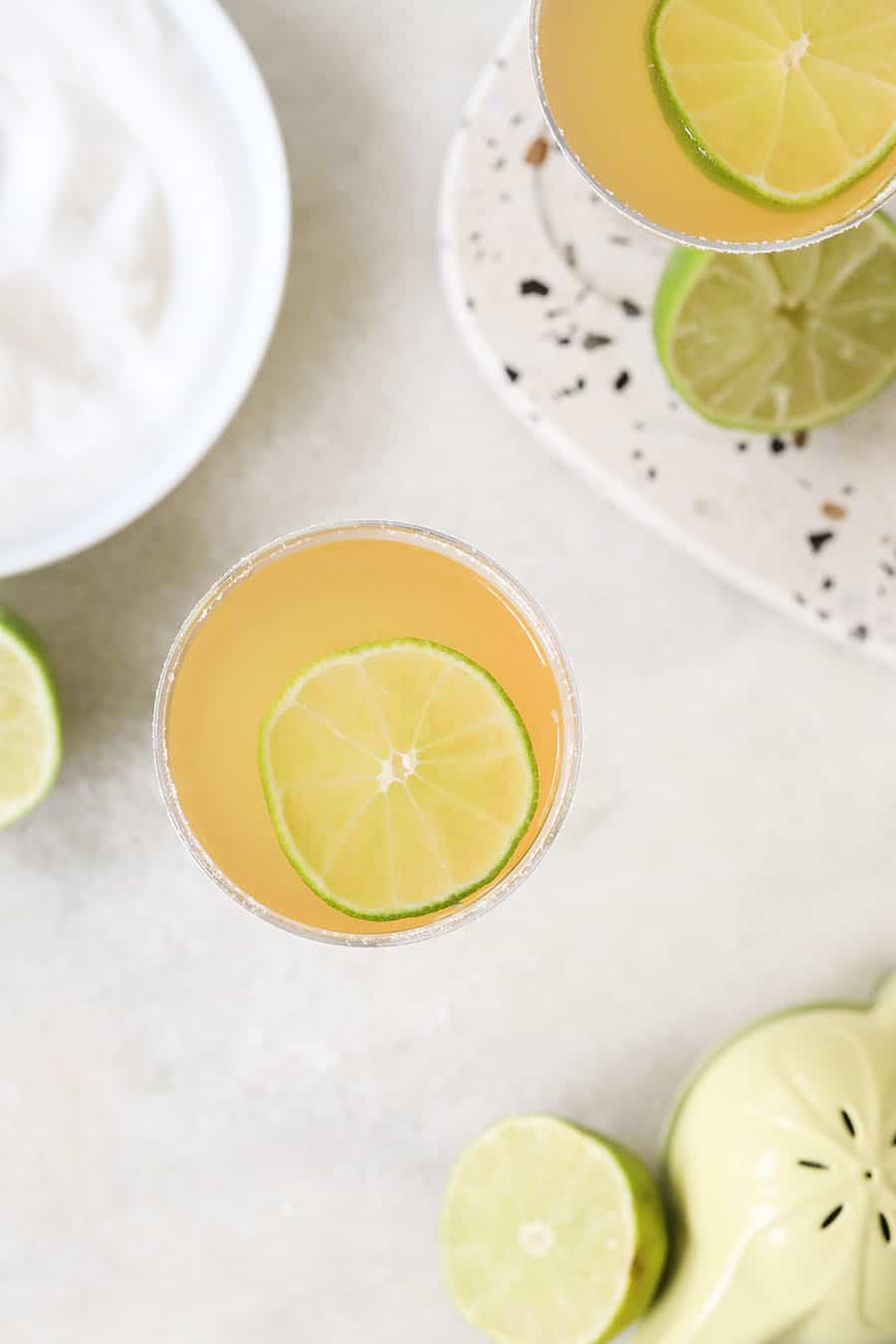 It doesn't get easier than a classic, three-ingredient daiquiri recipe. No more sweet slushies, this recipe is made the way a daiquiri should be. It's simple and refreshing!
If you're looking for an easy, two-ingredient cocktail try fresh orange juice and rum! It makes a wonderful and easy drink to sip on a hot summer morning. You can also make vodka and orange juice too.
A classic pina colada recipe is always perfect for summer. With flavors of pineapple and coconut, this drink is a vacation in a glass!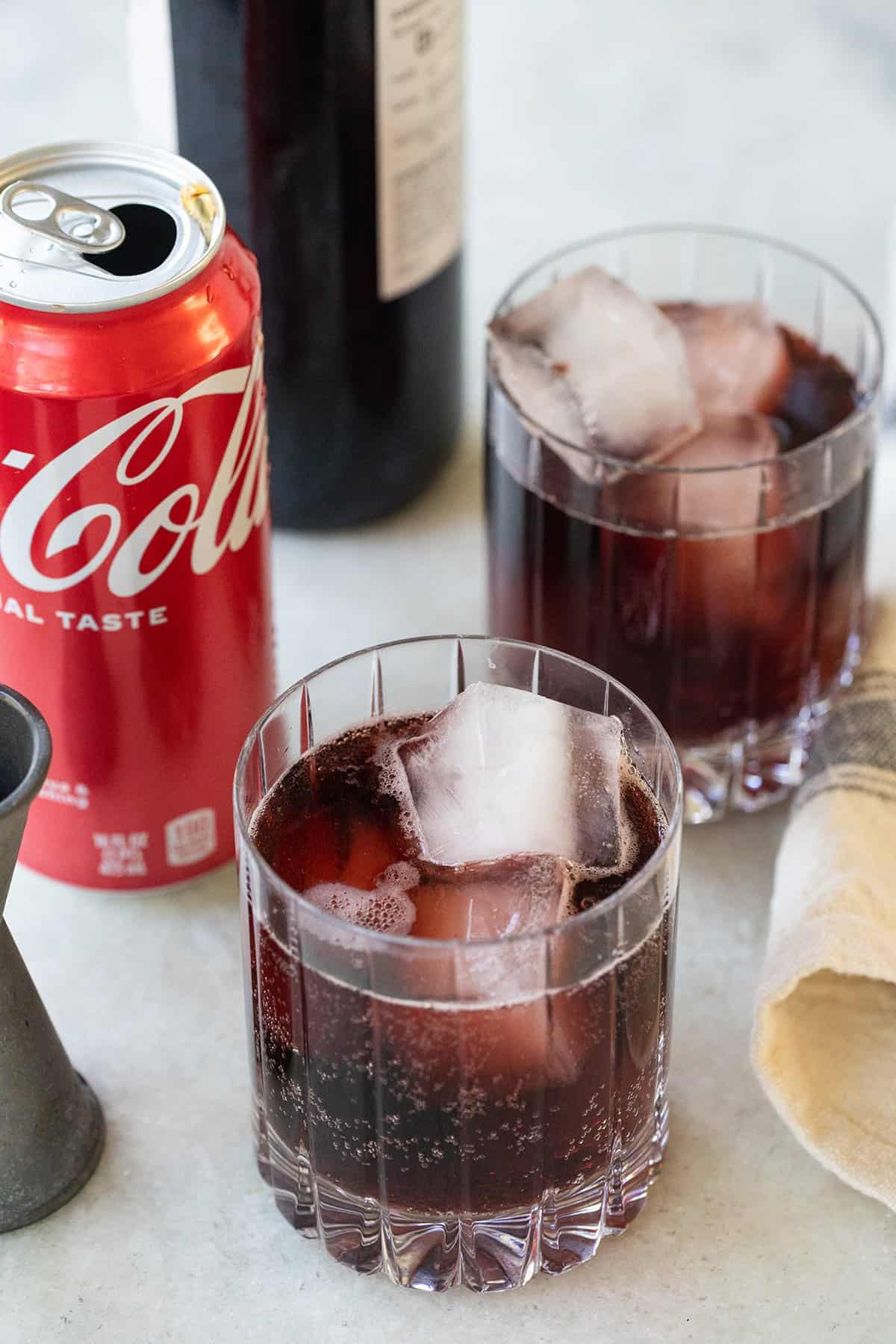 Kalimotxo is popular in Spain and Mexico. It's a unique cocktail made with coke and wine! It tastes similar to sangria but is made with just two ingredients.
Summer Cocktail Garnishes
Now that you have a list of the best summer cocktail recipes, see how we garnish them to add charm!
Pink Ice Cubes – Make your own pink ice cubes to give your cocktail a bright summer color.
Blue Ice Cubes – You can also add natural blue ice cubes to any of your drinks.
Edible Flowers – We keep edible flowers on hand to use in our cocktails. We plant seasonal flowers that are perfect for recipes.
Dehydrated Oranges – These add a festive touch and color to a summer cocktail.
Summer Cocktail Party Ideas
If you're hosting a gathering and need some fun ideas for cocktails, here are a few of our favorite summer entertaining ideas that involve drinks!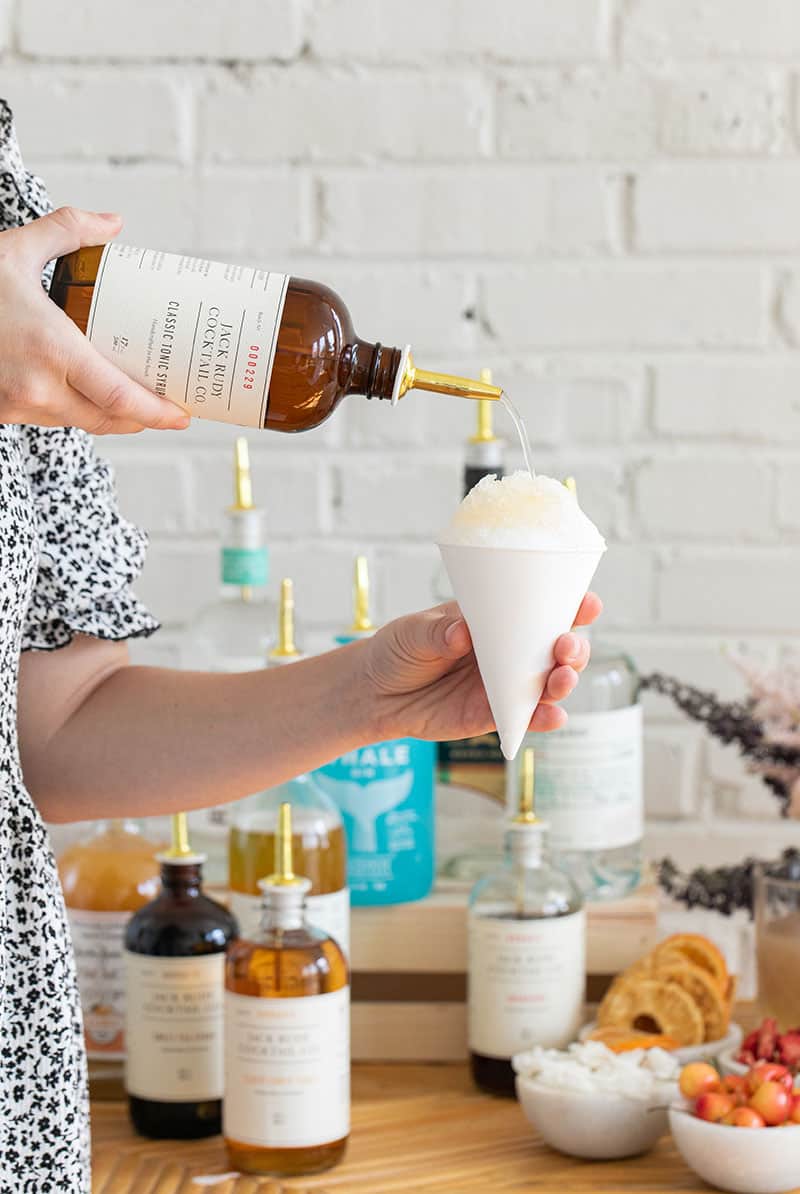 Cocktail Snow Cone Bar
Learn how to create a cocktail snow cone bar that's perfect for parties! We're sharing the best snow cone machines, mixers, spirits, and toppings!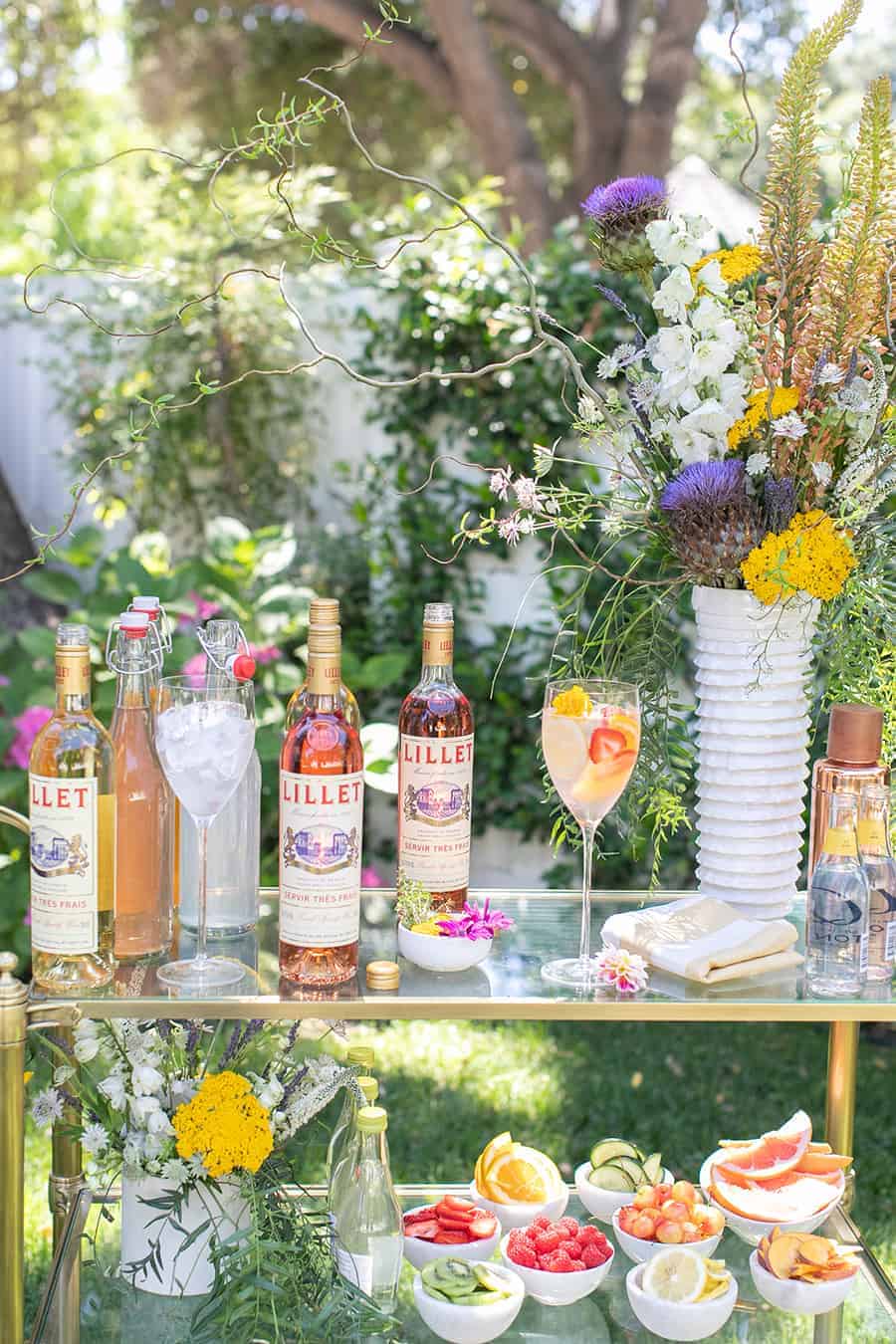 Make You're Own Spritzer Bar
Creating a make-your-own spritzer bar is perfect for any brunch celebration and occasion! Let your guests mix their own spritzer for a fun, sunny afternoon entertaining idea.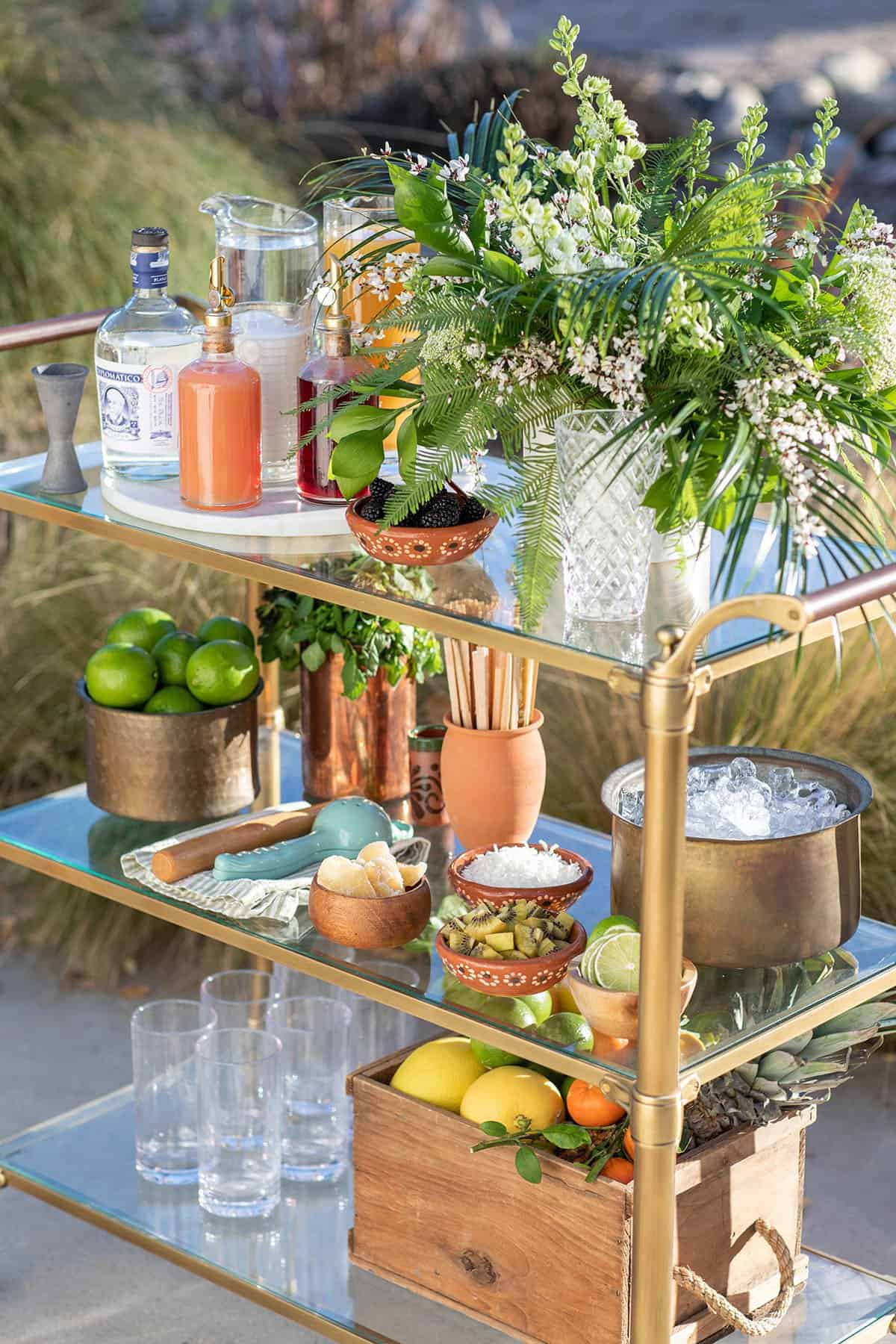 Mojito Bar
Another fun summer bar theme is making a mojito bar. Guests can create their own festive mojitos to enjoy, making them just how they like.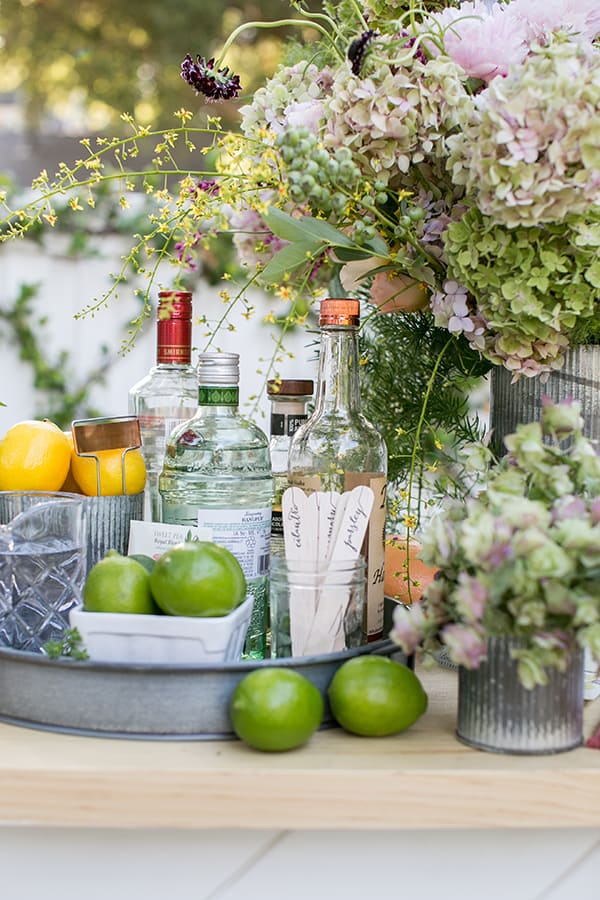 Mix and Match Garden Cocktail Bar
Create a Mix & Match Garden Cocktail Bar that gives your guests plenty of choices and allows them to be creative mixologists!
Frequently Asked Questions
What is the best alcoholic drink in summer?
There are so many options for good alcoholic drinks! Try something fruity with seasonal fruit or a frozen cocktail to cool you off. Or try one of our 25 summer cocktail recipes.
What is the best alcoholic drink in summer?
Some of the most popular summer cocktails include Margaritas, Mojitos, and Pina Coladas. If you are looking for something a little different, try one of our unique recipes below.
What are the 5 most popular cocktails?
The five most popular cocktails are Margaritas, Mojitos, Pina Coladas, Daiquiris, and Long Island Iced Tea.
What are good beach drinks?
Beach drinks are typically refreshing and light, with fruit juices or sparkling water. Some of our favorites include the Sea Breeze, Bay Breeze, and Coconut Cooler.
Simple Syrup
Many of our cocktail recipes use simple syrup to sweeten the drinks. It's very easy to make and requires little effort. You can, however, use herbs and berries to create your own flavor variations.
Zest
Add lemon zest and lime zest to the top of summer cocktails to give them more color, fragrance, and flavor.
When to Serve Summer Cocktails
Summertime is the perfect time to enjoy delicious cocktails outdoors with friends. When the summer season sets, there is no better time to serve these iconic summer cocktails.
Whether you are celebrating a special occasion or just relaxing on a hot day, these recipes are sure to please. We have gathered over 35 of the best summer cocktail recipes for you to try and here are some of our favorite occasions to serve these drinks:
Birthday Party it's also perfect for a last-minute birthday party!
Backyard BBQ
More Drink Ideas
Here are even more fun recipes for a hot summer day!
Also check out more great cocktail recipes our favorite brunch recipes!
Let us know if you make any of these summer cocktail recipes by leaving a review and comments below. We'd love to know your thoughts!
You can also FOLLOW US on FACEBOOK, INSTAGRAM, and PINTEREST to see more delicious recipes, cocktails, desserts, and parties!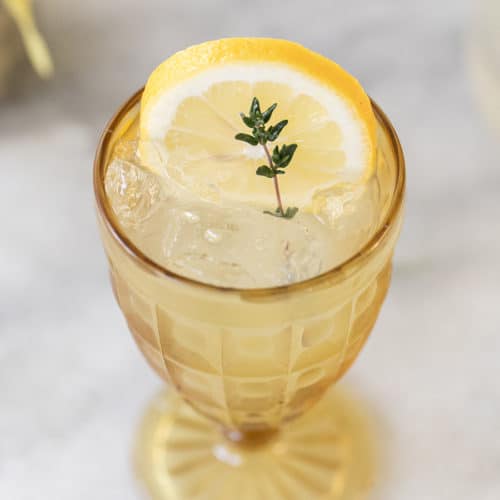 Summer Cocktails – Lemonade Vodka
We're sharing the best summer cocktails, like this spiked lemoande recipe. There is nothing better than easy cocktails and lemoande is a summer staple!
Print
Pin
Rate
Ingredients
1 1/2

ounce

vodka

1

cup

lemonade
Instructions
Mix the ingredients in a glass with ice.

Ganrish with a lemon wedge.
Notes
Use homemade lemonade or store bought lemonade. 
Add more vodka if you prefer a stronger drink.
Nutrition
Calories:
218
kcal
|
Carbohydrates:
30
g
|
Sodium:
15
mg
|
Potassium:
1
mg
|
Sugar:
28
g