If you're wondering what's in a vodka soda recipe, vodka soda calories, and how to make one you've come to the right place! We're sharing a super simple vodka soda recipe and tips for making your own.
This is a classic cocktail and easy to make. It's low in sugar and calories and uses citrus juice to give it flavor.
We like that this drink is a low-calorie cocktail. Similar to our Ranch Water cocktail, it's refreshing but without the extra sugar and mixers and it's affordable to make!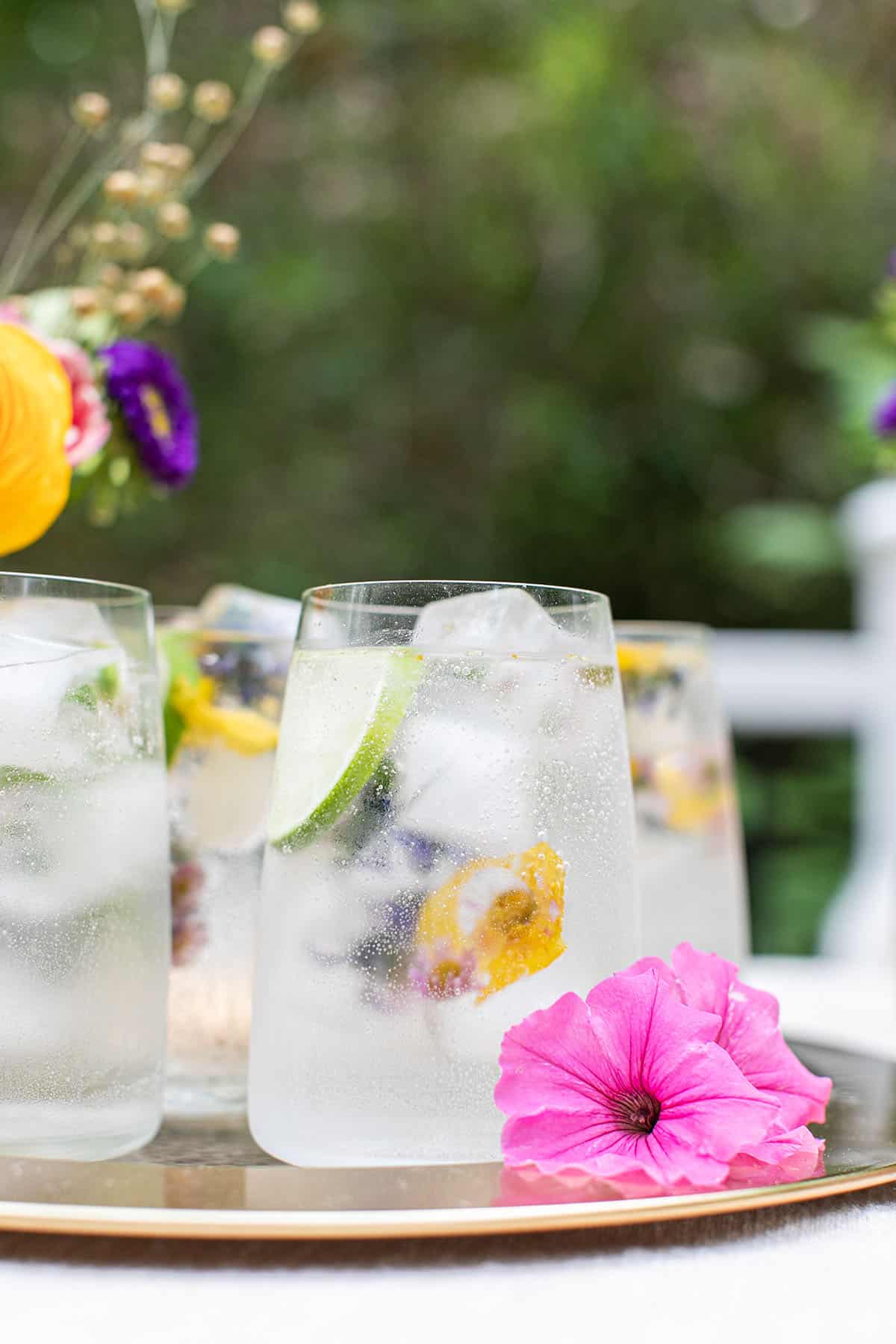 What is Vodka?
Vodka is a clear distilled alcoholic beverage. It originated in Poland, Russia, and Sweden. Vodka is made by the distillation of fermented substances such as grains, potatoes, or sometimes fruits or sugar.
Traditionally, it's made from grain, rye most commonly, which is combined with water and heated. Yeast is added, initiating fermentation and converting sugars into alcohol.
Also, check out a list of our favorite vodka cocktails and great mixers for vodka too.
How to Make this Vodka Soda Recipe
The ratio is pretty simple and can easily be altered. We like to do 1.5 ounces of vodka and 4.5 ounces of club soda.
You can also do a 2 and 4 ratio if you like the cocktail to be a little stronger.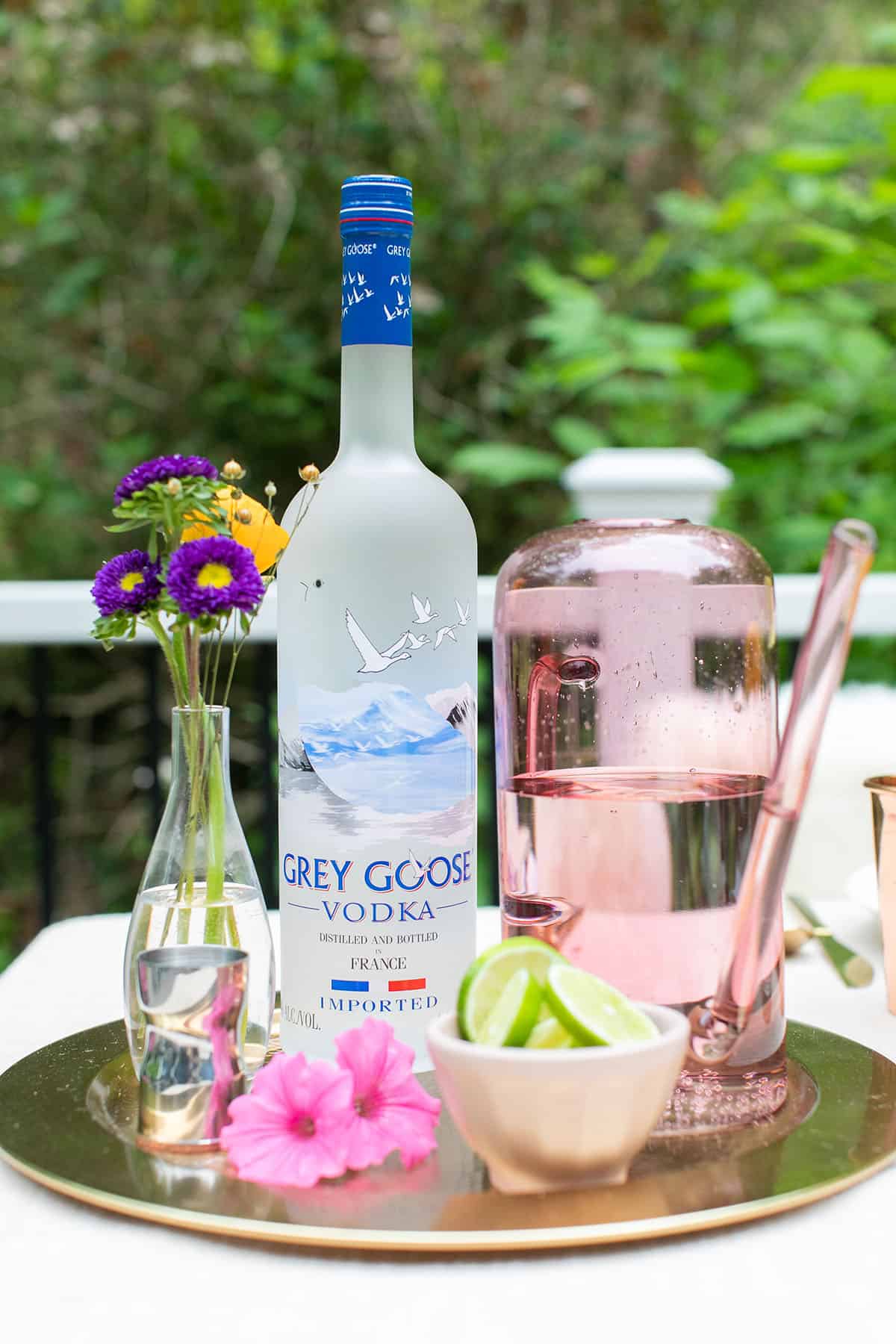 Ingredient Notes
You only need 3 simple ingredients to make this cocktail:
Vodka – Use good quality vodka. Also, expensive doesn't always mean good. There are several brands that are of amazing quality for great prices.
Soda Water – Club soda or sparkling water all work for this recipe. You can also use tonic water for this recipe which would make it a vodka tonic. However, tonic water contains more sugar, so if you're looking for low-sugar use carbonated water.
Lime – Always fresh lime juice and a lime wedge for garnishing.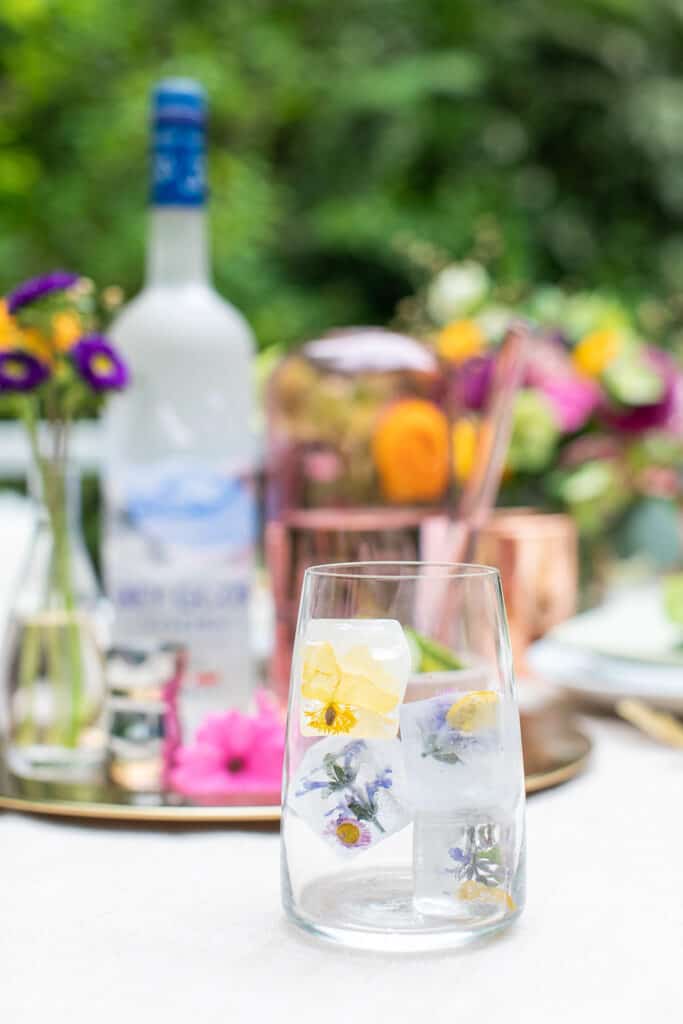 Directions
Fill a glass with ice and pour vodka over the ice.
Add the club soda and a squeeze of lime juice.
Garnish with a lime wedge.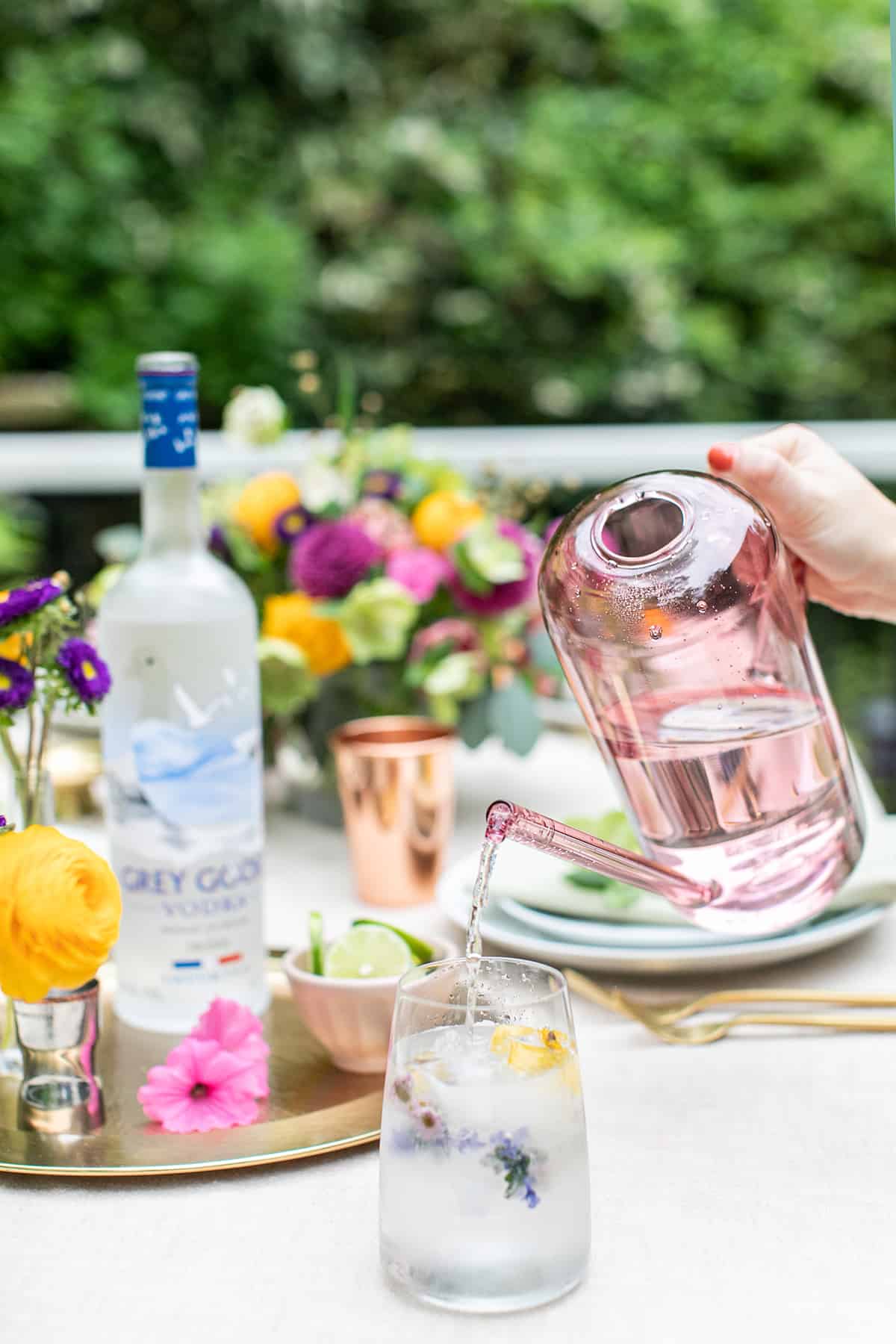 Cocktail Variations
If you want to elevate your cocktail try these fun variations.
Flavored Club Soda – These days there is a plethora of flavored sparkling waters on the market. Choose lemon or lime to add a hint of flavor. You can also add a dash of real fruit juices into the soda to give it a light flavor.
Watermelon Vodka Soda Recipe – Use a watermelon club to make this drink. The soda will have a hint of watermelon essence. You can also add a chunk of watermelon to garnish the cocktail. You can even add a little watermelon juice to drink too.
Grapefruit Vodka Soda – Grapefruit club soda with 1/2 ounce grapefruit juice. You can also use grapefruit vodka as well.
Floral Ice Cubes – Make floral ice cubes by adding edible flowers into an ice cube tray with water and freezing overnight. This charming touch elevates a simple cocktail.
Elderflower Vodka Soda – Add a splash of elderflower liqueur to the cocktail. It does add a little more sugar and calories, but worth the floral flavors.
Lemon Vodka Soda – Instead of lime juice, swap it out with lemon juice. A squeeze of lemon and some lemon zest over the top make this a refreshing and easy low-calorie drink.
Vodka Soda Calories
This is one of the lowest-calorie cocktails you can make. There are about 105 calories in this drink and zero sugar. It's perfect for anyone wanting an alcoholic beverage without the sweetness, sugar, or calories.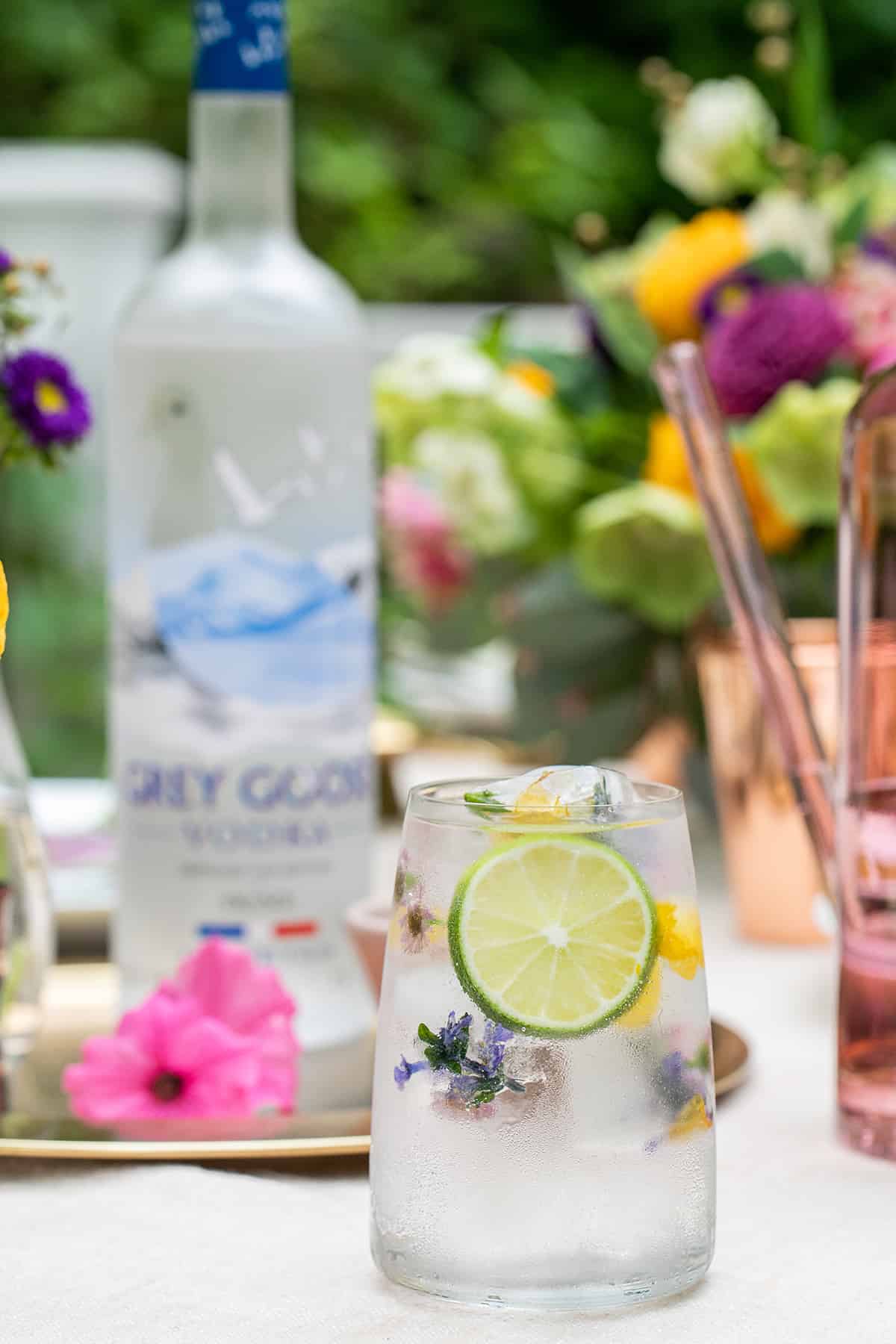 Tips for Making a Vodka Soda
Good Quality Vodka – Since the majority of this recipe is vodka, you want one that is smooth and refreshing. You can also go with a lightly flavored vodka like cucumber.
Fresh Sparkling Water – Make sure the sparkling water you use to make this drink is fresh and not flat. There is nothing worse than a flat soda. You want a lot of bubbles and carbonation.
Customize – Make this cocktail year-round by garnishing it with seasonal fresh fruit. For example, around the holidays add fresh cranberries and a sprig of rosemary over the top for an instant Christmas cocktail. For the 4th of July, use strawberry ice and add some fresh blueberries.
This drink can be customized for seasons, holidays, and celebrations.
Vodka Soda Cocktail Garnishes
It's all about the presentation and adding cocktail garnishes creates a beautiful drink. Since this cocktail is so simple to make, we like to spruce it up with some pretty garnishes. Here are some ideas for garnishing a vodka soda:
Fresh Mint – Adds color and a beautiful aroma of mint.
Edible Flowers – We use these often for drinks and desserts.
Dehydrated Orange Slice – Another favorite is to add a dried orange slice over the cocktail. You can also dehydrate limes and lemons too. A dehydrated lime slice would look beautiful.
You can also serve this drink with our blue ice cubes, pink ice cubes, or strawberry ice cubes for a fun twist!
Best Vodka to Use for Vodka Soda
It's important to use good-quality vodka since there are only 3 ingredients in this cocktail. The smoothness and flavors of vodka will be present in the cocktail. Here are some of our favorite vodka brands to use when making this classic vodka soda:
Belvedere Vodka – Makes a ginger zest vodka too.
Prairie Organic Vodka – They also make an organic apple, pear ginger vodka that would be great in a vodka soda.
When to Serve Vodka Soda
This cocktail is great year-round. It's perfect for an afternoon or evening when you want a drink that's not sweet. It's also a great option to serve on any of these occasions:
Birthday Party it's also perfect for a last-minute birthday party!
Carnival Party or Garden Party 
Frequently Asked Questions
Is a vodka soda good?
Vodka soda is a good drink that's low in calories and sugar. You can also create different variations of the cocktail to add more flavors.
What kind of vodka goes with vodka soda?
You can use any vodka to make a vodka soda. Use good quality vodka for a smooth drink.
How many calories in a vodka soda?
The calories in vodka soda will vary from 100 to 130 calories depending on lime juice or anything else added. Just vodka and club will be 100 calories and zero carbs.
Is vodka soda the healthiest drink?
Vodka soda is recognized as one of the healthier cocktails you can order. Vodka has zero sugar and averages 65 calories per 1 ounce.
What's in a Vodka Soda
This is one of the easiest and lowest calories cocktails you can make. It's simply vodka, lime, and club soda. This drink is perfect if you want to sip a cocktail that's low in sugar and calories. 
More Vodka Cocktail Recipes
If you love this vodka soda recipe, check out more of our favorite vodka drinks.
Blueberry Moscow Mule – Filled with blueberry flavor and a kick of ginger. See all of our Moscow mule recipes too.
The Best Dirty Martini – If you prefer a savory cocktail, a vodka dirty martini is for you! This recipe is easy to make and smooth to sip.
Cranberry Vodka Punch – Hosting a party and need a good vodka punch, this will be your favorite. Very simple to make and great for a crowd.
Vodka and Orange Juice – One of our favorite brunch cocktails. This recipe has only two ingredients.
Christmas Vodka Martini – This is the perfect vodka cocktail for the holidays. It's festive and fruity.
Vodka Sour – This is a twist on a whiskey sour, but made with vodka. It has a smoother finish and a creamy foam topping.
If you're looking for more soda recipes try our Italian sodas and our most popular strawberry tequila soda recipe.
Also check out more great cocktail recipes our favorite brunch recipes, the best-mixed drinks, tequila cocktails, gin cocktails, and cheap drinks to make at home!
Let us know what you think!
Let us know if you make this cocktail by leaving a comment and review below! We'd love to know your thoughts.
You can also FOLLOW US on FACEBOOK, INSTAGRAM, and PINTEREST to see more delicious recipes, cocktails, desserts, and parties!
Vodka Soda
A simple vodka soda ratio to make a smooth, low calorie cocktail.
Print
Pin
Rate
Ingredients
1.5

ounces

vodka

4.5

ounces

club soda

1/2

ounce

lime juice
Instructions
Fill a glass with ice and pour the vodka over the ice.

Add the club soda and lime juice and serve.
Notes
Play around with the ratio if you like a stronger drink try 2 ounces vodka and 4 ounces club soda. You can also do a 1 and 3 ratio too. 
The calories and carbs in a vodka soda will vary from 100 to 130 calories. 
If you skip the lime juice there will be zero carbs in this cocktail. The lime juice adds 1 carb to this drink. 
Nutrition
Calories:
102
kcal
|
Carbohydrates:
1
g
|
Protein:
1
g
|
Fat:
1
g
|
Sodium:
28
mg
|
Potassium:
20
mg
|
Fiber:
1
g
|
Sugar:
1
g
|
Vitamin A:
7
IU
|
Vitamin C:
4
mg
|
Calcium:
8
mg
|
Iron:
1
mg