This vodka sour recipe is similar to a classic whiskey sour cocktail but made with vodka. If you love a simple, circuits cocktail that's super refreshing this drink is for you! This vodka cocktail has a frothy egg white foam and sweet, tart taste. It's a wonderful spring and summer cocktail recipe.
If you love a sour cocktail recipe, then you have to make this vodka sour. It's can be made within 5 minutes and has a fresh lemon juice flavor. It's an easy cocktail to make and perfect for happy hour. The frothy topping gives the drink a nice balance and looks beautiful.
What is a Sour?
A sour is one of the first traditional cocktails. This drink was described in Jerry Thomas's book How to Mix Drinks in 1862! A sour is a mixed cocktail containing a base liquor, lemon or lime juice, and a sweetener. Egg whites are also added to some sours to give the cocktail a creamy, foam topping.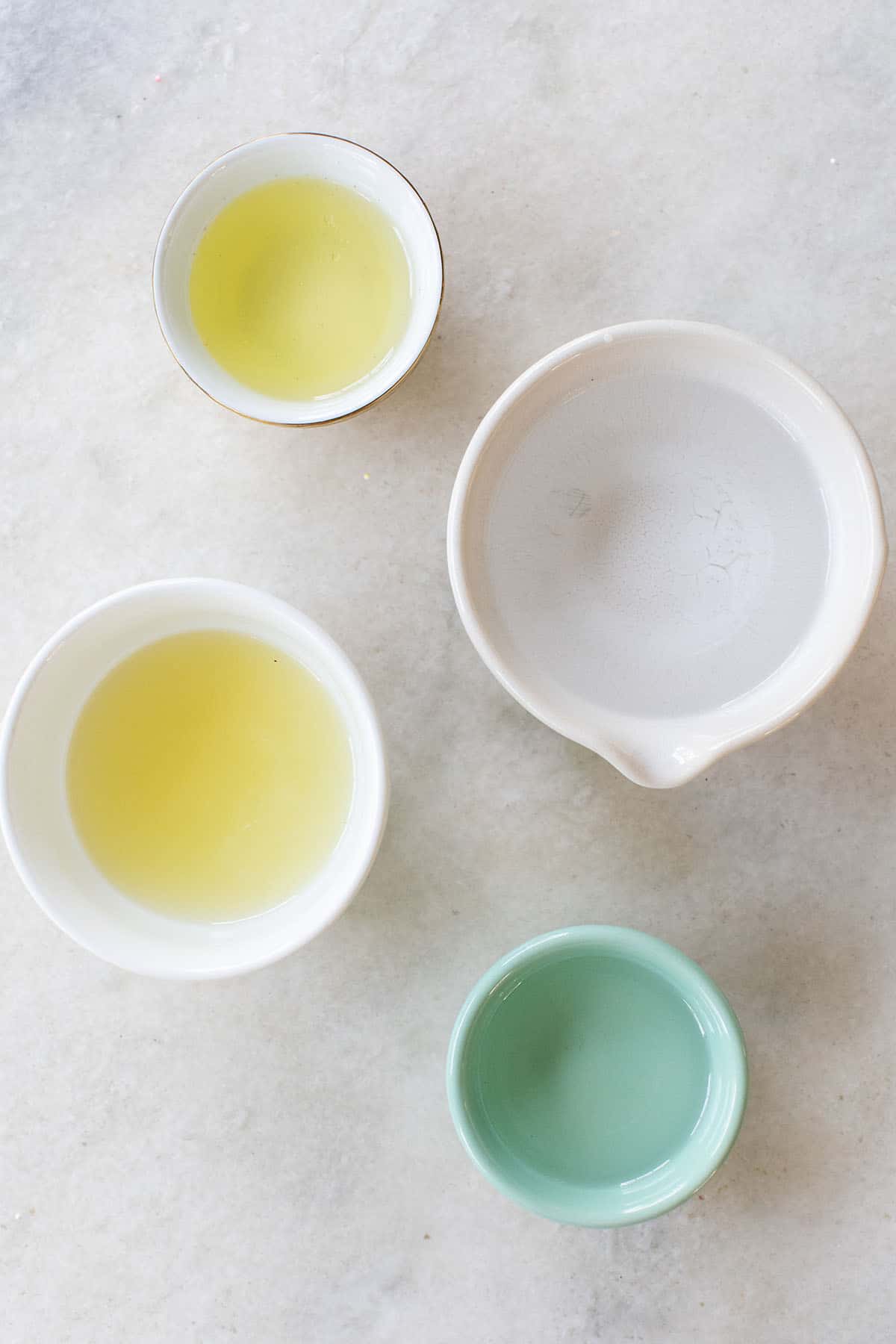 Ingredients in a Vodka Sour Recipe
This drink has only 4 simple ingredients! These are ingredients you most likely have at home already. When combined they give this classic vodka sour a perfect balance of sweet and tart.
The full vodka sour recipe is in the recipe card below.
Vodka – Use good quality vodka as this is the base of the cocktail. You want a smooth vodka that will add flavor and create a great drink.
Lemon Juice – Freshly squeezed lemon juice is always the best. Lemon juice has a very sour and tart taste by itself, which is why we use a sweetener in this recipe to balance that flavor. But when you use fresh lemons, you have the best quality of juice. You can use Meyer lemons for a sweeter juice.
Simple Syrup – This is a mixture of sugar and water that is simmered together to create a syrup. It's often used in cocktail recipes as a basic sweetener. If you prefer to use another sweetener, you can use maple syrup, agave, or a zero sugar simple syrup.
Egg Whites – Eggs whites add a frothy top to the cocktail and balance out the tart flavor. We love the creaminess it adds to the drink. You can leave this out if you want to create a vegan cocktail. If you're going to use egg white, use an organic, pasteurized egg.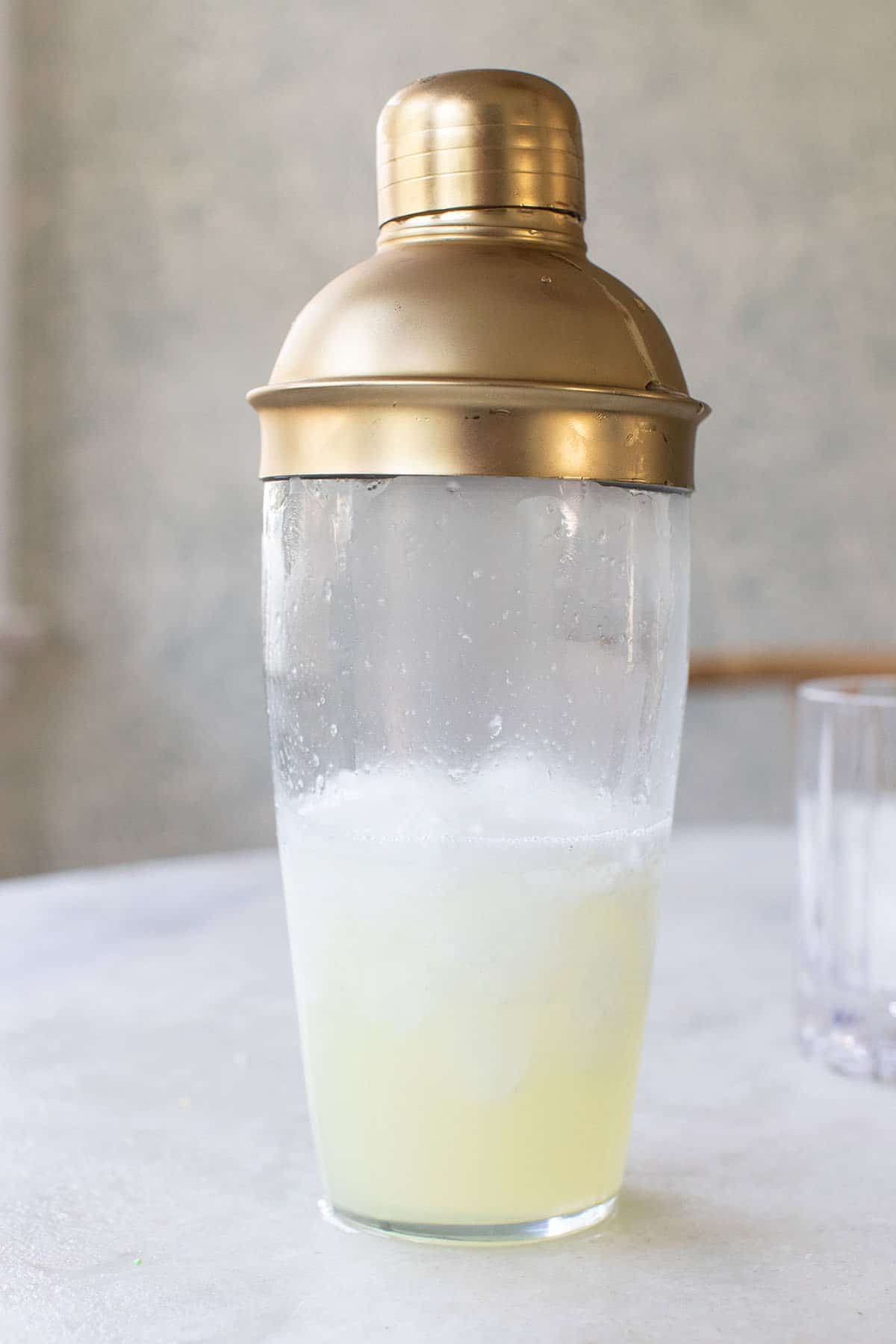 How to Make a Vodka Sour (Step by Step)
Here is the basic formula for making vodka sour.
Fill a cocktail shaker with ice.
Add all of the ingredients into the shaker.
Expert Tips for Making Creating The Best Vodka Sour
Shake your drink vigorously to cool the ingredients and allow air for a forthy cocktail. Shake for at least 30 seconds.
Use fresh lemon juice only. This will give the cocktail the freshest flavor.
We don't recommend a dry shake for this drink. Add the ice into the cocktail shaker and shake the ingredients with ice. It's easier to make and tastes better when shaken with ice. It creates a very smooth, chilled drink.
Vodka Sour Variations
Looking for ways to switch up this classic drink? Check out these ideas:
Add a dash of angostura bitters to give a slightly bitter flavor.
Use lime juice instead of lemon juice.
Add a dash of cranberry juice in there for a beautiful pink color.
Use maple syrup to sweeten the drink instead of simple syrup.
Add a splash of grenadine and a little maraschino cherry syrup to make a cherry vodka sour.
Vegan Egg White Substitute
If you want that frothy foam on the top, but don't want to use egg whites try aquafaba or sucrose. You can find these online and follow the directions for creating a foam.
Aquafaba is the name of the liquid that you find when you open a can of chickpeas. It's completely vegan and can be whipped into foam. We use sucrose in our salt air margarita and it looks beautiful!
Vodka Sour Cocktail Glass
This drink can be served in a coupe glass without ice or in an old-fashioned glass with a large ice cube. We prefer to serve this with ice and love sipping it out of an old-fashioned glass.
Cocktail Garnishes for Vodka Sour
We're all about charming cocktail garnishes! Here are the best ideas for adding a garnish to your cocktails:
Lemon Wedge or Lemon Slice
Lemon Twist or Lemon Zest
Dried Lavender
Maraschino Cherry
The Best Vodka to Use for a Vodka Sour
There are a lot of vodka brands on the market and we've tried several of them. Here are a few favorites:
Grey Goose: Made from wheat and natural ingredients in France, this vodka uses naturally filtered water that runs through Grande Champagne limestone. It has a fresh, crisp taste that you can taste even in mixed drinks.
Ketel One: Prepared in small batches since the 1600s, this vodka has fruity and a smooth taste. Ten generations of the Nolet family have tested every batch. It elevates dirty martinis and other mixed drinks with its consistent production process.
Titos is also a good, affordable choice for Vodka.
Reyka Vodka – Reyka is a premium vodka that is hand-crafted in Iceland. It's very good quality for a great price. We recommend this vodka often. It was also awarded Gold at the International Spirits Challenge.
Frankly Vodka – Organic vodka that uses no refined sugars, no gluten, no GMO's, no synthetic pesticides, and no artificial colors.
Ocean Vodka – Another great organic vodka, sustainably produced in Hawaii.
When to Serve a Vodka Sour
Serve this tasty drink as an evening cocktail, for cocktail hour, or for any of these occasions:
Birthday Party it's also perfect for a last-minute birthday party!
Tequila Sour and Gin Sour
This basic formula will also work if you want to make a quick tequila sour or a gin sour. Just simply swap out the vodka for tequila or gin.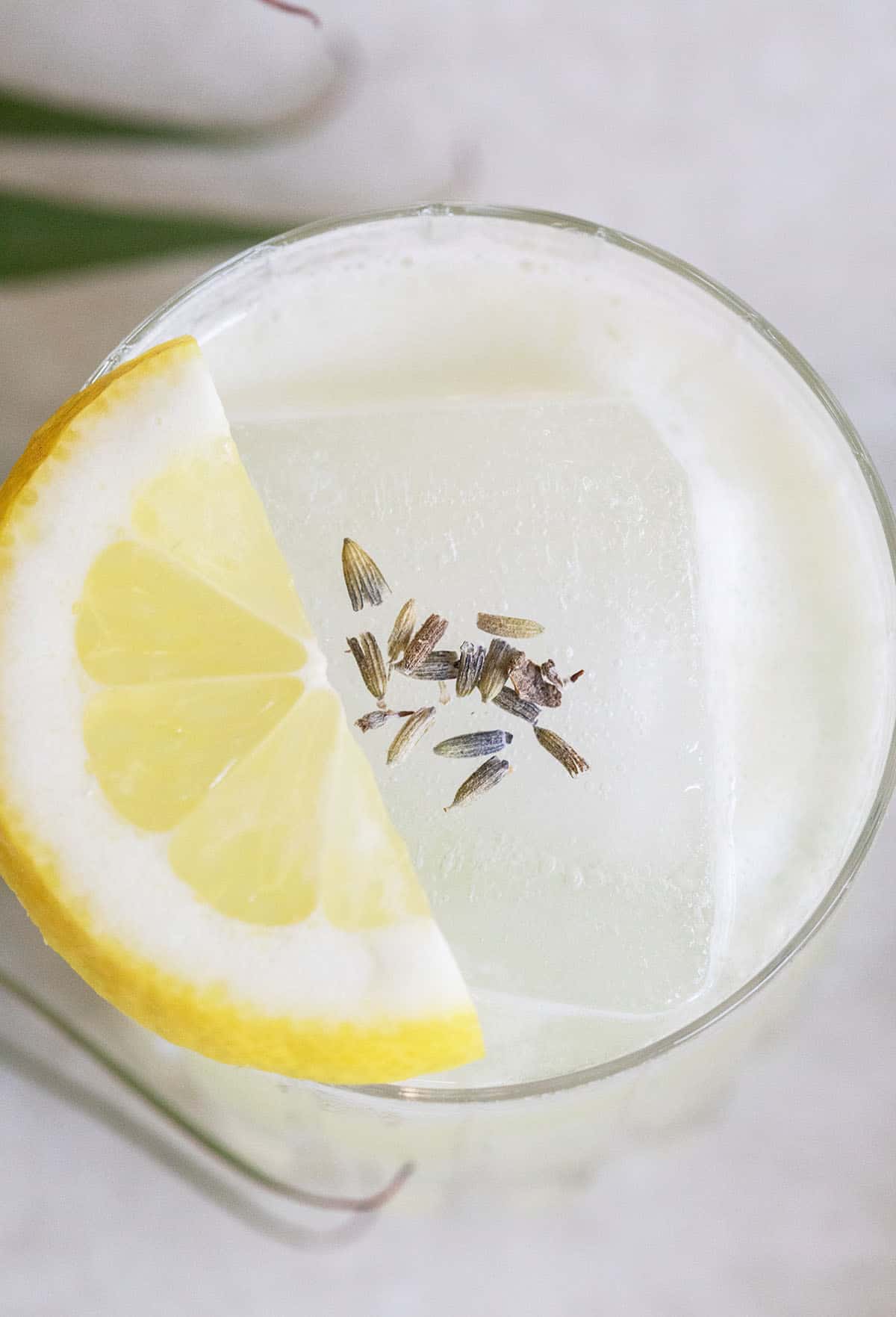 Frequently Asked Questions
What is Vodka?
Vodka is a distilled spirit made from fermented cereal grains or potatoes. It's a clear liquid that originated in Russia but has spread worldwide due to its popularity.
Pure vodka is a great base liquor that pairs well with almost anything. Vodka is smooth enough that you can drink it on its own. But it is also the foundation of both sweet and savory cocktails.
What is vodka sour made of?
Like all sour cocktails, the formula is pretty simple. It's made from citrus juice, vodka, and a sweetener like simple syrup.
Does vodka sour have sugar?
A vodka sour does contain sugar. However, you can decide what sugar to use. We prefer classic simple sugar, which is a mixture of water and granulated white sugar. You can also use maple syrup or make simple syrup using a zero-sugar sweetener.
Is it safe to drink raw egg whites?
If you're nervous about adding egg whites into your recipe, use pasteurized eggs. They are gently heated in their shells, just enough to kill the bacteria, but not enough to cook the egg. They are cooked at 140°F for 3 minutes making them safer to use in recipes calling for raw egg.
How many calories does a vodka sour have?
The calorie count of a vodka sour will depend on the vodka you use. However, you can expect a sour cocktail like this to have about 210 calories per drink.
What kind of alcohol is in a sour?
There are several base spirits that can be used in a sour. Gin, whiskey, brandy, tequila, pisco, rum , and amaretto are just a few that you can use to create a simple mixed sour cocktail.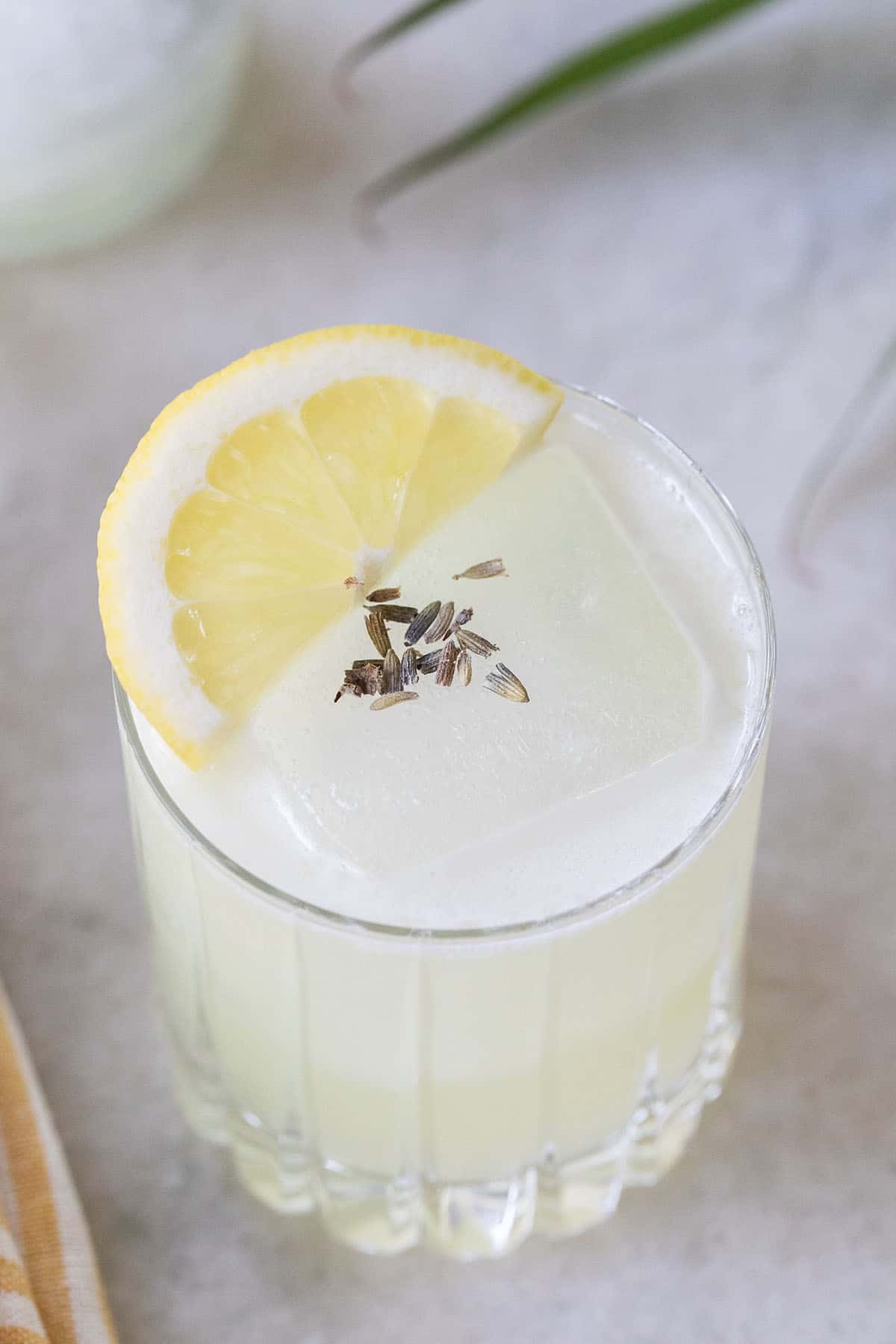 More Vodka Cocktail Recipes
We really enjoy the subtle flavors of vodka and have created some of the best vodka cocktail recipes. Here are our favorites:
Also, try our white lady cocktail that also uses lemon juice and an egg white.
Let us know if you make this vodka sour recipe by leaving a comment and review below!
You can also FOLLOW US on FACEBOOK, INSTAGRAM, and PINTEREST to see more delicious recipes, cocktails, desserts, and parties!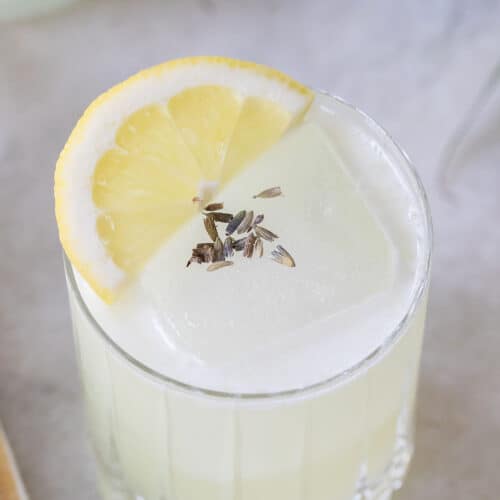 Vodka Sour
A vodka sour is similar to a classic whiskey sour cocktail but made with vodka. If you love a simple, circuits cocktail that's super refreshing this drink is for you!
Print
Pin
Rate
Ingredients
2

ounces

vodka

1

ounces

lemon juice

3/4

ounces

simple syrup

1

egg white
Instructions
Fill a cocktail shaker with ice.

Add the lemon juice, vodka, egg white and simple syrup into the shaker.

Close the lid and shake for 30 seconds.

Strain the cocktail into a class with a large ice cube.
Notes
Switch out the simple syrup for another sweetener like maple syrup. 
Use a zero-sugar sweetener for a low sugar cocktail. 
Add more vodka if you prefer a stronger drink. 
Double this recipe to make 2 vodka sours.
Nutrition
Calories:
210
kcal
|
Carbohydrates:
18
g
|
Protein:
3
g
|
Fat:
1
g
|
Saturated Fat:
1
g
|
Polyunsaturated Fat:
1
g
|
Sodium:
63
mg
|
Potassium:
92
mg
|
Fiber:
1
g
|
Sugar:
16
g
|
Vitamin A:
2
IU
|
Vitamin C:
11
mg
|
Calcium:
7
mg
|
Iron:
1
mg