We love this classic whiskey sour recipe! The key to making the perfect whiskey sour is the right balance. This is an easy cocktail to make and only has 4 ingredients. Each ingredient stands out beautifully. The bright, citrus flavor of lemon juice and the warm vanilla flavors of bourbon with simple syrup create a very refreshing cocktail.
This is a whiskey cocktail that I can't turn down. The sweet and tart flavor and smooth texture make it one of my favorite drinks. This cocktail is perfect to serve year-round. If you don't have lemon juice, you can swap it out for fresh lime.
If you love sour a sour cocktail, try the best vodka sour and hibiscus gin sour.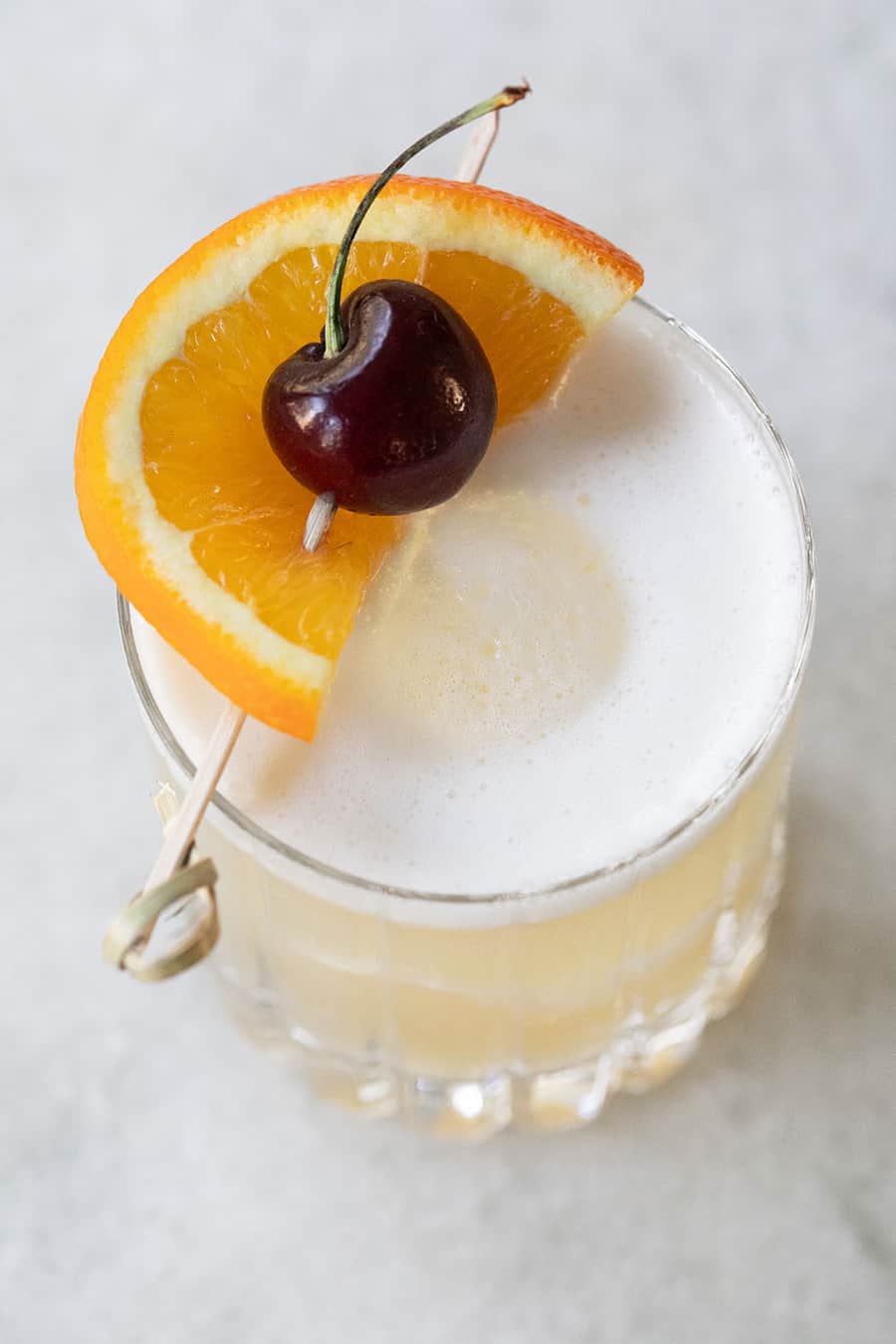 This classic cocktail dates back to 1870! The first mention of the whiskey sour was in 1862 in The Bartenders Guide by Jerry Thomas. However, sailors in the British Navy had been drinking something very similar long before that. 
So if you love sour drinks, then this cocktail is for you! Also, try our whiskey highball cocktail or our whiskey ginger ale too!
Why Make a Classic Whiskey Sour Recipe
I'm pleasantly surprised by how much I love a whiskey sour as whiskey is not my favorite spirit. But this cocktail is more of a sunny, refreshing sipping drink where only the best flavors of whiskey come out.
It's absolutely refreshing and perfect for all seasons. Try this recipe, as the proportions are perfect for a well-balanced drink.
I also love that it's a shaken drink that is served over ice and garnished with an orange wheel and a cherry. We prefer to serve it over a large ice cube that melts slowly. Perfect for sipping!
You don't need any type of sour mix, just fresh ingredients to make this easy recipe.
If you like this cocktail you'll also love our Whiskey Lemonade!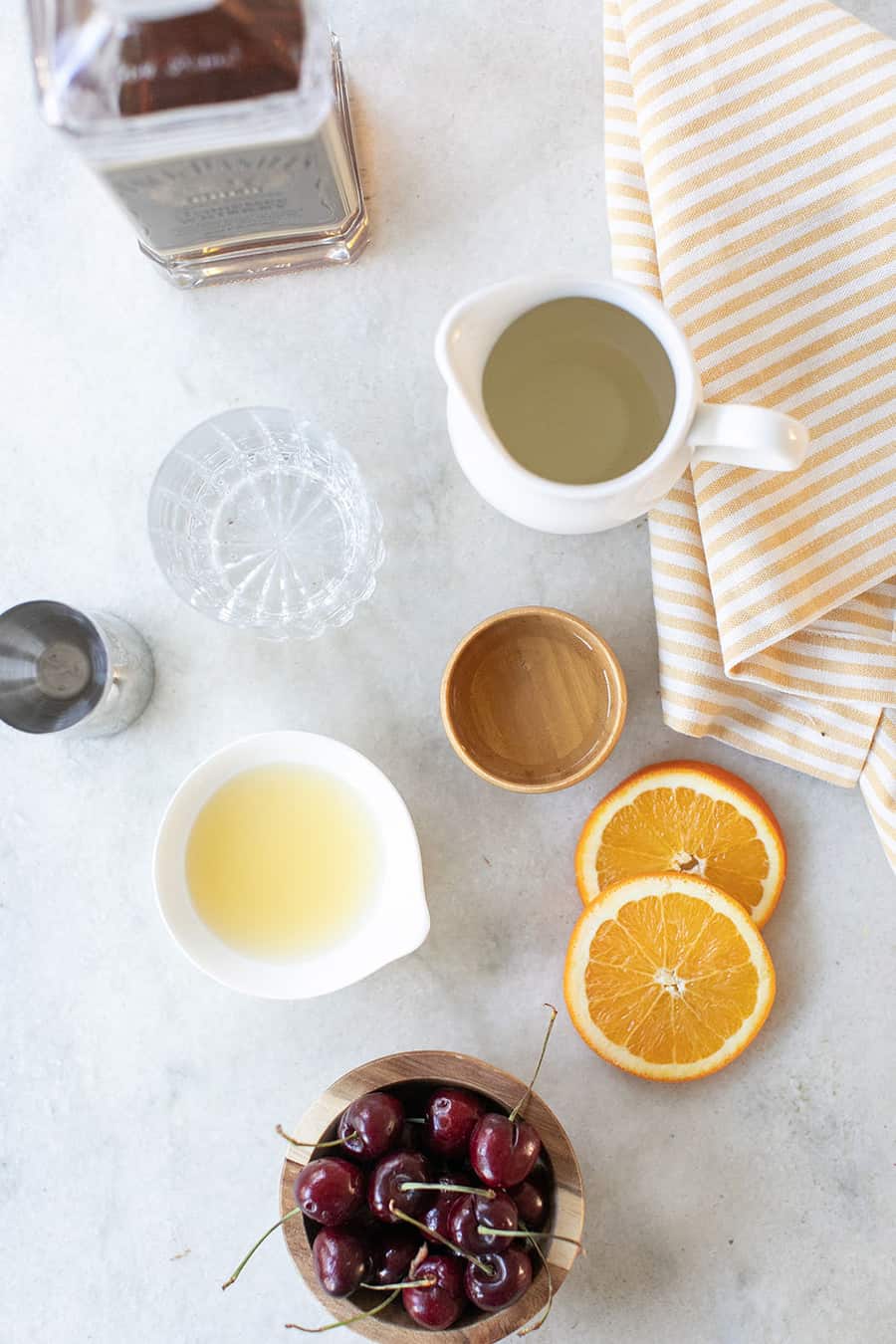 How to Make a Whiskey Sour
We will cover everything you need to know to make a refreshing whiskey sour with ingredient notes, answering frequently asked questions and sharing our expert tips for recipe success.
If you prefer to skip to the recipe, scroll to the bottom of the post where you'll find the recipe card, measurements, and step-by-step ingredients.
Tools You'll Need
Grab these cocktail tools before you start:
Ingredient Notes
There are just 4 basic ingredients you'll need to make this cocktail.
Bourbon Whiskey – Use a decent brand of whiskey to make this drink. It doesn't need to be a sipping whiskey, but one that is smooth and goes well with mixers.
Lemon Juice – Always fresh-squeezed. The lemon juice is what gives the cocktail a tart and tangy flavor.
Simple Syrup – Very easy to make, you can also use maple syrup or honey syrup.
Egg White – We recommend adding the egg white as it creates a layer of foam and helps bring all of the ingredients together. It's optional and the cocktail will still be delicious, but the egg white really adds to the experience and the best flavor.
Cocktail Cherry – Fresh cherry, maraschino cherry, or Luxardo cherry work for this recipe.
Orange Slice – Use an orange slice, dried orange, or orange peel to garnish the cocktail.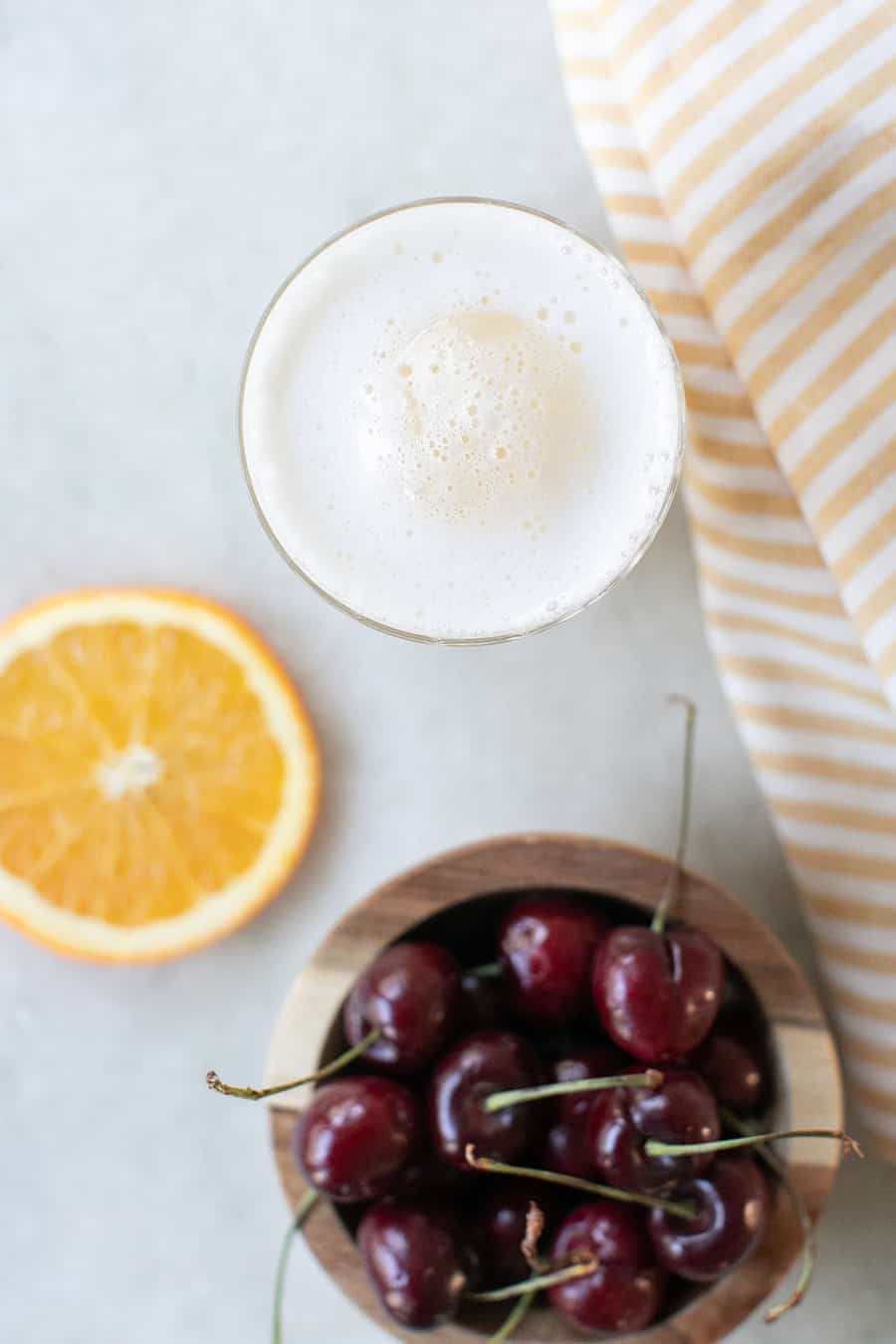 Directions
Fill a cocktail shaker with ice and add in the whiskey, fresh lemon juice, simple syrup, and egg white.
Shake vigorously until the outside of the shaker is cold. About 30 seconds.
Strain into a double old-fashioned glass.
To make the garnish, add a slice of orange and cherry onto a cocktail pick and place it over the top of the cocktail.
Pro Tip – We served this over a large round ice cube, using this mold, and recommend larger ice cubes that slowly melt for this cocktail.
Expert Tips For Making The Best Whiskey Sour
Shake your drink vigorously to cool the ingredients and allow air for a frothy cocktail. Shake for at least 30 seconds.
Use fresh lemon juice only. This will give the cocktail the freshest flavor.
We don't recommend a dry shake for this drink. Add the ice into the cocktail shaker and shake the ingredients with ice. It's easier to make and tastes better when shaken with ice. It creates a very smooth, chilled drink.
Best Whiskey For A Whiskey Sour
Using a good quality whiskey is key to creating the perfect whiskey sour. Here are a few great whiskey brands that you can use. You can find all of these at your local liquor store.
Bulleit – This whiskey has a sweet oak flavor and light spiciness. It has hints of maple, oak, and nutmeg. It goes really well paired with ginger flavors.
Kentucky Straight Bourbon Whisky – Made with red winter wheat, instead of rye for full-flavored bourbon.
Templeton Rye Whiskey – Sweet and spicy flavor with aromas of caramelized banana, vanilla, and cinnamon. It's not super oaky and has a honey flavor
Four Roses – Kentucky made, you can enjoy this smooth and mellow Bourbon in your favorite cocktail or on the rocks.
Wild Turkey – Aged in American White Oak barrels, Wild Turkey 101 has the most beautiful vanilla and cinnamon aroma with spice and orange peel finish. This is a great bourbon for making a sour.
Woodford Reserve – A perfectly balanced Kentucky Straight Bourbon Whiskey is made of more than 200 detectable flavor notes, from bold grain and wood to spice, and fruit & floral notes. It has a super creamy finish and works perfectly when making a whiskey sour.
Irish Whiskey – You can use an Irish whiskey to make a sour. Try Jameson Black Barrel with a dash of bitters. When you use Irish whiskey the drink becomes an Irish sour!
Need more ideas? Check out these options for whiskeys to use in cocktails.
What to Serve A Classic Whiskey Sour In
Serve this sweet tart drink in traditional old-fashioned glasses. Here are a few of our favorites:
Amber Colored Old-Fashioned Glasses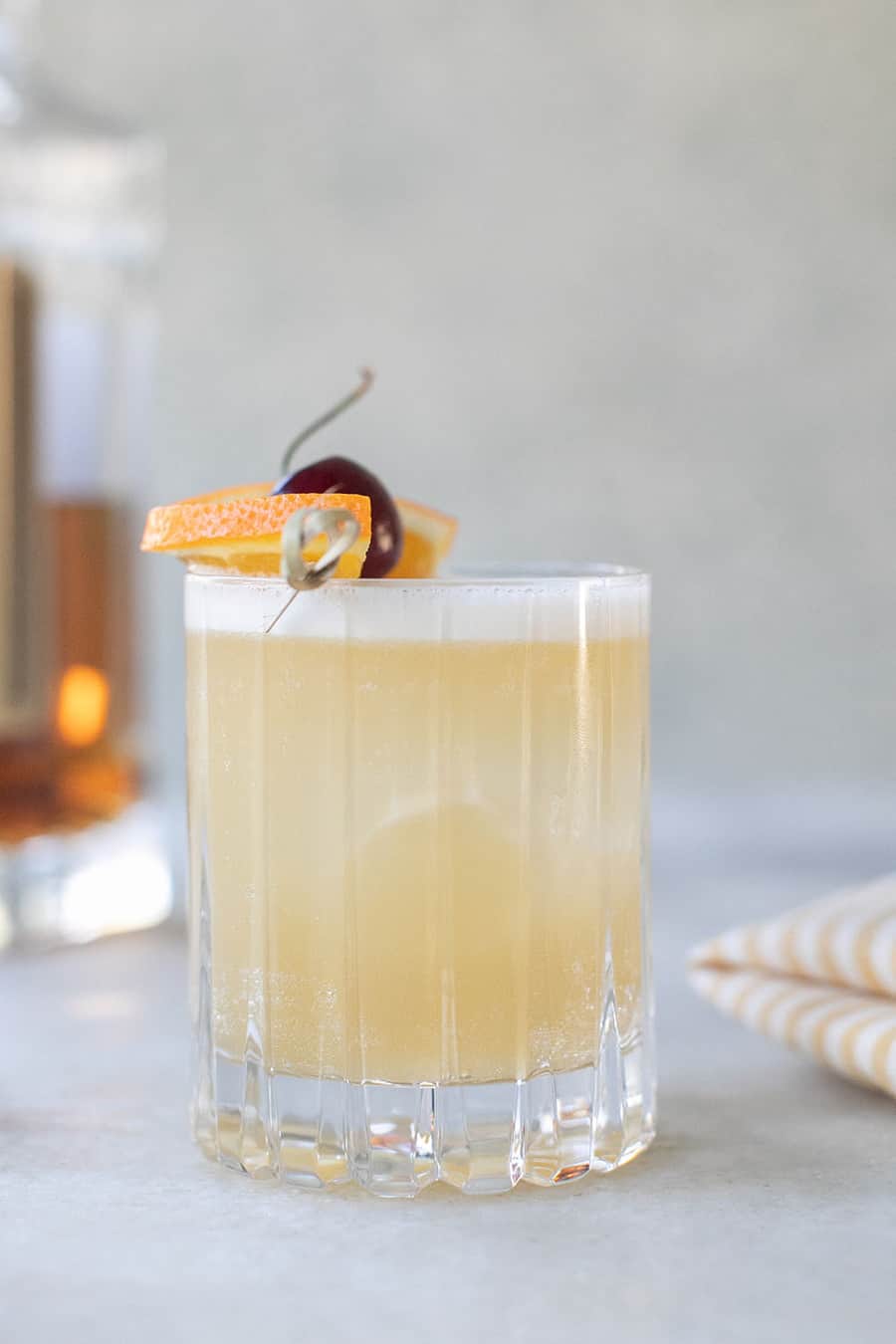 Whiskey Sour Recipe Variations
The egg white is in this recipe to give the cocktail a frothy layer on the top. This is optional if you prefer to leave it out of the recipe.
Instead of simple syrup, you can also try pure maple syrup or honey syrup.
Use fresh cherries or cocktail cherries like Luxardo.
Add a dash of angostura bitters to give a slightly bitter flavor.
Make an amaretto sour by adding 1-ounce amaretto liqueur into the cocktail.
If you don't have lemons you can use lime juice to make this easy drink.
You can use scotch to make a scotch sour.
Whiskey Sour Recipe with Egg White
Adding an egg white into a whiskey sour creates a smoother finish, helps balance the tartness of the cocktail, and also creates a beautiful frothy layer on the top.
The risk of salmonella is low but it's better to be cautious. So here are some tips for adding egg whites into cocktails.
You can also make a whiskey sour without egg white too. We prefer it with, however it will still taste very good without!
Frequently Asked Questions
What is the difference between a whiskey sour and old-fashioned?
Both of these classic drinks contain whiskey, but the other ingredients are not the same. An old-fashioned contains whiskey, bitters, and a sugar cube (or simple syrup) it doesn't have fresh lemon juice or an egg white that a whiskey sour does.

It can also be stirred (or shaken if preferred) but overall an old-fashioned has a much stronger whiskey taste.
What does whiskey sour taste like?
It has notes of caramel and vanilla from the whiskey, then a small amount of lemon as the sour component and it's very lightly sweetened. It truly is very balanced with all of the flavors and notes coming through with each sip. Even if you're not a big whiskey fan, you would still love this cocktail as it's not overpowering and just simply delicious.
Is whiskey sour a girly drink?
Heavens no! This drink is for everyone and actually one of my husband's favorites.
What's in a whiskey sour?
A classic whiskey sour has whiskey, lemon juice, simple syrup, and an egg white.
Is a whiskey sour actually sour?
A whiskey sour does have a slightly sour taste. The sour flavor comes from the freshly squeezed lemon juice. However, the cocktail is balanced in flavor and it shouldn't be too sour or too sweet, but just the perfect amount of each. It's not a very sweet drink either, but when you add the frothy egg white topping the drink becomes so creamy, almost like a dessert.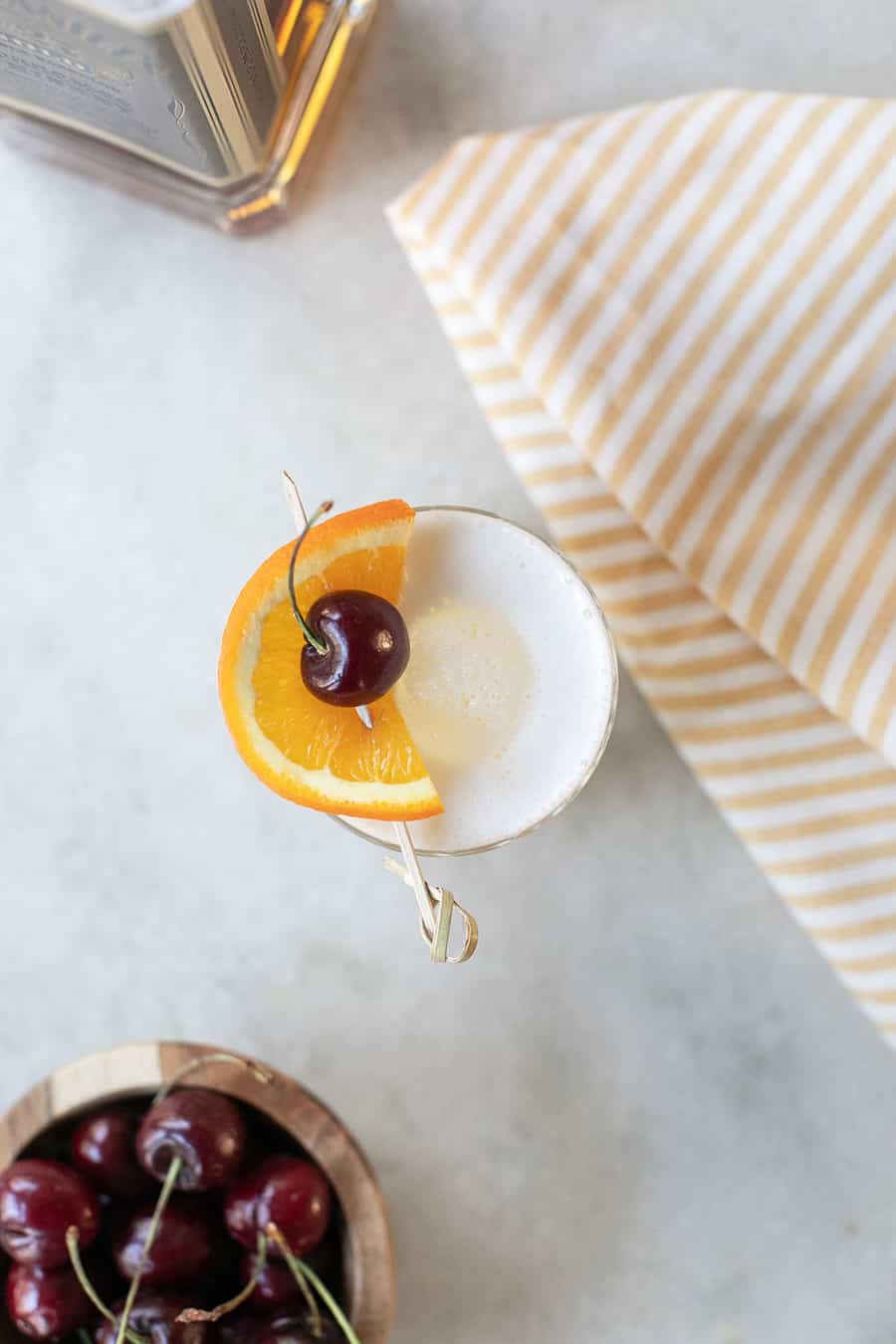 When to Serve a Whiskey Sour
This whiskey sour recipe is perfect for sipping year-round and for happy hour. We also love serving it on these occasions too:
Birthday Party it's also perfect for a last-minute birthday party!
More Cocktails You'll Love
If you love this drink, try more of these great cocktails!
Also check out more great cocktail recipes our favorite brunch recipes, the best-mixed drinks, tequila cocktails, gin cocktails, vodka cocktails, and cheap drinks to make at home!
Let us know your thoughts!
Now that you know everything about making the best whisky sour, let us know if you make this delicious, classic whiskey sour recipe by leaving a comment and review below! 
You can also FOLLOW US on FACEBOOK, INSTAGRAM, and PINTEREST to see more delicious recipes, cocktails, desserts, and parties!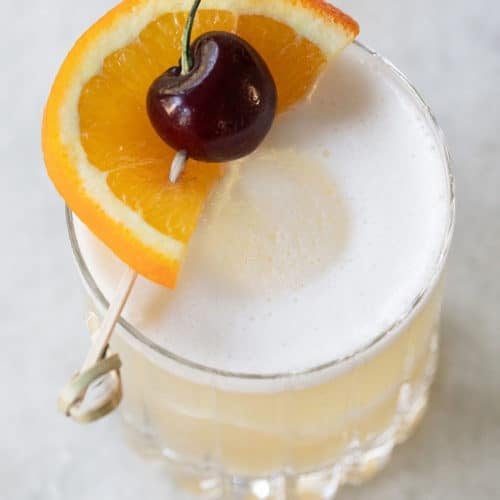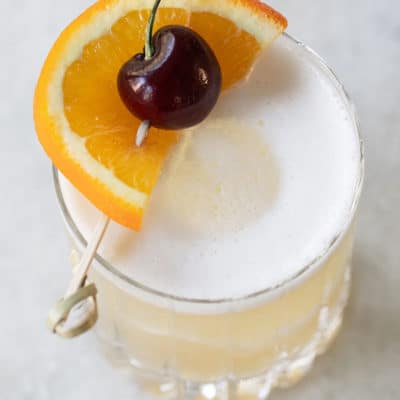 Classic Whiskey Sour
Our favorite classic whiskey sour recipe that is easy to make, perfectly balanced and contains only 4 simple ingredients.
Print
Pin
Rate
Ingredients
2

ounces

bourbon whiskey

1

ounce

lemon juice

,

freshly squeezed

3/4

ounce

simple syrup

1/2

ounce

egg white
Garnishes
1

cherry

,

fresh or cocktail cherry

1

orange wheel
Instructions
Fill a cocktail shaker with ice and add in the whiskey, fresh lemon juice, simple syrup and egg white.

Shake vigorously until the outside of the shaker is cold. About 30 seconds. 

Strain into a double old fashioned glass and garnish with a cocktail or fresh cherry and an orange wheel.
Notes
Here are some quick alternatives for making a whiskey sour:
Use 100% maple syrup instead of simple syrup.
Skip the egg white if you don't want to consume raw egg. 
Add a dash of orange juice or orange bitters.
And remember to always SHAKE the ingredients in a cocktail shaker with ice for 30 seconds! This will create a well balanced drink.
Nutrition
Serving:
1
Cocktail
|
Calories:
76
kcal
|
Carbohydrates:
19
g
|
Protein:
2
g
|
Fat:
1
g
|
Saturated Fat:
1
g
|
Sodium:
36
mg
|
Potassium:
83
mg
|
Fiber:
1
g
|
Sugar:
17
g
|
Vitamin A:
7
IU
|
Vitamin C:
12
mg
|
Calcium:
6
mg
|
Iron:
1
mg