Whiskey and Ginger Ale is an easy mixed drink with only two ingredients. If you love whiskey, you'll want to try this refreshing cocktail. It takes minutes to make, is affordable, and is perfect to sip year-round. You don't have to be a mixologist to create this drink.
Whiskey is a type of distilled alcoholic beverage made from fermented grain mash. It's aged in wooden barrels, which are often made of charred white oak. It has a complex flavor and when paired with ginger ale it's very refreshing and bubbly.
The most popular whiskey cocktail is an old-fashioned or a whiskey sour. We love them both, but would never turn down a whiskey sour.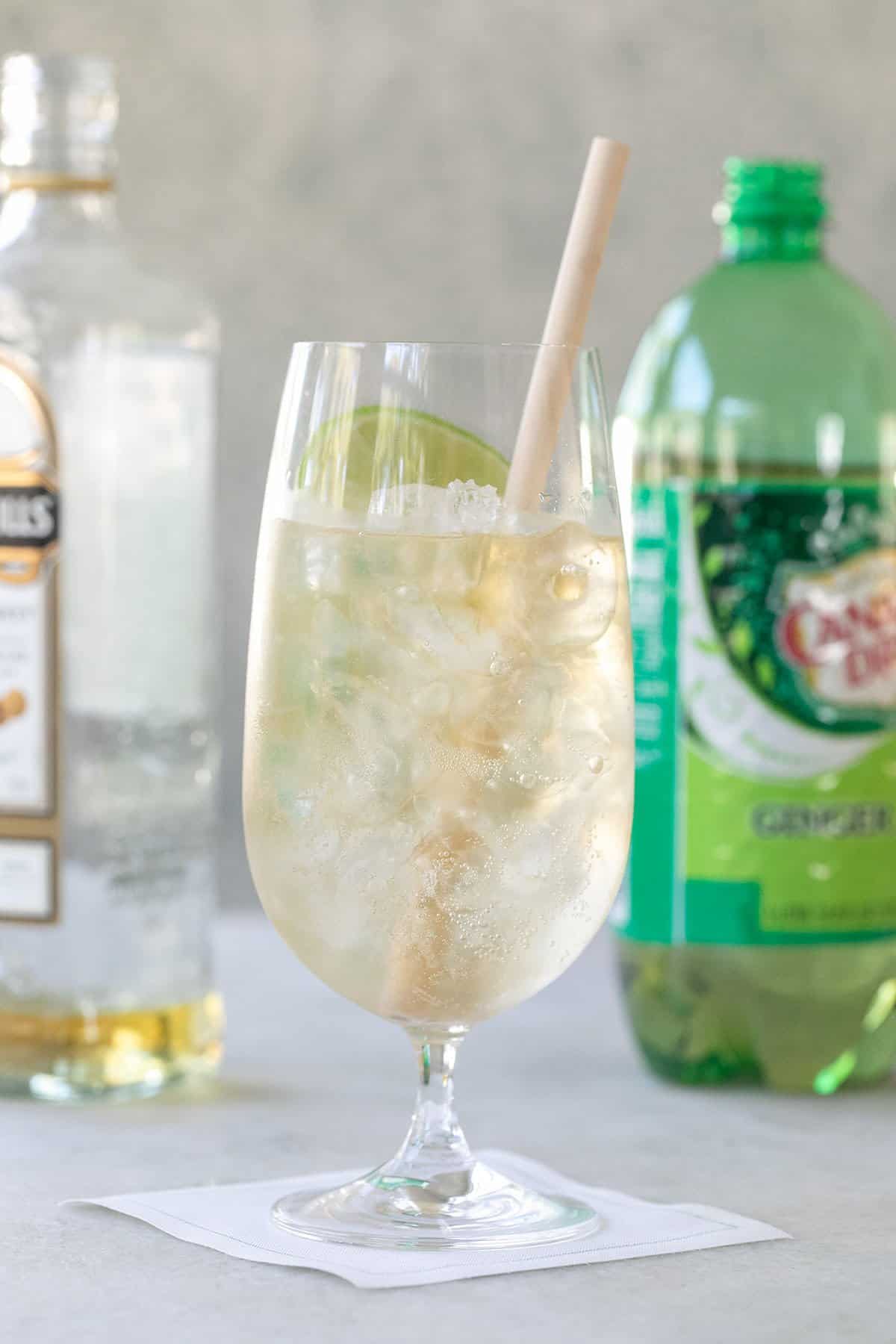 All About Ginger Ale
Ginger ale is a carbonated drink flavored with ginger. It is consumed on its own or as a mixer with spirits, like whiskey. Thomas Joseph Cantrell, an Irish apothecary, manufactured the first ginger ale in Northern Ireland in the 1850s.
There are two main types of ginger ale, a golden style, and a dry style. We use Canada Dry or Reed's for our cocktails. Ginger is a natural stimulant with a delicious spice, and is used as a home remedy. It's the perfect mixer for a quick cocktail.
What's a Whiskey Ginger
Another name for whiskey and ginger ale is whiskey ginger. A two-ingredient cocktail made with whiskey and ginger ale. It's similar to a whiskey high ball but made with ginger ale.
Whiskey ginger is also served in a highball glass and is part of the highball cocktail family. Highball cocktails are spirits mixed with tonic water or club soda served over ice in a tall glass. They're refreshing and perfect to sip anytime.
How to Make Whiskey and Ginger Ale
You only need these two ingredients:
Whiskey – Try a golden whiskey like Jameson. Something that has a little sweetness to it, that will with the bubbles and ginger flavor.
Ginger Ale – A carbonated soft drink made with ginger.
Lime – Fresh lime juice adds acidity to this drink and takes it to the next level. It can be optional if you don't have lime available, but we recommend it.
Pour the whiskey into a tall glass filled with ice.
Top with ginger ale, give it a stir, and enjoy!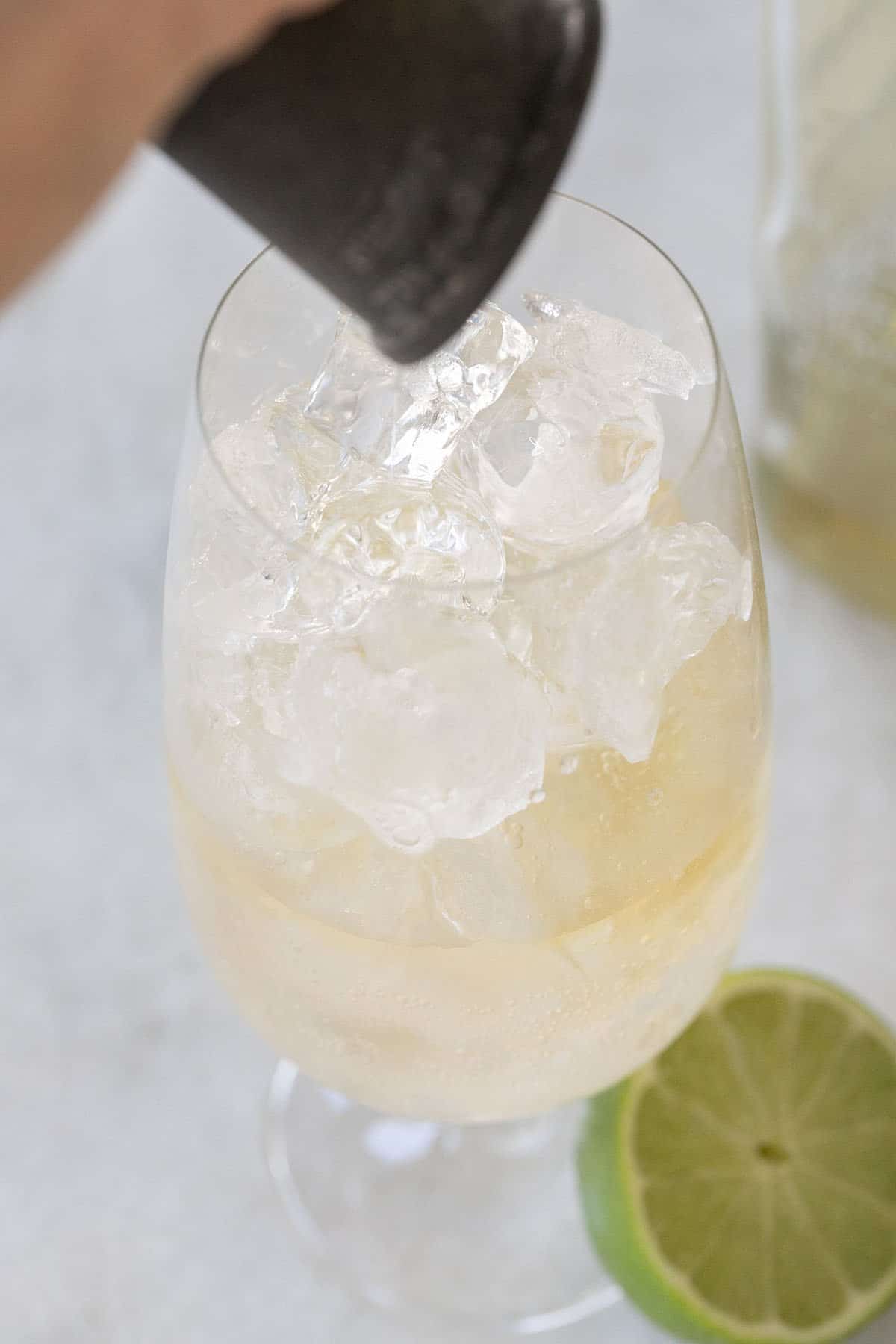 What whiskey is good with ginger ale?
Jack Daniel's Tennessee Honey or Apple – Tennessee honey has hints of honey and a smooth finish. The Apple version is sweet with a hint of apple that also pairs well with ginger ale.
Jameson Irish Whiskey – The most popular Irish whiskey in the world. This whiskey has a sweet honey fragrance of malted barley with subtle oak notes. It has subtle notes of tobacco, Graham cracker, and vanilla, with a hint of citrus.
Bulleit – This whiskey has a sweet oak flavor and light spiciness. It has hints of maple, oak, and nutmeg. It goes really well paired with ginger flavors.
Kentucky Straight Bourbon Whisky – Made with red winter wheat, instead of rye for full-flavored bourbon.
Templeton Rye Whiskey – Sweet and spicy flavor with aromas of caramelized banana, vanilla, and cinnamon. It's not super oaky and has a honey flavor.
Tips for Making this Cocktail
Always serve this drink in a highball glass.
Use a lot of ice, and fill the glass to the top!
Add a little fresh lime juice or lemon juice to the drink.
Add more or less whiskey depending on how strong you prefer it.
Swap out ginger ale with lemon-lime soda.
Ginger Beer vs. Ginger Ale
Ginger ale is a ginger-flavored soft drink. Originally this drink was carbonated by fermentation. The modern brands of ginger ale are artificially saturated with carbon dioxide. Ginger ale has a mild ginger flavor and is less carbonated than ginger beer
Ginger beer has a stronger, spicier ginger flavor. It's non-alcoholic and made with real ginger.
Our Favorite Ginger Ale Brands
Fever-Tree – We use Fever Tree's ginger beer and tonic water too. It's high quality and always tastes good.
Canada Dry – A classic, popular ginger ale that has been around for over 100 years.
Reed's – They use quality ingredients with zero artificial flavors.
Schweppes – The world's first soft drink since bottled soda water, in 1783! It has a great flavor and they also make sugar-free ginger ale.
Here are 9 of the best natural ginger ale brands.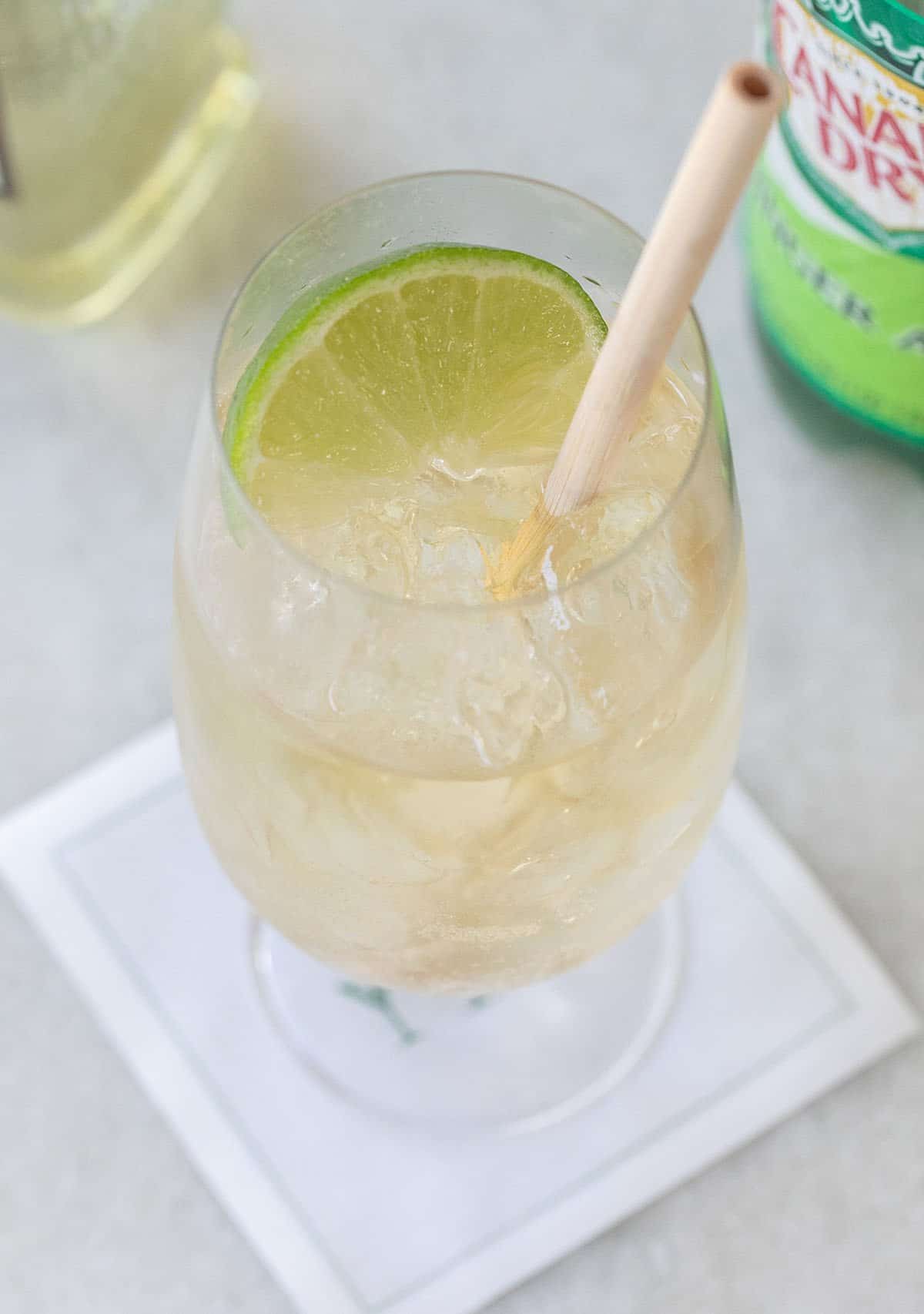 Frequently Asked Questions
Is ginger ale the same as soda?
Ginger ale is a type of soda made with ginger. It's a carbonated soft drink that is sweetened with sugar. It's great on its own or mixed with a spirit. 
Can you use ginger beer in a Whiskey Ginger?
You can use ginger beer for whiskey ginger. The flavor will be a little different, but still taste bubbly and refreshing. Ginger beer has a stronger ginger flavor. We use ginger beer in our Moscow mule recipes.
How much lime is in Jameson & Ginger Ale?
The lime adds a refreshing flavor to the drink. For this recipe, we add about 1 ounce, but you can add more or less.
When to Serve a Whiskey and Ginger Ale
This drink is so easy to make and served all year! It's great for parties because it's can be mixed together quickly. Here are some fun occasions to serve this cocktail:
Birthday Party it's also perfect for a last-minute birthday party!
More Cocktails with Ginger Ale
If you love ginger ale, try some of these cocktail recipes!
Jolly Rancher Punch – Our most popular Halloween cocktail recipe made with ginger ale. It's perfect for a party! You can also make this as a shot too!
Watermelon and Honeydew Sangria – We love this festive sangria recipe filled with summer fruits and also sweetened with ginger ale.
Three Ingredient Kids Punch – This is a wonderful punch recipe for kids and the ginger ale hides the taste of carrot juice!
Easy Christmas Punch – Our favorite Christmas punch recipe made with just 4 ingredients!
Non-Alcoholic Christmas Punch – This punch is flavorful and refreshing and a great option for a mocktail!
Blueberry Moscow Mule – This is made with ginger beer, similar to ginger ale. It's a refreshing drink that is perfect to serve year-round.
Pimm's Cup – A traditional English cocktail, this one uses a splash of ginger ale to top it off.
Cocktails Made with Whiskey
Here are more of our favorite whiskey cocktail recipes!
Orange Juice and Whiskey – An easy mixed drink that is perfect for brunch.
Whiskey Lemonade – This is another fantastic drink. We make it with pink lemonade for a fun twist!
Green Tea Whiskey Punch – A punch made with tea, ginger ale, and whiskey.
Irish Whiskey Sangria – This is a perfect cocktail for Saint Patrick's Day! Filled with citrus flavors and apples.
Red Over Manhattan – A red wine cocktail made with whiskey.
Also try our vodka soda, gin and tonic, Tom Collins, and strawberry tequila sodas!
Let us know what you think!
Let us know if you make this whiskey ginger cocktail recipe by leaving a comment and review below.
You can also FOLLOW US on FACEBOOK, INSTAGRAM, and PINTEREST to see more delicious recipes, cocktails, desserts, and parties!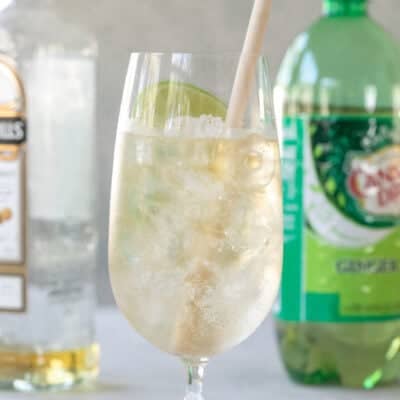 Whiskey and Ginger Ale
An easy mixed cocktail with whiskey and ginger ale, also known as a whiskey ginger.
Print
Pin
Rate
Ingredients
1 1/2

ounces

whiskey

4

ounces

ginger ale

1

ounce

lime juice
Instructions
Fill a tall glass with ice.

Top with ginger ale and stir.
Nutrition
Calories:
187
kcal
|
Carbohydrates:
12
g
|
Protein:
1
g
|
Fat:
1
g
|
Polyunsaturated Fat:
1
g
|
Sodium:
9
mg
|
Potassium:
35
mg
|
Fiber:
1
g
|
Sugar:
10
g
|
Vitamin A:
14
IU
|
Vitamin C:
9
mg
|
Calcium:
7
mg
|
Iron:
1
mg