Whiskey and orange juice are a wonderful pairing! This orange juice cocktail is also known as a whiskey screwdriver. It's an easy mixed drink that can be made in a minute and it's perfect for whiskey lovers and brunch. Try all of our juice too!
Orange juice is the perfect citrus for cocktails. The sweet flavor pairs nicely with most spirits and have a refreshing taste. Anything paired with orange juice also makes for a perfect brunch cocktail. 
It has sweet citrus flavors and makes a wonderful whiskey cocktail. So when it's citrus season and you need a great whiskey cocktail that's easy to make, try whiskey and orange juice!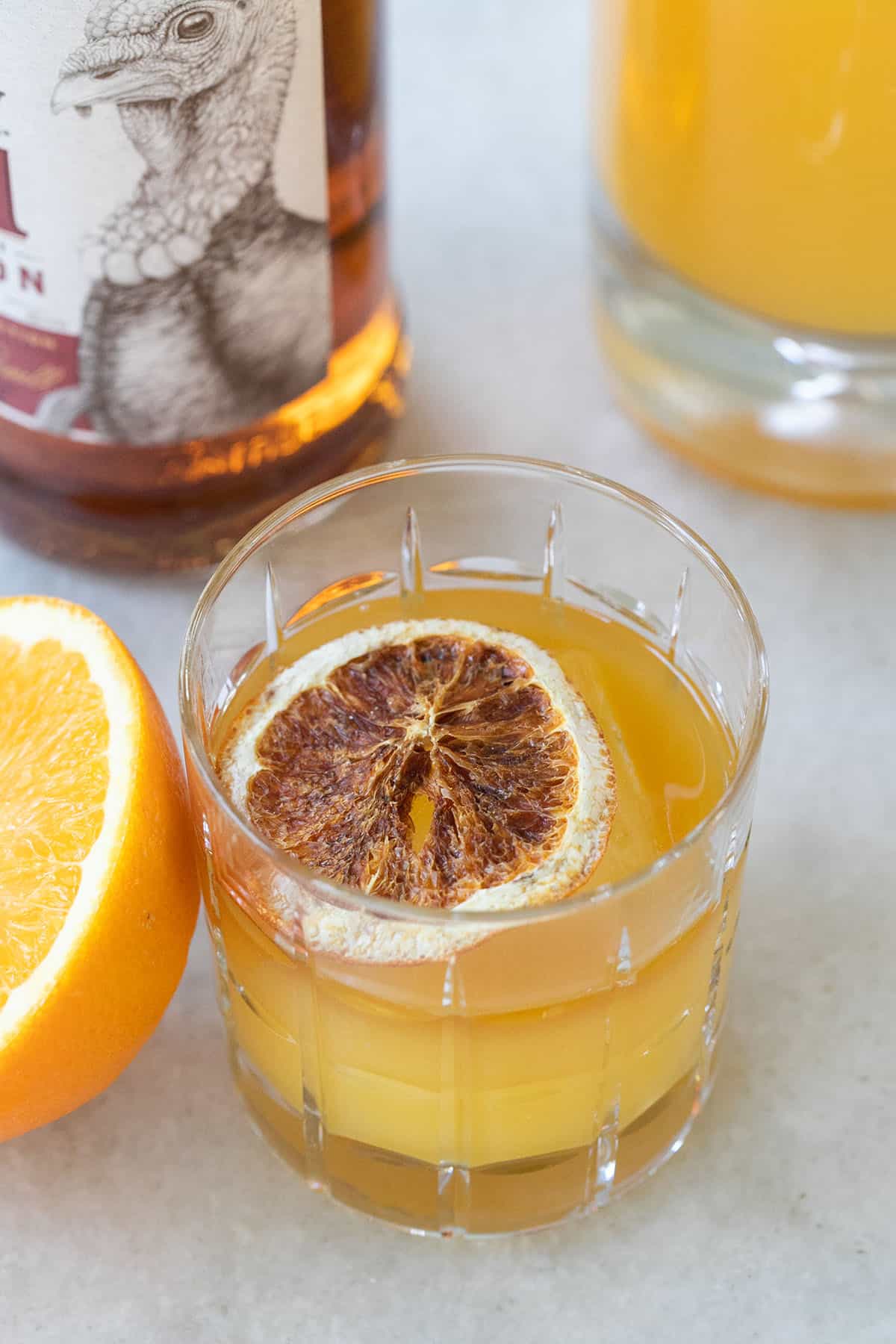 Whiskey and orange juice taste a little similar to a whiskey sour, but it's easier to make. The warm, earthy flavors of whiskey compliment the sweet and tart flavor the orange juice.
This cocktail is really great served all year since whiskey is a darker spirit for fall and winter and orange juice is year-round citrus. 
It can be made with any type of whiskey such as Jack Daniels, Bourbon Whiskey, Canadian Whiskey or Irish Whiskey.
Orange Juice
Orange juice is made by extracting the juice of oranges. The drink can be made using any type of orange and is available in several varieties, including:
Blood orange
Navel orange
Valencia orange
Clementine
Tangerine
Typically, oranges are grown in warmer areas like California and Florida. They are packed with vitamins—most notably vitamin c. The sun-kissed growing process gives freshly squeezed orange juice a bright, energizing citrus flavor.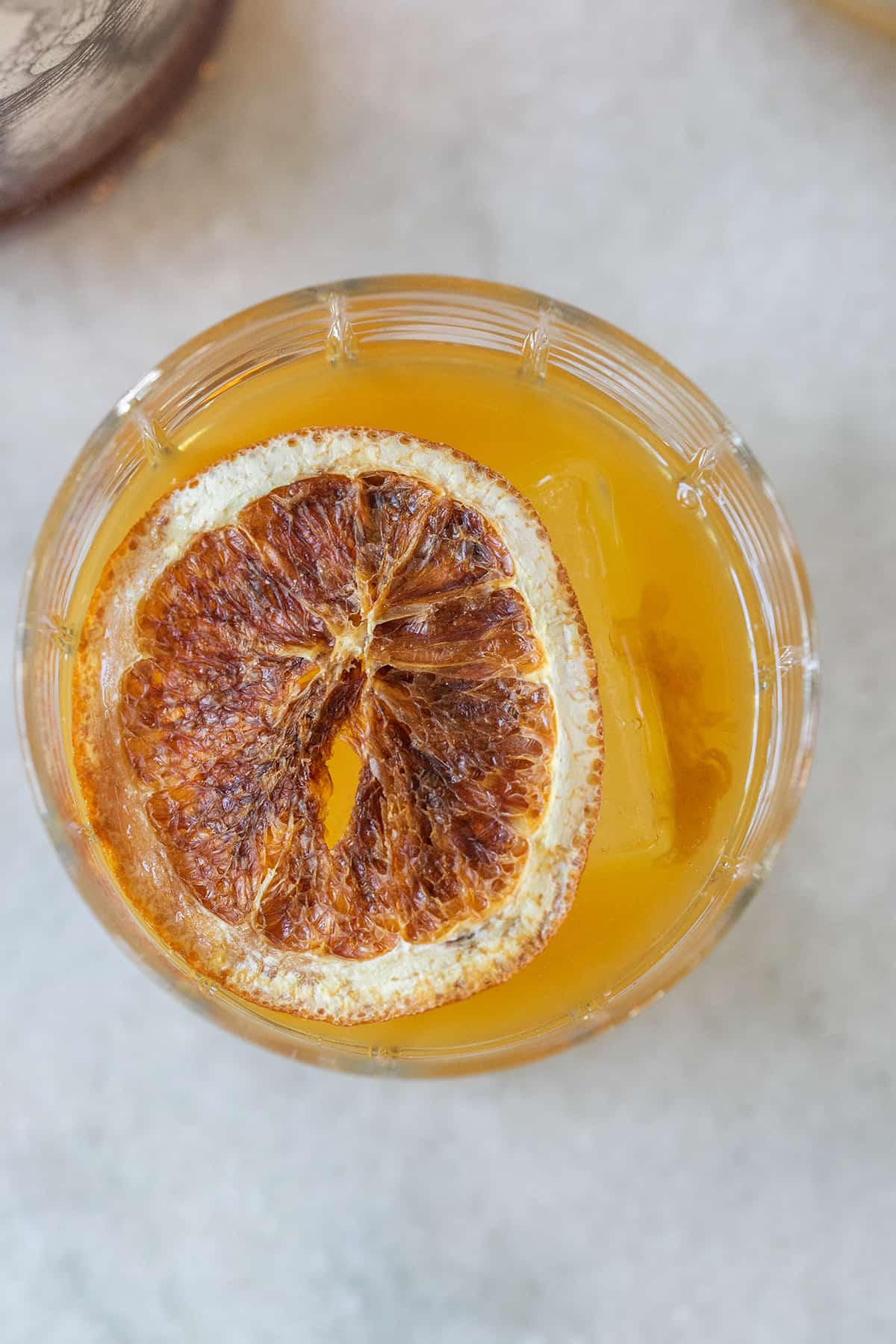 Whiskey and Orange Juice Cocktail
This is a simple cocktail to make and you only need two ingredients:
Whiskey – Use a decent brand of whiskey to make this drink. It doesn't need to be a sipping whiskey, but one that is smooth and goes well with mixers. Check out these options for whiskeys to use in cocktails.
Orange Juice – Fresh orange juice is always the best. However, there are great options at the grocery store too. Make sure you use 100% orange juice with no sugar added.
Bitters – We do reccomend bitters, but if you don't have it you can leave it out.
Simply pour the whiskey and orange juice over a large ice cube in an old-fashioned glass.
If you want a well-balanced cocktail, shake it in a cocktail shaker with ice and then strain it into the glass.
Add a Dash of Bitters
Whiskey pairs nicely with bitters, just like an old-fashioned. Add a few dashes of bitters to this cocktail to give it a botanical, bittersweet flavor.
Cocktail Variations
Use blood oranges for a darker, pink color.
If you prefer a sweeter drink, add a dash of simple syrup or maple syrup to the recipe.
For a cocktail with a little fizz, top it off with some soda water or ginger beer.
For virgin whiskey and orange juice, swap out the whiskey for a zero-proof whiskey. This way you'll still get all of the flavors from the whiskey without the alcohol.
To make a Ward 8 cocktail, simply use rye whiskey, fresh lemon juice, orange juice, and a little grenadine. This classic cocktail is thought to be created in 1898 in Boston.
Cocktail Garnishes
It's all about the presentation and adding garnishes to your cocktails will make it stand out. Here are a few ideas:
Dried Orange Slices – We keep dried orange slices on hand to add to our cocktails.
Cherry – Add a maraschino cherry to this cocktail for extra sweetness.
Clear Ice – You can make clear ice and use it in this drink. The larger ice cubes are great for melting slowly.
Fresh Orange Slice – If you don't have anything else on hand, a fresh orange slice works great.
Frequently Asked Questions
Is whiskey good with orange juice?
Whiskey and orange juice pair perfectly together! It's an easy cocktail to make using simple ingredients. The sweet and tart orange flavor compliments whiskey's coconut, vanilla, caramel and brown sugar.
Can you drink whiskey with orange juice?
If you're a whiskey lover, you're in luck because the spirit is the perfect companion to freshly squeezed orange juice. 

Orange juice works well with whiskey because its natural sweetness tones down the alcohol's sharp flavor. It also serves to cut through the drink's bitterness for the perfect balance that has become wildly popular in cocktails like the whiskey sour.
What to Serve Orange Juice and Whiskey In
For this drink, you'll want to serve it in traditional old-fashioned glasses. Here are a few of our favorites:
Amber Colored Old-Fashioned Glasses
When to Serve a Whiskey and Orange Juice Cocktail
This drink is great for so many occasions. Here are a few ideas:
Birthday Party it's also perfect for a last-minute birthday party!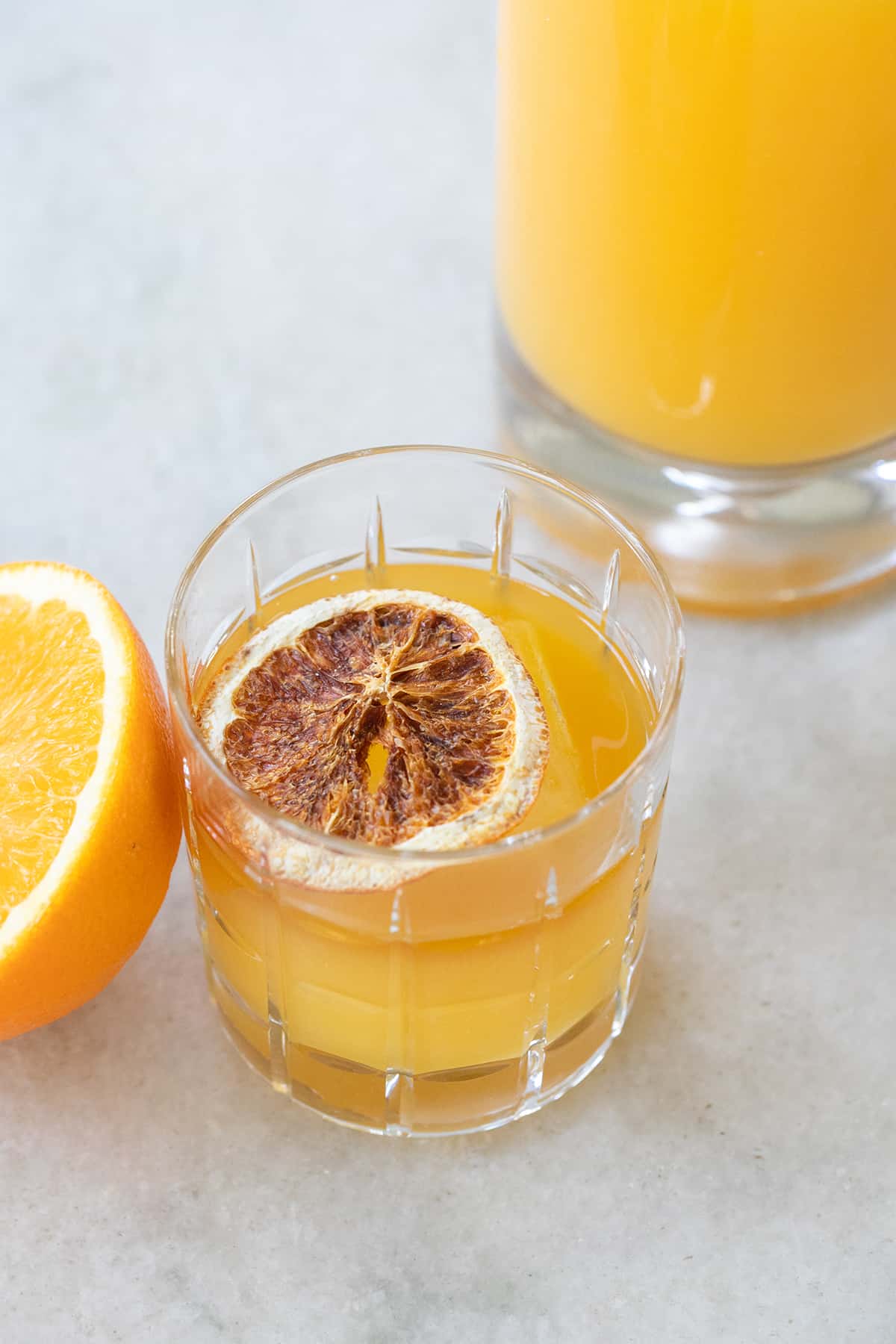 More Orange Juice Cocktails
The sweet tart flavor of orange juice makes it one of the most popular cocktail mixers. If you have a bottle of orange juice and need some easy ideas, check out these delicious cocktails!
Also check out more great cocktail recipes, tequila cocktails, gin cocktails, vodka cocktails, and cheap drinks to make at home!
Let us know if you make this simple cocktail by leaving a comment and review below! 
You can also FOLLOW US on FACEBOOK, INSTAGRAM, and PINTEREST to see more delicious recipes, cocktails, desserts, and parties!
Whiskey and Orange Juice
A simple mixed cocktail recipe using whiskey and orange juice.
Print
Pin
Rate
Ingredients
4

ounces

orange juice

2

ounces

whiskey

dash

bitters
Instructions
In an old-fashioned glass filled with a large ice cube, add the orange juice.

Next, add in the whiskey.

Add a dash of bitters to the drink.
Nutrition
Calories:
193
kcal
|
Carbohydrates:
12
g
|
Protein:
1
g
|
Fat:
1
g
|
Saturated Fat:
1
g
|
Polyunsaturated Fat:
1
g
|
Monounsaturated Fat:
1
g
|
Sodium:
1
mg
|
Potassium:
227
mg
|
Fiber:
1
g
|
Sugar:
10
g
|
Vitamin A:
227
IU
|
Vitamin C:
57
mg
|
Calcium:
12
mg
|
Iron:
1
mg