Tequila and orange juice are a wonderful pairing! This easy mixed drink can be whipped up in less than a minute. It's a great cocktail for summer brunch or just sipping. Add in a dash of grenadine to make a tequila sunrise.
We're all about easy tequila cocktails! Tequila is the perfect spirit to add to orange making a tequila screwdriver and a tequila sunrise. This is the perfect brunch cocktail and it's also inexpensive to make.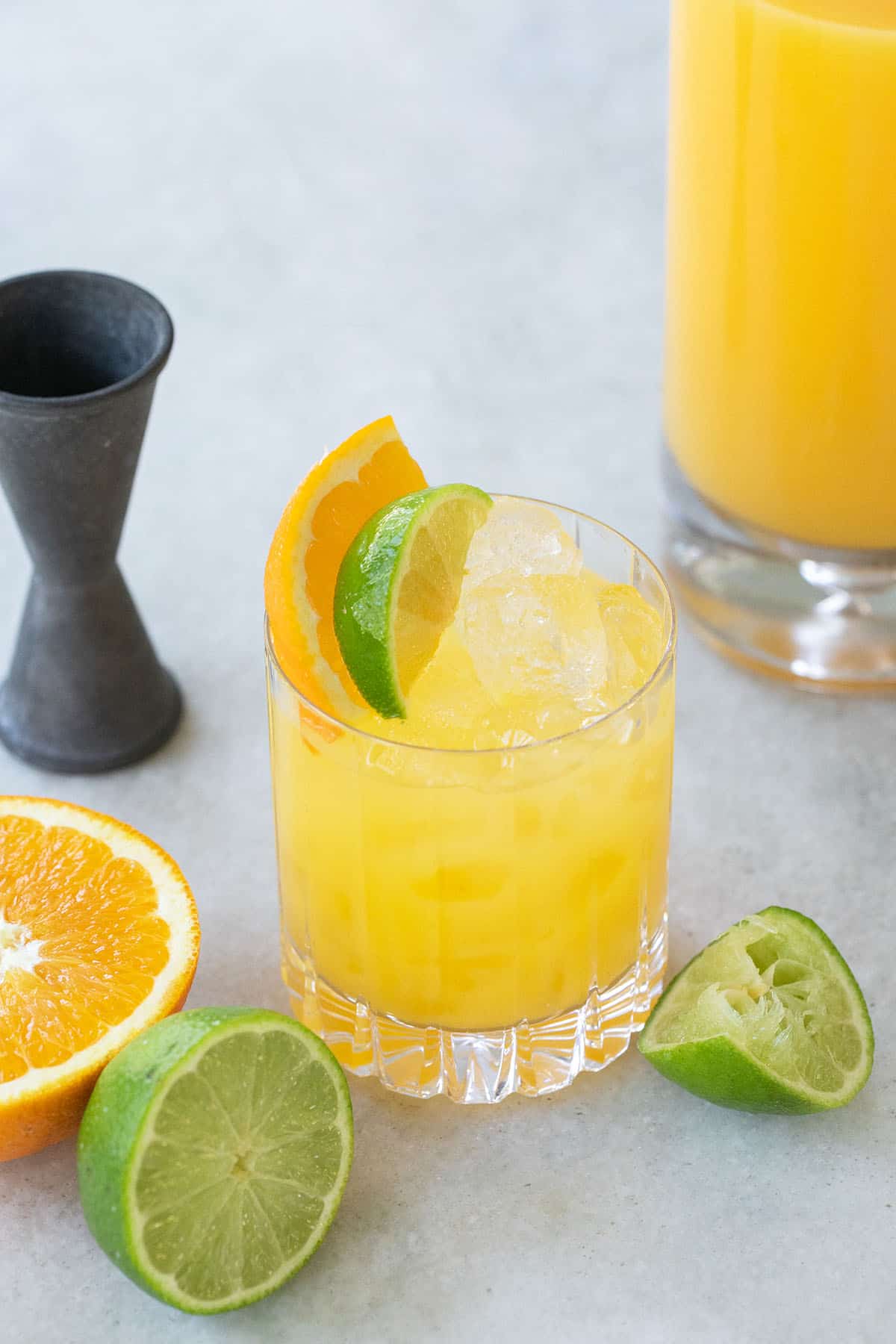 Check out all of our favorite orange jucie cocktail recipes too!
All About Orange Juice
Orange juice is a classic refrigerator staple. The drink can be made using any type of orange and is thus available in several varieties, including:
Blood orange
Navel orange
Valencia orange
Clementine
Tangerine
Grown in warmer areas like California and Florida, oranges are packed with vitamins—most notably vitamin c. The sun-kissed growing process gives freshly squeezed orange juice a bright, energizing citrus flavor.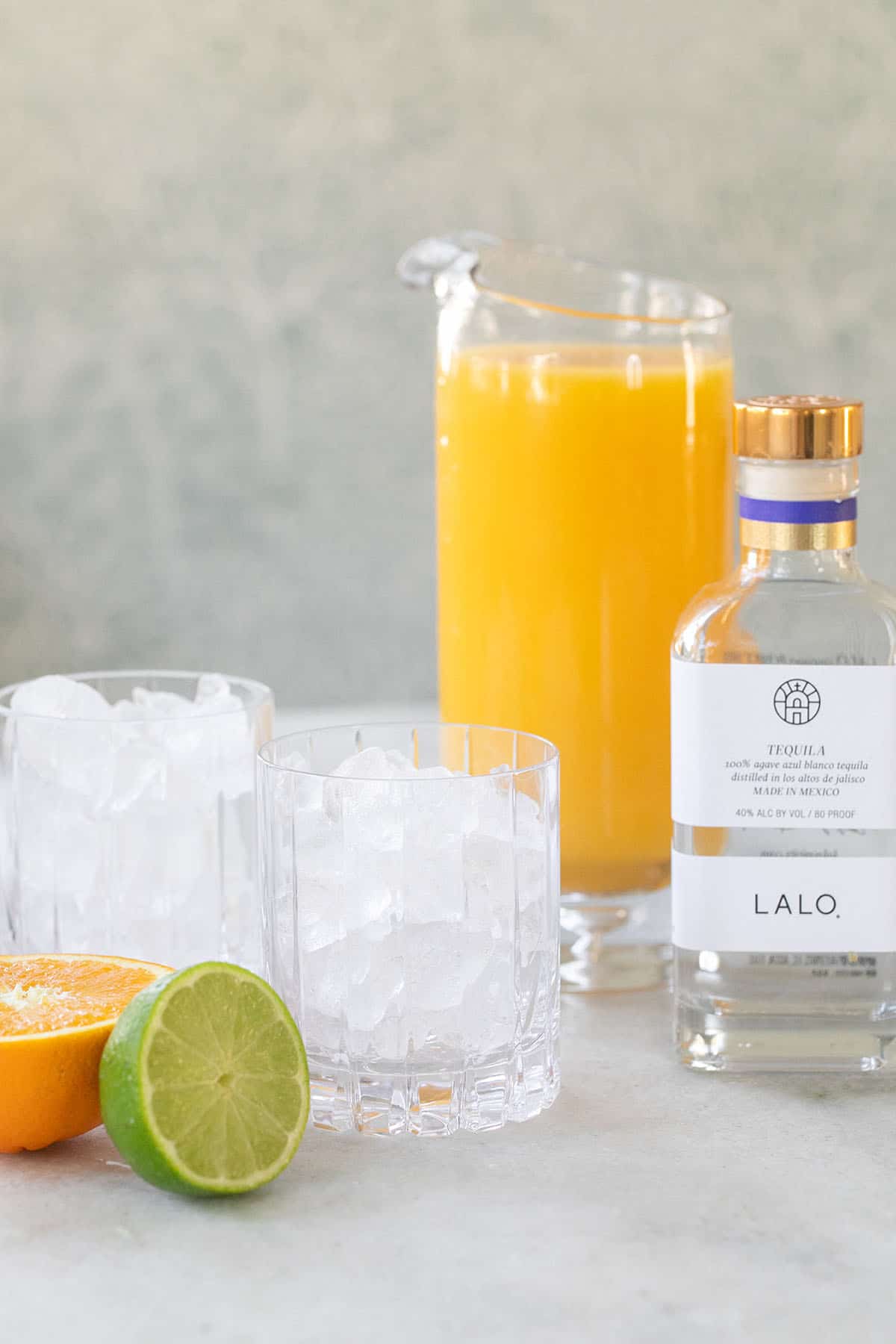 Mix Tequila and Orange Juice
To make this cocktail you'll
Tequila – Use a decent Blanco or gold tequila to make this drink. You don't need a sipping tequila but something that is perfect for cocktails.
Orange Juice – Freshly squeezed oranges are always best. However, there are good options for 100% orange juice at the store. Buy one with zero added sugar.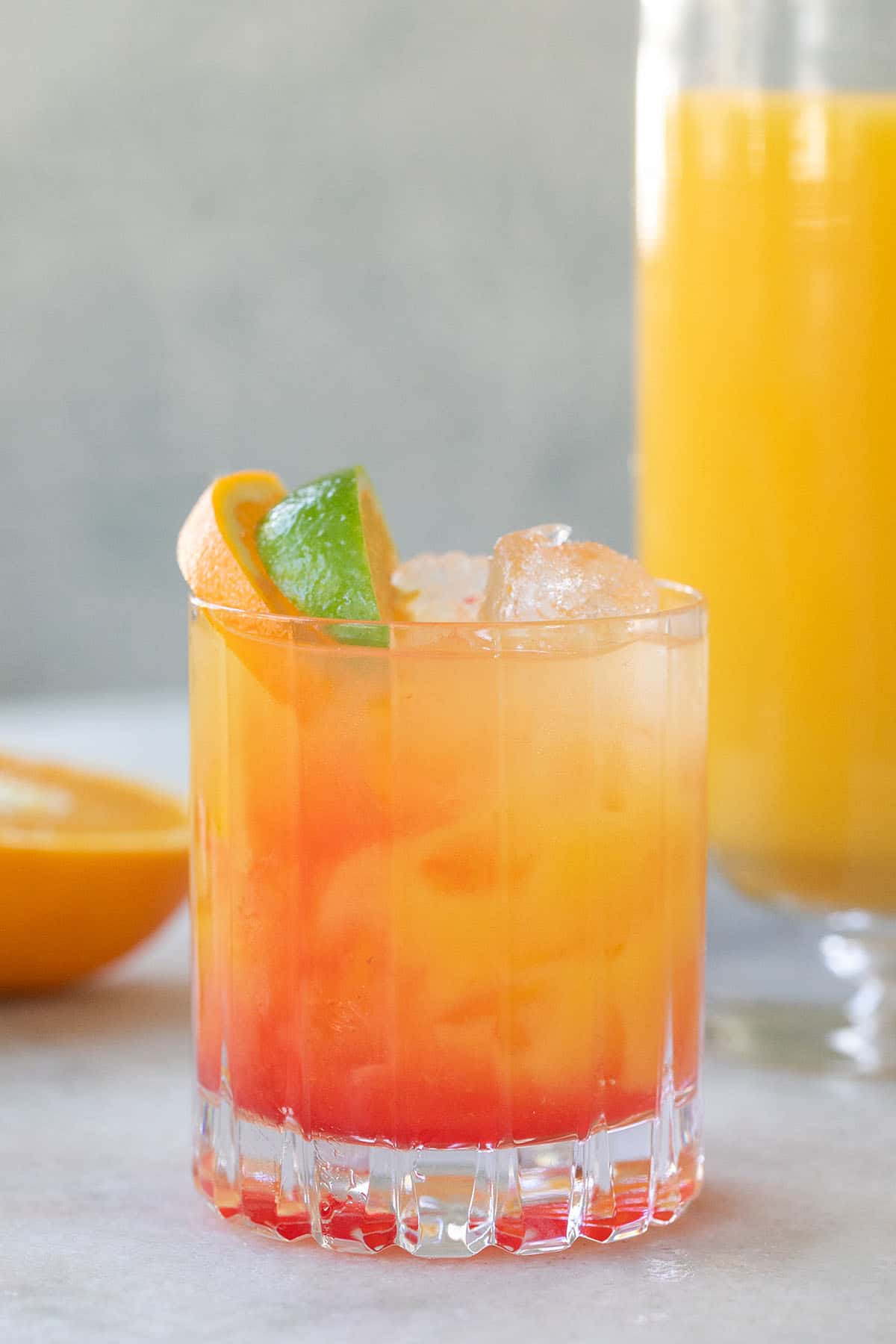 Tequila Sunrise
To make this cocktail, add the orange juice into a glass filled with ice. Then pour in the tequila. Give it a stir and a 1/2 ounce grenadine over the top.
The grenadine will float on the top and slowly blend into the orange juice making the most beautiful color!
Cocktail Variations
A dash of grenadine to make a tequila sunrise.
Add in fresh lime juice to give it a margarita flavor.
A dash of mezcal for a smoky flavor.
Garnish with a cherry and lime wedge.
How can I juice an orange without a juicer?
If you don't have a juicer, you can still make a cocktail with freshly squeezed orange juice.
To extract the juice from an orange, cut the orange into eight wedges and squeeze the juice out with your hands into a small bowl. Alternatively, you can cut an orange in half and twist the juice out with the tines of a fork. Firmly rolling the orange on the counter before squeezing will loosen the membranes inside and yield you more juice.
What is the best tequila for cocktails?
Tequila Blanco, also known as silver tequila, is young and only aged in oak for up to 2 months. It has a strong flavor and mixes the best with a variety of—often fruity—flavors.
What is a good inexpensive tequila for cocktails?
Tequila doesn't have to be pricey to be enjoyed. In fact, the best tequila for parties and social gatherings is the kind that doesn't break the bank.
Some of the greatest inexpensive tequila brands include:
El Destilador – $15
Espolon – $20
Patron Silver – $20
Sauza Blue Silver -$17
Don Julio – $20
El Jimador Silver – $20
Olmeca Altos Tequila Plata – $21
Need more ideas? Check out 10 Best Tequilas for Cocktails.
Variaties of Tequila
The three types of tequila make up the bulk of tequila distributions. However, there are two less common variants out there for the more daring tequila connoisseurs to enjoy.
Blanco – 100% blue agave
Tequila Joven – Some aged tequila + unaged tequila blend
Reposado – Aged for two months up to a year
Añejo – Aged for at least a year
Extra Añejo – The rarest tequila. Aged for at least 3 years
When to Serve a Tequila and Orange Juice Cocktail
This is a summer cocktail so it should be served in the warmer months. Here are some ideas for when to serve this drink:
Birthday Party it's also perfect for a last-minute birthday party!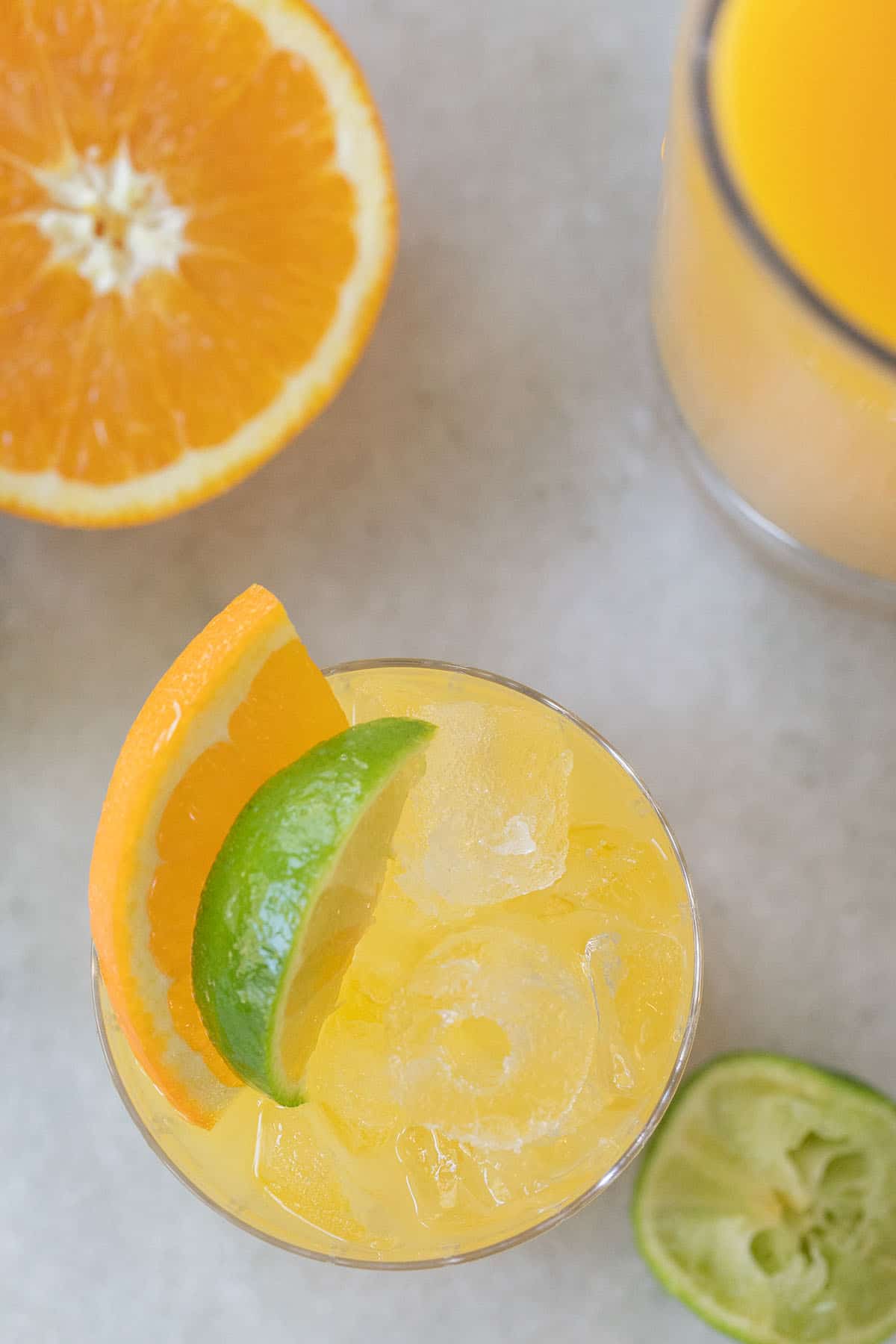 More Orange Juice Cocktail Recipes
Cocktails with orange juice and tequila are great but there are several other drinks you can make too. Here are a few of our favorites:
For more drink ideas check out our strawberry tequila sodas, lemonade margarita and four delicious agua fresca recipes too.
Let us know if you make this cocktail by leaving a comment and review below! We'd love to know your thoughts!
You can also FOLLOW US on FACEBOOK, INSTAGRAM, and PINTEREST to see more delicious recipes, cocktails, desserts, and parties!
Tequila and Orange Juice
A simple, two-ingredient cocktail made with tequila and orange juice.
Print
Pin
Rate
Ingredients
5

ounces

orange juice

2

ounces

tequila

1/2

ounce

lime juice
Instructions
Pour in the orange juice and tequila.
Notes
Add more or less orange juice and tequila, depending on how strong you like the drink.
Add a dash of grenadine to make a tequila sunrise.
Add a pinch of salt to give it a margarita flair.
Nutrition
Calories:
198
kcal
|
Carbohydrates:
16
g
|
Protein:
1
g
|
Fat:
1
g
|
Saturated Fat:
1
g
|
Polyunsaturated Fat:
1
g
|
Monounsaturated Fat:
1
g
|
Sodium:
2
mg
|
Potassium:
301
mg
|
Fiber:
1
g
|
Sugar:
12
g
|
Vitamin A:
291
IU
|
Vitamin C:
75
mg
|
Calcium:
18
mg
|
Iron:
1
mg