We brought the festivities to our backyard and created a colorful and festive carnival party theme! Sharing carnival party ideas, supplies, fun food, and charming details for hosting your own!
This post contains affiliate links from Amazon
Personally, I'm the one begging my kids to go to the carnival and fighting my way to the front of the line at the cotton candy booth.
Carnivals are not just for KIDS! This party is created for adults too! It's the perfect backyard carnival party with homemade corndogs, candy and sweet treats all set-up in front of our 1958 vintage Airstream.
If you're hosting a carnival birthday party or any carnival them a party, you'll love these ideas!
Carnival Party Ideas
Decorations
When you think of carnivals, it's all about color. Keep the party colorful and fun with these ideas:
Streamers and Ribbon – Inexpensive and easy to tie into trees for flowing decor. Ribbons tied in trees gives the party a whimsical look.
Flowers – Flowers add instant decor to a party. For a carnival party, make colorful ombre flowers for the tables.
Tablecloth – Cover tables with beautiful, colorful fabric. You can also buy this at craft stores.
Colorful Plates and Flatware – Check thrift stores for colorful plates. They don't need to match! Have fun with this carnival theme! Remember, fun is the theme here because carnivals are FUN!!
Large Balloons – Easy and fun decor!
I found these vintage Texas Ware plates in all different colors at an antique store! How fun right?!
Throw Pillows – Colorful throw pillows and a low table is great for outdoor!
Confetti – Sprinkle confetti over tables for a fun and festive decor!
Sparklers – If the party is at night sparklers are fun to have in a jar!
Carnival Party Supplies
Here's a list of fun supplies you can use for your party!
Paper Cups – Use these for popcorn and fruit.
Large White Tray – Perfect for serving food.
Popcorn Maker – A classic popcorn maker is perfect for a carnival party. We also used it for our Halloween movie night.
Large Bucket – Fill with ice to put water and spiked waters on here.
Tassels – Use these as drink markers for bottles!
Oh Happy Day has wonderful, colorful party supplies too!
Carnival Party Food
There are so many options when it comes to re-creating carnival food! We made a carnival food tray filled with some of our favorite snacks, treats, and carnival food! Here are some ideas:
Corndogs
Pretzel Croissant
Donuts
Popcorn – Caramel, Colorful, Different Flavors
Corn Salad
Potatoe Salad
Pasta Salad
Watermelon and Berries
Cotton Candy
Caramel Apples
Churros
Mochi Ice Cream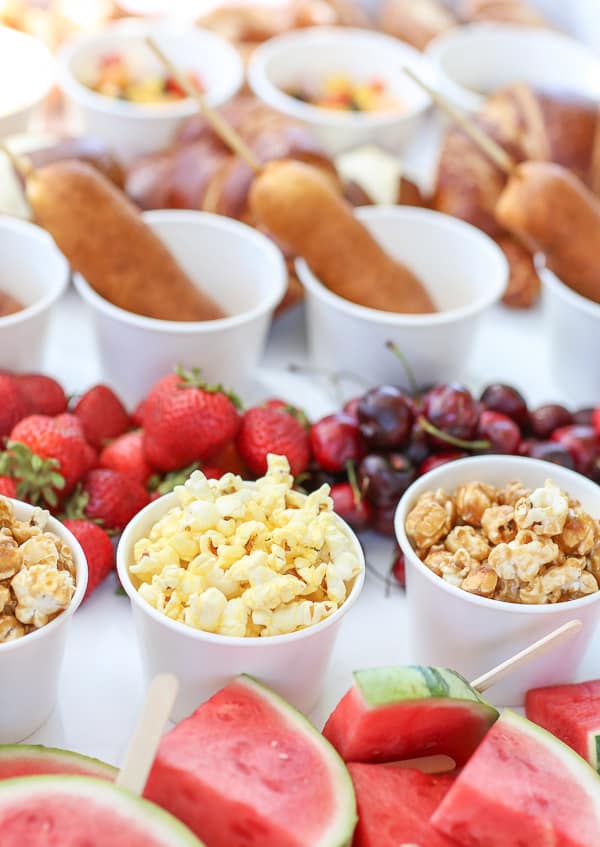 Carnival Party Games
It can't be a carnival party without games! Depending on how elaborate you want the games to be, you can rent carnival games from local party rental stores. Here's a list of fun yard games you can also buy for your party: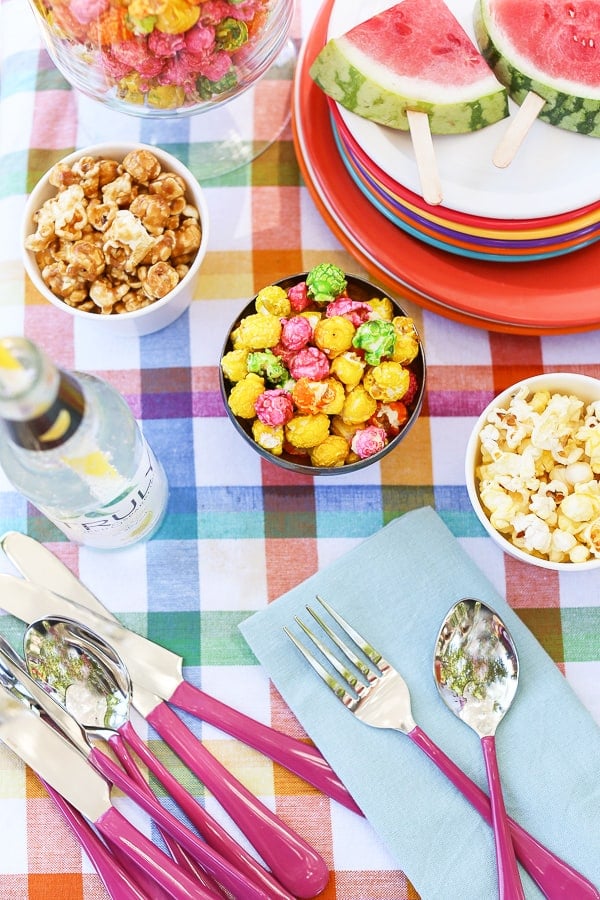 Colorful Carnival Party Drinks and Cocktails
If the party is for adults, make a colorful cocktail punch to serve! You can also make blue or pink ice cubes to add even more color!
Spiked sparkling water is also great for a hot summer day! We're fans of Truly Spiked Sparkling Water or White Claw! They're low sugar, low calories and have a hint of flavor. Guests totally enjoy them!
Also, fun entertaining idea, use colorful tassels as drink markers!
More Party Ideas You'll Love!
Guide to Hosting a Tropical Party
How to Throw a Last-Minute Birthday Party
If you host a carnival party theme, please leave a comment and let us know how it turned out!
Also, tag @sugarandcharm with your photos on social so we can see your pictures!