A guide to the most charming food domes and food covers on the market. These are our food tents to keep food safe and protected from unwanted bugs in the summer. They're essential for outdoor events and summer entertaining!
Summer is all about entertaining, especially outdoor entertaining. Unfortunately, the bugs also enjoy the summer heat. We live in a ranch area and have a lot of flies when the weather warms up, literally the worst! They go away when the sun goes down, but they're a nuisance during the day.
Of course, we can keep the food inside the house, but the doors are always open, allowing the flies to come in. It's essential to make sure the bugs are not infesting the food.
We want to be practical, cover our prepared food, and keep the party charming. When we visited Stockholm's Rosendals Trädgård, I fell in love with the mesh food covers in their outdoor cafe.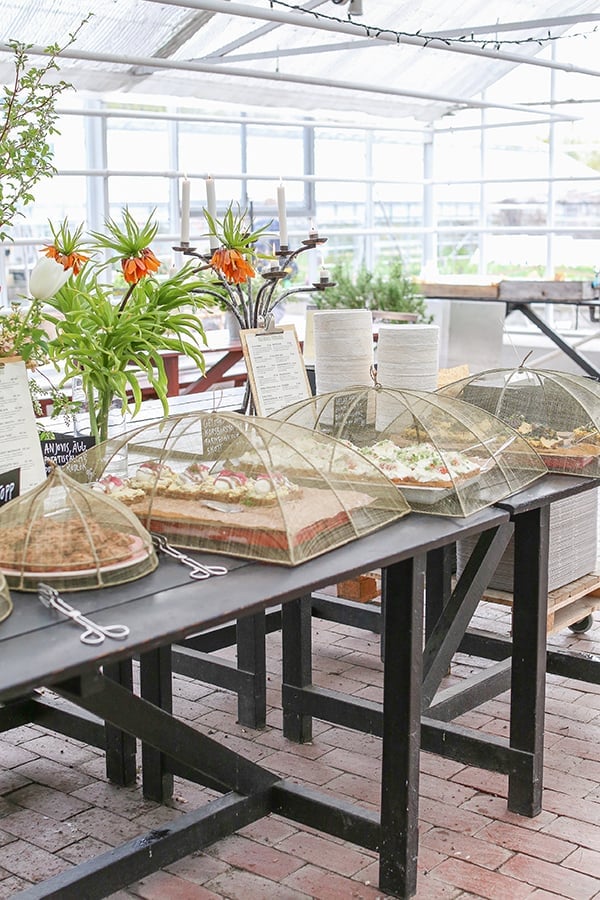 Why you should use a food cover:
1. Protect food from dust and other particles that may cause contamination.
2. Keep food safe from wind, sun, and rain which can spoil it.
3. Help maintain the optimal temperature of the food while in transit or during outdoor events.
4. Keep insects away from your food, keeping it free of germs and bacteria.
5. Create a stylish way to present dishes at outdoor parties or gatherings.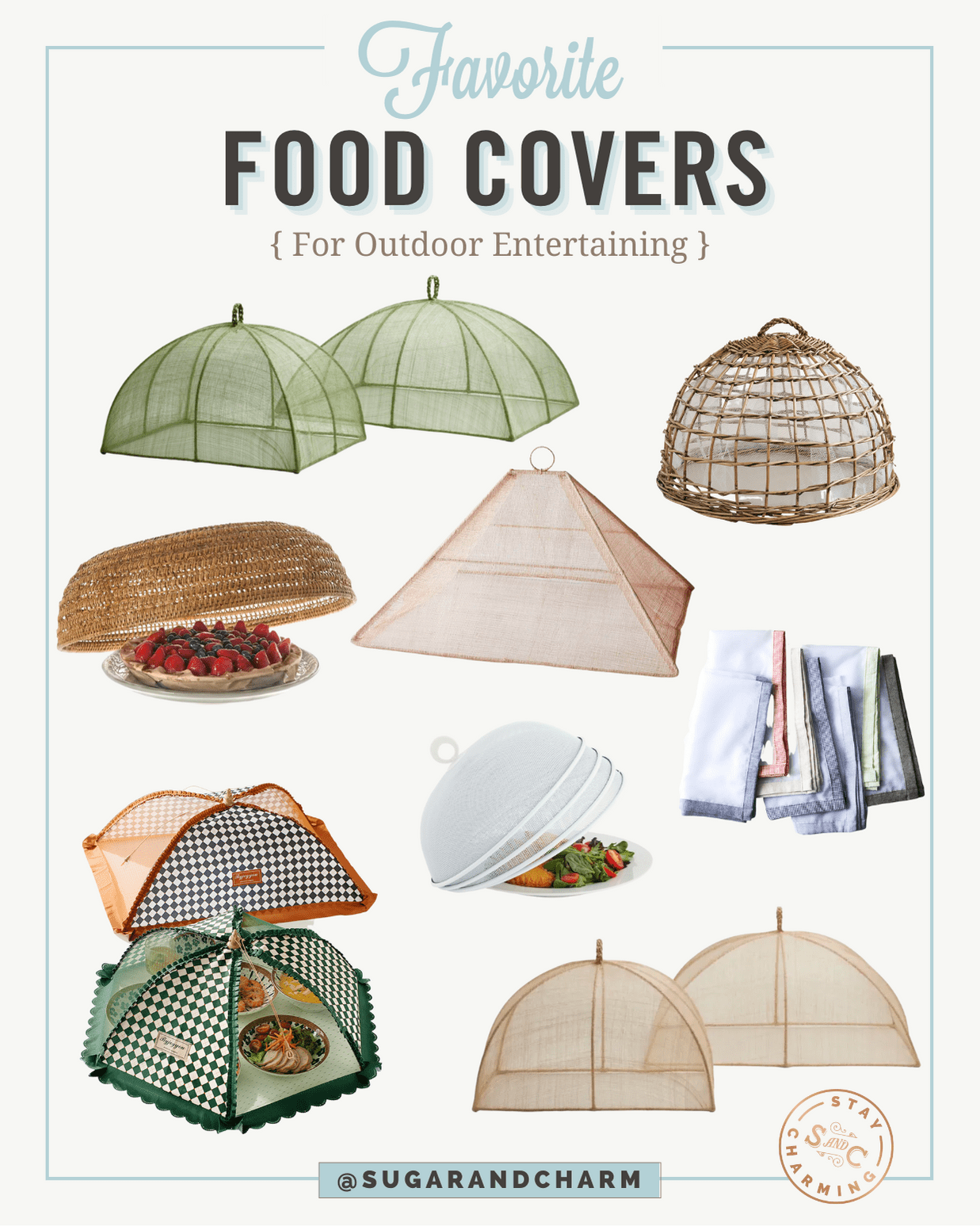 Our Favorite Food Covers
Here are the best food covers in different sizes and materials: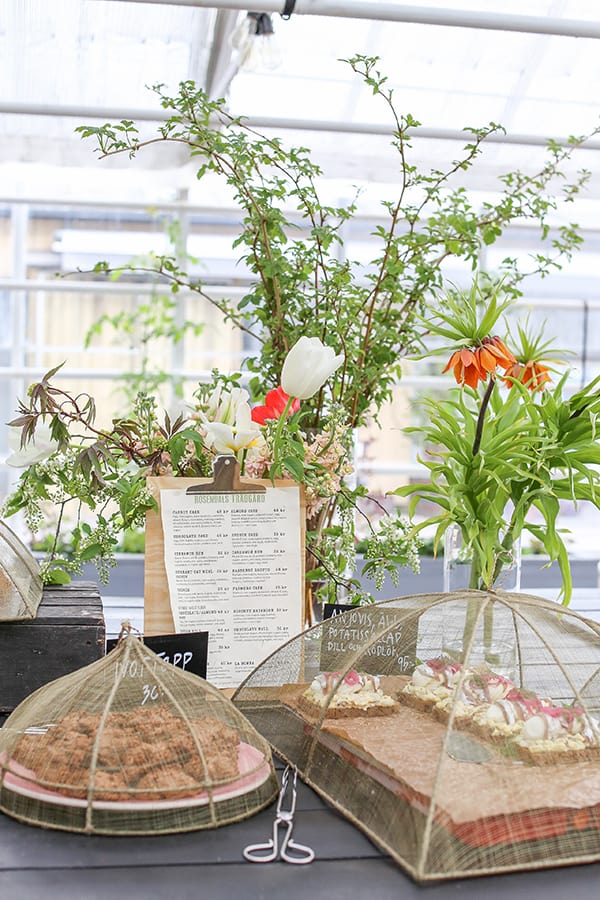 Frequently Asked Questions
What are food covers used for?
Food covers are used to protect food from bugs and contamination when entertaining outdoors. They create a barrier between the food and any unwanted bugs and fruit flies.
How do you cover food at an outdoor party?
When hosting an outdoor party, it's important to cover food in order to keep it safe from contamination. The best way to do this is by using a food tent or canopy, which can be set up to shield the food from wind, dust, sunlight, and other elements.
When to Use Food Covers
Outdoor food covers are commonly used when outdoor dining. They're great for events such as outdoor picnics, BBQs, camping trips, and beach parties. They come in handy for any event where you need to keep food safe and bugs away, especially flies.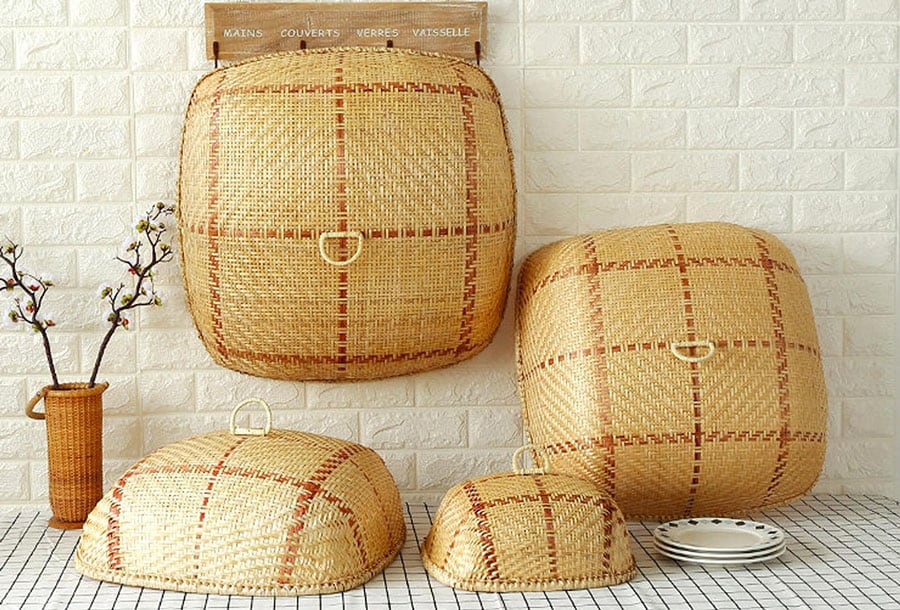 More Ways to Keep Bugs Away from an Outdoor Party
Battery Operated Fan – This is one of the best tricks and works well. Keep a small fan near the food. The cool air keeps the bugs away and creates a nice breeze for hot summer days.
Bug Lanterns – Keep these further away from the party and food, but you can hang them in a tree way off to the side. They attract and kill flies.
Citronella Candles – Always a nice ambiance and helps keep bugs away. Here's a fun tutorial for How to make Recycled Tin Citronella Candles.
Tiki Brand Bug Fighter Lights – I did a commercial for these a few years ago and really liked them. They set a beautiful ambiance outside too.
Bonfire – This helps with flies as they do not like smoke. If you toss some herbs in that works even better to help with mosquitos. They hate the smell of spices!
Bug Repellent Potpourri – DIY here!
More Outdoor Entertaining Ideas You'll Love
The Most Charming Beach Essentials
How to Host an Outdoor Movie Night
Simple Guide to Dining Alfresco
FOLLOW US on FACEBOOK and PINTEREST to see more delicious recipes, cocktails, desserts, and parties!