Out of all my trays, the tiered galvanized tray is my favorite and a must for entertaining. It can be used for every season and so many holidays and creates more open space on the table. Check these different galvanized tray ideas.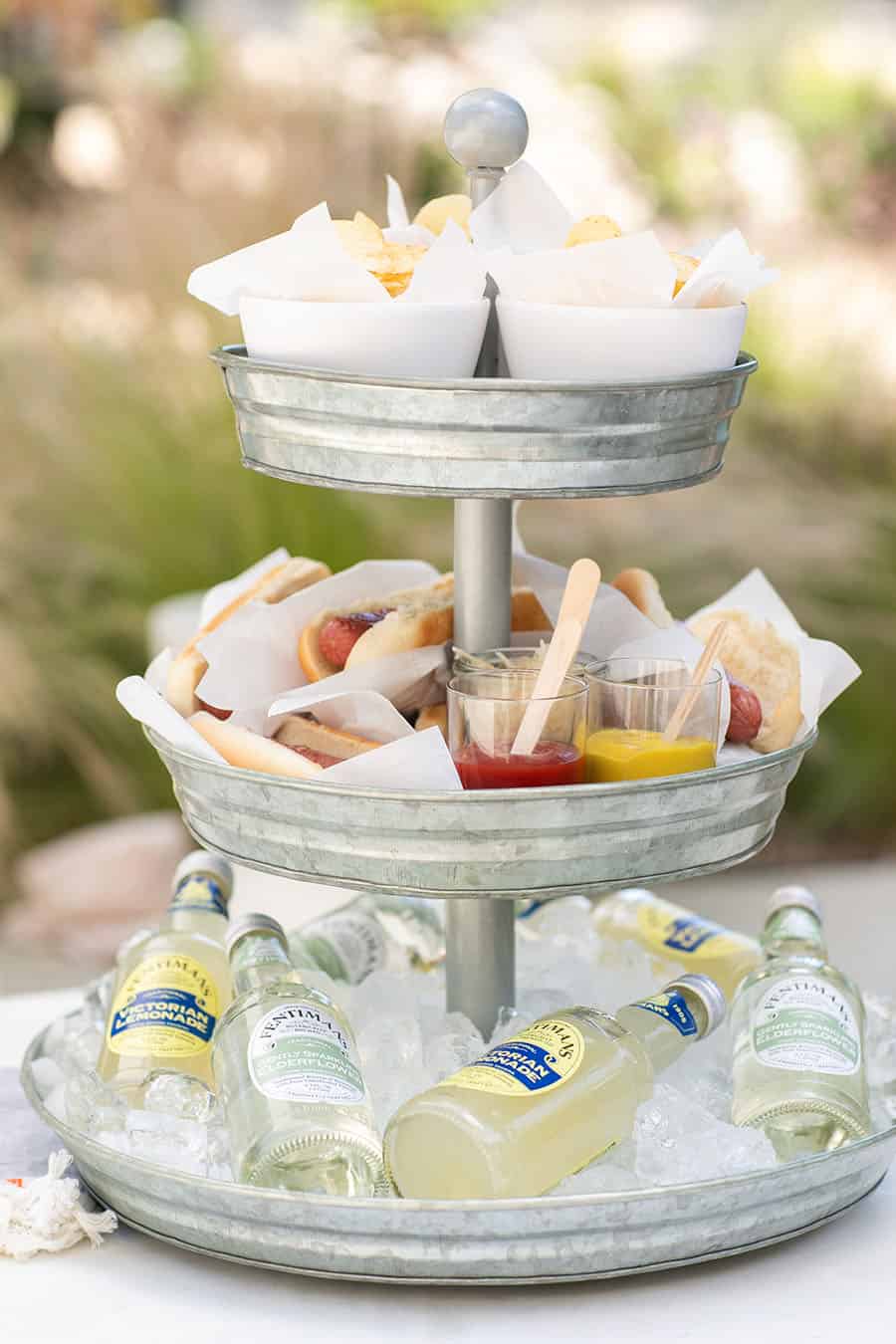 Galvanized material is great because it pairs well with any season, holiday or event. It can have a rustic vibe or make it modern by using different metals with it, like brass and gold.
What is Galvanized Steel Made Of?
Galvanized is the process of adding a protective zinc coating that's applied to steel or iron to prevent rusting.
Does Galvanized Steel Rust?
Galvanized steel does not rust since the zinc acts as a protective coat and prevents rusting.
Fun Ideas To Do With a Tiered Galvanized Tray!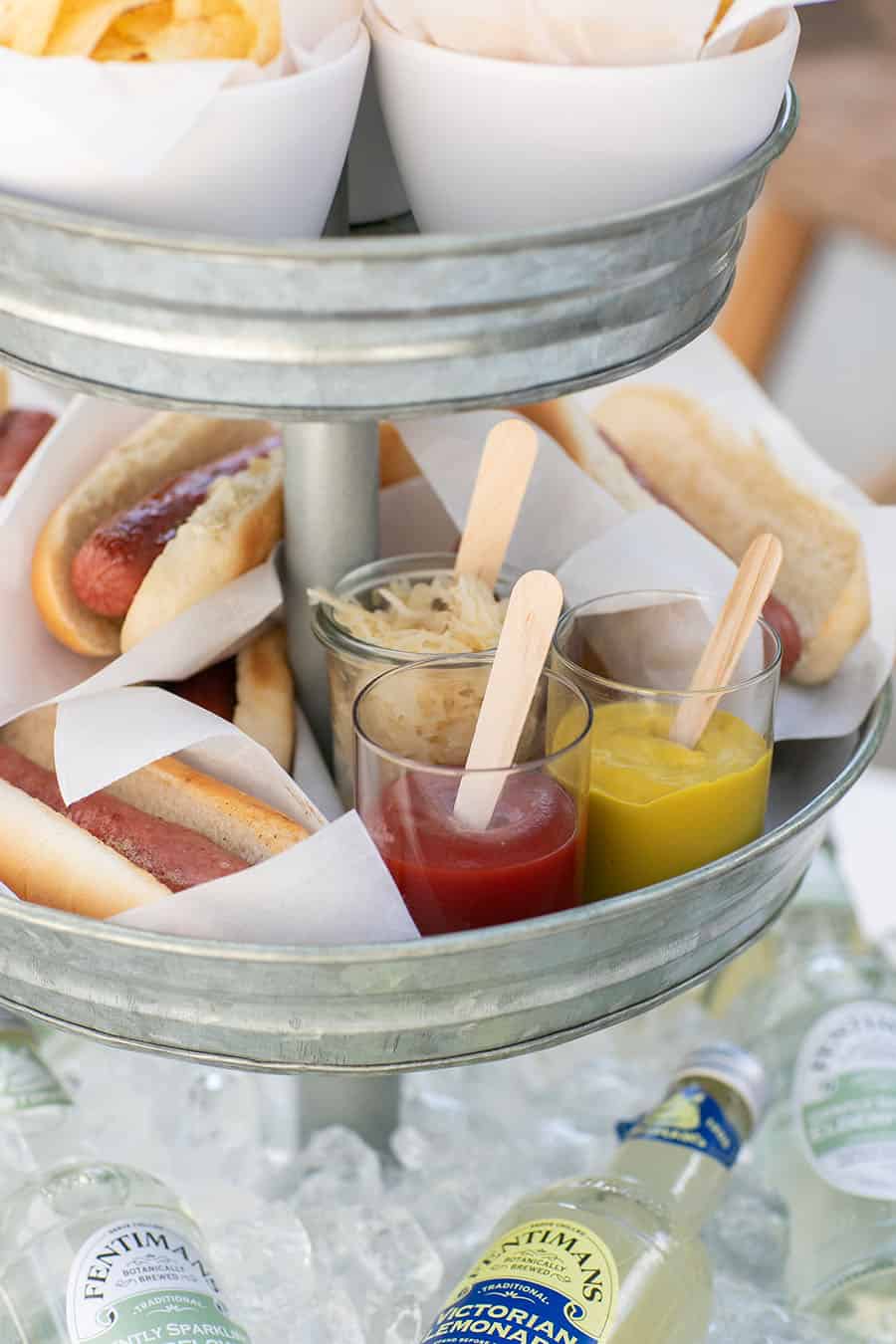 1. Tiered Galvanized Summer BBQ Tray
Sodas, chips, hot dogs (or burgers), and sauce, all on one tray! This is such a fun way to serve BBQ for a summer cookout.
When serving many people, switch it up and fill the bottom with hot dogs, the middle with chips and sauces on the top!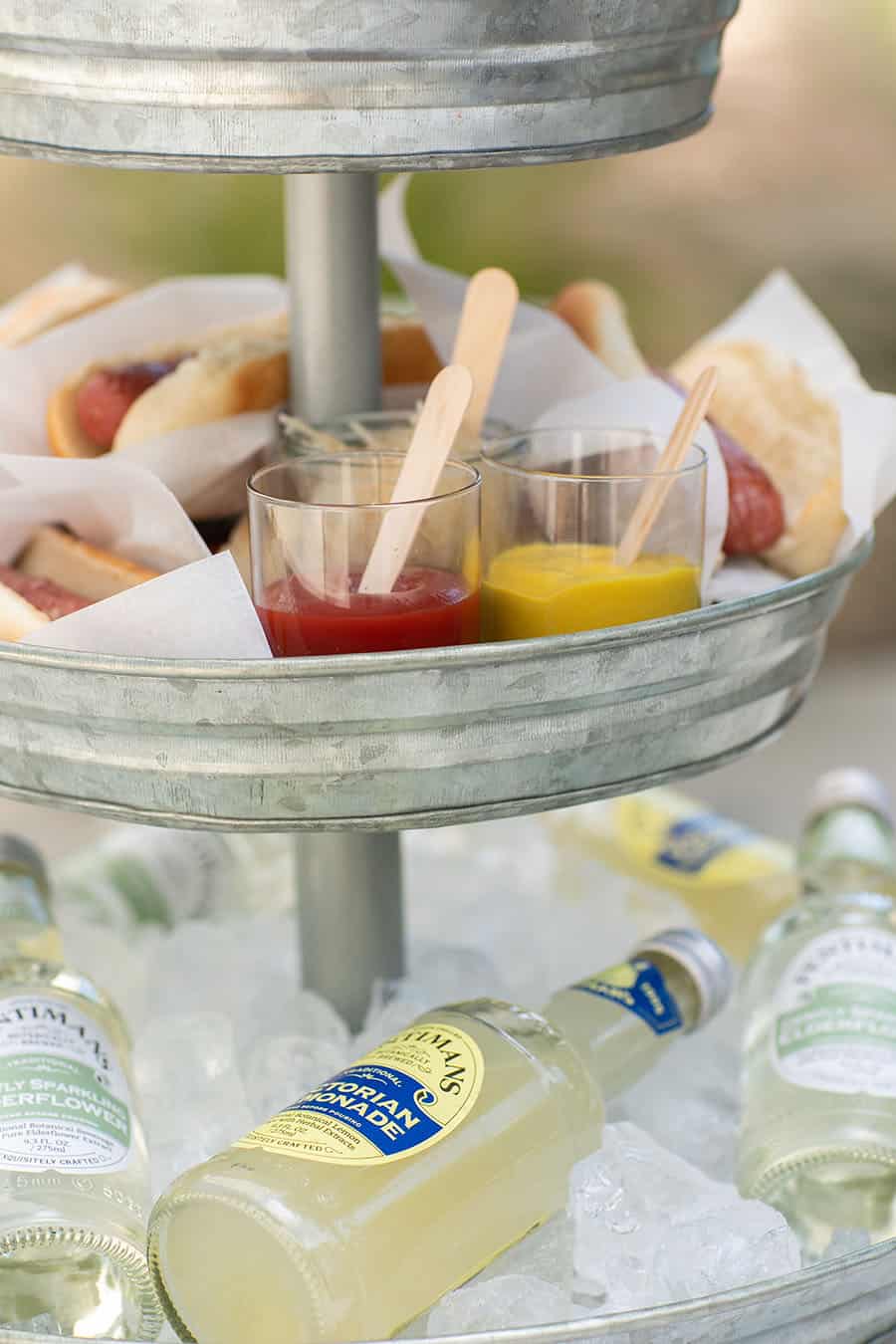 Wrap the hot dogs or burgers in parchment paper, brown paper, or picnic basket liners for a fun diner look.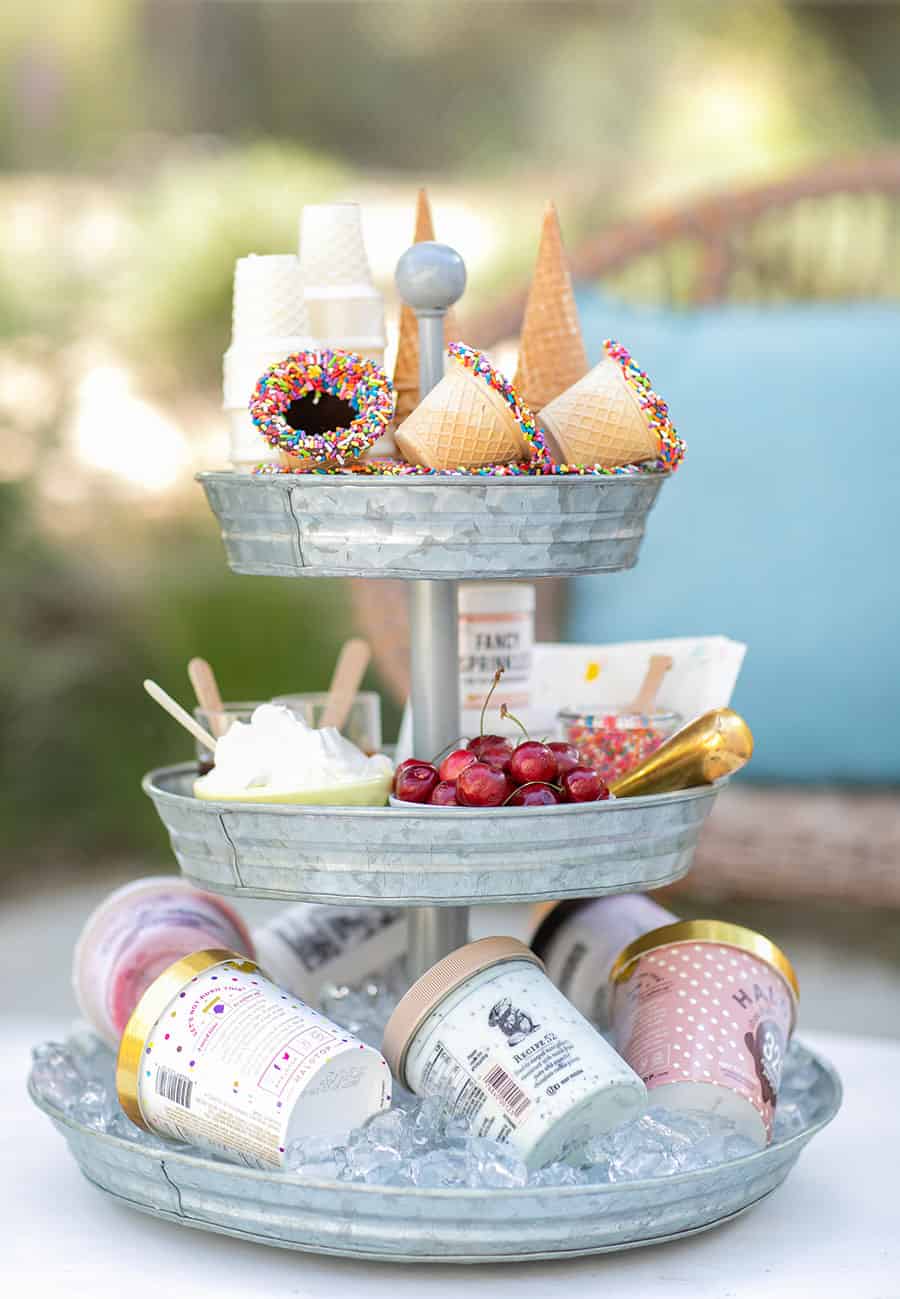 2. Tiered Galvanized Ice Cream Tray
Does this not scream summer or hello birthday party?! A tray full of ice cream sundae treats stacked in a tall galvanized tray.
It instantly looks festive, in the tray, with stacked cones and various ice cream flavors to choose from. It's like a mini ice cream shop!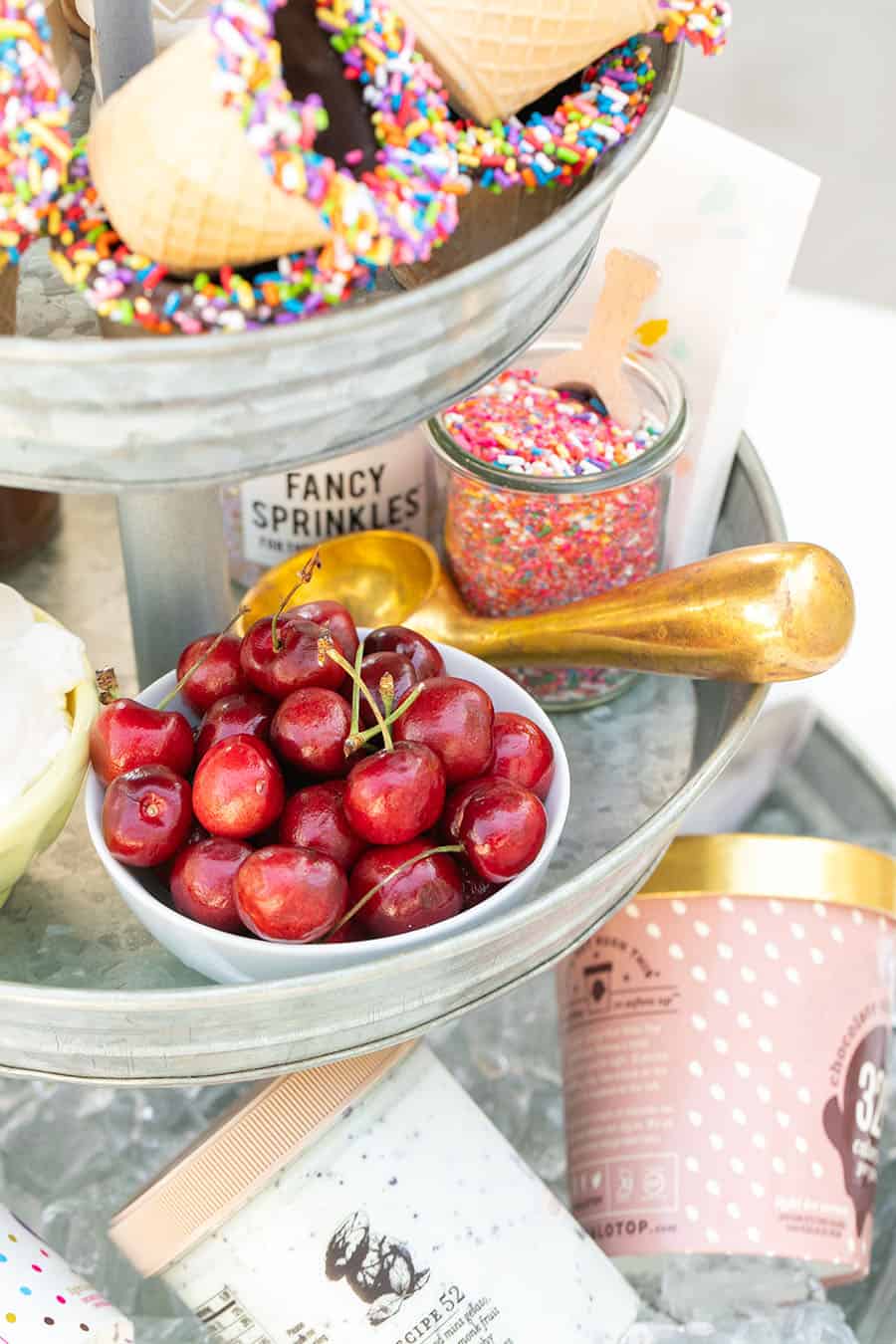 How to Make an Ice Cream Tier
Choose a variety of your favorite pint-sized ice creams for the bottom tier. Add crushed ice to keep them cold.
The middle tier is all about toppings! Sprinkles, whipped cream, hot fudge and caramel sauce, cherries, and whatever else you like on your ice cream that you can fit!
The top tier is for cones! Lots of cones! Waffle cones, cake cones, sugar cones, chocolate-covered cones. We found these adorable sprinkle-dipped cones that are the perfect little bowl for a scoop of ice cream.
Add napkins, mini spoons, and an ice cream scooper to the tower.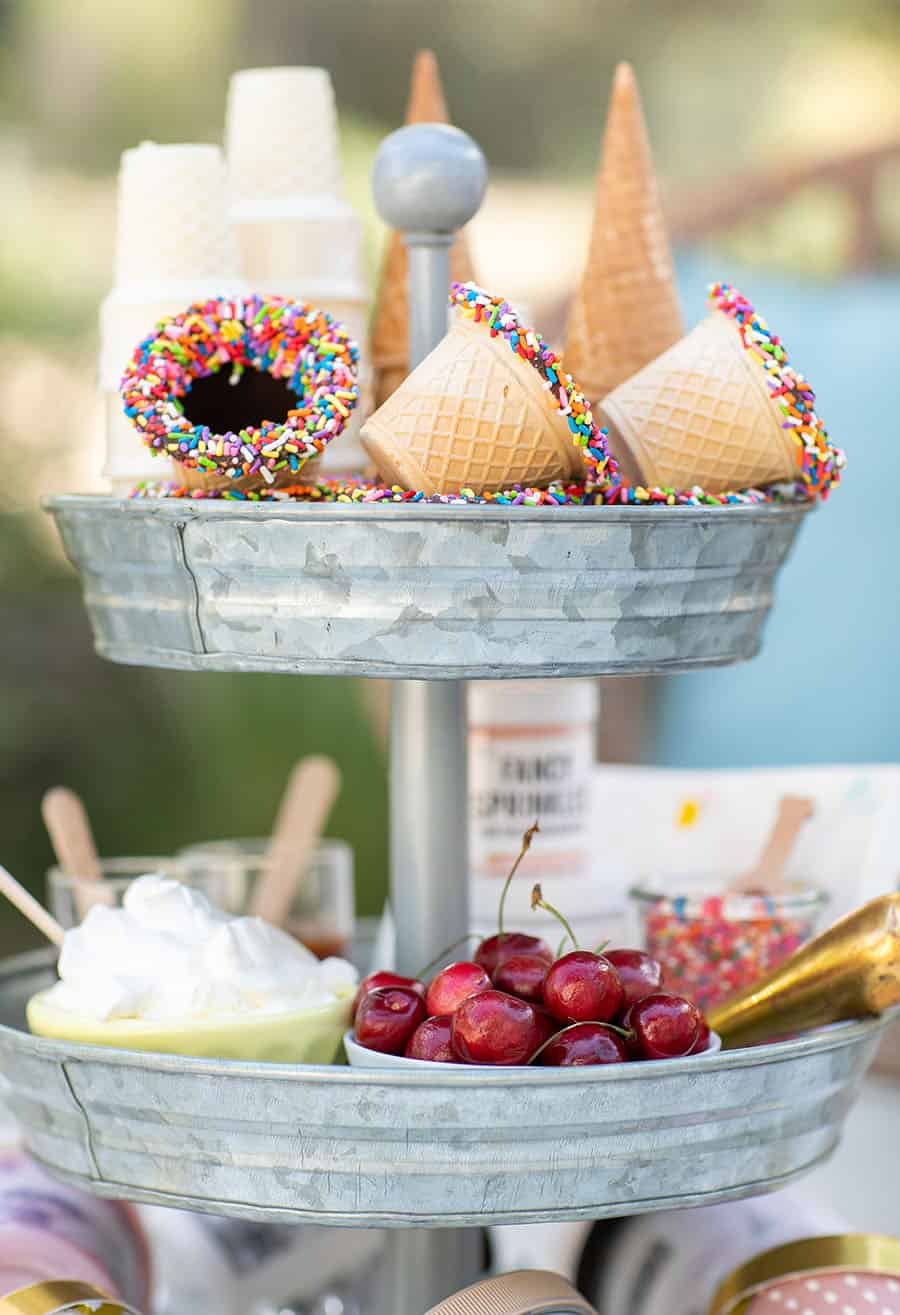 Here's a list of the items we used for our ice cream tier:
Fancy Sprinkles – the best sprinkles!
Mini colorful bowls from Anthropologie for cherries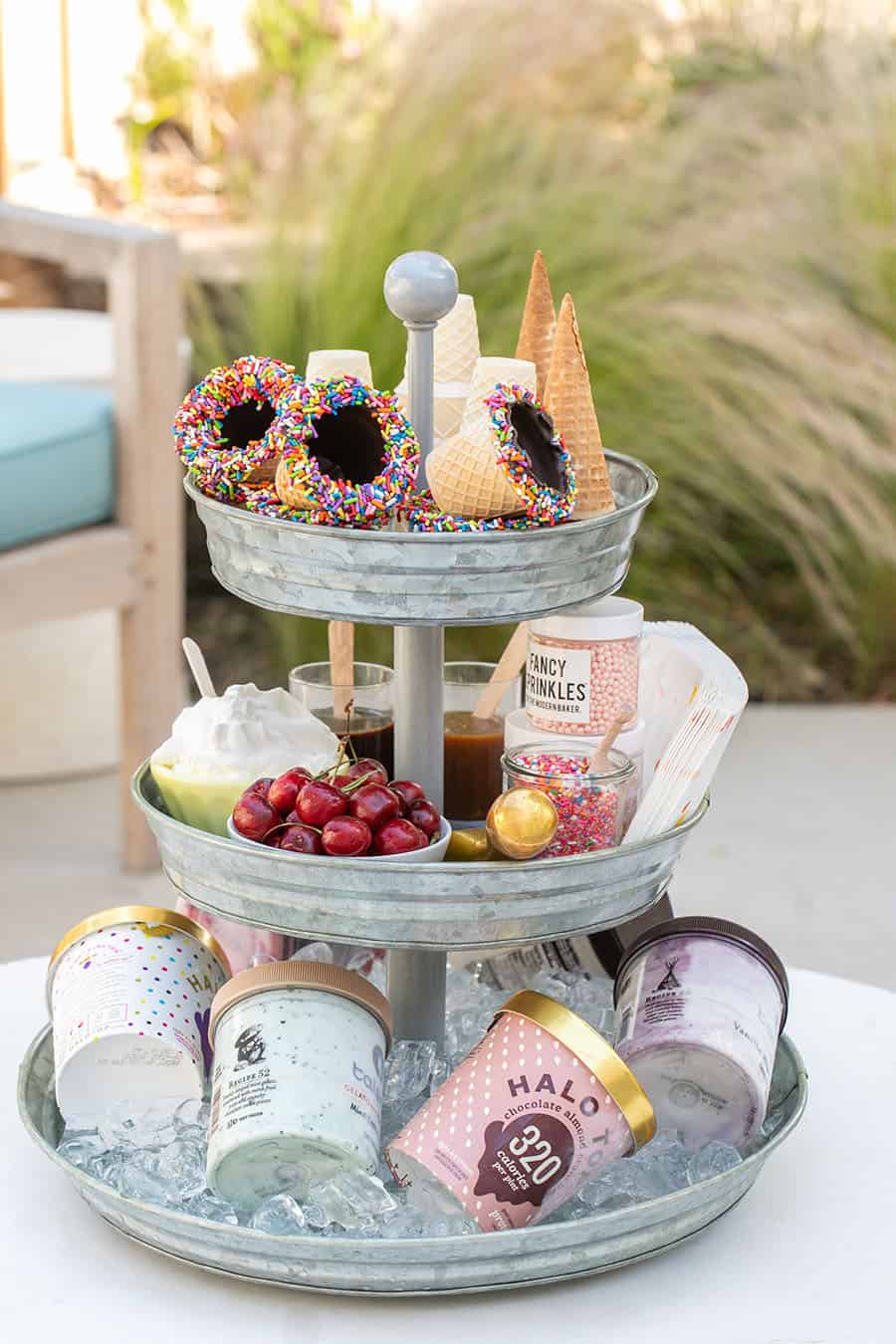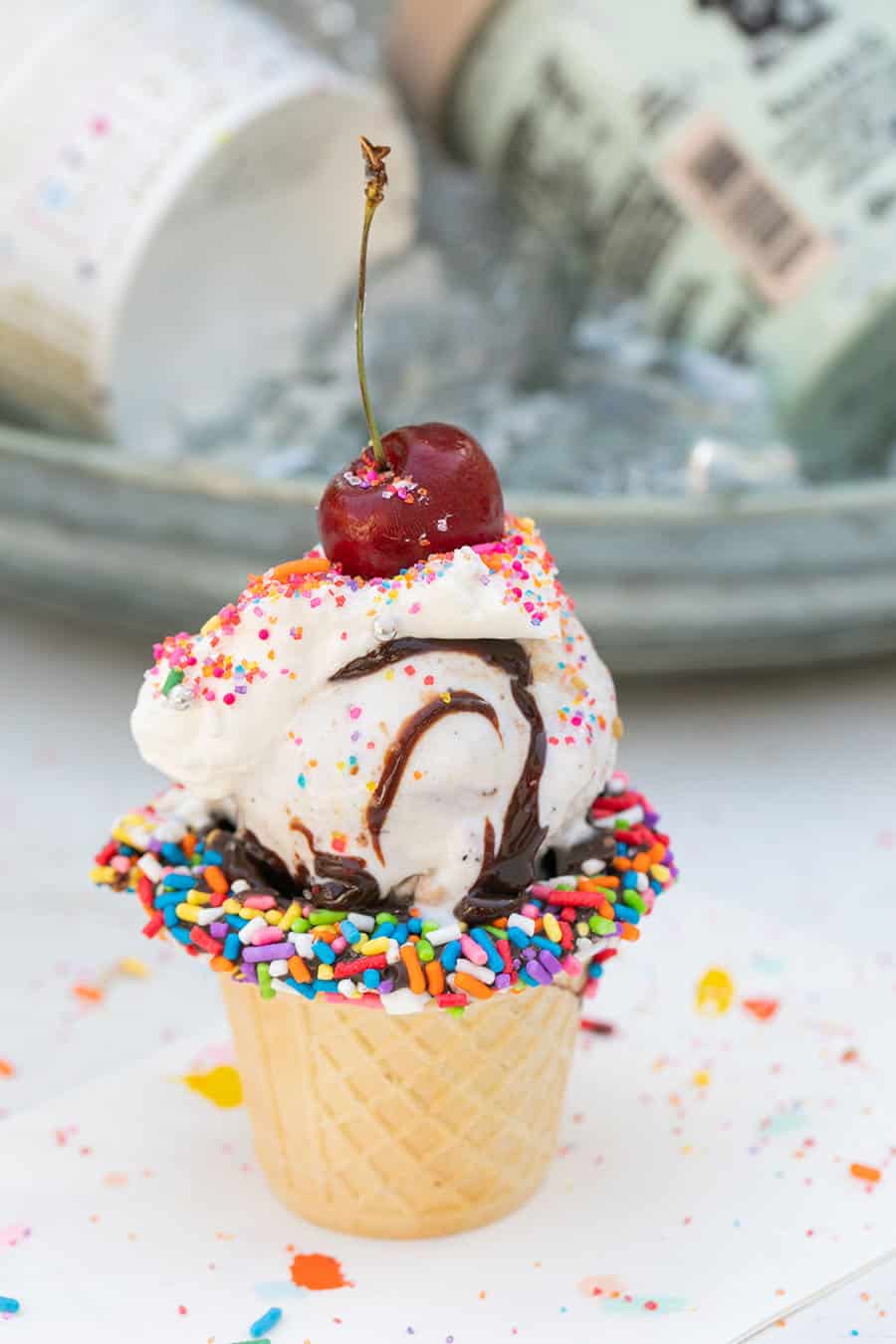 3. Tiered Galvanized S'mores Tray
This is a very easy way to serve s'mores. The presentation is beautiful and deliciously tempting. Everyone will be roasting a marshmallow!
Load the bottom tier with large marshmallows! You can do flavored marshmallows too!
The second tier is all about the cookies that sandwich the s'more together. Classic graham crackers, chocolate wafer cookies, and pizzelle cookies are great options.
The third tier is for the chocolate! Place ALL different types of chocolate bars out for guests! From dark chocolate to white chocolate to Reeses Peanut butter Cups (those are so good on a s'more!), it's fun to have options and create unique s'mores.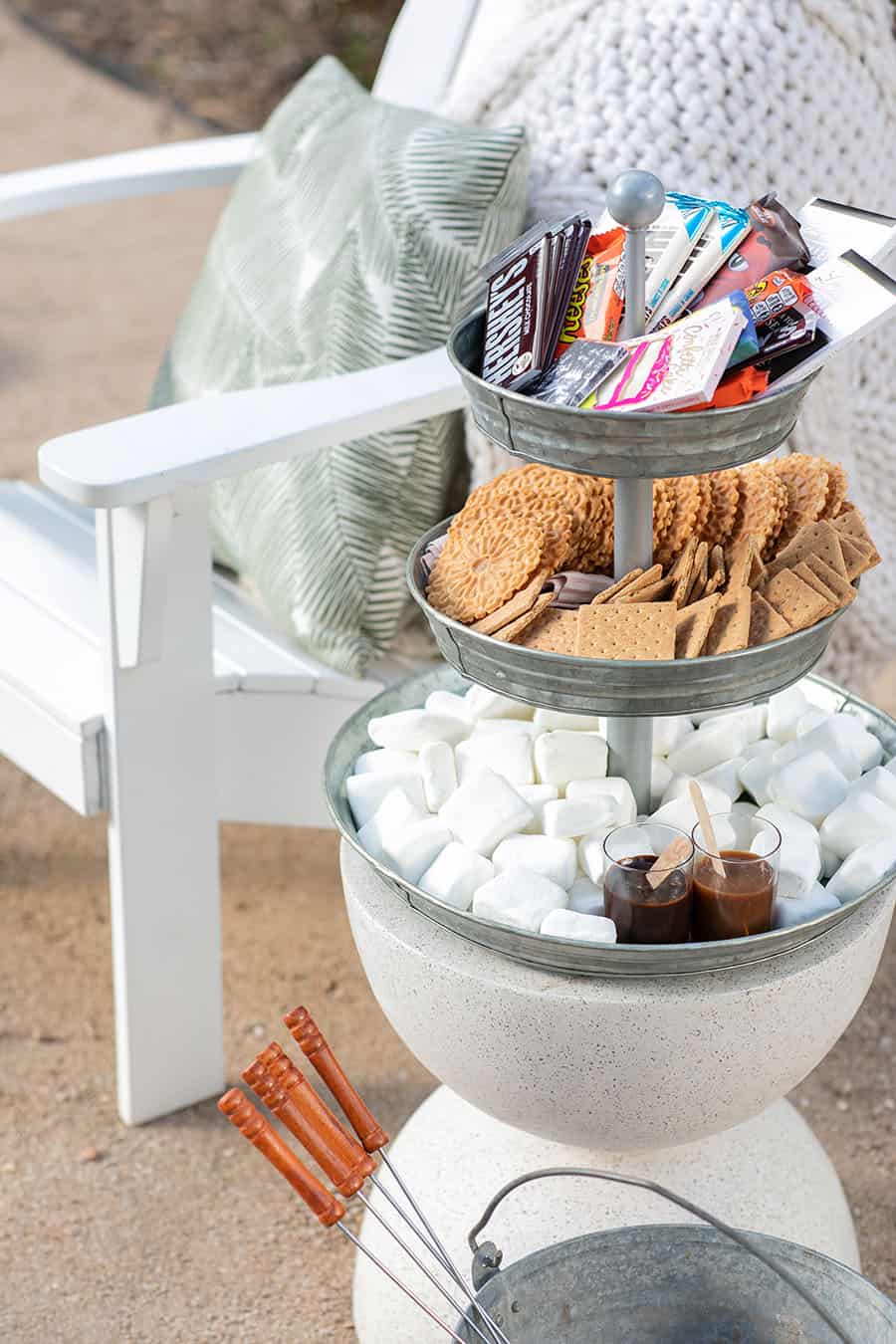 Items for a charming s'mores tray!
Variety of Chocolate Bars – Classic Hershey's to high-end chocolates. Mix it up for fun!
Chocolate, Caramel, and Peanut Butter Sauce!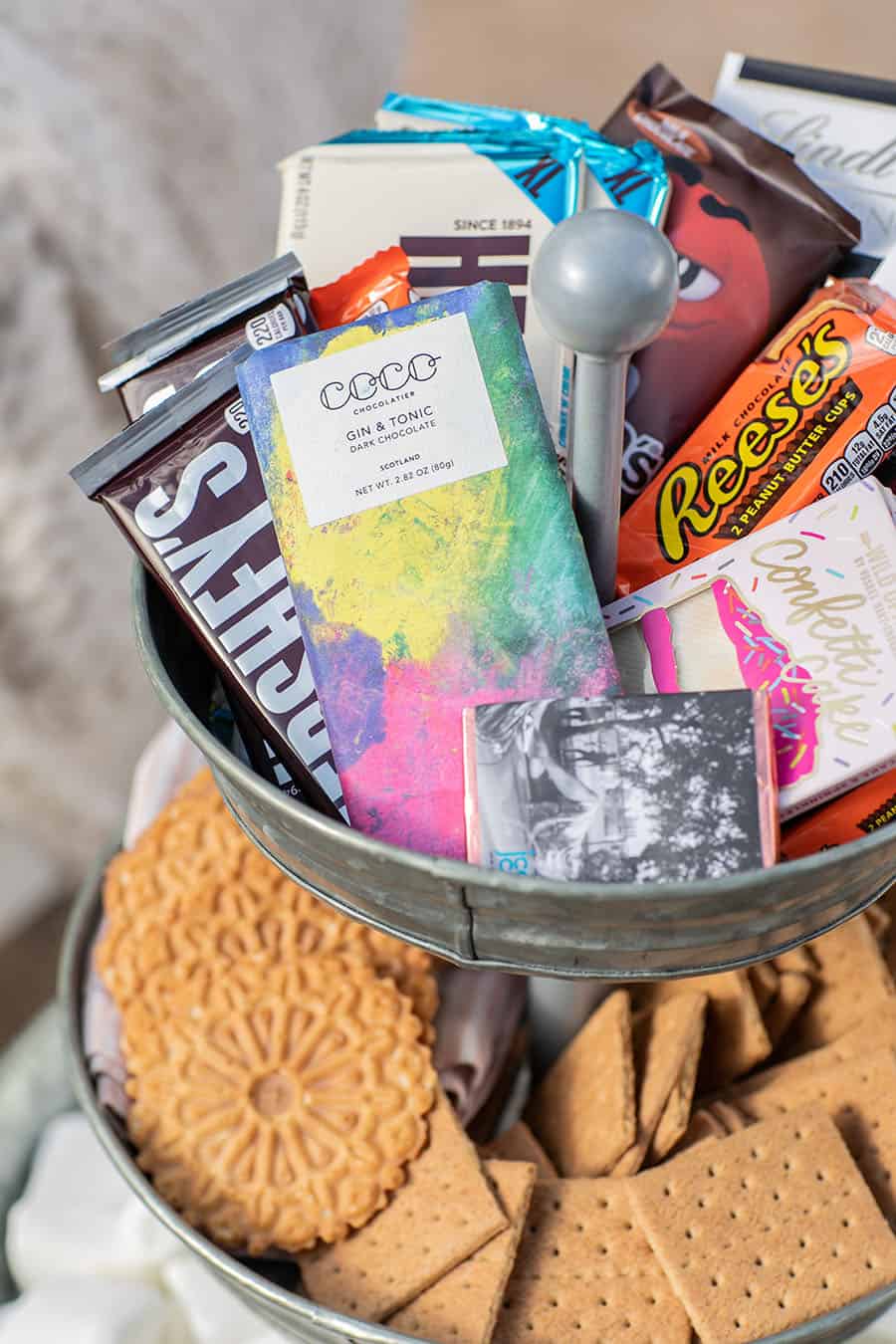 Where to Use Galvanized Trays
1. Birthday Party
A great way to use your galvanized tray is by using it as part of the decor for a birthday party. This can be done by setting up a few different tiers of goodies such as cupcakes, cake pops, or even just some regular old cake.
By doing this, you can add a bit of extra flair to the party and make it more memorable for the birthday boy or girl.
Try checking out, The Best Adult Birthday Party.
2. Reception
Another great place to use your galvanized tray is at a wedding reception. This can be used to serve food or even as part of the decorations. If you are having a buffet-style meal, you can use the tray to keep all of the dishes warm.
Or, if you are having a more formal sit-down meal, you can use it to serve the food. Either way, it will add a touch of elegance to the event.
3. Outdoor Picnics
If you are planning on having an outdoor picnic, then you will definitely want to bring along your galvanized tray.
4. Baby Showers
A galvanized tray can also be used as part of the decorations for a baby shower. This can be done by setting up a few different tiers of goodies such as cupcakes, cake pops, or even just some regular old cake.
By doing this, you can add a bit of extra flair to the party and make it more memorable for the mom-to-be. baptisms, bridal showers, engagement parties, and more! The possibilities are endless when it comes to using a galvanized tray. So get creative and have fun with it!
You might want to check this one out 10 Charming and Chic Baby Showers – Sugar and Charm.
Galvanized Tray Tiered
Here are some good options for three-tiered galvanized trays.
Pottery Barn Galvanized Stand – This is the one we have and use. Love how they used it for drinks too!
A&B Home Market Square 3-Tier Stand – Walmart
Black Galvanized Three Tier Stand – Pottery Barn
3-tiered Serving Tray – Amazon
We hope you're inspired, and this idea helps when hosting some fun summer parties!
If you have tried this Galvanized tiered tray or any other DIYs on my blog, then please rate it and let me know how it turned out in the comments below!
You can also FOLLOW ME on FACEBOOK, and INSTAGRAM to see more delicious, healthy family-friendly food!