Create a Mix & Match Garden Cocktail Bar that gives your guests plenty of choices and allows them to be a creative mixologist!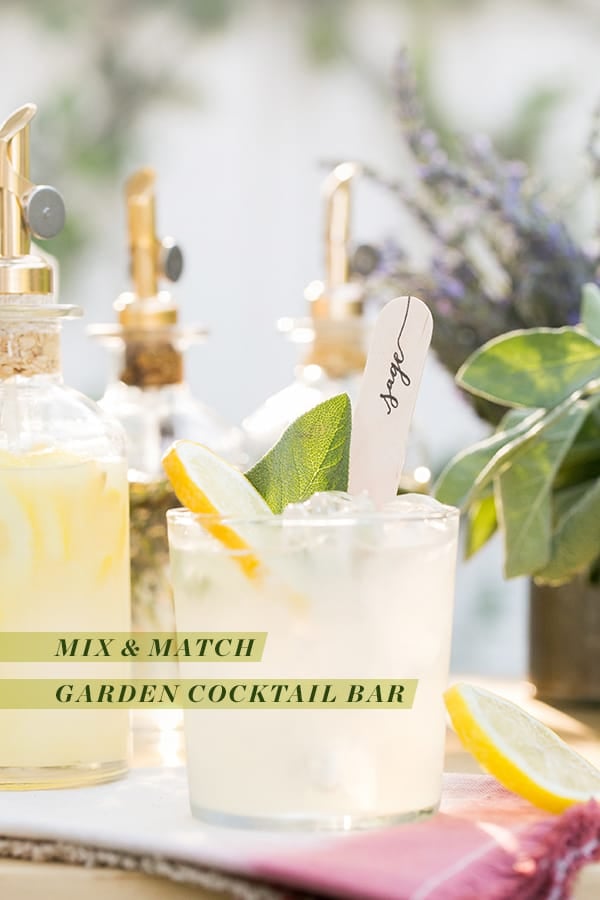 This bar idea is one of my favorite entertaining ideas yet and a great way to kick off a party!
We follow our basic cocktail mixing formula (only 3 ingredients and pours!) which also allows a guest, without bartending experience, to whip up drinks behind the bar!
This also works when creating a mocktail too. Have non-alcoholic spirits available to use instead of vodka or gin.
Why we Love a Mix & Match Bar
It encourages people to be social right away, mixing drinks together to kick off a fabulous party! Exciting right?! With a little prepping, you're on your way to the best garden cocktail bar ever!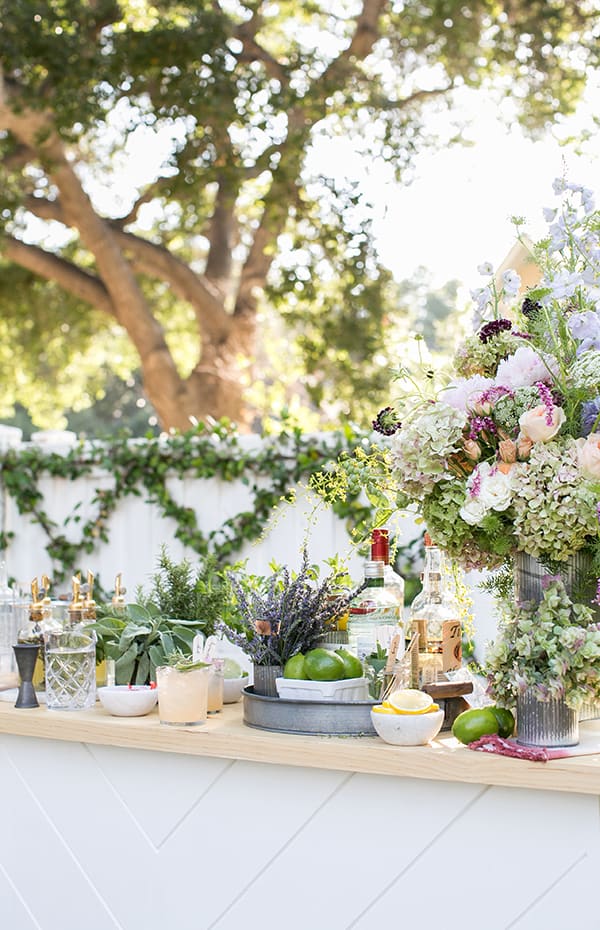 How to Create a Mix & Match Cocktail Bar
There are 3 main ingredients to creating the cocktails: A spirit, sweetener and citrus juice.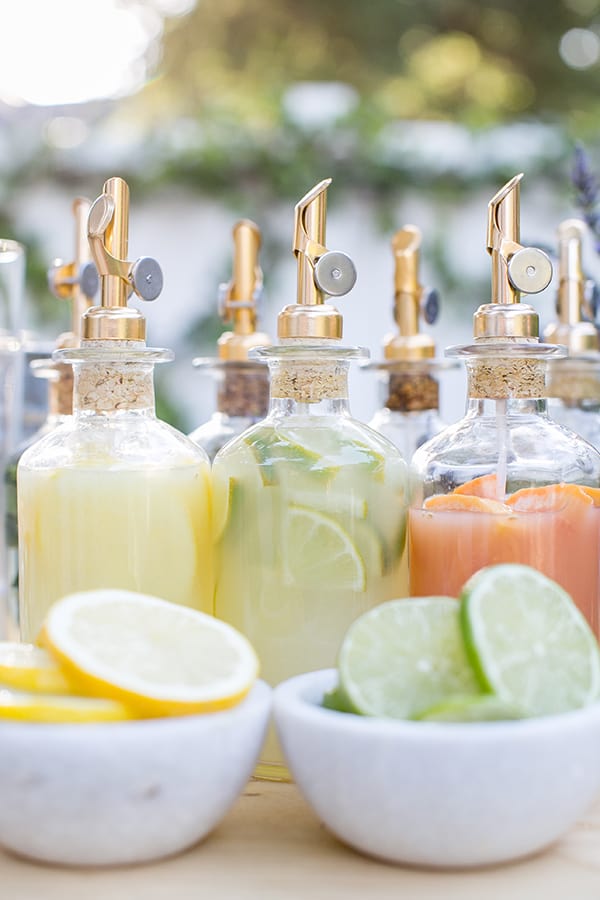 Citrus Juice
Provide 3 to 4 options of different options of citrus juice. Think grapefruit, lime, lemon or orange. Juice them fresh, pour into pretty bottles and add in some slices to garnish to let guests know what juice it is! Then refrigerate until ready.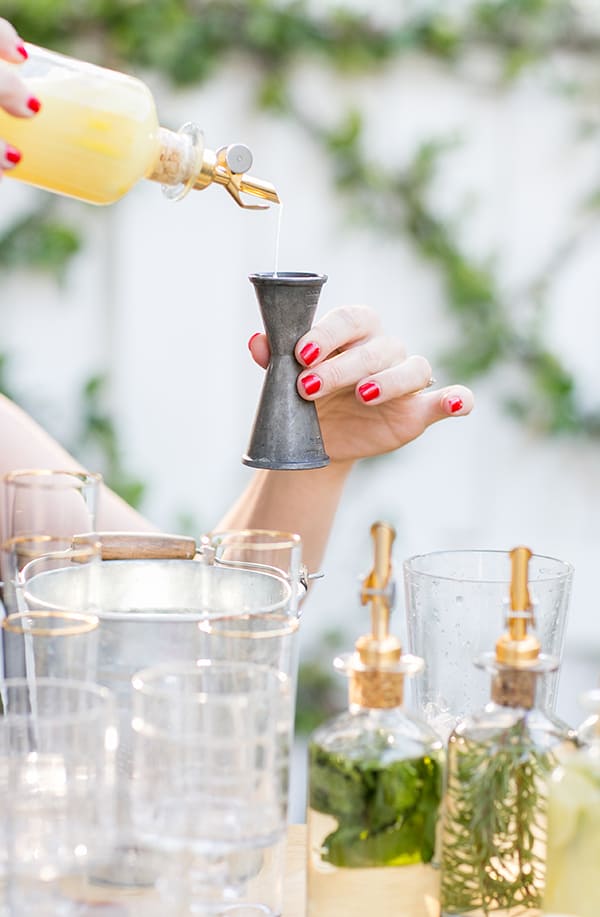 Simple Syrup
Simple syrup is what sweetens the cocktail. Make at least 3-4 varieties of simple syrup to give options. This is also where the garden part comes in since herbs make some of the best simple syrup flavors around. Check out our Simple Syrup Guide to learn how to make the best simple syrups!
Use ingredients like lavender, rosemary, mint, sage, and cilantro. Furthermore, you can also make simple syrups using jalapeño peppers to give a spicy option or maybe a really potent ginger simple syrup.
There are SO many options, but make sure you have at least 3-4 choices available for guests.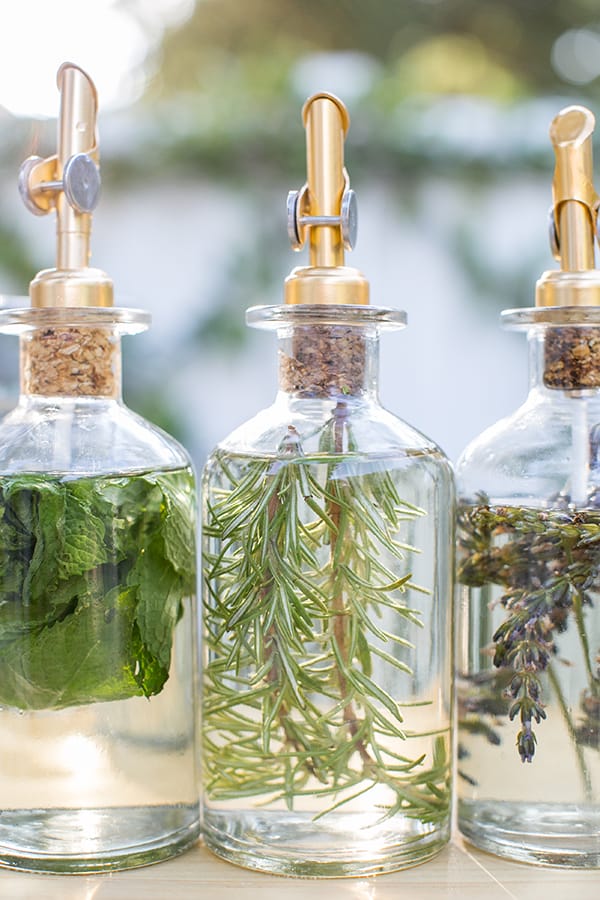 How do you make Simple Syrup?
Check out our Simple Syrup Guide to learn how to make the best simple syrups! Basically, the "simple" formula or simple syrup is equal parts water and organic cane sugar. Melt it and then add in the herbs to infuse for a few hours.
Quick tip! Leave the herbs in the simple syrup bottles to enhance the look and let people know what flavor each syrup is.
You can find the gold bottles here. I use them all the time. They're great for citrus juice and simple syrups and they're only $5.99!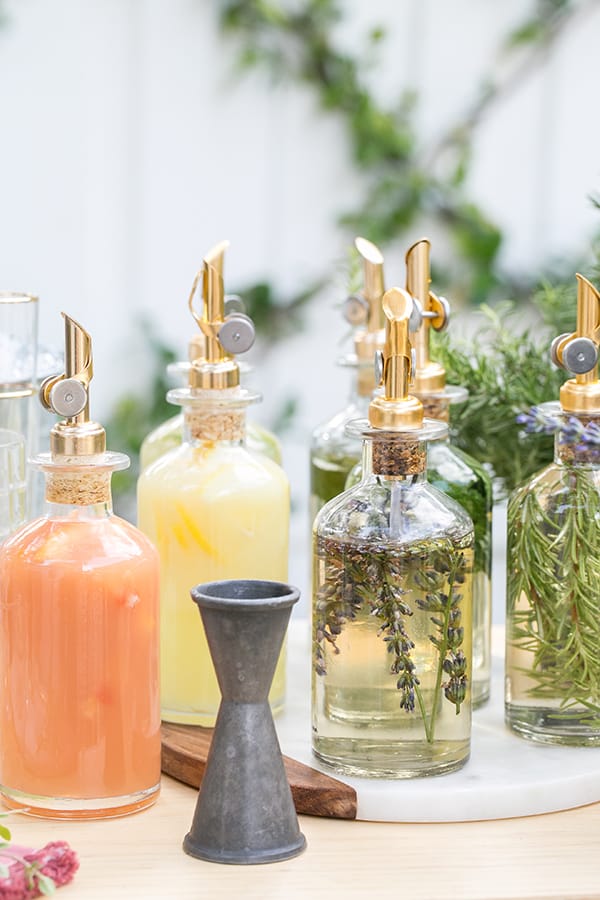 Spirits
Clear spirits work best for this garden bar. Spirits like gin, vodka and Blanco tequila are great options. A clear spirit is one you can see through.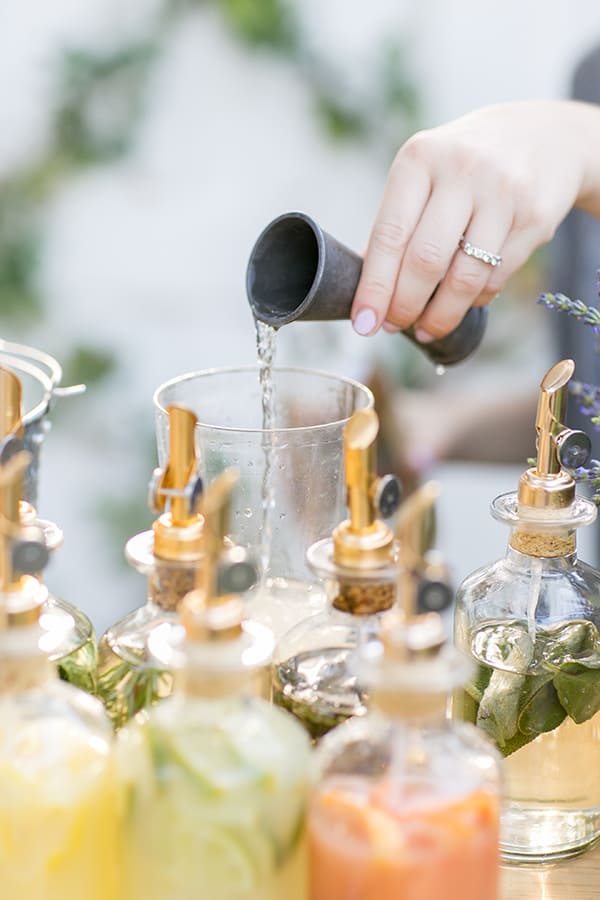 Simple Garden Cocktail Recipe & Formula
Now for the fun part… creating your own cocktail creation! Tell your guests to choose citrus, then a simple syrup and a spirit. They will have the freedom to create their own flavors!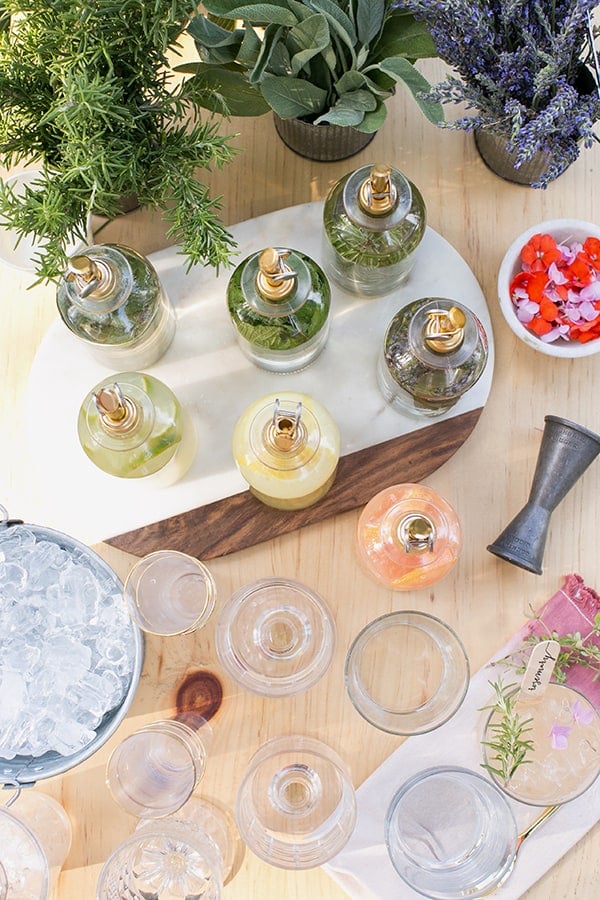 Basic Cocktail Formula
1-ounce citrus
1-ounce simple syrup
2-ounces spirit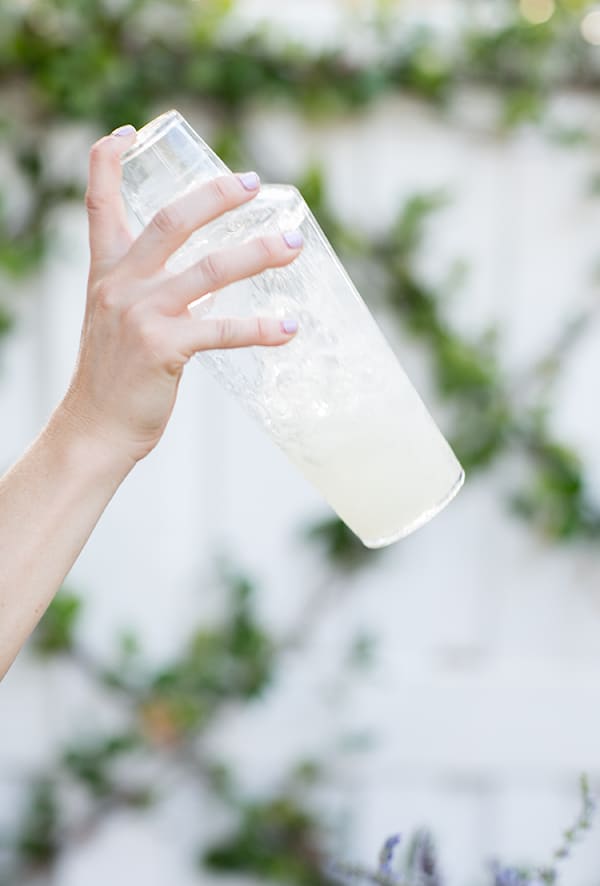 Directions
Add all of the ingredients into a cocktail shaker filled with ice. Shake for at least 30 seconds, this is an important part of diluting the ingredients, then strain over ice and garnish.
You can download our Mix & Match Cocktail Guide here!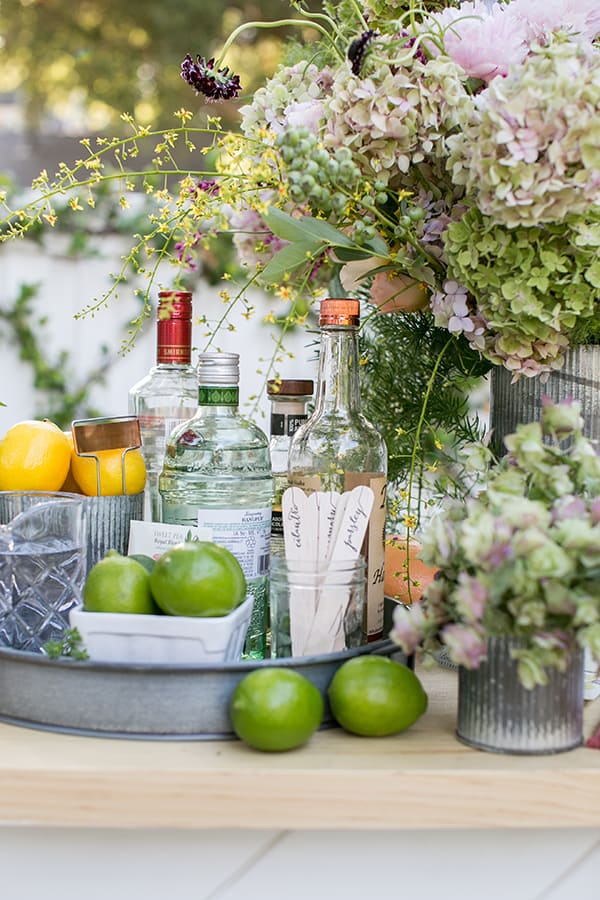 Supplies for a Mix & Match Garden Cocktail Bar
Cocktail shakers
Jigger
Ice
Clear bottles for syrups and citrus juice
Marble bowls for garnishes
Cocktail glasses
Club soda if anyone needs to add a dash
You could provide bitters as well if you want to really mix things up!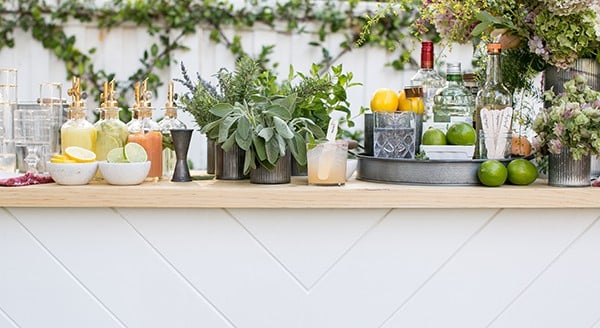 Flowers
To decorate the garden bar, add some beautiful flowers to the table! We used tin vases for the flowers to create a rustic, charming garden look.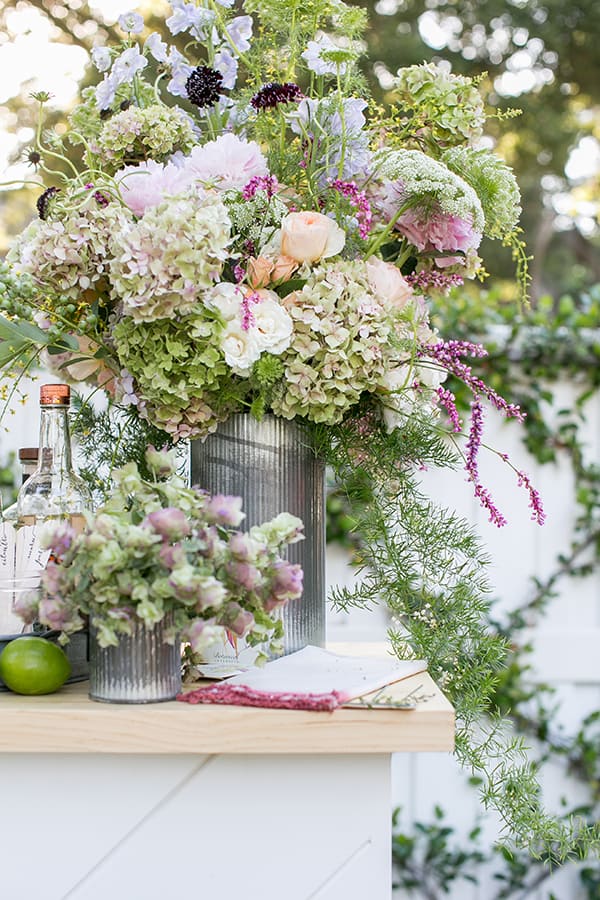 Cocktail Garnishes
Making a cocktail aesthetically pretty is important too! Have garnishes available and fun garden sticks to add to each cocktail. Here are some ideas for cocktail garnishes:
Sliced citrus
Fresh herbs
Garden sticks – Buy the wooden garden markers on Amazon.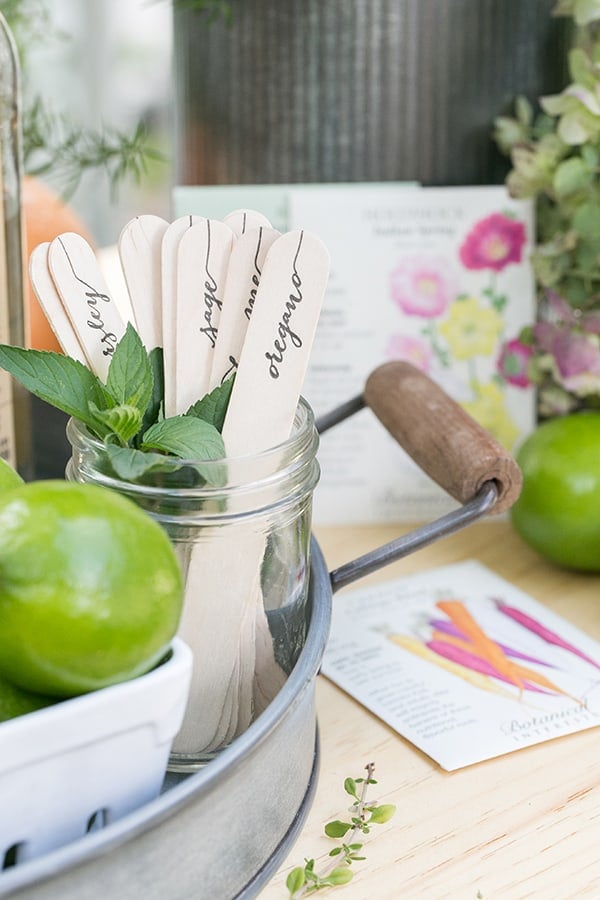 Garden Cocktail Flavor Combinations
People absolutely love coming up with different flavor combinations!! And it creates a relaxed and fun environment.
Here are a few concoctions that we loved:
Lemon juice + sage simple syrup + vodka
Lime juice + rosemary simple syrup + tequila
Lemon juice + lavender simple syrup + gin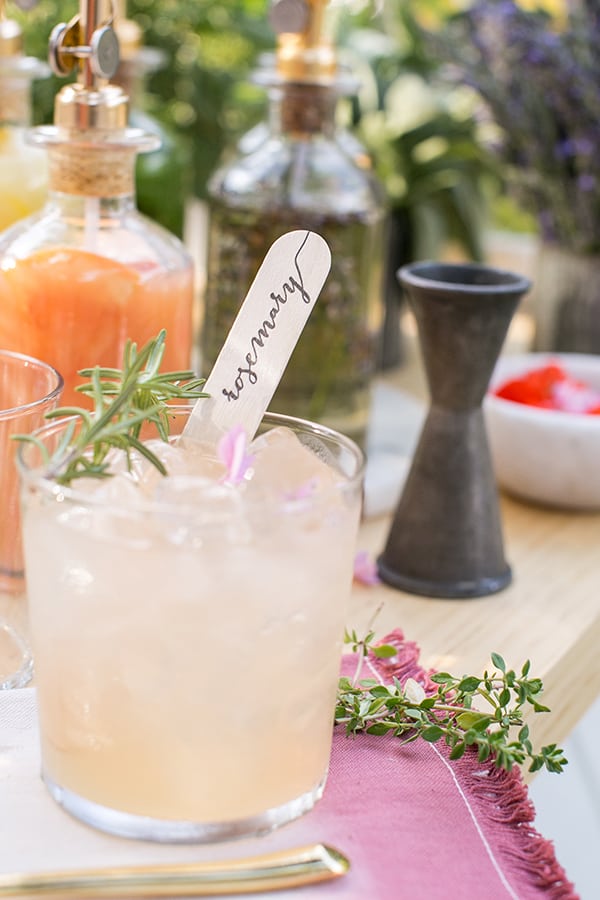 More fun Spring and Summer Entertaining Ideas You'll Love!
Make your Own Spritzer Bar for Brunch
How to Throw a Last-Minute Birthday Party
Host a Beautiful Outdoor Movie Night
We hope you're inspired to make your own Mix & Match Garden Cocktail party! Let us know what you think in the comments and please share your photos with us on social @sugarandcharm!

You can also FOLLOW US on FACEBOOK, INSTAGRAM, and PINTEREST to see more delicious recipes, cocktails, desserts, and parties!
This post may contain affiliate links. Please read our disclosure and privacy policy.