Making simple syrup for cocktails and drinks is easy and can be done in a matter of minutes! Simple syrup is an essential ingredient in cocktails. It adds sweetness to drinks and even baked goods. Using our basic simple syrup ratio of sugar and water, you'll be able to make your own simple syrup.
You can infuse this sweet syrup with berries and herbs to create unique flavors. Learn how to easily infuse and add a unique flavor to your cocktails and recipes!
We've been using simple syrups in many of our cocktails and drink recipes for years, like our Italian sodas. It's a great way to add flavor to dishes and sweeten drinks without the flavor being overbearing. You can be creative and blend herbs and spices to create your own flavors too. It's really one of the easiest things to make.
Check out our homemade gingerbread simple syrup for the holidays and vibrant cranberry simple syrup too!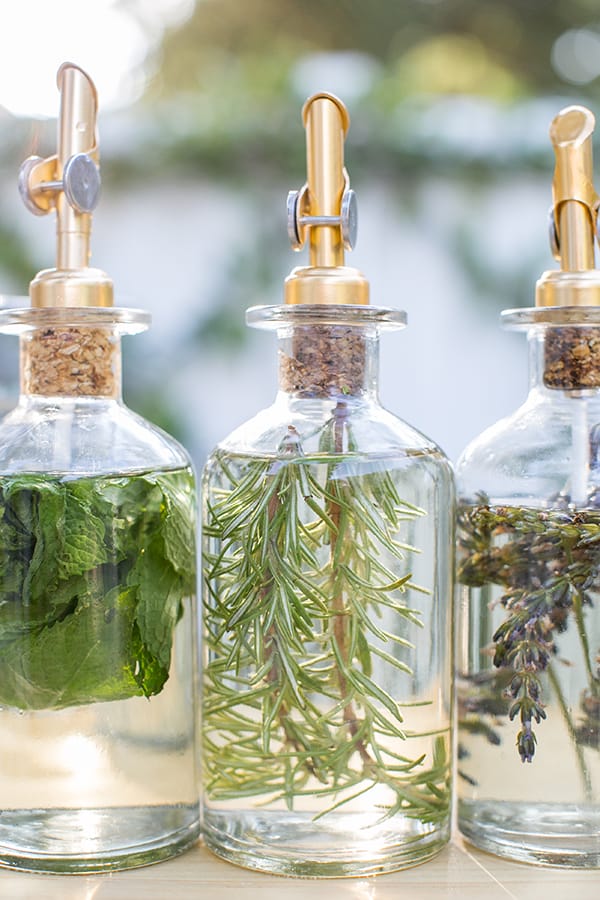 How to Make Simple Syrup
Once you know the basic ratio, you can get creative when making simple syrup. Infusing the syrup with different flavors using spices, berries, and herbs allows you to create delicious cocktails and subtle flavors for desserts.
Supplies
Here are a few supplies you'll need:
Basic Ingredients
There are only two essential ingredients in this recipe:
Sugar – You can use white sugar, raw sugar, and brown sugar to make simple syrup.
Brown sugar will give the cocktail a deeper, brown sugar flavor which is great for winter drinks.
Water – Good ole' water is all you need!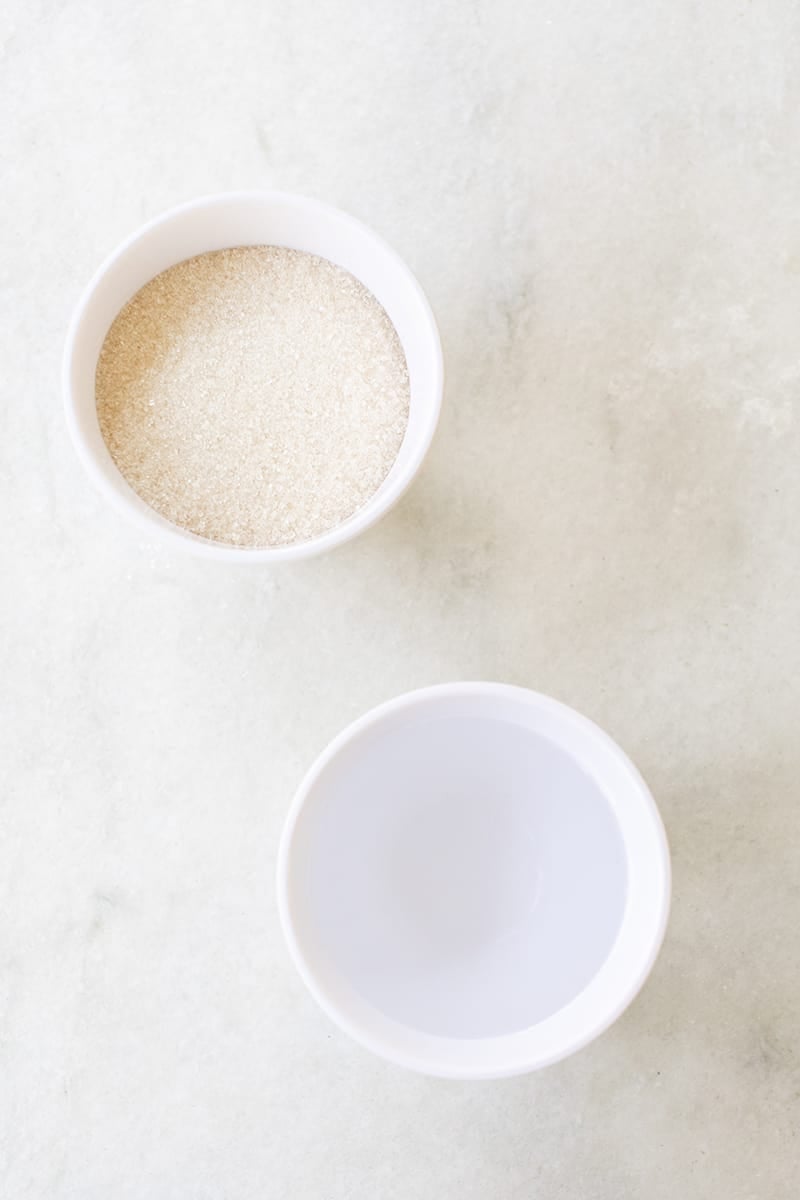 Simple Syrup Ratio
The simple syrup ratio is very simple! It's equal parts sugar and water:
Basic Ratio – 1:1 which is 1 cup of sugar to 1 cup of water. This will make a lighter syrup.
Rich Syrup – 2:1 which is 2 cups of sugar to 1 cup of water. This will create a thicker textured syrup.
Directions for Homemade Simple Syrup
Combine the sugar and water in a small saucepan.
Over medium-high heat, bring the sugar and water to a quick soft boil, until the sugar has melted. It doesn't take long to melt, so watch it closely.
Once it's melted, let it cool to room temperature and then store it in an airtight glass jar. Let it cool for 20 minutes to 1 hour before straining if you're infusing other ingredients.
If you're using herbs or berries, add them in with sugar and water when boiling. Let them sit and infuse in the mixture until it's cooled.
Then, strain the mixture through a sieve to remove the herbs and berries.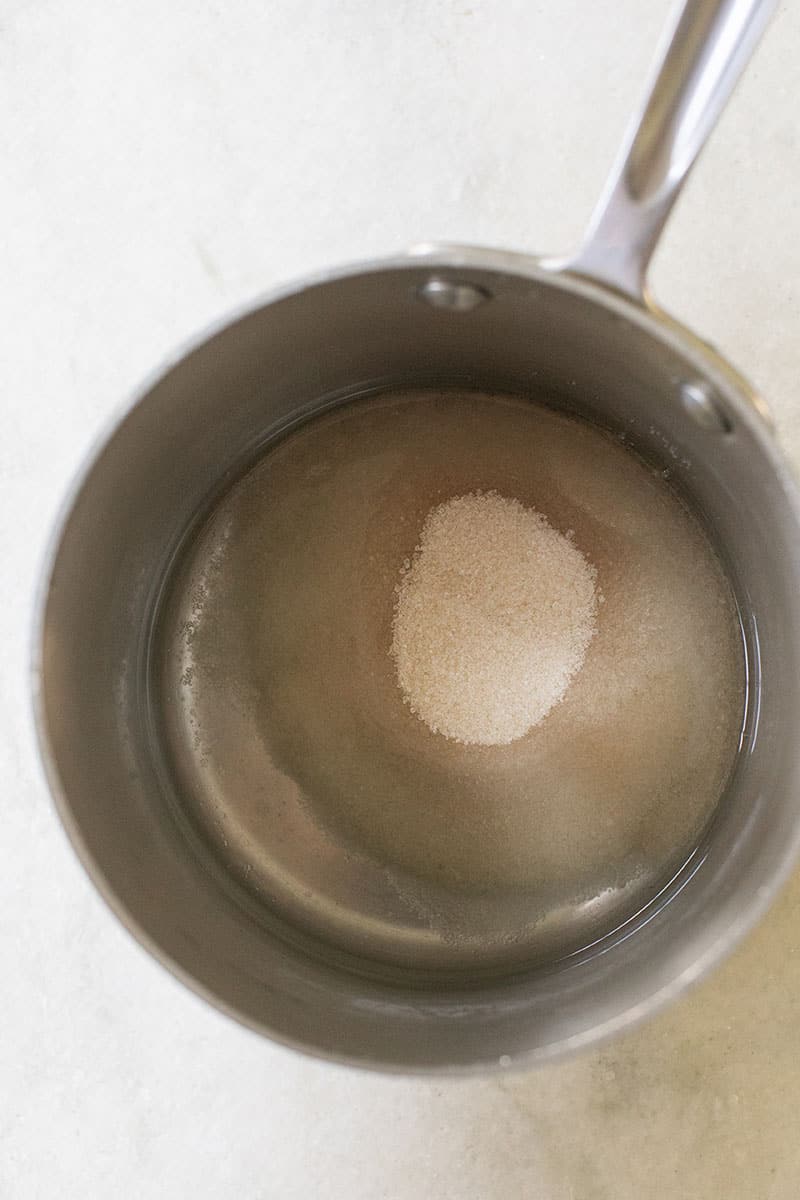 What sugar should I use?
There are several types of sugar you can use. Here are a few suggestions:
Raw Sugar or Demerara Sugar – Raw sugar contains some molasses, which is why it retains small amounts of calcium, iron, and potassium. It's more coarse than granulated sugar but works perfectly for making simple syrup.
Granulated Sugar – Also known as white sugar, this is the most commonly used sugar to make a simple syrup. Granulated sugar has had all of the naturally present molasses refined out of it.
Brown Sugar – This will create a deeper, rich flavor with hints of molasses. Brown sugar syrup is perfect for winter cocktails and darker spirits.
Honey – Honey is sweeter than sugar and has a distinct flavor. We love making honey simple syrup and it's the same ratio of sugar and water. Honey Syrup is a wonderful alternative use. We actually prefer it in most of our cocktails.
Maple Syrup – Pure maple syrup can also be used to create a healthier version. It's high in antioxidants and offers nutrients like riboflavin, zinc, magnesium, calcium, and potassium.
Monk Fruit – If you want a sugar alternative, try Monk fruit. This is a type of fruit native to the Southeast It's free of calories and carbs and can be used to make a low-calorie simple syrup.
Coconut Sugar – This is a plant-based, natural sweetener. However, it should be noted that coconut sugar is very similar to regular cane sugar in terms of nutrients and calories.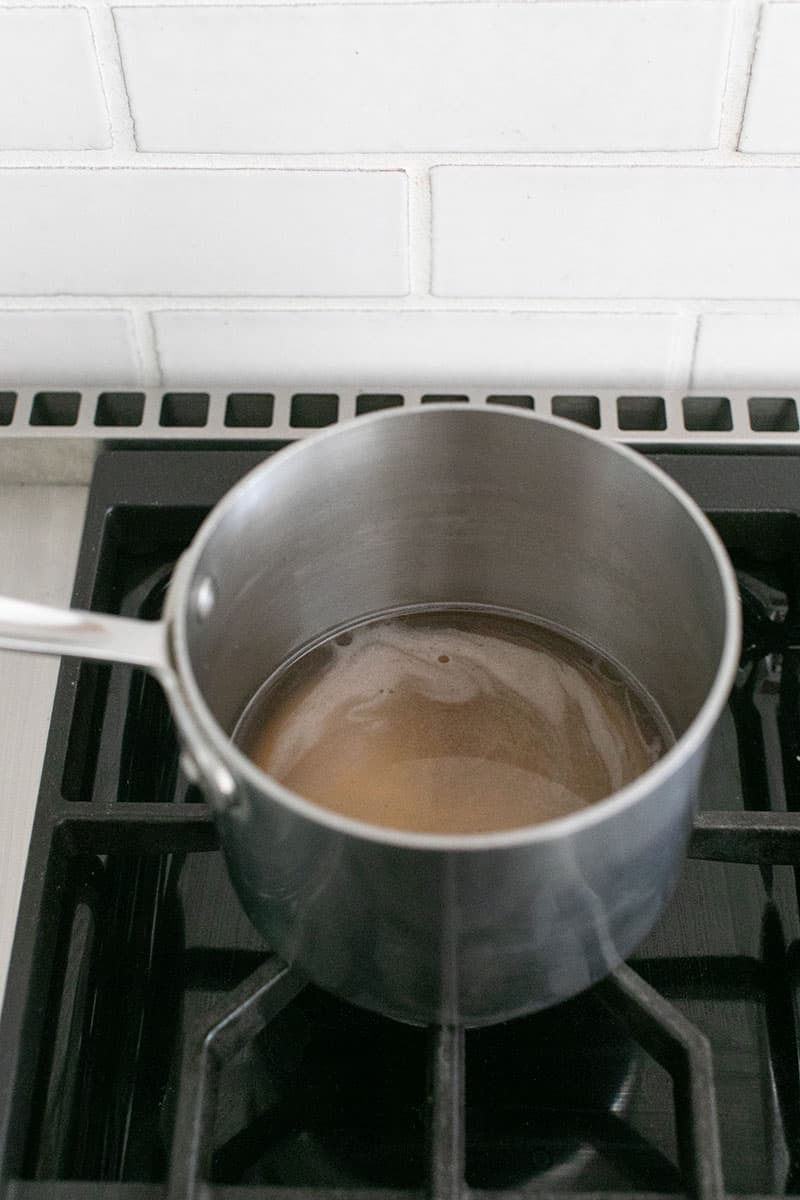 Adding Flavors with Herbs, Spices, Berries, and Flowers
One of the best parts of making your own simple syrup is creating different flavor combinations. There are countless ingredients you can add to the mixture to give it flavor. Here are some suggestions from fresh herbs to fresh fruits!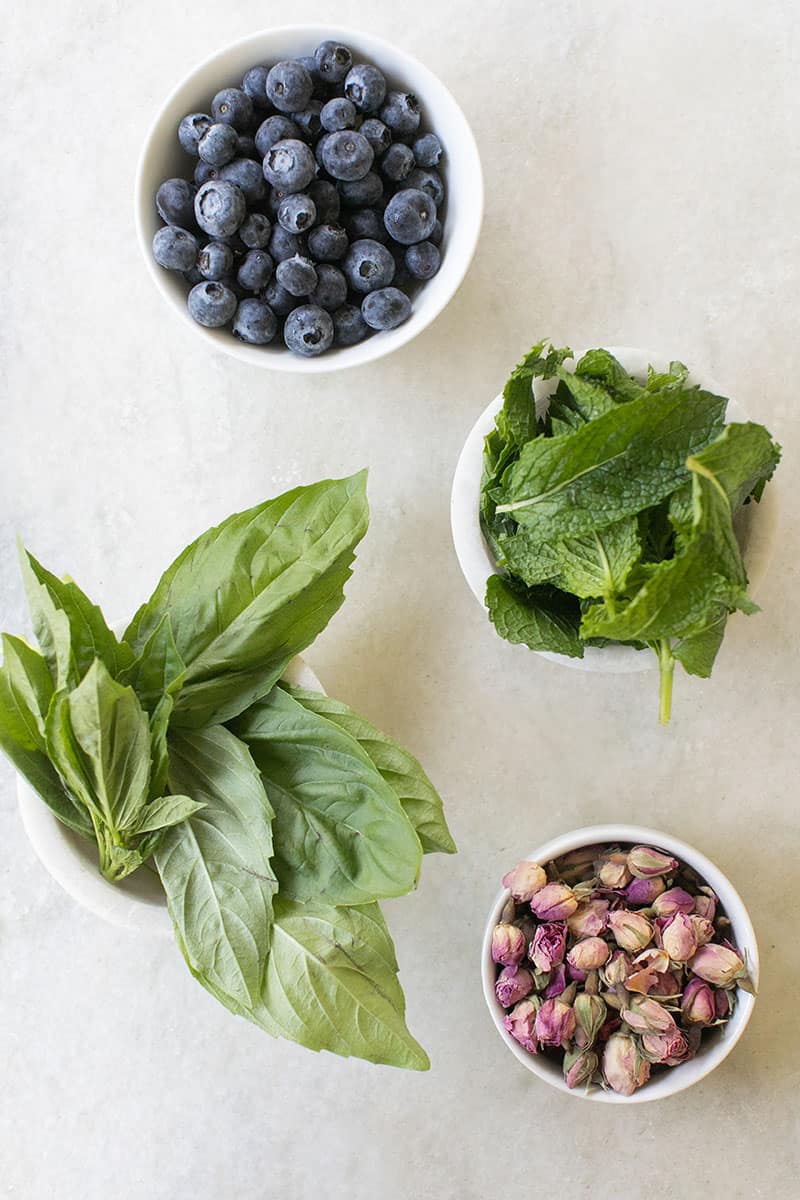 Adding Flavors with Herbs, Spices, Berries and Flowers
Herbs
Herbs are a wonderful way to add flavor to homemade simple syrups. Some of our favorite cocktails have herb-infused sweeteners in the recipe. When infusing with herbs, use fresh herbs for the best flavor. Let the herbs infuse in the sugar mixer for at least 20 minutes while it cools. You can even allow them to infuse overnight in the saucepan before straining the next day.
Pro-Tip: We keep an indoor herb garden year-round to have fresh herbs for making syrups and for cooking.
Spices
A spice is a seed, fruit, root, bark, or other plant substance used for flavoring or coloring food. Blend different spices together to make festive and seasonal syrups.
Here are some ideas for spices you can use. Use whole spices for infusing. Use about 3-5 whole spices in 1 cup sugar mixture.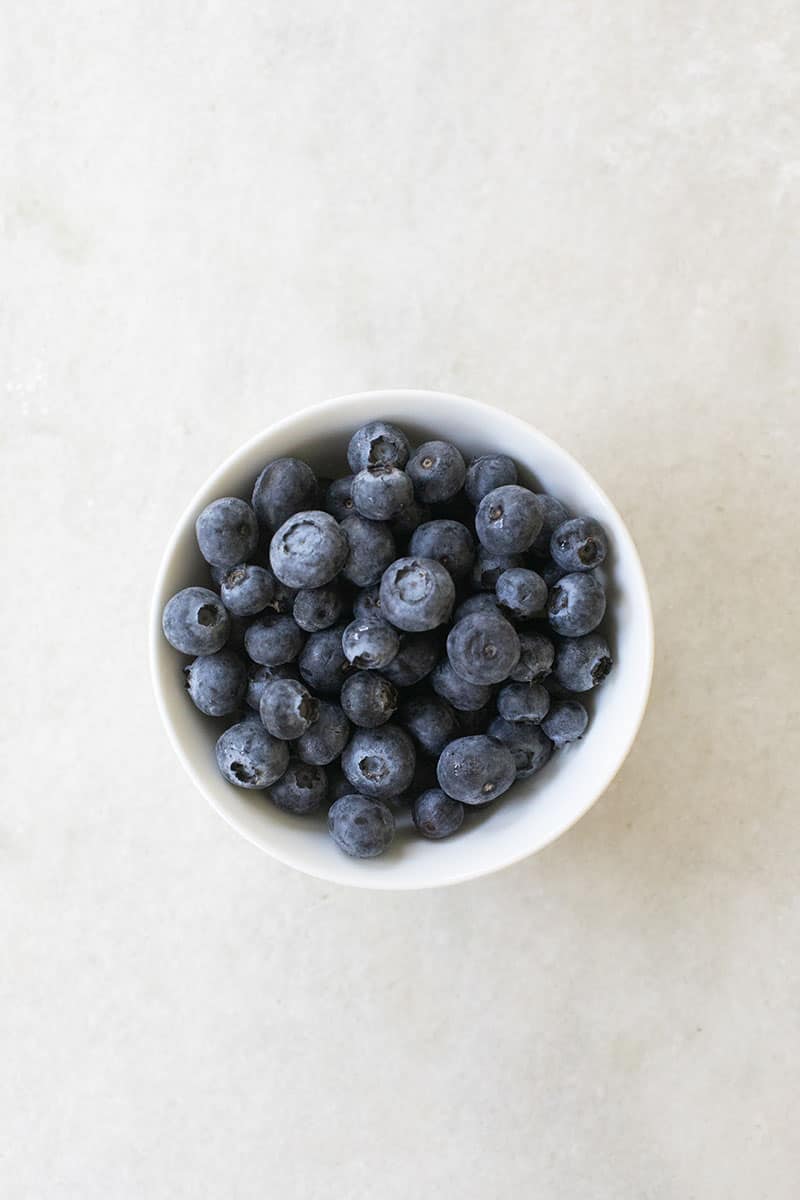 Fruit and Berries
Fresh fruit and berries make fresh, colorful, and seasonal syrups, like our cranberry syrup. We love using them in cocktails to add extra flavor and give them unique twists.
You can also use citrus peels like orange and lemon peels. Here are some ideas for berries you can use:
Jalapeño – Makes a spicy syrup.
Edible Flowers
Flowers are a great way to add a floral flavor to the syrup, rosewater We also make a hibiscus simple syrup that adds the most beautiful shade of pink to cocktails.
When using edible flowers, dried flowers are best. Check out our edible flower chart for more suggestions on the different types of flowers you can use.
Flavored Extracts
Another idea when creating flavors is to use extracts. After the sugar has dissolved and the syrup is cooling, add in a dew teaspoon of your favorite extract.
Pro-Tip: Essential oils are not food-grade extracts. We only recommend adding culinary extracts to your recipes.
How to Make Infused Simple Syrup
Once the sugar and water melt, remove them from the stove and add herbs or spices, or fruit. Generally, you'll use a handful of the herb you're infusing. If it's a spice, add in the whole spice not ground, and let it infuse.
For example, 2 cinnamon sticks or 10 mint leaves.
Always add a little more for a rich flavor.
Let it steep for about 20 minutes to 1 hour. The longer it sits and infuses, the stronger the flavors.
If you're doing berries, add 1/2 cup with the sugar and water. Simmer until the sugar dissolves, then let it sit and strain them out in a mesh strainer to remove seeds.
When the mixture is cooled and done infusing, pour it through a mesh strainer into a glass container with a lid to store.
Keep it in the refrigerator for 3 weeks to 1 month.
How to Store
Store in a sterile, airtight container in the refrigerator. To sterilize a glass bottle or container, pour boiling water into the bottle and dump it out before adding the syrup.
Pro tip – Mark the bottle with the date so you know how long it's been in there. You can just use a piece of tape and stick it to the bottom of the jar.
We also love using these bottles to serve it in… they're only $6! They look nice with an herb inside the bottle too.
Tips for Making Simple Syrup
Lemon juice is a natural preservative and when used in the recipe, the syrup will last a little longer.
Although not required, when making infused simple syrups, the herbs infuse better when allowed space to infuse. Pour the hot sugar water over the herbs spread out on the bottom of a large tub or pan. You want to leave it until it's cooled and the syrup smells and tastes like the herb you're using.
Time depends on the herb. Mint infuses faster. You can put the tub in the fridge too.
Simple Syrup Variations
Since these syrups are so versatile and can be completely customized to your liking, here are some fun ways you can add even more charm to your homemade syrups!
Sparkle Syrup – This is a fun one! Add edible glitter to the syrup to give it a shimmer! It will add a touch of sparkle to your own homemade cocktails.
Colors – There are ways to use dried flowers to create beautiful colors, but you can also use food coloring to add color.
Citrus Zest – Add a little lemon zest or lime zest to the bottle for color and fragrance.
Simple Syrup Uses
Simple syrups are great for so many recipes! Here are some ways you can use simple syrup in your recipes:
Cocktails and Mocktails – If you're playing home bartender, making flavored syrups will take your cocktails to another level.
Coffee Drinks – Use it as a coffee syrup to add sweetness and flavor to coffee drinks. It's especially great for iced coffee as it's liquid sugar and blends well with cold ingredients.
Iced Tea – Flavors like rose and hibiscus go wonderfully with iced tea. Not only does it add sweetness, but also has a subtle floral fragrance and flavor.
Cake – If you're making a cake and it had a dry cake texture, simply poke holes in it and brush a simple syrup over the top. This will moisten the cake and add flavor.
Ice Cream – Pour flavored syrup like gingerbread syrup over a scoop of vanilla ice cream.
Frequesntly Asked Questions
What is simple syrup made for?
It's made to sweeten cocktails, coffee, desserts, and other dishes. It's a liquid sweetener made from water and sugar. It can dilute the sweetness and you can alter it to make different flavors.
How long can you keep simple syrup?
It should be stored in the refrigerator and will last about 3 weeks. It can go bad after a few weeks, so always make sure you smell it before using it.
How can you tell if simple syrup has gone bad?
The syrup will start to grow mold and will also look a little cloudy and separated. This means it's not good and should not be consumed. Make another fresh batch to use
What is simple syrup made of?
It's made of equal parts of sugar and water. It's a diluted sweetener used in cocktails and some desserts. You can use different variations and if you need a thinker simple syrup, try rich simple syrup. Rich simple syrup is a 2:1 ratio, that's 2 parts sugar to 1 part water.
Do you have to boil water for simple syrup?
We recommend that you heat the sugar and water until the sugar dissolves. This can happen without heat but takes much longer. When making simple syrup, bring it to a soft boil, then remove it from heat and let it cool.
If you're infusing herbs and berries, let the mixture simmer for a few minutes, then remove and let it cool.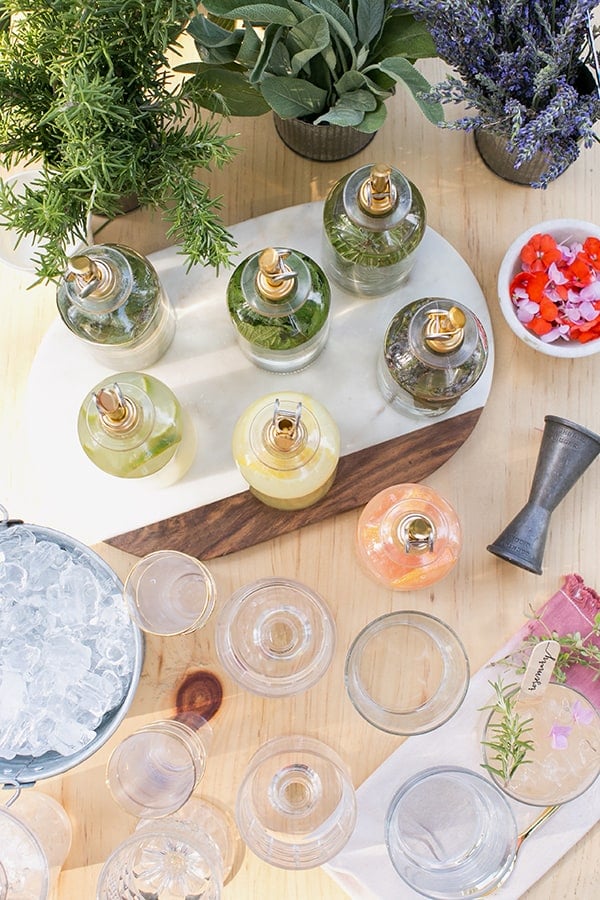 Can you buy simple syrup?
Absolutely! But it's so easy to make at home and you get a fresh simple syrup within minutes. You can also make them flavored when making them at home. If you prefer to buy it, here are some good options:
Simple Syrup Substitue
What is a good substitue for simple syrup?
There are several good options to use. Use the same amount of one of the below substitutes that the recipe calls for.
Agave Nectar
Honey
Stevia
Coconut Sugar
Simple Syrup Entertaining Ideas
These colorful infused syrups in glass bottles are perfect for entertaining. If you're hosting a party, create a DIY cocktail station where guests can make their own cocktails using different syrups, spirits, and fresh fruit juice.
Have a few flavors of simple syrup available to mix and match. Here are some cocktail station ideas:
Drink Recipes that Use Simple Syrup
Classic Whiskey Sour or Vodka Sour
Also check out more great cocktail recipes our favorite brunch recipes, the best-mixed drinks, tequila cocktails, gin cocktails, vodka cocktails, and cheap drinks to make at home!
Let us know if you make any of these and what variations you choose! You can be creative and make your own concoctions by mixing ingredients.
Leave a comment and review below and let us know your thoughts.
You can also FOLLOW US on FACEBOOK, INSTAGRAM, and PINTEREST to see more delicious recipes, cocktails, desserts, and parties!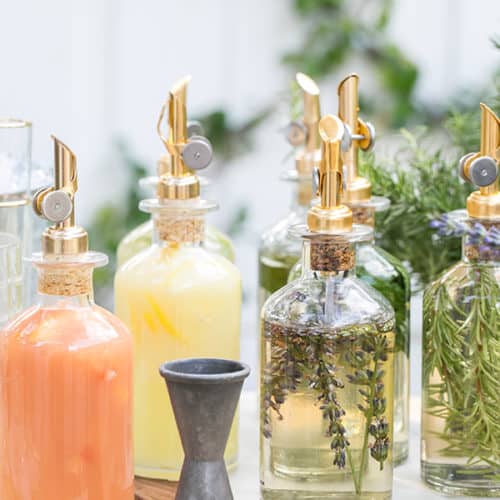 How to Make Simple Syrup
An easy recipe for making simple syrup to use in cocktails and desserts!
Print
Pin
Rate
Ingredients
1

cup

sugar

,

raw cane or granulated sugar

1

cup

water
Instructions
Basic Simple Syrup
Measure 1 cup sugar and 1 cup water. 

Combine the sugar and water in a small to a medium saucepan.

Heat the sugar and water until it comes to a soft boil until the sugar has melted. This happens quickly.

Once it's melted, remove from the heat and let it cool to room temperature.

Store it in an airtight glass jar.
Infused Simple Syrup
If you're making infused syrups, add the ingredients in with the sugar and water. 

Bring to a soft boil, then let it simmer for a few minutes.

Remove from heat and allow the mixture to cool and infuse for 25 minutes to 1 hour. You can even leave this overnight.

Strain the mixture through a mesh strainer.
Notes
For a richer syrup use the 2:1 ratio. 
To infuse syrups use fresh berries, herbs, and whole spices. 
The syrup will last 3 weeks stored in the refrigerator.
If you're looking for different sugar substitutions try coconut sugar, maple syrup honey, agave, or stevia.

 
Nutrition
Calories:
96
kcal
|
Carbohydrates:
25
g
|
Fat:
1
g
|
Sodium:
2
mg
|
Potassium:
1
mg
|
Sugar:
25
g
|
Calcium:
1
mg
|
Iron:
1
mg