If you're looking for the perfect mint julep recipe, you've come to the right place! We're covering all of the details for how to make mint julep and mint julep ingredients! This classic cocktail is delicious and refreshing.
It has a minty flavor with hints of warm vanilla from the bourbon. It's also a fascinating cocktail with a rich history and we can't do it justice without going over some of the facts. It's perfect for bourbon lovers!
You may not be able to go to the Kentucky Derby at Churchill Downs, but you can bring derby day right to your own kitchen. Create your own Kentucky Derby bar and bring the festivities to your own home. So grab your pewter cups and let the races begin!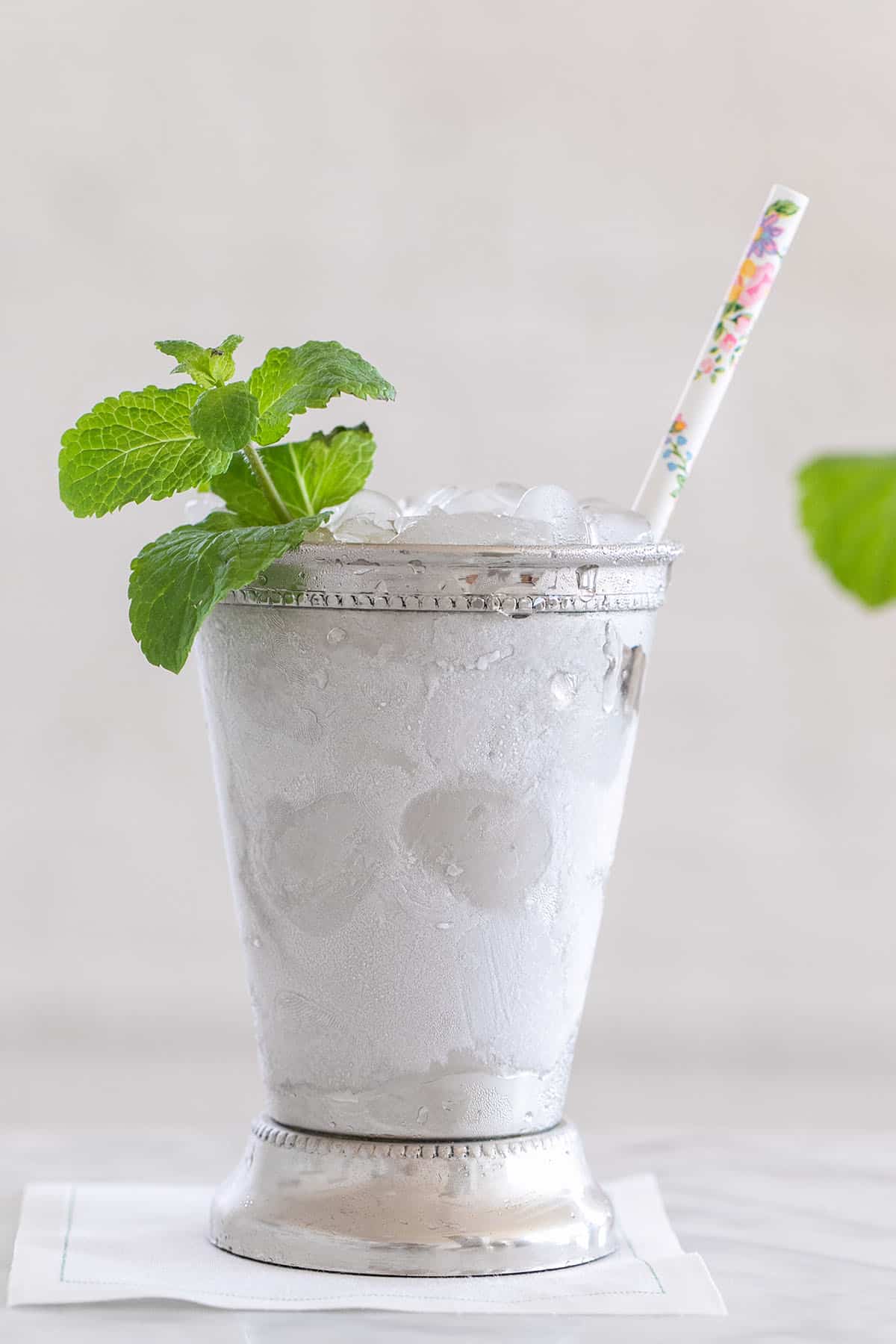 Mint Julep's History
Did you know that the classic mint julep originated in Virginia and may have been consumed by farmers for its medicinal properties? It wasn't until 1938 that it became both the official drink of the Kentucky Derby and the cocktail we recognize today!
Before it migrated to Kentucky, this cocktail was made with sugar syrup and mint leaves. With the rise of ice houses, ice entered into the mix, improving the mint julep drinking experience by a long shot!
As an effort to showcase Kentucky's bourbon-making prowess, Derby officials changed up the recipe to include the famed bourbon, and voila! The mint julep we know and love today was born! It became the signature drink of the Kentucky Derby in 1938.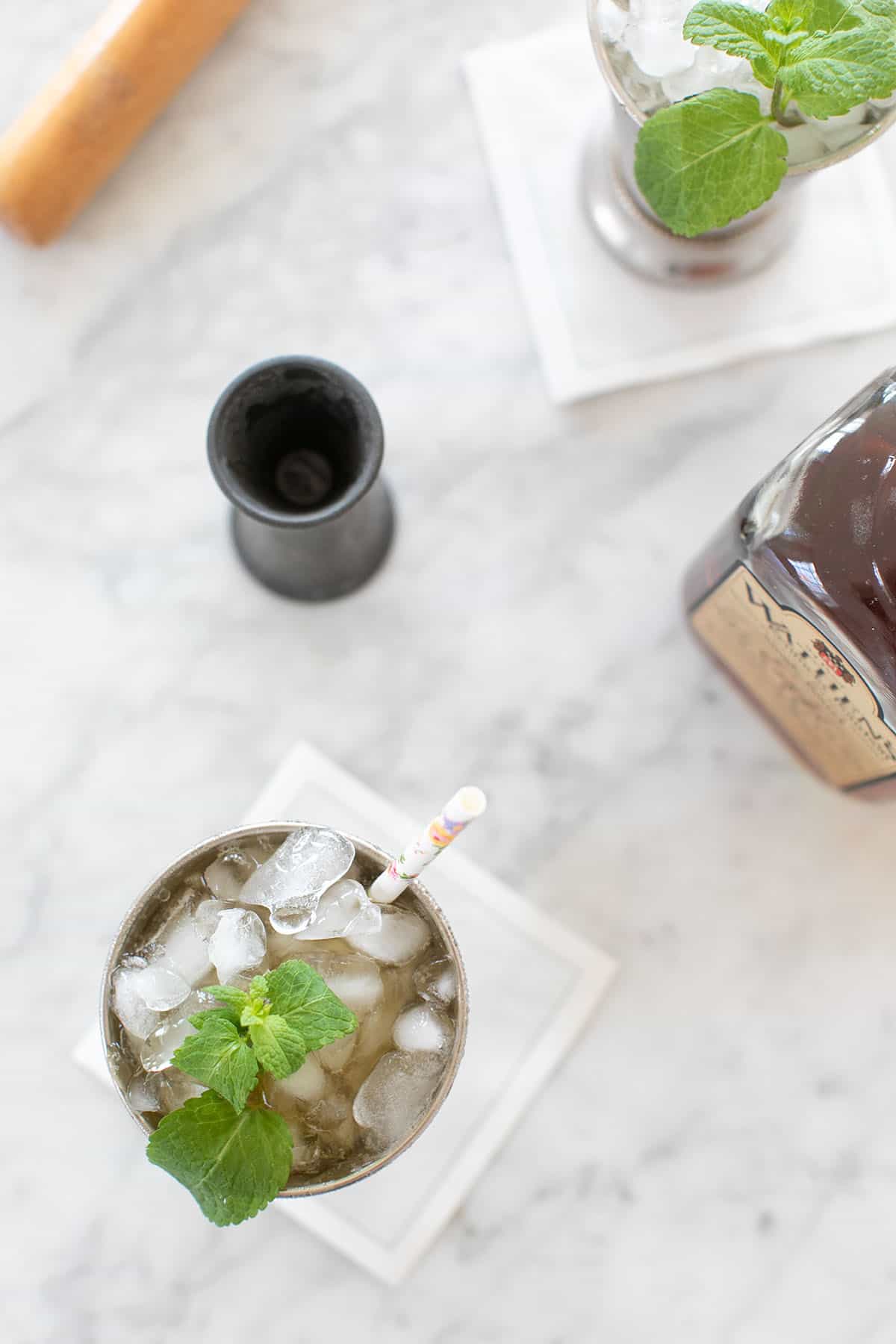 How to Make a Mint Julep
Even though this is a very simple bourbon cocktail, there are several ways of making it. We personally like the ratio below. For anyone who feels this drink is strong, add a splash of soda water to it!
Supplies
First, make sure you have a classic mint julep cup. Just like a Moscow Mule should always be served in a copper mug, a mint julep should be served in a classic sterling silver cup.
Also, try our frozen mint julep recipe too. It's so good!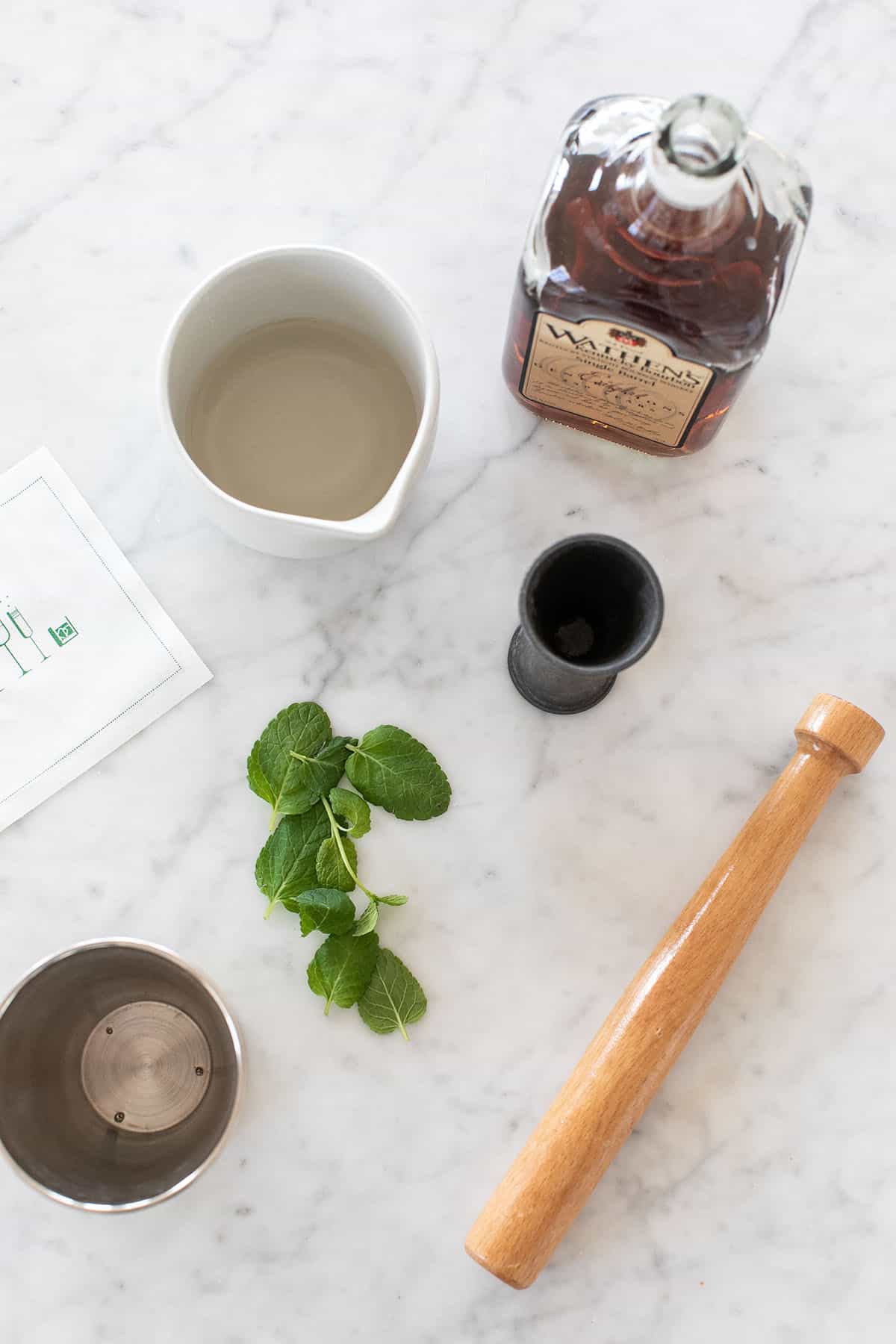 Ingredient Notes
There are 3 main mint julep ingredients:
Simple Syrup – This is easy to make using 1/2 sugar and 1/2 water. If you prefer to sweeten the drink with natural sugar, use a honey simple recipe. It goes perfectly with bourbon.
Fresh Mint Leaves – This is muddled into the drink and also we use a sprig of mint to garnish the cocktail. We like to use lots of fresh mint when making this drink.
Bourbon – Use a good quality Kentucky bourbon, see our suggestions below.
Soda Water – Optional, but a splash of water gives the drink a little carbonation and dilutes the bourbon for a balanced drink.
Directions
This is a simple recipe to make, here's how:
Muddle – Muddle the mint and simple syrup in the bottom of a julep cup.
Stir – Add in the bourbon, fill with crushed ice and stir well with a bar spoon. Stir for about 30 seconds until the cup is icy and cold.
Top It – Add a splash of soda water and top with crushed ice.
Garnish – Serve with a fresh mint sprig and a paper straw for easier sipping.
Making simple syrup is very easy, check out our guide here! If you like it extra minty make a mint simple syrup!
Tips For Making the Best Mint Julep
Use quality ingredients like organic mint and good-quality bourbon. 
Serve them in a chilled julep cup on a hot day.
Add more simple syrup if you like a sweeter drink.
Add a little citrus juice like lime if you like a little acidity.
You can also add a splash of bitters to the cocktail with the bourbon. Just a dash is enough.
Keep an indoor herb garden during the winter to always have fresh mint on hand.
Recipe Variations
There are several fun variations you can make when creating this classic cocktail. Here are a few of our favorites:
Shrub Julep – Add cocktail shrub to the recipe.
Napoleon Julep – Swap out the whiskey for cognac.
Blackberry Mint Julep – Muddle a few blackberries into this cocktail and use a blackberry simple syrup.
Gin Julep – Use gin rather than whiskey for a fun twist.
Frozen Mint Julep – Blend the ingredients with ice for a frozen treat.
Berry Julep – Make your own flavor combinations and muddle in berries and fruit. Fruit like pineapple for a pineapple mint julep, or add blackberries or even strawberries!
Mint Simple Syrup
This is optional, but it gives the drink an even stronger mint flavor, tastes delicious and it's easy to make.
You'll need 1 cup water, 1 cup sugar, and 1/2 cup fresh chopped mint leave.
In a small saucepan, bring the water and sugar to a simmer over medium heat, until the sugar has dissolved. Add in the mint leaves and simmer for another 10 minutes.
Let the syrup cool then strain to remove the mint leaves. Place the mint simple syrup in a glass jar and refrigerate until cold.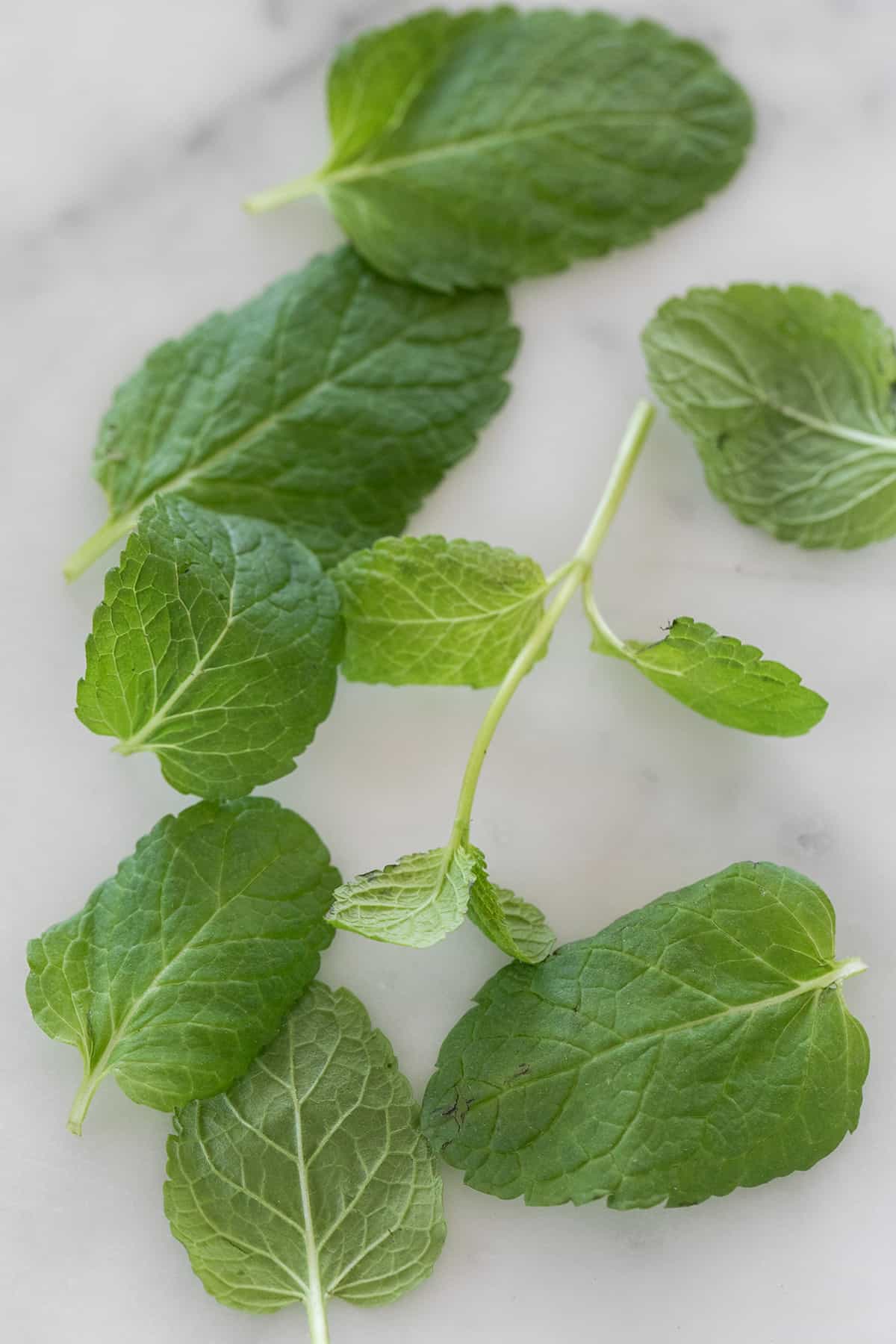 Kentucky Bourbon
Using a good quality whiskey from Kentucky is key to creating the perfect mint julep. Here are some of our favorite bourbon brands. You can find all of these at your local liquor store:
Bulleit Bourbon – This whiskey has a sweet oak flavor and light spiciness. It has hints of maple, oak, and nutmeg. It goes really well paired with ginger flavors.
Kentucky Straight Bourbon Whisky – Made with red winter wheat, instead of rye for full-flavored bourbon.
Templeton Rye Whiskey – Sweet and spicy flavor with aromas of caramelized banana, vanilla, and cinnamon. It's not super oaky and has a honey flavor
Four Roses – Kentucky-made, you can enjoy this smooth and mellow Bourbon in your favorite cocktail or on the rocks.
Wild Turkey – Aged in American White Oak barrels, Wild Turkey 101 has the most beautiful vanilla and cinnamon aroma with a spice and orange peel finish. This is a great bourbon for making a sour. 
Woodford Reserve – A perfectly balanced Kentucky Straight Bourbon Whiskey is made of more than 200 detectable flavor notes, from bold grain and wood to spice, and fruit & floral notes. It has a super creamy finish and works perfectly when making a whiskey sour
When to Serve Mint Juleps
This cocktail is great to serve on several special occasions such as:
Birthday Party it's also perfect for a last-minute birthday party!
Frequently Asked Questions
What Is the Best Bourbon for a Mint Julep Recipe?

The answer, of course, is Kentucky bourbon. Woodford Reserve is the official bourbon of choice for the Kentucky Derby but you can use whatever Kentucky bourbon you prefer!
How Do You Muddle Mint for a Mint Julep?

Toss your mint sprigs into your drinking glass–you can use a highball glass, but a silver julep cup is an authentic way to go!

Add your sugar to the mint leaves and grab your muddler. Using light pressure, you can either rock or twist the muddler against the leaves to release the mint oils. Remember, you're not trying to shred the leaves, so don't go overboard with your muddling!

What Does a Mint Julep Cost at the Kentucky Derby?
The cost of a genuine Kentucky Derby mint julep varies. A basic mint julep–equipped with a souvenir glass–costs $15.

However, there are some big spenders out there that will dish out over $2,000 for the highest-end bourbon and a rare, etched souvenir glass!

If you're wondering how many the Kentucky Derby sells each year, let's just say that it takes over 2,000 pounds of fresh mint to keep the minty cocktails flowing! 
How Do You Muddle Mint Without a Muddler?
If you don't have a muddler, don't sweat it. The method remains the same, but you'll need to improvise on a tool! Our best recommendation is the backside of a thick wooden spoon, as this will apply a nice, even pressure without cutting into the mint leaves. 
What is the difference between a mint julep and a mojito?
A mint julep is made with bourbon whiskey, simple syrup, and fresh mint. A mojito is made with rum, fresh mint, lime juice, and carbonated water. They are similar in that they both use mint and simple syrup, but they have very different flavors and are served in different glasses
How do you make the perfect mint julep?
Using a good quality Kentucky bourbon and fresh mint is to make the perfect mint julep. Muddle the mint in a pewter cup, add ice and pour in the bourbon. Stir and garnish with mint.

More Bourbon Whiskey Cocktail Recipes You'll Love
If you love this drink, then check out these classic whiskey cocktails:
Also check out more of our favorite brunch recipes, the best-mixed drinks, tequila cocktails, gin cocktails, vodka cocktails, and cheap drinks to make at home!
Let us know if you make this classic mint julep recipe!
Give our recipe a try and leave a comment below. Let us know what you think!
You can also FOLLOW US on FACEBOOK, INSTAGRAM, and PINTEREST to see more delicious recipes, cocktails, desserts, and parties!
Mint Julep Recipe
This is a classic mint julep with a few simple ingredients. Perfect for a hot spring and summer day!
Print
Pin
Rate
Ingredients
8

mint leaves

2

ounces

bourbon

,

good quality!

1/2

ounce

simple syrup

soda water

,

splash
Instructions
Muddle the mint and simple syrup in a mint julep cup. 

Add in the bourbon, fill with crushed ice and stir well. Stir for about 30 seconds until the cup is icy and cold.

Add a splash of soda water and top with crushed ice. Serve with a paper straw for easier sipping. 

Making simple syrup is very easy, check out our guide here! If you like an extra minty mint julep, make a mint simple syrup! 
Notes
Add more or less sweetener as you like. 
Use a good Kentucky bourbon for this recipe. 
Don't be afraid to pile on the ice! 
Nutrition
Calories:
175
kcal
|
Carbohydrates:
12
g
|
Protein:
1
g
|
Fat:
1
g
|
Saturated Fat:
1
g
|
Sodium:
11
mg
|
Potassium:
46
mg
|
Fiber:
1
g
|
Sugar:
10
g
|
Vitamin A:
340
IU
|
Vitamin C:
3
mg
|
Calcium:
19
mg
|
Iron:
1
mg