Everything you need to know to make the best golden margarita. This recipe only uses 4 simple ingredients and it's easy to make. It tastes like a Grand Marnier margarita, smooth and refreshing! Once you make this drink, you'll never use a margarita mix again!
It's no surprise that margaritas are the most popular alcoholic beverage in the world. The classic tequila and lime cocktail is the perfect drink to quench your thirst on a warm summer afternoon.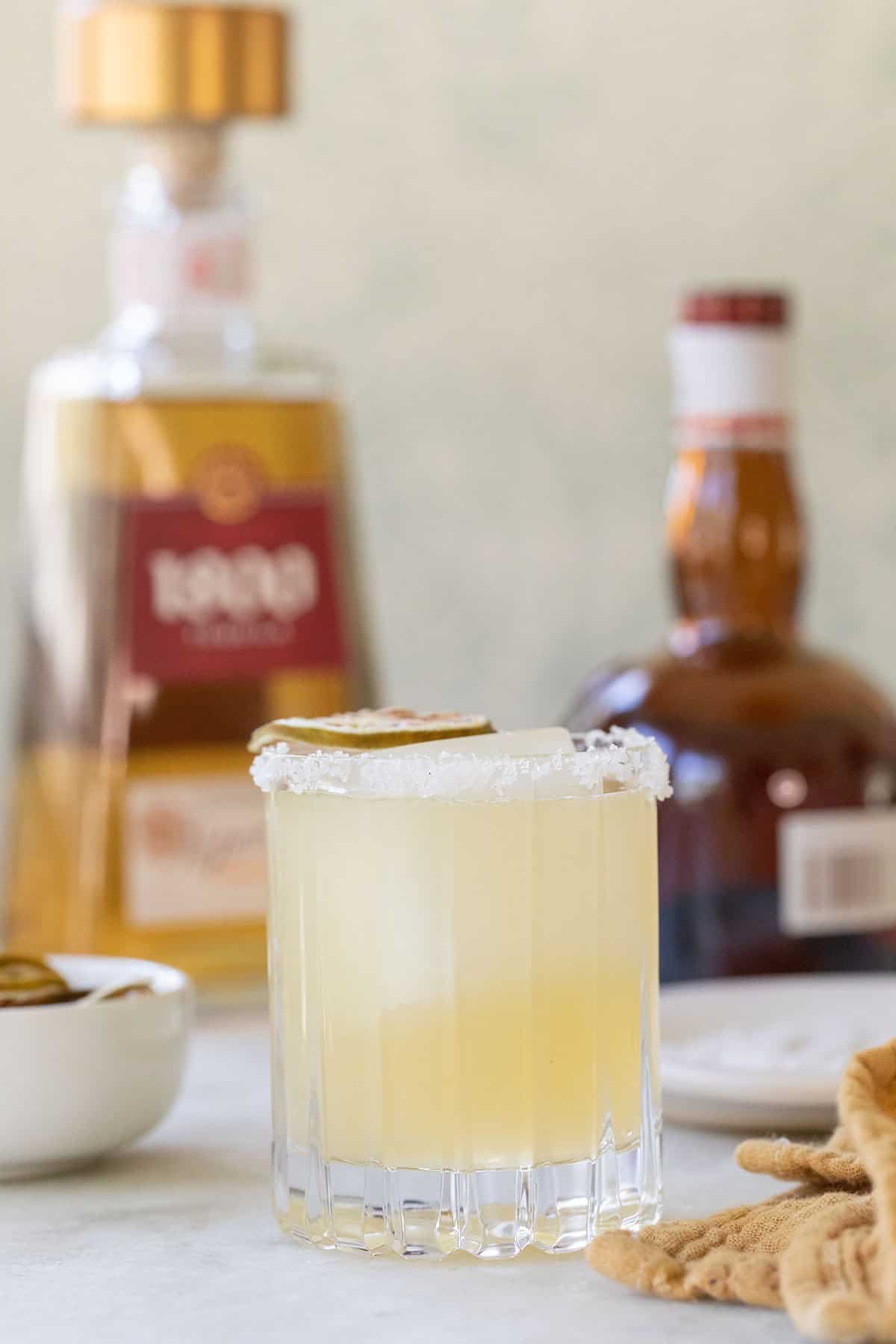 If you're looking to shake up a refreshing tequila cocktail, check out a Golden Margarita. This popular drink is perfect for your upcoming summer parties or when you simply feel like treating yourself after a long day. 
This guide will go over everything you need to know about making a good margarita so you can start whipping it up with ease at home.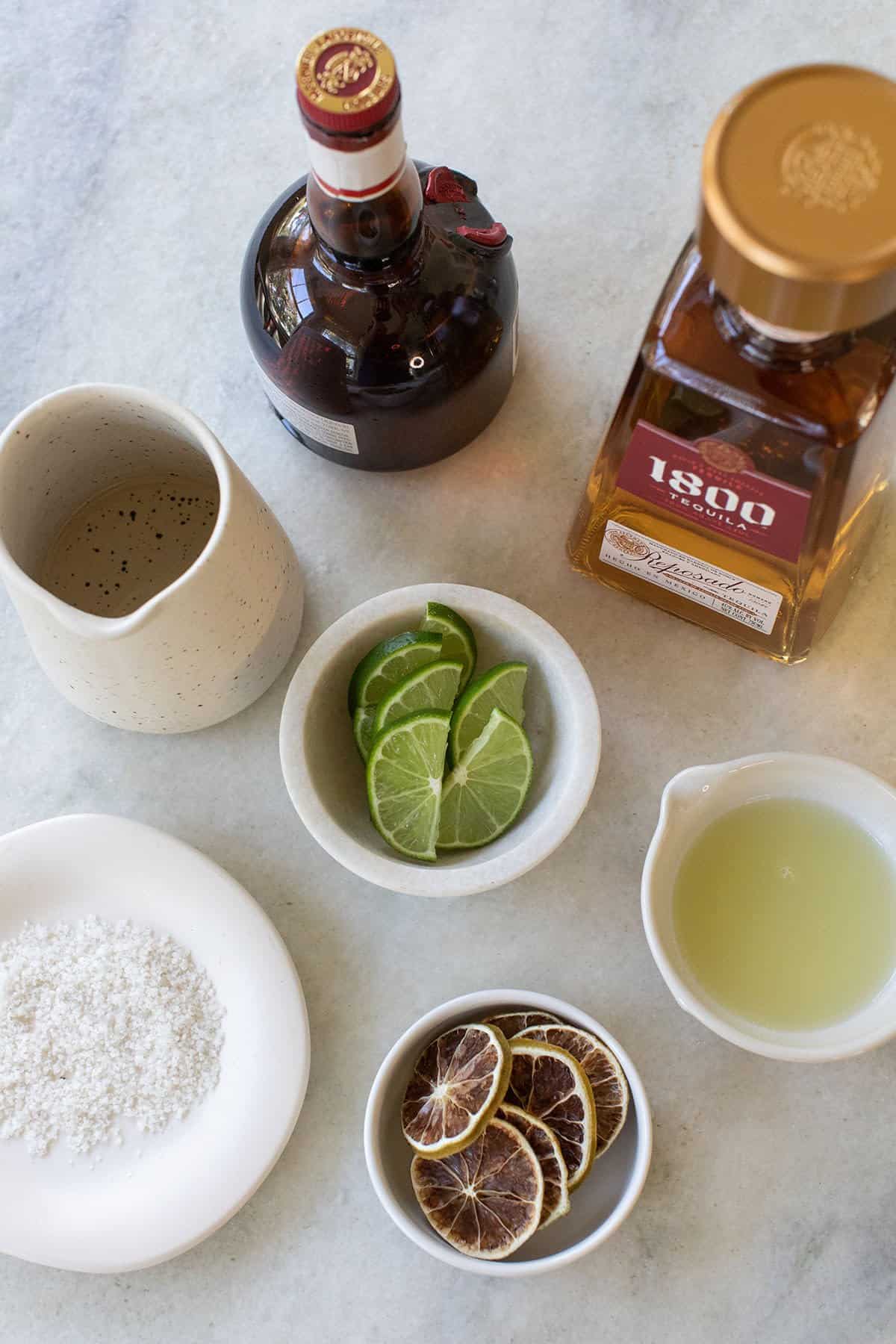 What Is a Golden Margarita?
A Golden Margarita is sometimes called a Grand Marnier Margarita. All of the ingredients in this drink are top-shelf and fresh, and the drink has a beautiful golden color. This margarita perfectly balances sour and sweet flavors.
Gold Tequila – Has a sweet, smooth flavor and a golden color.
Lime Juice – Use fresh lime juice to make this drink. One lime will give you about 2 tablespoons, which is 1 ounce lime juice.
Simple Syrup – We use simple syrup to sweeten this margarita. You can also use agave as a sweetener too.
Orange Liqueur – Something like grand Marnier liqueur will work. You can also use any of the orange liqueurs listed below.
What is Reposado in Tequila?
A Golden Margarita recipe calls for reposado tequila, but what is it? There are three different types of tequila. They are:
While they're all tequila, each one has a different flavor. Tequila reposado gets aged for two to 12 months in an oak barrel. The flavors are smooth, and you'll notice hints of vanilla, caramel, and oak.
The tequila's golden color is what gives the margarita its signature color.
How to Make a Golden Margarita
Simply add all of the ingredients into a cocktail shaker and shake with ice for 20 seconds.
Strain into a glass with a large ice cube.
Best Reposado Tequilas
There are many different types of reposado tequilas to choose from. Some of the best ones are:
Mijenta Reposado
Casamigos Reposado
Villa One Reposado
Clase Azul Reposado
Jose Cuervo Gold
Orange Liqueurs
One of the other primary ingredients of a Golden Margarita is an orange liqueur. There are a few different ones you can choose from but they each have their own unique flavor.
Triple Sec: Flavored with fragrant but bitter citrus fruit from Curacao
Cointreau: Made from bitter and sweet orange peels
Grand Marnier: Notes of vanilla, orange, oak, and brandy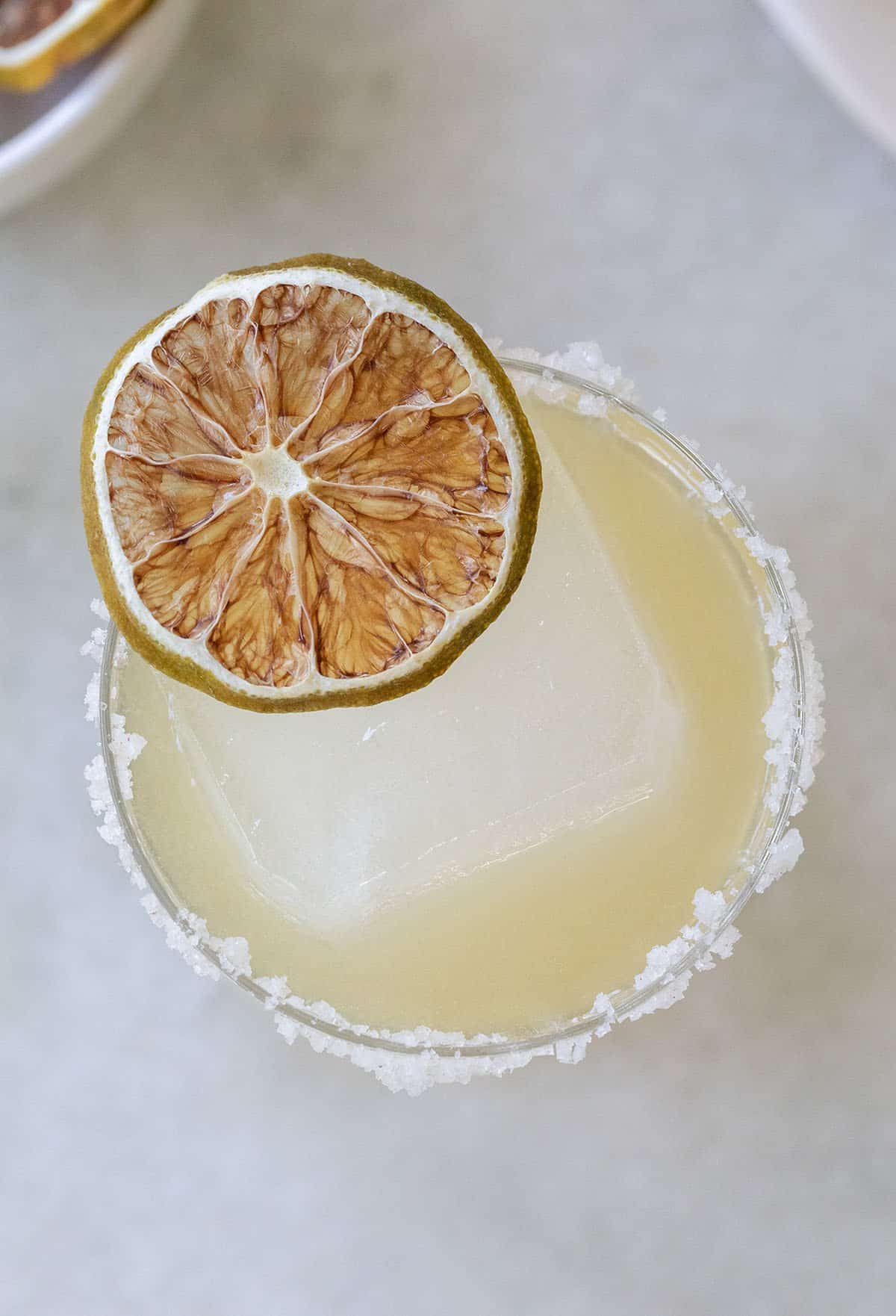 Tips for Making The Best Golden Margarita
Skinny – Swap the simple syrup for agave or leave the sweater out of the cocktail for an extra skinny margarita.
Extra Boozy – Add a little mezcal or an extra shot of tequila gold.
Margarita Salt – Use a thick margarita salt or even mix it with a little tajin.
How to Salt the Rim of a Glass
It's not particularly difficult to salt the rim of your cocktail glass. Spread out salt evenly on a dinner plate. Use lemon, lime, or even water to coat the edge of your cocktail glass.
Then, rotate the outside of your glass against the plate. Be careful not to get any salt on the inside of your glass, which can change the taste of your drink.
Margarita Cocktail Garnishes
We love to add a garnish to our cocktails. Here are three ways to add charm:
Dehydrated Lime – Keep these on hand for a chic cocktail garnish.
Fresh Lime Wedge – When in doubt, go for the fresh lime wedge to give the drink some added color.
Lime Zest – The zest of a lime is great for adding color, texture, and more fragrance to a drink.
Frequently Asked Questions
What Does a Golden Margarita Taste Like?
A Golden Margarita is a refreshing drink. It has hints of both orange and lime, thanks to the orange liqueur and fresh lime juice. 
Does a Golden Margarita Have Alcohol?
Yes, a Golden Margarita has alcohol. It includes both tequila and orange liqueur. 
Can You Use Gold Tequila in a Margarita?
People typically use gold tequila in margaritas. Gold tequila has smooth, sweet notes that really pop in margaritas.
You're free to use any type of tequila you'd like when making this beverage. Keep in mind that it might affect the overall flavor. 
Can I Use Grand Marnier Instead of Cointreau in a Margarita?
Grand Marnier is considered an upgraded version of Cointreau. Grand Marnier will bring a more oaky sweetness to your drink. Cointreau has a brighter and lighter flavor. 
Are All Gold-Colored Tequilas Considered "Gold" Tequila?
Gold tequilas are those that are caramel and amber in color. Some tequila makers add gold color to their tequila to make it that color. Gold tequila is specifically aged in a barrel, which gives it its signature color.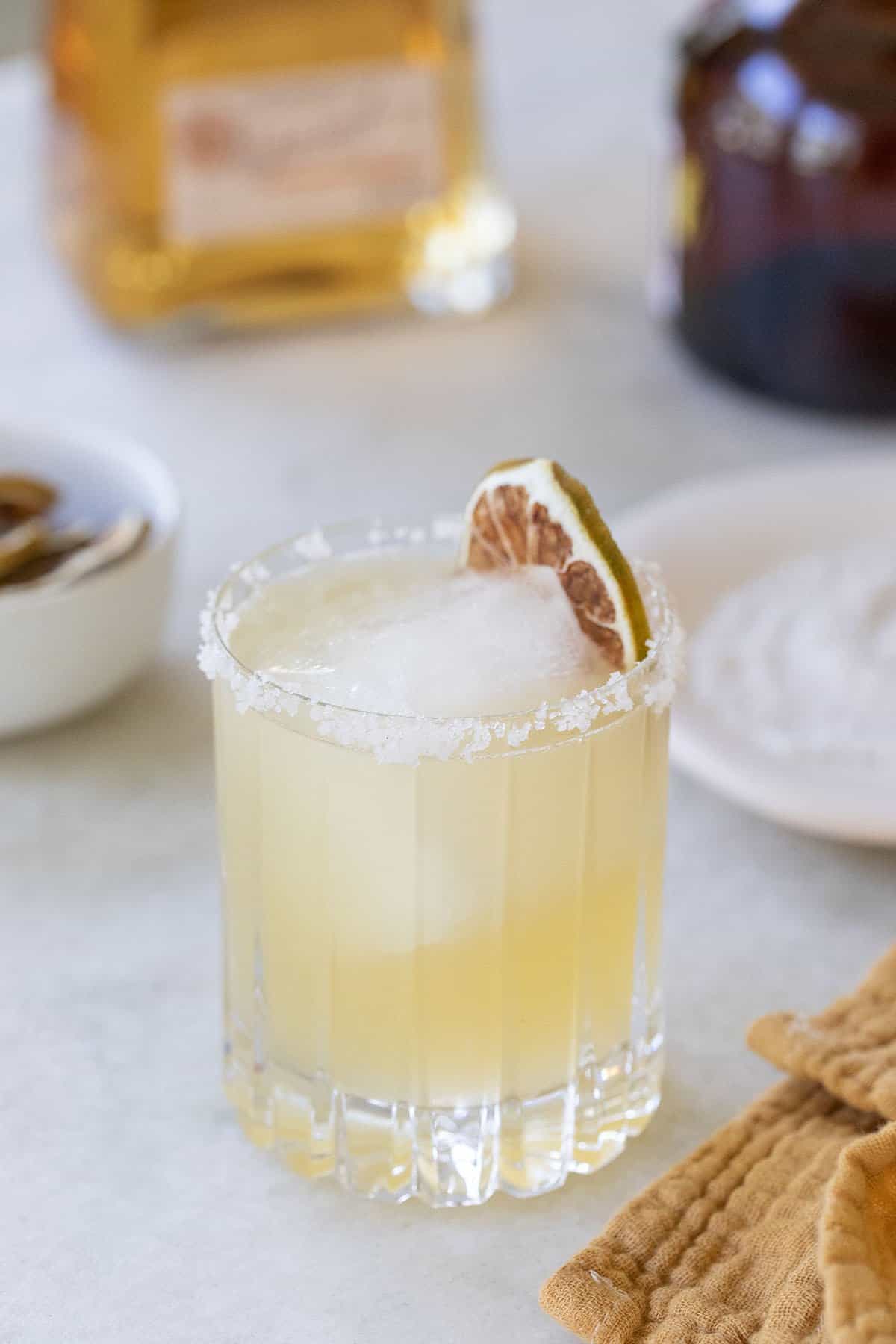 Is Grand Marnier Triple Sec?
Grand Marnier is a blend of Triple Sec and Cognac. It's not traditionally considered Triple Sec, but it's similar. Cointreau is part of the Triple Sec family.
Why is a Fresh Margarita Better Than a Margarita Mix?
You can't beat the flavors of freshly squeezed lime juice in your margarita. Margarita mix gives you the convenience of being able to sip your drink within seconds. Making a fresh margarita gives you more control over the ingredients.
How Strong Is the Golden Margarita?
A Golden Margarita has 1.5 ounces of tequila and one ounce of orange liqueur. You can tweak those amounts, depending upon your preference.
When to Serve a Golden Margarita
A perfect happy hour drink to enjoy any day of the week! It's also wonderful for these celebrations:
Birthday Party it's also perfect for a last-minute birthday party!
Carnival Party or Garden Party 
What to Serve with a Golden Margarita
Serve this margarita with Mexican food or some good TexMex. Here are some simple dishes that go well with a Golden Margarita:
The Best Nachos with Blanco Cheese
Tacos, Chips, and Guacamole
Best Margarita Recipes
If you love this margarita recipe, try any of these below! They're all delicious!
Three Ingredient Coconut Margarita
Whip Up the Perfect Margarita This Summer
Nothing beats fresh drinks on a hot summer's day. Try mixing up a Grand Marnier Margarita for yourself or a few friends this summer. You'll quench your thirst while enjoying this popular drink. 
Also, check out more great cocktail recipes our favorite mixed drinks and cheap drinks to make at home!
You can also FOLLOW US on FACEBOOK, INSTAGRAM, and PINTEREST to see more delicious recipes, cocktails, desserts, and parties!
Golden Margarita
An easy recipe for the best golden margarita!
Print
Pin
Rate
Ingredients
1 1/2

ounces

gold tequila

1

ounce

Grand Marnier

1 1/2

ounces

lime juice

3/4

ounces

simple syrup
Instructions
Add the ingredients into a cocktail shaker filled with ice.

Rim a margarita glass with salt.

Add one large ice cube to the glass.

Strain the margarita over ice.
Notes
Use less simple syrup if you want a less sweet cocktail.
Add more lime juice for a tart drink.
Always shake with ice. 
Nutrition
Calories:
253
kcal
|
Carbohydrates:
28
g
|
Protein:
1
g
|
Fat:
1
g
|
Saturated Fat:
1
g
|
Polyunsaturated Fat:
1
g
|
Monounsaturated Fat:
1
g
|
Sodium:
16
mg
|
Potassium:
73
mg
|
Fiber:
1
g
|
Sugar:
25
g
|
Vitamin A:
21
IU
|
Vitamin C:
13
mg
|
Calcium:
9
mg
|
Iron:
1
mg